The Trees Community interview
The Trees Community was a 1970's Episcopal religious order that created and performed original world music on over eighty instruments. They were first a group of searching young people exploring many faiths and cultures. By the beginning of 1971, they became a Christian community that explored new music as a form of communion and worship.
---
Later that spring, the group's five women, six men, 2 cats, and small dog became nomads, living on a scripture coated bus. They called life on the road "a pilgrimage without a destination" though eventually the group shared their musical worship on organized church tours through the US and Canada.
The Trees's musical meditation called 'The Christ Tree' showcases the band's style as both experimental and experiential. Ethereal voices and complex avant-garde arrangements of ancient sounding folk music are the hallmark of the Trees Community sound.
For years, only one published recording of their music has existed: The 1975's 'The Christ Tree' vinyl record. Over the decades this recording has garnered a ton of indie credibility, being referred to as an influence of the Fleet Foxes and Sufjan Stevens. The original vinyl pressings of 'The Christ Tree' are rare and are purchased by collectors for hundreds of dollars.
In 2004, music engineer Timothy Renner of Dark Holler Arts digitally remastered the album from the original studio tapes and salvaged other Trees recordings, and with the official blessing of the Trees' surviving members, released the music onto Compact Disk.
A new vinyl recording, however, although discussed at the time, wasn't made. This past year, in 2020 (50 years after The Trees' inception) Old Bear Records received the rights to the digital remastered 'The Christ Tree'.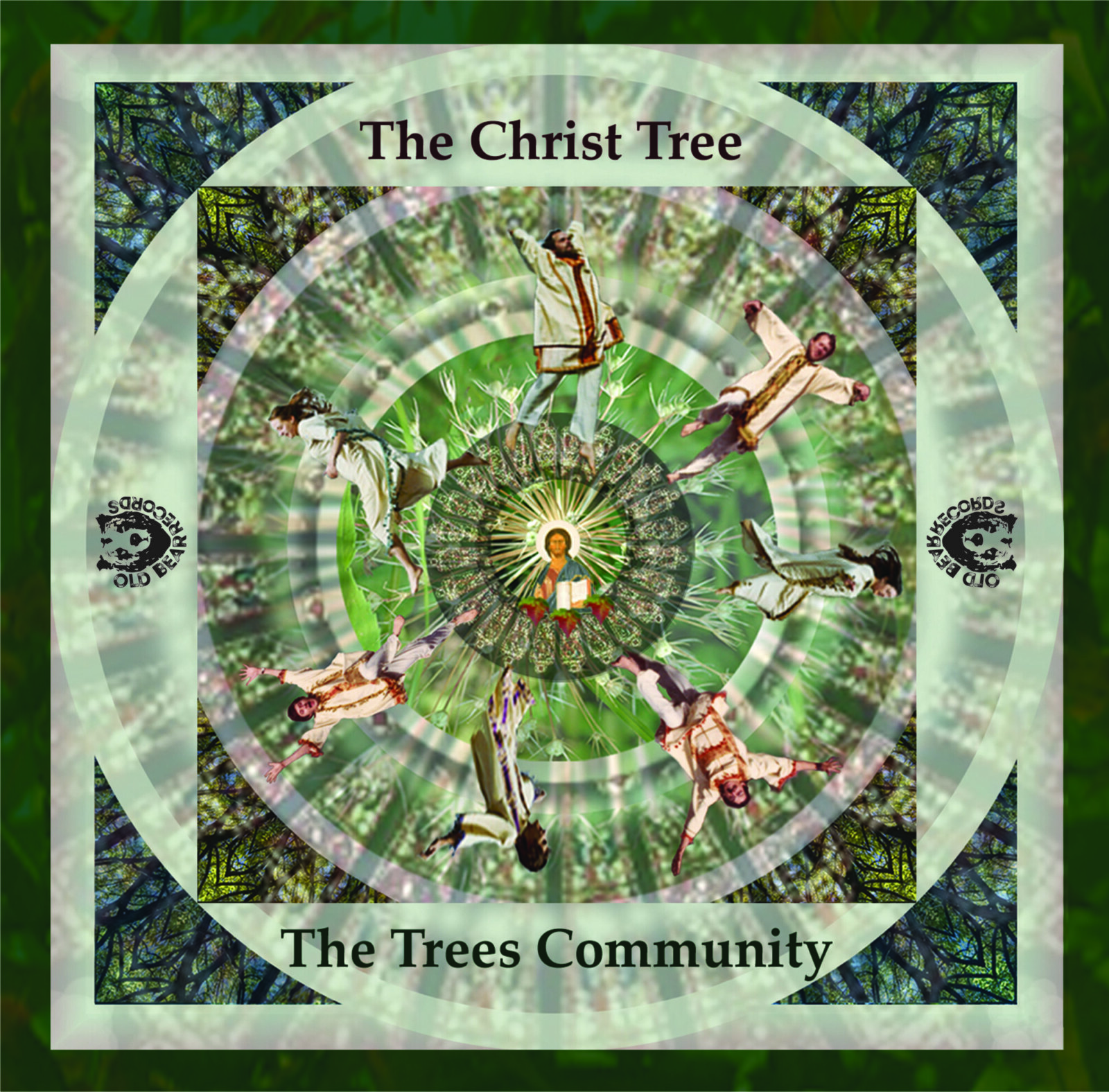 "LSD was essential to these early magical experiences, as was an in-depth study of Tibetan Buddhism, Hinduism, Scientology, I Ching, Christian Science and early Christian mysticism."
Where and when did you grow up? Was music a big part of your family life?
Katheryn Krupa: I grew up in the suburbs of Cleveland, Ohio in the 1950's and 60's until 1967 when my family moved to Michigan when I was 16. Music was a major part of my life as a child. My father played piano, guitar and accordion and my mother and grandmother played piano. We grew up surrounded by classical music such as Debussy and Ravel. My mother also would pack up all 5 of us children into the station wagon and take us to marching band practice over at the high school. As a special treat, we sometimes went to hear the Cleveland symphony, especially when my grandmother was performing piano with them!
David Karasek: At age 6 my father gave me a three quarter sized violin which he trained me on (he's a retired professional violist and music teacher.) At age nine I was put in special music classes at school, because the school tested me and found I have a good ear. At age 11 I was pulled into a singing quartet by my friends. We just sang Beatles songs for fun.
At age 14, starting in my sophomore year of High School, I attended the High School of Music & Art in Manhattan (now LaGuardia Arts, also the school in the movie "Fame"). I was not a music major there but an art major, but still music was all around me while attending. I had musician friends at school, one of whom introduced me to the people who later became the Trees.
When did you begin playing music? What was your first instrument?
Katheryn Krupa: My mother arranged for piano lessons for myself, drums for one brother, and violin for my sister and guitar for my other brother. This was an excellent background for when these same siblings and I formed a rock and roll band after the Trees Community disbanded. My first instrument was the piano and then I also played guitar a little. I didn't like the limitations of piano lessons so I would just play whatever came into my head when I sat down to the piano…instead playing improvisational, tonal music that created a mood. This was an excellent foundation for teaching myself to play the harp… as well as giving me the basics so I could write a lot of the Trees music.
Are you a classically trained musician? Do you come from a musical family?
Katheryn Krupa: No, just some piano lessons as a child. Yes, I come from a musical family.
"The Trees Community started as a commune of individuals who were all drawn to a Loft in the East Village of New York City in 1970."
Would you like to elaborate The Trees Community and its beginning? What was the original concept behind it?
Katheryn Krupa: The Trees Community started as a commune of individuals who were all drawn to a Loft in the East Village of New York City in 1970. I had met our "leader" Shipen when he came to visit my boarding school in northern Michigan in 1969. I found his knowledge of yoga, Eastern religions and his personality fascinating! He had written his own ideas down in an "automatic" writing (no edits or changes) called Clear Children. While at my school, a number of us like-minded students would sit beside Lake Michigan and talk about the seven chakras, or the many mindsets of Clear Children, among other ideas like: time is a construct or we need worldwide peace. After Shipen left, he extended an open invitation for me to come visit him at his Loft in New York City. So I visited during Spring break, then returned and moved in after I graduated a few months later. Each of us came to the Loft to find answers to "life's questions" and to explore various religions and philosophies during those early months. It was a beautiful space to live in – almost like an ashram with Shipen almost like a guru, but not as pushy and much more humble and self-effacing. The Loft had brick walls, wooden floors painted white, with tents and draped material used to create privacy. There were long, sweeping pieces of wine and burgundy colored fabric strung across the ceiling. Skylights lit the room during the day and at night kerosene lamps created a warm, inviting glow. There was a stone Buddha and carved lion's head and beautiful painted mandalas. In this space, we dropped acid (LSD), held poetry readings and almost every night there were free form, improvisational music sessions that were very beautiful and quite intense. Meals such as black beans, brown rice and homemade bread typically were cooked in the kitchen/bathroom one floor below and shared as we sat cross legged on tatami mats on the floor in the Loft. In early spring when I arrived there were lots of nightly gatherings when Shipen would invite actors, musicians or dancers up after their shows. The Loft attracted many "movers and shakers" from New York's artistic community in those early days. Eventually, as we delved more deeply into religious study, those who started showing up were seekers eager for answers to life's questions. We took day trips to listen to Alan Watts, Ravi Shankar, or attend Avant guard theater productions. Evenings brought mystical adventures through spontaneous, free form musical exploration. One night might take us on a camel caravan along a desert road in Egypt. Another journey might take us on an ocean voyage on an ancient ship sailing on gently rolling waves under the moonlight. Visitors picked up instruments such as Balinese pot gongs, flutes, a sitar or Indian tambura or a heavy chain and played as the Spirit moved them. By mid-summer, the Loft became a place to delve into incredible spiritual realms. LSD was essential to these early magical experiences, as was an in-depth study of Tibetan Buddhism, Hinduism, Scientology, I Ching, Christian Science and early Christian mysticism.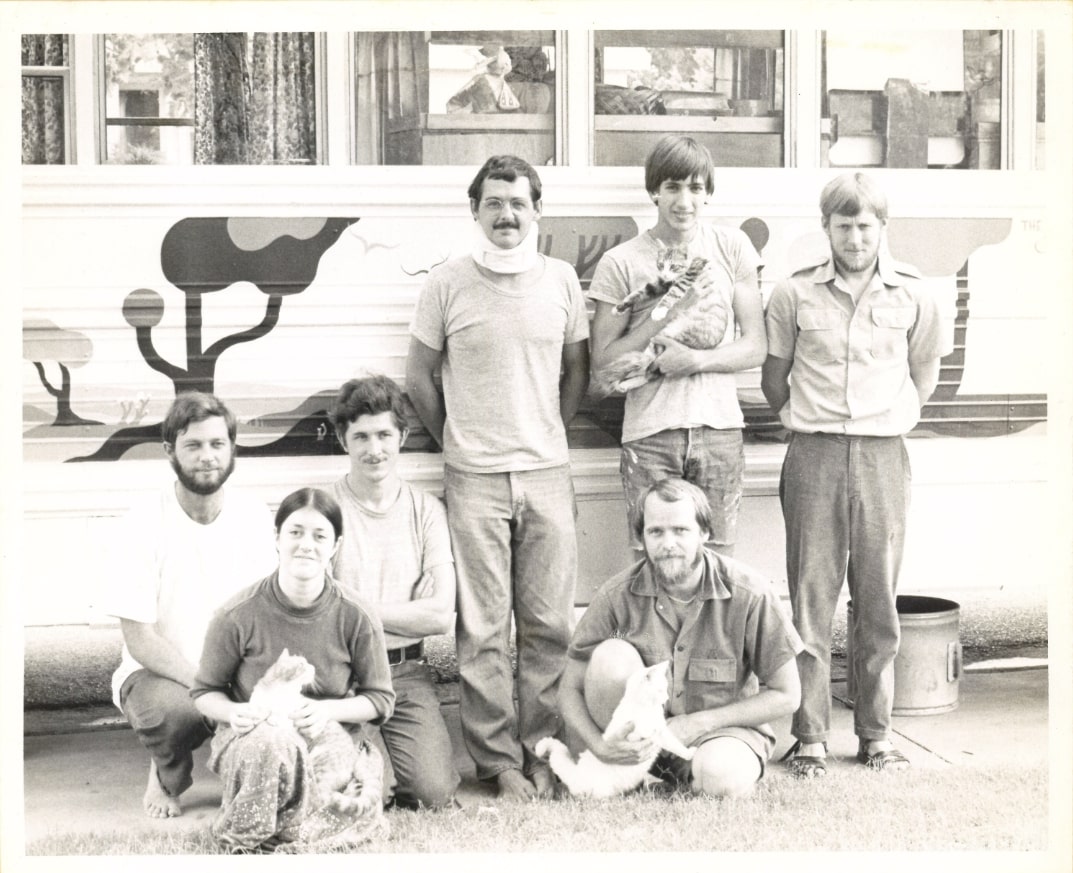 A surprise visit from Rodney Kirk, a bishop of Manhattan's Cathedral of St. John the Divine, drew us to start attending the elaborate high church Episcopal mass at the cathedral. We'd walk barefoot up to mass, then slip down into the labyrinth of echoing caverns underneath the main altar to sing spontaneously. By late fall, the Lord touched each of us, drawing us away from drugs and baptizing each of us into our new Christian faith. Canon West (sub dean at the Cathedral) took us under his wing, agreeing to become our mentor and eventually the Abbott of our small community. The Loft's casual visitors fell away leaving a core group of 12, committed to a new vision of religious communal life. We bought an old, run down school bus and transformed it into our traveling home. Eleven of us set off in May, 1971, disciples of the Lord, eager to see where He would lead us. For the next seven years, we traveled throughout America and Canada, honing our musical, theatrical presentation and sharing it in schools, churches, monasteries and Christian communities. Always, we sought God's will. He drew us to help pick strawberries and work with Hutterites on a farm in Ontario. He led us to a monastery in Gethsemane, Kentucky where we found a spiritual retreat with gracious, Franciscan monks. He called us to live with nuns and monks in a Roman Catholic monastery along the Pecos River in New Mexico. We helped pack pecans in a community in Koinania, Georgia, then lived and worked in a family household at Church of the Redeemer in Houston. Each experience in a new community brought change, conflict, and growth, pruning members away from our core group, or sometimes adding to it. Throughout these painful often difficult experiences, the music flourished and evolved. Since no one was professionally trained, each new member had the freedom to pick up a zither, cello or wooden flute and "learn" to play it with naiveté, innocence and faith.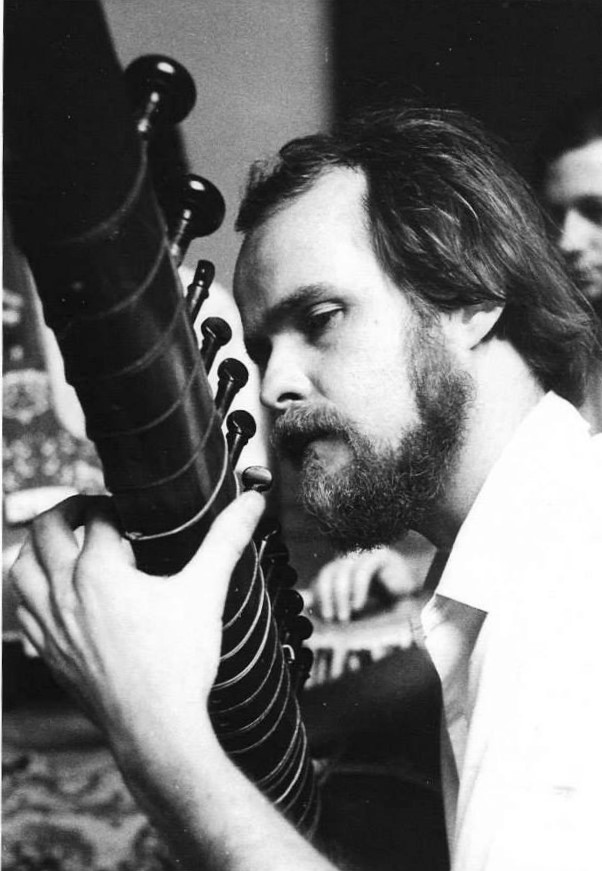 The Trees Community was an Episcopal religious order that created and performed original world music on over eighty instruments. They were first a group of searching young people exploring many faiths and cultures. By the beginning of 1971, they became a Christian community that explored new music as a form of communion and worship. Would you like to take further and explain the meaning behind Episcopal religious order?
The best example I can give of a religious order would be a monastery or convent. The head of each order is an Abbott who guides the order. Almost from the beginning of our first summer, we found our spiritual mentor or Abbott in Canon West. He was the Episcopal sub-dean at The Cathedral of St. John the Divine in New York City and was head of two other Episcopal orders in NYC. Initially he led us from afar, as we traveled around the U.S. and Canada. I think he realized we were very new to Christianity in the beginning and so it was an excellent experience for us to go out and experience all different kinds of Christ's Church in its many varied types and forms. At the same time, we felt called to buy our bus and set out on our nomadic adventure. Eventually, after two years on the road, Canon West suggested we return to New York City so we did in May, 1973. We became artists in residence at the Cathedral and we also began the formal process of creating a religious order in the Episcopal Church. Canon West agreed to be our spiritual "father" and Madeleine L'Engle (author of A Wrinkle in Time) acted as our spiritual "mother" helping guide us in our faith and vocation. In 1974, Canon West encouraged us to write our own Rule (which included taking vows of poverty, chastity and obedience), he designed our long, flowing green "habits" (like a monk's robe), and helped us formalize all aspects of daily life in our community. We held seven services a day and our daily life included "Greater Silence" – a period of silence from after Compline at night till after Morning Prayer in the morning. Interestingly, unlike most religious orders (monasteries/convents) ours was different – The Trees Community included gay and straight individuals (but remember, we took vows of chastity), men, women, and married couples.
"An open search for meaning and truth among many cultures led us to explore world music, particularly Balinese music."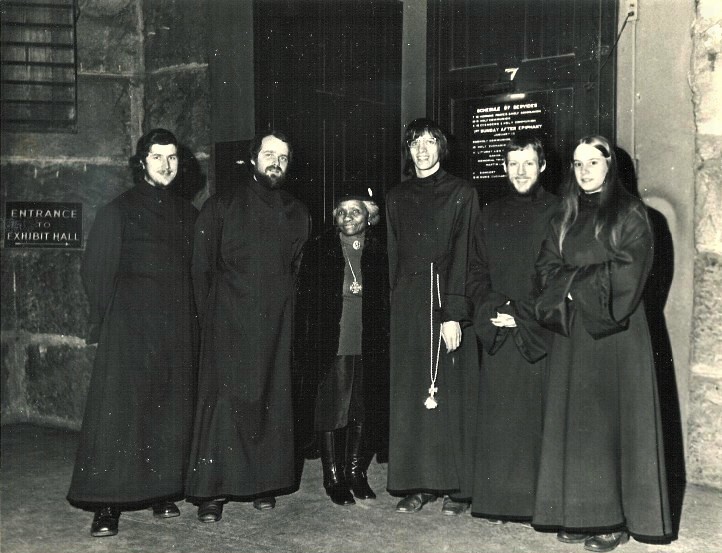 David Karasek: The concept was initially to have no concept—to be as clear and receptive as a child. An open search for meaning and truth among many cultures led us to explore world music, particularly Balinese music.
Our religious journeys were more personal, and as we began studying Christianity from various angles the question "why Jesus" became "which version of Jesus." A visit to the Episcopal Cathedral Church of St John gave us a more formal "churched" answer and definition. There we met spiritual leader Canon Edward N. West and his protege, writer Madeleine L'Engle. Together, they shepherded us into an orthodox Christian faith. However, musically we continued our diverse love of world music in many cultures.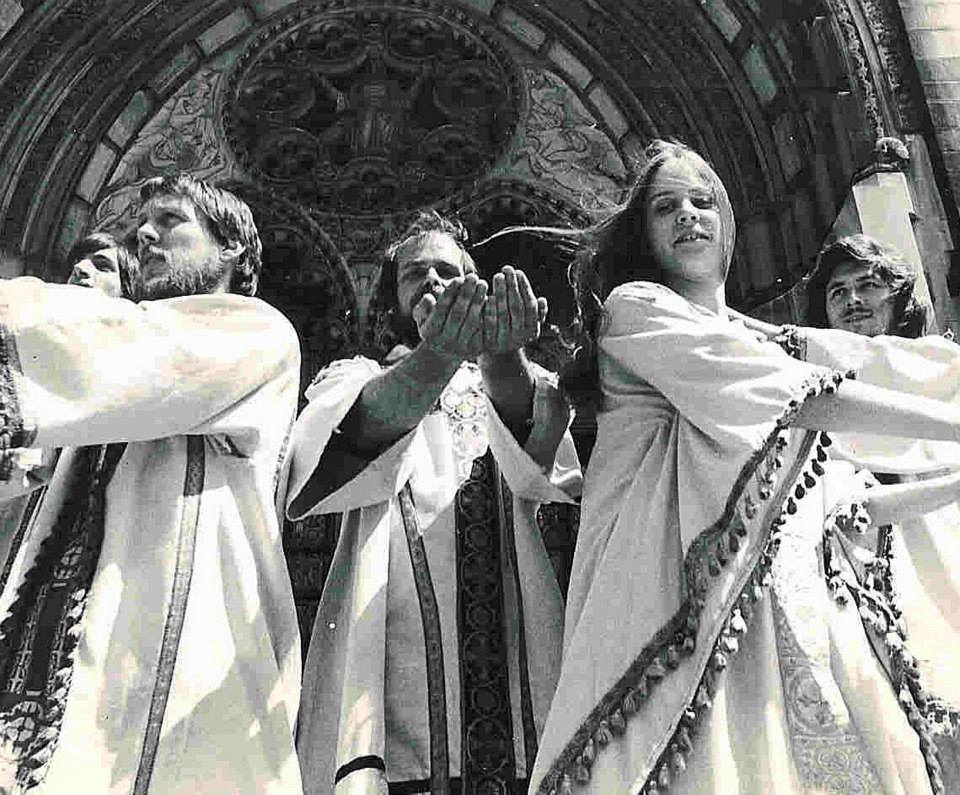 We were a live-together community with a lot of structure anyway. We lived at a monastery in New Mexico and visited others. We liked the discipline of having set, multiple services each day where we came together. Unlike other monastic orders we had men and women in the order and the ability to marry.
How many members originally started the community? Were all of them musicians?
Katheryn Krupa: It is hard to define exactly how many members started our community, as it evolved and changed from day one to the end. By the fall of that first year, once we became Christians, the number of members was twelve.
None of us were trained or professional musicians. We were mostly untrained and just picked up our instruments and learned to play them through experimentation.
David Karasek: I never thought of myself as a professional musician. Katheryn Shishonee Krupa, Bruce Gambill and David Lynch (on flute) were, but the rest of us weren't. Shipen could pick up and play any instrument and sound professional.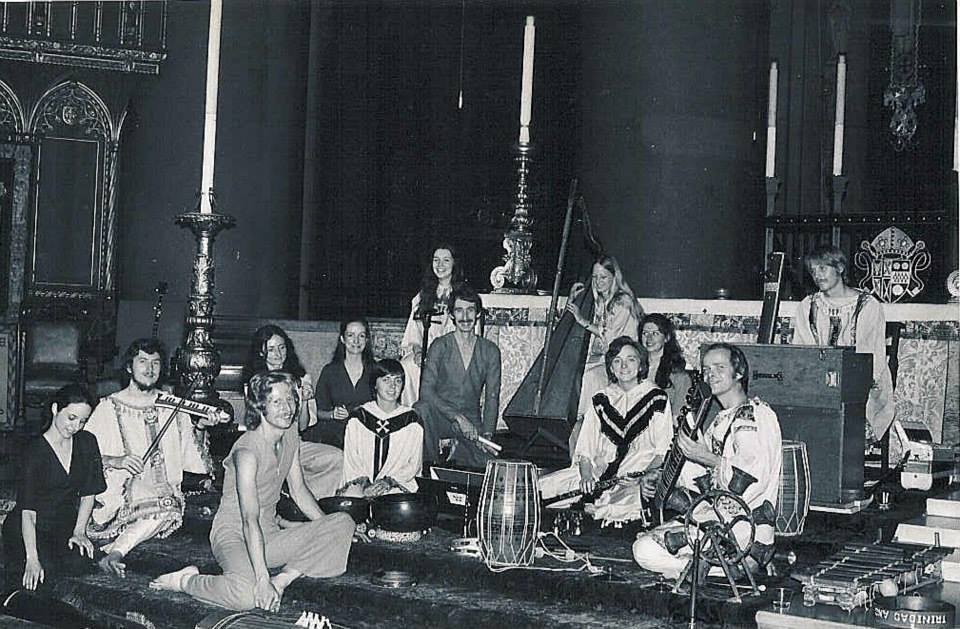 You varied in size of the group, from seven to fourteen members. 
Katheryn Krupa: It was a fluid, changing number of members even at the very beginning and throughout the seven years we existed. I ("Shishonee" Katheryn Krupa) entered the Loft when Shipen Lebzelter and Ariel Dross lived there but we weren't really "members", just people staying there with many visitors coming and going. A month later I met David Karasek and invited him to join. Soon after, David Lynch and Stephanie Arje who were frequent visitors moved in and pitched their tents in the loft. I drove back to Detroit and brought my boarding school friends "Naomi" and "Sarah" (plus my school house mother Annie) to join us and they pitched tents too. Next came Stephen Gambill, and two friends Roger and Claudia Gumbinner (who had their own apartment so didn't live in the Loft but were still a part of our group). So by the time we left New York City May 2, 1971, there were 11 of us plus a dog. (Annie did not continue on with us.) After about a year on the road travelling, we lost 5 of our members who stayed at Church of the Redeemer. We gained and lost members over the years. Still, there was a core group of five members, but it kept changing. It would take a long time to explain who came and went over the years – I (Shishonee) was the only one who was there from the very beginning to the very end. However, the core members almost from start to finish were: Shipen, Shishonee, David Karasek, David Lynch, and Stephen Gambill.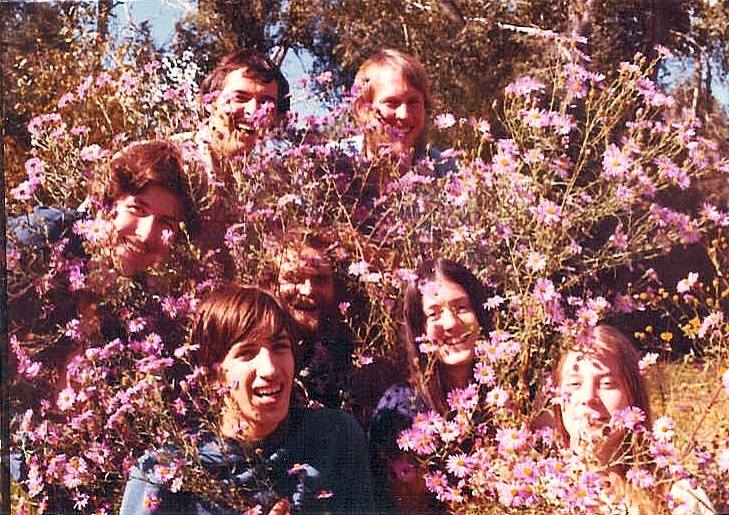 David Karasek: Shipen, Ariel, Shishonee and I technically began the unintended intentional community in August, 1970. Shipen's friends Roger and Claudia came by often, though didn't live un our commune's loft. In the fall, Shishonee's friends Naomi and Sarah, Stomp theater troupe members Stephen and Stephanie joined in, though Stephan left and rejoined us later. David Lynch joined us from the commune called Mushroom where he had met Shipen who had stayed there for a bit. This was the group that left NYC in May 1971 on our bus when our loft was torn down. In 1972 Roger and Claudia, Stephanie, Naomi left, mostly to start families. The core group then became Shipen, Ariel, Shishonee, Sarah, Stephan, David Lynch, and David Karasek (me). Some folks visited or sang with us very briefly over this period but weren't recorded with us. In 1974 Mary, Marguerite, Bruce Gambill (Stephen's Brother) and his wife joined the group. We met Mary and Marguerite through the Cathedral affiliated teaching convent called The Community of The Holy Spirit.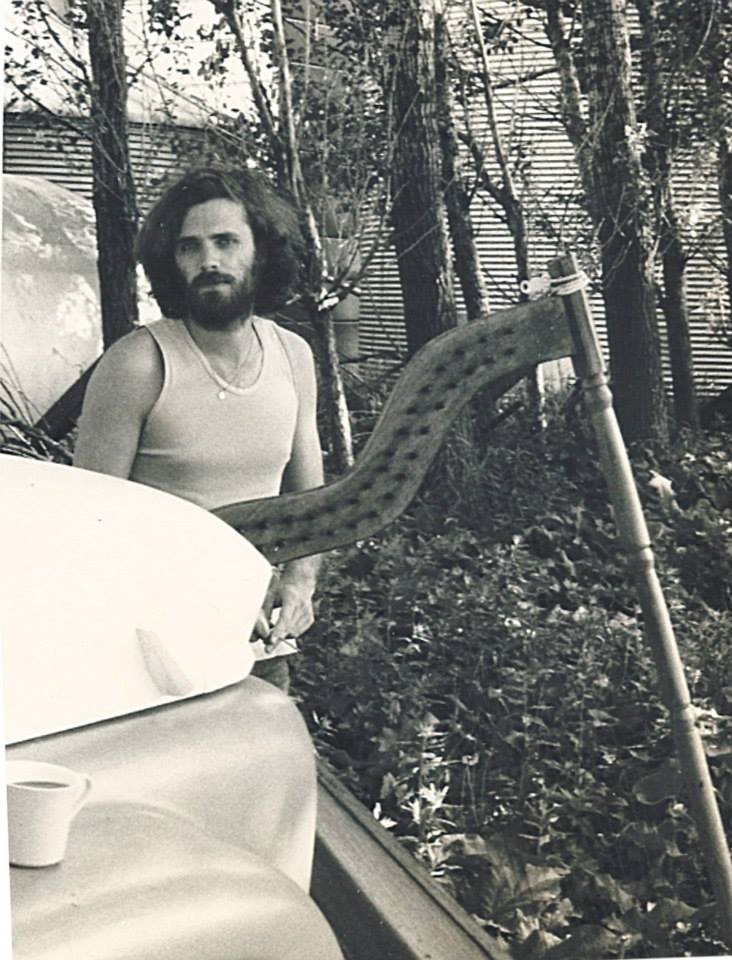 In 1972 you recorded on tape what was released as 'A Portrait of Jesus Christ in Music'. 
Katheryn Krupa: We recorded 'A Portrait of Jesus Christ in Music' at a recording studio on a busy street in Albuquerque, New Mexico. It was our first recording, and the quality was not super great. Still, it was a good snap shot of the early concert we were performing at that time. The studio itself was not well insulated so you can actually hear trucks rumbling by! Still, the engineer did a fairly good job of capturing the spirit of our musical experience. Also, it was a country recording studio and I don't think they had ever miked and recorded the kinds of strange instruments we used. We recorded it exactly as if we were performing a concert, straight through with few retakes and no overdubbing.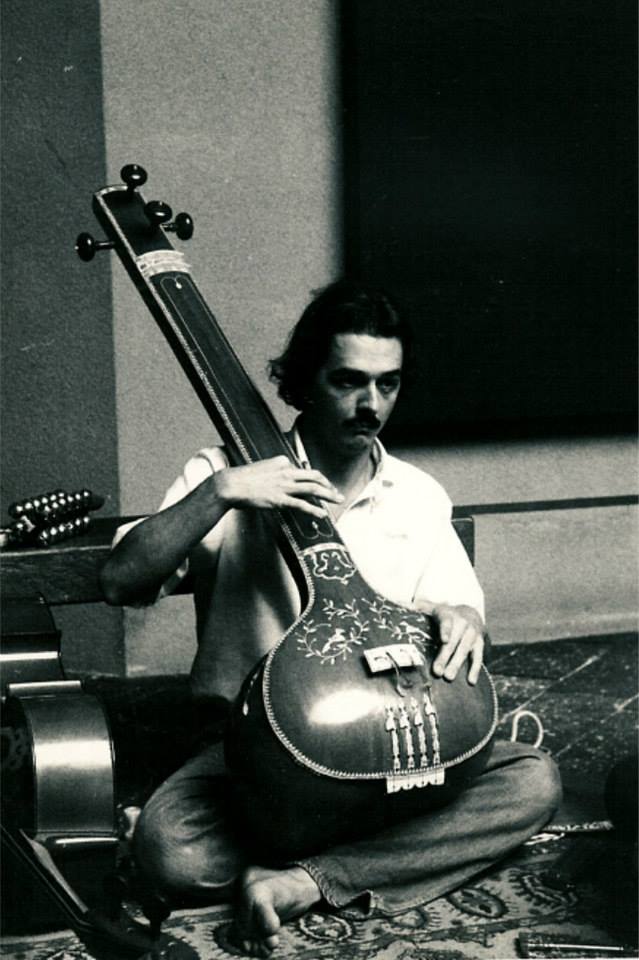 David Karasek: It was a disaster. You can hear truck traffic on the tape. And the recording quality is garbled.
The monks at the Abbey of Gethsemani recorded us much more professionally during our visits in 1971 and 1973, though the chapel was live (meaning had some reverberation.)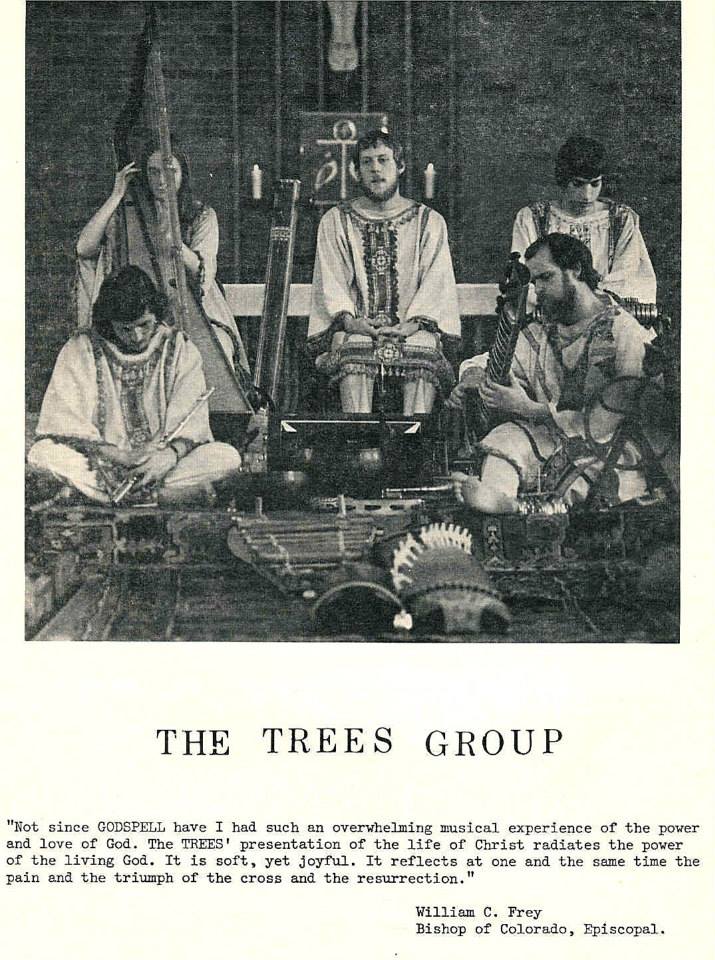 'The Christ Tree' from 1975 is a truly stunning album. It's impossible to compare it to anything from that period of time. A truly unique statement from the group. Would you like to share what's the story behind it?
Katheryn Krupa: 'The Christ Tree' was compiled as a musical meditation – our concert – that we performed in late 1974 and early 1975 while on tour. The concerts were not just a "show" but rather was a form of worship, a musical journey for those who came to experience it. For the album, we left out a few songs that were in the full concert, yet still it is representative of what we were playing at that time. On interesting note – the engineer, Michael Leary, did a masterful job with the final song called 'The Village Orchestra' at the end of the album. That last song was a free-form spontaneous piece where we passed out instruments to the audience, so each night it was different. The engineer used part of a recording from a concert we did at the Abbey of Gethsemane when we just sang in tongues with the monks and audience in spontaneous praise of the Lord, and he blended that into the instrumental Village Orchestra.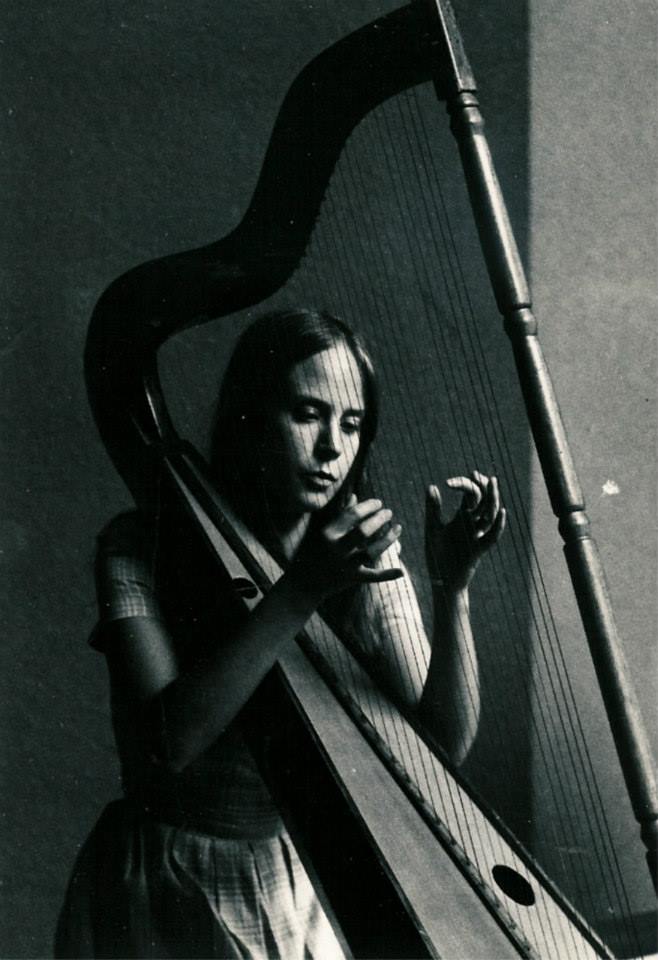 Also, 'The Christ Tree' was not just a concert, but also a theatrical event, designed to draw people into a life-changing experience. Imagine the dramatic impact of hearing strangely discordant, far off voices singing "Holy, Holy" (called 'Holy Seed' on the album) approaching from distant corners of a dimly lit church, then seeing nine men and women wearing flowing white robes and swinging incense as they move slowly through the audience…. Imagine listening to a concert and suddenly being handed a pipe from an organ, or a xylophone and invited to join in on the music… Imagine hearing distant voices softly singing the hymn "Glory be to Jesus" from the back of the church and slowly processing to the front altar singing louder and louder, then ringing Sanctus bells before a colorful banner of Jesus on the cross as two performers skip across the tops of the pews until finally everyone rises up joining in singing in tongues, arms raised in beautiful praise of our Lord.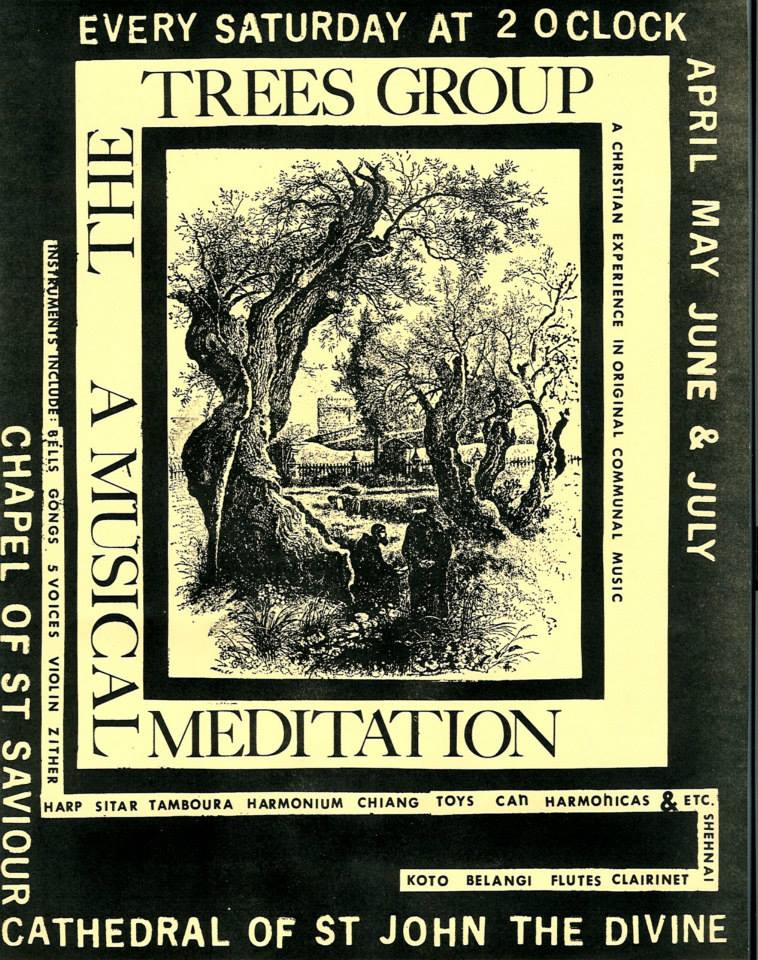 David Karasek: The music evolved over five years from our initial exploration of world cultures into an original music that expresses both pain and joy as part of the human experience and as a Christian liturgy which progresses from confession to God to communion and redemption.
Please share your recollections of the sessions. What were the influences and inspirations for the songs recorded? Was there a certain concept behind the album?
Katheryn Krupa: Most of this current album was recorded at Roller Mills Studio in Glen Arbor, Michigan, which was down the street from my boarding school where I first met Shipen, interestingly. It had separate rooms, to isolate the instruments, yet we had headphones so we could still hear each other as we played the concert through from start to finish, just as we normally would. After some practice, that is what we did. We thought we might overdub some parts, but the engineer felt it would detract from the cohesive, emotional feel of the music so we did not do overdubs (with the exception of that final song as I mentioned). Shipen, Christopher and myself helped with the final mix of the album.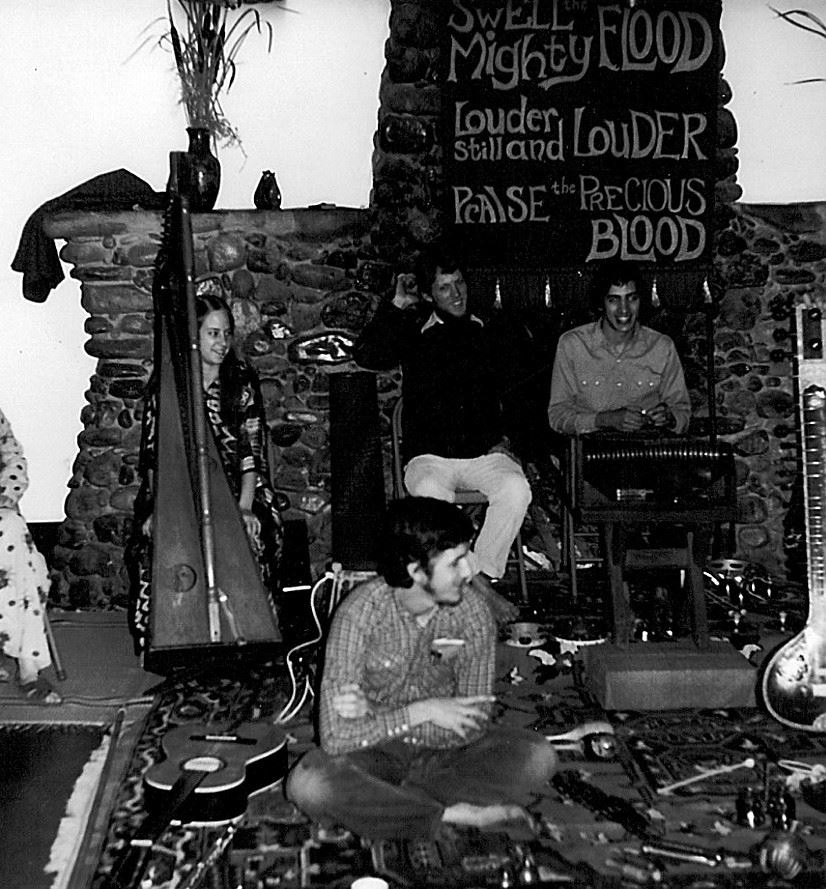 This album like the concert, was meant to be an experience for the listener, a spiritual journey that takes you through pain, sadness, oppression, wondering where God is and eventually a return of God's grace and love. I remember the engineer, Michael Leary, shared that he was deeply moved by the experience of recording the album and felt he was blessed to have been part of such a spiritual experience. That was exactly the point of it! Praise God!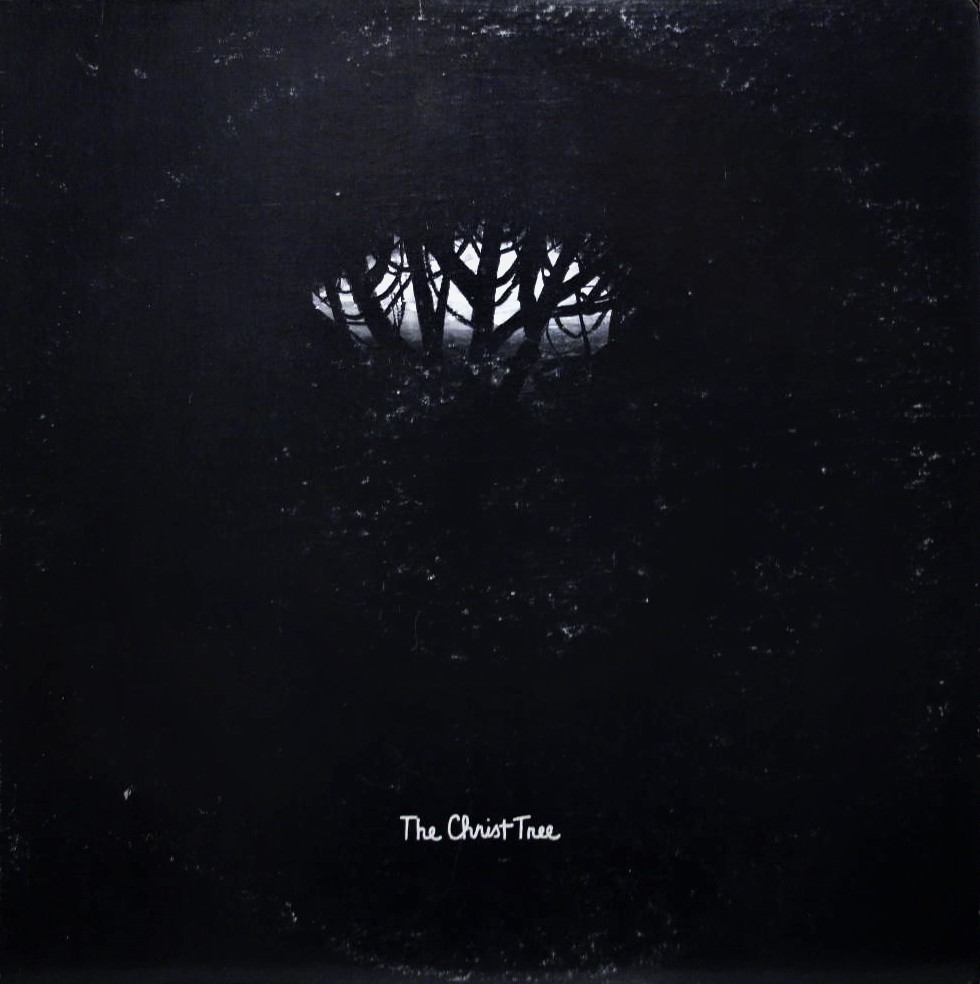 David Karasek: We listened to a lot of music. Balinese music was perhaps the biggest influence on us. I think we were first inspired to sing after a visit to a church where the choir was rehearsing and they gathered around us and sang to us. Then we just kept singing ourselves. We also listened to minimalist music like Terry Riley and a lot of folk rock musicians ranging from The Moody Blues to Don McLain.
Would you share your insight on the album's tracks?
David Karasek: 'The Christ Tree' is a liturgical progression, so the first Track is Psalm 42 where we're expressing abandonment and alienation with a strained attempt to trust God. The second Track, 'the Mustard Seed', is a musical metaphor for a seed breaking free from the earth and becoming a new tree. The name is from Christ's parable of the mustard seed. The track ends in a Balanese Monkey Chant. Traditionally a whole village performs it. But on the record it's just us. 'Psalm 45' is a spiritual wedding and is a joyous rendering on many instruments. 'Jesus He Knows' is Steven Gambill's poem set to a cappella harmony. Some church groups still sing the hymn. 'Chant for Pentecost' is the Nicene Creed embellished. "Oh Hilarious Light" is from the Philokalia (in Greek, Phos Hillaron). 'I Will Not Leave you Comfortless' is an original Hymn based on the Christ's promised return. It was originally a cappella but given instrumental dimension by the late Bruce Gambill's lyrical dulcimer.
Did you self-release your album? How many copies of the first album were pressed?
Katheryn Krupa: Yes, we released the first pressing ourselves and we pressed 2,000 copies. Our "record company" was called Pomegranate Records. We sold the album at our concerts and also through the Cathedral's gift shop or mail order.
David Karasek: Yes, 'the Christ Tree' album was released under private label Pomegranate Records.
What kind of instruments did you use?
Katheryn Krupa: 80 different instruments were used but the main instruments were: Venezuelan folk harp, Indian sitar and tambura and Indian tablas, Japanese koto, Chinese Cheng and Samisen, African balangi, cello, violin, Artley flute and many different flutes, various African drums, a zither, dulcimer, a harmonium and foot pumped organ, acoustic guitars, Balinese pot gongs, temple gongs, bells, Sanctus bells, two Mexican bell wheels, bell stand, a Sheheni, an accordion, clarinet, pipes from a dismantled pipe organ, whistles, shakers, Indian tambourines, finger cymbals, a xylophones, heavy chain, bicycle wheel parts, a multi part bamboo flute, various percussion instruments and "toys".
David Karasek: Indian: Sitar, Tamboura, Harmonium, Shehnai, Tablas, Mridangam, flutes.
Japanese: Koto
Chinese: Zheng, Cheng
Tibetan: gongs of various sizes
Balinese: gamalon components
African: Belangi and Fly
European/American: Violin, Cello, Flute, 6 string Guitar, 12 String Guitar, Zither, Dulcimer, finger symbols, pipe organ pipes, finger cymbals.
Mexican: Sanctus Bell Wheel
How would you describe your sound and what were some of the influences, meaning what cultures, what places and what inspiration did you take?
Katheryn Krupa: We listened to Steven Reich, 'Tubular Bells' by Michael Oldfield, Balinese monkey chant, Gregorian chant, Gamelon orchestra music, Ravi Shankar's Indian ragas, and Japanese koto and sheng orchestra music. Personally, I was influenced by Aaron Copeland, Mark Isham, Judi Collins, Leonard Cohen, Simon and Garfunkel, and Buffalo Springfield. I especially loved the way Aaron Copeland and Mark Isham would weave in melodies one over the other, and I did that a lot in the parts I wrote for many of our songs. I also drew on the influence of Ravel and Debussy which I loved for their strangely discordant harmonies they used… I often found when I wrote a song that I could just "hear" the male and female voices rising and flowing over one another at the same time. For most of the songs I wrote, I would go off and write a song first and flesh out the chords, melodies and harmonies, including the lyrics (which could be Psalms or maybe one of my poems) and then I'd usually bring it to the group to add their instruments and we'd further develop each song. For a song like 'Jesus He Knows' which Stephen wrote, he had the melody, then we all added our own harmonies, which might change depending on who was in the group at the time. Some songs like a raga or the Asian sounding 'Bird Song' or 'Parable of the Mustard Seed', it was pretty much all instrumental and spontaneous. Those pieces would evolve and change from performance to performance. They might have a certain free form structure, but we let those songs play out differently each time we did them. Two songs I wrote, 'Your Name' and 'Such a Love' were both songs I wrote on the guitar and are a bit more "traditional" sounding than most of our music.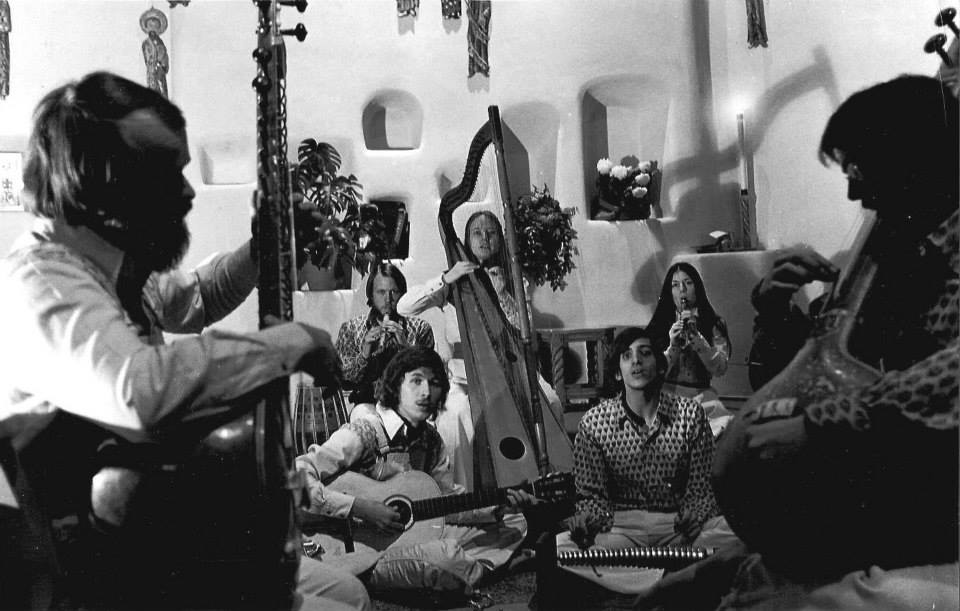 What happened after the album was released?
Katheryn Krupa: As far as the album goes, we sold it at concerts and through mail order, and at the Cathedral gift shop. As for the group…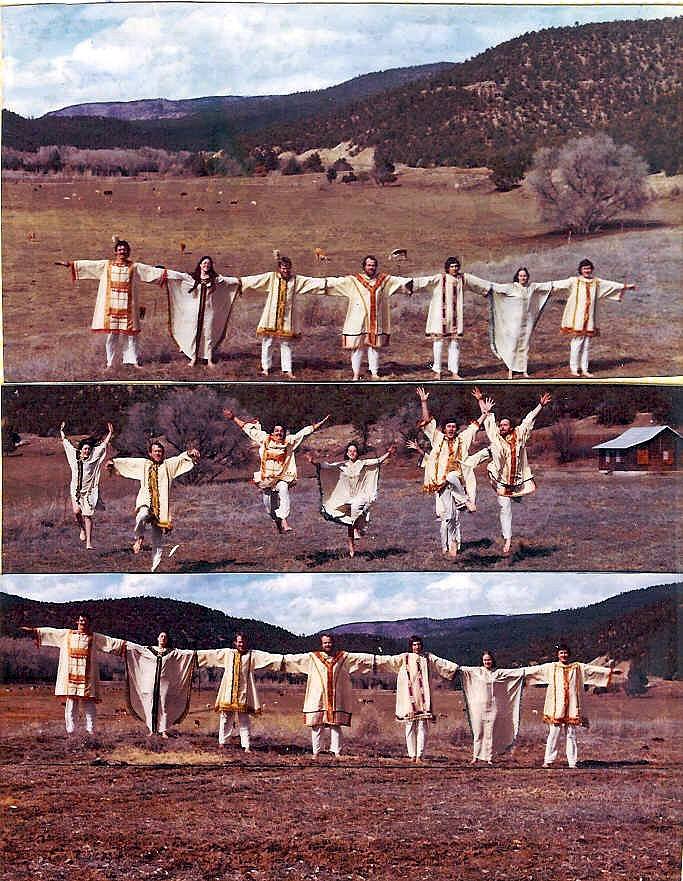 We had just moved out of the monastery in Pecos, New Mexico and gone on tour. The album was recorded toward the end of that long tour. So after we finished the recording, we finished up our tour and moved back to New York City, to live and work at the Cathedral of St. John the Divine. We set up weekly Saturday concerts there, began baking sourdough bread and selling it around the city, and started to prepare for future concert tours. We also worked on establishing our religious "order" and Canon West set about teaching and was the Abbott of our order. About a year after our return, Shipen left the group and we had to vote in a new "leader" for our religious community – plus we gained and lost some other key members (who wanted to go to school or raise a family). Meanwhile, we continued to write new music and perform it, do tours and work, all while living a semi "monastic" life. Finally, after six years together we decided to leave the Cathedral. We sublet our apartment there and our community (5 of us then) moved to a new apartment we renovated down at General Seminary. At that point we were: Shishonee, David Karasek, David Lynch, Stephen Gambill, and Mary McCutcheon. With our new home base at General Seminary, we then did some concerts around the New York City area, then packed up our instruments back onto our bus and did a three month tour of the Midwest. At the end of that tour, both David's and Stephen left the group, with only Shishonee and Mary still hanging on. We lost our lease at General so we packed up everything and moved to Michigan. A few months later, Mary and I realized we weren't getting any new members. It was time to formally disband the community. The two of us sold the bus and worked to pay off all the debts there were. Mary transcribed all the music, we wrote down our "Rule" to preserve it, and sadly, the Trees ended. As the final member, this was immensely emotional for me and it took years for me to deal with the loss.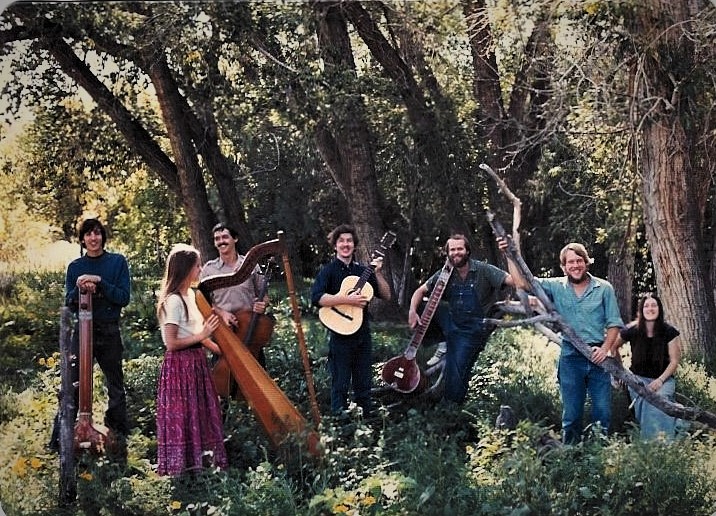 David Karasek: The group eventually broke apart due to a combination of factors. Mostly folks wanted to be stable, in one place, instead of tour all the time for money. New York City was broke at the time and our church was too. After awhile, the church could no longer support us.
Are you excited about the Old Bear reissue of your music?
Katheryn Krupa: Yes, I am VERY excited! I never wanted the music or the community to end – I felt the music was such an incredible gift. So now I am really glad that we can share this music again with others!
David Karasek: The thing I'm most excited about is getting the music professionally publicized at a scale much greater than before, so there is a wider audience for the music. I think the vinyl LP will be nice to hear, and the big album cover I did will be nicer to look at than a CD case.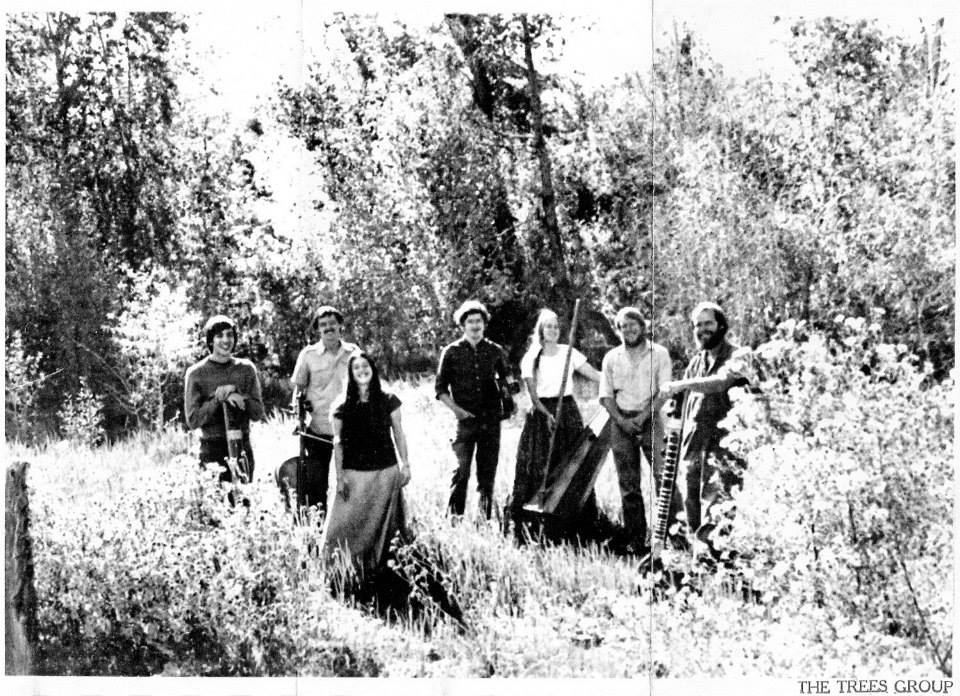 Are there any other releases that I'm not aware of?
Katheryn Krupa: Yes, there was a boxed set of almost all of our recorded music that was put out by Tim Renner of Dark Holler Hand/Eye Records in 2007. Very few copies were made however and it is now out of print.
David Karasek: In 2004 the music was digitally remastered from the original tapes by Timothy Renner. A CD Box set was published as well as a CD single with some extra tracks not on the LP. These include some early songs from 1971, a raga, and our early form of free form singing.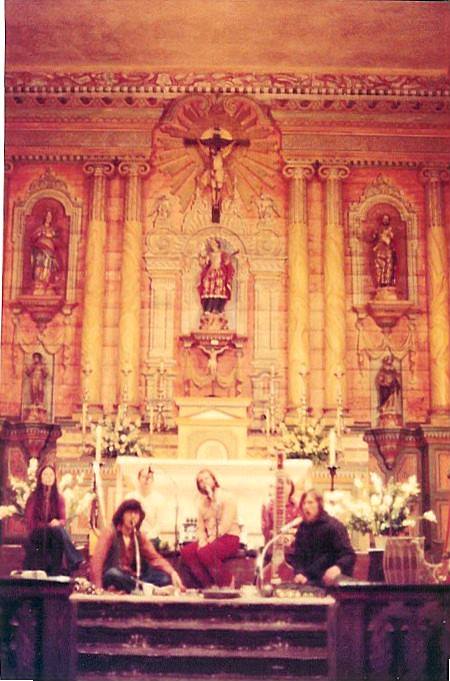 Is there any unreleased material?
David Karasek: I'm thinking it was all included in the CD box set.
Katheryn Krupa: Yes. A few songs we performed were never recorded – one is Psalm 137 (By the waters of Babylon we hung up our harps on the willows there…) which we performed but did not record, unfortunately. However, Mary transcribed it and I am working on that song right now with the hope of recording it in some fashion.
What currently occupies your life?
Katheryn Krupa: After leaving the Trees I wrote music and performed with a progressive rock band called Art in America. We toured and recorded an album with Sony Records of the same name called 'Art in America'. We just finished a release of some of our music on our own label Edgewater Records and so we are promoting that AND working on some new music. We also plan on re-releasing our first album sometime this year. Art in America has been together since the Trees broke up, since 1977 and is made up of my two brothers and myself on harp, koto and tambura. I was an art teacher and just retired after 20 years teaching art. I felt it was important to write about my life in The Trees Community, so I self-published a book which really needs a good editor! It's available at www.thetreescommunity.blogsite.com. I travel a lot, mountain climb, kayak and love writing poetry and music.
David Karasek: I'm a traditional and digital media artist, technical and creative writer. In addition, I'm an information technology solution architect in multiple industries and areas of community service. I've worked in financial services, health care, pharma, transportation, government, social services, mass transit and dog rescue. I also do some volunteer work with our township and county as a committeeman.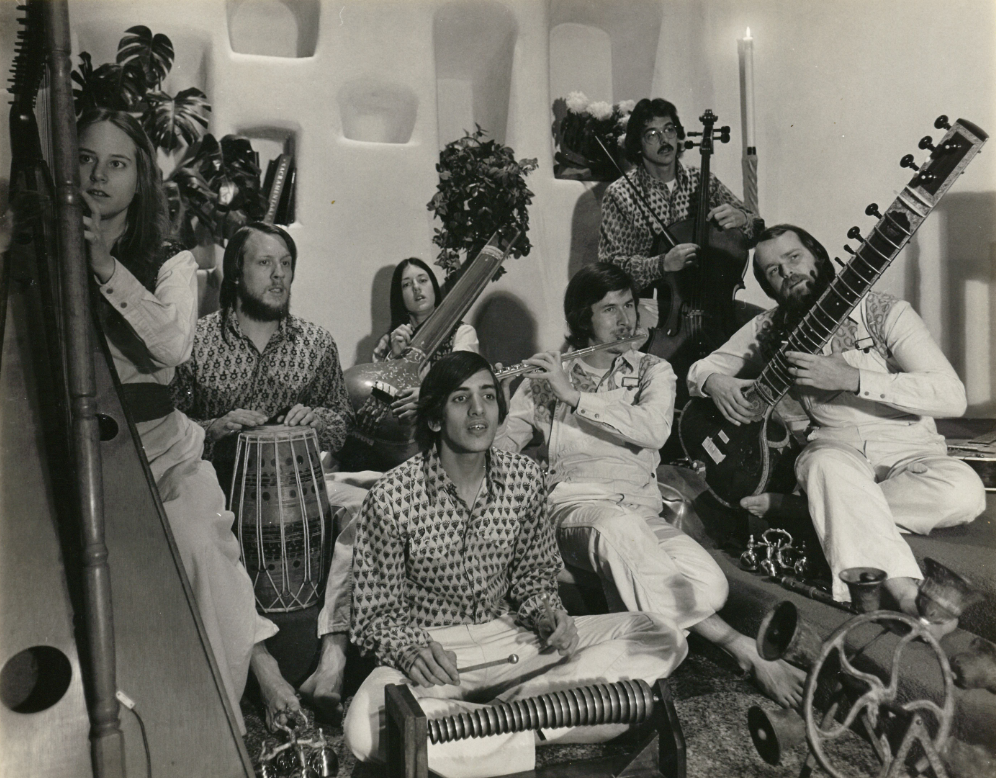 Thank you for taking your time. Last word is yours.
Katheryn Krupa: Thank you for the opportunity to share some of life's adventure with you! I greatly appreciate it and I hope the Trees music will touch other's lives as deeply as it has shaped mine.
Klemen Breznikar
---
The Trees Community Official Website
Old Bear Records Official Website