Acid Acid – 'Jodorowsky' (2020)
Last year, a friend of a former girlfriend of mine told me about the experience of watching 'The Holy Mountain' while on acid. He starkly recommended not to do the same. Not having that much experience with hallucinogens myself, I would have serious doubts in dropping acid to watch 'The Holy Mountain'.
---
The stimuli bombardment of the film is a trip in itself with its various settings and moods. Travelling through time in memory, around 2015 Tiago Castro, a renowned Portuguese radio broadcaster famous for his weekly 'Floresta Encantada', started developing his own alter ego music persona. Not just 'Acid' once but twice, Tiago Castro doubles the action and gets into 'Acid Acid'.
Acid Acid's first album ('Acid Acid', 2016) can be described as kosmische lounge music with the odd faint distant chatter of disruptive fellow travelers in the background. In 2017, after developing a certain following in these shores, Tiago Castro was invited by Motelx, a Lisbon Film Festival dedicated to the horror/sci-fi genre, to compose a piece for one of the speakers at the Motelx '17 edition.
The speaker in question was Alejandro Jodorowoski, the Chilean director and artist responsible for the above mentioned 'The Holy Mountain'. The other main speaker was none other than Roger Corman, just to get the gist of it. The end result sparked off by that invitation was Acid Acid's second album, simply titled 'Jodorowsky'.
Imagine if Jodorowsky directed a Giallo dream sequence in the dense forests of Germany with John Carpenter overseeing the soundtrack. If you allow yourselves to feed such a thought, then this mellow album is the soundtrack for that same thought.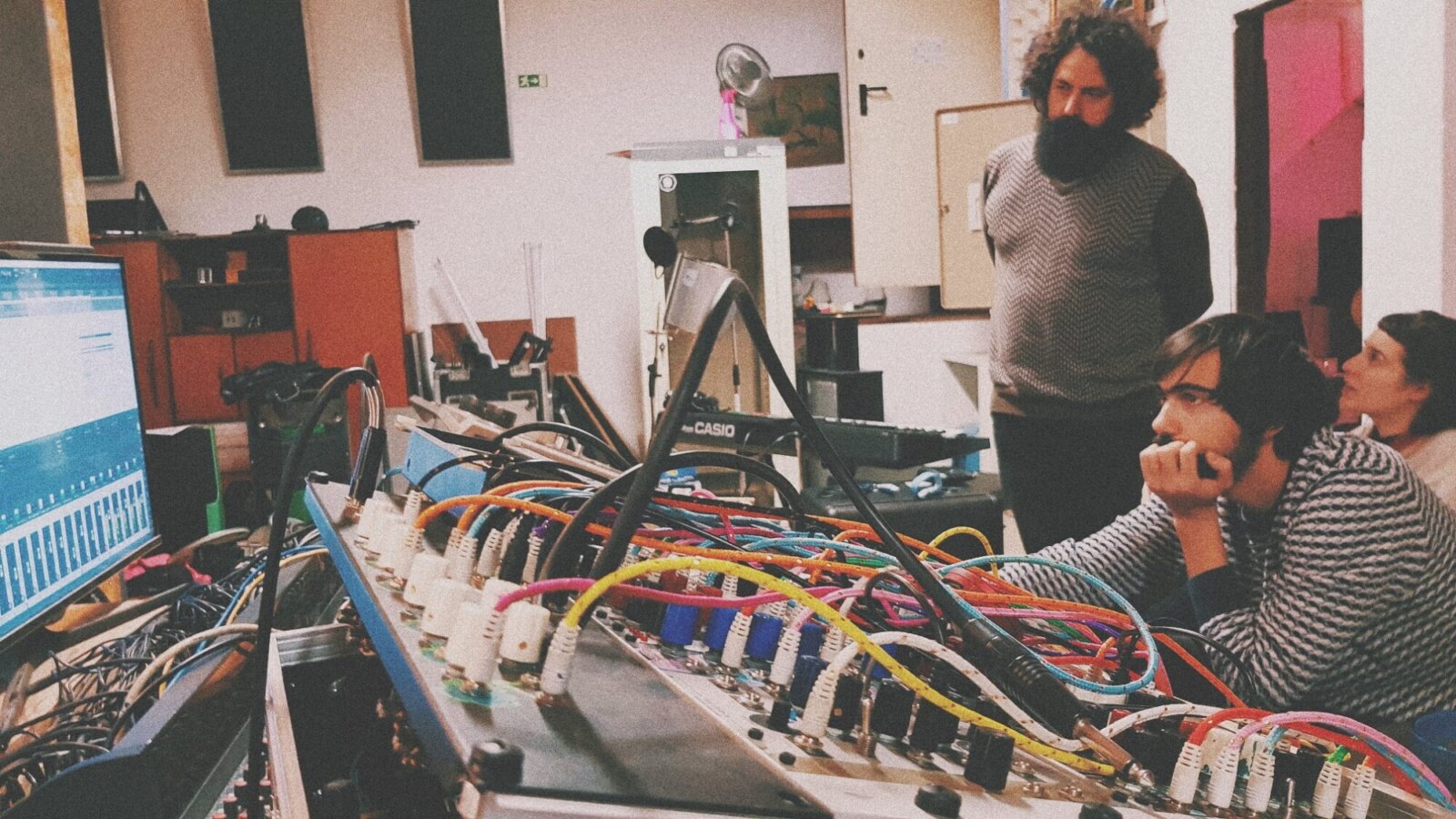 Recorded at Spring Toast Studios with Rui Antunes and Violeta Azevedo producing, Tiago Castro conjures up quite an imaginative and cinematic soundscape for what would be an 'Original Motion Picture Soundtrack' for a movie that will never be made. Divided in two side long tracks, aptly titled 'Jodorowsky A' and 'Jodorowsky B', the album starts off with the awakening from a soft slumber deep in the forest. Distant but firm, a rumble arises out there through the wind in the trees like lumberjacks armed with tractors and machinery to tear down and make way for roads and civilization. The rolling of sludgy guitars is aided by percussive elements from cloud obscured fields of synthsized electronica at a distance, propelling the listener deeper into the forest's paths while trying to avoid the confrontation with said timber company.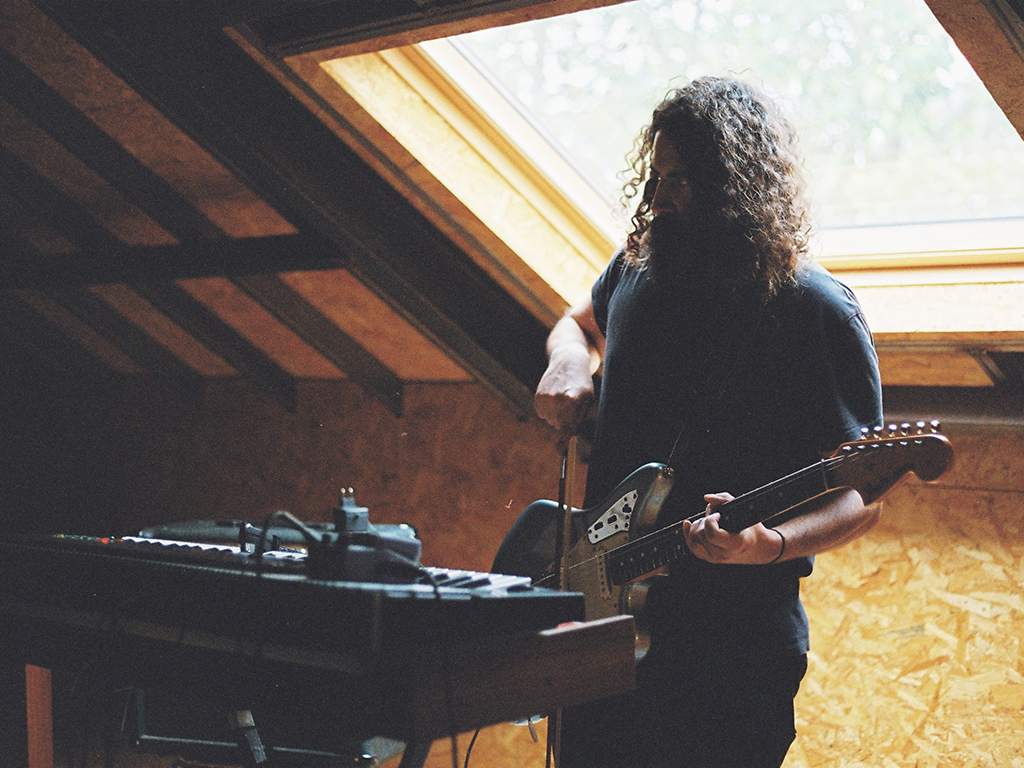 Eventually, one finds the other edge of the forest with its paved roads and transports. A tram is found at the stop, ready to take the tree dwellers back to a city centre filled with concrete, imposing buildings and swarms of people. Behind us, the trails we just tracked out of that enchanted forest become a goodbye to the chirping birds that still ring in our ears. As this tram clickety clacks down the tracks, it seems one can already hear the sound of ambulances, construction sites, loading and unloading vans and the various conversations in many idioms. At each stop, the cascading guitar lines express the pulsating heart beat of the city gets louder and more intense. Soon, some might say too soon, we reach the inner city destination and as a last breath of forest is exhaled, the listener has to face the city.
Luckily, that same city is permeated with paths alongside a river bed that allows the reverie to continue, courtesy of an acoustic guitar and the river mermaid like flute work of Violeta Azevedo. It is only when one must choose to walk along the river or to turn to stray deeper into the city that one takes the real last sigh of tranquility. It is here that one gets immersed in the city where the night has fallen and other walkers might bump into you while distracted at screens with loud devices and/or their routine conversations. At this moment, the non soft disheveled noise blinking lights city becomes the focus. The rainy pavement reflections glimmer on the ground propelling the music in shuffled soggy steps. All this to be shunned away through the power of sound and mind with some more angelical blue eyed peacefulness which you might miss in a blink of an eye.
'Jodorowsky' was two years in the making. In it, one witnesses Tiago Castro bringing a bit more of himself into the Acid Acid persona. Since its recording, in January 2018, to say a lot has happened is an understatement. Some moments were good, some were great, some bad, some not great at all.
After all that occurred since its inception, Tiago Castro and the Nariz Entupido crew have worked hard with a gigantic as a mountain effort to make this album come to life. No longer a Jodorowsky film on a silver screen but actual near surreal "It's finally here!" dream come true listenable record. Via cinematographic inspiration, 'Jodorowsky' reflects what they believe to be of quality. Perseverance is the key and the music backs it up.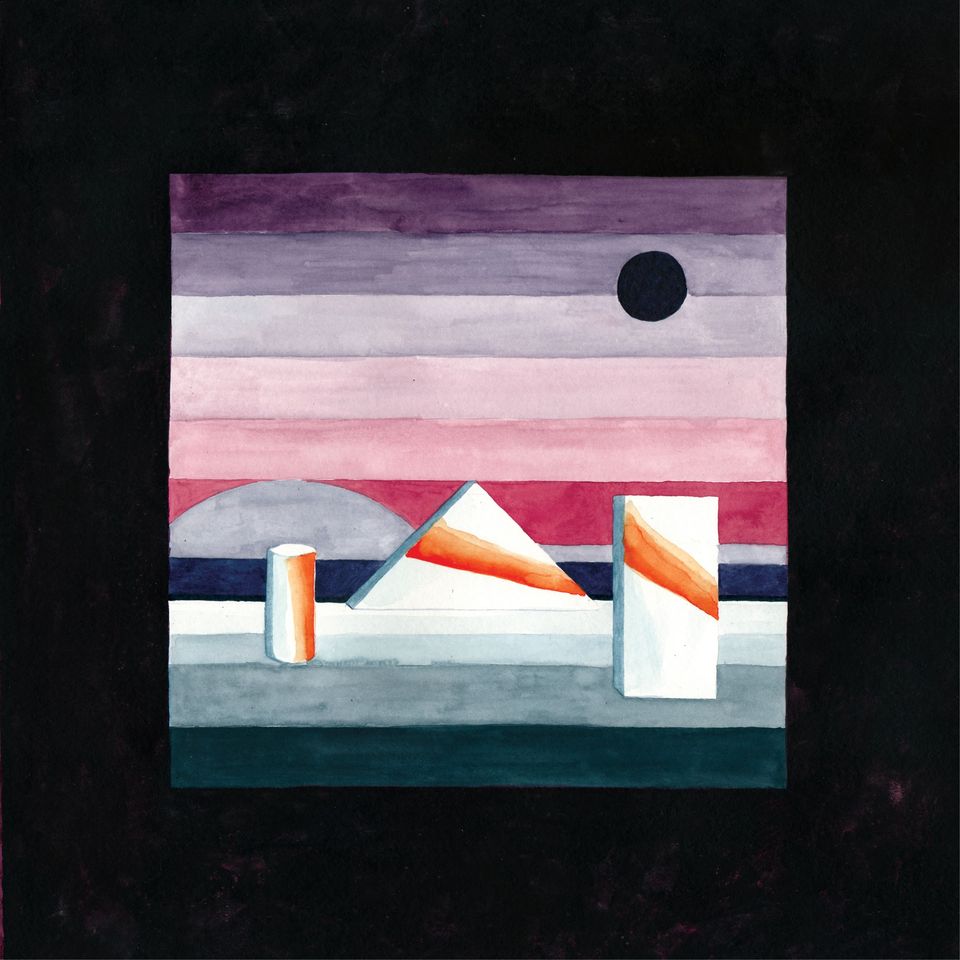 Housed in wonderful artwork by Portuguese artist Carlos Gaspar, 'Jodorowsky' by Acid Acid will assume its physical shape on a 300 vinyl only limited edition on the 1st of October on the Nariz Entupido imprint (digital download of the album is also possible on Acid Acid's digital music platform).
To celebrate its existence, there will be a listening party at Chasing Rabbits, a stylized new 21st century indie/alternative 'mom & pop' record shop hang out spot that also boasts a beyond tasty vegan/vegetarian food and beverages menu in tune with the owners' ethos and aesthetics.

Shame most of you readers are not in Lisbon to witness o que é que nós estamos para aqui a fazer para nos mantermos sãos e positivos!
Carlos Ferreira
---
Acid Acid – 'Jodorowsky' (Nariz Entupido, 2020)
Acid Acid Facebook
Acid Acid Instagram
Acid Acid Bandcamp
Nariz Entupido Facebook
Nariz Entupido Instagram
Chasing Rabbits record store Facebook
Chasing Rabbits record store Instagram
Carlos Gaspar Instagram