July – 'The Complete Recordings' (2020)
Originally formed from the remnants of two bands, the Tomcats and The Second Thoughts, Ealing, UK based July released only one album and two singles, on the Major Minor label, in their original incarnation, which while garnering positive reviews all failed to impress record buyers and sadly fell quickly into the cutout bins, with the group calling it a day in 1969.
---
Over the years, the LP has become legendary among psychedelic music collectors, with original copies fetching as much as $3,000 and more. While the album has been reissued in its mono version several times, it is only now that the album is seeing release in both its mono and stereo versions, the latter previously available only on its 1968 US-only Epic Records offering. The two versions of "July" are joined by 1995's "Second Of July" a compilation of demos recorded previous to "July" as well as the 2010 comeback album "Temporal Anomaly" which was not released because band members were displeased with the sound of the mix and its re-recorded band approved 2013 version "Resurrection" released on the Neddysongs Recordings label, a non-LP 2016 single, and the brand new 2020 twenty three track, double LP appropriately titled, due to the band's Beatles' influences, "The Wight Album" in a comprehensive six CD box set "The Complete Recordings" that does indeed gather together the complete works of a psychedelic rock band that offered so much yet sadly attained so little when it hit the scene over half a century ago. This new collection, on Cherry Red Records' Grapefruit Records imprint goes a long way in righting the wrong done the group in 1968 and serving as a document of the quality material produced by July over its on again, off again, fifty year plus lifetime, a rather impressive collection if I do say so.
Disc one contains the mono mix of "July" recorded by the original lineup of lead vocalist/rhythm guitarist Tom Newman, lead guitarist/organist Tony Duhig, vocalist/flutist/organist Jon Field, bass guitarist Alan James and drummer Chris Jackson. The LP consists of five tracks written by Newman, one penned by Jackson, and six by Tomcats member, guitarist/vocalist Peter Cook, a close friend of Newman's, who while slated to be part of July was dismissed due to his antics outside the realm of music and personality conflicts, but who has been integral to July releases from their earliest days until the present. The album is a product of its time, heavily influenced by The Beatles' "Sgt. Pepper Lonely Hearts Club Band", a fact that can be heard throughout the long player. Among the highlights of the LP are its opening track "My Clown ", a Cook composition full of phased Beatlesque vocals and rocking wah wah guitar courtesy of Duhig. The track was released as the a-side of the group's first single, hitting record shops in June, just a month before the LP. The album's strongest track is Newman's "Dandelion Seeds" featuring more phasing, trippy lyrics and incredible guitar work by Duhig, from his tasty lead line to his backwards guitar solo supplemented by a mid-tune keyboard interlude by Field. The tune was recorded in an entirely different version and released as the b-side of "My Clown" and has been featured on many compilation albums over the years. "Hallo To Me" written by Newman includes more "Sgt. Pepper" influences and has a much heavier psychedelic feel thanks to Duhig's outstanding guitar. Likewise "Missed It All" showcases July's heavy side with Duhig supplying phased guitar and tasteful keyboards by Field, with Jackson's drums pushing the beat. Newman's "The Way" has a sitar intro and wah wah guitar by Duhig, with its sitar solo belying the song's Eastern influence. The lone Jackson composition, "Crying Is For Writers" is without question one of the LP's strongest tracks with its organ intro, phased vocals, tablas and screaming wah wah guitar with keyboards adding texture. However, it is Duhig's wah wah fueled solo that drives the heavy psych rocker. Cook's "I See" opens with Duhig's guitar which gives way to bouncy "Sgt. Pepper" influenced sitar and tablas, phased to give the tune its trippy vibe. "Friendly Man" features insistent guitar followed by a string interlude before Duhig solos. A tempo change slows things down a bit before Duhig solos a second time to play the song out. The album closes with Cook's "A Bird Lived" including more Beatlesque vocals with Jackson and Duhig each taking short solos on drums and guitar respectively before Duhig takes charge soloing the song and album to a close joined by gorgeous vocal harmonies. The disc is completed by both sides of the two singles released in support of "July". "My Clown" is joined by its b-side, the alternate version of "Dandelion Seeds" which is much more guitar centric, Duhig's distorted six string in charge from the outset. A massive solo by Duhig gives way to a keyboard interlude by Field and dreamy Newman vocals before Duhig's second solo drives the song to its conclusion. The non-LP, Cook penned "Hallo Who's There" is reminiscent of a Roy Wood tune with its oboe and acoustic guitar sounding incredibly like "Hello Susie" which The Move would include on their second long player "Shazam". The track's sitar and acoustic guitar give it a bouncy, jazzy feel, with the sitar being the focus of this bawdy number, a good time rocker with crowd noises added as the song comes to a close. The disc closer is the single version of "The Way" with sitar and wah wah giving the tune its infectious Eastern vibe. One can only wonder why this track was relegated to the b-side as it is a stronger tune with more commercial appeal than the a-side. Sadly, neither of the singles drew attention or generated sales, suffering the same fate as the album.
Disc two features the stereo version of "July" unavailable since its 1968 US-only release on the Epic Records label and is one of the strongest selling points of this box set. Unlike many albums of the time, the LP is indeed a stereo recording with only two of its tracks created from the mono version.
Disc three contains the fourteen tracks first released on 1995's "The Second Of July". These are demos recorded by Peter Cook and Tom Newman before the "July" album, and contain takes of nine of the twelve tunes included on the 1968 LP. "You Missed It All" is a melodic take including keyboards, acoustic guitar and vocals with an electric guitar outro. "My Clown" is a trippy number with acoustic guitar intro, followed by stabbing, phased electric guitar and sounds much like the final album take. "Dandelion Seeds" has a shuffle intro, with slashing electric guitar layered over acoustic giving hints of things to come in the finished product. "The Stamping Machine" is a heavy electric number that somehow did not make its way onto "July". "A Bird Lived" is melodic, with chugging guitars a la "Sgt. Pepper" and gorgeous vocal harmonies. "Look At Her" is a gentle, acoustic Beatlesque tune that didn't make the album but features a lovely melody and vocal harmonies. "The Way" is trippy even in its demo form, with heavily echoed vocals and featuring tasty electric guitar, but sounding much different from the Eastern influenced version on "July". "Family Man" has a drum and acoustic guitar intro which lead to vocal harmonies and electric guitar. The lead line is crisp and clean with fuzz added, giving a more finished feel. "I See" is a light, melodic take with acoustic guitar and gorgeous vocals, both heavily echoed. "The Girl In The Cafe" is a non-LP track with acoustic and electric guitars suppleming the Beatlesque "A Day In The Life" vibe. "You See Me, I See You", another non-album tune, is heavier with electric guitar and frantic vocals, while retaining its melodic feel. With so much promise it's a shame this uptempo song didn't make the album's final cut. "Man Outside" is a gentle acoustic number with bits of electric guitar over its balladish vocals, a sad, mournful tune, far removed from those included on the finished album. "Move Over Sweet Flower" has an electric intro and heavily echoed vocals, melodic but not as light and breezy as the finished track. "Hallo To Me" is another light Beatlesque tune with gentle acoustic and electric guitars lacking the psychedelic feel of the version found on "July". Ten of the fourteen tracks found on "The Second Of July" are written by Newman, quite different from the balance found on "July". Presented in mono, the sound quality of these demos is amazingly good, considerably better than previous releases, another strong reason to acquire "The Complete Recordings".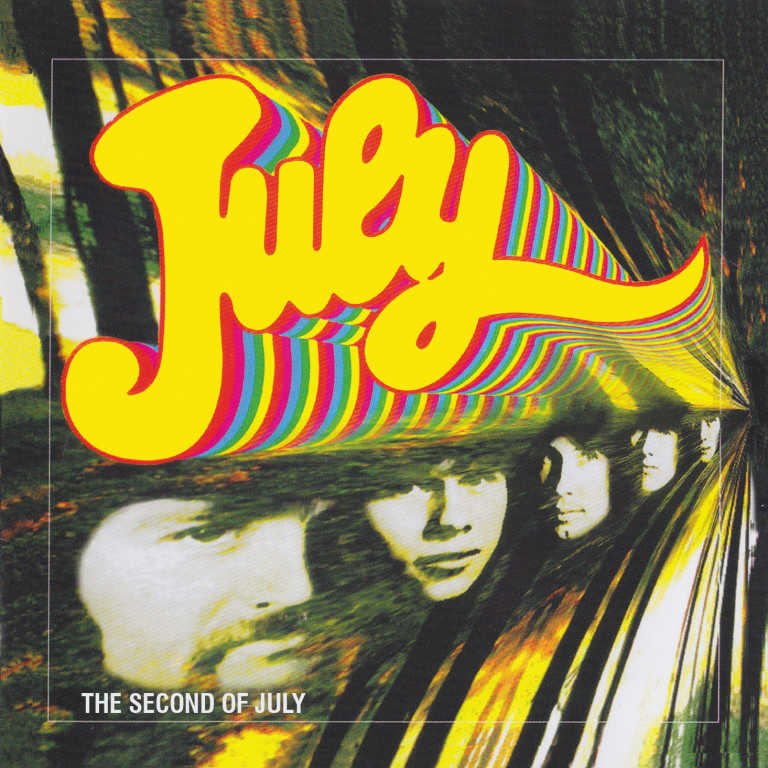 Disc four contains "Temporal Anomaly", the fruits of July's 2009 reunion, with original members Tom Newman, Alan James and Chris Jackson being joined by Peter Cook who had composed five of the twelve tracks included on "July". In the end, "Temporal Anomaly" was not issued as planned in 2010 due to Jackson and James being less than pleased with the sound of the final mix. The LP, with some alterations, was re-recorded and released in 2013 under the title "Resurrection". The 2010 recordings were originally recorded under the moniker the Tomcats, because Cook, not being a member of July, felt this was appropriate. "Temporal Anomaly" indeed is far removed from "July", being a collection of rock tunes fitting for 2010, but lacking connection to the recordings of the original band and its 60's vibe. "Temporal Anomaly" is a fine album in its own right, although Jackson and James were, in retrospect, spot on in holding out, as the re-recorded "Resurrection" is indeed far more appropriate as a reunion album of July. Thanks to Cherry Red, the 2010 album finally sees the light of day, and is added to the July catalog, both for historical purposes and to make "The Complete Recordings" truly complete.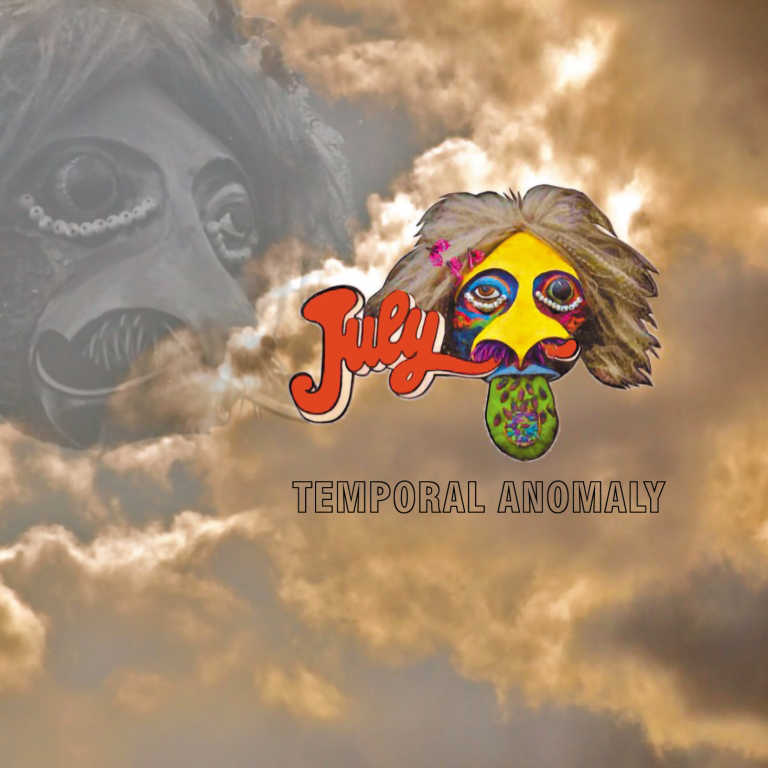 Of the ten tracks included on "Temporal Anomaly" eight are Peter Cook compositions compared to two by Tom Newman, a result of Cook feeling that if he were to be accepted into the good graces of the band he needed to have something to offer. I'd say he met that requirement and then some. Cook's "I Like It" is an electric rocker, with an understated lead line by Cook and nice guitar interplay between Cook and Newman. The tune sets the stage for the LP's updated sound, being neither reminiscent of the 60's nor Beatlesque. "If" is a heavy psychedelic rocker with echoed vocals and gorgeous harmonies. The song contemplates the perils of love with its "if I could change one thing, would I change anything" and "it's far too easy to say it shouldn't have been this way". Cook contributes two solos, the latter playing the song out. "A Day To Remember" is a melodic number featuring vocal harmonies from Cook and Newman and understated lead guitar courtesy of Cook, along with its repeated chorus of "sex is poetry and love is turmoil, I love poetry" and Cook supplying another memorable solo. Newman's "All The Hours There Are" is a mid-tempo, introspective rocker, with Cook's lead guitar soaring over the powerful rhythm section of Jackson and James. "Don't Let Me Down" is a hot rocker with fuzzed out guitar by Cook, who supplies two solos to complement his introspective lyrics. The album's highlight is Newman's "Magical Days" which reminisces days gone by, name dropping The Who being on Brunswick Records and The Searchers on Pye, while lamenting the move from analog to digital as part of the changes in technology, summed up as "media bullshit from cradle to tomb", mentioning Colombian weed and the emergence of materialism in its social commentary, making the tune an obvious choice as a 45. "Regeneration" is a nod to The Who's "My Generation" with its "don't make the boys turn into men" and mouth harp added to the mid-tempo tune which contains yet another tastefully restrained solo by Cook. "Dreams" features more retrospective lyrics regarding fantasy becoming reality evidenced by "don't wake me up tonight because I'm dreaming", and a tasty Cook solo playing the song out. "I'm Talking To You" is another standout track with its Kinks' vibe and sound, the mid-tempo track featuring Cook's lead line and restrained solo. The tune has commercial appeal and would have been another excellent choice for single release. The album closes with "Lights", a rocker led by Cook's guitar and Jackson's driving drums along with Cook's dreamy vocals. Cook's reverb laden lead guitar takes over mid-tune as he solos the song and the LP to a close.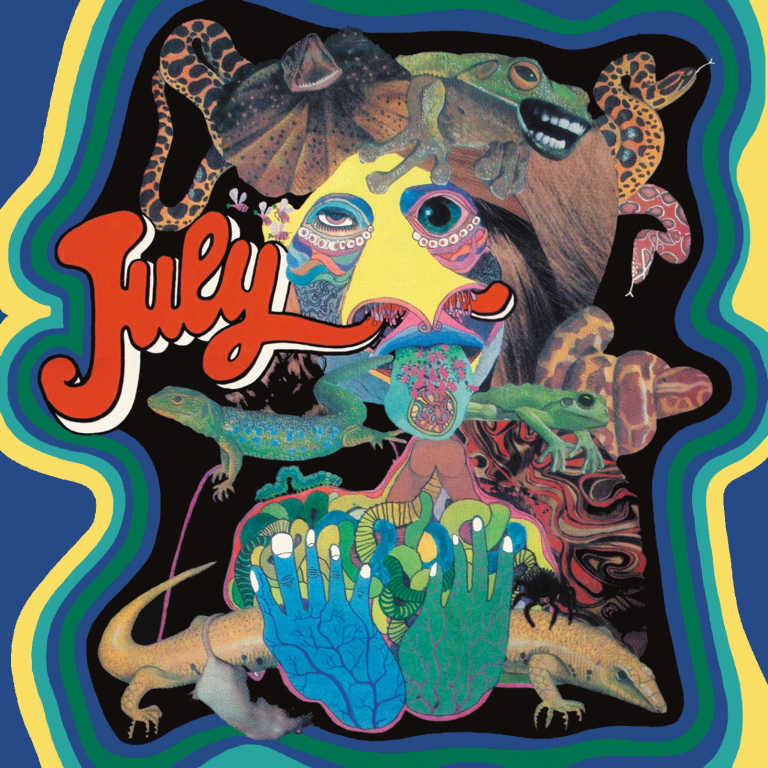 The band reentered the studio in 2013 to record "Resurrection", reverting back to its 1968 roots with sitars and tablas along with some studio trickery coming to the fore resulting in an album that pleased all band members and saw release on the band's own Neddysongs Recordings label. Among the LP's twelve tracks are rerecordings of seven of the ten from "Temporal Anomaly" with Cook penning nine of the LP's tracks and Newman the remaining three. The album opens with "Dreams". Sitar and organ introduce this moody tune stretched out to five minutes, Cook's fuzzed out guitar and Jackson's driving drums supplement Cook's sublime vocals. Likewise "I Like It" has added tablas making the tune faithful to July's origins. A new Cook tune "Can I Go Back Again" features a sitar intro, with the instrument staying to the fore, supplemented by electric guitar and a piano interlude, another nod to July's Eastern influenced roots on this song filled with Beatles references such as "Yesterday", "Penny Lane", Let It Be" and "You're Gonna Lose That Girl" among others. Cook's "Counting The Minutes" , another new tune, is a mid-tempo rocker with gentle acoustic guitar intro and restrained electric guitar, giving way to a reverb laden guitar solo, adding to the song's dreamy vibe, which, joined by an organ, plays the song out. A shortened version of "A Day To Remember" is tighter with tablas making the rhythm section shine even more and again adding a July feel.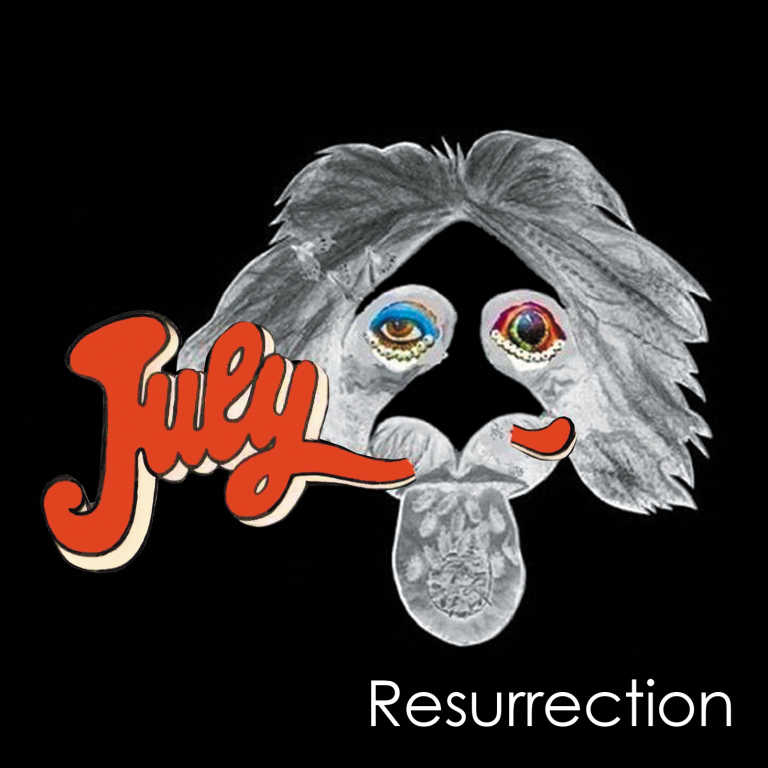 "King Bee" features a sitar and tabla intro, true to the band's origins, before Cook's stinging lead guitar and echoed vocals enter. Call and response vocals are joined by an organ interlude leading to a guitar solo and tabla aided outro. Newman's "All The Hours There Are" is a new mid-tempo rocker with electric guitar and vocals dominant. "I'm Talkin' To You" is much like the take found on "Temporal Anomaly" but with an organ added. A definite single possibility, Cook's solo outro adds greatly to this melodic number. "Linear Thinking", a new composition, has an acoustic intro and features horns mid-tune before Cook's guitar takes over and solos the song out. The new song "Heaven And Hell" has a vocal intro, before sitar and tablas join in, yet another nod to July's roots. Acoustic guitar with electric added for texture accompany introspective lyrics leading to a sitar and tabla outro. A longer take on "Magical Days" adds a reference to The Rolling Stones to that of The Who and The Searchers, along with lamenting the losses of Elvis and John Lennon, the switch from analog to digital sound, and society's evolution toward materialism, strengthening what was already the strongest track from the "Temporal Anomaly" sessions. "Resurrection" closes with a shorter, tighter take on "Regeneration" the band's tribute to The Who's "My Generation" with "don't close down your connection, don't lose your direction" joining "don't make the boys turn into men" in reference to The Who's classic song. The tune's roaring lead guitar makes for a heady album closer. "Resurrection" is joined by two bonus tracks, the two sides of a re-recorded, non-LP single released in 2016 on the Fruit de Mers Records label. The a-side is an extended, six minute plus take on "Can't Go Back Again" with all its Beatles references, "Don't Let Me Down" added, and sitar and electric guitar driving the beat. The b-side is the original demo of the tune which is quite true to the finished master.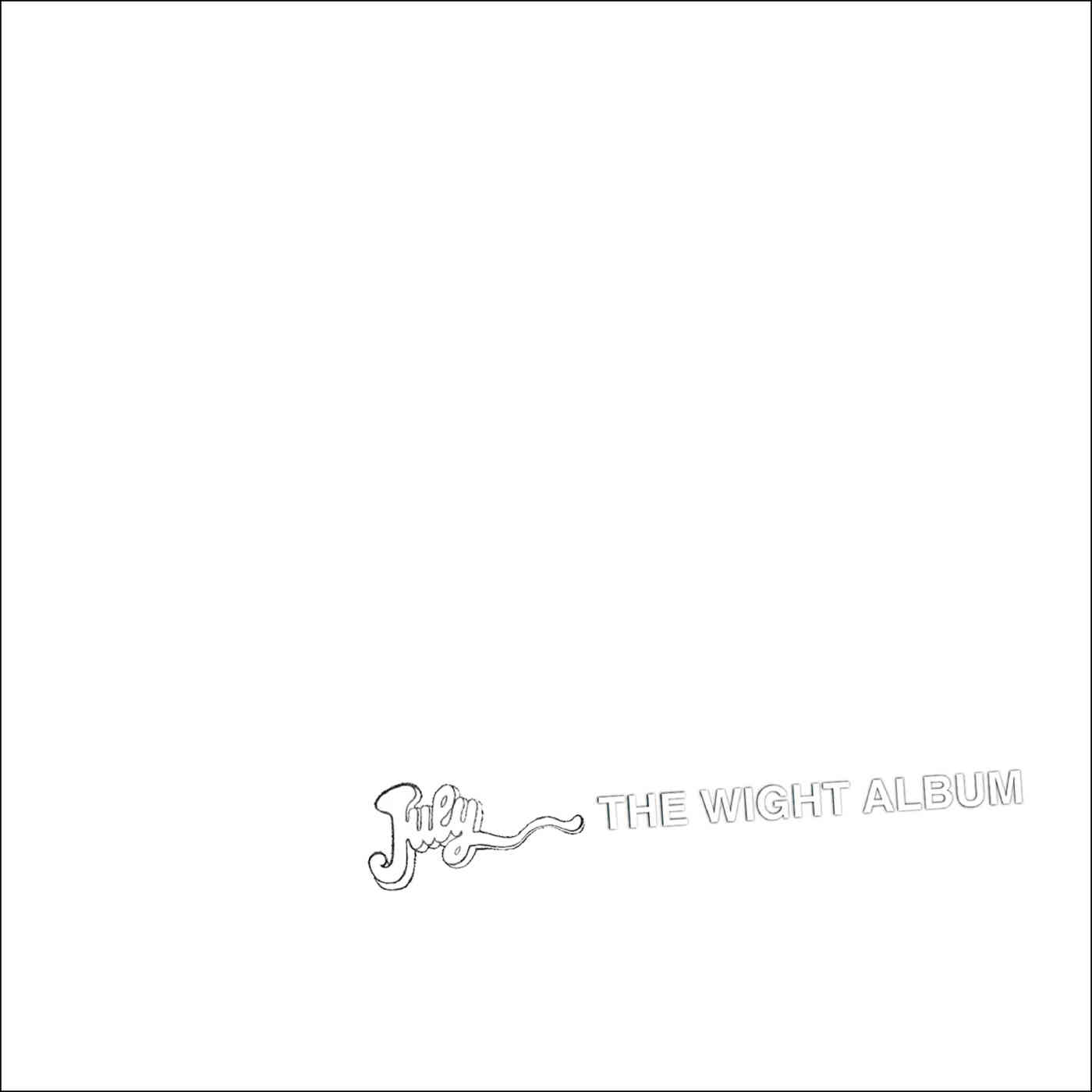 Disc six contains the brand new, 2020 July double LP "The Wight Album", its title an obvious nod to "The Beatles" the double album by the Fab Four commonly referred to as "The White Album". Twenty three tracks and seventy nine minutes in length, "The Wight Album" is described by Newman and Cook as July "best and perhaps last album". The release is a mixture of tunes written by Cook and Newman, but including one each by Chris Jackson and Alan James, and intended to have contributions from every member of the band in all its incarnations. Unfortunately the track with Jon Field on keyboards that was to be included did not make the final cut. The set opens with "The Devil Inside", an acoustic number with layered vocals and a driving beat. "Special Guy", another Cook composition, follows suit with gorgeous vocal harmonies supplemented by mouth harp. "Sophie" written by drummer Chris Jackson is the longest cut at six and a half minutes. The tune combines influences from The Beatles and Procol Harum, featuring a steady beat thanks to Jackson, trippy lyrics and an extended solo by Cook that runs well over three minutes playing the song out. "Animals" is a mellow track from Cook with a gorgeous melody featuring acoustic guitar, bass, drums and keyboards. "We Are The Masters" penned by Cook showcases the band's vocal harmonies with its chorus repeated over and over, joined by strings. "Love 'n' Love" is a ditty with its spoken intro and acoustic guitar. Newman's "Protest Song" is a folk rocker dealing with materialism and environmentalism. "It's Up To Me" is a shuffle featuring guitar and piano. "Seeking The Hacksaw Blades" is a humorous space rock tune with sound effects to the fore. "Let Me" is an uptempo Beatlesque take that also employs sound effects. "Catchin' Up" is an Eastern influenced track featuring whirling organ and sitar. "Mods Of Ryde" opens with Tony Duhig's backwards guitar taken from "Dandelion Seeds" before its phased vocals and guitar give the tune its Eastern feel. "The Game" is another return to early July with phasing and a relaxed beat, dominated by drums and keyboards. "What's Gonna Be" is a sitar driven tune with phased vocals reminiscent of "Sgt. Pepper" and two excellent guitar solos by Cook. "Disco Klingon" is a hip square dance melody featuring electric guitar recorded over acoustic. "It's A Fine Line" is a mid-tempo pop rocker featuring a gorgeous yet restrained lead line by Cook whose soaring solo plays the tune out. "Dancing" is a snippet of Cook's humor. "Truth" is an introspective number, featuring a gorgeous melody, with Cook closing the tune with another gorgeous solo over its vocal refrain of "Absolution, Salvation, Resolution". "The Traveller" pennedy by Alan James is a rocker with Cook's revved up guitar swirling and phased as it reverberates over melodious vocals. The double album closes with three strong tracks. First up is Cook's "Home", a moody, melancholy melody with lyrics telling the story of a man's passage through life, his dreams being dashed, ending in his lament "I wanna go home". Cook's gentle guitar accompanies the tunes mournful lyrics, "what am I doing here, I wanna go home", "I'm lost and I'm feeling alone, I wanna go home" with his gorgeous solo leading to his vocal exclamation "we're finally going home" as he solos the tune's melancholy outro. "Once When We Was Free" is a Newman song with jangling guitars and melodic vocals. The song's introspective lyrics speak of youth with "once we was free, a long time ago when we was free" before Cook's guitar takes over and drives the song home accompanied by the repeated chorus of the song's title. The album and box set closer is Cook's "Right Place, Wrong Time" the sad tale of a young man never quite fitting in. The lyrics refer to a boy who found a girl of interest, but alas she wants a girl as well as a classmate friend of whom he comments, "he wanted a boy, but I wanted a lass" with Cook's guitar picking up the pace as the melancholy tune comes to a close with "I was a man, but she wanted a boy" a fitting closer to the moodiness of "The Wight Album", a most worthy 2020 effort by July. It should also be noted that the double album is available as a stand alone set on white vinyl available on Grapefruit.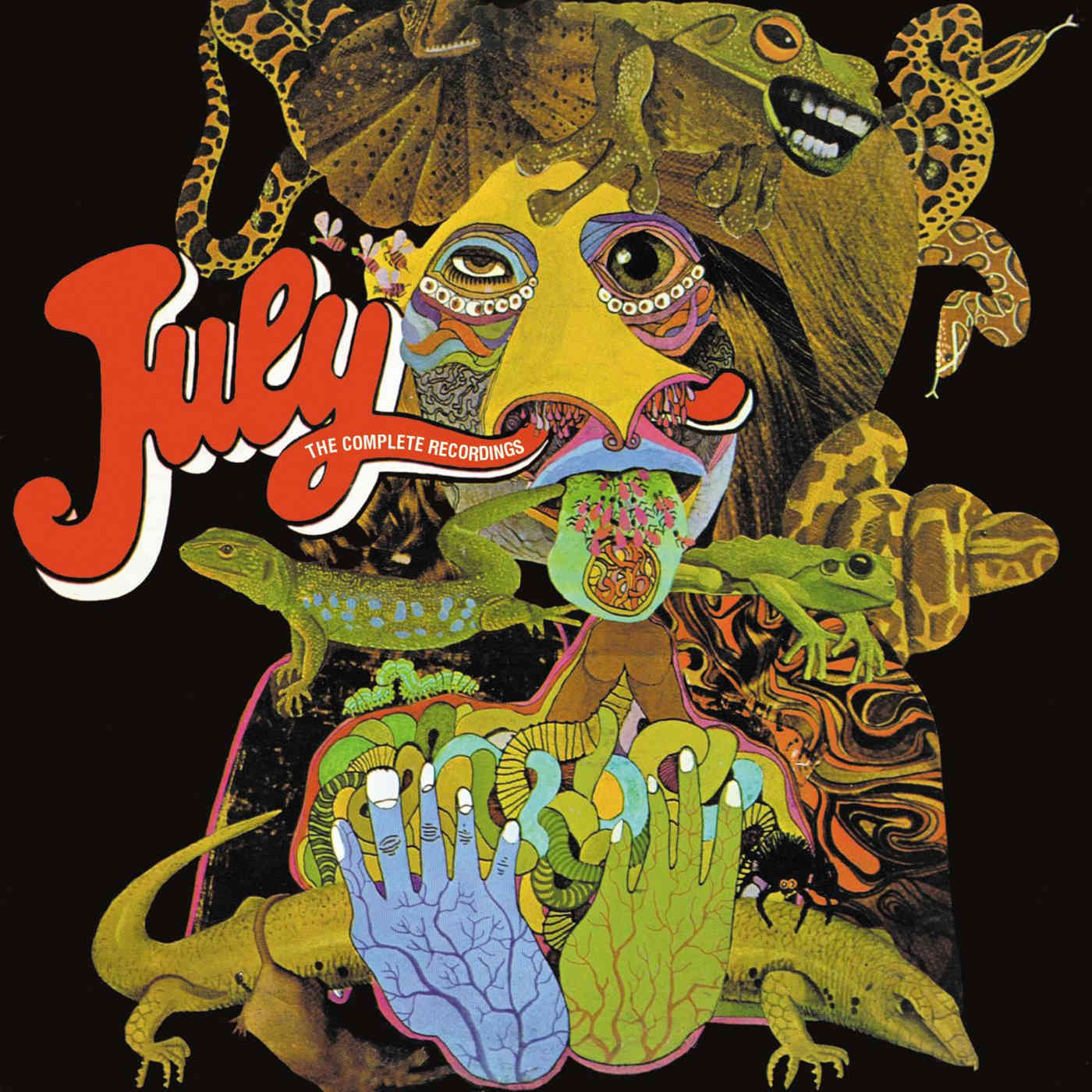 "The Complete Recordings" has eighty nine tracks spread across its six discs, each found in its own cardboard mini-LP replica sleeve, contained in a clamshell box, accompanied by a forty page booklet containing an informative essay and complete track annotations by David Wells, illustrated throughout by album and single artwork as well as many photos and other band memorabilia. July has never sounded so good thanks to the mastering job of Simon Heyworth at Super Audio Mastering. The box set will be of great interest to fans of late 60's psychedelic rock and rock lovers in general.
– Kevin Rathert
---
July – 'The Complete Recordings' (Grapefruit Records, 2020)