Kedama interview
Kedama are a Swiss progressive rock trio that was formed in 1971 by Christian Linder (guitars, keyboards), Richard Rothenberger (keyboards) and Peter Suter (drums).
---
Where and when did you grow up? Was music a big part of your family life?
Christian Linder: I grew up for the most part in eastern Switzerland. Music was always an important part of my life. My father was an opera singer and my mother was also very musical. When I was about 4 years old I was a big fan of Mozart and Maurice Ravel. But I was also a fan of Fats Domino and Jerry Lee Lewis. We had music all the time.
Richard Rothenberger: I was born in St. Gallen, the eastern part of Switzerland on December 24, 1953. I remember that I listened to various radio stations with different kinds of music before I went to kindergarten. My father was member in a big band as he was a young man and he was able to play piano very well, because he learned that for seven years. My six years older brother played guitar and was in a band, that played covers from Shadows, Sputniks and so on.
"Rock music touched something profoundly inside me."
Peter Suter: I grew up in the 50s and 60s. There was actually not much music in our family. My parents didn't play instruments or were particularly interested in music. My father liked Glen Miller. In the early 60s the favourite song of my mother was "Marina" by Rocco Granata, an Italian rock singer. This made the song special for me too. At the time there was not much rock music around in Switzerland. On the radio they played classic music or the local traditional "Ländler" (countryside) music, which I found very boring at the time. I had an old radio and sometimes at night, radio Luxembourg came through and played "Lucky Lips" sung by Cliff Richards, of which also a german version existed ("Rote Lippen soll man küssen"). When I heard this song trough the background noises I was totally in awe. Rock music touched something profoundly inside me. For me the sky opened up and everything seemed to be possible.
When did you begin playing music? What was your first instrument?
Christian Linder: I started playing the piano when I was 5 years old. I loved the piano but I didn't like my piano teacher. I didn't like reading notations either. I played Songs from Bach, Mozart, Beethoven, the classics. But I much preferred improvisation. That's where the adventures were for me.
Richard Rothenberger: During my kindergarten time. There was a snare drum, not a cheep thing for children, no – a right one. Every time when it was possible I tried to play that drum. The teacher told my parents that I have a very good feeling for rythm. Later at one day, I was about seven or eight years old, suddenly there was a piano in our living room. I began to play Bach-improvisations. I didn't know the rules but I heard what is right and what sounds wrong.
Peter Suter: When I was around 15 I discovered the drums through a buddy of mine. When I was 16 my mother made it possible that I could lease a cheap Pearl drum that was very shaky. Soon thereafter I started to play in a blues band with pals from the neighbourhood. Later I played in a rock band. By then I had somehow managed to purchase a Ludwig drum kit. Ludwig was state of the art, because Ringo (of the Beatles) had one.
Who were your major influences?
Christian Linder: So many… I think the classics were Mozart and Stravinsky. In prog rock (Kedama era) it was King Crimson, Gentle Giant, PFM, Yes, Gong. For me as a guitarist, Jimi Hendrix could not be overlooked. I especially liked his slow songs ("Angel", "The Wind cries Mary"). But probably Steve Hillage (interview) influenced me the most. His space sound, the games with the echo and the complex transitions … that's what I like. But it never seems to stop with the good musicians. There are always new ones and I like to be surprised. I also loved the punk era and hip hop has its good musicians too. Music is simply good or bad. Taste can also cover a wide field.
Richard Rothenberger: I love all kind of music for my whole live, no matter whether it's classic, romantic, modern, jazz, folk, mainstream, hardrock and so on. But during my puberty, the same time as my wish awaked to play in a band, the major influences came from bands like Uriah Heep, Black Sabbath, Deep Purple, King Crimson, Gentle Giant, Premiata Forneria Marconi and a lot of others.
Peter Suter: (In chronological order) Beatles, Beach Boys, Rolling Stones, Chuck Berry, Cream, Jimi Hendrix, King Crimson, Vanilla Fudge, Genesis, Gentle Giant, Pink Floyd. At the age of 17 I was introduced to Vanilla Fudge and was completely blown away by the playing of Carmine Appice. Other influences: Phil Collins, Bill Bruford, Steve Gadd and not to forget Ringo Starr. The simplicity of the rock drums was always appealing to me. It's roughness makes it very powerful.
Were you in any bands prior to the formation of Kedama?
Christian Linder: My first band consisted of a homeless drummer, a constantly drunk singer, a constantly stoned bassist and me. Later I played together with musicians from my city. Two of them founded the band 'Island' in the early seventies which also gained attention in the prog rock scene.
Richard Rothenberger: No, I was not. Kedama was my first and only band.
Peter Suter: The first bands name was Sacrificium Intellectus Blues Band. Then I played in a rock band named Jeffreys Groove, which won a regional competition.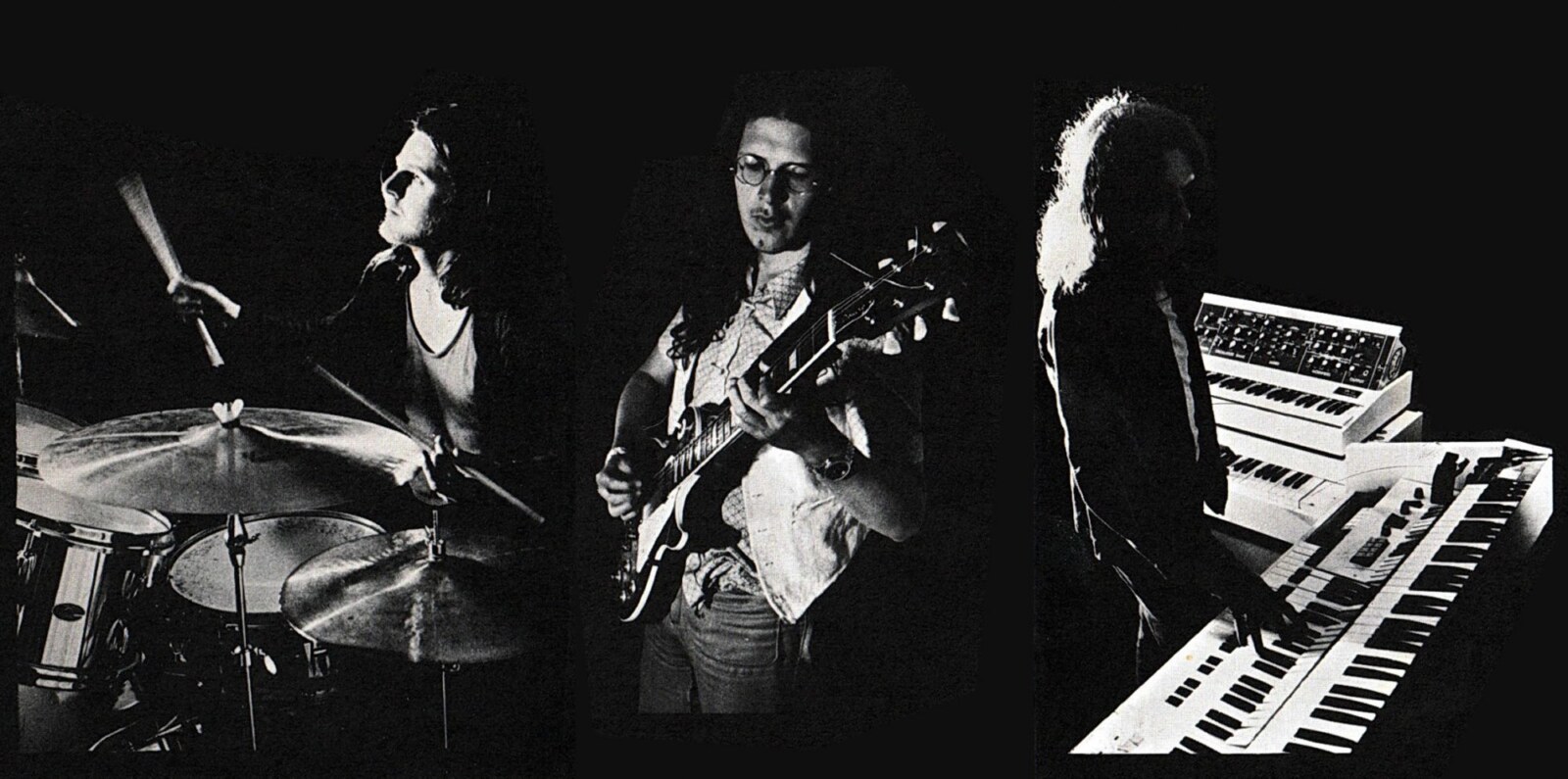 Can you elaborate on the formation of Kedama?
Christian Linder: I went to business school and hated it. I was one of the few with long hair and torn jeans. And I couldn't share my musical interests with anyone. So a new guy came into my class. He had long hair like me, torn jeans and was always talking about a band called 'Uriah Heep' which I didn't know at that time. He told me that he had an organ at home and I immediately suggested that we start a band although I didn't know how he played at all. He said "yes" and already Kedama was founded. But we named ourselves later.
Richard Rothenberger: Christian (Lindi) and I went to the same school in the late sixties, early seventies. I don't remember why, but I knew that he was a guitar player and so I told him, that I had an organ at home. One evening he was my special guest at our home and he brought his guitar and played his parts. Some spanish improvisation and his famous "Senorita fifi", a complete nonsense song, but very humorous. This was the moment we started slowly and the thing with the later Kedama began slowly to roll. We had a bassist for a while but no drummer. We were not really happy in this time and so we kicked the bassist out of the band and he kicked us out of our location. On a free bulletin board in a super market in St. Gallen, where everybody can sale or search something by handwritten papers, Christian searched for drummer. And Peter reacted, came to a audition and Kedama was borne.
Peter Suter: After living in a commune for several years I moved to a small town near St. Gallen. Still very young (23 by the time) I was married and with a little boy and I was craving to play drums in a band again. Not before long I met with Richard and Christian, who already played together for about a year and were looking for a drummer. I was impressed by their capability to create gorgeous sounds and they were glad to find someone who was willing to go along with their follies.
How did you decide to use the name 'Kedama'?
Christian Linder: At that time the green hashish from the valley 'Kethama' was available everywhere in Switzerland. Of course we also liked to smoke a pipe and especially the rather slow and gentle effect of the green hashish from Morocco we combined with our music. And since we always smoked pot anyway, we just called our band Kedama. People liked that very much. Everyone had heard this name before.
Richard Rothenberger: A little bit delicate this question. I would say: It was the hippie time. A lot of people around us was smoking weed and hashish. At the time as we were completed as a band without a name, there was a very good hashish from Morocco on the market. Everyone called it Kedama, because it came from a part of Morocco named Kethama. The idea for the name Kedama had a friend of the band.
"A bit Genesis, a bit Stravinsky, a bit of everything and the good Kedama and some LSD…."
What influenced the band's sound?
Christian Linder: Ken Hensley's organ (interview), the guitar of Steve Hillage and many other music. A bit Genesis, a bit Stravinsky, a bit of everything and the good Kedama and some LSD….
Richard Rothenberger: The same bands as I described above.
Peter Suter: Christian an Richard just loved complex sounds and compositions, which they developed in hour-long sessions. Genesis, King Crimson, Gentle Giant, Jimi Hendrix, Cream and Pink Floyd were around at that time and certainly influenced us. But also classic music e.g. Beethoven or Stravinsky gave some inspirations.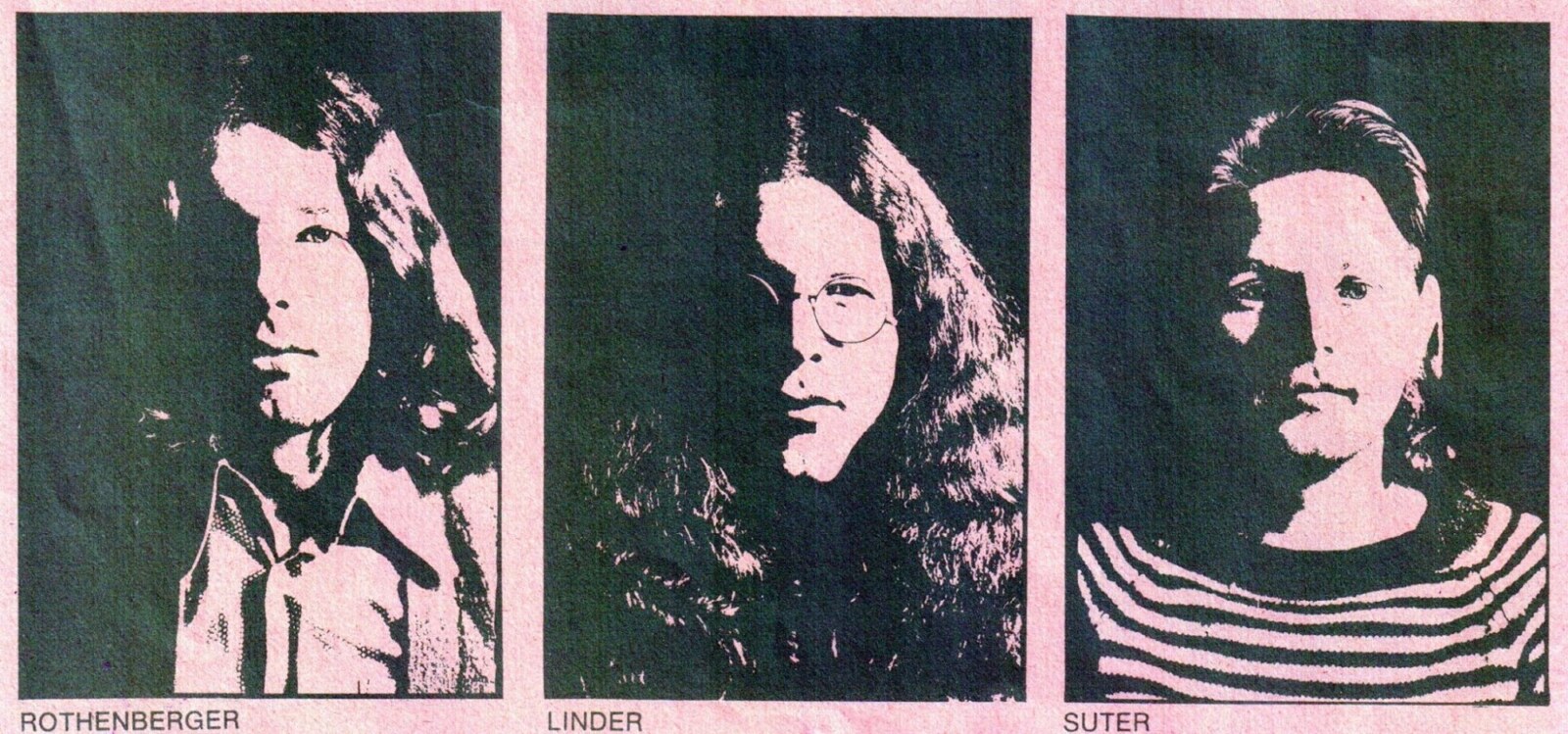 The band won a rock band contest giving you free studio time. The result was Daarom Presents Perspectives. What's the story behind it?
Christian Linder: The band contest took place much earlier and resulted in a collector's album called Perspectives with 4 Swiss bands. The studio time was also made available for this. Someone gave us the address of the jury that did the contest and we just sent a recording. We were very surprised that we were chosen. This album, however, brought us a certain amount of publicity, which in turn led to further studio recordings.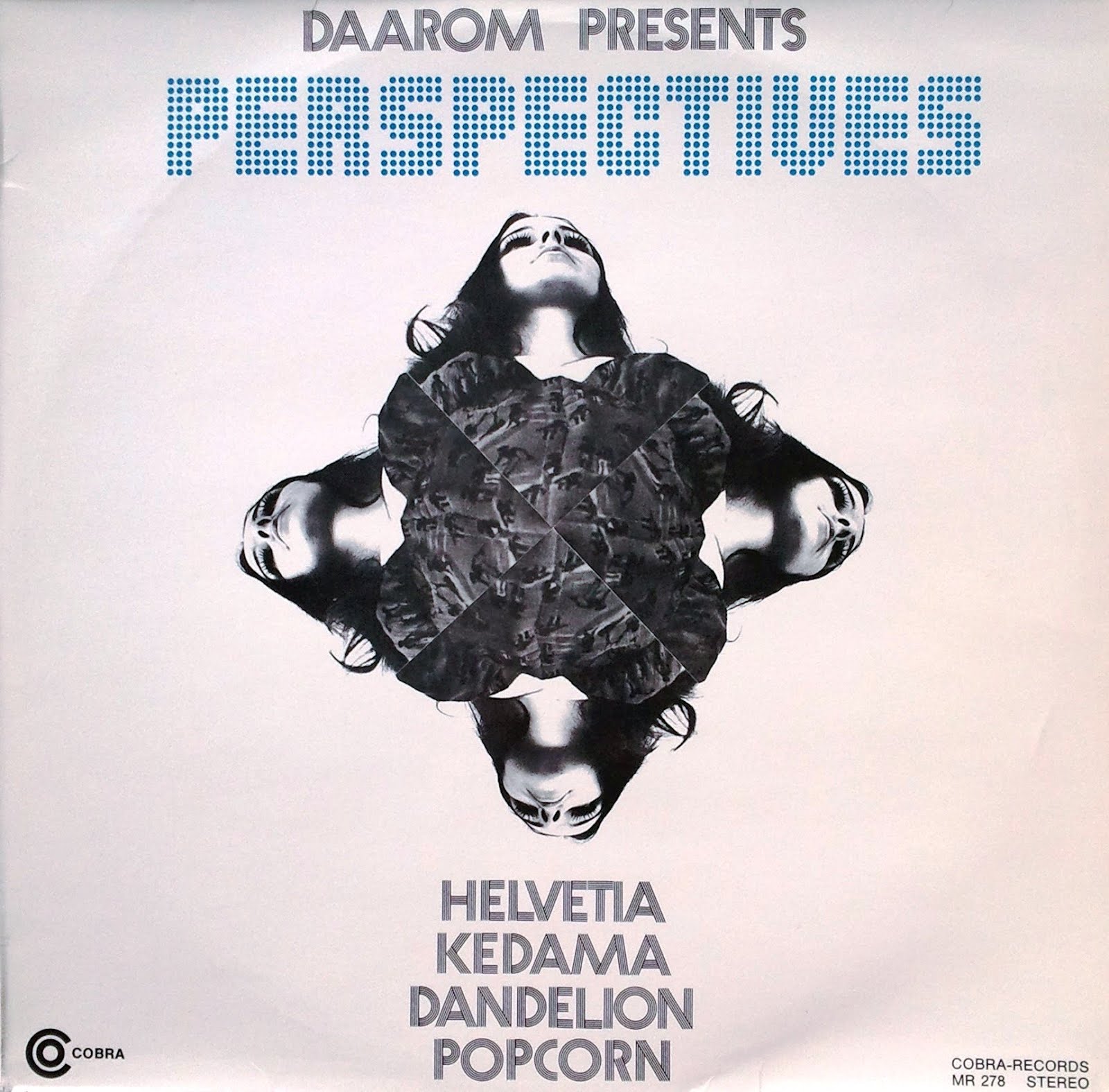 Richard Rothenberger: The contest we won was 1974. The free studio time was for the LP Perspectives, a production together with three other bands from Switzerland. The premiere was on 14.09.1974.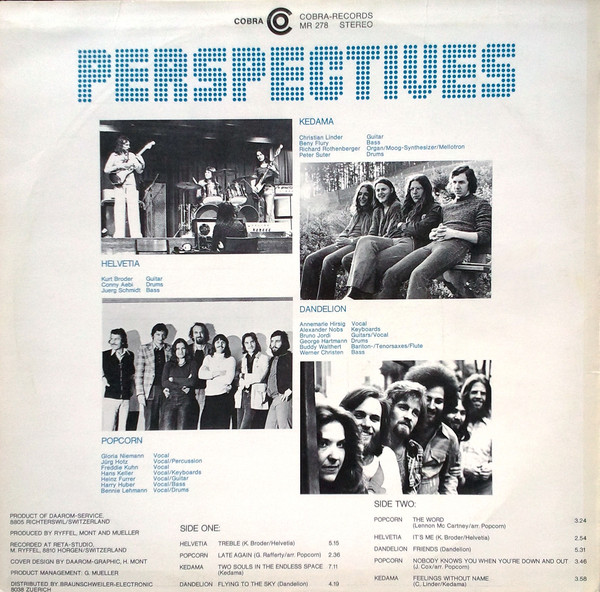 "Because of the dummy head we had to play every piece in one take without any chance to change something after."
Live At Sunrise Studios was our own production two years later. The studio was spartan, just a little bit more than a Revox tape machine and artificial head (dummy head) with microphones in the ears. Etienne Connod, the owner of Sunrise Studios and also a keyboarder, was a very friendly guy. We had to pay nothing for the recordings, he was a producer. Because of the dummy head we had to play every piece in one take without any chance to change something after. That's why it was called "Live At Sunrise Studios".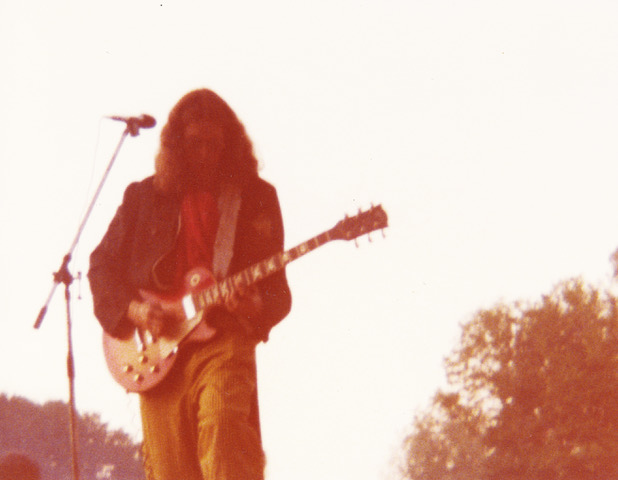 How many copies of the first album were pressed?
Christian Linder: There are different opinions about these figures. But they were never many. Or rather, I'm out of ideas. Maybe a few hundred?
Richard Rothenberger: First we pressed 200 pieces. One hundered were numbered by hand from 1 to 100. The covers of the first 10 records were designed by a local artist. The second hundred were normal LPs. But there were an other 200 pieces later, produced by Etienne Connod. But I lost contact to him and so I don't know what happened with this second edition.
Peter Suter: All in all 400. As far as I know.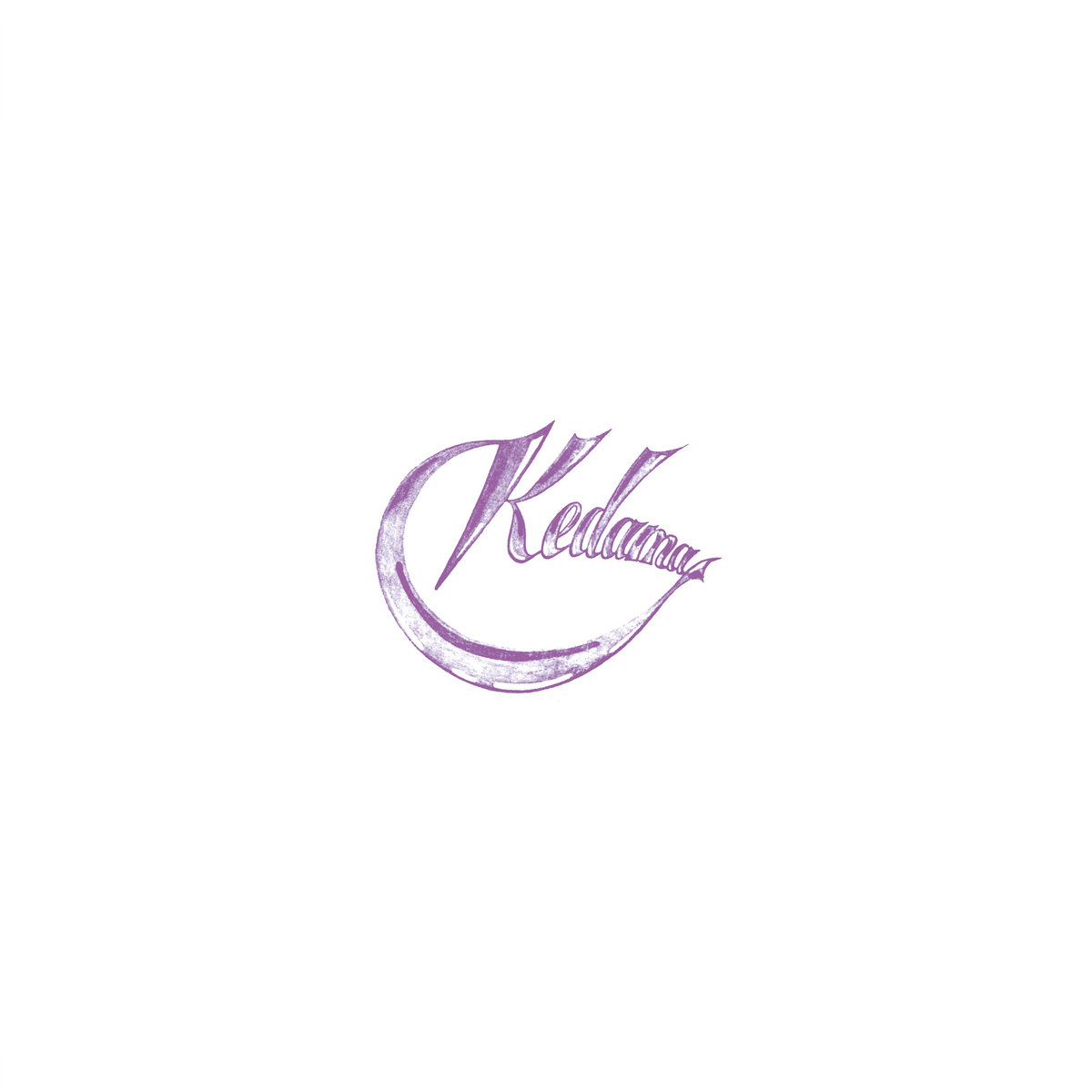 Where did you record Daarom Presents Perspectives? What kind of equipment did you use and who was the producer? How many hours did you spend in the studio?
Christian Linder: There we got one day studio time in a small studio near Zurich. First we played a very complicated piece ("Water, Generator Part") and the sound engineer could not understand the music and sent us back home. He said we should practice a bit more first. It was terrible. Not a good experience.
How about Live At Sunrise Studios?
We recorded the LP Live At Sunrise Studios in the Sunrise Studio in Kirchberg, Eastern Switzerland. The producers were Etienne Connod (sound engineer) and our manager Christoph Birchler. I don't remember how this came about. We recorded there live, that's why the album is called 'Live at…' and as far as I remember it took about three days. We recorded with a single artificial head microphone. It was a human head made of plastic with a simulated ear canal in the auricles. This was intended to simulate the spatiality of human hearing. Not bad, this technology. The equipment of the band was completely simple. In those days it was simply important that everyone had an amplifier.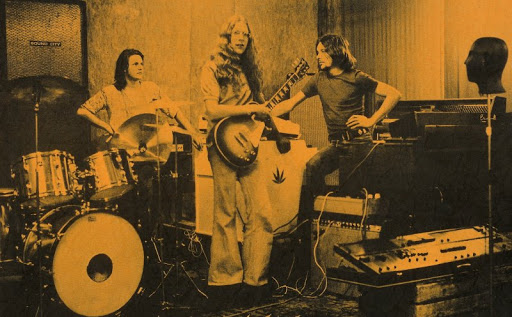 Richard Rothenberger: The main producer was Etinenne Connod, the co-producer was our manager Christoph Birchler. The equipment of the studio I described above. Our equipment: Slingerland drums, Gibson Les Paul, Mini Moog, Mellotron, Farfisa Organ, Piano, Electro Piano Crumor, Hammond B 3 and many other things. As I remember, but I'm not sure about this, we maybe were for 4 or 5 days in the studio.
Please share your recollections of the sessions. What were the influences and inspirations for the songs recorded? Was there a certain concept behind the album?
Christian Linder: Working with Etienne Connod, the sound engineer, was a little difficult for me. I don't know why, but I rarely get along well with sound engineers. So today I only record myself. In the meantime I know a lot about studio work. My recordings today are very well comparable with international standards. There was no special concept behind the album (Live At Sunrise Studios). We just wanted to release an album with the songs we played live.
Richard Rothenberger: We lived for these few days in the house in Kirchberg where the Sunrise Studio was. We were going to sleep when the next day awaked. We got up at high noon and there was a creative crackle in the air, which also could explode. In the afternoon we were going out for a walk maybe… We knew what we wanted to record. It was our actual program we also played live on stage. We had no concept, it just was simply Kedama.
Peter Suter: We had long pieces of music with a lot of changes in them. The idea was (mainly coming from Christian) to make something opera- or concept-like. The songs we played in the studio already had a definite shape and structure, forged through many concerts.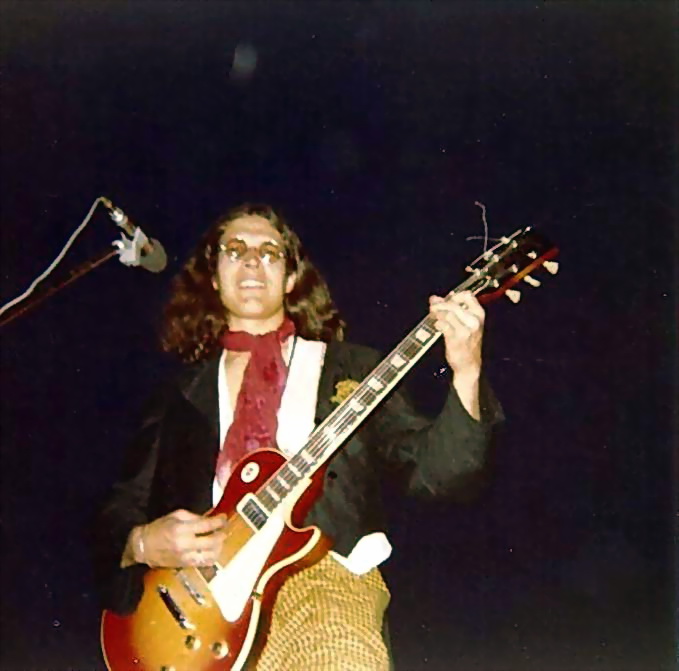 Would you share your insight on the album's tracks?
Christian Linder: The title says it all. We played live. No overdubs. Just two stereo tracks. Of course, it wasn't easy. One little mistake and everything had to be repeated. Today I wonder where we got the strength from….
Richard Rothenberger: Oh my god… Every title is its own world, with a story behind and a great journey through the inner world of the person that listen to it. We once had a composition called "Brasilia". Over 50 minutes music without any break. We played "Brasilia" live just one time and at the end we realised, it doesn't works. So we made different smaller pieces from that big one. One of them is the "Ouverture", also the begin of Brasilia, the other is "Finale", also the finale of "Brasilia". I'm not sure whether "Our Power" and "Zugabe" also came from "Brasilia" or not. By the way, "Zugabe" means "encore."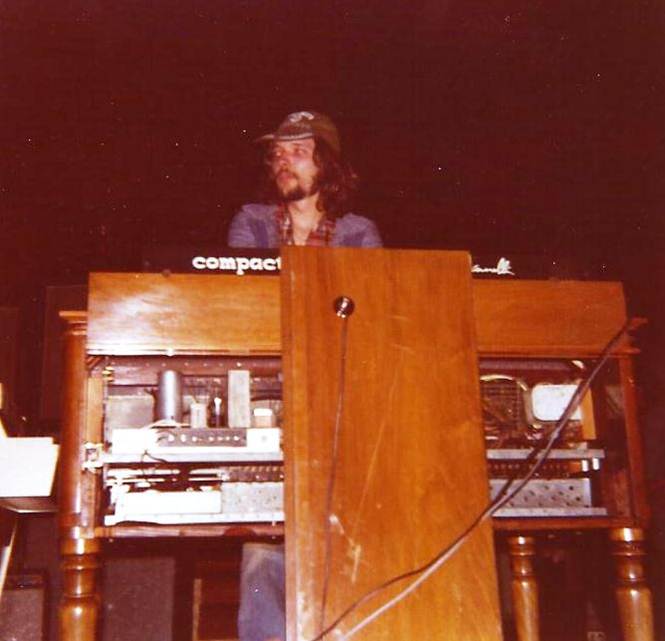 How pleased were you with the sound of the album? What, if anything, would you like to have been different from the finished product?
Christian Linder: At that time we were largely satisfied. I didn't like that the sound was a bit thin. I wasn't happy with that. The sound engineer told us that it was because we didn't have a bass player. I know better now. You could have made the sound a bit fuller when mixing, even with the technology at that time. You can't change the past.
Richard Rothenberger: With the sound of the album (and I'm talking now about the first edition with one LP) I was pleased. Of course if we had money for a big studio, the sound would be better, but for a low cost production it was ok. Around 1977 we were another time at Sunrise Studios and recorded a new LP that was never released. That time we worked with an eight track Studer tape machine. Kedama broke up before the LP was mixed. Black Rills Records released the original Live At Sunrise Studios together with the unreleased LP from 1977 in 1999.
Peter Suter: Since it was recorded with an artificial head microphone the sound was pretty thin. We just were happy to have the opportunity to make a record. Later for the CD that appeared in 1999 the sound was significantly improved by a sound studio in Austria.
"Our compositions were big journeys between feelings, different sounds and difficult games of rythm or instruments."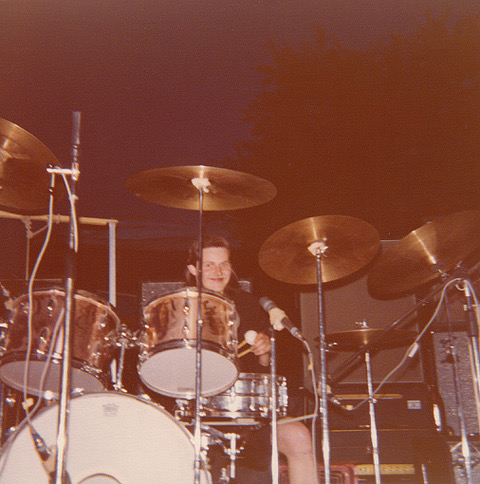 Christian Linder: "Our Power" was just a real powerhouse. Loud and nimble. It took quite a bit of skill to play such a piece. "Ouverture" was the opening piece at each of the concerts. It was also the prelude to a 90 minute song called "Brasilia", which we then took apart and played as individual songs. The big "Brasilia" was somehow too much for the audience. We played it once live and at the end there was not a single applause. People just came up to us and asked why we had stopped playing so suddenly… All songs are pieces from "Brasilia". "Zugabe", the title of this song is called encore, because we mostly played it when people want to hear more. "Finale", thus was, as the title says, the final of "Brasilia".
Richard Rothenberger: For me it was a hard work. Our compositions were big journeys between feelings, different sounds and difficult games of rythm or instruments. I remember: sometimes I had to play three different instruments at the same time. During a concert, I was playing with my right hand on Farfisa organ and me left was free. Deep in myself I knew, something was wrong. Next song, after a while my entry on the Mini Moog. It sounded terrible and I knew immediately, why my left hand was without work.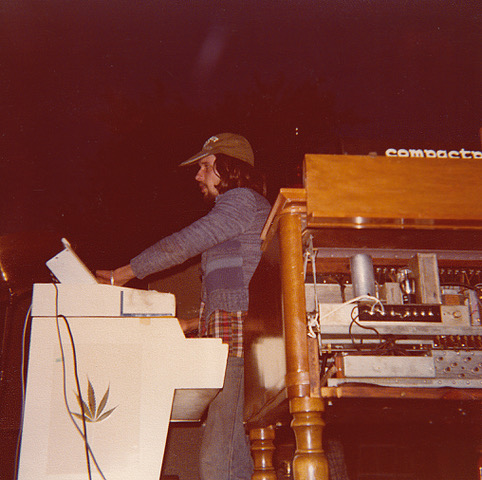 What happened next?
Christian Linder: Many concerts in Germany, Switzerland and some concerts in Southern Germany. We were professionals, that means we just didn't do anything else but music. But we hardly had money to buy enough food. Also we were months behind with the rent. We had great existential fears.
Richard Rothenberger: The break-up of Kedama. The End. We had been knowing all along that we were doing unique things, but then I had a crisis. I was not able to hear that kind of stuff for years anymore. In 1999 we heard about a bootleg version from Japan. We ordered one and we got it, Live At Sunrise Studios, a copy of our only LP. Black Rills Records released Live At Sunrise Studios together with the unreleased second LP. Both were re-mixed and re-mastered. This was my moment to love Kedama again.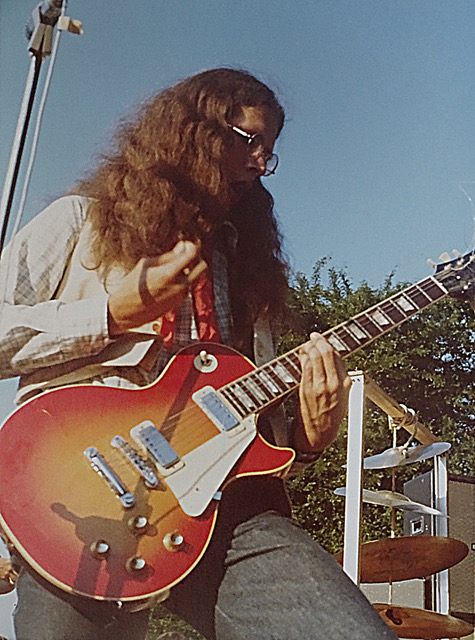 Your album was reissued in 1999 and spurned a partial reunion of the band. 
Christian Linder: Already in the late 80s there was a new edition in Japan. People had told us this over and over again, but only when we had internet access did we inquire and actually found a provider in Japan. We ordered a CD and got it. Towards the end of the 90s Black Rills Records released a CD with the Sunrise Studio recordings of the first LP. They also released some additional recordings as bonus tracks. These were recordings from the Sunrise Studio that we later recorded for a next album but had not been released until then. The existing recordings were additionally mastered in a German studio in Berlin and had much better sound than the original recordings. These new editions brought Richard Rothenberger, keyboarder of Kedama, back together as musicians. We would have liked to have had Peter Suter with us at that time, but he was with other bands at that time. No live band was planned. We just always sat together and made music. Since we did exactly the same crazy things as before, we called ourselves Kedama again.
Richard Rothenberger: First came the bootleg from Japan, then the production from Black Rills Records. In the year 2000 Lindi and I started a new Kedama Project, not the first one since Kedama's end. But this time we both recognised that it worked again. It was a little like to reset to Kedama's end and continue at that point. Why Peter was not involved, I'm not sure. Maybe a technical problem or the way from Zurich to Roggwil, Thurgau, or both. We got together every Friday evening at my home, where all my keyboards and the equipment was. It was a really free thing and went on for about 9 years.
You also recorded some new material… 
Christian Linder: What do you understand by 'new material'? Do you mean the recordings for a planned Kedama LP in the 70s?
Yes…
Christian Linder: We made these recordings on an 8-track recorder. That was already a luxury for us at that time. These recordings were then just released by Black Rills Records as bonus tracks. There were a few more things, there wasn't room for everything on the CD, but the recordings somehow disappeared.
How about the later live tapes or the recordings of the 'new' Kedama?
Richard Rothenberger: During this time we recorded a lot of material. 8 CDs with some very good songs, but also with rubbish.
You recorded quite a lot of new material which can be found on Bandcamp. Would you mind sharing a few words about each of the available releases?
Christian Linder: There were 10 albums in 9 years. Richard and I have been very busy. None of the albums had any particular concept. We just strung together record after record and burned them on CD. We then gave the album a name of some sort that was currently playing a role. In these albums we had also tried our hand at singing. Partly it was not bad at all. But partly our singing was very bad…
Richard Rothenberger: We were not under pressure, we had our jobs for money. One of us just had an idea and we tried to piece things together. Sometimes it ran well from the beginning, sometimes not. Or we had free sessions and took the parts that we thought were good. All those new songs were hard disc recorded with cubase and mixed down by WaveLab.
Castle Face Records released Kedama – The Complete Collection. What can you tell us about material?
Christian Linder: A few years ago a Spanish production came out again under the name Guerssen. There the recordings of the Black Rills Records production were used. I had remastered these recordings myself. Guerssen released these recordings on vinyl, but also on CD and for the first time as download version. Guerssen also released some parts for download as riff or beat for Hip Hop. Our music was also recently used for a movie. But I don't know which movie that was.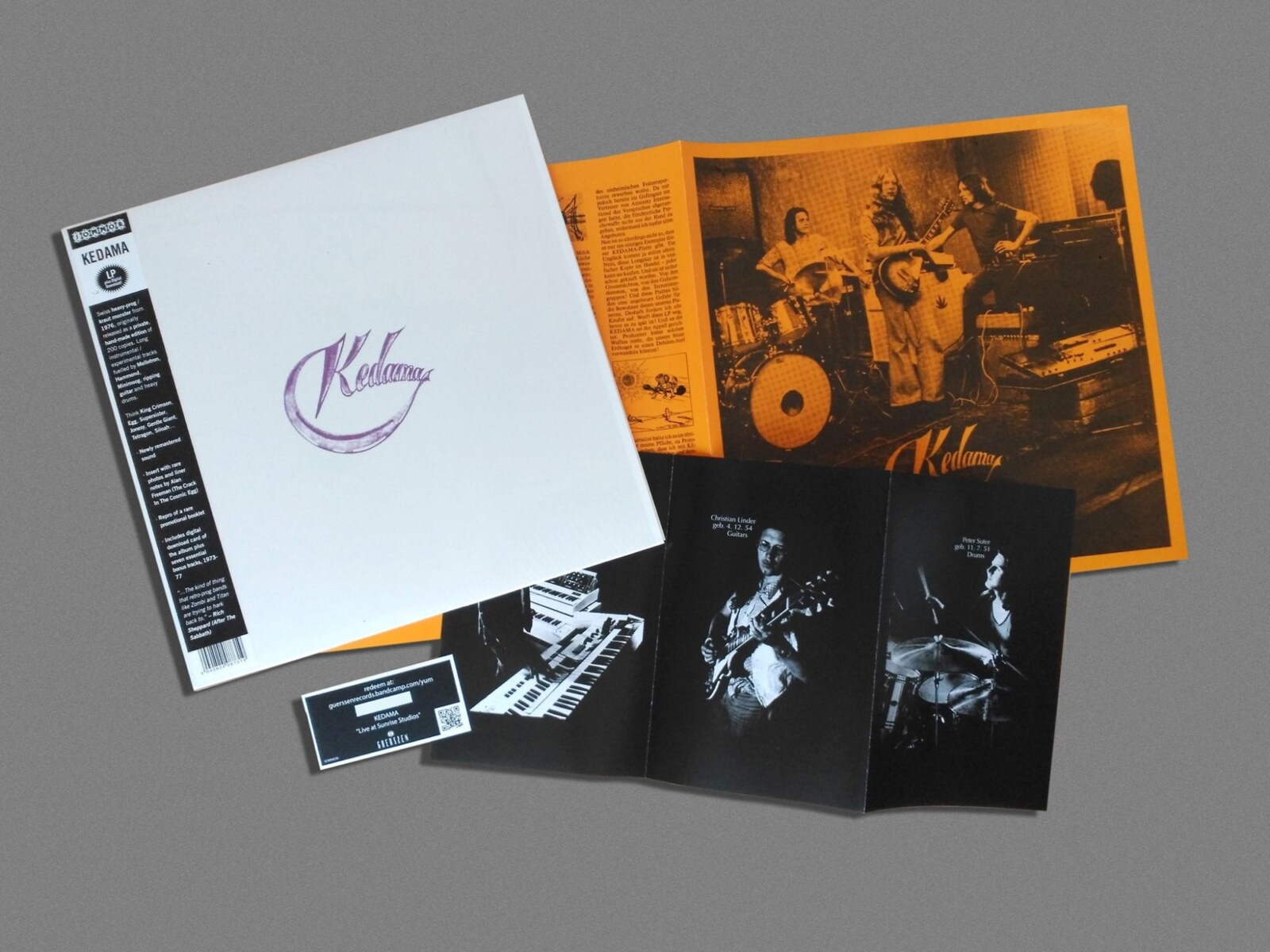 Two years ago John Dwyer from The Oh Sees wrote to me and asked me if they could re-release our music as well. Of course I was very happy about that, but we were still contractually bound to Guerssen. A few months before, however, live recordings had appeared. I told John Dwyer that and he was very interested. Unfortunately, we didn't know at that time in what condition the live recordings were. They looked very bad after 40 years and we didn't dare to play the tapes. I found a Revox specialist (the tapes were recorded on Revox) who also knew how to play such old tapes. From the 5 tapes unfortunately only 2 are really usable. There were recordings of two concerts. There was also an LP, which was recorded by a fan of ours from our second public concert ("Generator Part Of Water", "Mad Circus Part 1"). The recordings had partly heavy damages. I restored the recordings myself and I am proud to have produced recordings that are easy to listen to.
John Dwyer was very pleased with the recordings and at Castleface Records they decided to release a triple album. That was a big surprise for us. On the album you can hear now:
1. partly the first recordings from the Sunrise Studio with the dummy head microphone, which were remastered.
2. the bonus tracks from the Sunrise Studios recorded on the 8-track recorder and later remastered by myself (for Guerssen)
3. the recordings from the live tapes that have appeared.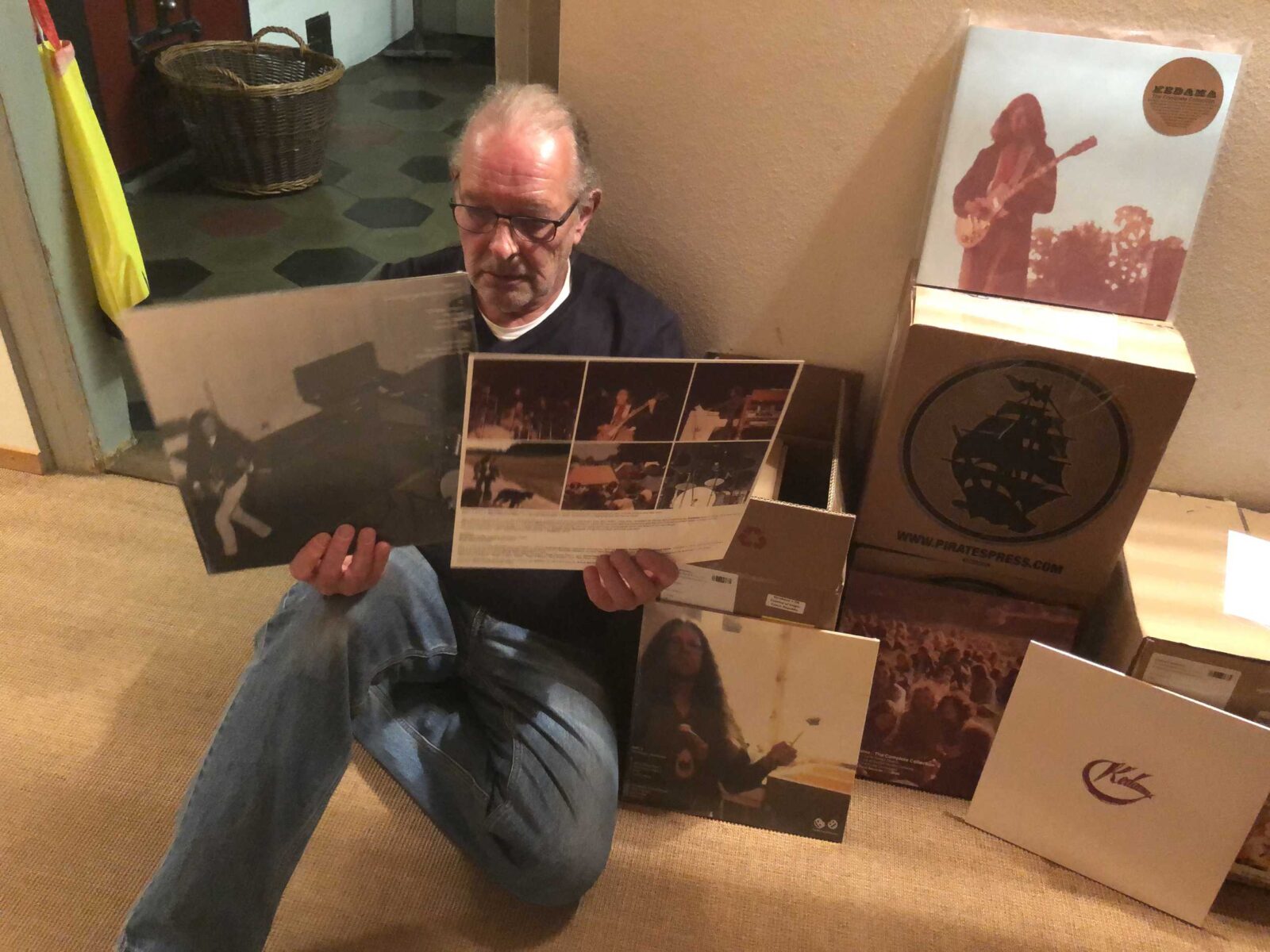 The album is primarily intended for 'audiophile' music lovers. And of course also for friends of music that is not so much part of the mainstream. And of course also for Kedama fans.
Richard Rothenberger: Two LPs from Castle Face Records are similar to Black Rills Record from 1999 and to Guerssen Records 2017. But on the third LP there is a lot of unreleased material, recorded with a Revox Tape machine during live concerts 1972, 1974 and 1976. In my music room there is a very old paperbag with seven old tapes from this time. Christian went to a guy that has every Studer Machine you can think of. He rescued two live concerts by turning them into digital files.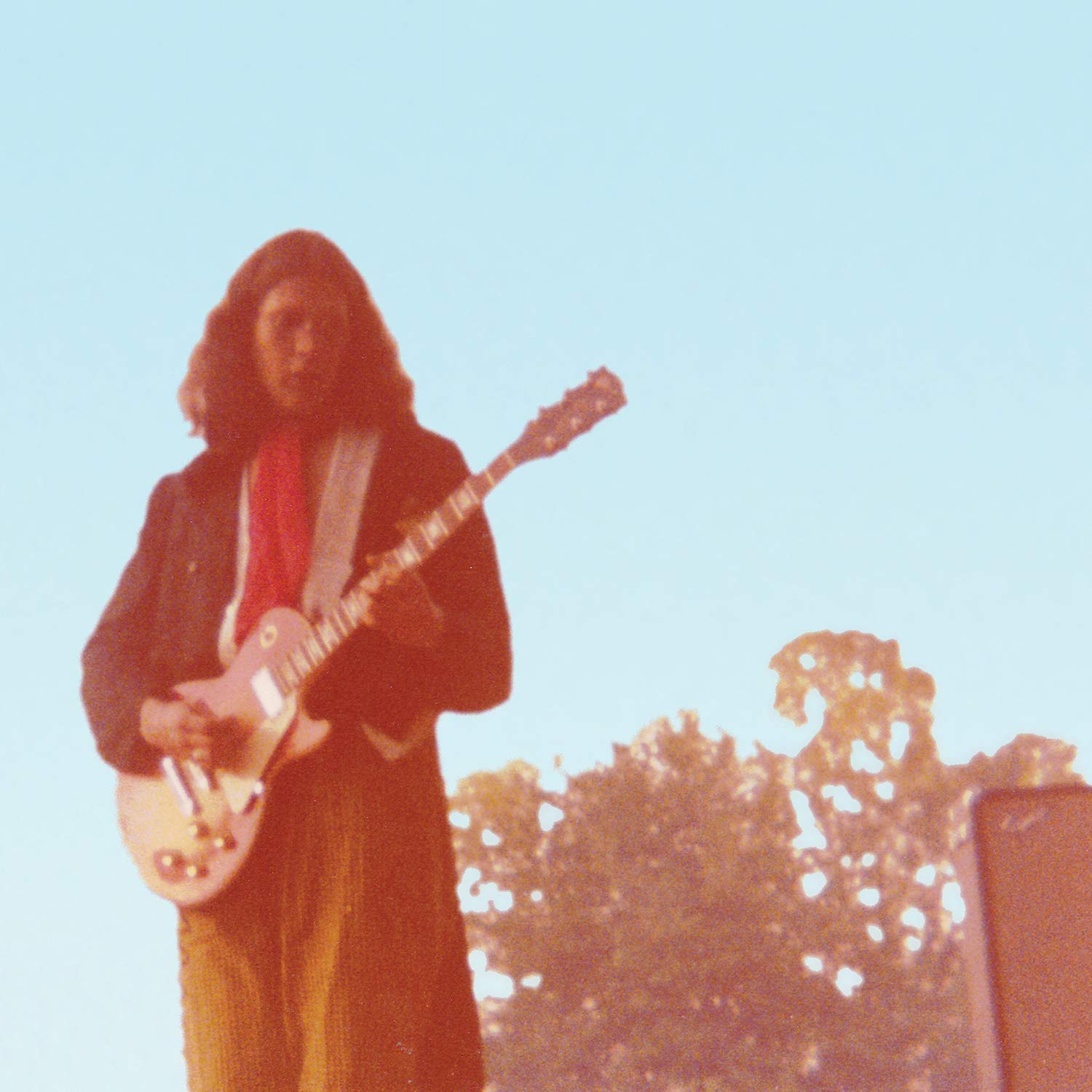 Peter Suter: The first LP is the same as the original from 1976 (but taken from the sound-improved CD of 1999). The second LP is taken from the same CD. These were bonus track, by then not yet released. We had recorded them at Sunrise Studios in 1977, now with an 8-track-machine for a second LP. But unfortunately the band separated before the LP came out. On the third LP are previously unreleased pieces. Live on-stage recordings.
Is there any unreleased material?
Christian Linder: Yes there is still unreleased material. At the live recordings there are still recordings with very bad quality or songs that we played very badly.
Peter Suter: There are much more of live recordings, that have been recently digitized but not yet published.
Looking back, what was the highlight of your time in the band? Where and when was your most memorable gig?
Christian Linder: The best memories were the concerts at the 'Allmend-Fest Zürich' in Zurich. This was the first open air festival in Switzerland and although compared to today's conditions, a very small festival with about 6000 visitors, it was the biggest concert in Switzerland at that time. We played there two times. A third time we were invited, but because of bad weather we couldn't play. We also played in Bern and Basel in front of sold-out halls, which always surprised us.
Richard Rothenberger: We had lots of highlights during our band time. For me one of the best was our gig at the 'Allmend-Fest Zürich'. It was a Saturday evening before Whitesuntide and it felt like summer. We were the main act and our gig was from sunset to the night. Between 2,000 and 3,000 people were there, for us like a little Woodstock. The photos on the cover by Castle Face Records are from that gig.
Peter Suter: One the most memorable gigs was around 1976 at the 'Allmend-Fest Zürich' on a meadow by the Sihl river (Allmend means "public meadow" and goes back to historic times), a mini Woodstock and one of the first open air concerts in Switzerland. It was an enthusiastic non-commercial event, admission-free in the summer-of-love-spirit. It was held annually for several years and became over time more and more commercial.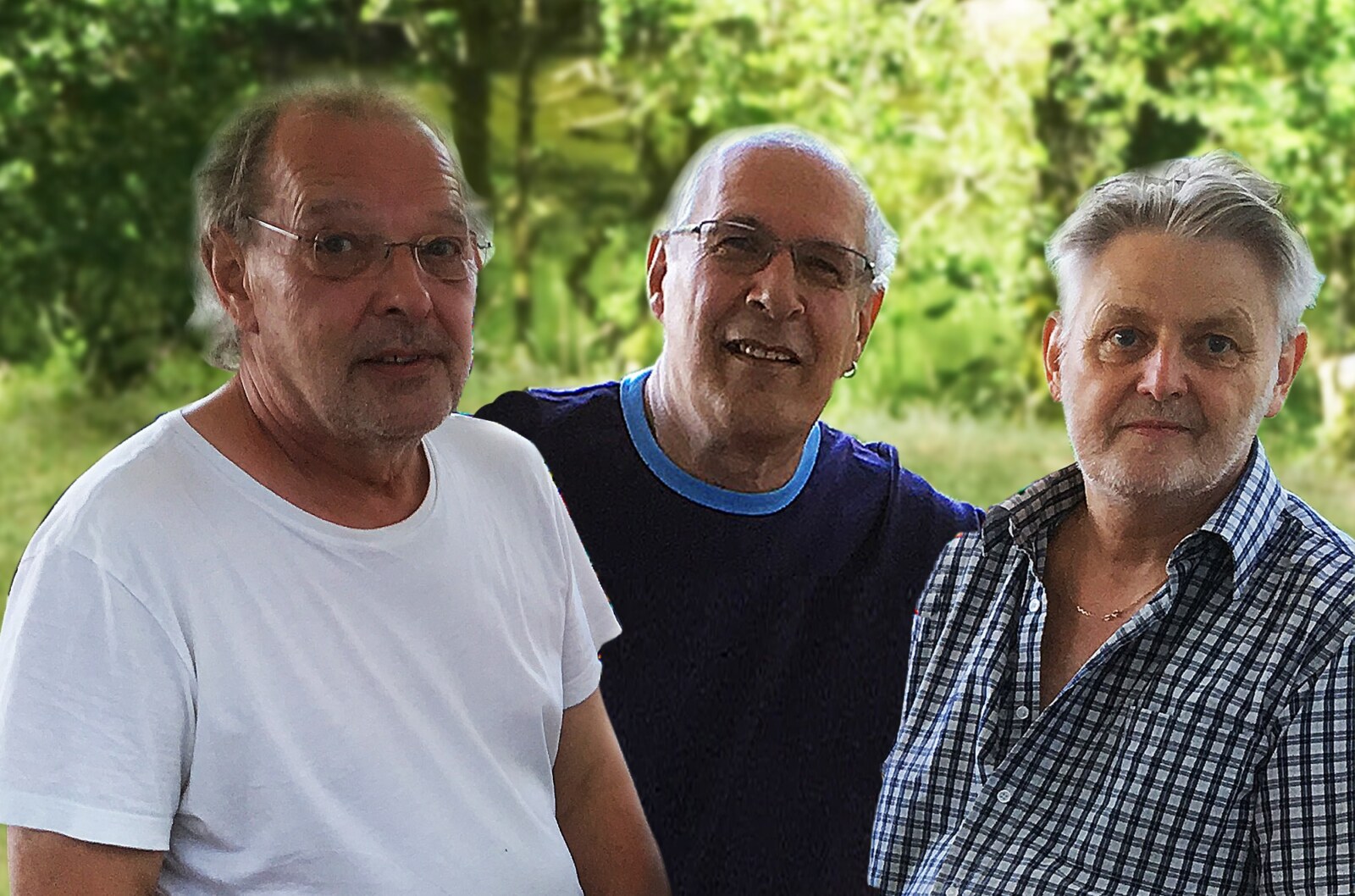 What currently occupies your life?
Christian Linder: We've all grown old. Pensioners. Because I did not work and save 'normally' as normal people do, I now suffer from poverty in old age. I would, if I still lived in Switzerland. But I don't have any desire to do so. Unfortunately, the Swiss state does not help me to live a dignified old age. With the small pension, which in Switzerland is only half of the subsistence level, I can live well in the Philippines. Since my wife, with whom I have been married for 25 years, is from here, I have just emigrated. But I had to give up my life as a musician. Until recently I always had a band and gigs (mostly together with Peter Suter). For more than a year I have never played guitar again. My guitar is in good hands with Richard Rothenberger and I don't know if I will ever see my guitar again. Nevertheless, I am still musically very intensive in my work. I remaster and rearrange my recordings of the last years. I think this is the best thing I have ever done in my life. Some people say it's much too ordinary (mainstream) and others say it's all much too complicated. I do not care. I just do what I like.
Richard Rothenberger: I am organising my retirement and hope that I will have more time for music and paintings in the near future.
Peter Suter: We are old and retired now. Although I feel still pretty fresh and in good physical condition. Still curious and open minded. I like to go for long walks. I just finished last summer a walk along the Rhine river from the sources to the North Sea. Artistically my main focus has shifted to fine art photography. I developed a style I call expressionistic photography – using pictures taken on my walks. I have played with Christian up to five years ago (on and off) in several formations. The styles went from New Wave, to Rhythm and blues and Experimental Rock. I still have my Slingerland drums. I'm playing for myself on my congas in the living room.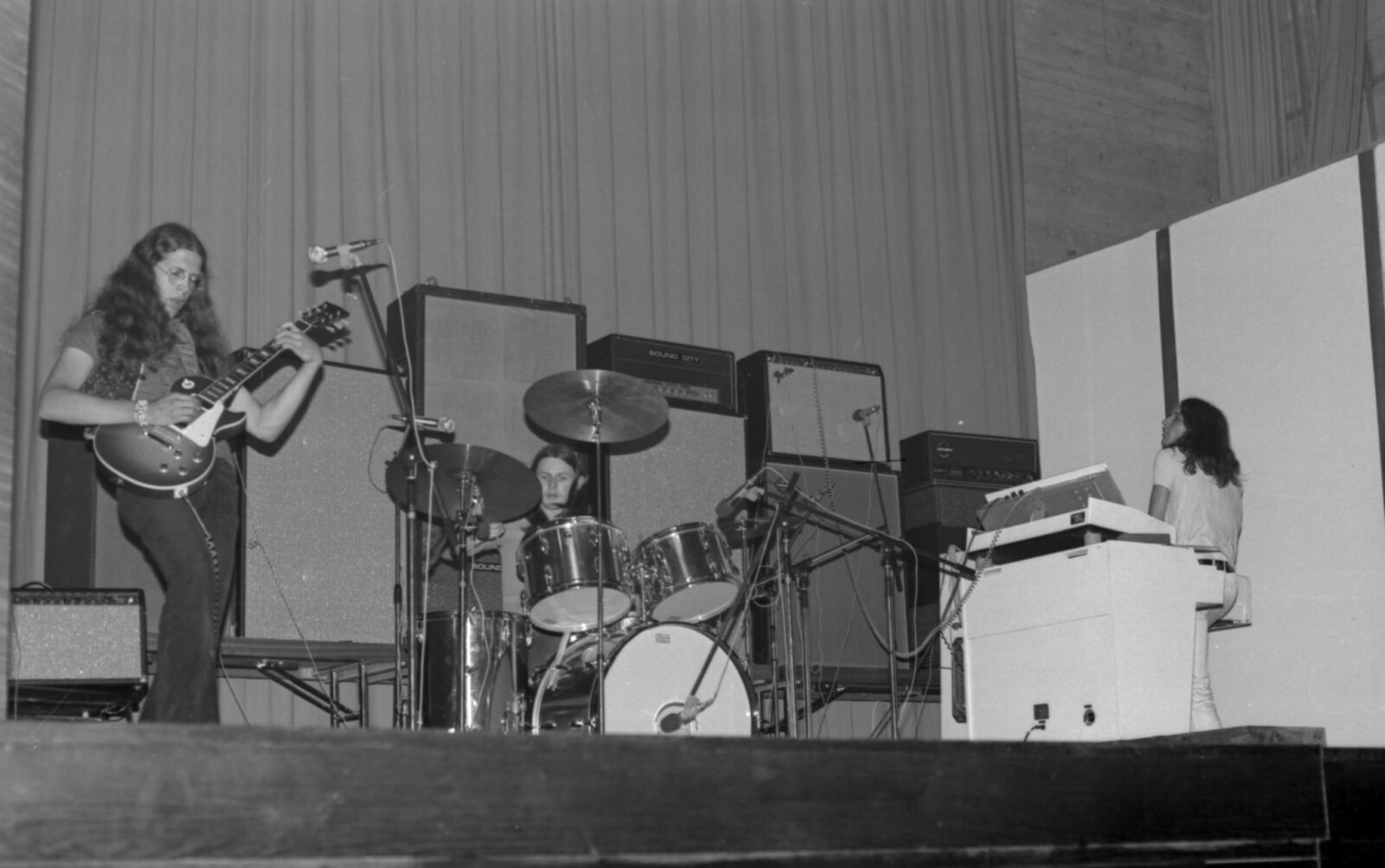 Thank you. Last word is yours.
Christian Linder: A young musician once said to me "as far as you have made it, I will never make it". I answered him that I hadn't gotten very far and he was surprised and said "but, don't you know… you are a living legend." Then I thought to myself that it is probably better to be a living legend than a dead legend. Actually, I can be quite satisfied.
Richard Rothenberger: Many thanks to you and all the other folks that like Kedama! It's a little bit crazy to see people beginning to love our music 45 years after we made it. As I wrote somewhere above: we had been knowing all along that our music is something special. And now we finally do have something to document what we did back then, something genuine, rough and straight, the spirit of the seventies.
Peter Suter: It is up to us to thank you very much for the interest you take in our music. Year by year our music spreads around the world, with a growing community of dedicated followers. We are really excited and very grateful.
– Klemen Breznikar
---
Kedama Bandcamp
Guerssen Records Official Website
Castle Face Records Official Website