The Wizar'd interview
The Wizar'd always was a kind of unpolished dirty gem from heavy/doom underground.
---
Formed in Hobart, Tasmania 16 years ago, the band went through a few lineup changes, but it keeps the blend of old school heavy, doom and 80s horror movies till today. Catchy rocking tunes, straight in your face delivery, creepy atmosphere and specific high vocals of their spiritual leader Will a.k.a. Ol' Rusty make The Wizar'd unique phenomenon. Seven years ago they've released their third album Ancient Tome Of Arcane Knowledge and the band seemed to fall in slumber after that though reports of their live rituals did appear occasionally here an there. Due to Cruz del Sur Music schedule Ol' Rusty (guitars, vocals), Master Of The Night (guitars, vocals), Blackie (bass) and Maniac Frodsham (drums) will return with their new magic work Subterranean Exile on 24th of April. Be sure, The Wizar'd have a plenty of the same good old wicked tricks as they were always known for.
Hi Will! The Wizar'd long awaited album Subterranean Exile is finally recorded. Are you satisfied with it?
It is certainly satisfying to finally have the album completed and released after around two years of working on it. We took our time to make sure everything sounds exactly as we intended the production, arrangement of songs, recording etc. We think metal minded maniacs out there will enjoy the album.
Back in 2015 you told the band has a couple of new songs planned to be featured on EP titled Subterranean Exile, which you planned to release till the end of the same year. What went wrong?
The original plan was to release an EP titled Subterranean Exile, which was going to feature the title track and also 'Master of the Night'. These tracks were written first, in fact 'Master of the Night' goes back to 2012 and was written shortly after we finished recording our previous album. Around 2013 when I thought of recording these two songs and releasing it as an EP I was instructed by a mysterious spectral voice to put it on hold and write more songs, I obliged and spent the next several years conjuring more metal magick.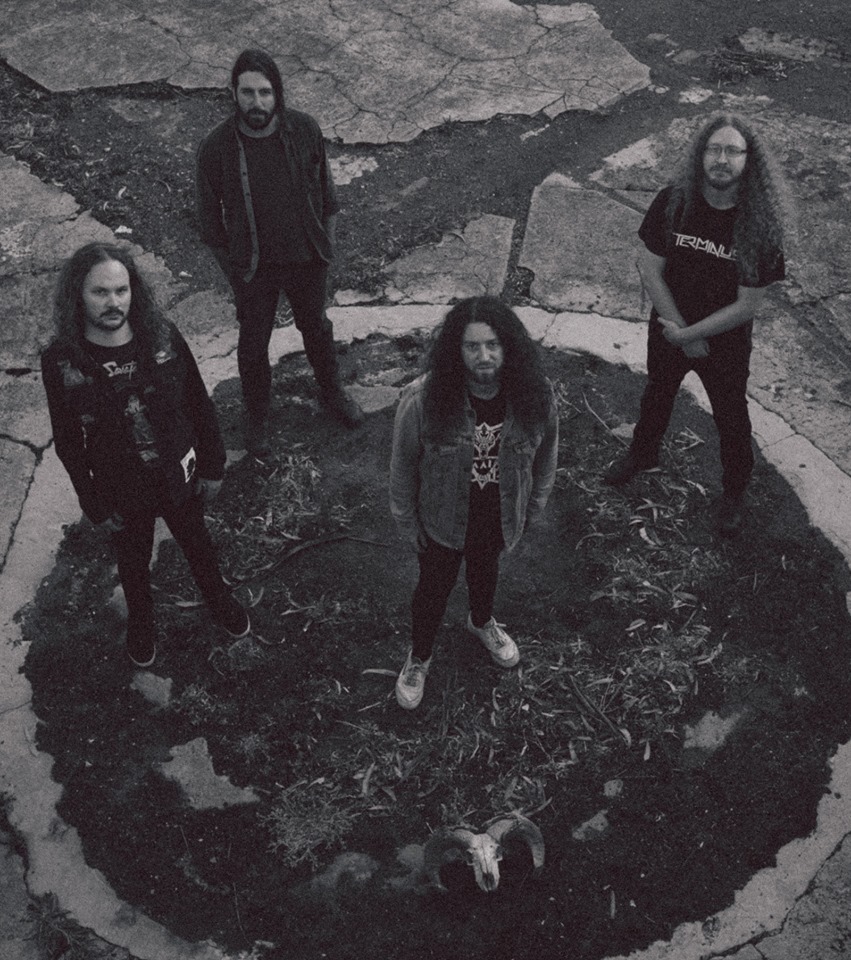 Did you feel a support or demand for new songs from The Wizar'd followers during this period?
I think we have a small but devoted following, we've never been a band that gets a lot of of hype but that isn't important to us anyway. We have had fans enquiring about when the next album was due, so hopefully it will be worth the wait for them.
It seems your label Heavy Chains Records don't have any new releases for three years now. Did you put it on hold?
I am currently taking a break from releasing music through Heavy Chains. I ran the label intensively for around 5 years spending the last couple of those doing it almost full time while also working a crappy job on the side for extra cash.
After a while I found that I didn't have enough time to write and record my own music as I was spending too much time doing busy work with the label and I needed a break. I enjoyed running a label a lot but I didn't want to do it in half measures so I had to put it on hold. Right now I'm busy with my bands and my other work so I don't think there will be any new releases in the foreseeable future, but some day I think I'll get back into it.
What's about Dracula, Spectre, Tarot, Torpedo and other projects you're involved? I see only Tarot had official release back in 2016, and others recordings are stuck somewhere in demo-stages.
Dracula is active sporadically as we live in different parts of the world at the moment. We haven't had a release in quite a while, but last year we toured in Europe playing some excellent shows in Sweden, Poland, France and Germany. We have two songs that we have been playing live that have to be recorded, some day we will record these and hopefully write some more new songs and unleash a new release.
Spectre is my solo project, I just write and record heavy metal songs on my own when I feel like it. I've got lots of ideas for new songs, but I'm not in a great rush to get new releases out.
Torpedo is basically done, as Dan returned to Norway several years ago and I'm still here in Tasmania. We wrote our songs by jamming them out and never made rough demos or anything like that so this band can't really function as a long distance thing. Not that we've decided to kill it though, perhaps one day we will bash out some more music together.
Tarot has mainly been focusing on playing live in the last couple of years, we've played some cool shows around Australia and last year we welcomed a new bass player to the fold and we are sounding better than ever these days. We are in the early stages of writing new music for that, we hope to have a new release out in 2020, but we won't be rushing anything.
Other than that I also make horror inspired synth music in the way of John Carpenter, Tangerine Dream, Goblin etc under the name Crypt Vapor. I've released several Ep's so far and I'm currently working on my first full length.
So back to Subterranean Exile, you did record the album with updated lineup. What kind of rotations did happen in the band?
When our previous bass player left the band we brought in Master of the Night to take over guitar rhythm guitar and backing vocal duties. Master of the Night is actually a vastly superior guitarist to myself but we felt that my leads are integral to the bands sound so I will still be handling all the guitar solos and lead vocals. Blackie has switched back to bass guitar while Maniac Frodsham is still pounding on the drums of doom.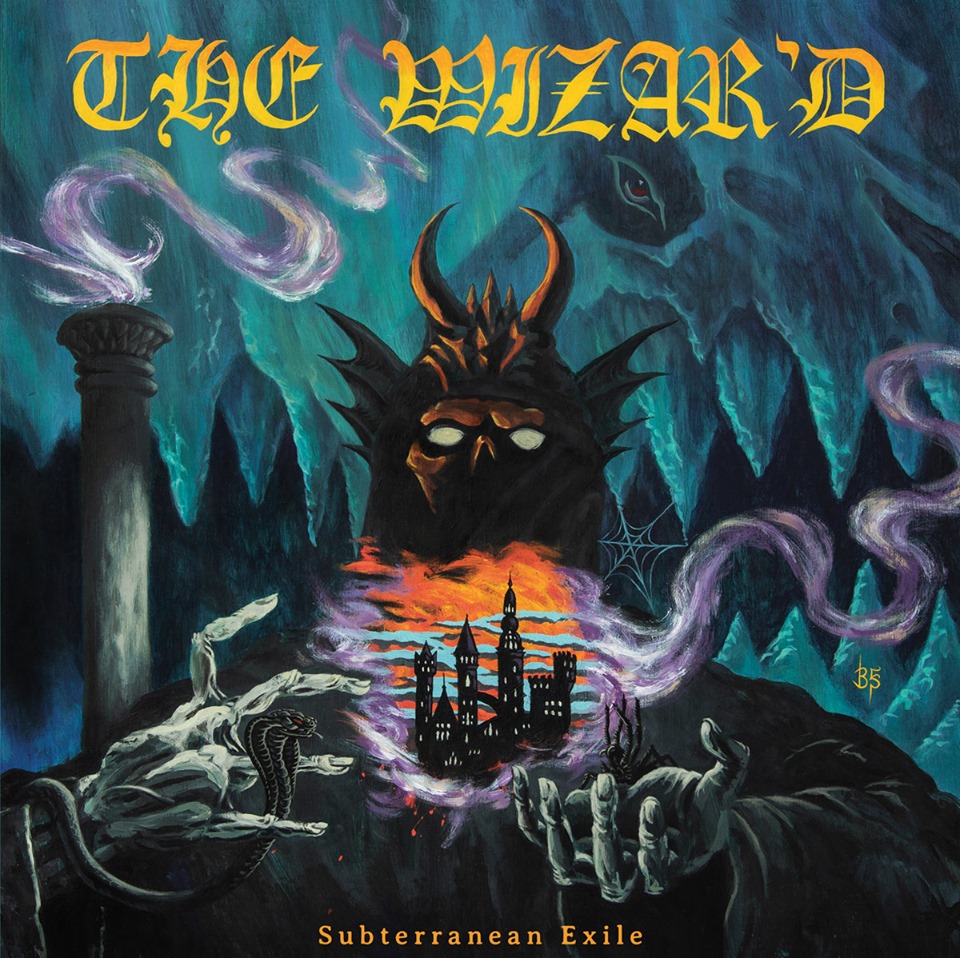 The album, despite the band's long break coherently, continues that old school vibe of its predecessors. Do you remain chief song writer in the band? And do you aim to keep same spirit further?
So far I have written virtually all the music and lyrics for The Wizar'd, save from lyrics on one song on our second album and Blackie and I also co-wrote 'Frankie's Dungeon' together. With that said the other members of the band all contribute in their own way Master of the Night wrote the eerie 'Ecstatic Visions Held Within the Monastic Tower' on the new album, Blackie co-produced it, and Maniac Frodsham is a wizard at turning the simple drum parts I write into their thunderous glory.
May you name other modern bands which you consider to be keepers of this spirit?
I recommend people check out White Magician, Demons Gate, Eternal Champion, Freeways, Barrow Wight, Black Sword Thunder Attack.
What would you tell about Subterranean Exile recording session? Was it stressful?
I wouldn't say the recording process was stressful. We recorded the drums at a recording studio in Hobart and the rest was done at my home studio, so we really had as much time and we wanted to work on it. This is the way I've always worked, I think it's important to record drums in a good room and with nice microphones but I've always enjoyed doing the bulk of the recording in my own space so there is ample time to get things right and not be working against the clock.
Will you often talk about "evil" in your songs, what meaning do you put in this term?
I speak of the deeds of the sinister order The Wizar'd belongs to. I've said too much…
The band was started about sixteen years ago, how did your feeling towards The Wizar'd and vision of the band change since then?
The vision of the band has and always will remain the same. Over the years we have become better musicians and songwriters but we are still devotees to the elder godz such as Black Sabbath, Pagan Altar, Trouble, Saint Vitus, Candlemass etc this will always be the path that we walk.
You did play at Hammer Of Doom in Germany few years ago. Did you manage to get out from Tasmania in order to play gigs abroad?
We have played many shows around Australia since then, but we have yet to venture further afield than that with The Wizar'd.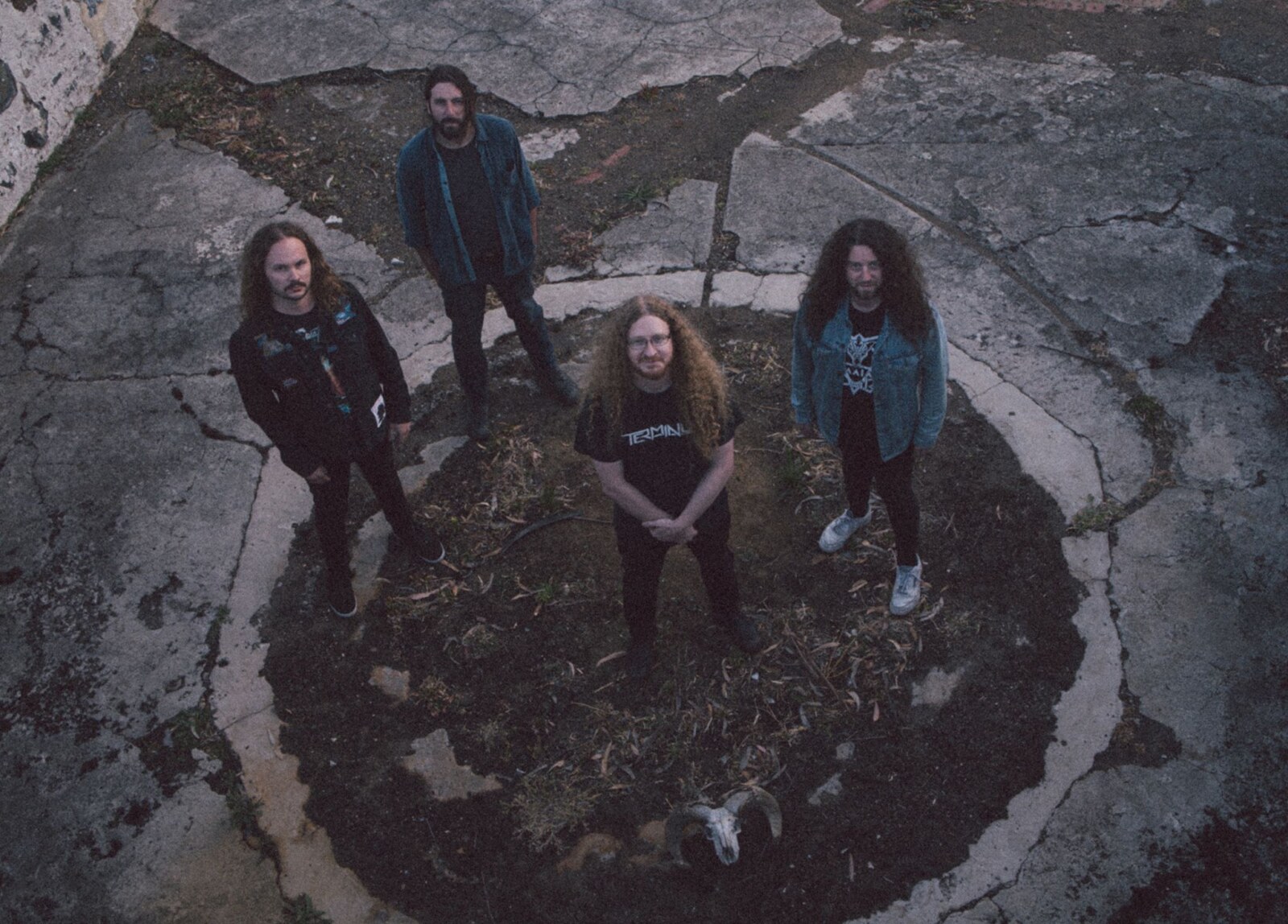 How would you resume your plans consider The Wizar'd for 2020?
With events unfolding the way they are, 2020 is a very uncertain time to be alive so making any immediate plans isn't really possible. Once the dust settles from what is currently going on we would like to resume our plans of playing shows and hopefully finally returning to Europe.
– Aleksey Evdokimov
---
The Wizar'd Facebook
The Wizar'd Bandcamp
Heavy Chains Records and Tapes Official Website