Jim Capaldi – 'Open Your Heart: The Island Recordings 1972-1976' (2020)
Founding member, vocalist, drummer, percussionist and songwriter of British rock band Traffic, Jim Capaldi began a solo career in 1972 while fellow band member Steve Winwood was recovering from peritonitis. Esoteric Recordings, UK, has gathered Capaldi's first three solo albums, released on Chris Blackwell's Island Records label, home to Traffic's recorded legacy, as well as his first two appearances on the BBC television show 'The Old Grey Whistle Test' from 1975 and 1976, supplemented by six non-LP single sides in the impressive new 3 CD/1 DVD box set 'Open Your Heart'.
---
For his debut solo album 'Oh How We Danced' Capaldi ventured to the famous Muscle Shoals Sound Studios in Muscle Shoals, Alabama, and employed the house band, The Muscle Shoals Rhythm Section, bassist David Hood, drummer Roger Hawkins, keyboard player Barry Beckett and guitarist Jimmy Johnson, who had appeared on Traffic's "Shoot Out At The Fantasy Factory" as his backing band. The album's opening track "Eve", a melodic ballad, featuring Steve Winwood on organ and charted when released as a single in the US. The tune's sound was filled out by the inclusion of the Muscle Shoals Horns who were featured on many of Capaldi's Island recordings. 'Big Thirst' is a laid back balladish number featuring a harmonica solo by founding Traffic member Dave Mason and showcasing Beckett on organ and piano. Johnson shines on guitar throughout the gorgeous melody as well. "Love Is All You Can Try" shines thanks to the bluesy guitar of Steve Winwood and Beckett's boogie woogie style piano. "Last Day Of Dawn" is the first track to feature Free guitarist Paul Kossoff and has a relentless groove, pushed by Kossoff's guitar, Beckett's piano and Traffic percussionist Rebop Kwaku Baah, supplemented by gorgeous vocal harmonies. "Don't Be A Hero" is a bluesy ballad with Kossoff's guitar and Beckett's piano and organ carrying the tune until Dave Mason cuts loose with a monstrous guitar solo. The box set's title track features the Traffic "Low Spark" lineup with Rick Grech on bass, Jim Gordon on drums, Steve Winwood on organ and vocals, Rebop on percussion and Chris Wood on electric saxophone, with Capaldi contributing piano and vocals. The upbeat, breezy, jazzy tune is highlighted by Rebop's percussion and its repeated vocal chorus "open your heart" and handclaps. "How Much Can A Man Really Take" includes bass by former Move member Trevor Burton and guitar courtesy of Kossoff as well as contributions by Traffic members Mike Kellie on drums and Chris Wood on flute, joined by pianist Bob Griffin. Kossoff's guitar and Kellie's drums drive the tune aided by Wood's flute until Kossoff's guitar solo takes center stage and carries the song home. The album closes with its hot rocking title track. Capaldi's gorgeous vocals are complemented by two Kossoff solos, with Hood and Hawkins pushing the heavy groove aided by horns added for accent. The heaviest tune on the LP, it is the perfect album closer. The disc closes with the non-album b-side "Going Down Slow All The Way" a gentle piano driven tune with Beckett to the fore.
Disc two contains 1974's "Whale Meet Again" was again recorded in Muscle Shoals, featuring the Muscle Shoals Rhythm Section. The gentle opener "It's All Right" features steel drums by Beckett and acoustic guitar by Pete Carr who had become part of the MSRS. The Muscle Shoals Horns add texture and Carr supplies a tasty lead electric guitar close. The album's title track is Pete Carr's from beginning to end, with his lead guitar and two solos roaring over the top of the tune's heavy groove with John 'Rabbit' Bundrick contributing piano and organ. "Yellow Sun" is a mellow number with Carr's acoustic guitar and dobro leading the way to a piano solo by Beckett and featuring organ by Chris Stainton. "I've Got So Much Love" has a stripped down sound with horns and gorgeous harmonies joining Capalidi's lead vocals, Carr's guitar remaining restrained until his fiery solo outro. "Low Rider" is a nice rocker with funky clavinet by Jean Roussel and Carr's lead line giving way to an extended solo. "My Brother" is another rocker led by Carr's lead guitar and Capaldi's echoed vocals with Beckett's synthesizer adding texture along with Chris Stewart's fuzz bass. "Summer's Failing" begins as a gentle rocker led by Steve Winwood's organ and bass. The only tune to not include the MSRS, Bubs White's acoustic guitar fits perfectly. The song's pace quickens with White's lead line pushing it before giving way to an extended solo supplemented by Rebop's congas. The LP's hottest rocker, the song takes on a Traffic sound with Winwood's organ and Rebop's contribution although it is White's guitar that takes over and drives the tune to its finish. The album closes with a short take on the vintage World War II track "We'll Meet Again" featuring Capaldi vocals and strings. The disc ends with the Richard Nixon parody "Tricky Dick Rides Again" , Paul Kossoff's screaming lead guitar front and center accompanied by driving drums by Hawkins.
Disc three contains 1975's "Short Cut, Draw Blood" and its Jamaican reggae sound which stands in contrast to Capaldi's two previous albums, but fits perfectly with the sounds coming out of Island led by Blackwell. The album was recorded at Muscle Shoals Sound Studios and Island Studios. The list of musicians used in the recording of the album is most impressive with Chris Spedding, Ray Allen and Jess Roden among those not previously appearing on earlier Capaldi albums. The opener, "Goodbye Love" includes Steve Winwood on piano, organ, guitar and bass as well as Ray Allen on saxophone along with Rebop and Remi Kabaka on percussion with Capaldi supplying vocals and drum machine. The tune has a Traffic "Low Spark" jazz rock feel for obvious reasons with Winwood contributing a memorable guitar solo. Capaldi's vocals dominate the gentle melody of "It's All Up To You" which was a Top 30 UK hit when released in 1974 and includes different personnel from the remainder of the LP with John "Rabbit" Bundrick on piano and clavinet and Jess Roden on guitar. A cover of "Love Hurts" reached the Top 5 in the UK with guitarist Pete Bonas supplying a dance groove approaching disco. Likewise "Johnny's Too Bad" has a reggae feel with Ray Allen delivering an impressive sax solo and Chris Spedding tasty guitar riffs. The album's title track has contributions from the Muscle Shoals Rhythm Section (Hood, Hawkins, Johnson and Carr), Traffic (Capaldi and Rebop) as well as Chris Spedding on rhythm guitar. The mid-tempo number is quite a change from the earlier tracks with Pete Carr's guitar solos turning the tune into a rocker. In addition to Carr's stinging guitar the track has anti-establishment, environmentalist lyrics from Capaldi. "Living On A Marble" has driving vocals delivering political commentary and ecological lyrics with Chris Spedding's guitar roaring over the chugging rhythm leading up to an impressive solo by Spedding as the tempo quickens to a crescendo of guitars. "Boy With A Problem" written by Capaldi about fellow Traffic member Chris Wood's substance abuse problems is ironically dominated by the soaring lead guitar of Paul Kossoff, himself a victim of drug usage. The tune rocks with Winwood making an appearance on synthesizer and Roger Hawkins' drums keeping perfect time teamed with Hood's bass. "Keep On Trying" is a long studio jam with an infectious groove highlighted by solos featuring Rico Rodriguez on trombone and Ray Allen on saxophone, with bassist Rosco Gee and drummer Kabaka locked in. The chorus of "keep on trying" is repeated over and over with more than a hint of salsa. "Seagull" is a gentle ballad with Capaldi's gorgeous vocals, Winwood's acoustic guitar, mellotron and harpsichord, Chris Wood's flute and Remi Kabaka's drums providing a tranquil finish to the album. The disc is closed out with three non-album single sides. "Sugar Honey" is a guitar driven rocker with gorgeous vocals from Capaldi, issued as a b-side but with definite a-side possibilities. Both sides of a 1976 single finish the disc. The a-side "Talkin' About My Baby" showcases the gorgeous delicate vocals of Capaldi in the melodic song about young love, with guitars and keyboards supplemented by strings. B-side "Still Talkin'" is a continuation of the a-side with saxophone, guitar, synth and percussion meshed nicely. Ray Allen's sax solo is especially gorgeous, the song's laid back sound having definite commercial appeal. The single, Capaldi's final release on Island, brings the CD portion of the set to an end on a particularly high note.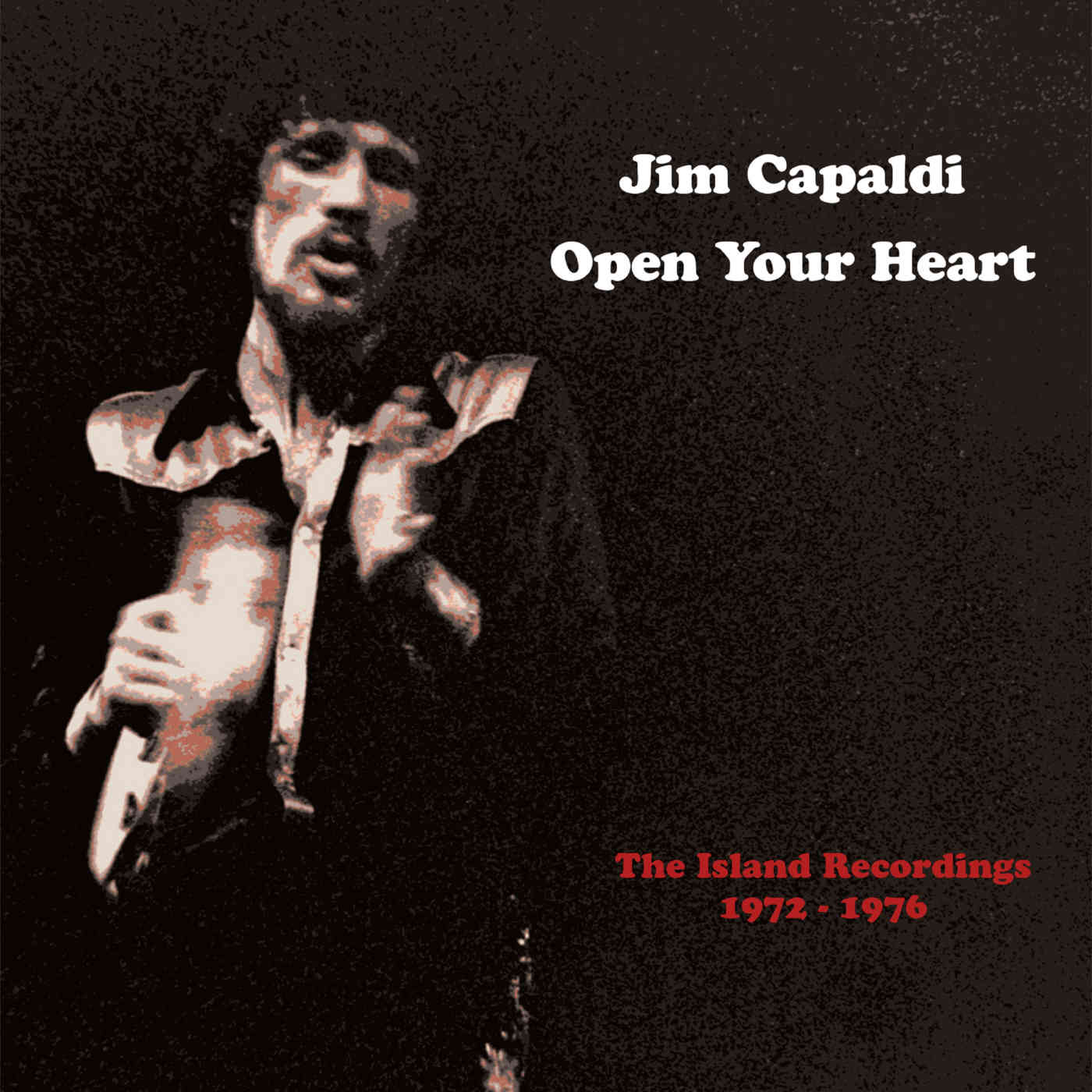 The DVD offers ten performances taken from two appearances on the BBC's 'Old Grey Whistle Test' show recorded in 1975 and 1976. First up are two tracks from November, 1975 recorded by Capaldi on lead vocals and acoustic guitar, Steve Winwood on piano, Pete Bonas on lead guitar, Rosco Gee on bass, Kiki Gyan on organ, Ray Allen on saxophone, Remi Kabaka on drums and percussion and Phil Capaldi (Jim's brother) on percussion and vocals. "Short Cut, Draw Blood" features notable performances by Bonas, Winwood and Allen, while "Goodbye Love" is reminiscent of Traffic's "Low Spark" era sound. Next up are eight tunes from a March 1976 appearance credited to Jim Capaldi and The Space Cadets, consisting of Capaldi on lead vocals, guitar and keyboards, Pete Bonas on lead guitar, Rosco Gee on bass, Kiki Gyan on organ, Ray Allen on saxophone, Remi Kabaka on drums and percussion, Phil Capaldi on percussion and vocals and Ralph Richardson on steel drums. "Low Rider" is a funky number with a steady groove, gorgeous vocals by Capaldi and incredible solos by Bonas on guitar and Gyan on organ. "Love Hurts" is countryfied with the band extremely tight and a shining vocal performance by Capaldi. "Goodbye Love" has a "Low Spark" vibe, spotlights Capaldi's vocals again and features an impressive saxophone solo by Allen. "Elixir Of Life" was a brand new song not yet recorded and featuring a tight arrangement. Gyan's organ stands out as does Bonas' guitar solo while the band stretches out a bit. "Boy With A Problem" is referred to by Capaldi as a "love lament song" and features a gorgeous organ intro and vocals. Obviously the band was used to playing this one live, with Gyan's organ solo a highlight. The vocal harmonies between Jim and Phil Capaldi are especially pleasant. "Short Ends" is another brand new song and features Capaldi on organ and vocals. The tune has another tight arrangement and the gentle composition spotlights an excellent solo by Allen on saxophone. "Talkin' About My Baby" was the final single released by Capaldi on Island Records and his vocals shine yet again. The steel drum work of Ralph Richardson is especially tasty. The show closer is an extended take on "Keep On Trying" which opens with Capaldi handing out tambourines to the audience. After introducing the band, he says The Space Cadets was chosen as a description of the musicians and the stage presence of each. The band settles into jam mode with Kiki Gyan soloing on organ followed by Ray Allen taking a break on saxophone. The crowd applauds, then joins in the repeated chorus "gotta keep on trying" before Ralph Richardson solos on steel drums. Capaldi calls for audience participation as the tune and DVD come to an end with hand clapping and the repeated chant "keep on trying".
'Open Your Heart' comes in a clamshell box with each disc in its own replica LP sleeve. The set includes a 24 page full color booklet with album artwork and many other photographs, full track annotations and a detailed essay by Paul Minkkinen. The region free DVD is 60 minutes in length and the 30 CD tracks sound great with 24 bit remastering from the original master tapes by Paschal Byrne at the Audio Archiving Company. Fans of Traffic and 70's rock in general will be interested in this box set which comes most highly recommended.
– Kevin Rathert
---
Jim Capaldi – 'Open Your Heart: The Island Recordings 1972-1976' (Esoteric Recordings, 2020)