Interview with Alan Munson about 'Cooley-Munson II'
The new "Cooley-Munson II" album is the long awaited follow-up to the highly acclaimed, original 1972 Cooley-Munson "In Debt" LP release. Despite the passage of time, Bill Cooley and Alan Munson reunited the "Cooley-Munson" Duo to record and to finally deliver this "Cooley-Munson II" album.
---
It's now 47 years later and the new "Cooley-Munson II" album is finally available! Can you provide some background on the "Cooley-Munson" Duo, and what led up to this new album release?
Bill Cooley and I began actively working together in music in our late teen years. We played in a rock band together ("Future Passed") in the 1970/71 timeframe in Santa Barbara, California, and later decided to form the "Cooley-Munson" Duo to compose, record and perform all original music. We were both focused on the music business as a lifetime career path, so writing and composing original songs was an essential direction for us to take.
In 1972, we recorded and released our very first record album, Cooley-Munson "In Debt", which was released on the Studio West label in Santa Barbara, Calif, Mastered by Custom Fidelity in Hollywood, and produced by Monarch Records in Los Angeles. As I said in an earlier IPB interview, we had some novel ideas for the recording of the "In Debt" album, and no fear of experimentation with our songs, arrangements and sound. In the end, we produced an all original album with our own, unique Psychedelic-Folk / California-Folk Rock music style.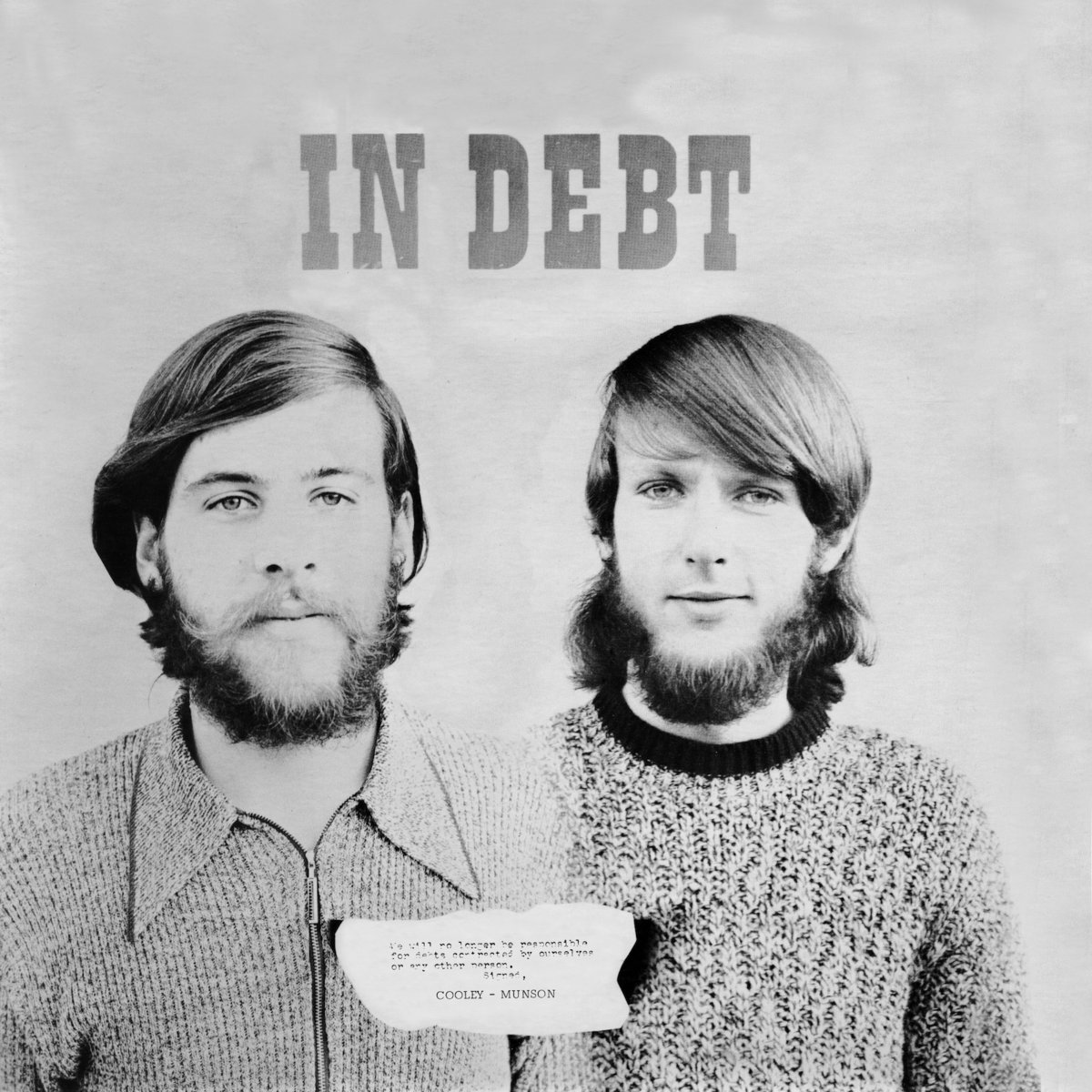 The album received good press coverage, reviews and radio response, but the major record label deal we were expecting never came together. Despite that, the "In Debt" album was a huge milestone in our musical journey. Decades later, in 2008, Guerssen Records (Spain) reissued the "In Debt" album. It was distributed world-wide, received great reviews and became a highly rated, vintage California Psych Folk album.
At what point did you start thinking about recording a follow-up album?
I think Bill Cooley and I actually started planning a follow-up album, before we had even finished recording the "In Debt" LP! So, since 1972 , we have always intended to record and release a sequel to the original "In Debt" album. Bill and I have remained the best of friends, have continued to play and record music together, and have maintained regular contact over all these years. And, although Bill and I moved off into different music career directions at some point following the "In Debt" album release, we never forgot or gave up on our plans to someday record a sequel to the Cooley-Munson "In Debt" LP.
Finally, after over 40 years had passed, the timing was somehow right, the plans came together, and we decided to reunite our Cooley-Munson Duo, primarily to record and release the long overdue "Cooley-Munson II" album.
Was it difficult to start work on this album project?
Not at all difficult, but before we did anything with song selections, arranging or recording, we thought it was important to have a clear plan for our follow-up album project. Without getting too analytical about it, we just needed to decide on the direction we would take with the sequel album that would produce the best results, and hopefully please the listeners.
There were at least two options. For example, we needed to decide if we were going for an exact duplication of our original 1972 vintage sound and styling. And, if that was the plan, would we then strive to produce a new album that would actually be considered an "In Debt 2" album release? Or, were we reuniting the Cooley-Munson Duo to record all new material, with new styling, new sound, and to show how much we've grown musically?
Bill Cooley's thoughts on the project goal: "Well, I think the goal is somewhere between the two options we identified. We have no intention of slavishly recreating the "In Debt" sound, but we also are not trying to run away from it. Both of those ideas would be futile anyway. It's a different time, but we are the same two artists. We're definitely not trying to prove to anyone how much we've "grown." musically. Part of this process involves us going back; back before we knew "everything." That might be the magic of this Cooley-Munson sequel album, come to think of it. The sense that we are discovering our music and the songs on this follow-up album as much as the listeners.
We agreed that we would record the sequel album, staying true to our vintage sound as much as possible, without attempting an exact duplication of the "In Debt" LP sound. We would also build on the strengths of the original Cooley-Munson Duo. We also agreed that the new album would be titled "Cooley-Munson II".
Did you write new material especially for this album or did you have a collection of demos and unfinished songs?
I've written and recorded over 400 songs through the years, so Bill and I decided my song "library" would be the best source of material for the sequel album (versus me writing all new songs). I went through the library and selected 20 previously unreleased songs that I thought would work out well for the new Cooley-Munson project. Most all were songs that I had written and recorded as demos back in the 1970's and there were even a couple that I had written specifically with a Cooley-Munson follow-up album in mind. Bill and I then went through the 20 tracks together and picked the 10 songs we believed were the best fit for the new album. As always, Bill and I spent a lot of up-front time working through the song arrangements, and our often quirky and unique Cooley-Munson sound and style.
"The recording of this new "Cooley-Munson II" album was a truly special experience for us."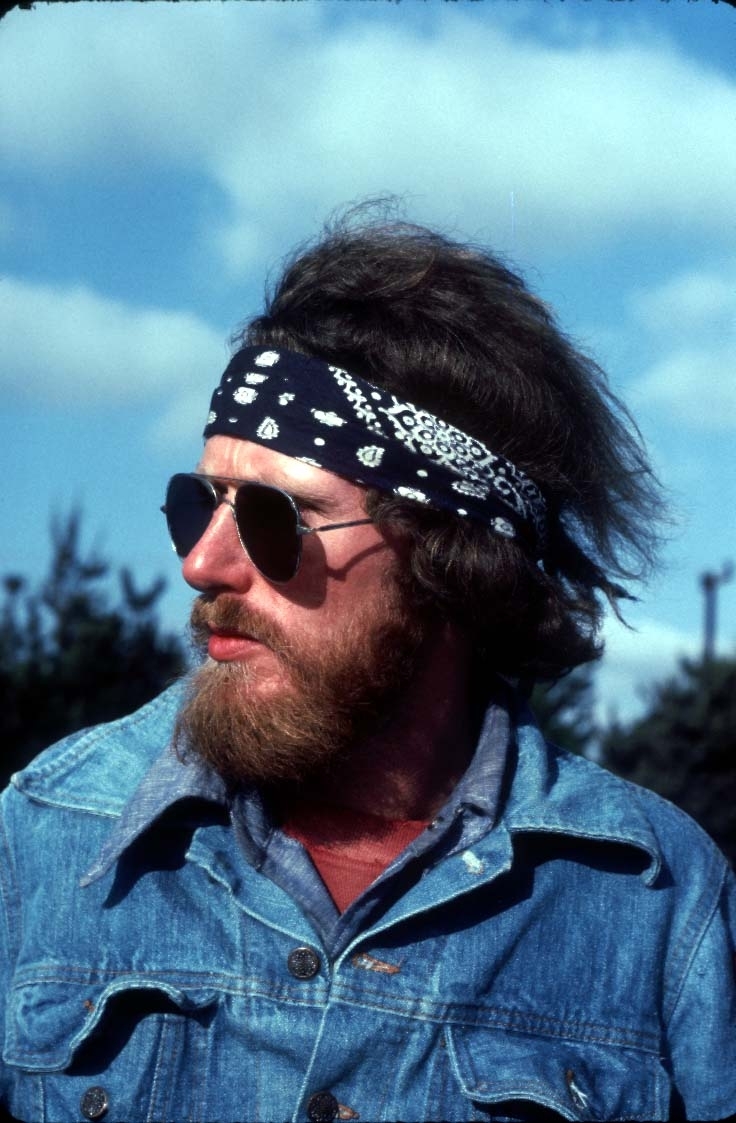 Times change, people change. What was the dynamic between you and Bill during your song arrangement and recording sessions? How was it to work together again?
Even though Bill and I have pursued different directions with our music work, we have continued to play music together and have done a lot of recording sessions together over the years. But the recording of this new "Cooley-Munson II" album was a truly special experience for us. It was so amazing to be working together again on a full album of songs, song arrangements and to be back in the recording studio again as the "Cooley-Munson" duo. A significant number of years had gone by, but it was almost like we were still 20 years old and we were just picking up where we left off in 1972. We had a really enjoyable and rewarding recording experience with this album!
Can you share some further details about how your latest album was recorded?
From the very beginning of this new album project, Bill and I made every effort to stay true to the recording process we used back in the early 70's for the recording of the "In Debt" LP. It wasn't difficult, since that process is clearly the best and most productive way we have found to work together in a recording studio environment over all these years.
We went a few steps further to ensure the best possible connection to our vintage roots. Every note of every track was played on real instruments (acoustic, electric, and bass guitars, drums and percussion). Pure and organic performances without any processor enhancements at all on vocals or instruments . The guitar amps were tube amps. The microphone preamps were tube amps. The recording was analog, and we used a vintage Tascam analog mixing console. I sang all lead and backing vocals through the vintage AKG large diaphragm condenser mics I've always used. AKG condenser mics were also used for all of the Acoustic Guitar tracks.
Can you provide an overview of the new "Cooley-Munson II" songs, music and credits?
The album includes ten (10) original, previously unreleased songs, all written by Alan Munson. The music on the new "Cooley-Munson II' album is predominately Psych – Folk Rock, but like the original "In Debt" album, we crossed over into other music genres with a few songs.
Album Credits:
Alan Munson – Lead Vocals, Backing Harmony Vocals, Bass Guitar, and Drums/Percussion
Bill Cooley – Electric / Acoustic Guitars
All Songs Written By Alan Munson (ASCAP) – Copyright 2019
Songs Arranged By Bill Cooley and Alan Munson
Have you received any early album reviews or feedback that you can share?
Prior to the album release on December 6, 2019, I solicited informal feedback, comments and pre-release reviews from a few music reviewer sources. Below are a couple of the responses I received, and an excerpt from a recently published review in Japan.
… The "Cooley – Munson" Duo has now produced another all original album with their own unique, very personal musical styling, and great variety. This is one of those truly unique records where it's hard to put a finger on influences, as it really doesn't sound like anyone else (which is a good thing). "Cooley-Munson II" is a superb follow-up to their original "In Debt" album.
… Excellent album! Alan Munson and Bill Cooley have definitely stayed true to their original musical roots on this new Cooley-Munson II album. Great songwriting, vocals, arrangements and overall musicianship. The guitar playing is masterful, along with all other instruments played on the album. A really solid and professionally recorded album project.
… The legendary mellow Psychedelic Folk duo of the 1970's, the "Cooley-Munson" Duo, with Alan Munson and Bill Cooley, has reunited and released a long awaited new album! The new 2019 album "Cooley-Munson II" is a sequel to their earlier duo album "In Debt" which was released in 1972 in Santa Barbara California on the independent label (Studio West Records). The original 1972 "In Debt" LP is a very rare collector's album (LP) and is famous with the Psych fans as a masterpiece of gentle folk rock, with a psychedelic feel.
… The sequel "Cooley-Munson II" album, includes all new original songs by Alan Munson, splendid music, vocals and performing. It does not make you feel the long 47 year gap at all, and is as good as the original "In Debt" album. It features a fantastic atmosphere with acoustic guitars and majestic vocal harmony. It can be said that it is a new folk psychedelic masterpiece.
– Kawada Hisao (DiscUnion – Japan)
Please share some details of the worldwide sales availability, and where the album can be purchased.
The "Cooley-Munson II" album was released on 12-06-2019, both as a Digital release from the Sundazed Music record label, and as a CD release from ALM Music. The Digital Release from Sundazed is available to stream now on all of your favorite digital providers, including Spotify, Amazon, etc.
The album is also available on CD from several sources including:
Amazon
Diskunion (Japan)
It may sound as a cliche but I truly think the album is very well done and original. Thank you. Last word is yours.
Thanks Klemen! It's great to work with you and It's Psychedelic Baby magazine again! If anyone would like more information about my album releases and music work, please visit my website. You can also check out all six of my albums here.
– Klemen Breznikar
---