Spirit – 'Two Sides of a Rainbow: Live at the Rainbow 1978' (2019)
Originally recorded at London's Rainbow Theater on 11 March 1978 and intended for release to document the band live, the "Spirit Curse" plagued the sound quality and the original release of 'Spirit Live' on Potato Records was nearly ignored as was the 2012 Floating World Records 2 CD reissue by Mick Skidmore.
---
Luckily, technology has improved to the extent that Skidmore has remastered the master tapes from a soundboard tap of the complete show, including all six encores and the abridged US issue of 'Live Spirit' utilizing the multi tracks and overdubs. The net result is a brand new, much improved sounding 2 CD, 158 minute 'Two Sides of a Rainbow' released on Esoteric Recordings, UK.
Spirit's Rainbow show opens with an aptly titled six minute 'Rainbow Jam' featuring a drum solo intro by Ed Cassidy, before Cassidy, bassist Larry "Fuzzy" Knight and guitarist Randy California settle into a comfortable groove, leading to California's feedback laden guitar solo. The band follows with two tracks from Spirit's best known LP 'Twelve Dreams Of Dr. Sardonicus' namely 'Mr. Skin' a reference to drummer Cassidy's nickname, and 'Nature's Way' the band's warning of man's treatment of the ecology and the impending Armageddon should mother nature continue to be mistreated and ignored. Both takes are true to their studio counterparts and showcase the lighter side of Spirit. A cover of Bob Dylan's 'Like A Rolling Stone' is the first, among several, references to California's love of Jimi Hendrix, and features a relaxed intro leading up to the band revving up and California's guitar heating up as the eight minute performance rolls on. The next tune is a not so well known part of the band's repertoire, but 'Hollywood Dream' is a rocker highlighted by California's crisp, feedback laden solo. 'Animal Zoo' is a return to 'Dr. Sardonicus' the band returning to its mellow side before the sound builds, with Knight and California in particular cutting loose. Certainly one of the band's best known tunes is the Orwellian '1984' which California introduces by reminding the crowd the song had been banned from US radio stations, almost certainly costing them a big selling single. California's power chords and the song's building beat give way to the trio settling into a gentle groove with Knight contributing gorgeous harmony vocals, with California supplying a melodic lead line and tastefully restrained solo. The band's second nod to Hendrix is their nine minute delivery of 'Hey Joe' with California's mellow, swirling guitar filling the air until he turns the volume up to solo five minute in, before the band settles back into its gentler mode. 'Looking Down' is another 'Dr. Sardonicus' influenced tune, highlighted by California's mid-tune solo as Cassidy rides his hi hats, a great jam tune with Knight delivering a tasty bass solo. 'Love Changed' is a gentle, balladish number before California's extended solo takes center stage. 'All The Same' is a seventeen minute showcase for Cassidy's drumming prowess. The set closer is the band's only Top 40 hit, 'I Got A Line On You' stretched out to five minutes with California contributing another memorable solo as the band exits the stage and the audience's calls for encores begin. The first set of encores opens with another nod to Jimi, a feedback intro'd 'All Along The Watchtower' which settles into a comfortable groove before California plays the song out in Hendrix style, with feedback flying everywhere. 'Downer' affords California another chance to display his musical chops, his guitar dominating and leading to an extended solo after which the band exits the stage again. The band returns to the stage with a boogie number 'Turn To The Right' written by California and Cassidy, sounding rather like a mix of Hendrix and Canned Heat, a unique change of pace. 'Rainbow Jam Electro Jam' is a comfortably delivered tune, with Cassidy's guitar and Cassidy's drums dominant. The band seems perfectly locked in as they deliver a six minute version of Hendrix's 'Stone Free' which is very true to Jimi's original and California cutting loose with mid-tune and play out solos that soar before the band leaves the stage once more. After informing the crowd that due to curfew only one more song could be performed and inviting the audience to their hotel for an after concert party in the lobby, the band launches into its final number, another Hendrix staple, 'Wild Thing' as Spirit again turns up the heat and rocks the show out with California's fiery guitar outro, a perfect closer for the two hour performance.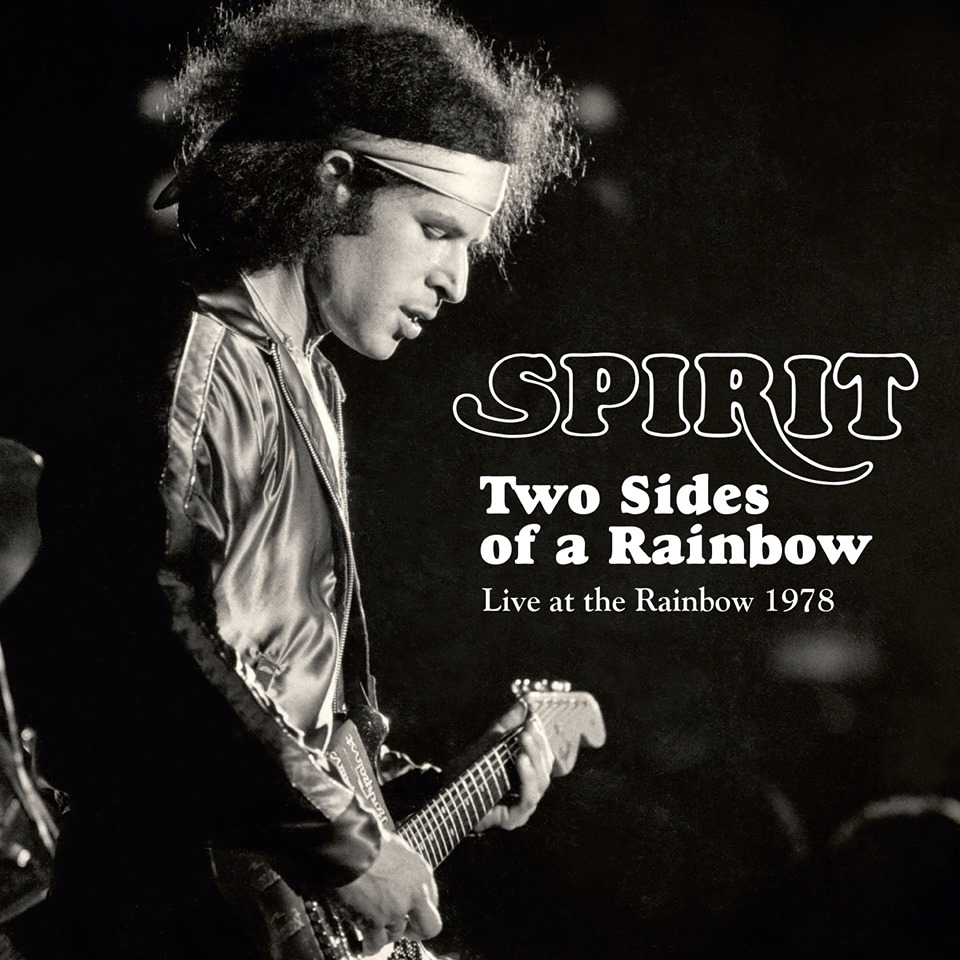 'Two Sides of a Rainbow' closes out with Skidmore's remastered version of 'Live Spirit' derived from the original multi tracks with overdubs. The poor sound quality of the original recordings resulted in the inclusion of two studio tracks, with overdubbed false audience noise, being included along with complete and edited versions of songs recorded at the Rainbow. The album opener, 'Rock And Roll Planet' is one of the two studio tracks utilized and is a hot guitar rocker, with California's guitar to the fore and his solo dominating the mix. This tune as well as 'There Are Words' the other studio take included on 'Spirit Live' is commercially accessible and would have fit nicely on AM radio had they seen release as singles. 'There Are Words' sounds like 'Doctor Sardonicus' vintage Spirit with its relaxed melody and California's guitar. The rest of 'Live' consists of seven selections from the Rainbow recordings. Of these, three are presented in complete versions, two 'Sardonicus tunes, 'Nature's Way' and 'Animal Zoo' as well as 'Hollywood Dream.' '1984' is nearly complete, edited only from 3:52 to 3:27 for the release. The remaining three tracks are more heavily edited, with 'Looking Down' and 'I Got A Line On You' trimmed by about two minutes each, while 'All The Same' is drastically cut from 17:06 to 10:19. The sound on this remastered version of 'Live Spirit' is greatly improved thanks to Skidmore and is a welcome addition to the Spirit catalog.
'Two Sides of a Rainbow' comes in a tri-fold digipak and includes a sixteen page full color booklet with complete track listing, band and memorabilia photos, original liner notes and new footnotes by Skidmore as well as recollections by bassist Larry "Fuzzy" Knight. The sound on 'Two Sides' is greatly improved thanks to the sound board mastering and editing, remastered by Skidmore, while the 'Live Spirit' multi tracks, originally produced by Randy California were remastered simultaneously by Skidmore in August, 2019. This new and improved set will appeal to fans of 1970's rock, especially those of Randy California and Spirit.
– Kevin Rathert
---
Spirit – Two Sides of a Rainbow: Live at the Rainbow 1978 (Esoteric Recordings, 2019)