Various Artists – 'Sunny Spells' EP
Last year, the wonderful chaps at Fruits De Mer (hello Keith Jones!) released a 3xLP set of wonderful 21st century updates to some of my favourite British psychedelic chestnuts from 1966-68 entitled The Three Seasons. Next year they will extend the coverage years (pun intended) to 1969 in order to fit all four seasons in the fun.
---
This, then is a 4-song teaser and it kicks off with a wallop: Chad & Jeremy updating their own 'Rest In Peace' from their classic 1968 release Of Cabbages and Kings. Fans will recall that the original opens with a quote from Lewis Carroll's poem "The Walrus and The Carpenter" [from Through The Looking Glass] that gave the album its title. Various vocal harrumphing and sound effects accompany the lads in this gentle-yet-majestic psych folk gem, but these are all jettisoned and the update sticks to the lyrical section of the song, but it's no big loss, as the duo are in fine form throughout – the acoustic guitar is front-and-centre and their harmoniesare still peerless. As Mr. Jones rightly summarizes in the promotional material, "It's like the last 50 years never happened!"
Fruits De Mer's first label signing, Schizo Fun Addict tackle the Mamas and Papas favourite 'Dedicated To The One I Love' and Ilona V's voice is as crystalline and gorgeous as Ms. Phillips' own endearingly tentative, yearning vocal and the arrangement adds tinkling keyboard (vibes?) flourishes and a wall-of-sound Spectorish production to bring everything up to date.
A new band to my ears, Hanford Flyover deliver an exquisitely romantic, orchestrated rendition of cult psychers Neon Pearl's 'Just Another Day'. Holly Bowler's vocals are clear and crisp and do somersaults through the phased, effects-laden production that leaves us breathless in anticipation for more of their Floyd-meets-Crimson dreamy confections.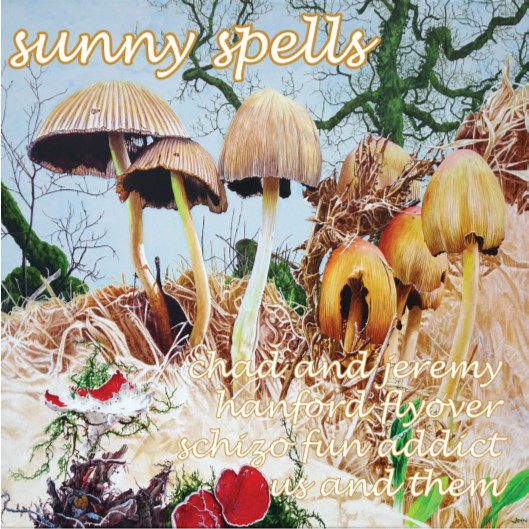 And speaking of Pink Floyd, this charming collection wraps up with Swedish duo Us and Them's intimate interpretation of the little-known Neil Young ballad, 'What Did You Do To My Life' [from his 1968 debut] that puts its eerie ambient vibe and haunted production effects to good use.
All in all, an exciting preview of an album we'll be looking forward to come next Spring.
– Jeff Penczak
Various Artists – 'Sunny Spells' EP (Fruits De Mer, 2019)