Hanne De Backer
'Granular' is the second album by g a b b r o, the band put together by Antwerp based bariton saxophone player Hanne De Backer.
---
"Time, silence and sound, rather then melodies and harmonic developments"
Did you had a certain idea in mind of what kind of record you wanted to make when you made 'Granular'?
I wanted to work and record on a certain location but, different from the first album, the reason for this location would be embedded in content rather then only acoustics. There had to be a clear reason – besides the sound – to go to this location. 'Granular' started from a very simple question: what would be the impact on free improvisation when it takes place in a very closed place or community? Together with Marc, I made a selection of places, going from schoolbuildings over hospitals and slaughterhouses. After some research and several meetings, we finally ended up in the F-wing in the prison of Antwerp, hosting internees with mental health problems.
The initial plan was to do several vocal sessions with the internees only and work towards a collective recording session together with other musical guests. Unfortunately, halfway the process strikes broke out. Conditions in this prison are very poor; overpopulation, not enough staff, old and derelict buildings,… we could understand why the staff went on a strike. For the project however the timing of the strike was quite a disaster. The group that we were working with lost its continuity: some people were gone when we came back, others were completely new to us and others were just completely exhausted by the strike itself, had been in their cells for twelve days without visits, walks outside or telephone calls,… We decided to end the process in the prison and to use the impressions and field-recordings we got from it as a guideline for recording sessions in a neutral place.
Why did you want to make this record with a 4 piece band? Why with Marc De Maeseneer, Agnes Hvizdalek and Raphael Malfliet?
Marc and I initially started g a b b r o as a duo of baritone saxophones. However, gradually we found out it worked better if I took the role of bandleader. It was not the most easy transition, but looking back on it now, it seemed like a very logical and healthy thing to do and I'm also happy we still worked together for this album.
The choice for a quartet came rather organically. The experience in the prison made it inevitable this album would focus very much on coping with time, silence and sound, rather then melodies and harmonic developments. I also wanted to integrate the vocal aspect of the sessions in the prison and Agnes was one of the musicians I wanted to work with for a longer time. I got to know Raphael only two years ago though we've been living in the same city for many years. Both as a friend and as an artist, Raphael is someone who's honesty and continuous search for sound and music in general I really admire. I couldn't foresee how the dialogue with electric bass, vocals and baritones would go, but it had something fragile, what I liked, and the thought of it made me curious and gave me energy so it seemed like a path to follow.
"What would be the impact on free improvisation when it takes place in a very closed place or community?"
Why is the band called g a b b r o ? And what does the title 'Granular' refer to?
'Gabbro' means a conglomerate of rocks which occurs deep down in the earth at the core of mafic volcanoes and under oceanic crust. As a child I had an obsession with stones and minerals and I had to think of that when we were making the first album. I thought it fitted the sounds of the baritone quite well.
'Granular' refers to the details we we're aiming for on this album. It was more about occurring 'granulars' of sound then harmonic movements or melodic lines. For me it also reflects to a certain 'careful' or 'caring' approach towards listening, something very fragile, both as a musician and human being. A very engaged way of listening without seeking fulfillment of certain expectations.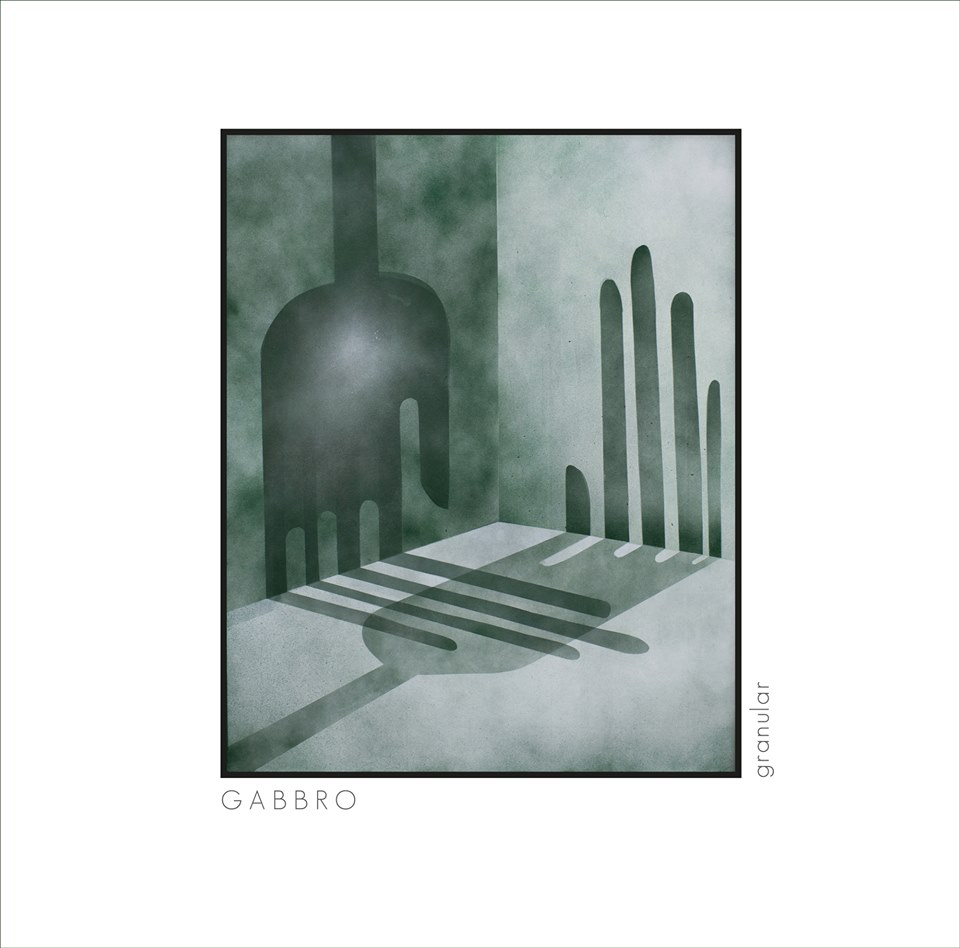 Why did you ask Charline Tyberghein to make the cover?
Actually I didn't. I asked Kris Delacourt for the artwork and went to him with all kinds of pictures, paintings, photographs and the music, explaining the kind of idea I had in mind. A couple of days later he called me saying that we didn't need to look much further: Charline's work had everything. We talked about it and I was very lucky she was enthusiastic to let us use 'Get Home' for the cover of the album. For me it fitted the whole process of making the record as one image.
What is your musical background? Did you study music?
I started playing saxophone when I was nine years old I think. I had a classical training as a child and played in the local brass band. Also, my mother often took us to musicals and classical concerts. As a teenager I started taking out records from the library and bought CD's. The saxophone automatically pulled me towards jazz music, though it wasn't present in the environment I grew up in. After high school I went to study political sciences and theater, but I always kept playing music on different instruments and in several bands. With a lot of detours I finally started studying jazz at the Conservatory in Antwerp when I was 27, which is already quite late. By that time I was playing the baritone saxophone for two years or so. My main teacher in Antwerp was Kurt Van Herck. His approach towards life and music certainly had a big impact on me. I also studied one semester in Helsinki with Jussi Kannaste and Mikko Innanen and took lessons on the bass clarinette there with Heikki Nikula.
Why did you choose for the baritone saxophone? Do you remember what initially attracted you in the bariton saxophone?
Before the baritone I was playing alto. I don't know why I choose to play saxophone as a child. I only remember my first teacher was a beautiful woman with curly hair. She was very demanding towards the practising but she was also very cool, arriving on her red Kawasaki while me and my friends were playing soccer on the playground. I thought that was extremely badass.
While I was studying theater, I did a project together with Vincent Brijs, a great baritone player from Antwerp. Vincent was and is a big inspiration both as a human being and musician for me and definitely had something to do with me going to the baritone after that project.
Also, I was always missing a kind of physical aspect to playing alto. I could be jealous when I saw drummers and guitarists doing their thing, it seemed much more connected to the body. I know now that's actually not true, but when I started playing baritone, that big and heavy instrument and its sound really felt a bit like a homecoming.
I saw you live the first time when you played with Wolf Eyes. How did you get involved with them?
I'm not sure but I think they ended up with me through Koen and Christel from Sound In Motion. I owe those two because they have given me so many chances to meet and play with great people.
I enjoyed the concert very much.
I enjoyed that concert very much too. We were playing outside in Dennis Tyfus' great venue called 'De Nor'. It was already quite cold and there were a lot of friends and acquaintances in the audience. I felt a lot of trust and openness from John and Nate, which made me feel completely at ease, which really got me into the music.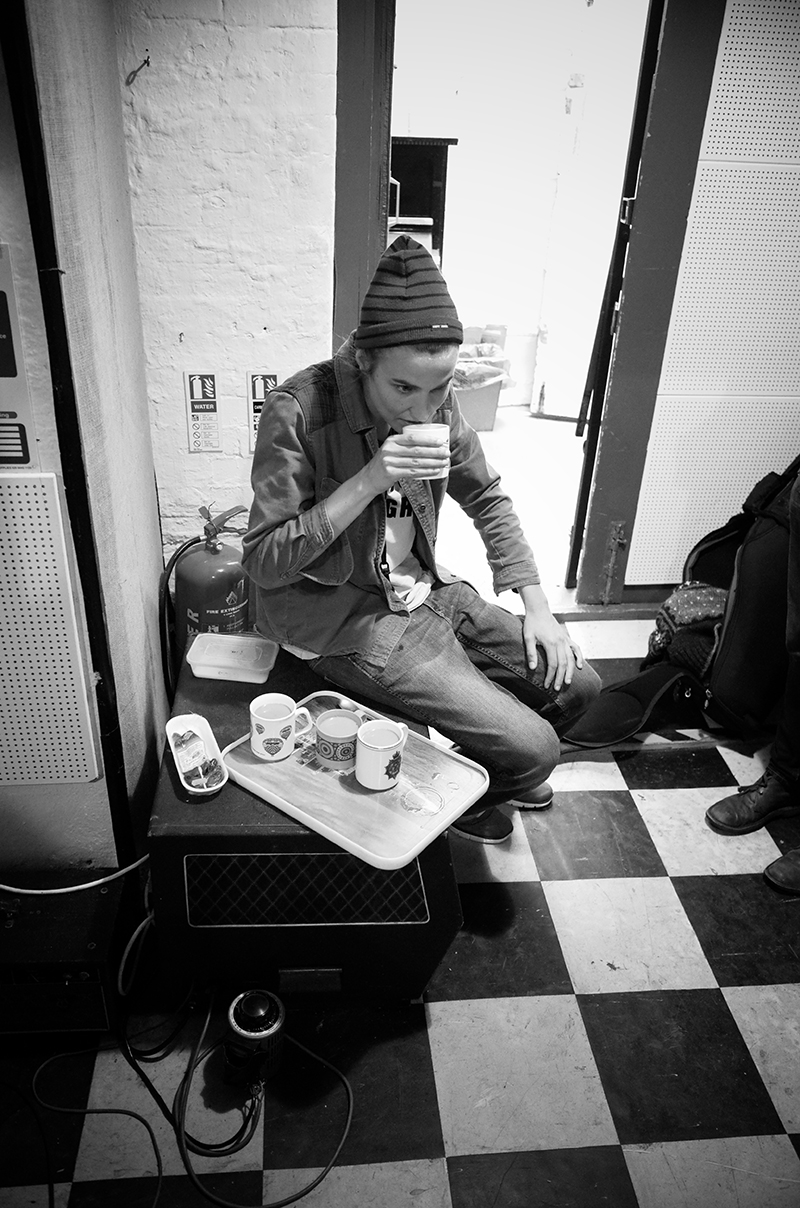 The second time I saw you was at Free Jazz Middelheim. You played a leg that evening. How did that happen?
I actually don't know, I think you should ask the lady who gave me her leg. I do hope there will be less legs next edition of Free Jazz Middelheim, which is probably the best jazz festival in Belgium by the way.
– Joeri Bruyninckx
Sound in Motion label
Sunday 08. 12. 2019
Oorstof Presents: G a b b r o + Dirk Serries & Rodrigo Amado