Charge interview
Charge were a British power–trio born from the ashes of local South Coast heavy–blues bands Baby Bertha and Sweet Poison. Comprised of Dave Ellis (guitar), Pete Gibbons (drums) and Ian Mclaughlin (bass), they played heavy rock influenced by Hendrix, Cream, Free, Peter Green's Fleetwood Mac, etc.
---
In 1973 they cut a demo album at SRT studios of which 99 copies in blank covers were pressed and later distributed between family and friends, with a few of them also shipped to record companies in what proved to be an unsuccessful attempt at earning a recording contract. The music is raw hard–rock with unrestrained guitar, Lemmy–esque vocals and psych / heavy progressive touches.
Guerssen Records recently reissued this impossible to find private psychedelic hard rock album from 1973.
Would you like to talk a bit about your background? Where and when did you grow up? Was music a big part of your family life?
Dave Ellis (guitar): I was born in a small village just outside Winchester, Hampshire, in May, 1945. I spent the first 10 years of my life growing up in the seaside town of Gosport. I've always loved the sea and still live on the south coast today but over in the next county, West Sussex. I am the oldest of five; two brothers and 2 sisters. We lived in fairly austere times back then (WW2, thankfully, had just ended) so it was a small 2 bed prefab and ration books for a while.
My Mum was of Scottish heritage and was adopted by a Gosport couple. My Dad, was a carpenter, and later, a CPO Artificer (Shipwright) in the Royal Navy. He came from Welsh stock. My Grandfather, Taffy Ellis, was from Cardiff, and a veteran of the Somme, 1916, where he served with the Welsh Horse Artillery. A horse from his team saved his life when a shell exploded close by. Sadly, the horse died. A story my Nan told me always stuck in my mind. Though badly wounded, Taffy discovered he'd lost the photo he always carried with him of his beloved, so he crawled back through the mud, ruin and blood to the scene of the incident then crawled back again to eventually reach medical aid. A true hero. The good news: here I am and all thanks to an unknown, long-forgotten horse.
I think I inherited my love of music from my Mum. Dad bought and played records (the old 78's) and I grew up listening to the likes of Mario Lanza and songs like Serenade, Because You're Mine and, one of my favourites, Drink Drink Drink! He also had records of Jimmy Durante. Not being big on Italian, Mum liked to sing renditions of Jimmy's songs like Smile, I'll Be Seeing You, and As Time Goes By. I liked his more meaningful, Frosty The Snowman. She had an impressive singing voice. There was no TV (happy days) so my major source of listening education came from the radio and people like Billy Cotton, Benny Goodman and Glenn Miller. Of equal importance to me (to my Dad also) was comedy like the Goon Show, Bob Hope, Dean Martin, Jerry Lewis and many others.
The highlight of the year was Christmas time and, though money was tight, Mum and Dad always managed somehow to give us kids (my first brother and sister had arrived by then) a nicely decorated tree, a sack of presents, lashings of Bing Crosby carols and an amazing roast dinner of chicken, Yorkshire pudding and fresh vegetables grown in the back garden, all topped off with Bisto gravy. Mum would also make amazing steam puddings of plum, apple, raspberry and black currents. The delicious smells of her cooking in the kitchen still remain with me.
On Boxing Day, it became tradition for us to dress up and walk the few miles from Bridgemary down to my grandparents house in Willis Road, near the town centre. There, the whole family gathered, to eat, laugh and throw spontaneous shows in the front room around the old upright piano. As it turned out, Mum was a dab hand at the keyboard and she would sing and play for near enough the whole time. I was always drawn to helping her entertain the gatherings. When Dad joined the Navy, we moved to a bigger house. We got our first TV then. I think. Mum wanted me to take piano lessons. I didn't inherit her talent in that field and gave it up after a half-dozen lessons or so, unfortunately. I've regretted it ever since. I was about 8 years-old.
When did you begin playing music?
We were living in the Navel Base in Singapore. I was an avid fan of the Top Twenty Show every Sunday on the radio. New sounds from artists like Buddy Holly, The Everly Brothers, Bill Haley and the Comets, Little Richard and Fats Domino were taking it to another level. Rock n roll made a grand entrance upon the world stage and my life. I used to stand and mime to the songs with a plastic ball bat for guitar. Dad eventually got me a cheap acoustic with gut strings for my 10th birthday. All I remember about that guitar was the green pick guard and the neck, which resembled the shape of a banana. It was virtually unplayable but it did succeed in putting the itch in my fingers and the yearning in my heart.
Buddy was awesome on guitar, but… What sealed the deal for me was hearing Elvis Presley's Houndog for the first time. The impact that record made on my young psyche was explosive. Scotty Moore's (not 1 but 2!) blistering guitar solos during that short song blew me clean out my flip-flops. It was the wildest, most exciting guitar playing I'd ever heard. From then on, I just had to have a 'real' electric guitar. We had to wait, be patient then, and I didn't actually achieve my dream till my 14th birthday. By this time, we were back home in Gosport. Cliff Richard and the Shadows were THE band and Hank Marvin's iconic red Fender Stratocaster towered over everything else, including Joe Brown and Duane Eddy (both of whom had held the crown for a bit).
Hank's Stratocaster became my obsession. Singles like Apache, FBI and Foottapper improved my air-guitar no end as I played those records to death. I had pictures of Hank and the Strat hanging on my bedroom wall. Then the big day arrived.
Dad took me across the ferry to Portsmouth and a music shop called Courtney and Walkers. My eyes boggled. It seemed like a huge sweet shop. Guitars of all shapes and sizes adorned the walls but… no Fender Stratocasters! They were a rarity then. The nearest equivalent that I liked was a cherry-colour, double cutaway, twin pick-up Hofner Colorama; no wammy bar, but hell, all the keys lined up like a Strat, so I was on my way. It cost the princely sum of 26 guineas, old money. I walked out of that shop like I was walking on cloud 9. No case, no amplifier, no leads. Didn't know anything about that stuff, wasn't interested. Just the guitar and a pick and I thought I was good to go.
The challenge then was to learn to play. I didn't know it at the time but I was tone deaf and was finding the going much tougher than I'd imagined. I didn't know anybody else who played either. In my school, a year in front of me, was a tall, thin guy who did play and very well. He was in an excellent cover band called The Classics. His name was Ian Duck. He made such an impression, I'd follow him and the band everywhere. I lacked self-confidence and was far too shy to introduce myself. Standing mere feet from the stage, I'd watch him and everything he did at gigs. He lived just at the top of my road. To this day, neither one of us remembers exactly how we met but we became friends and, somehow, he ended up in Mum's kitchen – with her repeatedly saying, 'Oh, he's a lovely, boy,' showing me how to play the E, A and D chords on my proudly displayed, new Hofner. The B7 was beyond my humble capabilities.
Ian was a great guitarist and musician. Naturally gifted. I remember rushing into town with him one Saturday morning to buy the latest Shadows single (FBI). We went back to his house and he learned it note for note in about 10 minutes! I was awestruck. How in hell did he do that? It was a complete mystery to me.
Ian did get a Strat eventually, one of the first in Gosport, I believe, and… It was identical to Hank's, our mutual hero. He still has that guitar. Must be worth a fortune now. Soon after, armed with my three chords, I started my first band with a lad who actually had an amplifier with two inputs. Well, turn me loose. I don't think we had a name. We rehearsed in my Dad's garage to many pleas of 'Turn it down!' My long musical journey had begun.
Ian went 'big time' and on to join Hookfoot with Caleb Quaye, Roger Pope (RIP) and David Glover. They cut a number of albums and were the studio band for DJM Records between '70 and '74. They backed Elton John on many of his early recordings and other artists. They had a minor hit of their own with a tune called Mr Blow – Ian on harmonica. I couldn't believe it when I saw him wailing away on Top Of The Pops. They did all the serious touring stuff in the USA. We lost touch for a while but would bump into each other from time to time down through the years.
When did you decide that you wanted to start writing and performing your own music? What brought that about for you?
I was in the army. I'd joined the military band of the 1st Royal Greenjackets in January, 1963, and was stationed at Bushfield Camp, Winchester. My guitar went with me. I was on trombone – which was an instrument completely alien to me but, it seemed to cop all the best bass riffs and I loved it. I wasn't very good, mind you, and because of my lack of sight-reading skills, used to learn all my parts slowly, gradually familiarising the notes to my ear. We practised for 8 hours a day so I got a fair handle on it but I still had tuning problems as my Bandmaster (God, for short) once rudely pointed out in front of massed bands from around the Commonwealth. Embarrassed or what? Didn't do my confidence any good at all. I had to ask, all those trombones blasting away in B flat? How the hell did he hear me? I remember wishing a hole would open up in the ground and swallow me: Whole!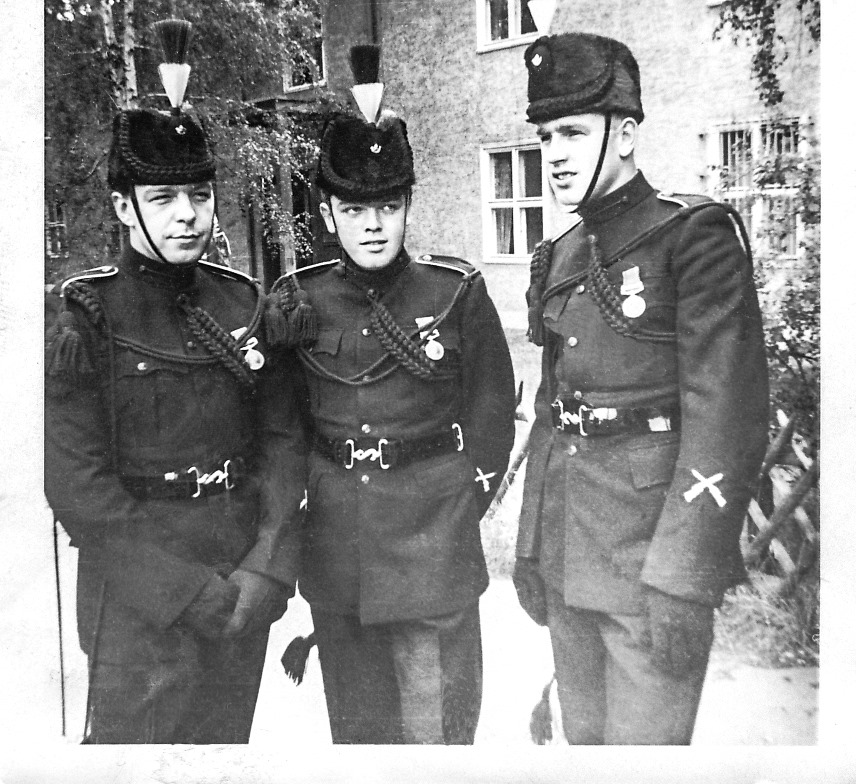 At this time, I met up with a guy from Liverpool called John 'Doc' Dougherty. He was in the bugle section (which I had to become part of). He played a bit of guitar, had a pretty good singing voice and an excellent ear. He was also a judo expert, which came in handy later on. We formed a band called Unknown, I think, and my/our very first gig was at the Tropicana Club, Winchester. It was there I first discovered stage fright. It never left me.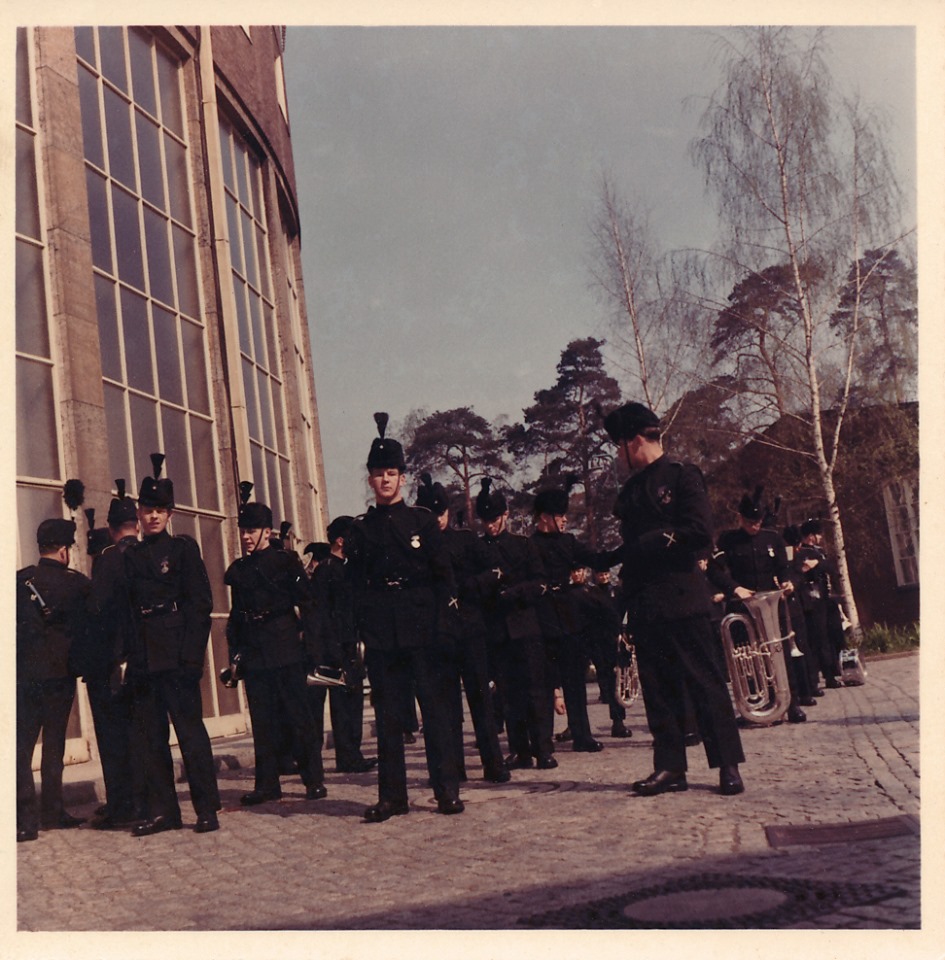 As it was wont to do, the army interfered with rock n roll and we were shipped out to Penang, Malaya, in preparation for a tour or two in Borneo. First thing I packed was my guitar. The last tune to start tickling the ear drums before I left was Please Please Me by some pesky band from up North.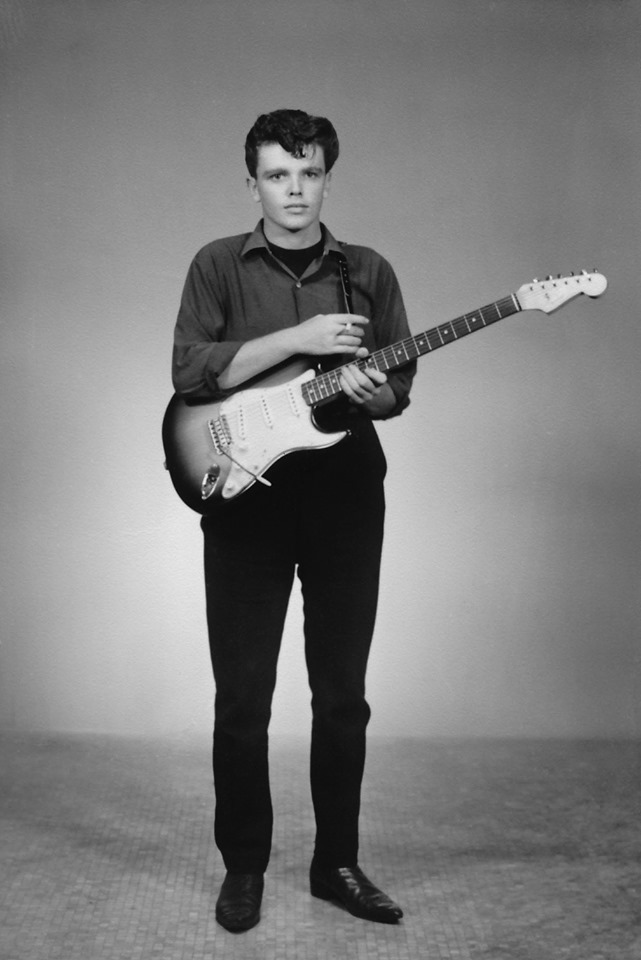 In Penang, I met a load of great guys who liked the same stuff Doc and myself did. Frank Walton, from Redcar, a frantic drummer in the vein of Keith Moon; Andy Anderson (RIP) again from Liverpool, also in the bugle section, was learning to play drums and he turned out to a be a pal of some geezer called Ringo Starr. Well, Hank still reigned supreme for me. Ron Lacey (later, best man at my wedding), played alto sax and flute. He was amazing, taught me a lot about jazz and was dying to play some rock n roll. He added some real uniqueness to the sound of our band. He took me to a jazz club once in Berlin, where I met J J Johnson who did ridiculous things on trombone. I gave him one of my Woodbine cigarettes whilst having a beer at the bar. On a table nearby, sat Tubby Hayes, cuddling his sax, stoned off his bonce. Outstanding.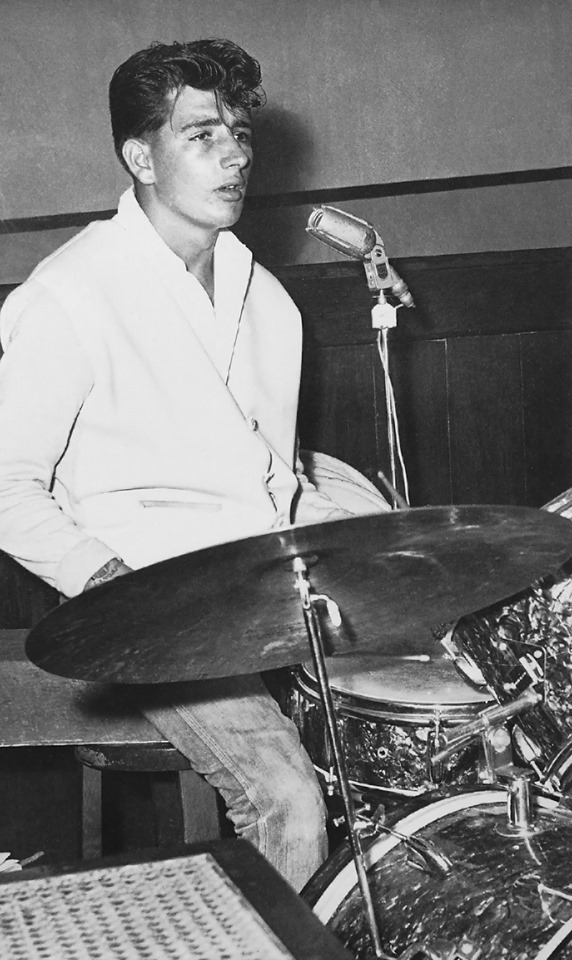 Bo-Bo Mann was one of the funniest guys I ever met and a brilliant piano player. I was playing rhythm guitar in the jazz band with Ron. We had a guy leading us called Sgt. Shaw, short, glasses, Hitler moustache, the works. Not very well liked. We were doing a regular Sunday gig at the officers club one time. Shaw didn't know we'd dropped the upright piano off the back of a 3-ton truck earlier. Hell, the thing was heavy and we were recovering from a lot of ail the night before. The band gathered, audience of toffs waiting. Shaw, all pushy, tuning up, says, 'Mann, give me a C!' Bo-Bo, still half-pissed, rolling his huge red eyes, nonchalantly broke the loose middle C off the piano and handed it to Shaw. He was apoplectic. We started the first tune, a quick ragtime shuffle, and with no regard whatsoever, Bo-Bo dropped everything exactly a semi-tone flat. It sounded awful. Shaw looked aghast. Bo-Bo, completely unmoved, turned, looked at us and just grinned. We were absolutely falling about in hysterics. Beautiful. Shaw was not best pleased, made us suffer for that little stunt.
I am forever indebted to Andy. We would spend hours in his room, him patiently training my ear with tunes like Autumn Leaves, Peace Pipe, Nivram and the wonderful Hoagy Carmichael tune, Stardust, one slow note at a time. Before long, I was confidently playing everything the Shadows did and I actually nailed Hank's sound. Doc was impressed. I didn't do the dance steps, though. I had my limits.
One night, Doc and myself went to an upstairs restaurant in George town for a 'quiet' meal, but… found lot's of noisy Aussie's in there, back from Vietnam, taking a well-earned break. They had upset some locals. A gang of Chinese thugs with extremely bad attitudes, knives, hatchets and shit, came steaming up the stairs screaming like a bunch of hysterical women. They didn't mess about. Bodies started flying all over the place. Doc rolled his sleeves up, and backed against the wall between the open windows. Well, I was right beside him make no mistake, worrying about my pristine new shirt, all hell going on around us. Aussie's don't mess about either. It was hairy. A duke box, I mean 'big' duke box, and a few chairs, sailed past us straight out into the main street. Doc put away three guys on his own. He was no slouch when it got down and dirty. I helped with a couple more, all the while praying I wouldn't damage my delicate playing fingers. Holy crap, Batman! The Chinese guys, satisfied they'd got their man, or more likely, surprised with the Aussie response, luckily made for the hills and that was the end of that. How no one was killed that night I shall never know. So much for quiet meals then.
One day, Andy returned from leave all excited about this new beat Ringo had shown him, the first Beatles album tucked under his arm. I couldn't figure out what use it was, what tunes went with this new boom, tac, boom-boom tac beat. Andy said, 'Have listen to this.' The light went on.
Keen as mustard, Andy wanted to form a band. He had a mate, Jim Hale, a little, rather intense guy who thought he was Dell Shannon, on rhythm guitar. Doc had set up a band already so I said cool. Our first band, The Trans-Atlantics, went on to rival Doc's band, The Travellers. My Hofner went in exchange for another one with 3 pick-ups AND a wammy bar (later passed to Doc) another step up and even closer to the Strat. A year into the tour, I'd saved enough for a down-payment on a real Strat, which cost an almighty 168 quid. I had to wait six torturous weeks for shipping from the US. I was in the cinema watching a movie, (James Bond, Dr No,) when Andy burst in the doors shouting, 'Dave, you're Strat's ARRIVED!' Didn't go down well with the rest of the audience as you can imagine. It wasn't red like Hank's but… It was a beautiful '63 sunburst, same as my other hero, Buddy Holly's. I'd arrived, too, at last.
The first of many tragedies struck soon after. Andy contracted a disease around this time and he had to return to Liverpool, where he later died. He was twenty-eight years-old.
I formed a band with another muso, Curly Cowan from Portsmouth on rhythm guitar and frantic Frank on drums. We called ourselves The Phantoms. In this band, without Andy singing, we were all instrumental (I had no interest in singing, didn't think I was good enough). At the most, I'd croak a couple Buddy Holly tunes.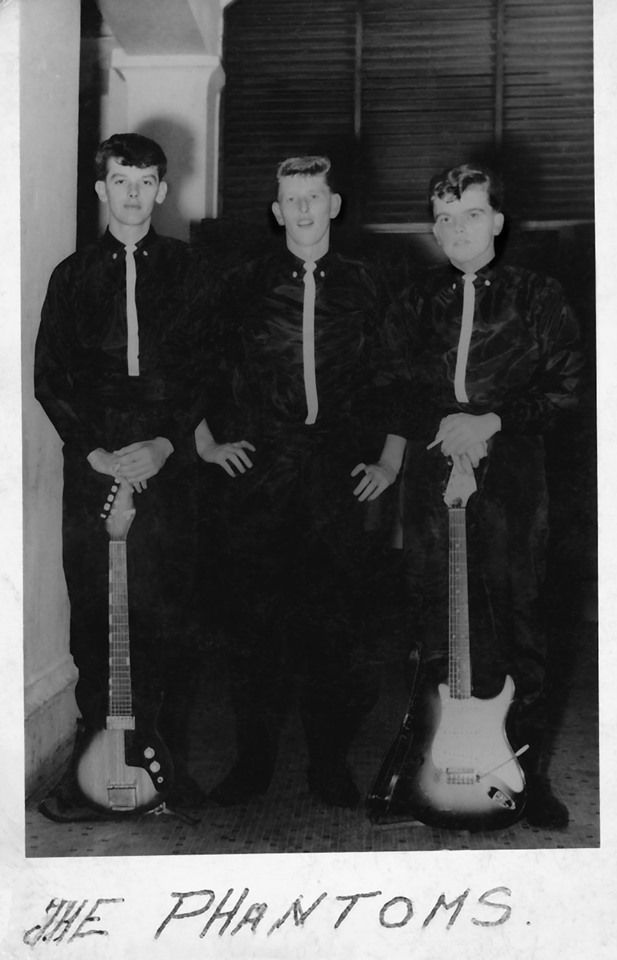 We had to stretch the set list to fill the long gig times we were playing. So, I began writing my own tunes, just drifted into it really, an organic thing born out of necessity. I would come up with riffs, chords, themes; they seemed to go down well so I stuck at it. Sadly, none of that stuff survives today.
I eventually ended up with Doc again in the Travellers on lead guitar, flying around the Borneo jungles in Wessex helicopters, entertaining the lads in whatever strange place they were holed up in (and, believe me,) there were plenty of strange places and the biggest spiders I've ever seen. See a geezer firing an AK at you from the bush, no problem, finish yer tea, lads. Get a big fat spider the size of your hand, Jesus, it was down tools, run! I got wounded there, nearly bought the farm. Scary shit, but loads of fun.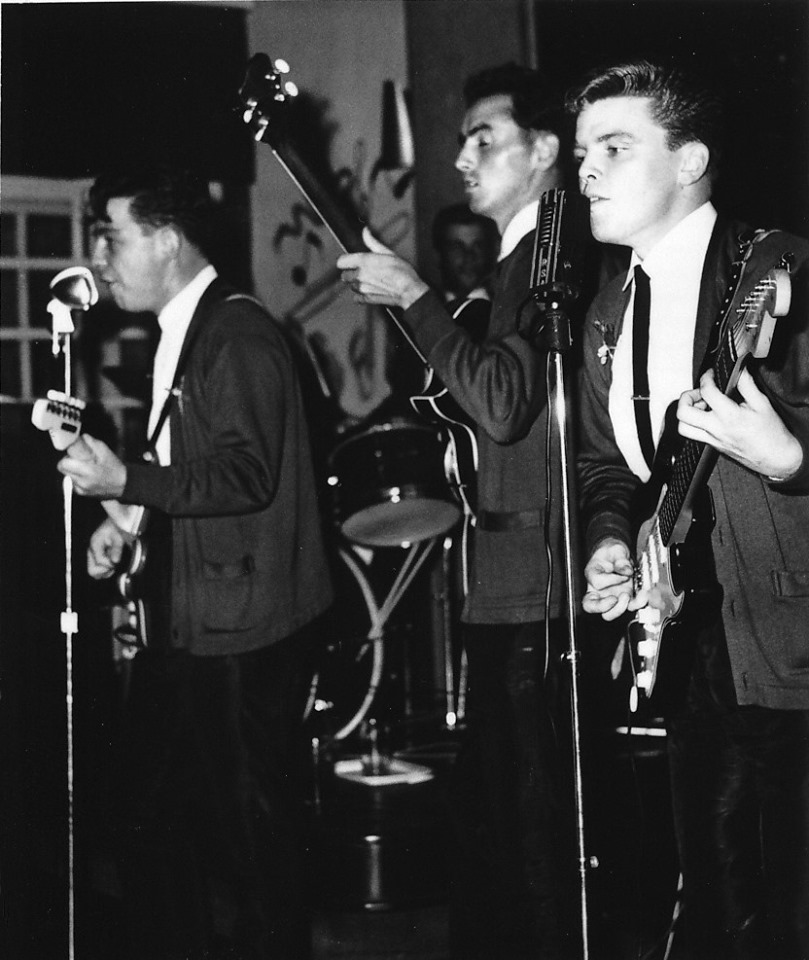 Later, in Berlin, Germany, (our next posting) Doc, Frank and myself were joined by new mate, Ray Mist from London, (Battersea, I think,) with his green Burns Bison on rhythm and a new name, the Untold. It was a real competition on the local scene to learn the latest hits before any other local band. We had records sent out from home and raced to do covers of the Stones, Kinks and Beatles. Doc had got me singing, at last, 'Help' being the hardest song to get right, but great when we nailed it, went down a storm and pissed our main rivals, the Beathhovens (I know. Don't ask) right off. We became 'head-liners' all because of our secret weapon, a good German manager, Klaus, I think his name was; tall, good-looking guy, with blond hair and a fabulous sense of humour. He was brilliant. Took me to a gay club once, a hole-in-the-door type place, weird, in the back streets and introduced me to schnapps, a drink I hadn't tried. Nice. But it wasn't beer. I was a bit edgy at first with all these guys dancing, hugging and shit, but they were great, made me more than welcome. I think Klaus fancied me but we came to an understanding on that point. I'm strictly a 'beaver' kinda fella, if you know what I mean. Our best gigs were at a place called Casaleon Spandau (or that may have been another band, I forget). Start at ten pm, finish at 4 am. We rocked. Phew! That place knew how to party. From there, it was off to Berlin Stadium to do our jobs with the military massed bands (the Queens Birthday Parade) in '66, I think. 600 guys from across Europe. Amazing sound, feeling and times. Ray lives with his family in Basingstoke now. We had a reunion a year or so back and still stay in touch. Wonderful.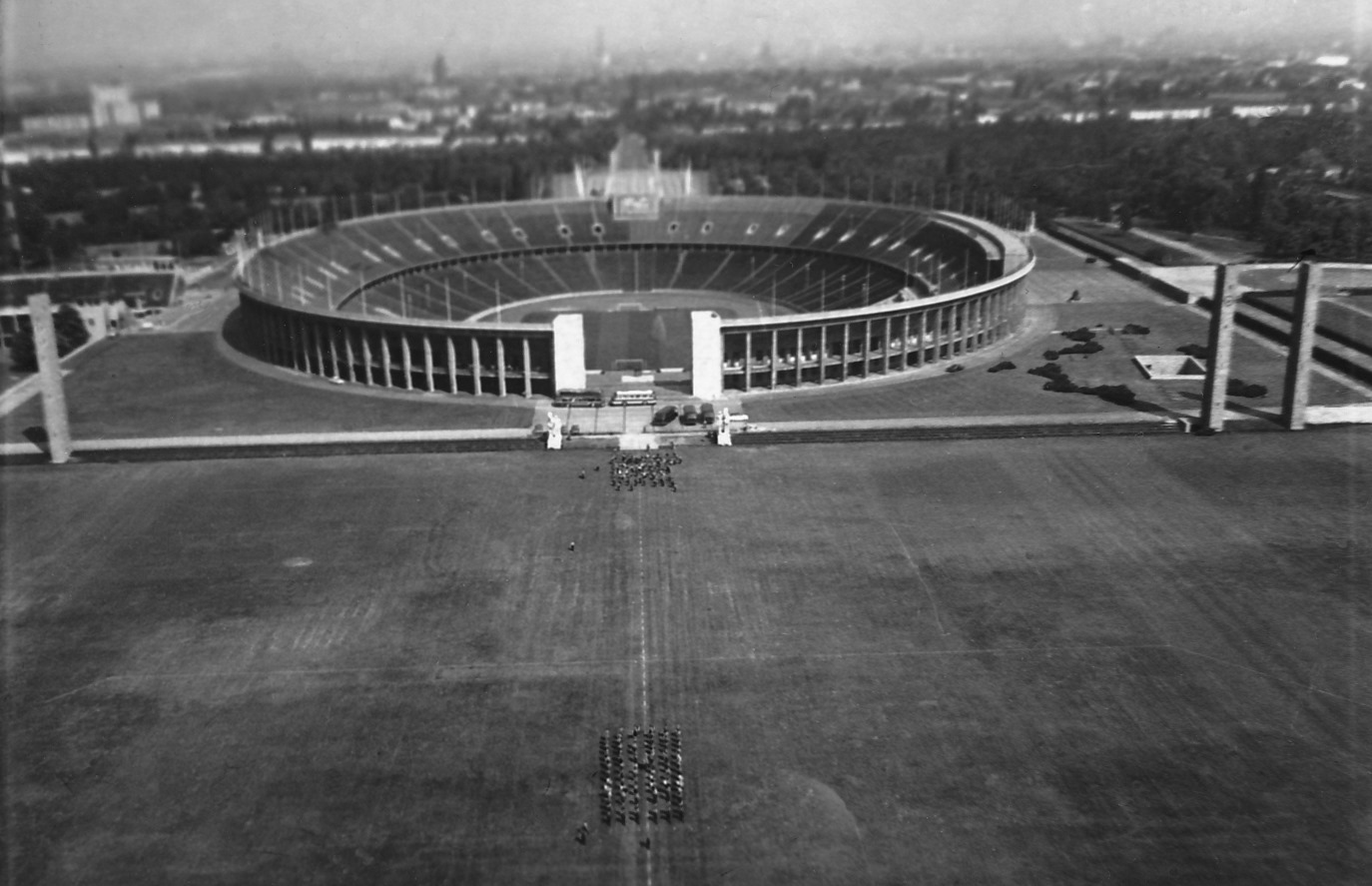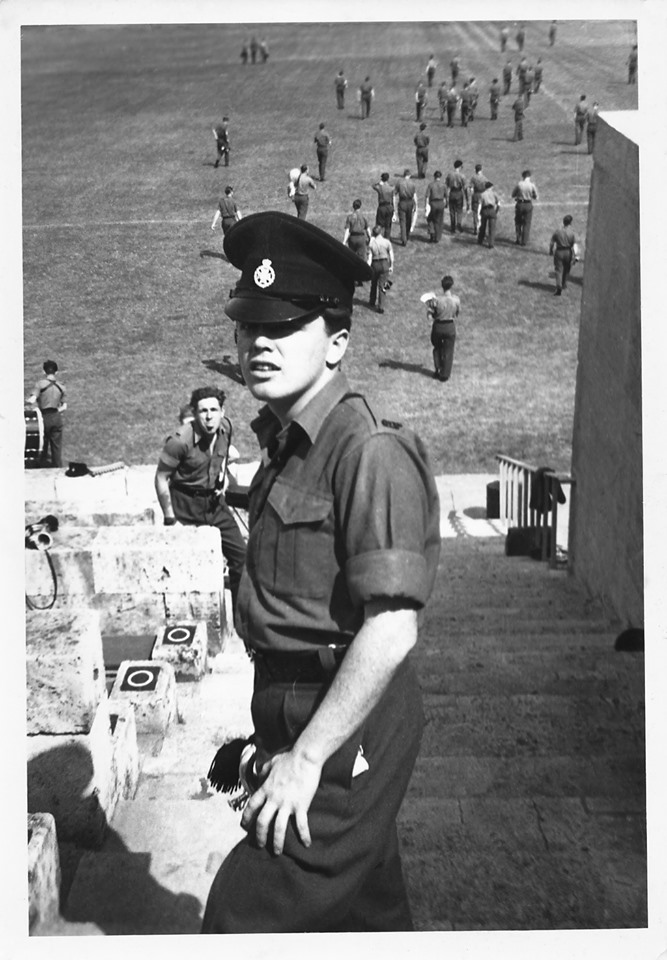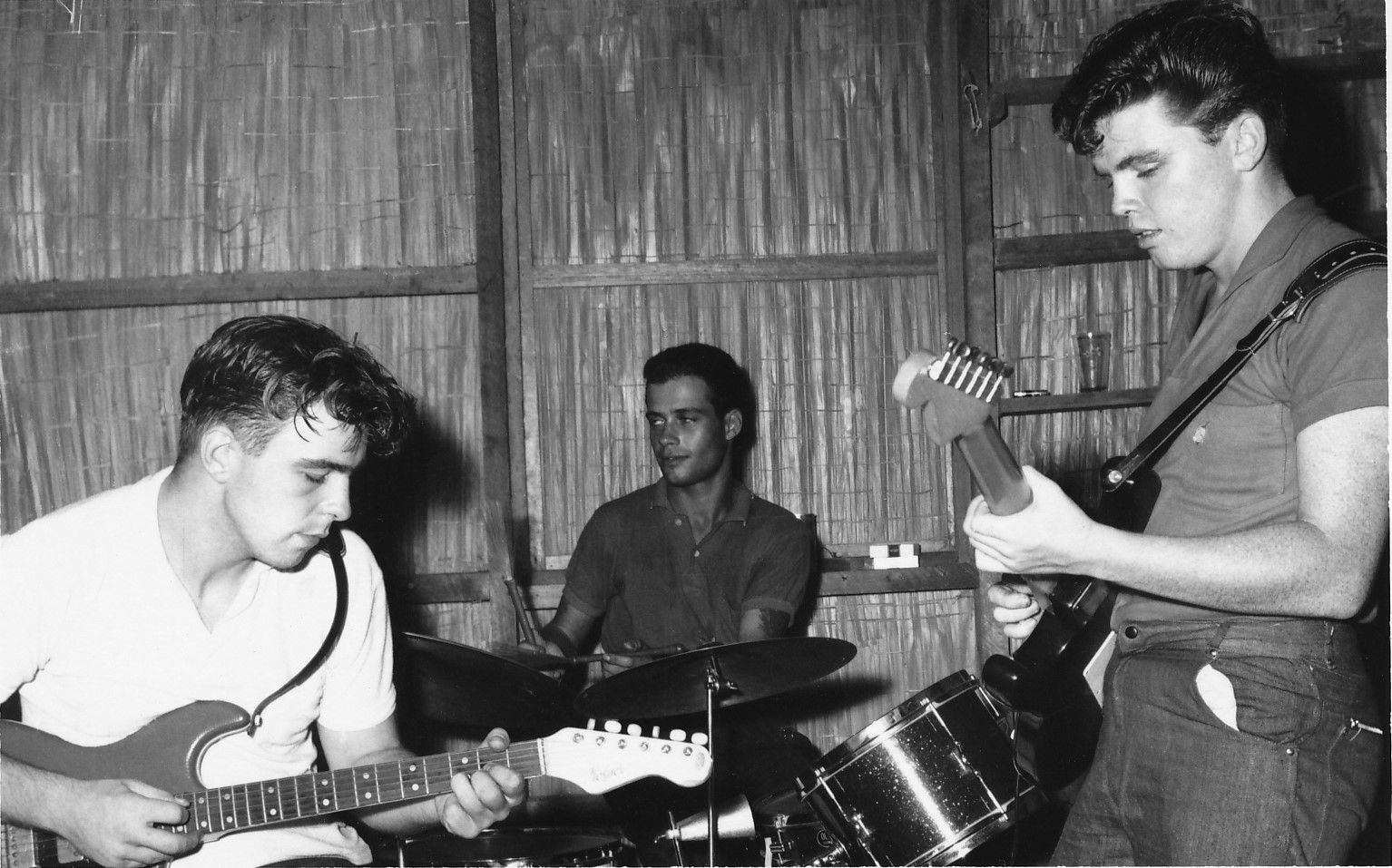 You were part of Baby Bertha and later on Charge. Several members came from the ashes of Relative. Who were the Relative? What kind of material did they play? Any recordings?
My brother, Peter (possibly my greatest fan, bless him) had a mate, Desi Law, who was keen to play drums and start a band. Pete, hoping I'd fire up the Strat again no doubt, mentioned him to me. I was undecided. It was '68, I had just left the army, and my fellow muso's, many of whom I shall never forget, or see again and I had a pretty full plate. I was depressed (a life-long battle of mine,) married, had a baby on the way, working a low-paid job and sitting at home, getting musically flattened by the minute. Radio Caroline, the pirate station, hit me practically every week with a surfeit of new rock and blues albums that just seemed to explode one after another, out of nowhere: Alexis Corner, Long John Baldry, Jeff Beck, Jimmy Page; John Mayall's Bluesbreakers featuring a young upstart, Eric Clapton who, as we all know, did way more than just read the Beano. Then Cream! Wow! Another planet. Out there. Awesome. Clapton became my new obsession. I bumped into him one night in a pub just outside Esher. This was a while after Cream had split. He was alone, partially buried in a large, brown fur coat, totally spaced out like Tubby. The landlord called a cab and I helped get him into the back seat. It's okay, Eric. Thank me later – a pint of bitter please. B B King, Live at the Regal. Classic. Another idol I came to love. Freddie King; Peter Green's Fleetwood Mac; Albert King, Paul Rogers and Free. I could hardly take in all this genius I was discovering. It was overwhelming. I was still wrapped up in the Beatles Revolver for Chris' sakes.
I soon realised, being abroad all that time, I had been keeping up with the wrong people, was way behind with what was really going down here in England and the States. I needed to seriously up my game on guitar.
I was working a dull job in a warehouse in Southampton, when over the tannoy, a song suddenly burst out at me like an Atlas rocket on take-off. I froze. Shivers ran down my neck. The song? Hey Joe: Mr Dynamite himself had arrived, a new King on the block – Jimi Hendrix. I could no longer stand counting piles of boxes of screws. I can remember a near apoplectic foreman shouting, 'Oy, where do you think you're going?' just as Hey Joe was fading out and I was walking out. I want that that record like now, I replied, not as politely as that, and I never went back.
I played that 45 till it was damn near transparent – when, oh no, not again! Are You Experienced was released, a whole album of sheer bliss. It hit me like a sledge hammer. The itch in the fingers was back, big time.
Pete talked me into working at his place, Canda in Portchester, and I had me a wanna be drummer. Here we go again, I thought.
A bass player appeared from somewhere with a Hofner bass similar to Paul McCartney's, but sounded more like Bob the Builder's – I still can't remember his name. Respect though. He did okay in the end even playing that banana – which was what we nick-named it.
I was trying to learn new stuff, write songs, help Des with the drums and the bass player? Well, poor chap. I just hoped he could keep up. Must have sounded awful. But we persisted and, by the grace of the powers that be, Relative, a three-piece, came into existence. It lasted barely a year with different guys drifting in and out on 2nd guitar. No recordings of that band. We found another bass player, 17 year-old Ian McLaughlin (a mate of Desi's), and morphed into the more rounded and ambitious Baby Bertha. We worked hard, grew our hair and developed our sound doing Free, Deep Purple, and Cream stuff.
Were you part of any others bands? Any recordings or releases by them?
Apart from those already mentioned, no. Not till much later.
What was the first song you ever composed?
Blimey, that's a tough one. Sometimes I'd be working on several at once. I always walked around with a notebook jotting down words, phrases and stuff, humming like a demented bumble bee, trying not to forget melodies, parts. No recording on your phone in those days, mate. I think the first song I took to the band may have been a blues like Lost My Woman. One of the first, was a song called Goodbye Good Day, a rocky tune inspired by the Who. We actually did a pretty good demo of Rock My Soul at DJM studios in Oxford Street, London. The drummer, Aynsley Dunbar, produced. Talk about nervous. It's a shame but I think that recording is lost to history now. Seemed like I was following in Ian Duck's footprints.
Can you elaborate the formation of Baby Bertha?
After Ian McLaughlin joined Relative on bass, Desi had found his groove, I'd bought a new rig (on HP of course) and our direction became much more apparent. We had the basics of a good sound so it seemed the ideal time to change the name. Professor 'Prof' Perry (RIP) a friend of Ian's, joined us on rhythm guitar. A lovely chap with a wild afro of curly hair, ruddy cheeks and what seemed like a permanent smile. He was already a fan of what we'd been doing and slotted right into place. Baby Bertha was born.
How did you decide to use the name 'Baby Bertha'?
Oh Lord. During rehearsals we would bandy names two and fro continuously; funny ones, ridiculous ones, even rude ones. I'm not sure, but I think Desi muttered Baby something. We liked the 'Baby' bit and tossed more ideas about till we arrived at 'Bertha'. B B fitted with the wonderful Mr King's initials so I was happy. It just seemed right.
When and where did Baby Bertha play their first gig? What sort of venues did Baby Bertha play early on?
With Relative, we had already built up a fair network of pubs, clubs, even youth centres and village halls. Bertha just continued to expand on that. I don't remember our first gig under the new name. In no time, we landed a support spot at the now-defunct and demolished Tricorn Club, Portsmouth. It was one of the top gigs at the time.
They used to have name London bands of the day appearing there like Pete Barden's Camel and SpreadEagle, as well as local talent.
We supported both those bands at £5 a pop. Blimey, didn't even cover the petrol for the van let alone our ciggy and beer money. I was so offended. I wrote a letter of complaint to the Portsmouth Evening News. It was printed, too, and with a picture of yours truly flashing a nipple. It didn't change anything, but I felt chuffed I'd struck a blow for us poor 'exploited' locals. The extra publicity didn't hurt either. I still have the cutting from the newspaper somewhere.
At the Camel support, when they joined us in the dressing room all moody muscle, hair, leather and key chains, we were shitting ourselves. They came over as more like a motorcycle gang, rather than a headline band. After the gig, I remember Pete Barden stomping in. He'd had some sharp words with management. When he spoke, limp hand on hip, he sounded like a spoilt ten year-old kid! "They're giving us aggravation over the money," he said, whilst we looked at each other in shock. We were too scared to speak. Later, when the coast was clear, we collapsed in laughter. Naive or what? Never judge a book by its cover. Our imaginations had gotten the better of us. Oh yes, sorry, Pete and Camel. Good band.
"Fights between bikers and punters were a given."
The band played the south coast from Hastings to Southampton throughout 1972. Would you recall some of those concerts and bands you played with? 
There were some great gigs along the coast then and we played most of them. Standards got higher, too, which was a bonus. There was a pub in Hastings, on the seafront, that springs to mind. Can't remember the name of it. It was rough as a baboon's arsehole.
Fights between bikers and punters were a given. You took your life into your hands playing there. We made a point of winning over the bikers first! They loved blues/rock, our forte, so we'd turn the dial to eleven, fire up and belt straight into it, usually kicking off with a 10 to 15 minute jam of Cream's, Sunshine Of Your Love, assuring an early version of today's 'mosh pit'. They were on our side from the get go. That way, if any of the gorillas kicked off, the bikers would take the hit in our defence. Sweet. We still had to duck the odd chair, barman, pool cue or flying beer glass, though. Terrifying, but a hell of fun gig to play.
The Woolston in Southampton, was another favourite; actually had a decent room built-on with a real stage. The place was banging, always a great blues/rock crowd. We did that gig many times, more with Charge than Bertha, though.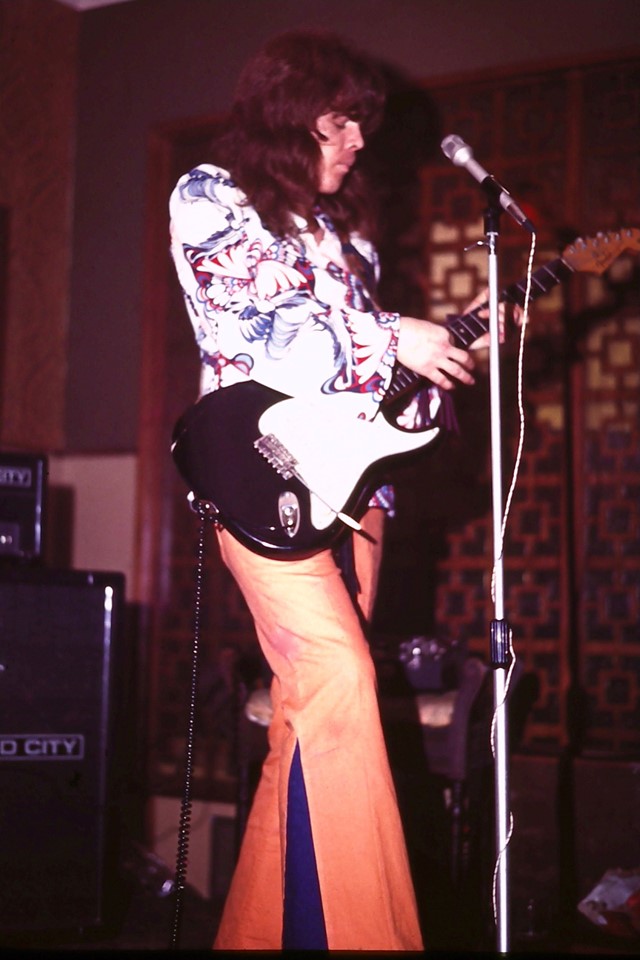 The Dolphin, in Botley, was great. We used to rehearse there often. Lovely pub, again with a nice sounding room and great audience. A lot of our photos were taken there. My Mum and Dad came to that one once. It was 12 years before my parents heard me play and with my own band. The occasion was my brother, Pete's wedding reception in Funtley Village Hall, Fareham, November 21st, 1970. It must have been one of our very first gigs. Never been so scared in my life. As I recall, Dad was impressed, got pretty emotional actually, which was another massive first – for both of us. Miraculously, the Dolphin is still there. No 'live' music though; just another place to stuff your face. We often go to the Indian Restaurant opposite and, every time, the memories come flooding back. Had a lot of good, productive times there. The Bridge, in Shoreham, where we had some photos taken, was a bit of a bummer. We only played there the once. They didn't need a band really. A radio in the corner would've been more appropriate. An old dear sitting in the front said, 'turn it down', when I was still setting up. Hadn't played a friggin note yet! Inspiring.
Another place was down near Portsmouth docks. It was good, (full of pissed sailors,) except I kept getting electric shocks from my trusty '63 and the damn microphone. It didn't help matters when Desi knocked his ride cymbal over and it somehow sliced through the plug of the power supply feeding our gear! Jesus, nearly assassinated us all. Hilarious, but we weren't too keen on going back after that. Some good bands came out of Portsmouth. Simon Dupree and The Big Sound, who later became Gentle Giant with Elton John. They played psychedelic, prog rock stuff. Had 3 brothers in the band if I remember rightly. One interesting fact, Pete O'Flaherty, who played bass, was in my very first garage band. We lost touch after I joined the army. Joe Jackson, was another artist making a name for himself.
His drummer, Dave Houghton and I often met in Fareham bus station for a cuppa and a piss take. People used to give us funny looks. Can't imagine why. Graham Mayby, Joe's bass player, played with us for a bit, too. I think he was way ahead of us musically.
How was the band accepted by the audience?
It depended on a number of things. Our mood for one. If we played places we were already known then, bingo. It was in the bag. At some of the youth clubs, it was a bit off. Some would look at us as though we were Martians and couldn't figure us out at all. Generally, though, the reception was very encouraging. One night, we turned up to a gig in a village hall just west of Fareham and it was entirely empty. The manager of the place had got his nights mixed up. We were all set up and pissed off, so he said, hell just play your thing. I'll pay you anyway. We did, too. A magnificent, faultless gig. We clapped ourselves at the end and got paid, too. Marvellous.
What influenced the band's sound?
Youth, testosterone, my songs and trusty '63 Strat in the main.
What was the local scene? Any other bands worth mentioning?
It was buzzing. There were some great bands on the circuit. Busted Fender Blues Band, Sweet Poison, and a 7-piece rock outfit called Heaven who played Chicago-type stuff and many others I can't remember the name of. Happy times on the blues/rock scene. Heaven pipped us to the post at the Bournemouth Folk Rock Contest in '73. My flashy stage gear got us 'live' on the Today Show during the 6-0-clock local news that night. The only band filmed out of God knows how many. Awesome. Wish I had that footage now. We looked and sounded great. We were more than pleased. We met Pete Gibbons there and planted the seed for what would become Charge.
January, 1972, you cut a demo LP at SRT Studios, Luton featuring songs mainly written by you (Dave Ellis). What's the story behind your début album? What kind of equipment did you use?
Baby Bertha had sharpened up nicely during the previous months. We had worked hard, gotten tighter than a ducks arse and we felt ready to lay down some tracks. I hadn't written enough material for a full album (none that I was happy with anyhow) so we threw a couple covers into the mix to make the time up.
Desi had a gold Hayman kit with a huge kick drum. Led Zep's John Bonham had something to do with that. Big influence on Desi at the time. As was Simon Kirk from Free.
Ian was still using his old rig with a home-made cabinet the size of a friggin' coffin! A pig to lug about. His amp was a Triumph and bass a Gibson EB1 which he still has. Fortunately, that speaker cab is long gone.
I was using my Sound City rig with a 50watt head and a single 4×12 cab. Great amp and sound. I also used a Watkins Copycat echo unit, a distortion pedal and a Wha pedal. Forget the makes but they were popular and cheapish. The tapes for the Watkins echo were a bit of a pain and wore out quickly, but the sound was excellent. It all worked marvellously with my Strat. We had a WEM PA at that time, too, again with monster cabs. Tes and Barry, our fans and roadies, were a magic find; did a stellar job of loading and unloading that lot every time. They saved us a heap of work and were worth their weight in gold. Don't think we could've done what we did without them. They also had an extremely large and everlasting bag of weed hanging in the cab of the van. Well, bonus. They should strike a medal especially for damn good roadies.
We left home at 4 am, arrived at the studio early, had breakfast and the gear set up and ready to go bang on time. We only had twelve hours to produce the record including set-up time. We were excited and eager to get to work. Wish I had that energy and drive now. Damn. Oddly, I don't remember the Prof being present at all though he obviously was.
The producer told us to set up as if we were on stage, same volume, sound and just go for it. We fiddled around a bit with drum sounds, balance, etc., and boom! We were off.
We did exactly as told and I was more than pleased with the results at the end of the day. We finished mixing and were back in the van dead on midnight, exhausted but happy. We had our first demo in the bag.
SRT did a great job all said and done and I was eager to return a year later. I was already planning an ante war epic churning over relentlessly in back of mind. Hell, I wanted to do my own Dark Side of the Moon!
Pink Floyd were a very big influence on me and still are.
Would you share your insight on the albums' tracks?
Happily. Listening to it now, after years of doing my own recording and producing, I would've loved for the drums to be more up front and beefy (think Mike Portnoy) with the bass tucked in with the kick. Far too thin here, possibly over-compressed. Desi's big fat kick didn't cut through, sounds too weak and tepid for my tastes and the high hats and cymbals were a little too high in the mix. The whole thing should've been more punchy, as it was live. I forget how we were isolated in the studio but we sound too separated here, too individual, instead of together as a band should. I can't think of a better way to put it. Some of the rawness is there. I would've liked more. The warmth is missing from my Strat. Don't know where that went. Overall, considering our nerves, my lack of confidence, the general fatigue at the mixing stage, we managed to capture a lot of what Bertha was about. I'm thankful to have the recordings. I had the original tapes once, carried them around for years. Ended up leaving them in the loft of one of the houses I lived in. That would've been early 2000. What a bummer.
The songs were played in the exact order they are on the album, usually in one take. I never liked to play the same solo twice. I couldn't. Everything came from the heart, in the moment. I didn't have a clue what was coming next half the time and just went for gold hoping I wouldn't f**k up. When I did, I would get extremely angry and frustrated with myself and things invariably went down the tube from there on. I just knew that any take after that first one didn't belong on the record. It was all analogue tape in those days. The editing options that are available now in software just weren't available to us. Which, in my humble opinion, is a good thing.
I think a lot of music today is too exact, precisely edited in Pro Tools or whatever and sounds borderline sterile a lot of time. All the 'soul', the 'heart' is surgically inserted almost. That's why I prefer live gigs every time.
Track 1: Looking For Somebody was the first cover straight from the glorious Peter Green. I used to practice my singing to Jack Bruce, B B King and Peter. I think I learned most from B B, but I definitely improved with the help of Jack, Peter and, last but not least, Paul Rogers who was, hell still is, one of the best rock vocalists ever.
Track 2: Goodbye Good Day was the first song of my own committed to tape. Boy, talk about pressure. The fingers wouldn't do what I wanted them to. We had a quick dry run then it was all systems go. The song was inspired by Pete Townshend smashing his axe. I loved doing this song live. It rocked.
Track 3: Lost My Woman was a thing that just fell out the air one day in my front room at Battery Hill, Bishops Waltham, where I did most of my writing during this time. It was done and dusted in ten minutes. Nothing like a humpy twelve-bar to get the blood flowing.
Track 4: The Struggle, number 4, was pure Jack Bruce. I was listening to his Songs From A Tailor at the time (a Christmas present from my parents) and loved his meaningful, dynamic slower songs. I was pleased with this one.
Number 5, Song For The Night took a while to write. I used to fight depression by taking the Strat and diving furiously into anything that came to mind, whether it made sense or not. This turned out to be a long time favourite. People used to ask me, what's with the paint shop? My reply, of course, was, it's PAIN shop, dude! Not their fault. Regretfully, my diction was never very good.
Song 6: Blues For You came to me, again, in a moody moment. Things weren't good at home, work was getting me down. I just felt a blues coming on and got on with it. Again inspired by Jack, I think, with a bit of Peter for good measure.
Song 7: Now You're Out Of My Life. Slade, (maybe even a bit of Roy Wood and the Move) inspired this. I sort of liked them but hated to admit it to anybody. I was a 'serious' rocker, man, didn't listen to that commercial shit! Hell, they always got my feet going. I think this song started out about the porn industry and dirty women but I lost confidence in singing about naughty stuff and changed the lyrics.
Song 8: Can You? Will You? This came from my Hendrix, Are You Experienced influence. Those twelfth-fret, high E bends hurt like hell with my heavy strings. I used to press down too hard, almost lost it at times but I loved the song. Ian Duck would have laughed his dick off. We used to go bananas live with this.
Song 9: Last but not least, Blueberry Hill. I was ashamed of how we did this. By that time, none of us were feeling it and we really didn't do the fabulous Fats Domino any justice at all. Hell, I never even got the chords right in the middle 8. What was that all about? Terrible.
There you have it. My take on our first demo.
What happened next? How many copies were pressed and where were they distributed?
Not a lot really. We were so damned broke, I think we only had fifty copies printed in plain, white sleeves of paper card. We were that cheap. Obviously, the band members (including our beloved roadies) friends and family got first dibs. They were the people had to put up with our shit so it was only fair. Some went out as promotional stuff, but I don't have a clue what happened to the rest. Maybe they'll turn up in second-hand vinyl shops, eventually, like our pirated Charge demo did. Ian found that completely by chance in just such a store in Southampton. It cost him 15 quid for our own demo! Unbelievable. It had been on sale on Amazon, in CD form and all over the net, for years with no credit to us at all. Bastards. We wanted to put that right and, with the help of David Wells at Wooden Hill, an amazing guy, we did just that. Although, the pirates are still out there. I've since been offered 1,500 smackers for an original copy. A demo for Chris' sakes! Ridiculous. We carried on as normal gigging anywhere and everywhere as often as we could.
Baby Bertha stopped soon after recording their material. What happened?
Desi got more disgruntled as time went on, with the rest of us and the music. He had a yearning to be a DJ for some mysterious reason. I hated DJ's. They got paid more than us – for burbling nonsense and playing other peoples records. Jesus! No justice in that.
You then met Pete Gibbons, drummer with Sweet Poison, at the Bournemouth Folk and Rock contest in February 1973. What kind of band were they? Any recordings from Sweet Poison?
Ah, yes. That was a stand-out gig. A bloody cold day, too, as I recall. Sweet Poison were a rocky blues band, just covers I think, in a similar vein to us. We were just heavier, did our own stuff and were more out there. I honestly don't know if they recorded anything. If they did, Pete never mentioned it. I wish there had been. I liked the band and, as mentioned earlier, Pete's drumming impressed the hell out of us. Ginger Baker (one of his major influences) on speed, literally. We got chatting and muted the idea of having a jam at some stage. Nothing definite, but… Ian and myself never forgot it.
"Charge was born, and screaming loudly to get going."
So this led us to the formation of Charge? What's the story behind forming Charge? How did you decide to use the name 'Charge'?
We eventually arranged a jam on a Saturday, at the Dolphin in Botley. I think it was late February, March time. Distinctly chilly still. I took my young son, Paul with me. Pete turned up with his carrier bag of oddments including the latest LP's he was into, his pills, other nefarious substances and his sticks. He loved Jimi Hendrix as indeed I did. David Bowie was one of the albums he'd brought along that day. I was baffled. Wasn't into him at all. Pete never went anywhere without his carrier bag. Tes and Barry picked him up. He lived in Southampton, not far from the Woolston pub. Ian had finally seen the light and updated his rig to match mine – only with an extra 4×12 cab! I'm sure he was deaf. Well, we definitely were when he fired up with Pete going at it full bore.
We set up the gear and were ready. We decided to kick off with the old favourite, Sunshine Of Your Love. Blimey! We cooked. We murdered it so much we didn't stop playing for 35 minutes! Full on, balls to wall. We all looked at each other silent, stunned, mouths open, staring wide-eyed for a minute. The energy was incredible, the difference he made compared to Desi was mind-blowing. We instantly gelled and fell about joyously laughing our heads off. Ian or myself spoke first. Something like, 'Well… wanna job?' My boy looked dazed. Had his fingers in his ears still. Poor lad.
At the end of that first rehearsal, Pete pretty much had the entire set under his belt. He didn't want to stop. Crazy. During a break, Pete, all red-faced, excited, sort of leant across, brushed his hair aside and whispered, 'Anyone fancy a little charge?' It was code for speed. I think you can pretty much guess how that session ended. I was a changed man, trust. We all were. I don't think my boy ever fully recovered from such a traumatic afternoon. Charge was born, and screaming loudly to get going.
You went to SRT Studios, Luton again and recorded material as Charge. What's the story behind recording that material?
I'd been working like crazy on getting my ante war opus finished. We'd arranged and rehearsed what I'd already completed, and had played most of it live. It was shaping up nicely. No covers required this time. This was going to be the big one.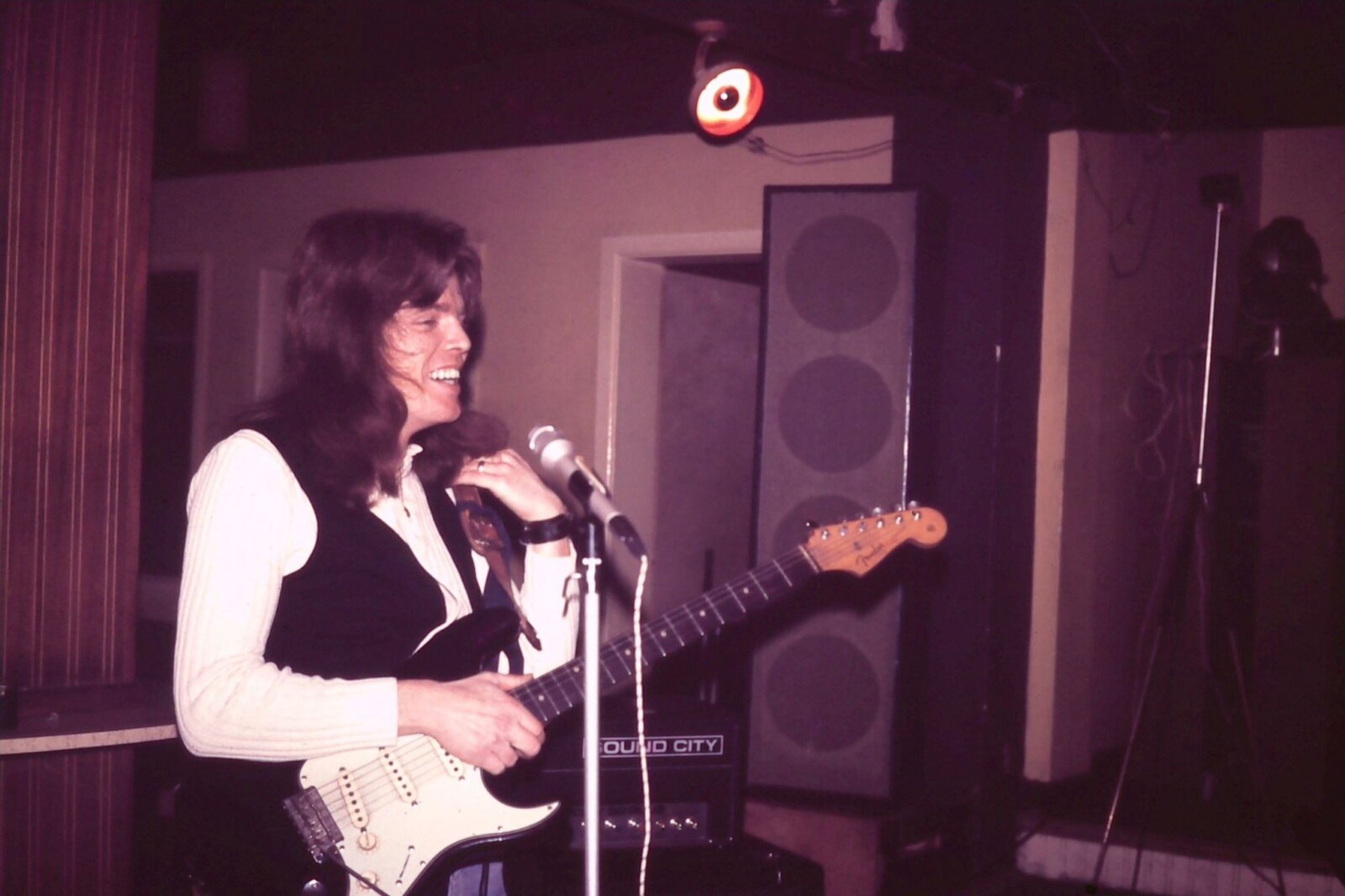 The recording day arrived much sooner than I'd hoped for really. The pressure was on. I still needed one more song. I had the gist of an idea, the riffs and an arrangement floating around in there but it still had no bridge or lyrics. I was so 'charged' up with nerves and adrenalin, I worked on it all night after the family had gone to bed. I finished it minutes before Barry knocked on my door at 4 am. His Mum, bless her, had lent us the money to pay for the recording.
There was no time to chill. I got the guys to rehearse the new song in the back of the van on the journey up, all the way to the studio door. We didn't stop. By 8 am, I was running on empty and needed a 're-charge', something with a little more zing than coffee. Food wasn't even considered. My nerves were crackling.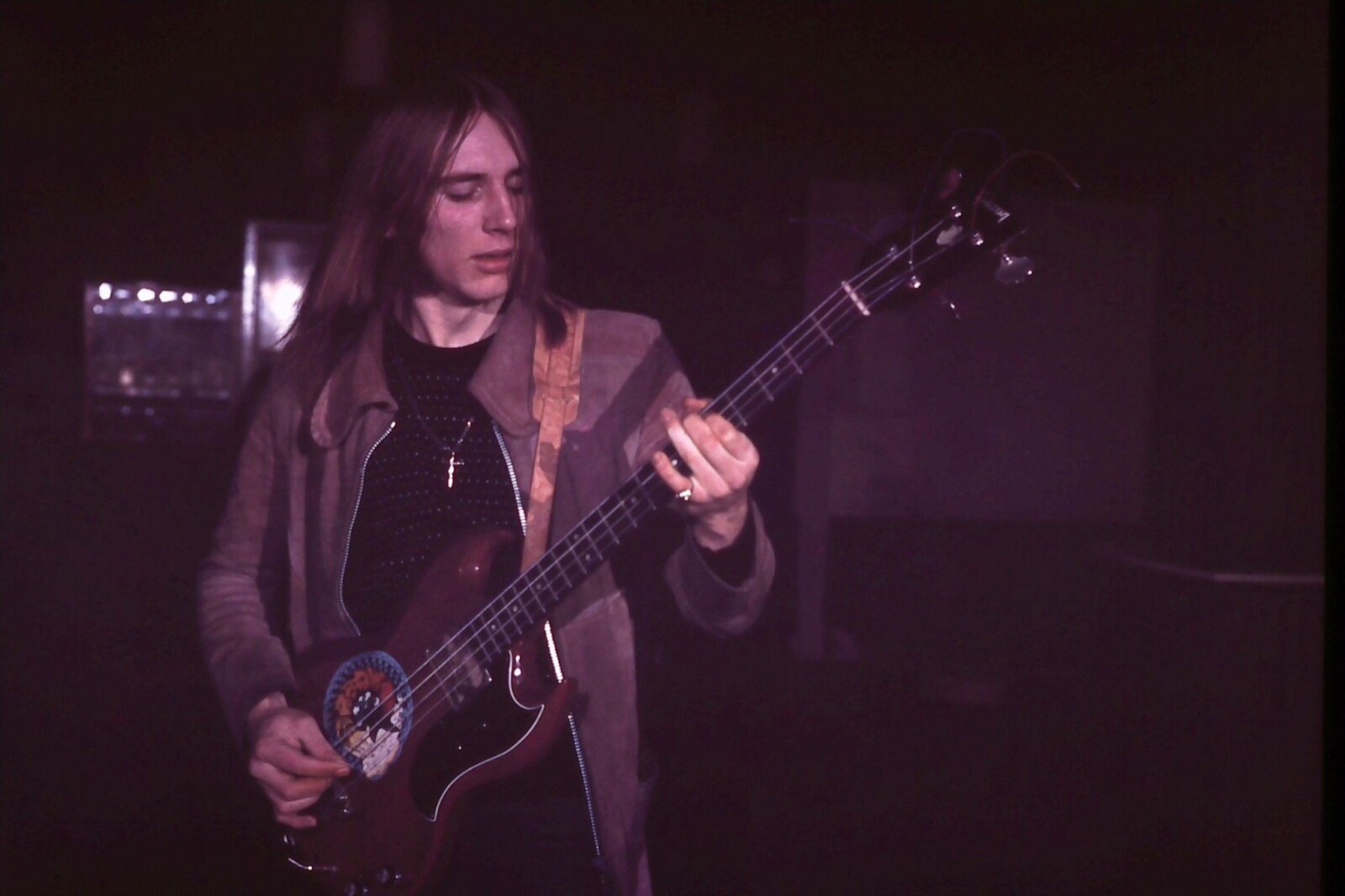 When we entered the studio, the first thing we noticed, it had all changed. The studio recording area was similar but someone, in their infinite wisdom, had decided to move the control room upstairs. A tiny, narrow staircase led up to it. Then we got the bad news. We had to set up in a semicircle – and turn everything down to a mere whisper compared to how we normally played. Well, that f**cked the sound right up for a start! I was not in the best of moods. Without the sound, the rock, the soul, the spirit, was removed. Gone. If we had rehearsed the stuff on acoustic guitars, like a folk band, fair play. This was nowhere near it, but they insisted. I'd never heard such bollocks in my life.
We tried a run through of the first song. It was damn near impossible. Pete couldn't play quiet to save his life and had trouble hearing the rest of us. So some genius upstairs had Pete use headphones to track for real while we half-mimed the song for him to play along to. We had to do that for each separate instrument and track.
I wanted to throw in the towel and cry. However, we couldn't afford to waste time and just did the best we could. I had to over-compensate with my pedals and Copycat to get the required sustain. It just wasn't working to my ears. I sounded like a cat being neutered for f**k sake.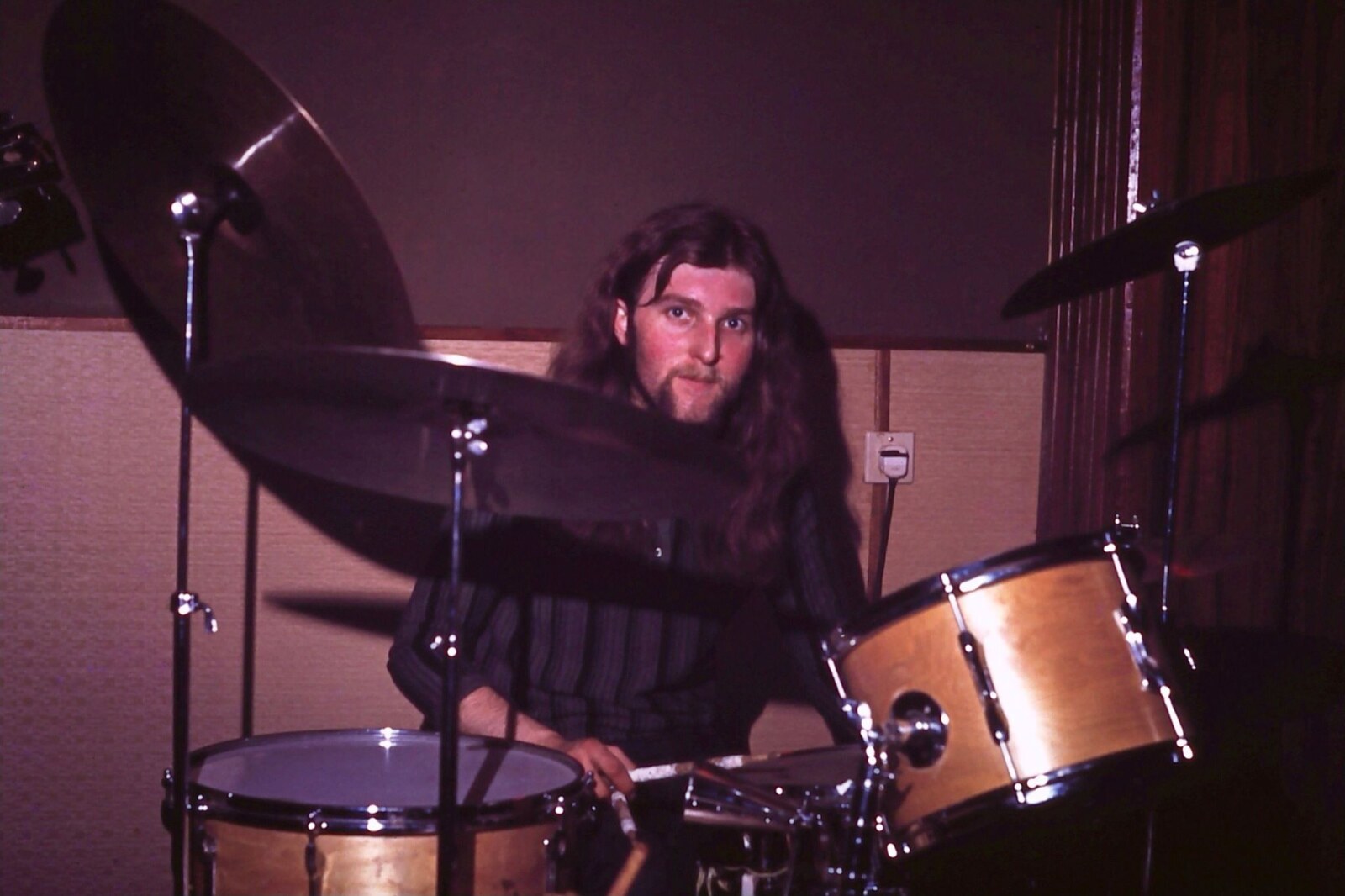 After we tracked the instruments, I then had to re-track all the vocals, running up and down those poxy little stairs after each take. Everyone else just sat around, bored shitless, waiting for me to get done. Jesus! Come 9, 10 pm, I was exhausted, regretted ever beginning the recording and had removed myself to another planet somewhere else in the universe.
By the mixing stage, I couldn't have cared any less. We left the studio at midnight with a demo done, but it wasn't Charge.
What was the main difference between Baby Bertha and Charge?
Pete's drumming for one. Two, we were a three-piece. And three, Speed. It was flawed, but just worked so well. When Pete was in the pocket, the energy and enthusiasm was incredible. He suffered badly with his health though, asthma, and often had to miss rehearsals. He was part of the 'family' now and we worried about him constantly. He couldn't work and lived for his drums. As I understand it, he didn't eat well and slept on the sofa mostly at his Dad's house (he'd lost his Mum years before). He had a brother who I lost contact with. He relied on drugs just to get him through the day. Ian and myself were no angels in that respect, none of us were, but held down jobs, had responsibilities and controlled our consumption. We were lucky.
Pete and I grew very close, too. We'd spend a lot of time talking about stuff we didn't share with anybody else. He was like a brother really: Blood. I was devastated when he passed. I was the only one from the band who attended his funeral. His death affected me for a long time after.
99 copies in blank covers were pressed and later distributed between family and friends, with a few of them also shipped to record companies.
Well, the record embarrassed me. I pretended otherwise, but I was gutted inside. It went down well at the stoner parties we went to. Nothing changed for a while. It was much the same routine as the first one. Family and friends first dibs. But I was so disinterested in it by then I really don't have any idea what became of the remaining copies. I think Ian probably handled that side of it. I was off of my trolley. Gone.
Would you share your insight on the albums' tracks?
Reluctantly. It still hurts me today. I was shooting for the stars, but never even made it to the moon. It could have been so much better.
Track 1: Glory Boy (originally called Glory Boy From Whipslade). Don't ask me why. My home life again wasn't in a good place. I tried to write about shutting ones self off, losing yourself in dreams, not willing to face life whilst chaos reigned in the real world. You can hear half way through, as the riff to the last part ends and the hats bring in the last verse, my entry chord is about 2 clicks behind everyone else, sticks out like a sore thumb. Again, I let it go. I didn't see the point in re-doing it.
Track 2: Friends was the last song I sweated over the night before recording. The lyrics just came out differently to how I thought they would. I loved the moody, Sabbath-type riff and anticipated writing about loss and battlefield deaths in foreign fields. Lovely sunny subject. I can hear the exhaustion in my voice. I think the listener can tell I had already left the building.
Track 3: Rock My Soul was a Hendrix inspired song. I wanted a good rock song to groove out to. Live, with Pete, it was fantastic. I think you can hear my confidence had long fled from my voice right from the start. This was the song we demoed for DJM later and it turned out 200% better than this version. Every note had to be fought for here. I missed a note near the end – the cat screaming in pain is what came out. I winced inwardly but had no intention of playing it again.
Track 4: Song for the Night. The lyrics hint at the peace I always found in the night hours, a time when you could shut out the distractions and grinding mediocrity of wasting the most important parts of our lives earning a crust. I am not a morning person. Never have been. Too many people and too much noise. It again, was moody and mournful, which probably spoke of things in my personal life.
Track 5: This took up the entirety of side two and was the main body of my intended opus starting with Soldier Boy, the thoughts of a lone soldier, heavily influenced by my time in the army doing the military stuff instead of music. I only had one verse and ran out of time to complete it (I've since re-recorded this song, the whole record, as it was meant to be). There was a longer jamming intro into Battles live, but it wasn't working here. The lyrics speak of the corrupt, exploitative elites responsible for causing all wars and how they are willing to sacrifice other peoples sons for their greed. Child of Nations talked of eventual peace and the type of world our children will inherit due to the follies of the generations before. It will be up to them to build better. Not much hope in there. They cut the last solo just as I was warming up but it didn't matter by then.
Did you play any gigs as Charge?
Oh yes, constantly, for a while on the same circuit as before. We landed a gig at Southampton University – a big one for us. Hell, even Led Zeppelin had played there.
By this time, I was on shaky ground in my personal life. My first marriage had disintegrated, I'd lost a lot of weight and was living in a room in an old man's bungalow in Portchester. I was barely functioning as a human being. Tensions in the band were becoming apparent, too. We only fired up when the band were all on the same wavelength. Mood was an essential ingredient to us giving a good show. Long solos and tight improvisation was the key. Pete and I only had to glance at each other and he instantly seemed to know where and in what direction I intended to take it. If one of us was off, invariably the gig was crap.
The Uni gig loomed large. The place had a great stage and was packed. We walked onto the stage and though I'd taken some speed to smooth the edges, I didn't feel right. As I was tuning up, a quick glance at the size of the audience practically made me throw up I was that nervous. I was shaking and my hands felt as if I was wearing a pair of Frank Bruno's boxing gloves. Somebody introduced us and I stepped up to the mic. I hit the opening high E bends for Can You? Will You? And broke a string.
I dropped my Strat on to the stage and walked off.
That was it. Finito. Done and dusted. The guys found me later in the gardens somewhere, a weeping wreck.
I moved to Redhill, Surrey at the behest of my Dad, he said to help him with his business. In truth, I was on the edge of a total breakdown, possibly worse, and he knew it even if I didn't. I owe him big time for that one. Tes and Barry drove me and my pitiable possessions to my new life. I remember having to share a bedroom with my younger brother by 14 years, Chris, who I hardly knew. Took some getting used to, but I slowly recovered.
"I could see each individual note shooting into the air in spectacular colours."
Were you inspired by psychoactive substances like LSD at the time of writing the album?
That's difficult to say really. I don't think so. Pete and myself only did acid three times, him possibly a lot more. We dropped a tab each once in a graveyard, lying on a tombstone, getting into some heavy conversation, waiting to do a gig at a youth club in Portsmouth. Man, that gig was awesome. We had a massive time. I don't think Ian (or the audience) had a clue what was going on. Pete and myself were walking amidst the heavens, just glancing at each other, and dissolving into giggles. It was a magical night for us. The band sounded absolutely bang on, my guitar beautiful and I could see each individual note shooting into the air in spectacular colours. Amazing. That's how I remember it but, in truth, it was probably a lot different. I used to do ganja and speed often, but not at home and not when writing.
I remember sinking deep into a depression one time and dropping some uppers to compensate. That didn't go well. I regained consciousness at the living room table with my wife and her mother watching me. I was bashing my head on the table, effing and blinding like a lunatic for several minutes. I have no idea why. Poor things. They had their hands full putting up with me. God knows what they thought. We're still friends believe or not.
How pleased was the band with the sound of the album? What, if anything, would you like to have been different from the finished product?
I think Ian, Pete, everybody really, thought better of it than I did. It sounded a bit better when I was stoned or off my tit. To me, every time I heard it, it was like opening a festering wound. We had worked so hard on it and Ian and Pete gave it a hundred percent. No disrespect to them at all. SRT's producer/s ruined it. We should have played live as we did the first demo, simples. We never went back again or recorded another thing except the one song for DJM.
Ian, myself, and some great muso friends, recorded the whole thing again in 2014/16. It was a great privilege as it turned out. Working with another guitar hero of mine, Mr Clive Bates and having son Ben, another gifted guitar player, on the record together was just outstanding. We added a couple new songs and I'm very pleased with the way it turned out, despite my anxieties and misgivings. It took some persuading to get me to return to the project. How do you go back and recapture a time and place, the insanity, the love and energy of forty-odd years ago and recreate such unique moments?
Ian first muted the idea. I really wouldn't have done it had he not been such a persistent, annoying, bell-end and mentioned what a wonderful tribute it would be to Pete's memory. He's still as keen as the day we first did it. I could punch him sometimes. To answer the second part of your question, listen to the new version. We put back what was missing. All except Pete's drumming, of course, but Mr Johnny Marter, who also produced with us, did a fabulous job on the skins. To top it all, the icing on the cake, Mr Ian Duck was forced from retirement (under threat of cutting off his weed) to lay down some slide guitar. Amazing. Well, I really couldn't have asked for more. I hope Pete's listening. He would've loved it.
Who knows, maybe, in another forty-odd years, the record will be discovered in a second-hand CD store somewhere and maybe one of my grandchildren will be asked to comment on it. It's a wonderful thought and a great legacy.
"I had an audition come up for Atomic Rooster, a band formed by members of the Crazy World Of Arthur Brown, Vincent Crane and Carl Palmer. "
What happened after the band stopped? Were you still in touch with other members? Is any member still involved with the music?
I think I've partly answered this question. There's a few more details to reveal about it though.
I had an audition come up for Atomic Rooster, a band formed by members of the Crazy World Of Arthur Brown, Vincent Crane and Carl Palmer. They had a couple albums out and did the London circuit. This would have been in 1973. Again, it was a Saturday and as I was about to leave the house, my then wife and myself had an almighty row. I think I was supposed to be looking after the kids or something. She grabbed my Strat and smashed it tail first into the tiled floor in the hallway, splitting it into 3 parts. Well, there went my audition along with any chance I had of breaking on to the London circuit and possibly getting a record deal. I think the gig went to guitarist, John Mandala in the end. Luckily, my Dad was able to repair the Strat for me so all was not totally lost. Let's be honest, I just wasn't cut out for making it beyond the local scene.
After I relocated to Surrey, I managed to get my act together and get Charge a gig at a banging pub called the Knob. Now the Railway, I think. I hadn't seen the guys for six weeks, maybe longer. It seemed like forever and I remember waiting for them to arrive feeling nervous and excited, like a kid on his first date. The van pulled up, I rushed to open the passenger door and… Pete fell out onto the pavement, unconscious and totally off his tits.
Shocked, I looked questioningly at Ian. He answered with one word:
Morphine. My heart sank. He was never the same again. We had to make excuses and, fortunately, managed to get a reasonable dep drummer from the audience to finish the gig. We played mostly covers. Nobody could play the Charge stuff except Pete. We wouldn't even attempt it. I was devastated and, for a long time, blamed myself for leaving home turf without saying a word to him. I'd been in such a dark place, I don't think I even discussed it with the band or was even capable of doing so at the time.
We played another gig at Merstham Village Hall, Redhill, a week or two later. Pete was on good form and somebody took a single, black and white photo of us sitting on the stage front all together with Tes and Barry; Pete still hugging a couple albums under his arm. I love and cherish that photo. It was the last one taken of us as Charge.
"Charge was such an intense, high-octane emotional and committed experience for me."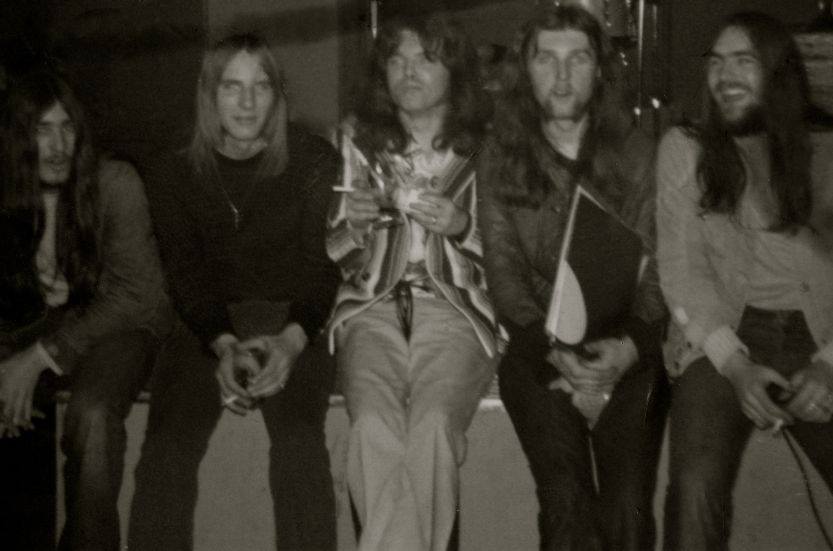 Looking back, what was the highlight of your time in the band? Which songs are you most proud of? Where and when was your most memorable gig?
Charge was such an intense, high-octane emotional and committed experience for me. The highlight was just playing together with a bunch of great friends. I never wrote a single song I can say I was completely happy with (still haven't) but I'm proud of the fact the guys stuck with me and believed in me enough to interpret them in the way they did. Having almost my entire musical history (the parts that matter anyway) on the one 2016 Charge CD is unforgettable. I mention it, because it's still Charge, as I imagine we would've been today. We recorded it at Ian's home studio in Havant over a two year period. I wrote the missing verses from the 1st record and a couple new songs to go with the old. Clive Bates did a fantastic job in realising what I'd intended to do on the original cut. John Marter produced and made the whole thing sound as I'd heard it in my head. It was awesome to work with all these talented, long standing muso's and a fabulous tribute to our lost brother, Pete. Not bad for a bunch of old farts. I can't thank Ian enough for persisting but he's still a major bell-end (wink). There were three most memorable gigs for me. The first was Bournemouth and meeting Pete, the second was the disaster at Southampton Uni and the third was our last gig at Merstham.
What were some of your favourite bands?
Oh, blimey. I think I've already mentioned most. The ones I haven't are Mountain with Felix Pappalardi and Lesley West; 10 Years After with the awesome Alvin Lee. Ian Duck's band, the Rhinomen, with Clive Bates, John Marter and Ian Mac on bass. We did a couple of gigs together and I loved it. Ian Duck had a special feel, a built-in 'groove' to his songs and guitar/slide playing, a bit like early Little Feat with Lowell George. Marvellous. I think Feat may have influenced him. My sons, Adam and Ben, both miles more talented than me, and their duo's, El Strats and Kin; Yes; Robin Trower, the wonderful James Dewar on vocals and bass; the Mahavishnu Orchestra (1973's Birds of Fire. Just astonishing. Saved my life). There were and still are many more. I hope there always will be for generations to come.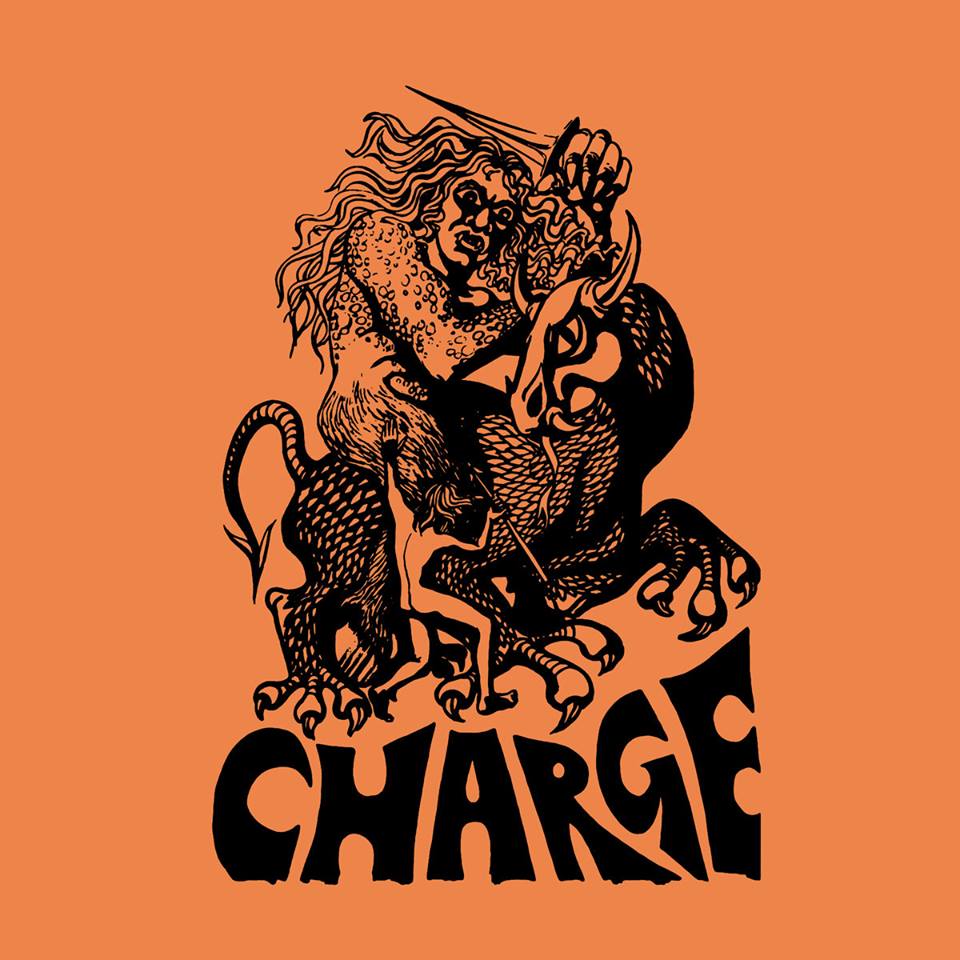 Is there still any unreleased material?
Nothing from that era, sadly.
Are you excited by the recent Guerssen reissue?
Outstanding. Alex and Co did an awesome job. The love and care they have for the music of that time shines through like a bright and warm summers day. The material is, for me, still the same. That will never change. I feel honoured they chose to do it, though. A big thank you from Ian and me guys. No kisses or hugs, please. I'm still a 'beaver' kinda chap.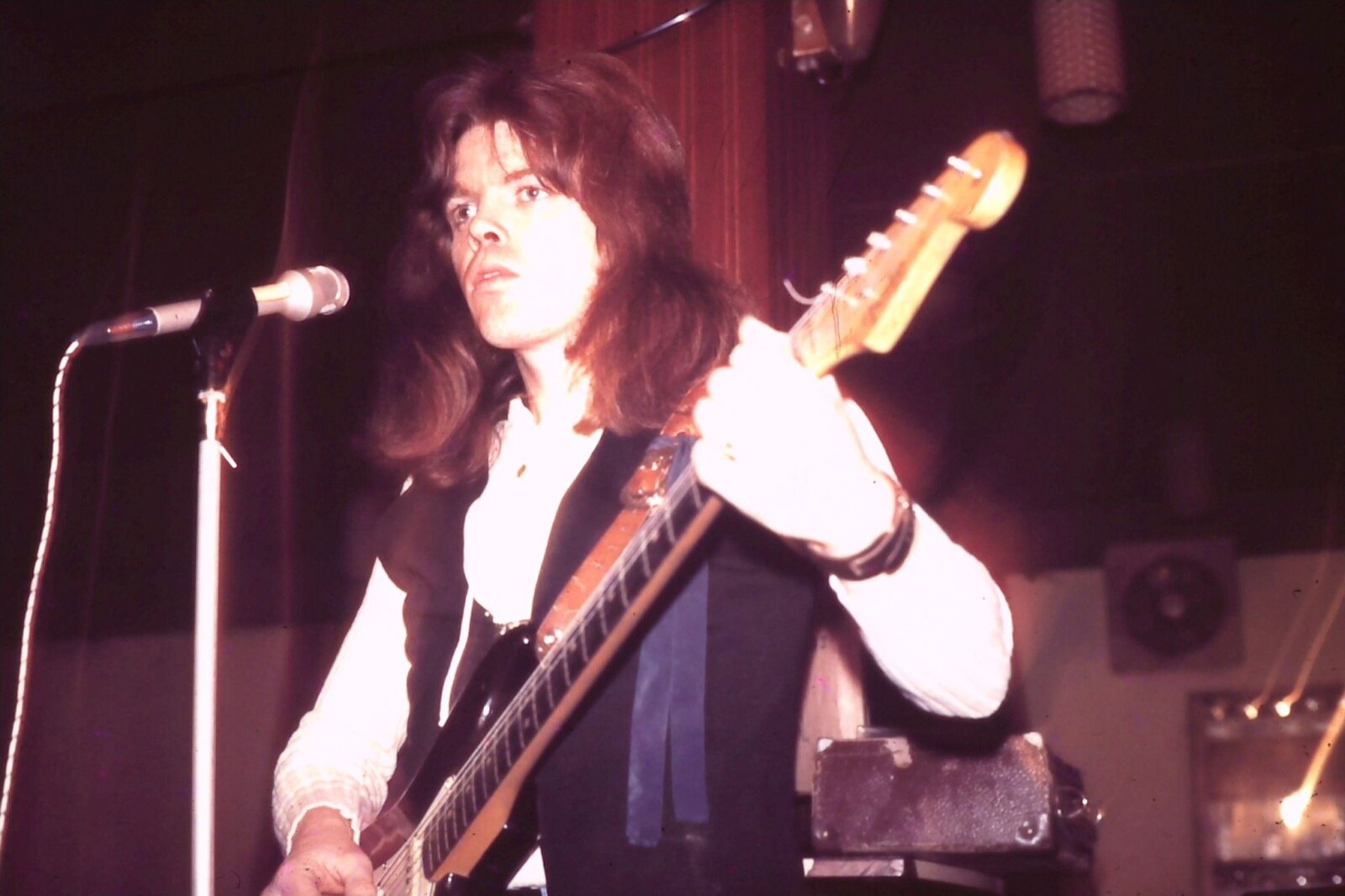 Thank you for taking your time. Last word is yours.
The honour (not to mention flattery) of even being asked to do this interview after all these years has been an enormous pleasure and quite a buzz for me. It's been emotional, too. I just hope I've got things as near to correct as possible and not offended anybody during the process. Being involved in music, even in the small way I have, has been one hell of a ride; the highest of highs to the lowest of lows. I've met so many outstanding people and made friends across the globe who remain dear to my heart. None of that would have been possible without music and my guitar. I wouldn't have had it any other way. A small bit of advice for all the kids out there, slaving away in your bedrooms, trying to nail that Steve Vai or John Petrucci solo, stick at it, be patient, join some friends as soon as possible: Play from the HEART, WRITE YOUR OWN shit! People want to hear YOU, not a copy of someone else. I can't stress that enough. You won't look back – well, till you're as old as me anyway. Good luck to you all. I hope you're as lucky as I've been.
The last word is to my ever-growing, large and wonderful family. I'm sorry for all the times I wasn't there sharing stuff I should never have missed for any reason, no matter how good the intentions. I regret that. I'm proud of you, love you all and I am eternally grateful for having you all in my life. Thank you…
And thank you, Klemen. It's been fun.
Peace.
– Klemen Breznikar
Charge on Facebook