Group 1850 – 'Purple Sky – The Complete Works And More' (2019)
When it comes to Dutch groups who operated in and around the mid-to-late 1960s beat and psychedelic scene, very few could claim to be quite as brave, exciting, experimental, or as fiercely original sounding as Group 1850.
---
Recent visitors to the "It's Psych Baby" site will no doubt have been enthralled to read Klemen's in-depth interview with the group's original drummer Beer Klaasse, appearing just as this brand new CD box set was hitting the stands in the run up to summer. If the curious among you still haven't felt the need to dive headlong into this glorious and sometimes frightening "Purple Sky – The Complete Works And More" adventure then it has to be said you really are missing out. This lavishly presented, career-spanning (decades bridging) collection of the group's recorded works is the fullest, most comprehensive presentation of the Group 1850 catalogue thus far; in fact one probably cannot delve much deeper into 1850's world than this without drowning!
You may have read some stuff about this new Pseudonym release already, you may even have heard one or two cuts from it but still aren't convinced that the music of Group 1850 is what truly floats your boat or whatever … so then, listen up, and perhaps this fresh overview of the box and its contents might just be enough to inspire you to want to take the plunge. The box is split into the group's initial three studio albums, "Agemo's Trip To Mother Earth", "Paradise Now" and "Polyandri", with the two subsequent live albums, "Group 1850 Live" and "Live On Tour" appearing before the third. Then there's Peter Sjardin's solo effort "Changes" and, finally, two extra CDs entitled "More Purple Sky 1" and "More Purple Sky 2" each of which are made up of the A and B sides of all the group's singles, plus a bunch of demo's and various outtakes. For the most part, it really is a most breathtaking, in-depth and positively thrilling listening experience.
Although the nearly always controversial Group 1850 would begin life as the Klits, doing business as part of The Hague's (Den Haag) young, sprawling R&B-fixated "beat scene" that also threw up such as the Golden Ear-rings, the Motions, Q65 … and a great many more – this all happened in the wake of visitations to play the clubs and dancehalls around Holland in the mid/mad sixties by some of the cream of Great Britain's then wild new music campaign led off by the Beatles, the Rolling Stones, the Kinks, the Animals, the Pretty Things, Them and others. However, Group 1850 (originally spelled Groep) weren't your average pop group content to be just another on the Dutch group scene and so, led by the group's founder, musical visionary Peter Sjardin, they duly set about carving out their very own niche right from the beginning.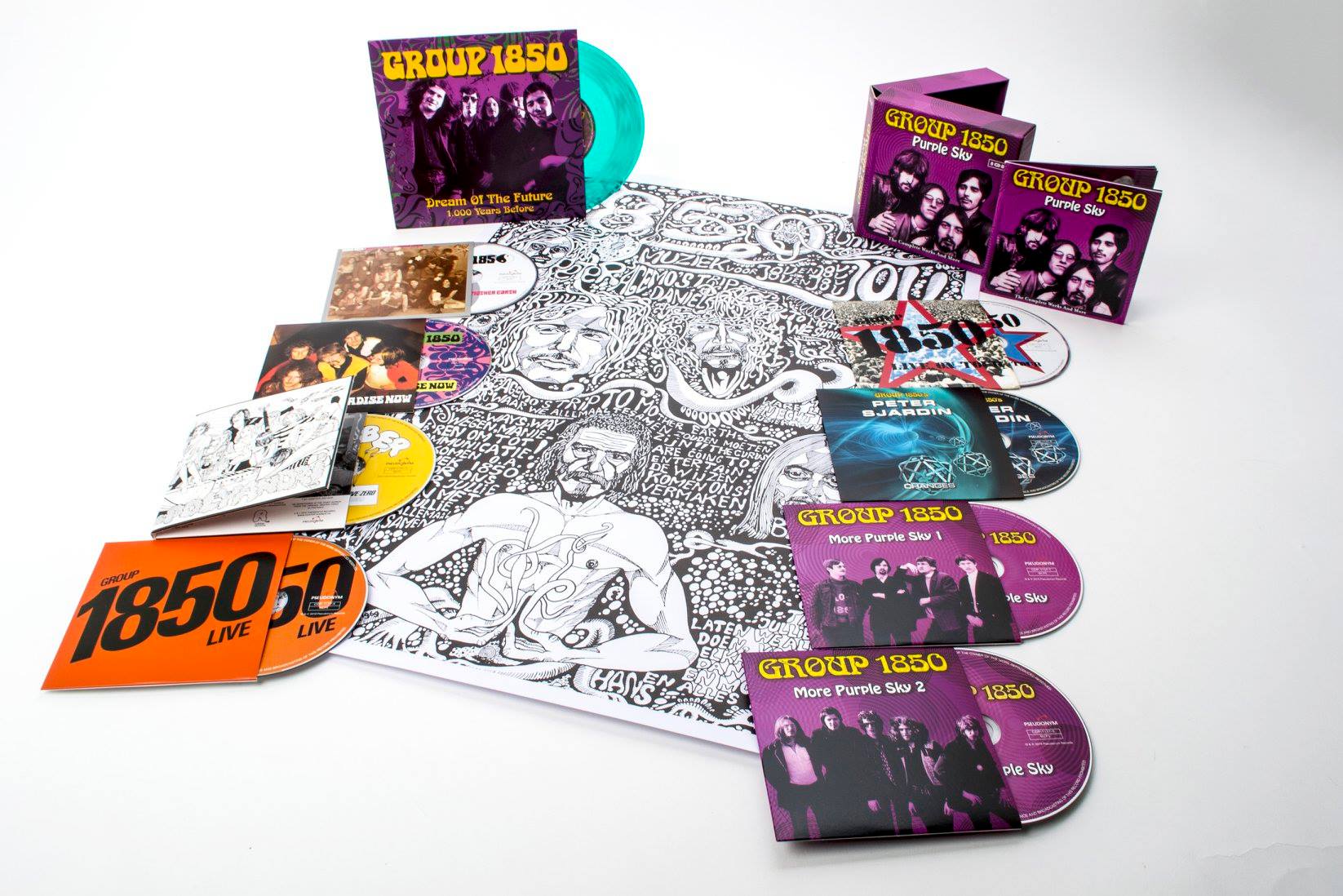 Their first single, 'Misty Night' (b/w 'Look Around') appeared in 1966 through the tiny Yep label, and proved to be quite a startling sound, almost like nothing else that had gone before – extremely dark and brooding, eye-and-ear openingly dramatic, full of suspense, theatre and scarily atmospheric – some of this at least partly due to guitarist Dean van Bergen's intense morse code-style pick-up switch mastery, and the ghostly, ill-at-ease making lead vocal and chanting backing vocal refrains. The flipside 'Look Around', whilst taking a less unusual approach, is nonetheless wild and frantic with a thrashing Who-esque frenzy of drums and guitars which cascade all around, in league with the sheer manic intensity of the lead vocals; the whole thing framed firmly within a tough, crudely executed "Nederbiet" sound – a most compelling example of what, much later, would be termed garage punk, freakbeat or beat punk! For certain, this first single mark out the burgeoning group from the majority of their peers with ease.
The level of intensity, plus a highly individual approach towards the art of writing, composing, playing and singing garnered the group more strength and conviction throughout the next few years, seeing them through a succession of radical sounding single releases such as the hip-swingingly suggestive 'I Want More (Finger Tips)' backed by another truly gold star performance in the heavily brooding 'I Know (La Pensee)', the first for new label Philips and the beginning of their association with Dutch producer of note, Hans van Hemert. Other, and thoroughly weirder-sounding contenders for infamy upon the nation's singles charts would follow including the disquieting, almost Zappa/Mothers-esque (ahem) 'Mother No Head' and the monolithic utterances which both 'Zero' and 'Frozen Mind' would bring forth. These types of hugely experimental, forward-thinking, heavy song ideas would also find their way onto the group's debut long-play record "Agemo's Trip To Mother Earth", which was afforded an elaborate gatefold cover to be seen in 3-D with the provision of the requisite spectacles which initial copies of the LP provided. The LP included such psyched-out favourites as 'A Point In This Life' and 'Little Fly' – already the featured flipside of their 'We Love Life (Like We Love You)' single.
Chief amongst 1850's strongholds, especially throughout those initial years, were the distinctive guitar playing of Dean Van Bergen expertly combined with the intuitive kit work of drummer Beer Klaasse and the unusual, oftentimes unorthodox subject matter contained both within the lyrics and spread across the vocal performances, in the main carried out by the group's lynchpin Sjardin, in conjunction with his interesting and inventive approach to utilising keyboards, and later what would be dubbed "the organiser"; this mellotron-like device would soon become integral to the purposes of composing, designing and embellishing almost all Group 1850's material from thereon in.
When Philips released "Agemo's Trip…" in mid 1968, the influence of free-form jazz, folk, progressive pop/rock and the many-hued world of psychedelia was, of course, already in full swing within the sounds being created by counter-cultural groups operating across USA, UK and beyond, including the Netherlands – even hard-nosed beat, R&B and perceived rebellious garage punk groups including Outsiders, Q65, and many others had been lysergically swayed (some authentically, others perhaps in order to keep up with musical and sartorial trends) by the vast tide of change the previous couple of years had brought about – indeed the sound of psychedelic had been much in evidence throughout the singles Group 1850 issued throughout 1967, so it's no surprise that this album, a largely improvisational work, is a kind of musical proselytisation for the whole acid rock, and free-thinking hippie movement. As with most great albums, favourites change depending on each listening circumstance, however, tracks such as the brilliant 'Refound' and 'Reborn' and 'A Point In This Life', as well as the afore-mentioned 'Little Fly' are not only amongst the album's standout attractions but they are becoming recognised classics of the genre. Another significant facet of "Agemo's … " and beyond is the predominance of floaty sounds and spacey atmospherics one easily associates with the work of similar-period Pink Floyd. Aside from their more outré dalliances, Group 1850 also made one or two forays into sweeter, less threatening territories as portrayed by the likes of the almost soothing 'Ever Ever Green' – flipside of the original 'Mother No Head' single.
It's worth pointing out too that the group's magical succession of sounds and the clarity therein during the whole run up to and throughout the era that spawned their "Agemo's Trip…" venture were strongly facilitated by the genius touch of producer extraordinaire Hans van Hemert. His expertise, ability to adapt ideas and work with whatever material the group had to hand, and to then make the overall finished sound product something incredibly special in the process, is testament to his tremendous ear.
Although it would take a couple of years for the next studio album to appear, 1850 were still to remain very much part of the Dutch underground rock fabric of the time, playing many hip gigs, opening for internationally-renowned groups and appearing at such legendary events as the "Flight To Lowlands Paradise Two" festival extravaganza. And by all accounts the group dynamic could also prove quite tense and difficult at times, causing some headaches for those in and around their inner sanctum, not least manager Hugo Gordijn who must've had a tough job keeping everything and everyone on track.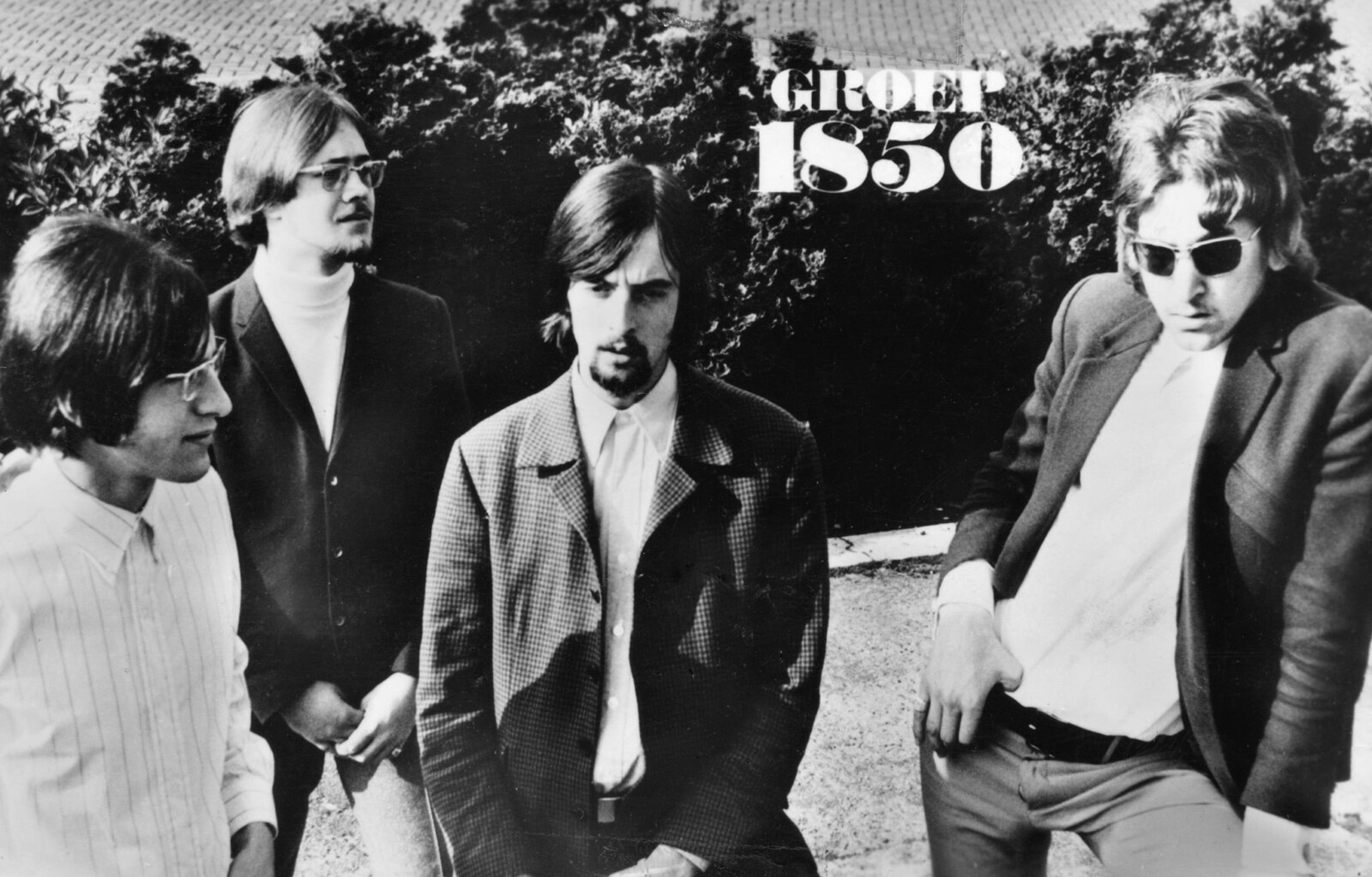 As the flow of music advanced, some Germanic-sounding progressive rock qualities (known a few years later by the epithet "krautrock") seemed to also filter through into the group's sound. A switch to a more busy, wah-wah infused Jimi Hendrix-style can also be easily detected as soon as new guitarist Dave Duba joined the fray; none more explicitly than his contributions for the group's next album. This period also witnessed the departure of drum titan Beer Klaasse, his place taken by Martin Van Duynhoven, who arrived with Duba and Dolf Geldof, the latter replacing Ruud Van Buuren on bass – the three new 1850 recruits had all played in the group Burning Rain.
Whilst a very different album to "Agemo's…", the 1970 release "Paradise Now" (originally released on the small Discofoon label) is another hugely enjoyable disc, and proves a solid, largely dependable slice of heavy psychedelic-inspired, experimental guitar rock hoohah which, studded with a fair few gems strewn across its grooves, has been given a brand new lease of life here sounding crisp and full of vitality; not least 'Friday I'm Free', 'Purple Sky' and '?!'. During this period the group recorded a couple of what, by then, were de riguer hard 'n heavy numbers for a now rare, limited run single. As crunching as they appear, 'Don't Let It Be (We Have To Do It Now)' and 'Sun Is Coming (So We're Calling You)' also still contain passages redolent of their (not so far in the) psychedelic past.
Towards the end of the decade and into the new 1850 would begin to operate beyond the usual club dates, embracing the concert circuit, and making themselves known to audiences further afield. This shift is marked here on the "Group 1850 Live" and "Live On Tour" albums, where the group, now including latest drummer Paul van Wageningen, stretch evermore out beyond the progressive rock realms, at times embracing almost classical avant-garde territory; one or two familiar titles here but vastly expanded or changed almost beyond recognition from how they sounded before.
The final Group 1850 studio project "Polyandri", originally issued in the late 1970s, although initially recorded circa 1975. At its core a return to basic rock structures helping define its rhythms and textures. Sjardin also injects more electronics into the process which gives a more modern feel on occasion. The rather excellent 'Between Eighteen And Fifty Part 1850', plus the likes of 'Patience' and the irrepressible 'Pump Up The Rubber Trees' are most noteworthy offerings here.
Sjardin's solo venture "Changes" constitutes the culmination of studio albums showcased here, said to date back to 1969 but not released until sometime in the early 1980s. By now some of the sounds suggest we are deep into Tangerine Dream-style territory as swathes of synthesizers (and perhaps more add-ons courtesy of the organiser) conjure up a variety of (inner) space adventures. Often the mood is subdued, meditative on occasion, whilst elsewhere the various sound ideas present themselves, as on 'Harbour Feeling', as a series of meandering, flickering aural filmscapes.
The accompanying booklet provides an insightful telling of the group's story by Dutch psych and beat authority Mike Stax and there are plenty of great photos and images to ponder, some rarely, if ever, seen before. There's also a companion 7" single that pairs a couple of really smoking heavies from 1971, and, furthermore, for buyers swift enough to do so there's a chance to obtain a limited edition reproduction poster from "Agemo's Trip…" autographed by its designer, original Group 1850 drum king Beer Klaasse. All in all this is a truly remarkable, and somewhat stunning release from those enabling cats at the Pseudonym label.
– Lenny Helsing
Group 1850 – 'Purple Sky – The Complete Works And More' (Pseudonym 8 CD box set, 2019)