Group 1850 interview
Between 1966 and 1976 Group 1850 blazed an unforgettable path across the Dutch music scene. With mercurial singer/keyboardist Peter Sjardin at the helm, they made some of the most dark, daring, strange, subversive, mind-altering, barrier-smashing progressive music of the era.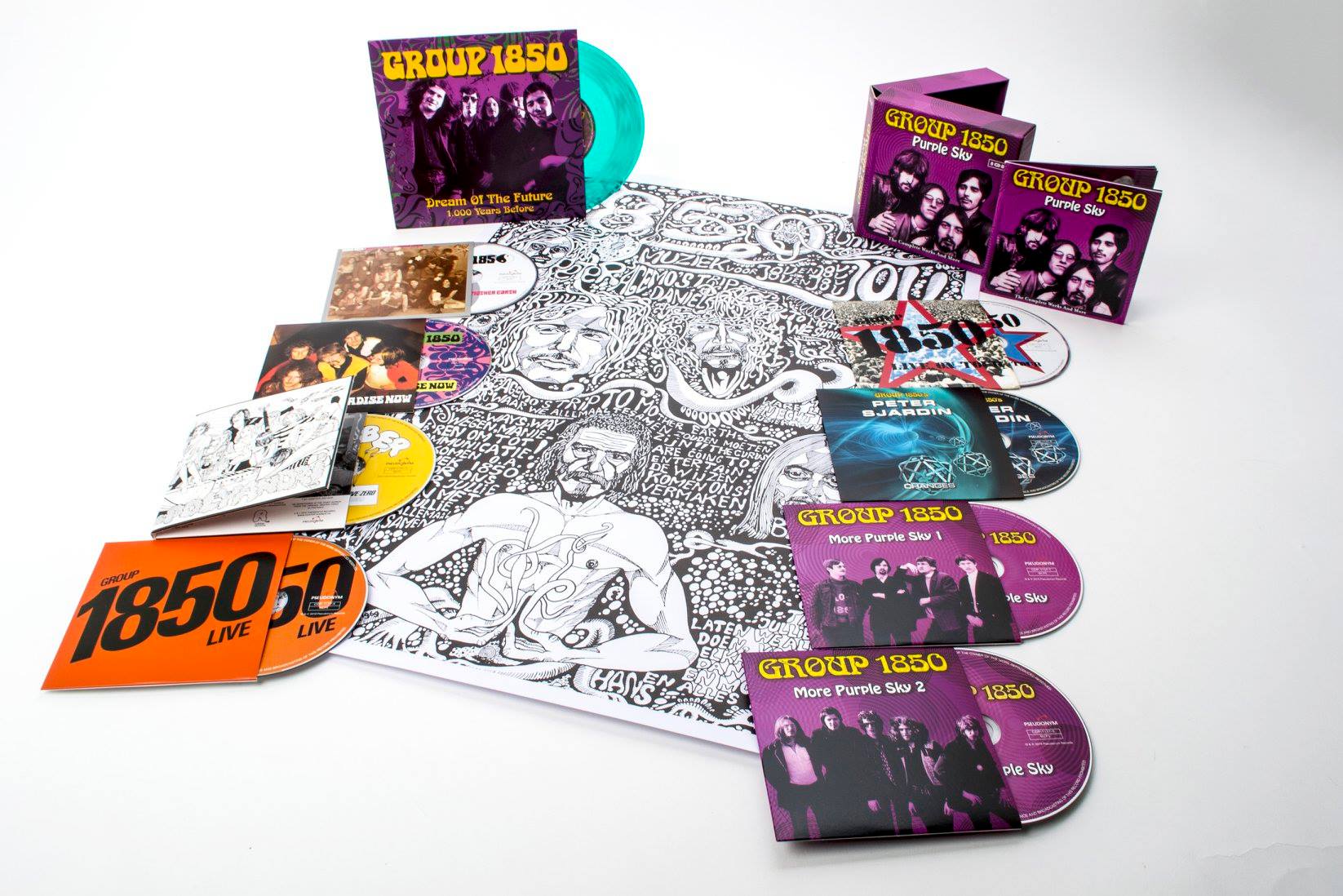 A half a century later, their records are revered worldwide by connoisseurs of sixties and seventies psychedelia and underground rock. 'Purple Sky' is a comprehensive 8CD box set of the band's complete works, including many previously unreleased recordings. The box is completed by a lavish booklet featuring never-before-seen photos and memorabilia from the band's personal archives, and liner notes by Mike Stax (Ugly Things). Interview with drummer Beer Klaasse.
---
Can you elaborate the formation of Group 1850?
Beer Klaasse: Before I joined the band, they already existed and called themselves "The Klits". On the first of January 1966 they asked Hugo Gordijn to become their manager and he decided that they need another name, because "The Klits" went to far according to Hugo. The singer, Peter Sjardin, had an old watch from his grandfather with the year 1850 engraved on it and they decided to call themselves Groep (is dutch for group) 1850. In March 1966 they asked me to join them and on the 17th of April 1966 I had my first performance with them. We were with five members because they felt sorry for Casper, the drummer, whose place I took behind the drums and they let him stay as a second singer, but a few weeks later he left the band after all.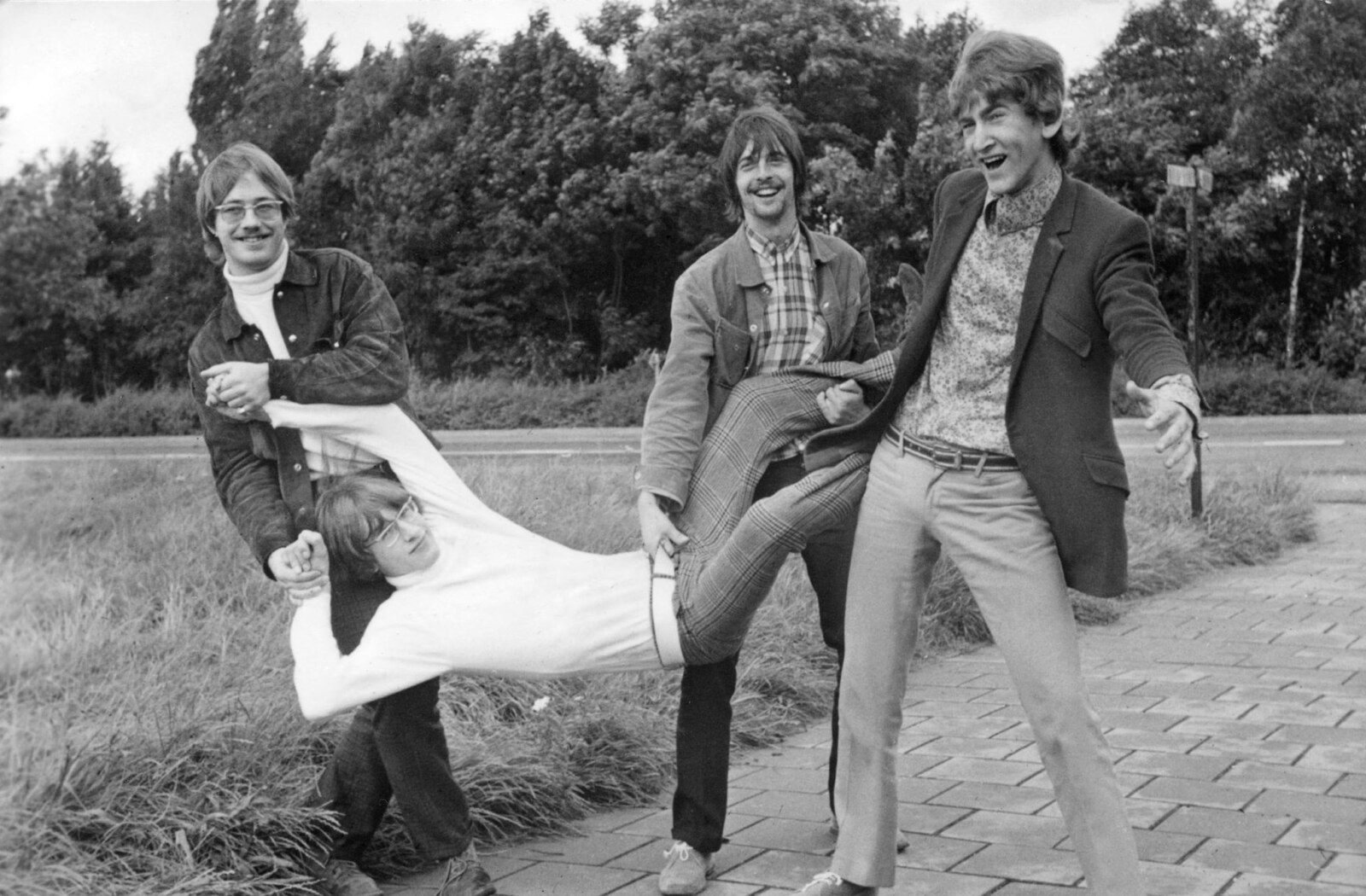 You were all coming from different bands. Would you like to tell us about your previous bands?
In 1961 I had my first complete drum kit, a German brand, Trowa and my inspiration was Art Blakey, leader of The Jazz Messengers. I had all of their records and tried to copy what Art did. About one year later I was asked by a jazz group to play with them and on the first of march 1963 we won a Jazz Concours, that band was called, The Lodi Bouwens Quintet. In 1963 and 1964 I played with several jazz formations until august 1965 when a nightclub band, The Defenders asked me to go with them to Iserlohn in Germany where they had a contract for 2 months in a club for American soldiers and German girls. We performed there 7 days a week from 18.00 until 04.00 in the night. In November 1965, I came back to the Netherlands and was asked by a band from
The Hague, called, The Kick and I played with them until I was asked by Hugo to join 1850.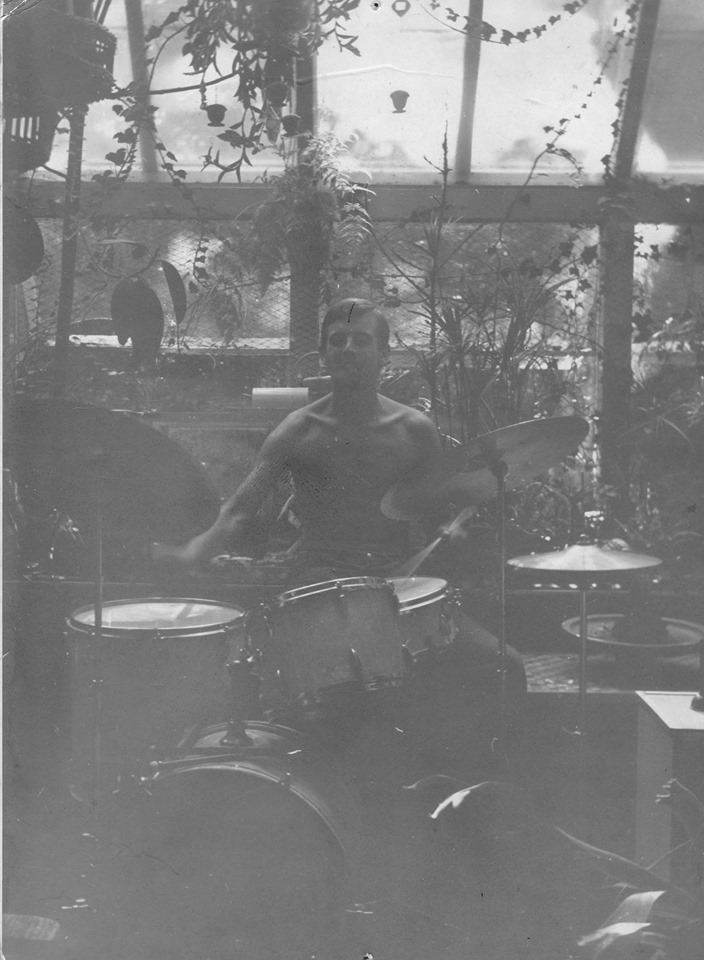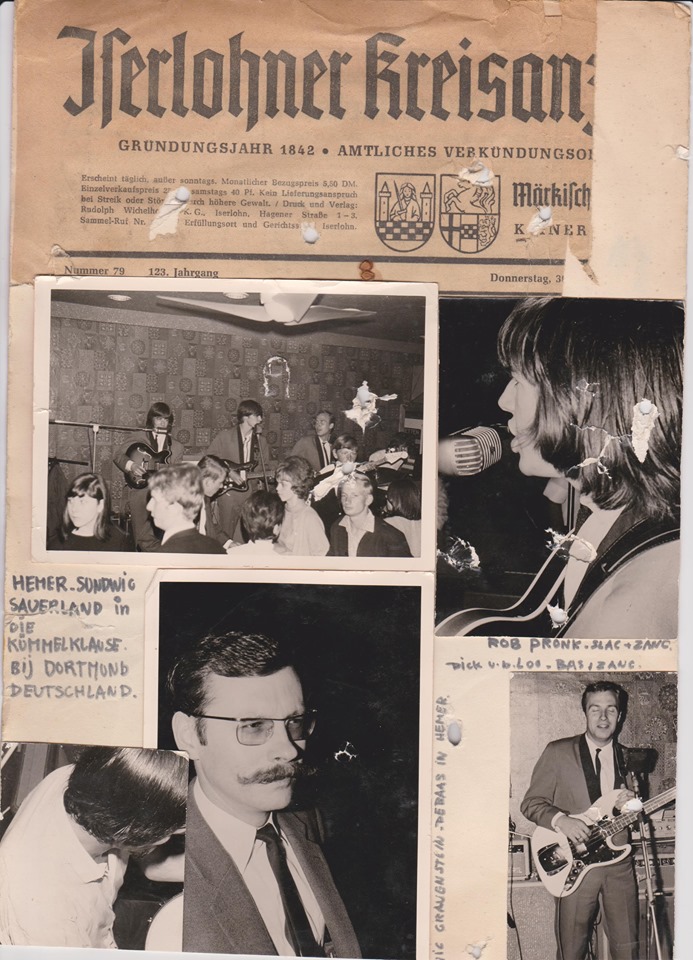 When and where did Group 1850 play their first gig? How was the band accepted by the audience?
I don't know when they had their first gig, but my first gig with Group 1850 was on the 17th of April 1966 and we did not get much applause from the audience, because in that time everyone wanted to hear covers from well known bands and we did not play such covers. We played songs from The Yardbirds, Kinks, Zombies and Them. In that period we didn't wrote our own compositions, that came later!
Was there a concept behind Group 1850?
No. In the beginning there was no concept, but because I had my jazz background and Dean, the solo guitarist was a huge fan of Wes Montgomery, we did a lot of improvising in the songs we played. The same song was never exactly the same. It was depending on the atmosphere in the clubs we played.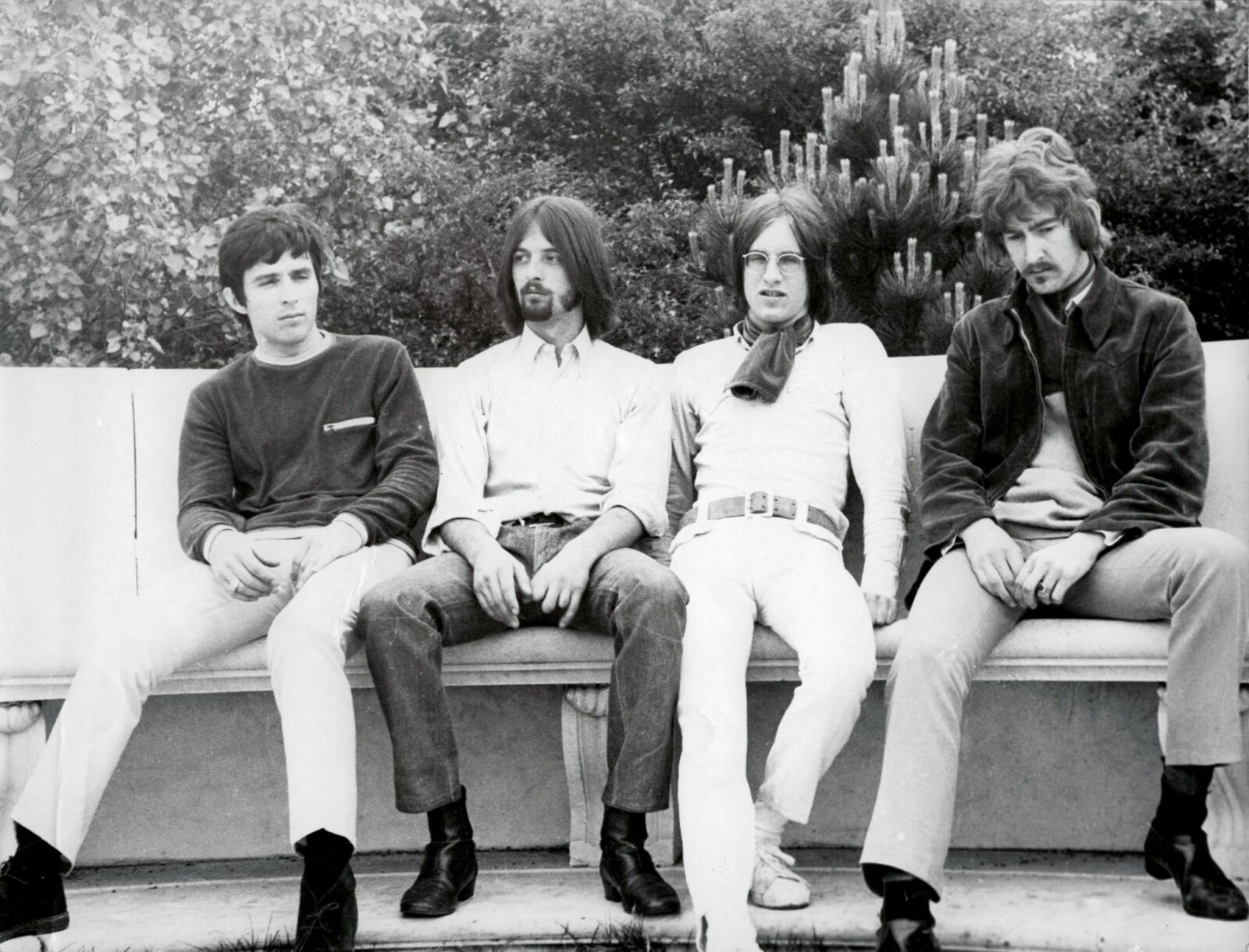 Who were your major influences?
The hard bob jazz from the fifties like Art Blakey and The Jazz Messengers and Miles Davis and John Coltrane. What also contributed to it, was the fact that an uncle of mine took me to a concert of Duke Ellington's Big Band and two weeks later to Lionel Hampton. I was 13 years old at that time.
"Pink Floyd performed in Paradiso and we were asked to be their support act and now 52 years later I recall every second of that evening!"
What can you tell us about some of the early material you composed before recording Agemo's Trip to Mother Earth?
As I told you, when I just joined 1850 we played songs who were not exactly top 100 hits. And slowly our performances started to change, partly because of my influence. We started to make guitar solo's longer and I changed tempos and rhythms, but all those developments arose gradually. One event was very influential in particular on Peter Sjardin. It was in 1967 in Paradiso, Amsterdam.
That night, Pink Floyd performed in Paradiso and we were asked to be their support act and now 52 years later I recall every second of that evening! Because we were support act, we could stand on stage, so when Pink Floyd was playing, I stood two meters behind them and saw and heard everything that happened that evening. It's one very special evening in my life, just like the moment that we were support act for Frank Zappa and The Mothers of Invention on the 24th of September 1967. But if you ask me about early material, it is hard to give just one answer.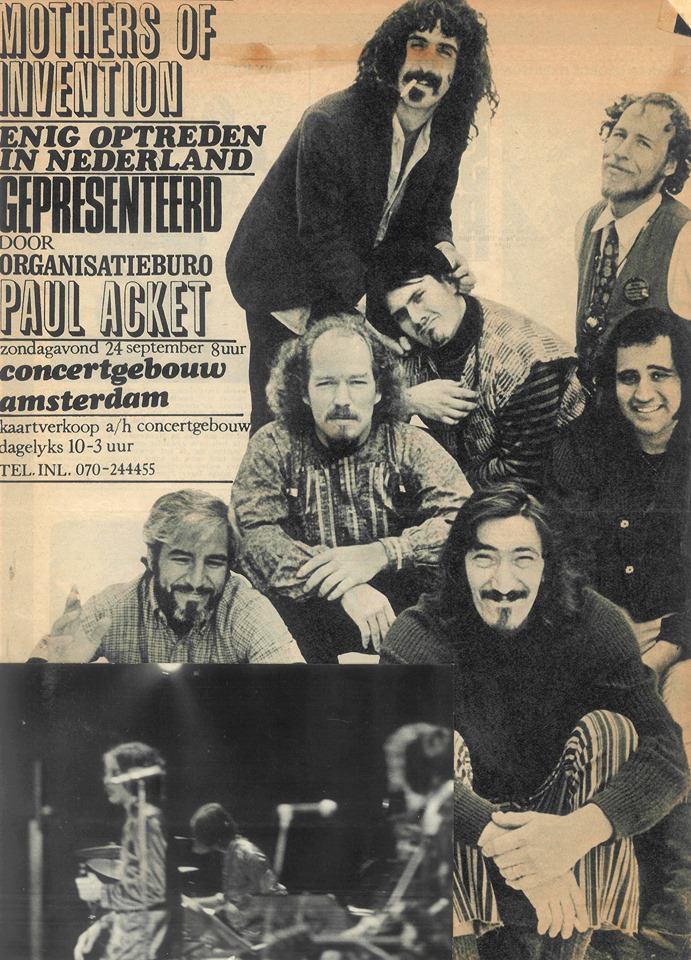 Agemo's Trip to Mother Earth is absolutely incredible album. How did you get signed to Philips? What are some of the strongest memories from recording it?
How we got a contract with Philips? We made our first single ("Misty Night") for the Yep label. It was a label from a music magazine called Muziek Express and because of that Philips got interested and Hugo, our manager, organized everything!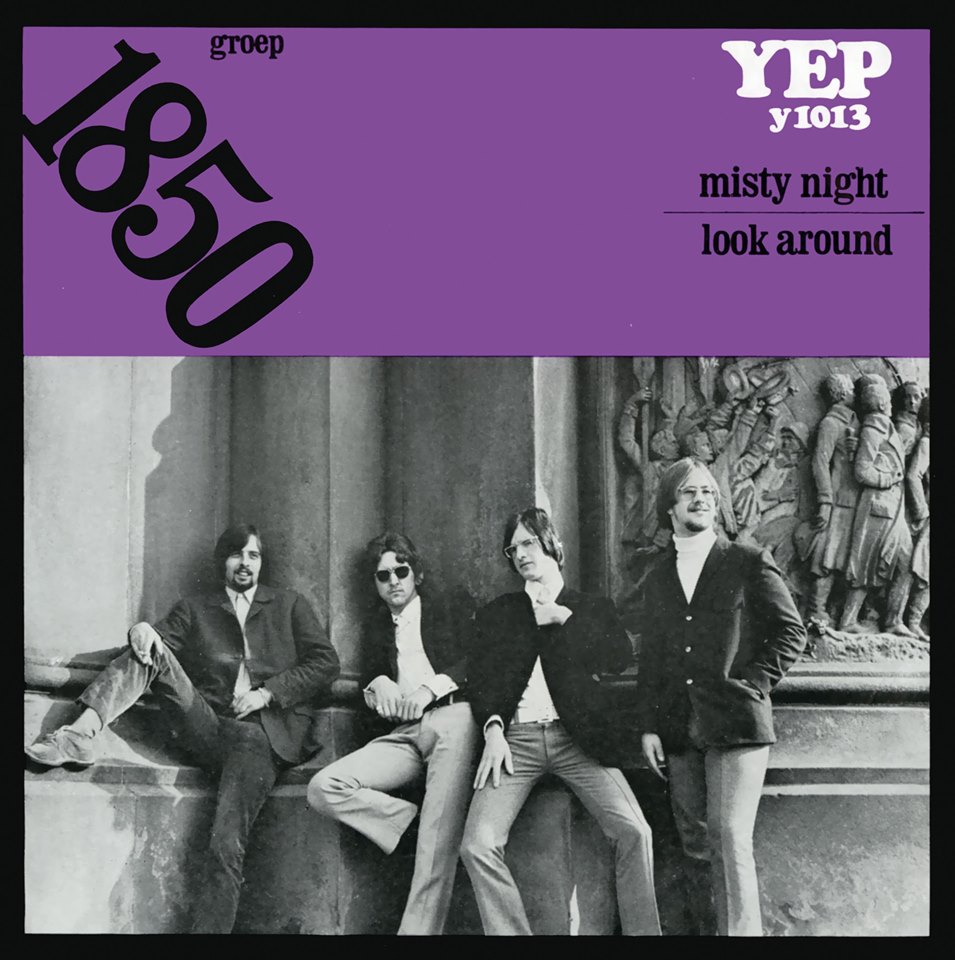 The strongest memories of that recordings have nothing to do with music but I met the producer, Hans van Hemert at the CD box presentation on the 13th of April (one month ago!), and the first thing he talked about were his experiences with 1850 in the two weeks we had in the studio.
What was very special for us was the fact that we had two whole weeks (24/7) in the studio. They even had organized a hotel for these two weeks. So we had all the time to compose and rehearse and improvise and whatever in these 14 times 24 hours. But, strange enough, I have no particular musical memories on these recordings.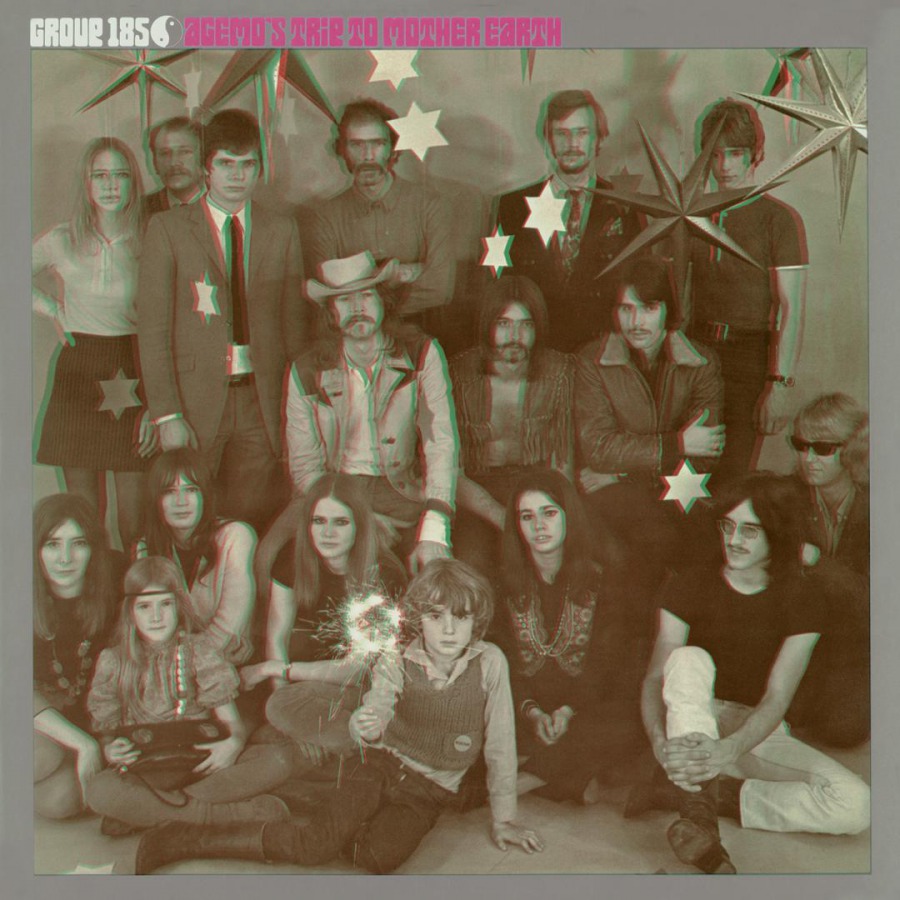 "Peter created all those stories and we played and improvised on his ideas."
Was there a concept behind it? Please share your recollections of the sessions. What were the influences and inspirations for the songs recorded?
The only concept about the LP was, what Peter had figured out, a boy from an other planet who is coming to the earth and what his experiences could be, but it all came out of Peter's mind and just like our single "Mother No Head", what was the reversed title of an old dutch children song and very difficult to explain. Agemo was the reversed title of Omega, had something to do with the old Greeks, Alpha and Omega, the first and the last. But the reality was, that Peter created all those stories and we played and improvised on his ideas. I hope that you understand what I mean. I am trying to tell a very special part of my life.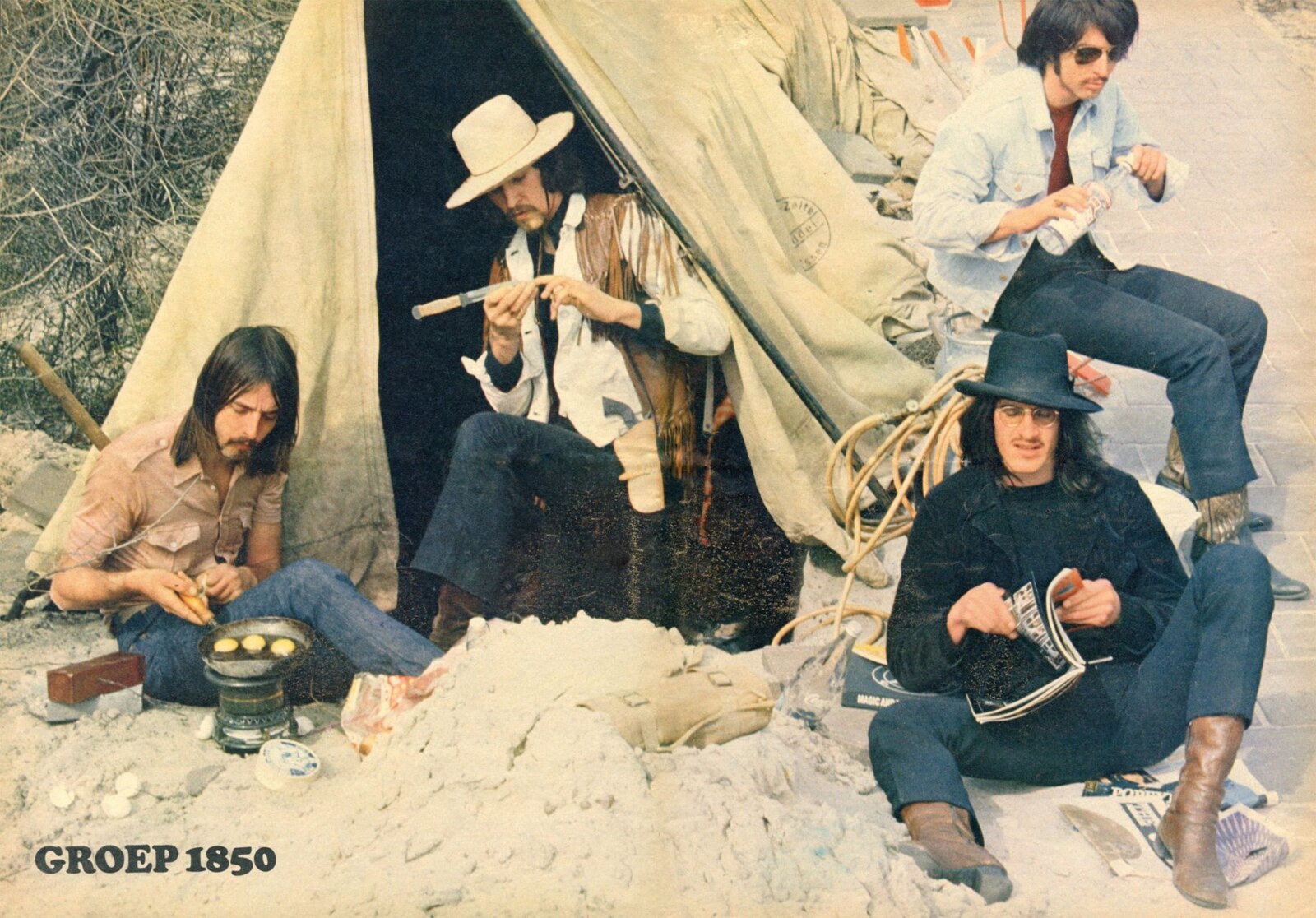 Were you inspired by psychoactive substances like LSD at the time of writing the album?
Yes and no, but that is a story on itself. When I joined the band they were totally clean, not even a beer, but than we met a group of Dutch poets who were a few years older and performed with jazz and poetry, but they wanted to do, Beat and Poetry with us and one of them gave us our first blow and haha, now 55 years later I still like it. But LSD and other psychoactive substances none of us use.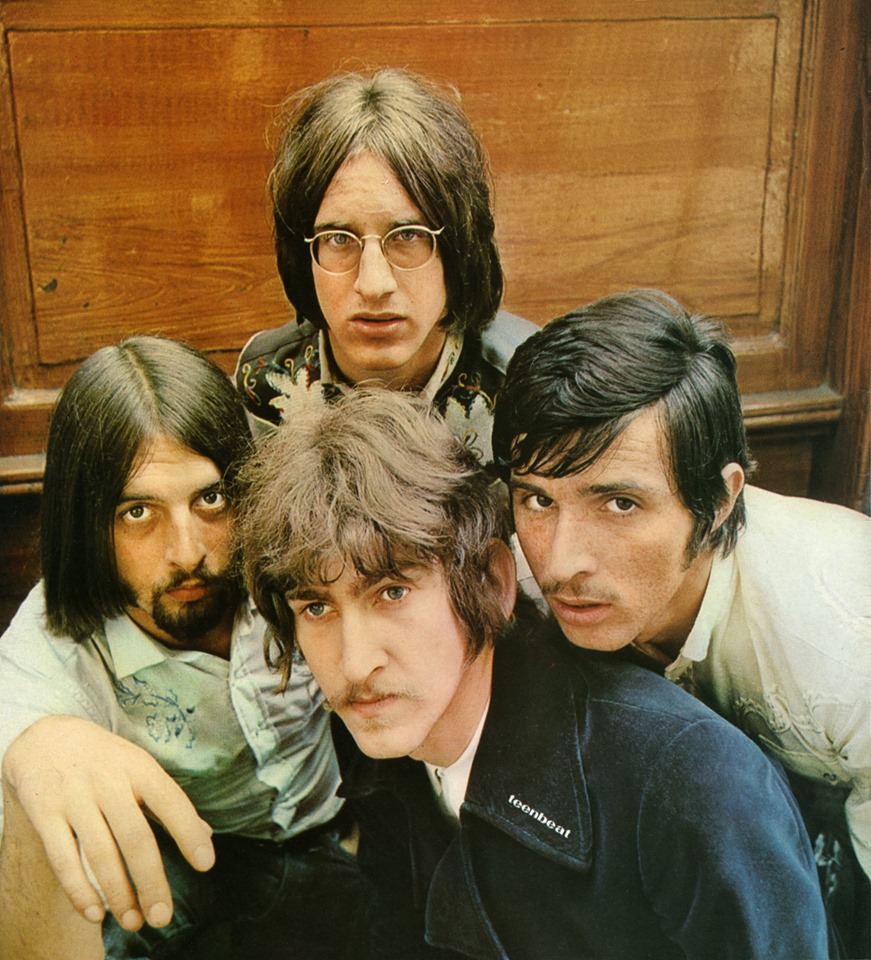 What influenced the band's sound?
Only our own ideas, as I told you earlier, I was influenced by Art Blakey, but the sound of the band had nothing to do with that.
How pleased was the band with the sound of the album? What, if anything, would you like to have been different from the finished product?
When you have two weeks to record an album, you're very happy with it, because you have done everything you could. When listening a few years later there are always things which could be better, but, what is done is done and so is life!
What can you tell us about the revolutionary cover artwork?
The cover of Agemo's Trip To Mother Earth was my idea. Everybody who had worked with us, including their family's are on the cover, because we thought that they all had tribute to that LP.
I also knew that there was only one photographer in Holland in 1968 with a 3D camera, and he made the picture. To see the dept in the photo you need a red/green pair of glasses and with the first releases of the record, that pair of glasses was part of the LP cover.
But I was also responsible for a lot of other artworks.
I had painted my bass drums with psychedelic paintings and for a dutch music magazine (Muziek Parade), I made a drawing about our LP, together with the poet who had very influenced us.
So you see, much of the 1850 artwork came from me, including leather, fringed jackets… I started to make those in the last year that I played with them.
In my next band, Q65 I continued as you can see on Q65 cover.
"The music just came naturally."
Would you describe your relationship with other members? What was the dynamic between songwriting and playing?
I had a very good relationship with everyone, roadies, band members, manager, whatever. There was not a big difference between songwriting and playing, the writing mainly consisted of talking about ideas and later on we all filled it out in our own way. The only thing that really was written was the text, but the music just came naturally, certainly at the time we recorded Agemo's Trip To Mother Earth, we started improvising more and more.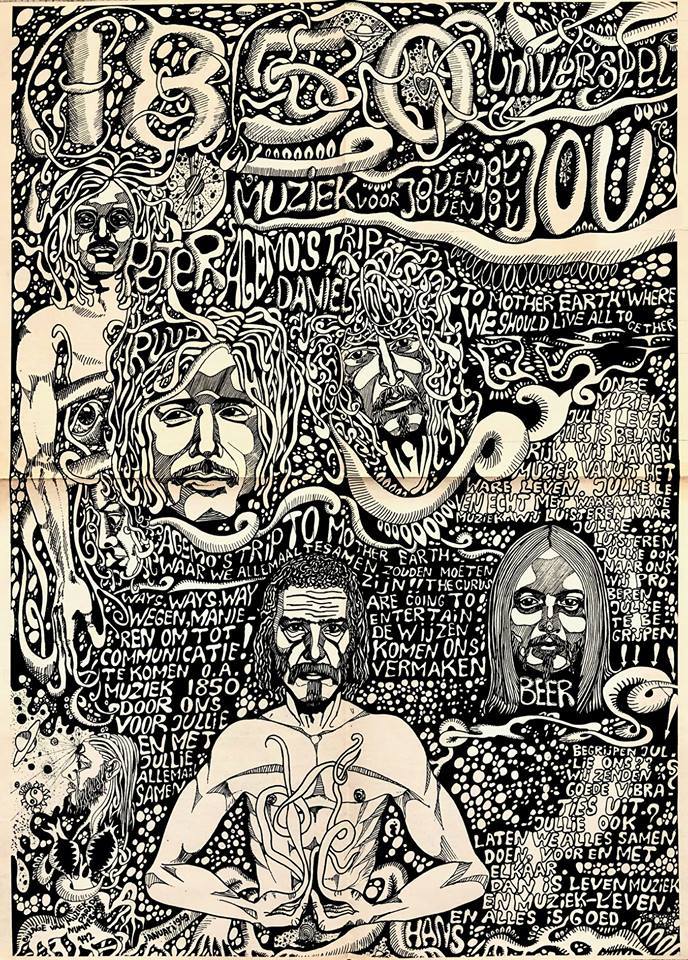 There was barely anyone doing stuff like you did, that includes lot's of fuzz guitar, trippy voice delivery and the drumming is so good! Would you like to comment your drumming technique? Give us some insights on developing your drumming technique.
I will try to explain my way of drumming, as I told you earlier, I tried to imitate the drum solo's from Art Blakey, and occasionally it worked a bit, and because in those days (1964), when rock music started to get popular in Holland and The Hague, I was the only rock drummer who came in "The Marathon"(a very legendary The Hague club), who played solo's, all the other drummers just played with their bands, but when I went to that place, as soon as I came in, they asked me to play a solo. And because of that, several bands were interested in me. But now the development of my drumming, I'll try to explain. I know now after all those years that I maybe did it the wrong way, I never practiced for example on a perfect roll! I practiced on stage during the performances and that's why twice the same song is never the same. For me, playing the drums is a feeling that I felt for the first time when I was 7 years old and I heard a record from my father (Trio Los Paraguayos) and I took two wooden spoons and I tried to play with that music, at the same age there were several military drum bands and they also had a lot of influence on me. When I was 14 in 1958, I heard Art Blakey for the first time in a The Hague coffee bar (not like the coffee shops from these days, haha), and I knew, this is it!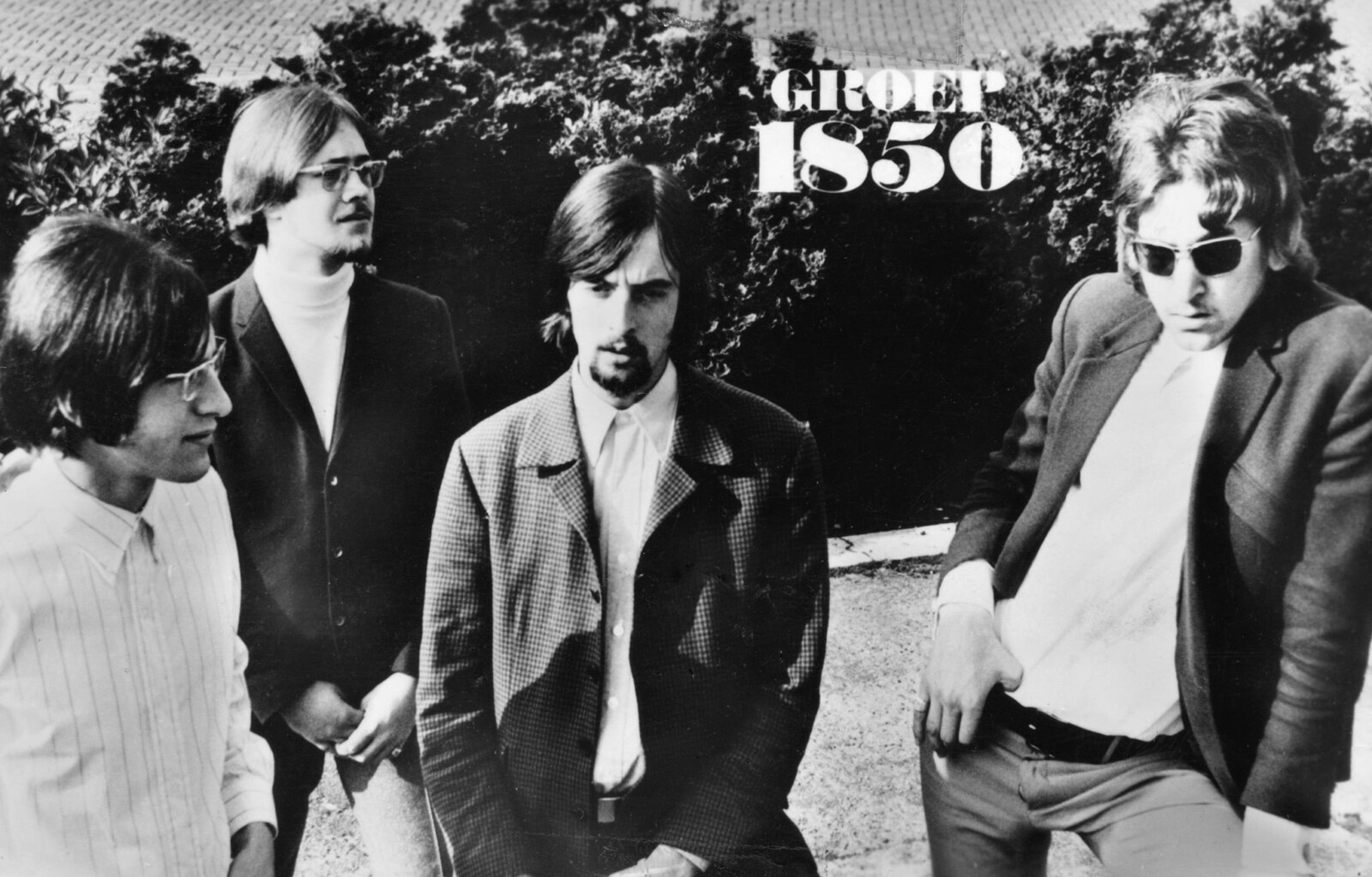 Group's next album, Paradise Now, appeared on the Dutch Discofoon label in 1969. The band disbanded soon afterwards, but was sporadically active through the 1970s. You weren't on the album. What was happening at the time?
Early 1969 after all the success we had with the Agemo's Trip To Mother Earth, we had very few gigs, sometimes one in two weeks, so you also had no money to live from. I knew a dutch singer (Jaques Eckhart) who needed a group to record a single and Dean, Ruud and me decided to make that record with him and we called our self "The Boots". We had no success and Jaques went two months later to Germany to play with a nightclub band. In these period, about 4 months, we did not play with 1850 and I had no contact with Peter. At the same time Peter Sjardin moved to Amsterdam and had met a group in Amsterdam who wanted to play with him. Very good musicians! Dave Duba on guitar, Dolf Geldof on bass and Martin van Duynhoven on drums!!! With them, Peter went on and made Paradise Now. In December 1969 I was asked to play in Q65 and I started a new era. Occasionally, I heard or read things about my former band, but went on and did what I did. The longer I try to remember my past, the more I remember.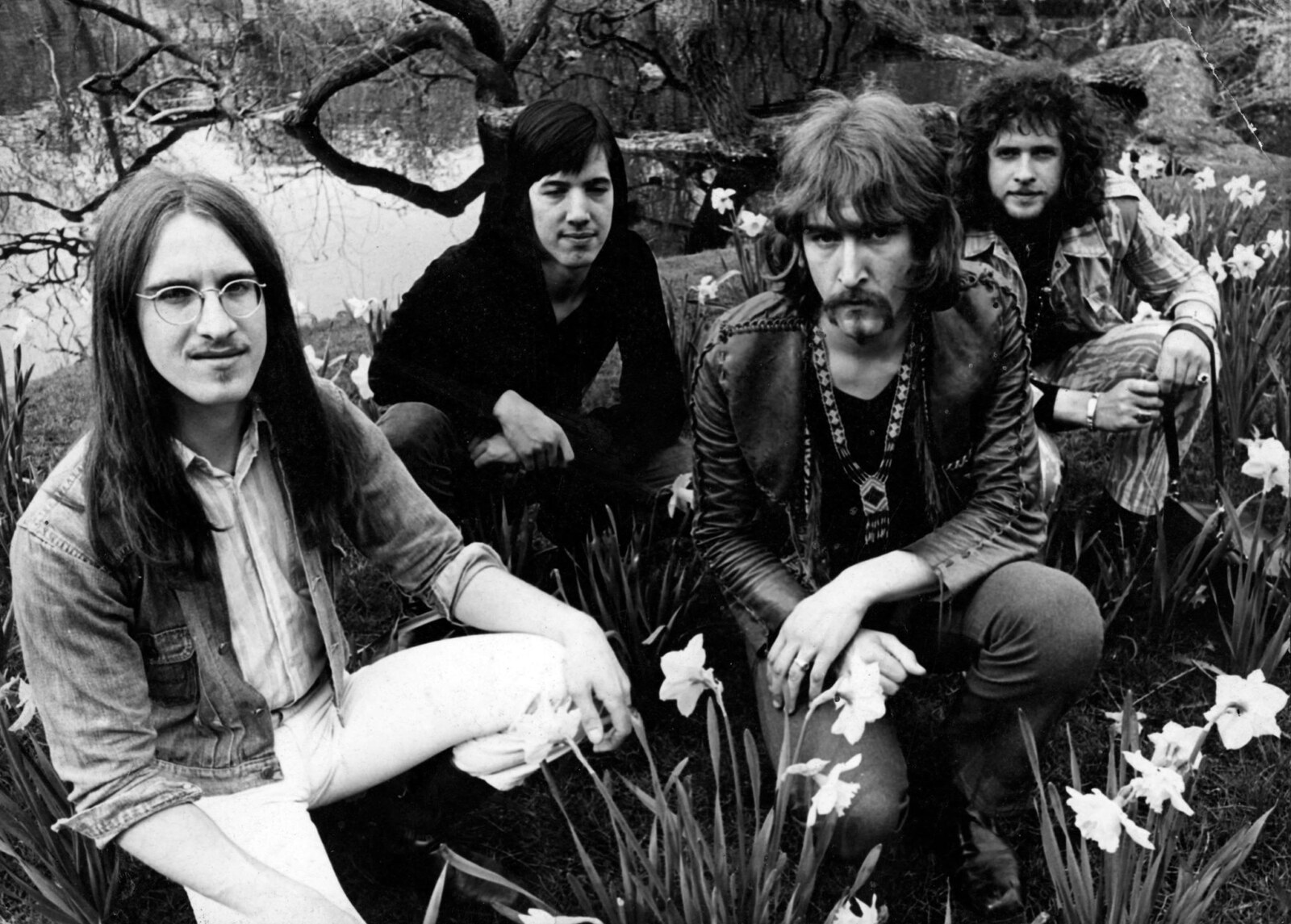 You once said that Peter was quite weird and difficult. He had a strong devotion to music, especially sound, was an obsession to him. Would you mind discussing it?
In my time with 1850 Peter wasn't that weird or difficult, but he did already had that strong devotion with all kinds of musical sounds, that's why he experimented with instruments other groups didn't have, like a Spinet and Timpani. His weirdness became worse in his Amsterdam period, partly by the fact that he started to use more and more liquor and speed.
The only thing we used in the The Hague period was marijuana and hashish (Peter, Dean and I), Robby de Rijke and Ruud van Buuren (the both bass players), never touched anything.
You once opened for Pink Floyd. What do you remember from it? What were some other bands you appeared with?
That's a night I will never forget, shortly after the opening night of Paradiso in Amsterdam on the 30th of March 1968, we were supporting act of Pink Floyd. The dressing rooms in those days were behind the stage down the stairs in the cellar of the building. And while Pink Floyd were performing, we came upstairs and stood on stage two meters behind them watching them. Can you imagine what an experience that was for us?! On that night we were inspired by Pink Floyd and we slowly started to change our music, we started to improvise more since that night and our songs became longer. Unfortunately I have no photos from that night. On the 24th of September 1967 we had another spectacular gig in Amsterdam in "The Concertgebouw". On that night we were supporting act of Frank Zappa and The Mothers of Invention and from that night I do have pictures, as you can see! One year later we supported at "The Concertgebouw" in Amsterdam another special musician. We were the support act for Janis Joplin!!!
Would you mind if I ask you about other bands? You also played with Q65 and Finch.
Q65, totally different band and people as group 1850. They were a blues band and had a few big hits in 1965, like, "You're the Victor", "Ann" and "The Life I Live". In those days every dutch guy had to go to military service at the age of about 19 and, Willem Bieler, the singer, had to go for 18 months in 1967 and the drummer, Jay Baar, went to prison for 3 months, because he had some hashish, so Q65 stopped.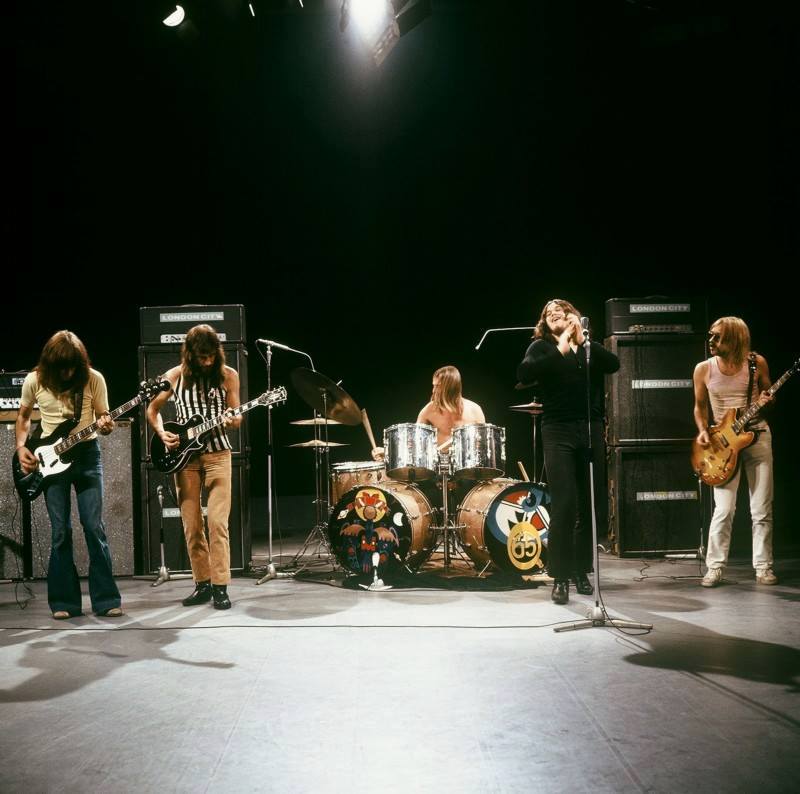 In that period, Frank Nyens, the guitarist, played several months bass guitar with 1850, because Ruud had to keep rest because of a stomach ulcers. When 1850 stopped in 1969, I started to make my fringed jackets and did that together with Frank. In November 1969 he told me that Q65 started to play again and that Jay didn't want to come back, so they asked me, and I played with them from end OF 1969 until 1974 and later from 1984 till 1987. We did not have lots of success in the new formation, because the singer refused to play the hits from 1965 but the people came for these songs. So we stopped in 1973 and Peter Vink and I went on with Joop van Nimwegen, a 19 year old (very good guitarist) we had met and after more than 6 months in a rehearsal room, Finch was born, but that is a story on itself. In 1977, I decided to stop playing drums. From 1984 till 1987 I played again with the Q65, this time with Joop van Nimwegen and we did play the hits from 1965 and had a lot of success until Willem, the singer decided to stop.
What are some of your favorite memories from being member of Group 1850?
I have so many dear memories of 1850 and the boys.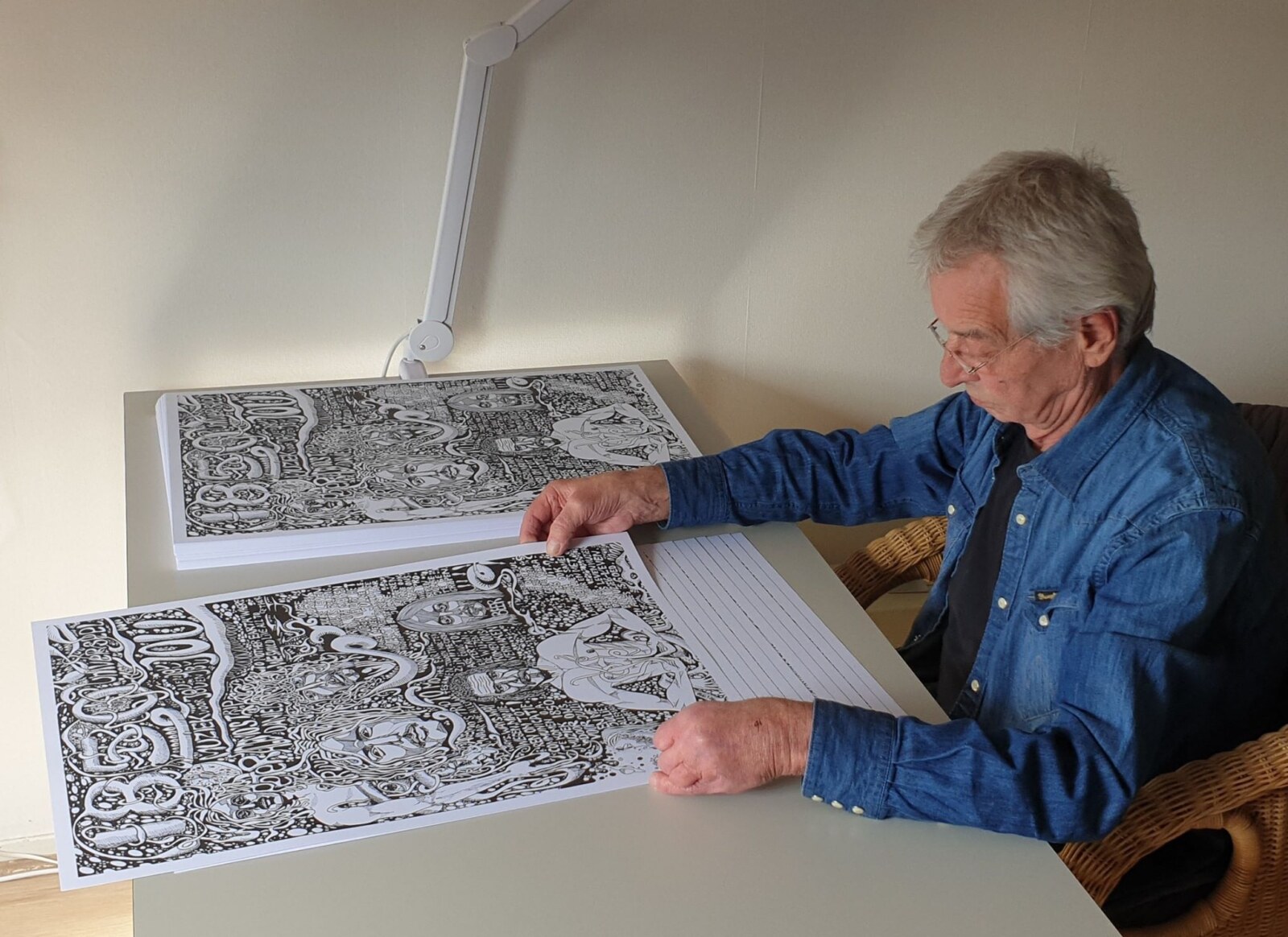 What currently occupies your life?
I am 75 now and all kinds of things are happening around us, for instance, after 50 years, Group 1850 is included in a newly published book "Psychedelia" about 101 iconic underground rock albums from all over the world and we are in it on page 180/181. Our LP Agemo's Trip To Mother Earth, got reissued in a limited edition of 500 pieces, last year and was sold out in one week, so Universal reissued 500 numbered pieces more, also sold out in one week. English magazine, Flashback published an article and Ugly Things, from USA also published an article about us. And now I am answering your questions! It is amazing that so many young people still like our music. They are making a documentary about 1850 and they wanted me behind a drum kit, but after 1987 I did not play the drums, but I tried, while there was filming, my son, Remco recorded that with his telephone…
And furthermore I have 4 kids and 10 grandchildren and they keep me busy, I also like to make long rides on my mountain bike in nature, like from The Hague through the dunes to Zandvoort, about 110 km.
– Klemen Breznikar