Small Faces – 'Ogdens' Nut Gone Flake' (50th Anniversary Edition) (2018)
The final LP from Steve Marriott, Ronnie Lane, Ian McLagan and Kenny Jones has long been considered their masterpiece and how it failed to top the charts and catapult Small Faces into rock superstardom has baffled music lovers and writers ever since its release in 1968.
---
The disappointing sales and overall success of the album was the straw that broke the camel's back and marked the end of the road for the band now considered one of the finest and most important in rock music history. Reissued many times over, record buyers and collectors may easily have overlooked the 2018, 3 CD/1 DVD or 3 LP (red, white and blue vinyl) box sets, or may have skipped picking it up having bought the album many times over in the past. I must admit I had my doubts about the release, but upon listening to its incredible sound and seeing its outstanding packaging this is undoubtedly the definitive version of 'Ogdens'' and has a place in the collection of all fans of 1960's rock, British or otherwise, and documents one of the most important releases of the period.
Discs one and two of this reissue hold no surprises for record buyers, but do contain the best sounding reissues of the mono and stereo releases of 'Ogdens'' ever available, thanks to the meticulous tape restoration and transfer from the analog master tapes by Rob Keyloch and the new remastering by Nick Robbins. The music itself is familiar to music collectors but must be recognized as some of the best songwriting and musical performances of the day, or since, thanks to the incredible songwriting team of Steve Marriott and Ronnie Lane who contributed seven of the LP's twelve tracks as a duo. The band as a whole wrote three of the tunes, with McLagan credited with Marriott and Lane on one track, and McLagan being the sole composer of one song.
'Ogdens'' opens with the heavily phased instrumental title track, credited to the entire quartet and showcasing the band's playing abilities, with strings tastefully added for accent. Marriott's Hammond organ and guitar in particular sparkle. The second track, 'Afterglow' is to many the band's finest hour, posthumously released as a single and stalling at #36 on the UK charts as the band had already announced their disbandment, thus having little support from the group's label, Immediate Records, and there being no one to tour the song upon its release. From its acoustic guitar and handclapping intro, McLagan's keyboards, Marriott's soulful vocals, Jones' driving drums, Lane's steady bass line and eventually Marriott's heavy electric guitar make this tune absolutely unforgettable despite the band dismissing it because of what they considered rather "sophomoric" lyrics. The phasing on the track is tastefully restrained, and would be one of the elements that differentiates the numerous edits and mixes of the track released, especially when comparing the US and UK versions. But, more on that later. McLagan's 'Long Ago And Worlds Apart' is quite a change with Mac's lead vocals, keyboards and guitar work giving the tune its original and unique sound. 'Rene' is filled with Ronnie Lane's influences, from its acoustic, dance hall sound, a hallmark of Lane's solo work. However, Marriott's feedback laden, string bending guitar and Mac's heavy organ are the perfect compliment to Marriott's bluesy harmonica and lead vocals, with the band's versatility and eclectic songwriting being obvious on this four minute gem. 'Song Of A Baker' with its heavy guitar intro by Marriott and Lane's distinctive vocals is a three minute gem, showcasing the group's vocal harmony abilities and its British roots. Marriott supplies an amazing guitar solo that accompanies McLagan's keyboards in carrying the song instrumentally, with Lane and Jones locked in tightly on the bottom end. The song's instrumental coda again shows just how talented this quartet truly was. Side one of the album closes with Marriott's folkish, intimate 'Lazy Sunday' with his acoustic guitar and McLagan's Wurlitzer electric piano fitting Marriott's cockney vocals perfectly. Engineer Glyn Johns adds perfect sound effects to this immaculate side closer. Side two features the band's effort at a concept album, implementing British comedian Stanley Unwin's humor to tie the tracks together. The opening 'Happiness Stan' features harpsichord by McLagan and driving drums by Jones, supplemented by McLagan's swirling Hammond organ, with just the right amount of phasing added to give the track its ethereal texture. Actually the ending to 'Happiness Stan' following some words by Unwin is the hard rocking, rhythm and blues number 'Rollin' Over' which was a staple of Small Faces performances of the day and a harbinger of Marriott's work in Humble Pie. A Jones drum solo is followed in rapid succession by a Marriott guitar solo, making for a snappy two minute, horn accented, British rocker. McLagan aided Marriott and Lane in composing the ethereal, folkish 'The Hungry Intruder' as the band's sound is restrained throughout, with Unwin's spoken words, McLagan's harpsichord and strings giving the tune another unique sound. 'The Journey' features guitar and deeply echoed lead vocals by Lane, following Jones' drum solo intro with McLagan's keyboards and Marriott's insistent bass line integral to the song's sound. A much looser sound than on the LP's other tracks, Lane's stinging guitar is particularly interesting as is McLagan's organ. The album's longest cut at nearly four and a half minutes, 'Mad John' features an extended intro by Unwin, and takes the band back to its folkish side with Marriott's ringing acoustic guitar and Lane's heavy bass line driving the sound. Marriott's soul filled vocals and the gorgeous vocal harmonies as well as McLagan's harpsichord again show Marriott's love of rhythm and blues, music that he would explore more deeply in Humble Pie. The album closes on the feel good, music hall tune 'HappyDaysToyTown' with Billy Nicholls' backing vocals joining the shared lead vocals of Marriott and Lane, Marriott's lead guitar gorgeously restrained, with Jones' drums keeping perfect time, but Marriott contributing a final, short, yet tasteful solo before Unwin's words bring the song and the album to its finish.
There are differences in the edits and nuances between the mono and stereo versions of the album, but this review would run excessively long if those distinctions were to be explored in detail. Suffice to say, disc one contains the mono version while disc two the stereo, both having running times in the thirty eight minute range, and the subtle differences between the two mixes are sufficient to truly warrant the inclusion of both for comparison sake, well beyond simple collectors' and competists' interests. While this is certainly not the first reissue to feature both mixes it could not possibly be the definitive 'Ogdens' Nut Gone Flake' without including both versions. Although this may increase the sets" retail price, it is quite necessary to complete the package as presented in this 50th anniversary edition.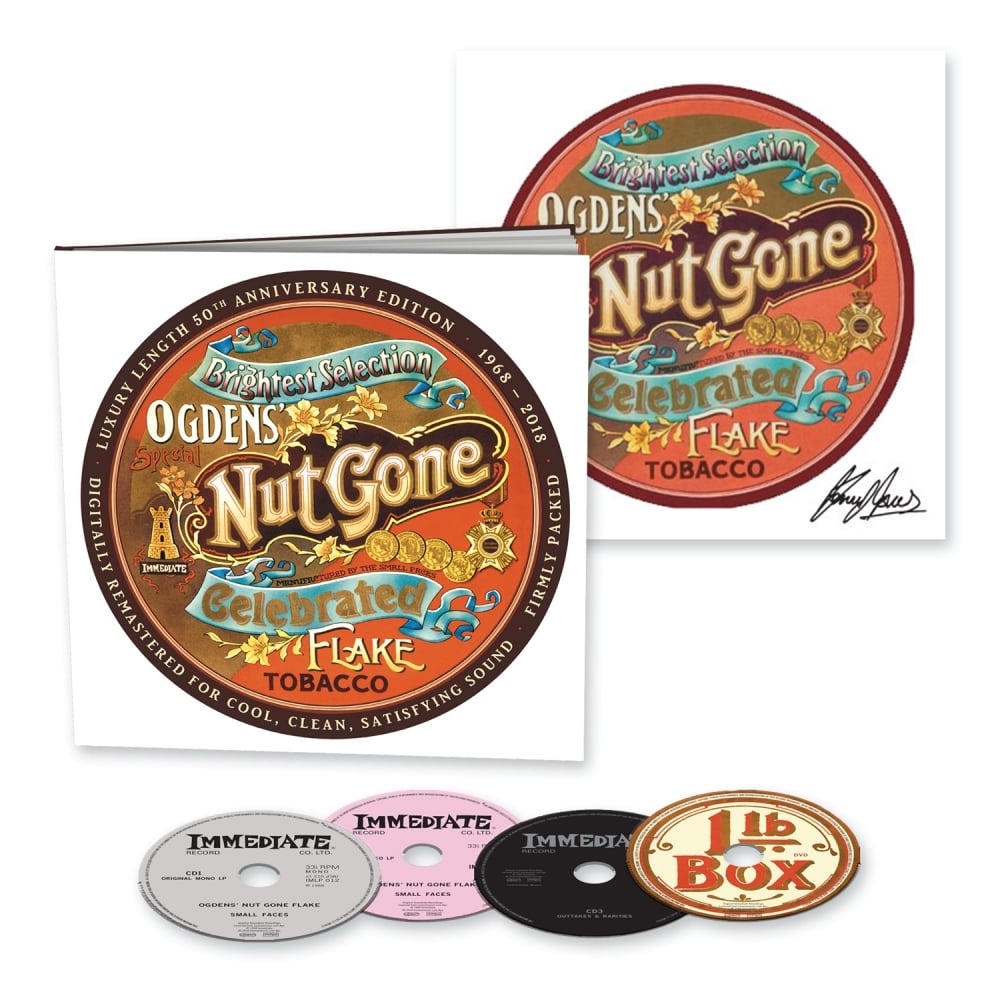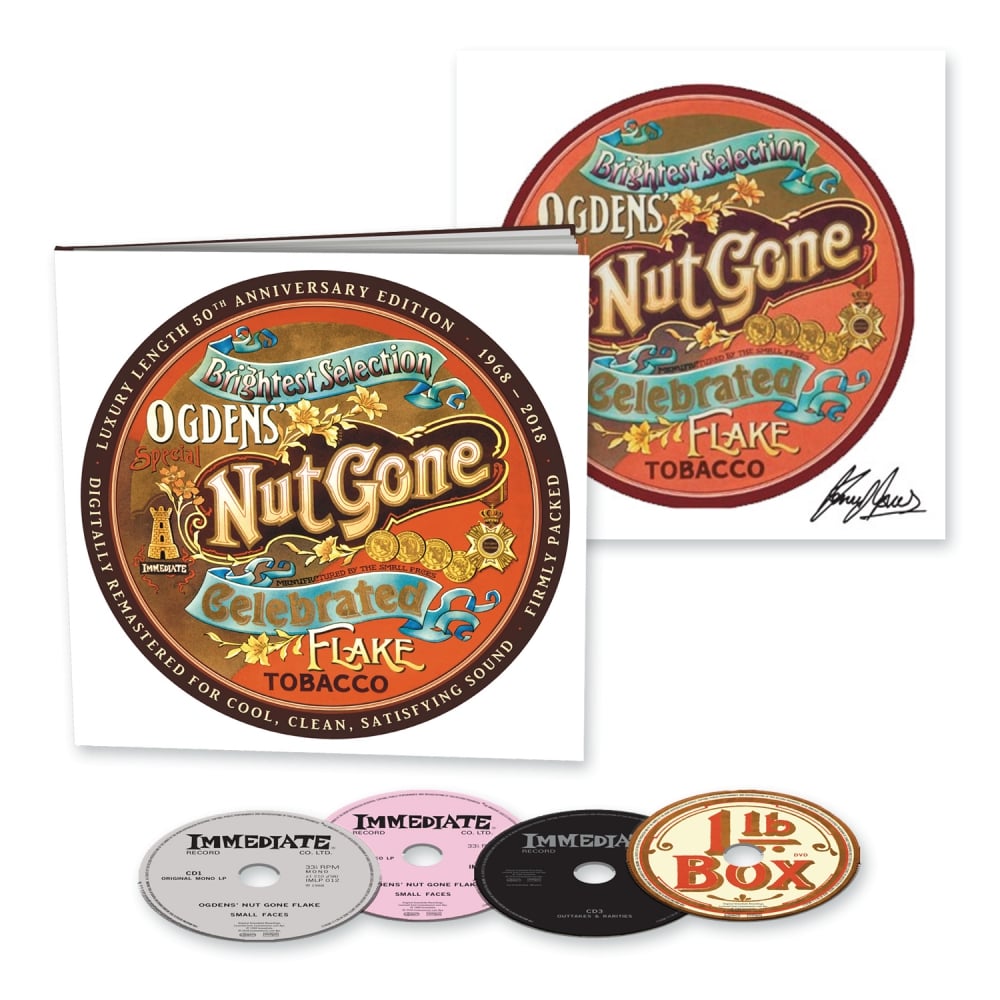 Disc three gathers eighteen outtakes and rarities, some presented in mono, others in stereo, and places all these tracks in one place for the first time ever, another essential element in making this the definitive version of 'Ogdens' Nut Gone Flake.' There are five alternative USA mixes, among them a considerably shortened (nearly thirty seconds), 'Afterglow' which differs greatly from UK mixes with its heavily echoed vocals, an abbreviated (about twenty seconds shorter) edit of the heavy rocking 'Song Of A Baker' with Marriott's guitar solo more prominent, and 'Lazy Sunday' with McLagan's keyboards mixed more to the fore. Also included are early session versions and mixes of five other tracks. Of particular interest are an early version of the album's title track, an early mix of a tune titled 'Bun In The Oven' which would evolve into 'Rollin' Over' with a drum solo from Jones and guitar solo by Marriott joined by a horn section. An extended 'Rene, The Docker's Delight' runs a full thirty seconds longer than the finished 'Rene' and highlights the acoustic guitar prowess and soulful vocals of Marriott as well as the band's gorgeous vocal harmonies. A much shorter, instrumental take on 'Mad John' runs about half as long as the album's finished master, and is an excellent look into a song in the making. An early backing track to 'Happiness Stan' is well over thirty seconds shorter than the finished master and features Eastern sounding guitar by Marriott and harpsichord courtesy of McLagan as well as prominent strings. A two minute instrumental version of 'The Fly' a tune that would not make it onto the finished LP features ringing acoustic guitar work courtesy of Marriott and a bounding, heavy bass line by Lane joined by Jones' perfect tempo keeping drums and gorgeous harpsichord from McLagan. A four minute revisiting of 'Every Little Bit Hurts' finds Marriott in his most soulful mood with McLagan's piano his main accompaniment. 'Kamikhazi' is a just over two minute instrumental led by McLagan's keyboards and Jones' drums that was never finished, but is an excellent example of another work in progress. The backing track to '(If You Think You're) Groovy' finds the group in rhythm and blues mode on a track that the band would back vocalist P.P. Arnold on, the tune becoming her fourth single. Single versions of 'The Journey' and 'Mad John' are included for historical purposes and to make this the definitive version of 'Ogdens''. A particularly interesting alternative version of the album's title track features heavy phasing, giving Marriott's Hammond organ and guitar quite different sounds and are reminiscent of the title track to Jimi Hendrix's debut album 'Are You Experienced.' The other tune on disc three is an alternative mix of the UK stereo single mix of 'Afterglow' which runs nearly thirty seconds longer than the US version found here, and is not phased, giving the tune a totally different feel, not in a bad way, just different, with McLagan's keyboards much more prominent, and a false stop adding to the song's intensity.
The DVD included in the set opens with Immediate Records' promo videos for 'Song Of A Baker' and 'Lazy Sunday' filmed by Peter Whitehead. While obviously lip synching, the first is a wonderful video document of a great band at their high water point, obviously have a good time. The latter video is Steve Marriott hamming it up to the pre-recorded 'Lazy Sunday' making for a most entertaining experience. The DVD and box set close with the six tunes originally broadcast on the BBC's 'Colour Me Pop' on 21 June 1968. The band is in extremely good spirits as they run through a good part of 'Ogdens'' joined by Stanley Unwin adorning a crown and no doubt having the time of his life. The band stands out in its performance of 'Rollin' Over' which rocks hard, and the group's vocal harmonies are gorgeous. After a run through 'The Fly' , takes on two of the band's singles 'The Journey' and 'Mad John' shine. Not only do Small Faces appear to be having a wonderful time, but with so little video of the band available this footage is all the more precious. Marriott's guitar soars through 'The Journey' with the sound echoing to and fro, bounding all about. 'Mad John' features Steve Marriott in his element, performing the blues drenched rhythm and blues music that he loved so dearly. The tune adds a large dash of traditional British folk to the mix, showing just how versatile and talented the band was. The DVD ends with the band in full music hall mode frollicking their way through 'HappyDaysToyTown' laughing and dancing about the stage. If only record buyers had recognized the genius of 'Ogdens' Nut Gone Flake' things may have ended much differently for Small Faces. Alas, it was not to be, with arguably their finest single 'Afterglow' only finding release posthumously, and Marriott heading off to form Humble Pie with Peter Frampton, while the remainder of the band would join forces with Ron Wood and Rod Stewart in Faces. Regardless, this 50th Anniversary Edition of 'Ogdens' Nut Gone Flake' is a most deserved homage to one of the finest rock albums ever released by one of the best rock bands ever, bar none. Available in CD/DVD configuration (reviewed here) from Immediate Records as well as on a 3 LP, red, white and blue vinyl box set from Immediate-Charly Records, either way the purchaser can't go wrong. The differences are that the vinyl edition has three less outtakes, namely the single mixes of 'The Journey' and 'Mad John' and the alternative UK stereo single mix of 'Afterglow' as well as not including the DVD of Immediate promo videos and the BBC 'Colour Me Pop' show.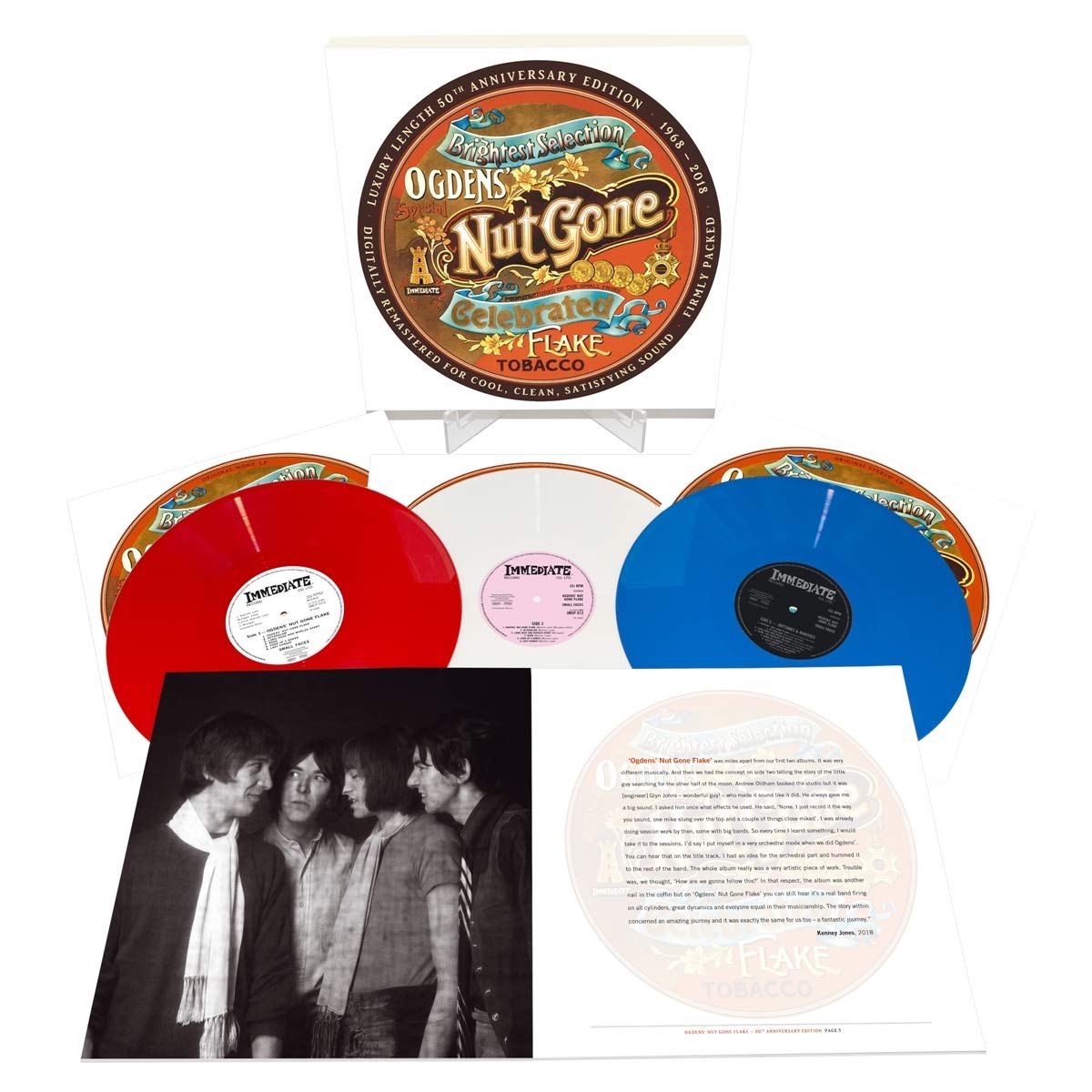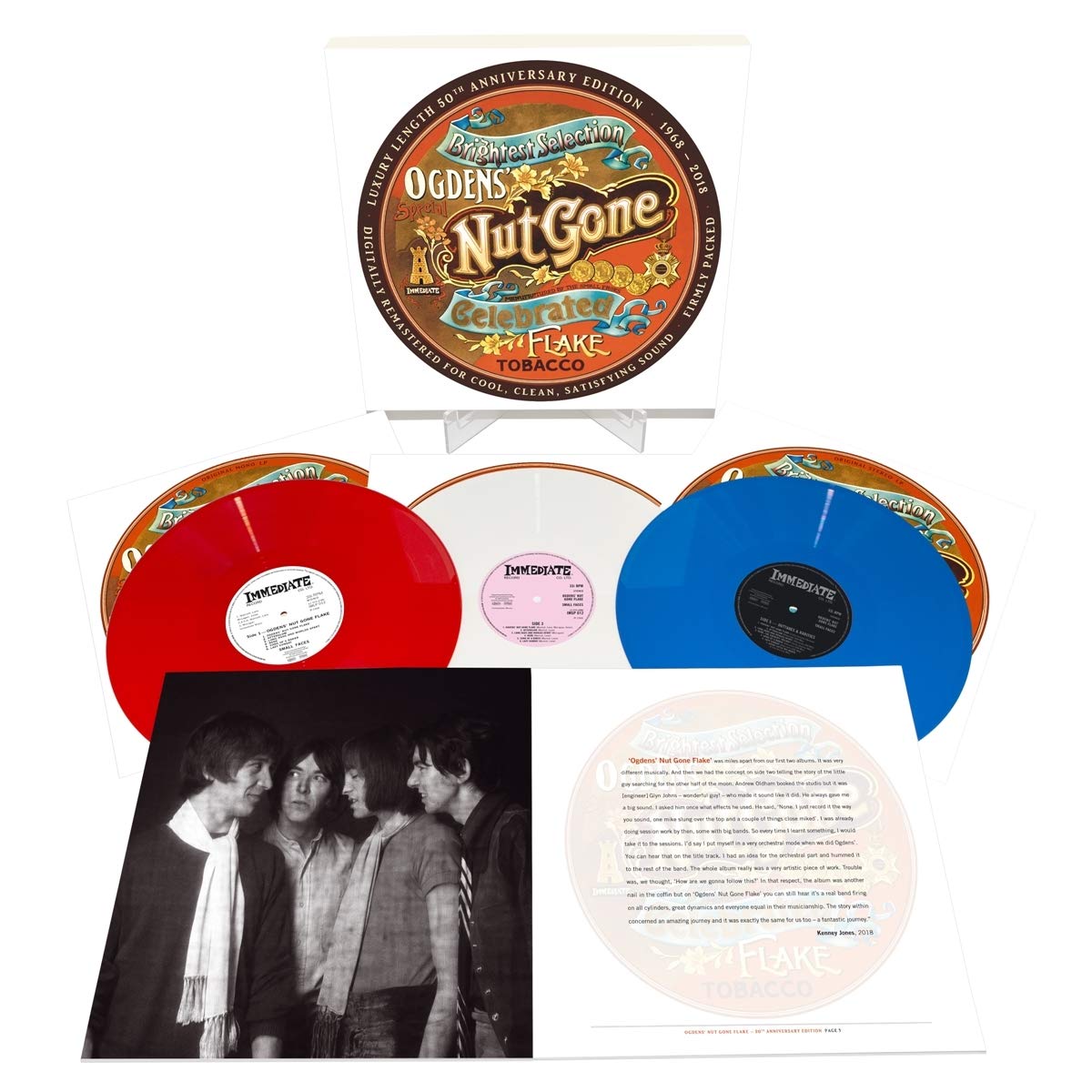 Both the vinyl and CD/DVD versions of '50th Anniversary Edition come with a 72 page hardback book. The book includes an intro by Kenny Jones, the original album credits, full track listings for the album and outtakes & rarities disc, sleeve notes by Mark Paytress, writings regarding the album sleeve concept, the album sleeve artwork, the album sleeve photography, original album labels, album press cuttings, an essay by Kenny Jones, an original Ogdens' press release pamphlet, "Lazy Sunday" memorabilia, 'Mad John' USA single labels, Ogdens' on BBC TV 'Colour Me Pop', 'Afterglow Of Your Love' memorabilia, Small Faces timeline 1964-1969, restoring & remastering a classic-studio R&R with Ogdens' and reissue credits. All in all, an absolutely incredibly tribute to an absolutely incredible album. This box set has a place in the collection of all fans of 1960's rock, 1960's British and mod rock, and psychedelic rock. It comes most highly recommended with the only decision being whether to purchase the red, white and blue LP or CD/DVD version. Either way, you absolutely cannot go wrong.
Small Faces – 'Ogdens' Nut Gone Flake' (50th Anniversary Edition) (Immediate Records, 2018)