Crypt Trip Interview
Texas psychedelic rockers Crypt Trip are on a big upward swing right now having recently finished a European tour and soon heading back in October to play Heavy Psych Sounds Fest, Desertfest, and many other shows in Italy, Slovenia, Denmark, Belgium, France, Spain, Portugal, Switzerland, Austria, and the United Kingdom – see below for full tour schedule. Further supporting their latest album, Haze County, these guys are increasing their fan base one show at a time. In between these two major European tours, guitarist/vocalist Ryan Lee and bassist Sam Bryant spent the previous year touring with the late Roky Erickson in his live backing band on his final tour through the United States.
---
I met up with Ryan and Sam in Austin, Texas at the Roky Erickson Birthday Tribute & Ice Cream Social on July 15th, 2019 – a mere several weeks after his passing at age 71. The event, consisting of local bands playing their favorite Elevators/Roky songs was created to pay homage to a genius and major influence on countless musicians around the world as well as to raise funds for a proposed bronze statue of a young Roky Erickson to be erected in his hometown of Austin, Texas. If anybody deserves to be immortalized in bronze – it is Roky. If any of our readers are in a position to do so, please consider donating to the cause at the following website.
Before listening to the bands and performing themselves, I sat down for a few Lone Stars with Ryan and Sam to discuss the past, present, and future of Crypt Trip and, of course, their time spent on the road with Roky…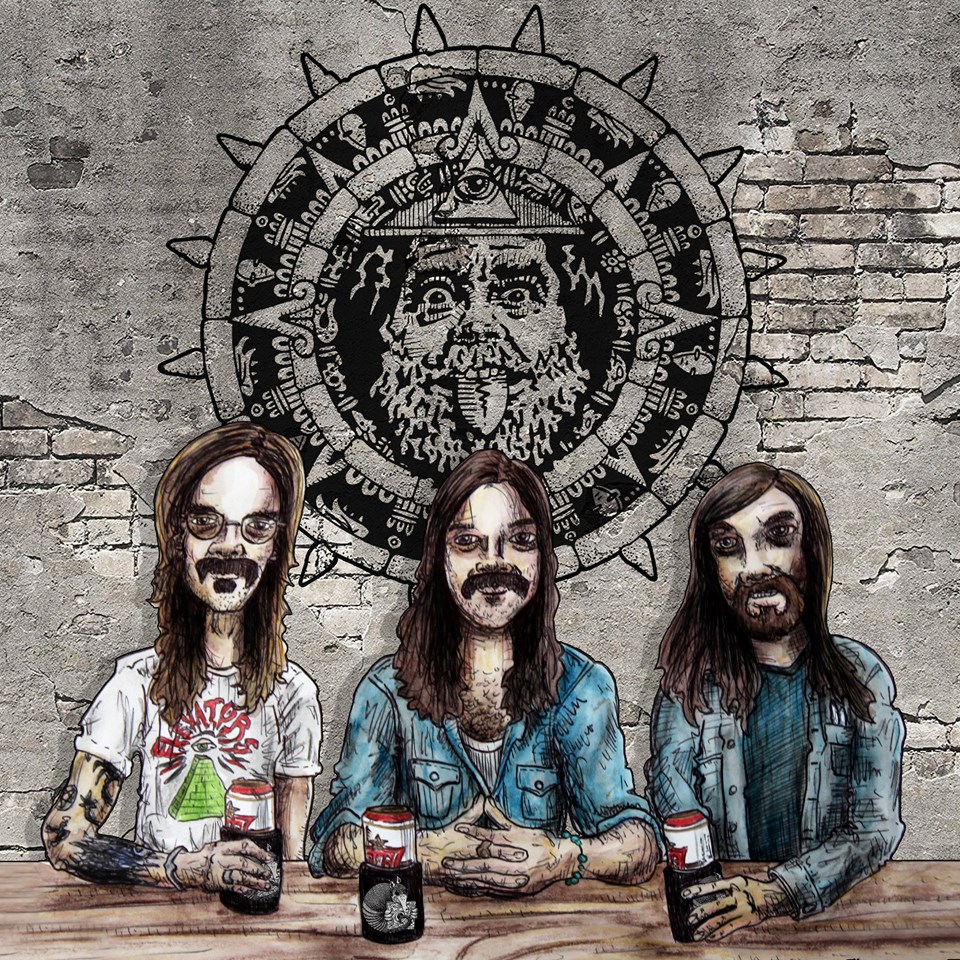 When and where did you guys form?
Ryan: 2013, him (Sam) and our old drummer were in Dallas and I was down here in San Marcos.
Sam: and then, yeah. We did that for a while and then I relocated to San Marcos.
Ryan: and we met our new drummer Cameron (Martin) from New Braunfels.
Sam: We've been playing with Cameron ever since. That is what we have evolved into at this point. That earlier stuff was what people knew us as but time has passed and people are starting to know us more with Cameron at this point. I mean, we have put out two records with him.
You guys are currently with Heavy Psych Sounds Records – how did you get discovered by them?
Sam: We knew of them because of other bands, our friends and stuff, or just knew through playing around and we went through a couple of things with different people and it just didn't work out and finally we talked to them and we worked out something that worked for both of us and here we are. We put out both Haze County and Rootstock with Heavy Psych Sounds.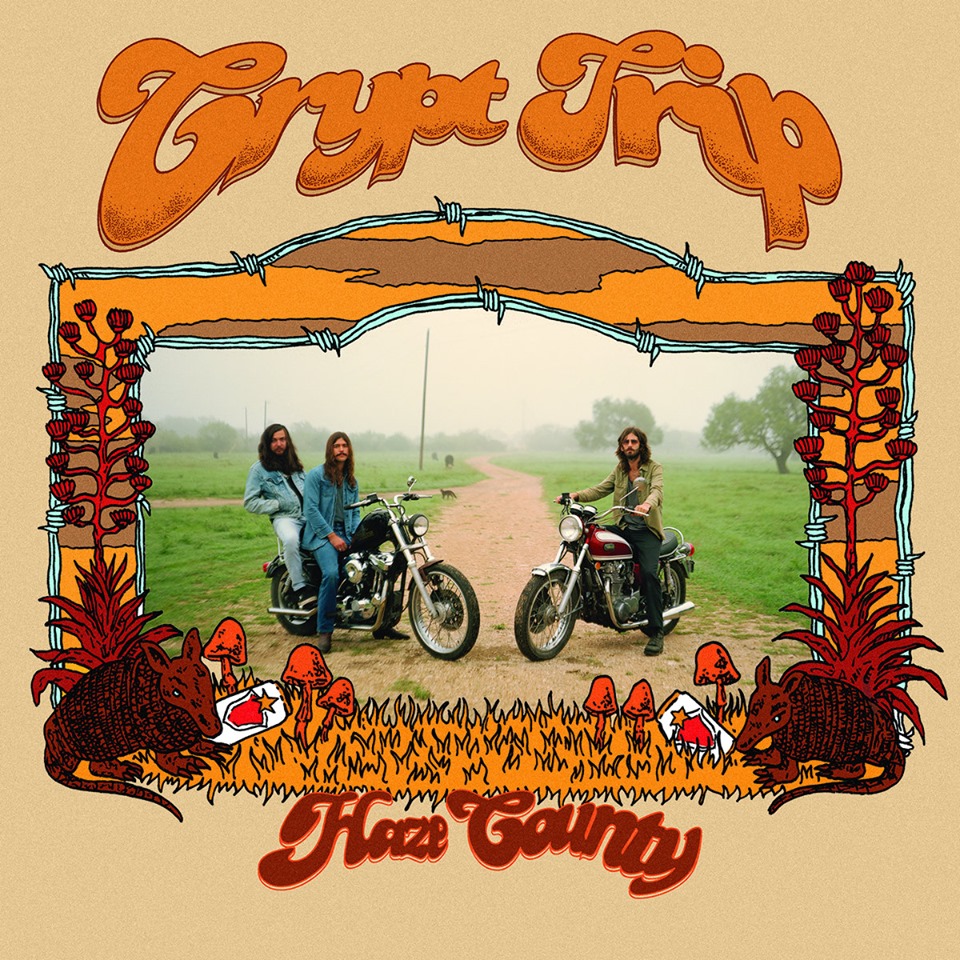 The latest album, Haze County, is a new direction from your earlier heavier work. It seems to have a lot more of a country influence on it and even steel guitar. What led to this change?
Ryan: Yeah, it's just that we have always been really true to ourselves and the things we listen to just pile up and our influences pile up and we are not afraid to incorporate this stuff into our music.
What are some bands/musicians that have a big influence on you?
Sam: Definitely the Byrds. All eras of the Byrds but specifically the early 70s era with Clarence White. Psychedelic country southern rock. The Allman Brothers, Humble Pie, and shit.
Ryan: Doug Sahm. The thing about Doug Sahm is that he wasn't afraid to put many different genres together on his records. That's an influence all in its own. Of course, old rock music. Weird old rock music!
Sam: And the reason we are all here tonight – Roky Erickson.
Ryan: A lot of old German bands as well.
Kraut stuff?
Sam: Not too krauty but the super weird shit like Frumpy. Kinda gypsy.
Ryan: Yeah, intricate song structures that go many places. Just a mix of everything we like.
You guys have been touring Europe and doing a lot of big shows – Heavy Psych Sounds Fest, Roadburn Festival, etc. Any favorite or memorable shows for you?
Sam: Roadburn. There is nothing like that in the world.
Ryan: Roadburn was cool. Being such a big festival, it was an honor to play.
Sam: It was some big stuff for what kind of music was there. Very obscure, mostly experimental. Very experimental shit. I mean, it's not rock at that point and it's more electronic stuff. It was everywhere. Being the odd ones out really helped us a lot there. We contrasted well with that stuff.
So, you had a pretty good response from the crowd?
Sam: Definitely. And it was a big crowd.
Ryan: That was the biggest crowd. That was a big festival. My favorite show was Berlin. We had friends there and influences – Christoph Lindemann, the singer from Kadavar, was there front row.
Sam: Yeah, they have inspired us a lot in the past.
Europe has a lot of different laws from country to country and I was wondering if this ever caused any trouble with police while on tour…
Sam: Yeah, we have a funny story about that. We were driving through the countryside in Germany and our drummer Cameron, of course, had weed on him.
Ryan: Unbeknownst to me…
Sam: Yeah, and we had kind of established at the beginning – no weed (while travelling). We would get it when we are there. And if we don't, it sucks but we are not going to put ourselves out there. Anyways, the one night we decided "hey, we have a ton of weed and we probably won't score some in the next town." We take a couple joints and we get pulled over on kind of a routine stop per say but they saw our Italian plates and it was just an automatic thing. And not exaggerating, there were like 20 German cops in full body gear and they were looking at us with full intent to search everything.
Ryan: So, they pulled us out and individually searched us fairly in depth. It was pretty crazy!
Sam: They strip searched us.
Ryan: Yeah, and Cameron was the only one that had anything that would have got us in trouble. He had it in his socks and he was the only one they didn't ask to take his shoes off.
Sam: I was looking at Cameron's face the whole time just like "damn, dude. I hope he doesn't make a bad face." Yeah, I mean they searched everything and he had them in his socks the whole time.
Ryan: So, we got away and later that night we got a facebook message from a random person saying "hey, you may remember me from the highway today. I just want to say I love your record and I bought it online." And it happened to be one of the police officers. It was the one that didn't search Cameron!
That was a close one!
Ryan: Yeah, that was a crazy afternoon but it was all good.
So, here we are at the Roky Erickson Birthday Tribute and Ice Cream Social! What are you guys planning on playing tonight?
Ryan: Tonight we are going to play two songs that we played with Roky. We are going to play "Starry Eyes" and "White Faces".
Awesome. And you guys were both part of the backing band for Roky on this final tour? What the hell was that like? I mean, amazing, of course, but…
Ryan: Surreal.
Sam: It doesn't feel like we deserved it. It was just so random, you know? I mean, if you go looking for stuff like that you will always come up short. I never would have guessed that such an opportunity would have come up but it's all about who you know and being in the right place at the right time. It could have been anybody that we know that would have been very down like we were. It was me first since I worked with Caleb (Dawson – Roky's drummer) doing landscaping and he asked me to fill in and then starting the tour we needed a rhythm guitar because we had been playing without one and we both jumped on the opportunity.
Ryan: I learned like 25 songs in a week and a half.
Any favorite parts of touring with Roky?
Sam: Halloween, dude! In New York at the Knockdown Center. This old converted factory converted into this events space and major production. There was probably about 6,000 people there.
Ryan: Then there was this time in Washington DC, I remember looking into the backlit crowd and seeing a guy with big crazy hair and his hands up in the air like he was in church. I thought, "Man, that guy is really into this." Then after the show we were behind the venue and Bobby Liebling runs up from behind trying to catch Roky before he left. The crazy hair guy turned out to be him! We regretfully told him that Roky had already gone. He was sad and said that he'd been listening to Roky since he was eleven years old and had been waiting decades to see him. After hearing that, we were totally blown away and arranged for them to meet the next morning at the hotel before we left. That next morning, we were a little skeptical that he would actually show up. However, 15 minutes before we were going to take off, we were waiting in the lobby for Roky to come down, and Bobby walks in with a handful of records. I remember him telling us he was nervous. When Roky came down, Bobby was in awe and extremely respectful. Roky signed every one of his records and they talked for a bit. When we got back in the van, the first thing Roky did was giggle and say "Man, he had a lot of records, huh?" It was one of the coolest things I've ever witnessed. It was such a meaningful meeting just knowing how many people had been inspired by both of them. I was so excited about it I had to write the singer of one of my favorite newer bands, Witchcraft, to tell him what I witnessed. I thought he would really appreciate that, and he did.
What was Roky like? Did you interact with him much? What is hard to communicate with him?
Ryan: We were in a van with him for hours every day. I loved hearing him talk when he did.
Sam: He controlled the conversation flow. You could have a conversation with him but if he didn't want to talk about something he would just ignore it in a very indirect way. He was never confrontational or anything about it but would just say something random and you would just go with it. A lot of people would be really stoked to see him and he'd be like "good to see you" and he would treat everybody like he knew them. His memory was still there. I remember talking to him about Kerrville and them practicing at Stacy Sutherland's dad's house and shit…just one day before a show when we were trying to keep him stimulated before we went on. We were in the green room and he just started going off on shit. But a lot of times Dana (Morris) would just speak for him too.
Ryan: I really enjoyed talking to his wife Dana. I just picked her brain about a lot of the old musicians around Austin. Talked to her about Doug Sahm and Townes Van Zandt and stuff. She knew them personally. They both did.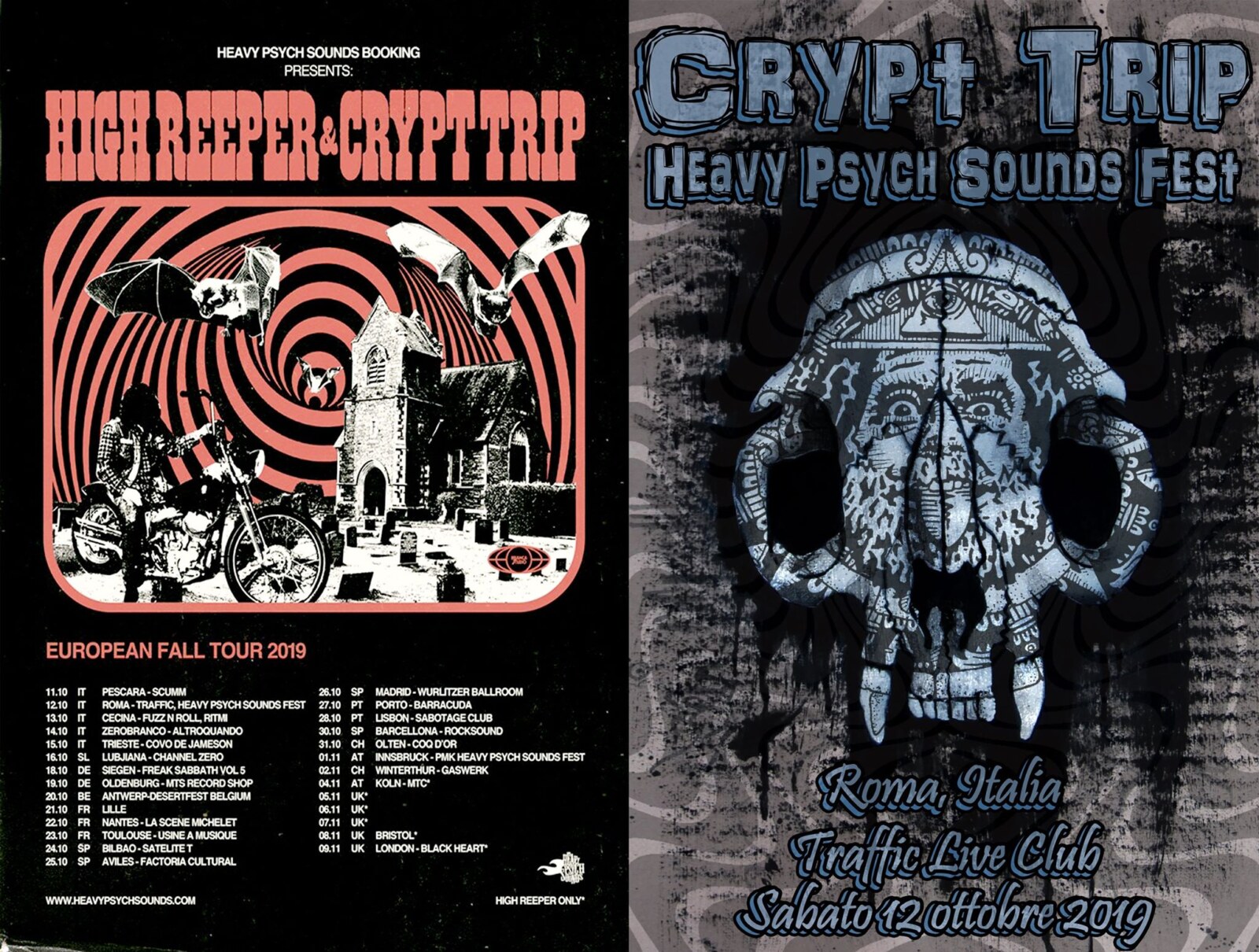 What's next for Crypt Trip?
Ryan: Another European tour. Some of the same places we just visited. We are going to Germany, Slovenia, Italy. The new places we are going are France, Spain, and Portugal. We have never been.
Sam: And we are doing Desertfest in Belgium. Yeah, we are really stoked. Europe has responded really well to what we are doing.
I know you just put out an album but anything new in the near future?
Ryan: We probably have 4 or 5 songs in the works.
Cool – looking forward to hearing it! Any last words for us?
Ryan: I'm really excited about the response everyone has given us. We don't have any plans to stop anytime soon and I hope everybody enjoys the new stuff we are coming up with as well.
Sam: We are just fans and we do it for the same reason everybody else is doing it. We've been so inspired by the kind of stuff that is covered by Psychedelic Baby Magazine. For these later generations to look back and say they really had something there. As much as we want to sound like that too we want to keep it current and there is a way to make it your own no matter what. I mean, we like showing our influences too. Anyway… Texas forever. R-I-P Roky!
Ryan: Love you Roky!
Awesome. Thank you guys so much!
Sam and Ryan were also kind enough to share with us a video recording of one of their final rehearsals with Roky…
Written and Illustrated by
Justin Jackley
August 2019
www.justinjackley.com