A Berry Feast Vol. 6 Sampler
With this line-up, we just couldn't resist doing another Berry Feast compilation. Long story short, here's a sampler with tracks by Eric Arn, Bell Lungs, Bird People, Dora Bleu, Dire Wolves (Just Exactly Perfect Sisters Band), Günter Schlienz, Sky Burrow Tales and THRVS. – Ulrich Rois
---
A Berry Feast Vol. 6 takes place in Vienna September 7 and 8, 2019.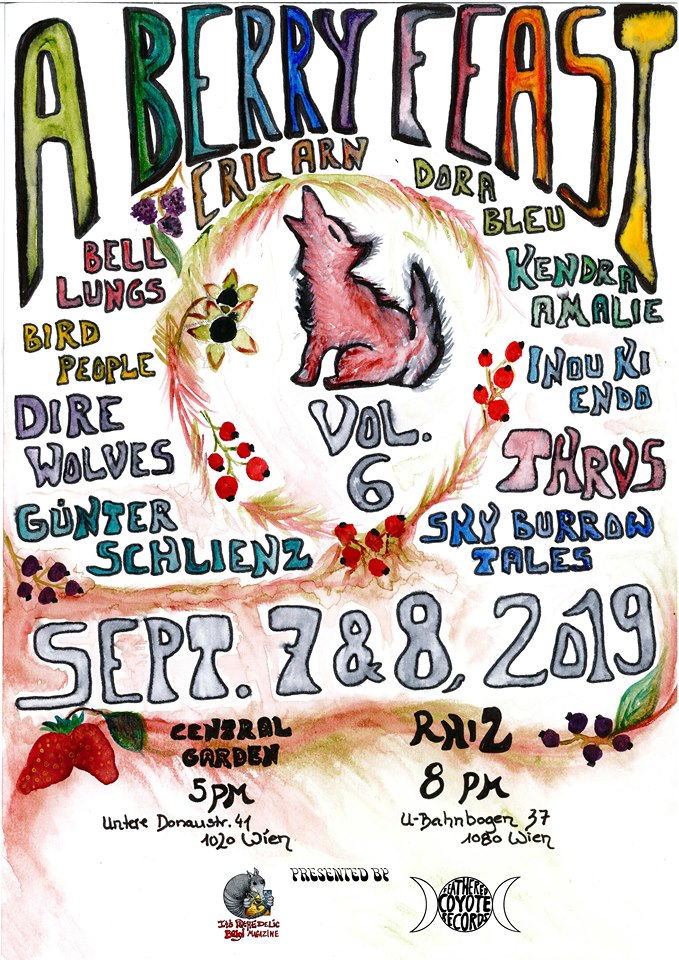 Saturday, September 7 – Central Garden, Vienna
Günter Schlienz
Dora Bleu
THRVS
Sky Burrow Tales
Inou Ki Endo
Sunday, September 8 – Rhiz, Vienna
Dire Wolves (Just Exactly Perfect Sisters Band)
Bird People
Bell Lungs
Eric Arn
All tracks are unreleased and/or exclusive, except Kendra Amalie's "Stay Low", which is about to be released as part of her album "Intuition" on Beyond Beyond Is Beyond Records.
Compiled by Ulrich Rois, cover artwork / Berry Feast poster by Swantje Musa