Thronehammer interview
Thronehammer is an international traditional doom metal project started in about 2012 by Obelyskkh guitarist Stuart Bootsy West a.k.a. Torsten Trautwein. The progress was slow, and split CD with Lord Of Solitude 'Vol.1 – Vampire Bites' (The Church Within Records, 2018) turns to be their first official release.
---
Since 2017 Stuart was accompanie by Tim Schmidt (bass, drums) of well-known Seamount and Naked Star, and it seems that his presence helped to focus Stuart's creative energy and then Kat Shevil Gillham (Blessed Realm, Lucifer's Chalice, Uncoffined and Winds Of Genocide) joins them in 2018 and the wheels start to run faster. The Thronehammer full-length album 'Usurper Of The Oaken Throne' seen the light of day on May 3rd, 2019 through The Church Within, and this crushing, bludgeoning doom has already received positive feedback. We had discussed the band and related questions with Kat.
So let's start from very beginning – Stuart did form the band in about 2012, and as I see Thronehammer didn't succeed as only one demo track appears in the same year. What didn't work with this original line-up?
I guess it just took him some time to find the right members to work with as far as songwriting and recording is concerned and who could also commit to playing live and touring. Things became more active and productive it seems when Tim Schmidt (Seamount, Naked Star etc..) got involved with the writing and recording side of things and also when I finally entered the picture vocally early last year in February 2018, within a month of me joining I was in the studio laying down the first vocal tracks (for the song "Hammer, Stake and Cross" which appears on the split 10″ with Lord of Solitude) and by that point Tim had taken control of playing both the drums and bass in the studio after things hadn't worked out as planned with the other drummer in the studio and him and Stuart West recorded the debut full length album 'Usurper Of The Oaken Throne' musically together VERY quickly, they are a very productive and formidable songwriting and recording team.
Why wasn't Thronehammer just buried after years on slumber? What did make you to continue with Tim who joined in 2017 and Kat who joined in 2018?
Stuart told me that he was determined to see his musical vision with Thronehammer fully realised and not to make similar mistakes that had happened with his former band Obelyskkh as far as just disappearing goes, he is a VERY driven musician and songwriter and was just waiting for the right members to help get the band moving actively after various setbacks. Tim was the first member who could help make his musical vision come to life properly and I followed soon after to complete the core of the recording and writing line up. So determination is the key word when it comes to the continuation of Thronehammer instead of just letting the band fade into musical oblivion.
It seems that new blood has made Thronehammer heart beats again and the band appears with new track on 'Vol.1 – Vampire Bites' split in late 2018. Were you already in a middle of recording full-length album back then?
Yes Stuart and Tim had already started work on the full length when the split track was written/recorded and it was decided that Tim would do the final drum tracking for the album to achieve the strongest result possible, the majority of the album was recorded musically by summer last year with the vocal tracking following in Autumn/Winter 2018, then a last minute extra track was written for the album earlier this year which is "Warhorn" and it only took around 1 and a half weeks from the song being written and recorded and sent to me to the vocal tracking being completed, so that one really shows how productive and fast this line up works together.
All of you have your own bands and they're pretty active. I wonder how do you compose songs since three prolific song-writers met in one place?
Tim and Stuart live very close to each other in Southern Germany, about 45 minutes apart, Tim is based just outside of Würzburg and Stuart lives very close to the city of Nuremberg, Tim has his own studio and recording set up so things can get done VERY quickly and productively due to that. Stuart and Tim are solely focusing on Thronehammer at the moment and my bands are in various states of activity so there is plenty of room/space for the three of us to dedicate time to the band. Stuart comes up with the song titles and then I write the lyrics at home and record the vocals at a local studio here in Durham City. So far everything has worked out fine this way! Each member brings their own talents, creativity and experience into Thronehammer which makes the overall sound what it is.
The Church Within releases Thronehammer's debut full-length album 'Usurper Of The Oaken Throne', and from first spin it seems to be well-thought, solid album. How would you form an idea of the album sound-wise?
Sound wise the album is a crushing epic heavy musical melting pot and mixture of traditional epic doom metal, deathly dark sludge doom and Bathory. Some bands that have definitely played a big part in shaping the sound of the material on the debut album both musically and vocally are Candlemass, Solitude Aeturnus, Goatsnake, Saint Vitus, Trouble, Electric Wizard, Warhorse, Winter, Bathory to name a few significant influences. If you like your doom heavy and crushing but also epic and melodic then Thronehammer is a band you should check out.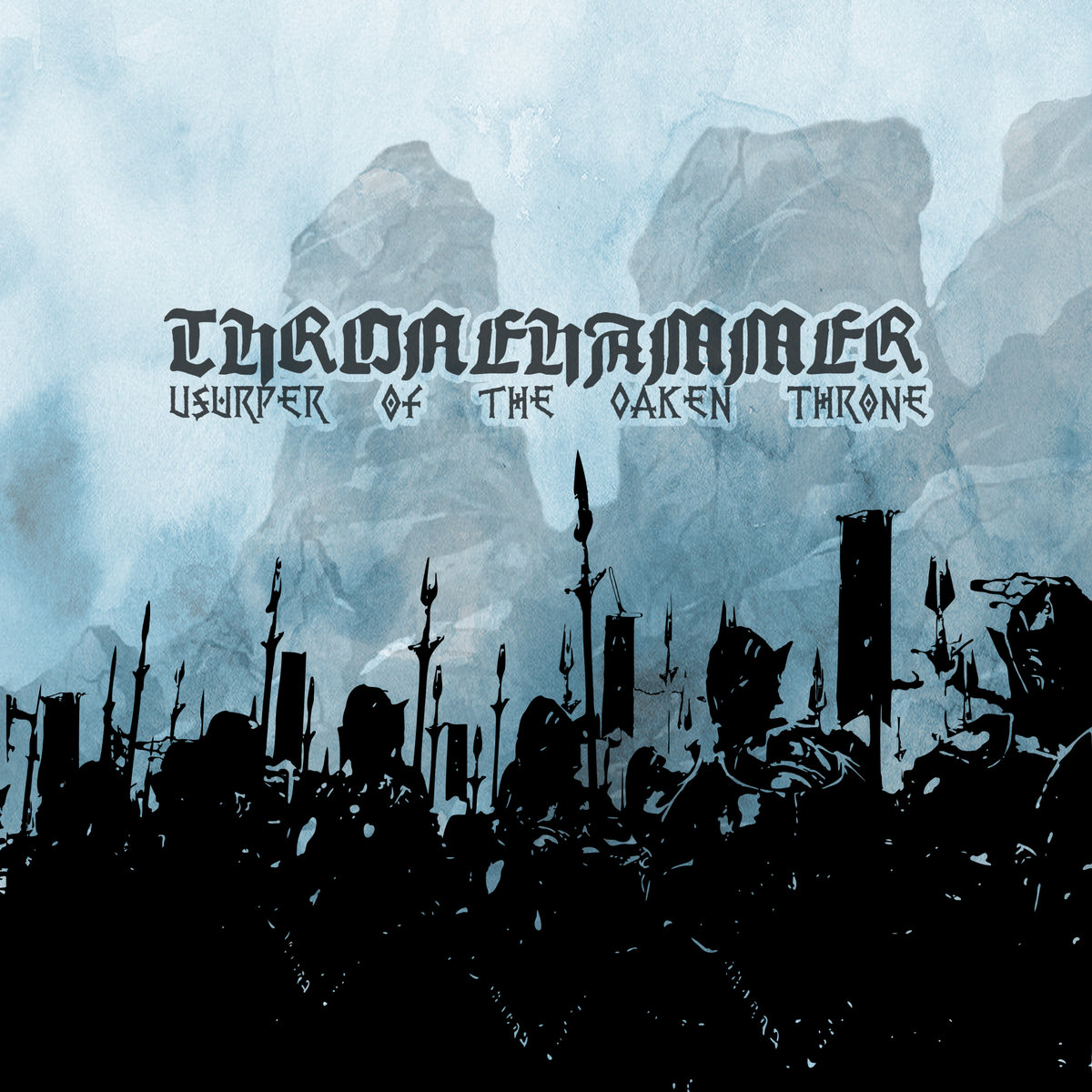 Stuart and Tim are in Germany as you live in UK, did you meet on common ground recording these songs or did you communicate digitally? How was organized album's recording?
Tim and Stuart have known each other for a while, they live in the same part of Germany and they met via the rather close knit German doom scene and I initially met Stuart online via Myspace back in 2006/2007 or so and we were actually going to do a band/project together 10/11 years ago with members of Black Shape Of Nexus and Crowskin but it never happened but we had remained in contact via social media/Facebook and then when Steve (Albino) the original Thronehammer vocalist couldn't continue as a member then Stuart asked me, so that's when I got on board and the communication between myself and Tim/Stuart was done online until a few weeks ago when we finally met each other in person to do a European tour with Church Within Records label mates Lord Vicar, I went out to southern Germany on April 30th for a few days and we did 2 days of rehearsing in Nuremberg before starting the 9 date tour on May 3rd which consisted of 7 shows in Germany, 1 in Poland and 1 in The Netherlands. I had never met the guys in person until then, all of our communication had been done online between Germany and England up until then!
By the way, is Thronehammer a studio project or do you plan to play shows occasionally?
Thronehammer is very much an active live entity, and as I mentioned we have already completed a 9 date European tour with Lord Vicar and we played in Würzburg (D), Weikersheim (D), Karlsruhe (D), Hamburg (D), Szczecin (PL), Berlin (D), Halle (D), Oberhausen (D) and Tilburg (NL). It was a very enjoyable and successful tour and it was great to finally take a bunch of the songs from the studio out onto the stage in front of crowds. The live Thronehammer line up was completed by Markus (Seamount, Naked Star) on bass and Uwe (Absent/Minded) on guitar who are two great musicians to have involved with us onstage! More live shows are currently being planned with this line up. Watch out for more news.
You use synthesizer in this material in pretty accurate way, so this instrument only increases atmosphere of the songs working perfectly with other instruments and Kat's vocals. Was it a plan from a start? What kind of sound did you search during work over the album?
Stuart is responsible for all the synths on the album and used a guitar synth pedal in places live which really enhanced the atmosphere in a live environment too and it definitely adds extra atmosphere to the album and giving it a psych element in places. I dare say that was his plan from the start.
Do you care much about the lyrics? What kind of topics do you see fitting for the band?
Yes, of course. The lyrics are important and I have spent many hours writing and refining the lyrics for the album to make them as strong and fitting as possible. The lyrical topics range from subjects like the power and danger of mother nature and the harshness of the elements and the endless cycle of life and death and raging storms to bloody battles on mountainsides and in epic landscapes where armies fight to the death for days until one side wins, the main lyrical themes are war and death.
How do you see Thronehammer's prospects? How are you serious consider the band's status?
So far the response to our album and to the band live and in general has been amazing and very positive and it makes us more inspired to take this band further, so expect more recordings and live shows, we have came to slay!. Be prepared to be crushed and doomed by the Thronehammer!. Thanks for the interest Aleksey!
– Aleksey Evdokimov
https://thronehammer-cwr.bandcamp.com/
https://www.facebook.com/THRONEHAMMER/