From The Vault: Lee Michaels – 'Recital' (1968)
A big, demanding voice seeping with melody, combined with crafty keyboard exercises were prime factors engraved in the songs of Lee Michaels. Prior to adopting such a stance, the Southern California based musician held membership in a surf rock band called the Sentinals, trailed by stints with the Joel Scott Hill Group and the Family Tree. Leaving the band thing behind, Lee launched a solo career that parented a string of fine albums.
---
Powered by limitless energy and imagination, Lee's second album, Recital taps into his multiple talents from track to track. Along with piano and Hammond organ, Lee also plays guitar and harpsichord, while his songwriting is strong and expressive. A crack band further contributes their mojo to the disc. Noted session musician Larry Knechtel handles bass, and both John Barbata (the Turtles, Jefferson Airplane) and Frank Davis supply drum duties.
The first song on the album, "If I Lose You"  radiates with harmonious motions shaped of punchy hooks, digging rhythms and a soul-inflected swagger. As an incentive, former Paul Revere and the Raiders guitarist adds a run of steamy licks to the cut. Beginning on mid-tempo footing, "The War" eventually develops into a muscular force of intensity. A tasty blend of driving harpsichord and organ flourishes accent the folky angst of "Basic Knowledge," where "Spare Change" starts out on a funky feel before turning into an ear-splitting experimental endeavor pulsating with pounding keyboard passages tinted with classical leanings.
Composed of catchy arrangements and stirring instrumentation, "Time Is Over," "Blind" and "Grocery Soldier" weigh in as other excellent songs featured on the record. An exciting listen from side to side, Recital captures Lee at the peak of his presence. His ability to incorporate rock, pop, blues and soul into a progressive soundscape remains stunning.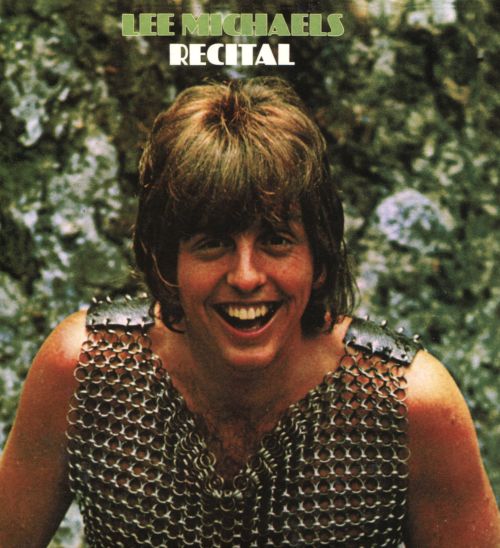 Although Lee's music swayed more towards the underground edge of the spectrum, he managed to score a pair of hit singles during the latter days of 1971. "Do You Know What I Mean" reached number six on the charts that autumn, followed by a cool cover of Marvin Gaye's "Can I Get A Witness," which made it to the number thirty-nine position. But after that, his profile waned and he soon disappeared from the scene altogether. An artist ripe for rediscovery, Lee Michaels truly commands the recognition he deserves. And Recital proves to be just one of his many masterstrokes. – Beverly Paterson
Lee Michaels – 'Recital' (A&M Records, 1968)