Mandrake Paddle Steamer interview
Mandrake Paddle Steamer were a British psychedelic/progressive rock band. Guerssen Records recently issued previously unreleased recordings from 1968-70. Pure late 60s UK psychedelic sound with early prog moves, plenty of Hammond and fuzzed out guitar, powerful vocals. Formed in 1967 in Walthamstow (London) by a core of art school students, their members were Brian Engel, Martin Briley, Paula Riordan, Martin Hooker and Barry Nightingale (later replaced by David Potts). During their short lifespan (1967–1970), Mandrake Paddle Steamer supported big names like Pink Floyd, The Nice or Vanilla Fudge.
---
Signed to the Parlophone label (though the band was aiming to be part of the more progressive Harvest imprint), they released "Strange Walking Man" single, recorded at Abbey Road and now widely considered a lost British psychedelic classic. Due to lack of promotion and interest from their record label, the 45 went nowhere. After some line–up changes and shortening their name to just Mandrake, the band definitively split in 1970.
Can you elaborate on the formation of Mandrake Paddle Steamer?
Brian Engel: Martin Briley and I were at Art School together, in the sixties (along with almost everybody else in the music business it seems). We were at the prestigious and cool Walthamstow Art School, where Peter Blake taught and Ian Dury was a fellow student. It was one of those Art Schools which was at the forefront of burgeoning College music scene and there were many major bands who appeared at the College. Pink Floyd, Deep Purple, Rod Stewart etc.
As we began to immerse ourselves in what would become the new 1966/67 'progressive' music scene (spearheaded by the Beatles) we both felt that there should be a more creative and artistically rewarding vehicle, where art and music could meet.
Paula Riordan: Well as I was the 'last member' to join the original 5 piece I can't really answer this question, although at the time I was playing in a couple of cover bands doing chart and classic tunes that were current in the mid '60s. Which I guess was good background to join a band that were doing all original material.
Martin Briley: By the time I got to art school at 17 I was on the lookout for what might be suitable band members. This was the sixties, new music and new bands were everywhere, and I was quite aware that a lot of my current musical heroes, Pete Townshend, Eric Clapton, John Lennon, etc., had all 'done a little time' at art school. Consequently record labels were now sending their talent scouts (if such a thing actually exists) to art schools to find the next big thing.
As I've joked occasionally, I headed to art school expecting to get a diploma, or a record deal, or both. So it was there, when I started my second year, that I met Brian Engel. We seemed to have a similar amount of experience playing in bands, and we both had a LOT of ideas.
Originally Brian played bass, I think it was covered in fur. All the best instruments are! Together we built a monstrous bass speaker cabinet, then realized it was so big it was the ONLY thing that would fit in my dad's little van.
I'm really a bit foggy about this part, but having decided Brian was more the frontman type, we began our search for a real bass player. That's when we found Paul Riordan (now Paula), who was working in a design studio, our keyboard player Martin Hooker, who was playing in a soul band and looked like a bit of a thug the first time we saw him, and our drummer Barry Nightingale, whose dad had a garage in which we could rehearse.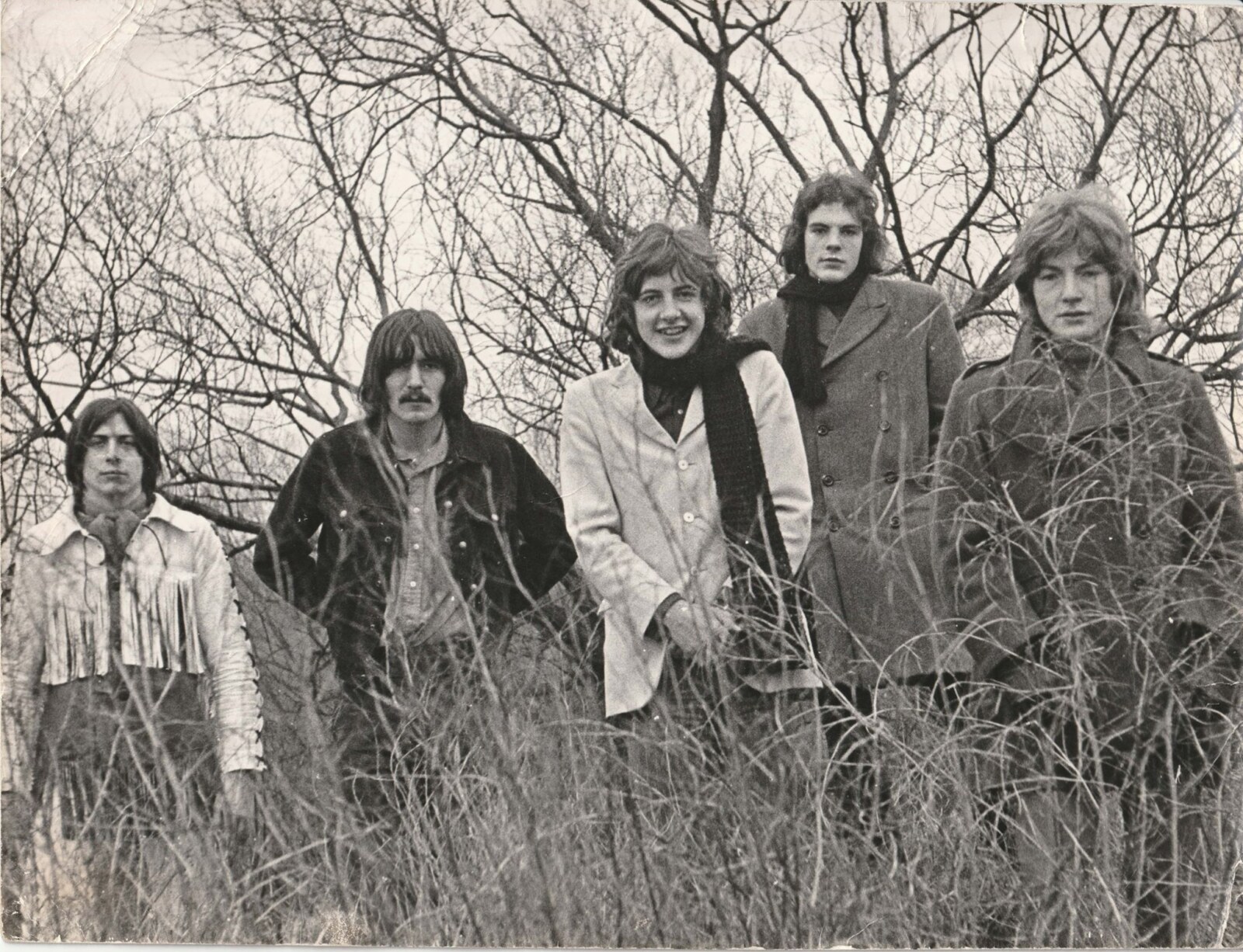 How did you decide to use the name 'Mandrake Paddle Steamer'?
Brian Engel: Well it was the era of strange, juxtaposed names like Jefferson Airplane, Moby Grape, Iron Butterfly. You found an irrelevant adjective and linked it up with a noun, hopefully in a distinctive non-sequitur. Like Cloud Submarine or Barbed Wire Cushion; that sort of thing. It was Martin who thought up the name. There was a comic character called Mandrake The Magician and, as he'd always liked Paddle Steamers, he thought why not?
Paula Riordan: The band were call Mandrake Paddle Steamer – when I joined – I think it was a name that Martin Briley and Brian conjured up.
Martin Briley: A few years earlier, while at high school, I half-wrote a song that had the lyric 'beautiful dreamer, paddle steamer'. Back then, bands, especially in the US, were calling themselves all kinds of weird things. Up until this time, bands, or groups as we called them then, were always called The Somethings, or Ricky Something and the Somethings. Suddenly we had the Exploding Plastic Inevitable, Grateful Dead, the Mothers of Invention. So, to add a little mystery, I put Mandrake on the front, and there it was, MANDRAKE PADDLE STEAMER. Not, THE Mandrake Paddle Steamer by the way.
"We though that, if your graphic imagery contained planets and unicorns and Apache Indian rock paintings, the music ought to have at least something to do with those things."
What influenced the band's sound?
Brian Engel: Well, the short answer was nothing, really. At least, nothing ostensibly. Sub consciously, we may have been influenced by others but we set out to try and be completely different. We were obviously influenced instrumentally by early Pink Floyd in that we had a Farfisa organ and we used the standard guitar bass and drums format, but apart from that we wanted to be unique. Everyone else was writing songs about love and peace and, if not that, then little gnomes and Hobbits and tea on the lawn with Aslan.
We wanted something different.
We were all intrigued by the bands who had interesting cover art on their albums. Especially those from America. You got fabulous graphics, wonderful posters and album covers, in the post Rubber Soul 'psychedelic' mode, hinting at all sorts of strange and wonderful new music contained therein. However, what it often turned out to be was just some old blues band or jazz fusion group from Sacramento which, up to six weeks previously, had been called The Sancho Ramirez Sound who simply donned fantasy frizz wigs for a publicity photo and changed their name to Intergalactic Motorcade. The music was still the same old boredom; some twit singing "get it on baby, in my automobile" but with some tabla and sitar sounds over it. We though that, if your graphic imagery contained planets and unicorns and Apache Indian rock paintings, the music ought to have at least something to do with those things. Just putting a ten-minute drum and LA percussion solo in the middle of a twelve bar about whiskey didn't make it 'psychedelic' or 'progressive'. It made it boring. Or then again, in the UK, there was a tendency for bands to turn to old standards with a rigid but recognisable format, like "Summertime" or "Hit the Road Jack" and let a crazed guitar player loose for half an hour rubbing an electric fan up and down the frets hoping that something would come out of it, while the rest of the band strummed and bashed diligently away, trying to sound committed, or even interested.
Paula Riordan: I think that we were fed up of other bands either jumping on the psychedelic band wagon – Mandrake Paddle Steamer were just writing tunes that happen to fit into the psychedelic/progressive rock scene. So we never changed our style to suit we just wrote and played what were liked.
Martin Briley: Well, in the beginning, Brian and I would take some inspiration from the American writer, Ray Bradbury. 'Pandemonium Shadow Show' and 'October Country' are full of Bradbury-esque words and ideas. Also Brian was a big fan of Viking mythology, "Senlac Lament" came from that.
So lyrically, we wanted some excitement, no boring old 'moon and june' stuff. Not much in the way of love songs either. Musically, I assume I was influenced by the few records I could afford to buy. Chronologically, the Shadows, Ray Charles, the Beatles, Bob Dylan, Nina Simone, Cream, Hendrix, Pink Floyd, the Nice, Yes. While at art school I had experimented with LSD (when you're an art student you can call it 'experimenting'), and I remember in the band's early days we would do extended, private performances of what would today be called sound design, very much in the style of Pink Floyd's first album.
None of that was ever recorded.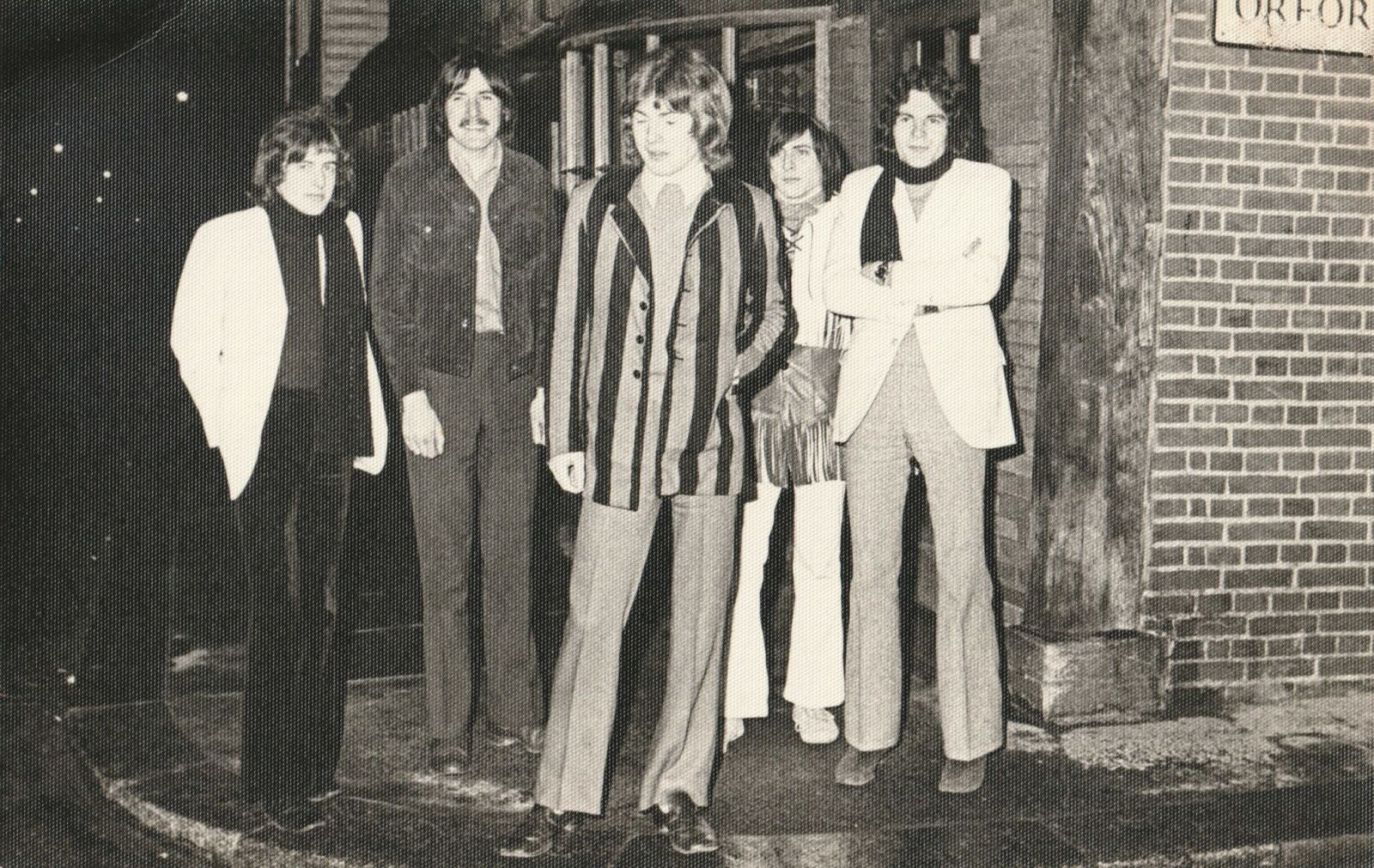 Were you in any bands prior to the formation of Mandrake Paddle Steamer?
Brian Engel: Both Martin and I were in separate bands. I had been with a group who were backing the veteran British rocker Heinz, with his Eddie Cochran tribute.
Martin found the keyboard player, Martin Hooker in a local soul band. Martin H was looking for something a bit more creative than Wilson Picket… Paula was working in a design studio in Goodge street. Can't remember how we first met. Through an advert placed by Martin, I think.
Who knows where drummers come from, but we got one.
Paula Riordan: I was in a few bands; a blues band, a soul band, and a pop covers band… I was doing my apprenticeship as a musician and found use for all of those styles within Mandrake Paddle Steamer.
Martin Briley: My first band, the Tridents, was when I was only 13. I was the only one who could play. We knew just two songs, so we'd play them over and over until they asked us to stop.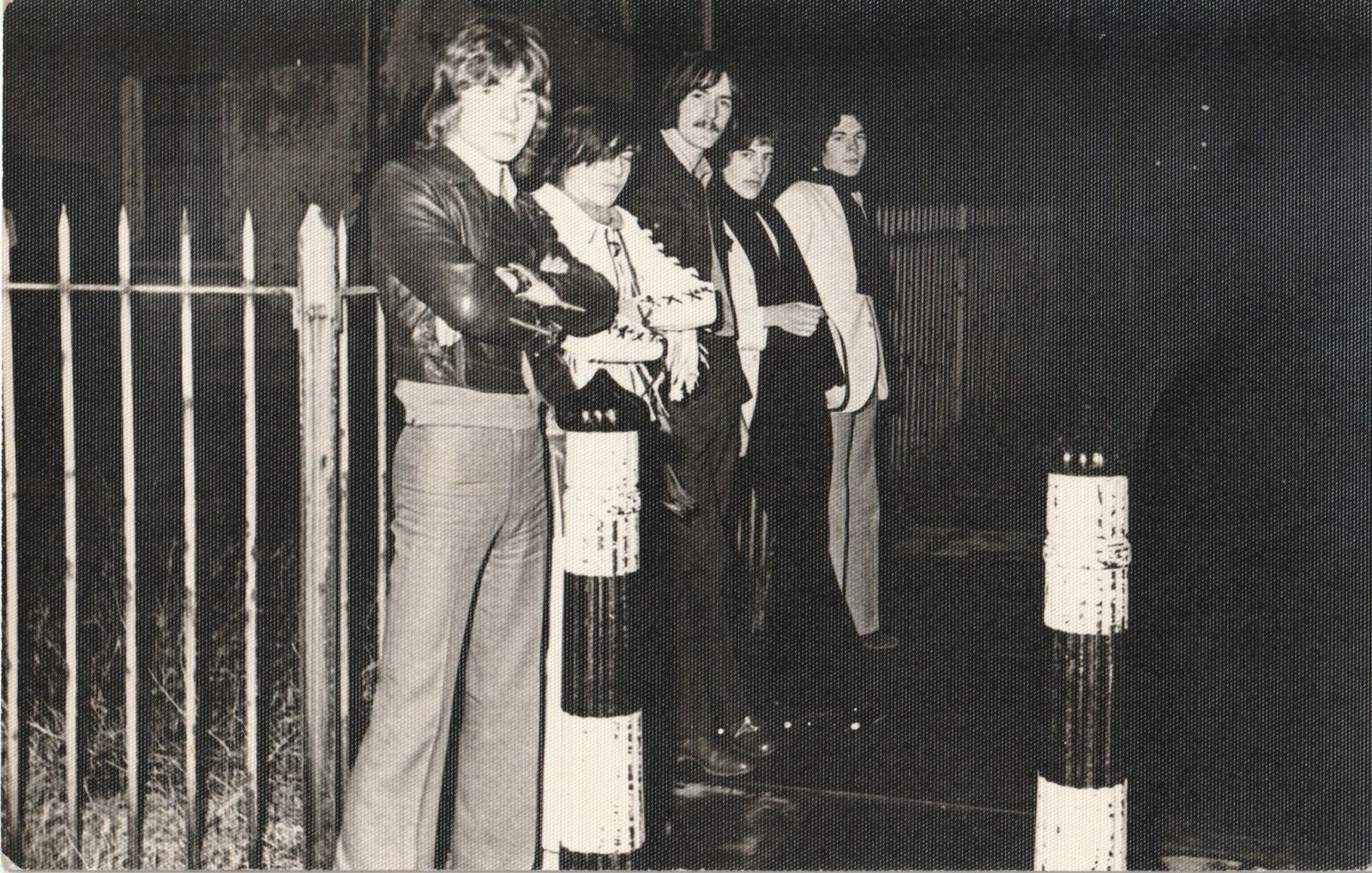 Where and when did you grow up? When did you begin playing music? What was your first instrument? Who were your major influences?
Brian Engel: I grew up in Hornchurch in Essex and I always wanted to have a guitar ever since seeing Bill Haley and others on the TV. I was a bit of a chameleon. I wanted to be everybody. First I wanted to be Elvis, then Lonnie Donegan, then Bruce Welch, then John Lennon and finally Bob Dylan. I suppose my first real influences were the records my parents had. Frankie Laine singing Dimitri Tiomkin songs from Western films and songs from the War…
I finally got a guitar when I was about 11. My father resisted buying me one because it was obviously a sign of degenerate tendency. However, I finally got one but I found that it was rather difficult to learn and so I learned to pose with it, which is, after all, what most people did with them on the telly. It was only through tortuous years of trying that the rudimentary ability came. I understood music, I played the bass in a school orchestra and my mother played the piano, but I found the guitar terribly difficult. Of course, in later years I know why. Segovia couldn't have played the bloody thing. It had an action about half an inch high and was warped anyway. But you don't know about those things when you're eleven. As soon as I picked up a more expensive guitar, round about 14, I realised that I could play the chords I'd learned. Badly. But easier.
What I really tried hard at, though, was writing. At first when I was about 13 I liked to write songs about things and people I KNEW (I was following standard advice learned from other songwriters). But songs about bus drivers from Romford aren't really interesting or different. So I tried songs about social injustice and corrupt politicians, like Dylan. However, I found that I didn't really give a monkey's about the war in Vietnam either so the Freedom Highway didn't mean much to me. When we got to Art School I started wanting to put Beowulf and Icelandic Sagas to music. I KNEW about them, see. I didn't know much about cruising with my baby on Sunset Strip. Actually, I do now, but it's all too late.
Paula Riordan: I grew up in Ilford which was part of Greater London – and very handy to travel into London. Along with some friends I started going to clubs in London a particular one was Les Cousins Greek Street, in the Soho district of London – a Saturday all nighter, where I saw artists like Long John Baldrey, John Martyn, Roy Harper, Bert Jansch, Mike Cooper and many other artist who were making a name for themselves in the blues/folk scene.
Whilst a lot of my friends were into the Beatles and Stones, both of which I liked, I was a fan of really early blues and American folk material. Artist like Woody Guthrie, John Lee Hooker, Muddy Waters and Bob Dylan, mainly American.
I started to go out and see bands when I was about 15. The first real band I saw was Ten Years After at the Marquee. I went on to see many bands there and worked at the Marquee for a while so I got to see a lot of bands for free, among them were The Rolling Stones, Jethro Tull, Yes and King Crimson.
Martin Briley: I grew up in east London in the fifties, I got my first guitar, a cheap acoustic, at 11, got my first electric and started writing songs around 13. Got my first real electric, a Telecaster, when I was 16. Like most other guitarists from that time, I was a huge fan of Hank B. Marvin in the Shadows. Then it was Eric Clapton, Jeff Beck, Peter Green, Jimi Hendrix…
How did you get signed to Parlophone? At first you wanted to be part of Harvest? You recorded material at legendary Abbey Road.
Brian Engel: Ah, well, there's been a slight misunderstanding here. Mandrake Paddle Steamer only ever made ONE single, "Strange Walking Man". Because we were youngish and energetic we didn't let the lack of gigs stop us playing. We played some supports at the Art School, but Martin Briley knew a chap who ran a washing machine concession in Walthamstow. His parents owned a well known pub. He was one of those fresh faced young men about London who had a few quid and was looking for something to DO with his life. Just like Brian Epstein. He was then bullied into becoming our manager. He knew a pub in Stratford and they wanted to use their upstairs room as a music venue, so we simply took it over and ran the gig ourselves. So we always had somewhere to play. We called the club Asgard and many of London's emerging bands played there.
One night there was a sort of talent scout from a publisher, Shapiro Bernstein who saw us and thought we had something or other. He introduced us to a chap called Rob Finnis who was connected with EMI Records (he'd recently produced a small hit record) and EMI wanted to see us audition! Yes it was that corny. Our amps and stuff trundled off in the manager's van to EMI Records' HQ in Manchester Square. We made our way there individually, I think. And we set up, and did an audition gig in their reception suite, in front of the MD. Wasn't embarrassing at all.
Then newspaper headlines began to circle around close ups of rushing train wheels and suddenly we had an EMI recording deal. With Rob Finnis as producer, recording our first and only single at Abbey Road. We HAD expected to be signed to the Harvest label, which had been created especially for a band called Barclay James Harvest. BJH were EMI's big hope and they'd created a 'psychedelic' label especially for them. I understand that there may have been some concern expressed by BJH that we were too similar to them, so we got kicked upstairs to Parlophone, The Beatles label!! I thought BJH were an OK band but their fears were groundless. We were NOTHING like them. So Harvest was gathered in and stacked in the corner of a field and seems to have been forgotten about. Which tells you a lot about EMI.
Paula Riordan: We used to run a club in East London called Asgard on most Fridays, they were great nights. One night a producer/A&R guy came and saw us – Rob Finnis he got us and audition with EMI – we played in the reception area of the EMI offices to a load of guys in suits – I don't think they knew what to expect. A few days after the audition we heard from Rob Finnis and he said we narrowly missed being signed to the Harvest label – but would we be interested in recording a single at Abbey Road. How could we say no – so along with Rob Brian and Martin Briley spent next few weeks concentrating on writing what was to become "Strange Walking Man" . I was pretty proud of my bass playing on that single but for us in our teens to be recording at Abbey Road was an unforgettable experience – just think, we sat on the same chairs and listened in the same control room, played the same grand piano that the Beatles had used only months before us. Very exciting but very disappointing when the single came out, as there was only one small add in the Melody Maker and NME, and no air plays at all.
Listening to the single now, it was quite unique but it didn't represent how the band really sounded.
Martin Briley: There was an independent producer, Rob Finnis, who was coming down to see us at our Asgard gigs. As far as I remember it was he who got us an audition at EMI, how we ended up on Parlophone I don't know. But at least we were on the same label as the Beatles, so why would I care?
I guess "Strange Walking Man" was what Rob Finnis thought a MPS single would sound like. It was actually a song that we performed live maybe once.
Being in Abbey Road studios was wonderful, I wish I'd paid more attention, taken some pictures! I remember standing with Brian double-tracking the vocals, using the same headphones and mikes as John and Paul probably did, and thinking "Yes, we sound pretty good too!". I remember the studio had LOTS of instruments, all sorts of keyboards, tympani, xylophone, vibraphone, and lots of cigarette butts in the overflowing ashtrays. I think I was too excited to eat that whole morning.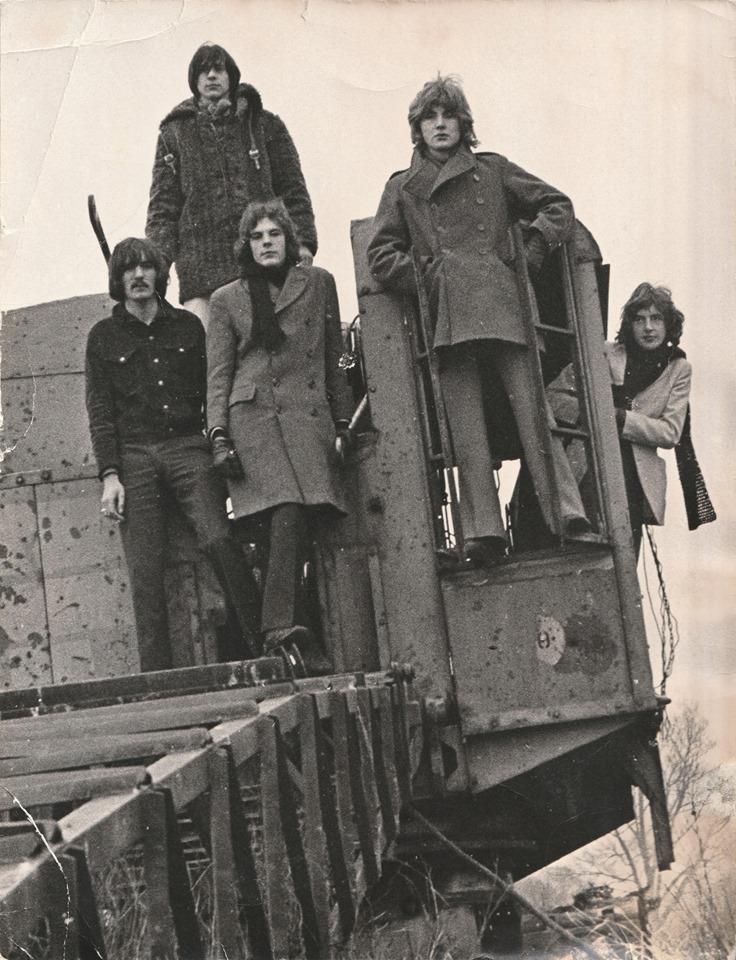 Guerssen Records recently released Pandemonium Shadow Show. It's a compilation of previously unreleased recordings, culled from the band's archive of reel tapes and acetates. What can you tell me about this material?
Brian Engel: Paula tends to recall that sort of detail more than I. It was a motley collection of demos recorded in various London studios, including, I think, Orange.
Paula Riordan: Before Martin Briley left the band we recorded 2 tracks at Morgan studios in North London. We recorded our instrumental arrangement of Bizet's Carmen (an instrumental that used to be the band's final song at gigs, it used to go down a storm) and a song called "Nice Man" – they are not included on the Guerssen compilation – so we may make them available soon, we shall see. There were also various other recording made in London studios, some of which I have and maybe will review soon. There are a few other Briley songs and a few demos.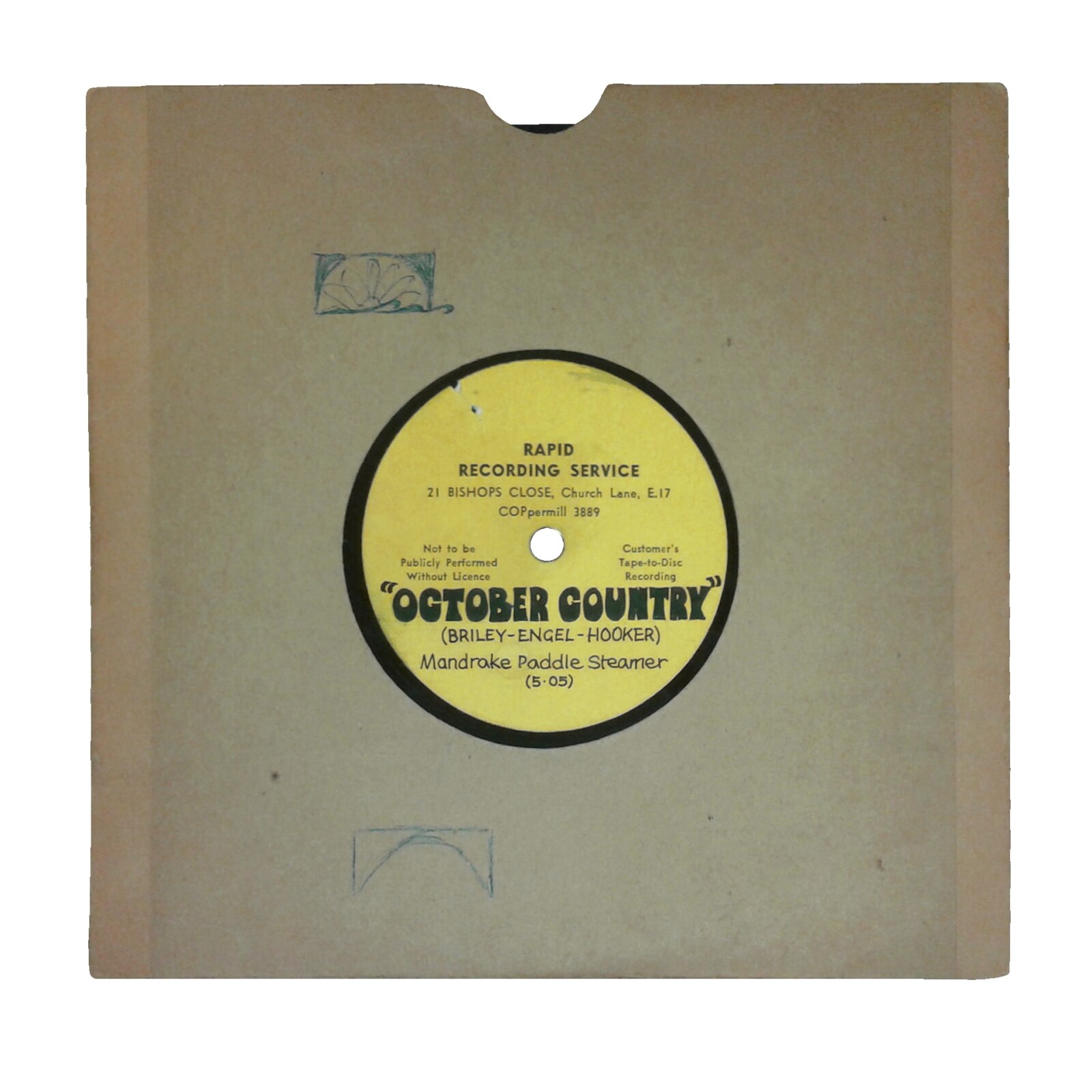 Martin Briley: It's hard to be precise, but all of the recordings were done in basement studios and BBC studios around London. Later, as Mandrake, we recorded at Morgan, a proper studio in North London.
Is there anything else unreleased?
Brian Engel: God knows.
Paula Riordan: Yes.
Martin Briley: Yes, probably. There's our show-stopper 'Excerpts from Carmen'.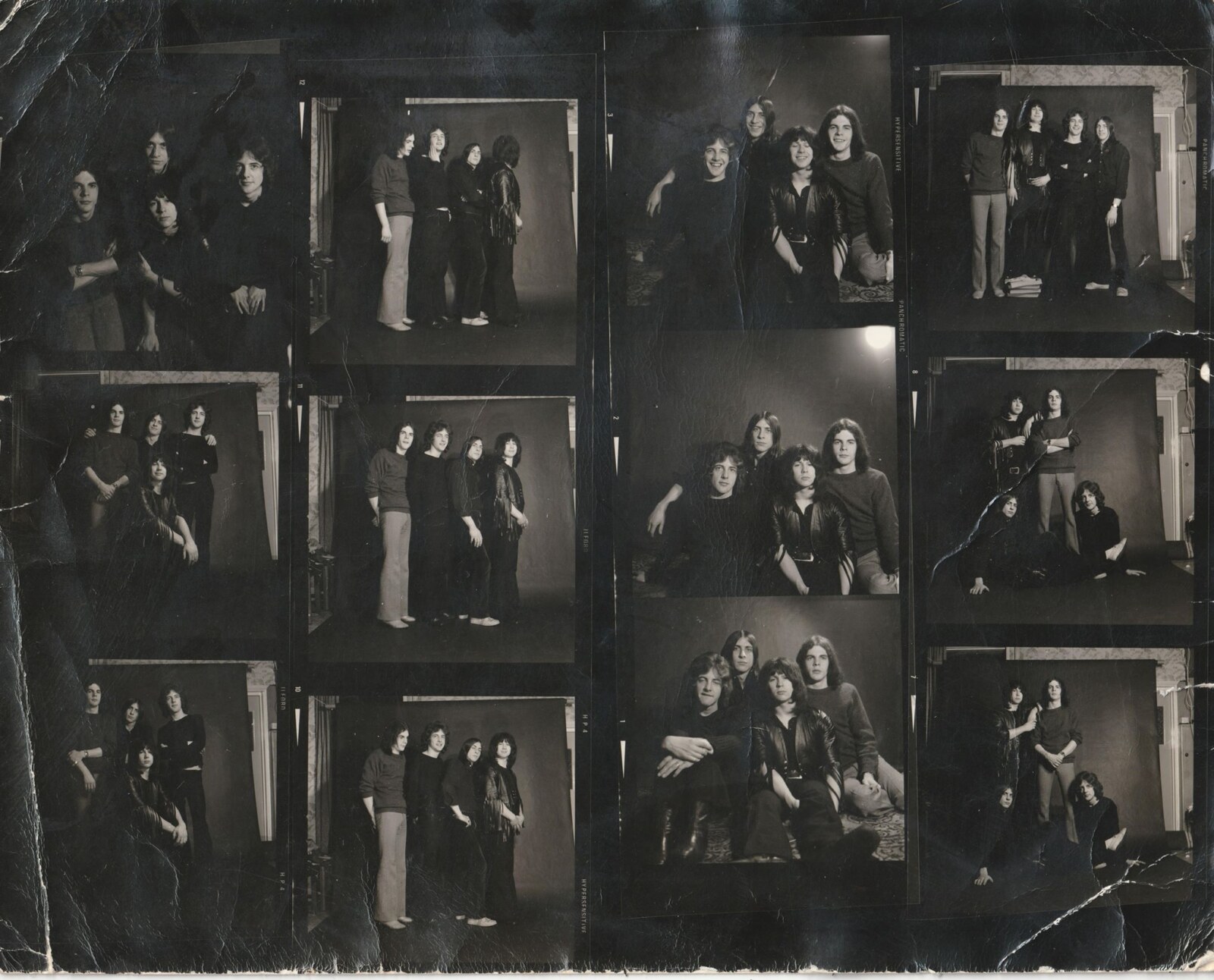 You supported big names like Pink Floyd, The Nice or Vanilla Fudge and also played at the Isle Of Wight Festival? You had residence at the Star Club in Germany and ran your own club (Asgard).
Brian Engel: If you can remember the sixties, you weren't really there. There's is a degree of truth in that phrase. I had left the band by the time all that happened, so I don't have any recollection of all that.
Paula Riordan: Yes we supported quite a few big bands, we didn't play Isle of Wight festival. I don't know where that myth came from, I know the very first gig that we did without Brian was on the Isle of Wight but it was a Club. I distinctly remember the journey to the gig. Martin and myself going over and over the lyrics and working out who was going to sing what part. Martin was a much better singer than me so he took on most of Brian's parts. I took on most of the harmonies. It must have worked because we got invited to play the club again.
The Residence at the Star Club in Hamburg was hard work – I think it was 4 sets an evening starting at about 9 o'clock in the evening and finishing about 5 in the morning. It really tightened the band up we got to play the songs and be able to open the arrangements up so the songs lasted longer. It was fun but hard work. Another venue we used to go back and forth to was in Basel, Switzerland – a brilliant club called the Atlantic. We built up a big fan base there, sadly because we didn't have any records to sell we couldn't take advantage of it. Apparently there was an American band called Mandrake Root that were suddenly selling lots of records in Switzerland…strange that.
Martin Briley: Yes we opened for a couple of good bands, that was always an education because it meant we were using a good PA system and could actually hear the vocals.
The story about us playing the Isle of Wight Festival has grown a little hair over the years. We played a gig on the Isle of Wight the same night the Nice were playing the actual festival. Kind of a Spinal Tap moment there.
But we really did play a week at the infamous Star Club in Hamburg. Quite an exciting place in the sixties! The gig was slavery, and I think they stiffed us at the end.
Asgard, in Norse religion, is one of the Nine Worlds. Quite a fancy name for a sweaty room over a pub in East London. In order to create our own gigs, and, as a psychedelic alternative to Thursday's blues night at the Railway Tavern, we started Asgard on Fridays. It became very popular, we usually did the shows with the Pale Green Limousine light show, the old throbbing liquid stuff.
I believe the 'management' of the club was taken over by a young lad named Paul Fenn, who went on to form a huge European artist agency under the same name.
Looking back, what was the highlight of your time in the band? Which songs are you most proud of? Where and when was your most memorable gig?
Brian Engel: Personally, I remember the nights we played at Asgard as special, but I can't really recall any particular gigs. As with all bands, there always seemed to be problems (which maybe the audiences didn't see or hear), feedback, sound balance problems, lack of monitors etc. It was the technical aspect of playing live which frustrated me. I hated the mechanical group van breakdowns, the electrical and technical problems. It would have been so much easier to simply mime or perform karaoke, like they do today.
Paula Riordan: I guess recording at Abbey Road was a huge memory – getting to tinker around in the same studio as the Beatles was great. The thrill of hearing Brian and Martin do the vocals, I was sitting in the control room at the time and when those harmonies went down the sound was fantastic.
There were lots of great gigs and sometimes it was sad to see that we  would go down better than the bands we were supporting. Recently someone just sent me a advert from a gig we did supporting Spooky Tooth, as far as I can remember we went down incredibly well at that one. We used to play in the legendary Speakeasy night club a lot. I can remember one particular night, we finished our set and afterward Peter Green came up to me and said do you mind if I get up and do a few tunes? Well for me it was amazing I got to use my experience as a blues bass player and I think the jam went on for over an hour…great stuff.
Martin Briley: As a part of Mandrake Paddle Steamer, I think some of those nights at Asgard were the best. The place was packed and we often had the audience by the balls. As a part of Mandrake (minus Brian) I think our residency at the Atlantis club in Basel, Switzerland was a lot of fun. That and maybe opening for Vanilla Fudge at the Montreux Casino, before the famous fire.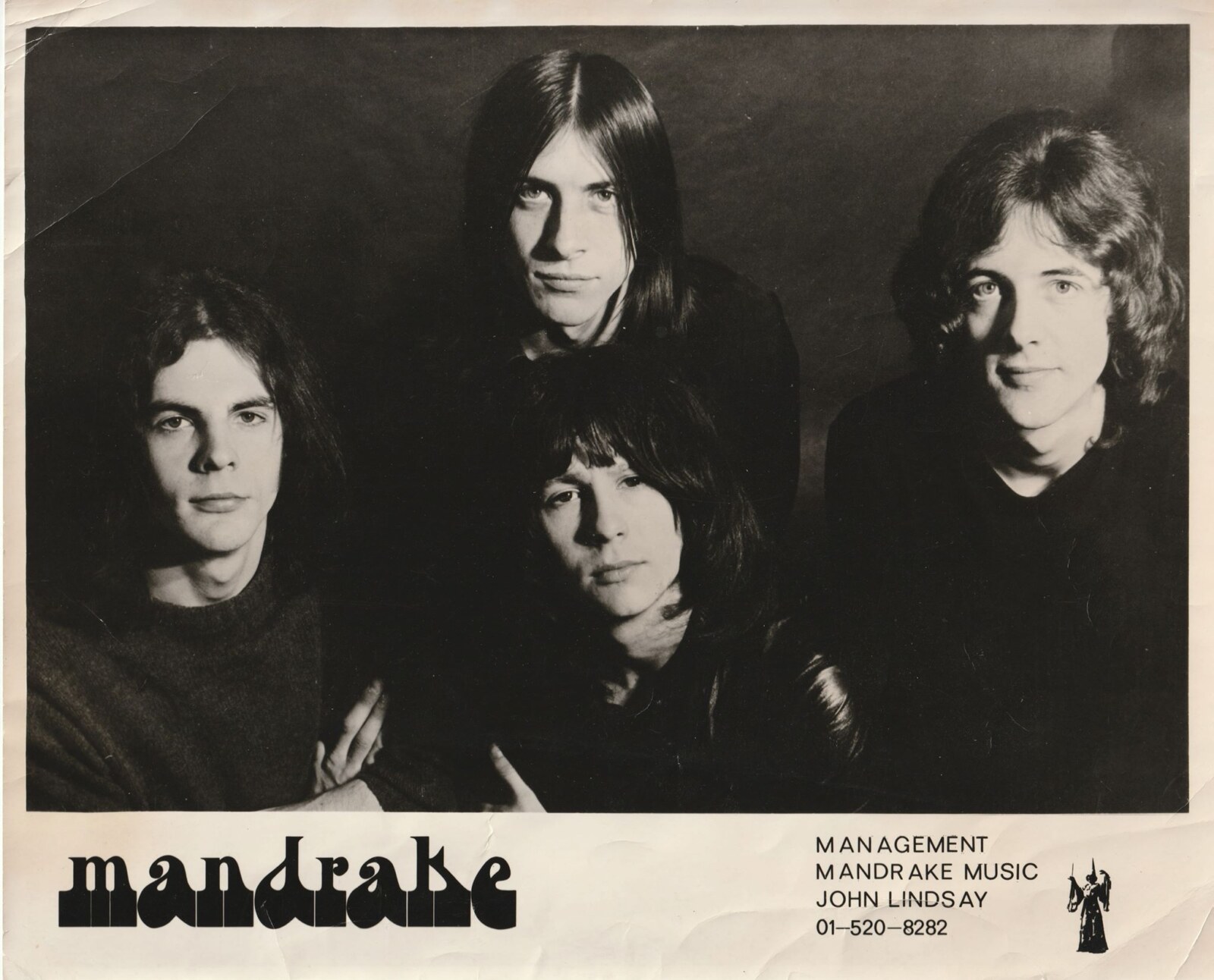 How did the band end?
Brian Engel: Not with a bang, but a wimper. I went on to work for Orange, the amplifier company, where I designed the iconic Orange amps and all the Orange publicity stuff. I painted the shopfront in Old Compton Street; a magnet for all in the early seventies.
Paula Riordan: After Brian left we continued for a good few years and things were going pretty good, but we needed to record, as we had bounced the material around at gigs, we were so tight we had to capture that on record…but for some reason we never got given the keys to a studio to record.
The three of us Martin, Martin H and myself were living in the same house and things were going well. We needed a drummer that was going to muck in and live in the same house as us. We found David Potts, a fantastic drummer. David was from Liverpool, had been around a bit and had a lot of contacts, but sadly he would steer the band into a more heavy direction, which at first seemed cool but we slowly lost that quintessential English sound. Eventually Martin B decided to take time off. I was very upset and was going to throw the towel in myself but David and Martin H convinced me to stay on and take over lead vocals. I never felt comfortable and missed Martin B distinctive guitar sound.
Martin Briley: I left, or was thrown out, can't remember which, for being basically dysfunctional. It's a bit of a blur. They carried on as a three-piece for a while, then quit.
What did you do after that?
Brian Engel: Well, Martin B and I went on to continue to work as writers and performers together again and we made records together under a variety of names. But eventually we grew tired of trying to fight the music business and we went our separate ways. Martin began a career as a respected session man and writer, ending with becoming a member of credible and legendary rock bands.
Coincidentally in the 70s we both ended up, for varied reasons, in the US. Martin went on to enjoy success as a writer and performer in New York and I moved to the crass silliness of Los Angeles, where I spend my time producing some bands in L.A. studios, writing my secret favourite, Country music (and having mild chart success). I also worked in an art studio, as a designer, in Santa Monica. My years at the art school weren't entirely wasted. I carried on being a musical prostitute, in commercial ventures, several adventures in the recording Industry, including being a member of The New Seekers (not very credible or psychedelic, but great experience) and dedicating myself to finding out how the industry had managed to squander so much money and where it all went.
Paula Riordan: I joined a few bands and then went for a few auditions. One was for Robert Palmer's band, to be part of Vinegar Joe. I got offered the job in the evening and in the morning they phoned and said that the original bass player had decided to stay on…that was a blow, but to make up for it they put me on and agency and I did quite a few sessions for Marquee Studios and then got asked to go on tour with a guy called David Elliot, a Canadian singer songwriter. He was managed by EG management I think because we got to tour with King Crimson, Roxy Music and a few others. I did that for a few years and then David Elliot had to go back to Canada as one of his tunes was in the charts over there. I then joined a pop band called Pickettywich they had just had a run of hits over a couple of years and were touring up and down UK but it was mainly cabaret and night clubs. The musicianship in that band was great and I learnt hell of a lot.
I got married and had kids so my music took a back seat for a while. I was offered a job with Pink Floyd looking after the guitars on the Wall shows. Fantastic after the tour was over I worked at Britannia Row (the Pink Floyd's headquarters and Studio) it was there that I got to spend a bit of time working with Nick Griffin the resident engineer, he gave me some lessons on how to use the mixing desk and encouraged me to get into recording.
I invested some money in equipment and borrowed a few bits of gear and set up my own small studio in my home at Walthamstow, East London. I got a few commissions for Television Commercials and a few documentaries. In 1994 I wrote and recorded a track that a friend took it to Peter Waterman, the track was called "Harmonica Man" and within about 3 weeks of me signing it over to Pete Waterman's record company, it was in the UK charts. It reached number 30 and remained there for a few weeks. It put me on the map as far as producing and remixing. I wrote another track that was a big dance hit called "Universal Soul". It got put on many dance compilation albums, so it set me up to improve my studio and start doing more writing for film and TV.
Martin Briley: A lot.
Toward the end of Mandrake I was writing stuff that I didn't think they, or any little band would be able to play. It was called "The Bomber's Children". I couldn't afford a demo so I wrote a mini score. Then I read that George Martin was starting his own label (AIR) and was looking for talent. So I mailed him the score. They called me in for an interview, George looked at the score, then put it down and said "Could you write some songs?" "Yes" I said, "I'll be right back".
As soon as I got home I called Brian and told him the situation, we got together a few songs and secured the deal. A deal with no advance, of course. But here we spread our little wings, realizing that AIR may not want to buy us a sandwich, but if we needed ninety string players?
Not a problem. It was here that I did my first orchestral arrangement for our sea epic "Between the Sea and the Sky", based on a Walt Whitman poem. We had a lot of fun, but the album was shelved. To be released later on CD in 2007.
Then I got into doing guitar, bass and vocal sessions in the London studios for about five years. I even became a member of the BBC TV Orchestra and played on numerous TV series. Good work, for my reputation AND my chops. I really had to get my sight-reading together. During this time Brian and I recorded an album as Liverpool Echo, which also re-released on CD in 2005, then again on vinyl in 2013. We also recorded and toured as Starbuck for a while, I seem to remember we also sang backing vocals on the Rocky Horror Picture Show soundtrack during that period.
Then I was offered the job as bass player in Greenslade, at the time a very popular prog-rock band. After a few years doing sessions, I was ready for a change. They were immediately ready to do the next album, then do their first US tour. Perfect. Unfortunately Greenslade only lasted another year, but I now had connections in New York.
I finally moved to New York in 1977, in 1979 I started playing with Ellen Foley, and then Ian Hunter and Mick Ronson. Touring and recording for them lasted a couple of years. Then I hit my stride and began writing songs for others (Barry Manilow and Pat Benatar) and secured a solo record deal with Polygram. That led to three albums, three videos and a US top 40/MTV hit single as a solo artist.
After that I continued to write songs for others, Celine Dion, *NSYNC, Gregg Allman, Michael Bolton, etc.. I even had a #1 Contemporary Christian hit single, and I'm an atheist!
As a songwriter I've sold about 30 million records so far.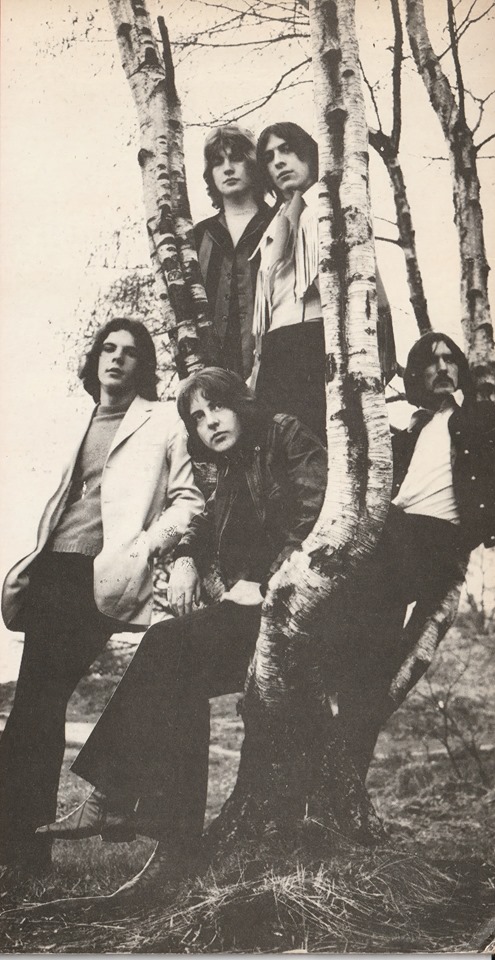 What currently occupies your life?
Brian Engel: Well, for a couple of decades, my life was occupied by raising a family, working as a Member Relations manager at the PRS and then occupied with running my publishing company; the world and the music business has changed so dramatically since the days of MPS; there is no longer a 'pop' music record industry, but the mistakes made in those early days (e.g. the signing of unwise, or downright dishonest, recording and publishing agreements), still live on. I spend my life trying to amend the errors made in the past by people who are now grandparents, but who never really understood what they were singing back in the sixties. Mind you, a lot of the companies didn't really understand it either.
I wear a tight fitting colourful costume and a mask.
Paula Riordan: I now have a studio in my home in the Berkshire countryside. I occasionally produce other artists, and write for a couple of music Production companies.
I still do the occasional live appearances playing my own version's of songs I love by other artist – including a few from Syd Barrett, Captain Beefheart and Pink Floyd songs and quite a few old classic blues tunes. I would consider playing some Mandrake Paddle Steamer tunes but I think I would need a complete band to produce that unique sound.
Martin Briley: Well, although being a songwriter has been a pretty cool career, it got to a point where I had to stop doing the same thing, over and over again. Also, at 69, I'm not sure I know how to write, lyrics in particular, that would appeal to young music fans. So, I changed direction and decided to write for TV. Probably the best job I ever had.
NO lyrics to worry about, and my knowledge of past musical genres is a huge advantage.
On those endless drives home from the MPS gigs, when I was propped up sitting half-asleep in the van on a PA column, drooling on myself, I used to fantasize about a way I could make a living out of music one day, sitting in a comfortable home studio.
That's what I do now. I've written in about 80 different genres in the past few years, so there's always a bit of a challenge, and plenty of variety. Everything from guitars to full orchestra, that's when my past orchestral experiences with George Martin come in very handy.
My studio is in my house, overlooking a golf course, I work alone, no commuting, no waiting around for anyone. Thanks to the Internet, I work for a number of music production companies remotely.
Meaning, I don't leave home!
– Klemen Breznikar