'Ascend, Ascend' by Janaka Stucky
Janaka Stucky is the founding editor of Black Ocean Books and the author of the newly-published Ascend, Ascend, an act of ritual magick embodied in a work of literature winning praise from rock and roll and occultist Jimmy Page, who has pronounced Stucky extraordinary, and his work riveting, Beat Stepmother Anne Waldman, who identifies it as "resonant with the Kabbalistic Merkabah tradition of ascension to Serifot, the chariot of god. . . redolent with mystic speed and entheogen magic,"and Jerome Rothenberg, who terms it, "A genuine return to the poetry of extasis, both in experience & in language." These three raving accolades display the span of Stucky's approval as a literary artist, from rock stars to poets to academicians. The rock and roll connection is interesting. Jack White of the White Stripes started Third Man Books about five years ago and Stucky was among the writers he chose to publish and promote.
---
I met him years ago as a graduate assistant at my alma mater who was employed at a mortuary and always wore black. At the end of each rigorous day of workshops and readings, the faculty and staff went home, and the dorms transformed to a maze of little parties. The residencies were always during holidays. One New Year's Eve or Halloween during one of the residencies, I found myself among a crowd of people in Janaka's room, listening to him tell a story about having to scare away wild monkeys late at night by swinging a torch back and forth when he was running out of wood. I can't remember how he got out of that one, or where it took place. We started calling out the names of songs to play, and I suggested "No Killing" by the Violent Femmes. "I was just about to say that," he agreed. It's not as if we really know each other, but we've connected. Stucky sent a copy of his debut collection, The Truth is We Are Perfect, which reminded me strongly of Kenneth Patchen's stuff, whose art was a vision and a bridge to better places. He told me he'd never read Patchen, and asked me to recommend something. A natural. "Hmm, I don't know, Selected Poems? Journal of Albion Moonlight?"
"For the past ten years," he says now, "I have been writing poems exclusively from a trance state, in a strictly controlled and highly ritualized setting. The poems that emerged from this process feel not only like visions to me, but actual conjurings. The earliest poems of heartbreak that manifested from this process appeared in my last book and presaged the sudden, unexpected collapse of my first marriage. Conversely the later poems in that book, on ecstatic ego-death and its rapturous cracking open, laid the groundwork for a new, great love. Whether the state I wrote from allowed me to auger the future, or whether the lines I wrote manifested my reality, the poems felt intrinsically tied to the progression of my life in a concretely magical way."
Unlike Kenneth Patchen, whose paralyzing back pain eventually prevented him from giving many readings, Stucky's approach is an active, interpersonal one. He will be "performing public rituals for personal transformation [. . .] around the world in 2019."
"When I say my poems worked as spells," he explains, at Lit Hub, "I mean it in a very literal sense." In partnership with Atlas Obscura and Third Man Books, Stucky will be presenting his new work "in its entirety on a 2019 tour to a series of stunning, viscerally appropriate venues in Washington D.C., Denver, Los Angeles, New York City, Philadelphia, and Chicago.I hope that those of you who can, will join me for a series of immersive, ritualized performances involving light, scent, and sound to introduce my new book of poetry, ASCEND ASCEND. Each event will be a unique, ceremonial experience—often in collaboration with incredible musicians such as Lori Goldston (cellist for Nirvana and Earth), or Mark Korven (composer of the soundtrack for THE VVITCH). Tickets come with either a paperback version of my book, or the special edition—which is almost exclusively available at these performances."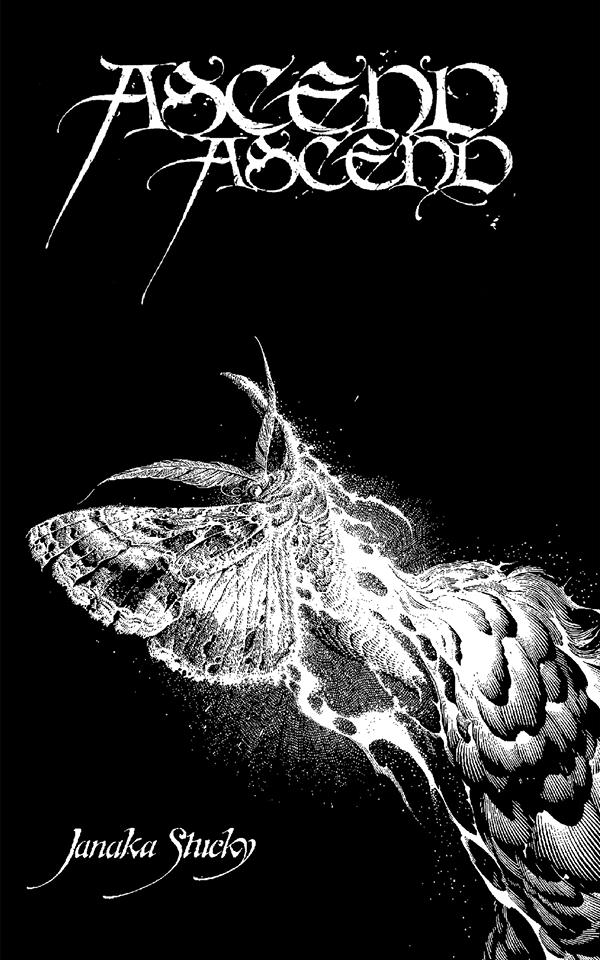 Janaka Stucky is at the forefront of a trend in literature combining art and magick including writers like Lisa Marie Basile (Light Magic For Dark Times), Bethany Moore (Crying Spells), Leza Cantoral of CLASH Books (Cartoons in the Suicide Forest), and others.
"Today, the conversation around witches, witchcraft, and spells has permeated every niche of our media. October of last year even saw the publication of an anthology titled Spells: 21st Century Occult Poetry, featuring a number of notable contemporary voices. As the political discourse in the United States and abroad becomes increasingly divisive and cruel towards the most vulnerable members of our human society, the attraction held by the Occult—as a revolutionary kind of spirituality in opposition to the status quo, as well as a way to seize ontological power over our personal condition—in turn becomes increasingly strong. Grief, too, is a necessary step towards transcendence."
– Zack Kopp
More info, including links to tickets, can be found here.
http://janakastucky.com/
'Ascend, Ascend' by Janaka Stucky (Third Man Books)