The Groundhogs interview with Ken Pustelnik
The Groundhogs are a British rock band founded in late 1963, that toured extensively in the 1960s. Tony McPhee (guitar and vocals) is the sole constant member of the group, which has gone through many personnel changes but usually records and performs as a power trio. Celebrating its 50th Anniversary, 'Thank Christ For The Bomb' (Major Edition) is reissued on double vinyl with gatefold sleeve – complete with ration book, poppy card and bonus tracks. A hugely influential album cited as the embryo for punk, grunge and beyond.
---
Where and when did you grow up? Was music a big part of your family life?
Ken Pustelnik: Born in Scotland in 1946. It was immediately after the cessation of the 2nd World War, which hasn't actually finished in real terms of course. No exposure to music evident for many years . When I started school I found out that my natural habit of beating out rhythms to compensate for attempts to 'educate' moi was deemed against school rules. Result being classified as unsuitable for schooling at age 9 years old.
When did you begin playing music? What was your first instrument? Who were your major influences?
Drums were the first and will be the last instrument I ever own, I also play harmonica which was a result of hearing Sonny Terry in the very early 1960s . I don't believe in influences as such, the first musician I got interested in was Stockhausen at about the age of 14, then was attracted to the sound of the Hammond Organ, especially when played by artists such as Jimmy Smith or much later on Booker T. that combination of Left Field / ambient composing and keyboard percussive R&B / jazz tinged sound. Add a growing appreciation of Blues / Traditional Jazz / Soul and Gospel. All through this I had a great attraction to acoustic music in any form, incorporating Folk & Contemporary Folk / Flamenco and Classical guitar / etc.
What bands were you a member of prior to the formation of the Groundhogs?
The Deep Blues Band.
Can you elaborate the formation of the band?
The original lineup was a four piece, Pete Cruickshank on bass, Steve Rye Harmonica on and vocals, Tony McPhee on Guitar and vocals .
Did the size of audiences increase following the release of your debut?
Not really we played with John Lee Hooker at that time so the audiences were large for those shows.
Fire Records recently reissued on double vinyl with gatefold sleeve Thank Christ for the Bomb.
Thank Christ for the Bomb was released for Record Store Day on Sat 13th April 2019, two different vinyl packages will be only available on that date at stores participating in Record Store Day. I was very happy with the finished sound, given that it was recorded 50 years ago and things were technically very limited compared to today. It's actually my favourite of all our releases.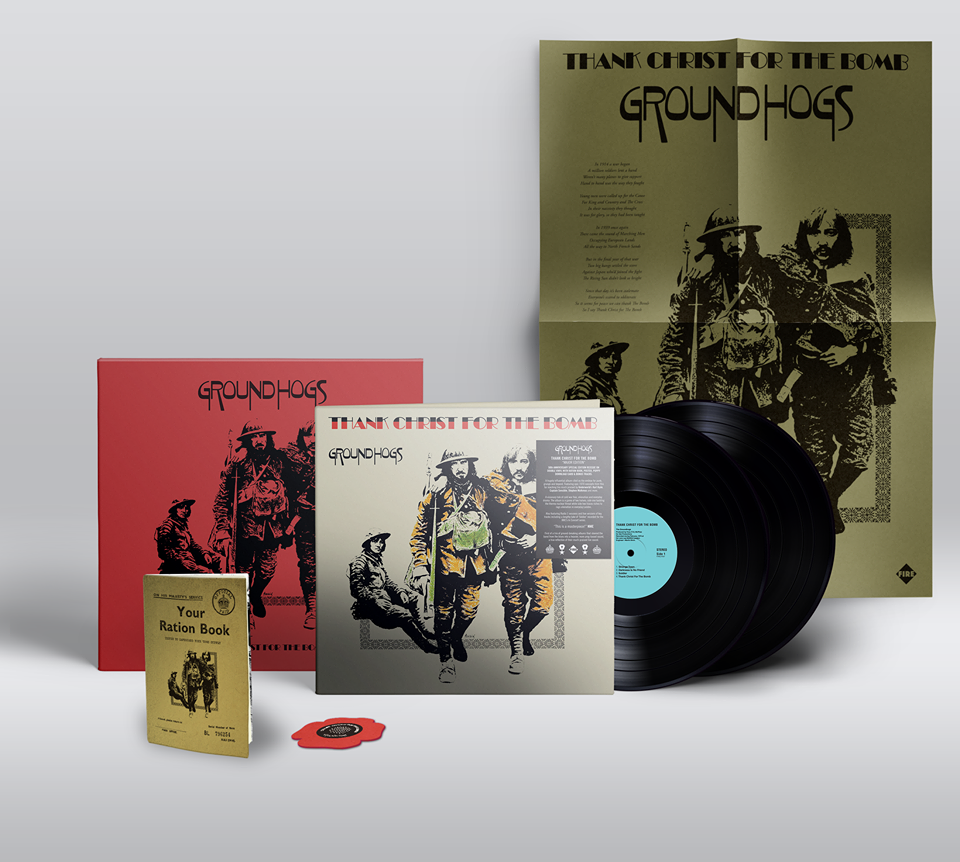 Is there any unreleased material?
I don't know of any unreleased material.
Looking back, what was the highlight of your time in the band? Which songs are you most proud of? Where and when was your most memorable gig?
Playing at the 1970 Isle of Wight Festival, touring with John Lee Hooker, being support to The Rolling Stones in 1971 at the personal request of Mick Jagger, plus many, many more amazing experiences.
What currently occupies your life? What are some future plans?
Playing in the band and reaching out to old and new audiences.
Let's end this interview with some of your favourite albums. Have you found something new lately you would like to recommend to our readers?
Not one particular album, however love what I've heard that's described as Mongolian Metal.
Thank you for taking your time. Last word is yours.
Thanks for setting up this interview for the band Klemen.
– Klemen Breznikar