Iron Void interview
Iron Void formed in 1998, but they released their debut in 2014. Since then, the trio worked constantly on their new material. Sophomore album 'Doomsday' (2015) was really good, but their latest album 'Excalibur' literally kills! We'll try to reveal the true fate of King Arthur with band's founder Jonathan "Sealey" Seale (bass, vocals) and his dedicated companion Steve Wilson (guitars, vocals). Jokes aside, let's talk about one of the best doom metal release of 2018.
---
Your third album 'Excalibur' was released in October 2018. What's the band's current status?
Jonathan 'Sealey' Seale: We're currently rehearsing for our upcoming shows at Siege of Limerick, Ireland and Little Devil Doom Day, Tilburg, The Netherlands in April and May, respectively. Scott Naylor has recently joined the band so we're jamming and rehearsing as much as we can. It's sounding great considering we've only had a couple of rehearsals so far with the new line-up.
I saw that the album was very warmly greeted by the doom community. How positive was feedback?
Sealey: The response has been phenomenal, I'm very happy with the feedback from fans and critics alike. We've had the odd negative review here and there but that goes with the territory and I expect it. We worked very hard on this album so it's great for all that effort to be recognised. We took a risk releasing a concept album but I definitely think it's paid off. I'd just like to get out there and play more shows to promote the album now it's released.
It was released by Shadow Kingdom Records, quite big and dedicated, yet underground label. Will there be a tour in the USA?
Sealey: Yeah, we're chuffed to be working with Shadow Kingdom Records, they're one of our favourite labels and Tim, the label boss is a really nice guy who's a massive Metal fan, just like us so it's a perfect fit really. Shadow Kingdom definitely helped raise our profile with interviews in magazines such as Decibel in the States and their distribution network is very impressive too. We'd love to head to the States at some point to do a tour, we'll just have to make sure it's well planned and we're able to do it.
"I personally did a lot of research and reading during the writing process to immerse myself fully in the Arthurian legends."
I should admit that 'Excalibur' is great from the very first spin and it's stronger than anything you record before – there's no doubt. How long did you compose it? 
Sealey: Thank you very much, that's quite a compliment! It took around 18 months to compose the music and write the lyrics. However, from the initial idea to finished product it took 10 years! I visited Tintagel Castle (the supposed birthplace of King Arthur) in Cornwall, UK while on holiday and it blew me away! Such a dramatic place with breathtaking scenery, I left very much inspired and this initial idea grew into the final concept presented on the album. We had some very grand ideas during the writing process, we were going to include female vocals, flute and perhaps a lute but we soon realised this would probably alienate our fanbase so we distilled our ideas into what you hear on the album which is more in line with our previous works while still pushing the envelope in terms of musical and vocal progression. I personally did a lot of research and reading during the writing process to immerse myself fully in the Arthurian legends, taking influence from the classic film,'Excalibur' (1981, Directed by John Boorman), 'Le Morte D'Arthur' by Sir Thomas Malory (the book the film is based on) and other Arthurian literature such as 'Idylls of The King' by Alfred Lord Tennyson and others.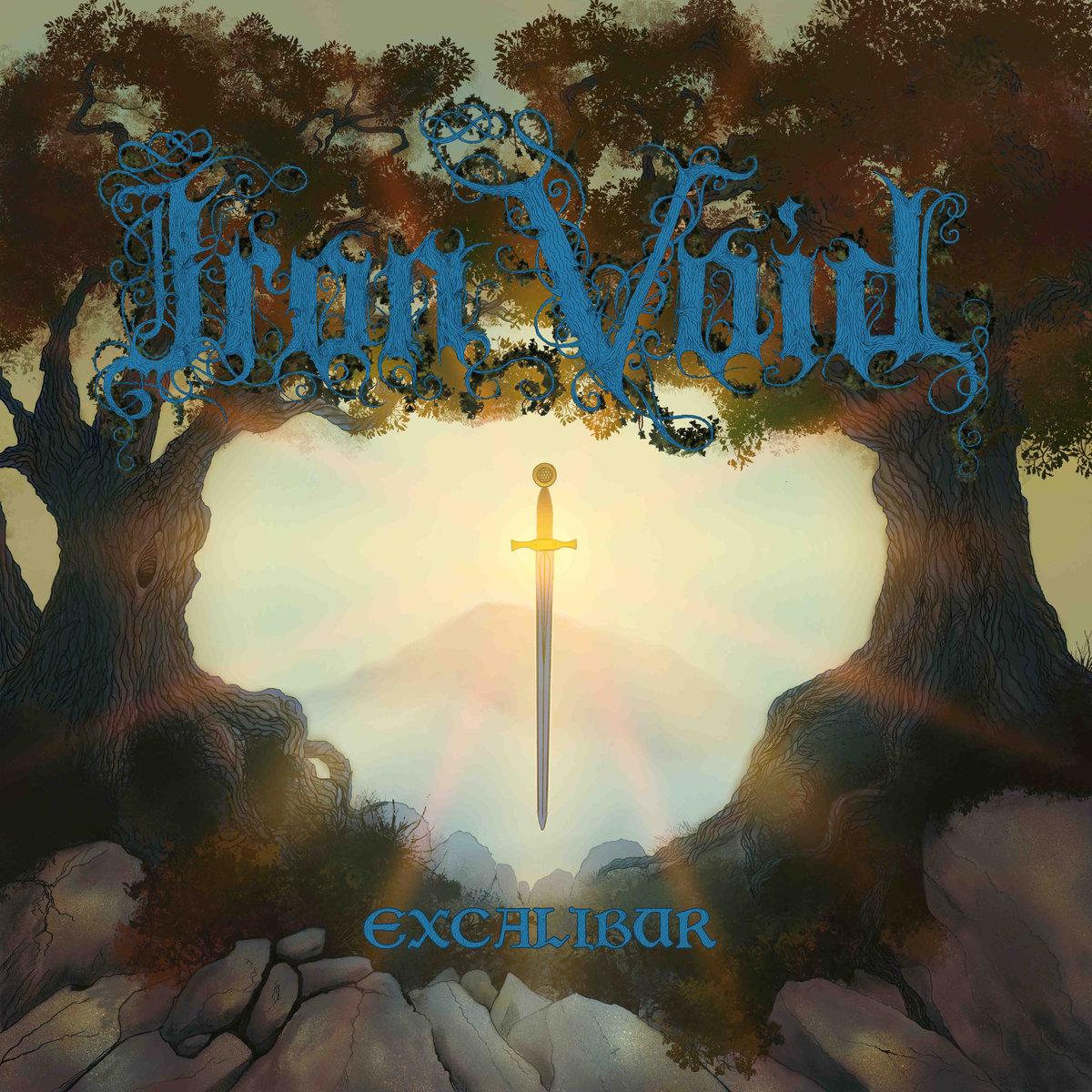 Steve: In the end, we just put together nine songs from the best riffs and song fragments that we had and it all came together. We'll never know how the original concept would have sounded. We did keep the gong and spoken word intro, though. We had the vocal harmonies for 'Dragon's Breath' worked out and the others were the result of experimenting in the studio and going along with some of Chris' suggestions on how we could use the dual-vocals in more songs.
Did you think about experimenting with folk instruments? I've heard bagpipe in The Bottle Doom Lazy Band for example, and it kills.
Sealey: Well, there's definitely an English folk influence in the guitar lead lines in 'Lancelot of The Lake' and 'Avalon' is full-on English folk closing out the album. I personally listen to a lot of Acid Folk such Pentangle, Fairport Convention and Comus, stuff like that. Ultimately, Iron Void is a Metal band, we do want to incorporate some of those influences but like we said previously we didn't want to alienate our fanbase. At one point I actually wanted to take a year out of working and regular life and I was going to go and live in Glastonbury and compose the music for 'Excalibur' at the top of Glastonbury Tor with my acoustic guitar! Unfortunately, or fortunately, whichever way you look at it, real life got in the way and this never happened.
Was idea to write an album around Arthurian myth something you knew from the beginning?
Sealey: The idea was there from the start really. Originally, I think I maybe suggested writing a song based on the film but soon realised it would be very difficult to do it justice with a single song. I basically studied the film in-depth and wrote notes annotating each scene and broke this down into 9 distinct 'acts', or 'chapters', if you will. I then started writing lyrics based on each of these scenes to form a cohesive narrative.
Knights' stories aren't common topic for doom metal.
Sealey: Yeah, it's quite odd that the Arthurian legends haven't been tapped into more for lyrical inspiration in the Metal scene in the same way that say, H. P. Lovecraft's stories have. The story is a perfect fit for Doom Metal in my opinion. You have the epic battles, the mysticism of Merlin and the betrayal of Arthur by those closest to him and the sorrow and suffering that this brings to the main characters and the wider Kingdom as a result.
Steve: I liked the idea of a theme that was relevant to us as a British band. The Arthurian romances are European, but the main core of the story has always been a very British legend. I didn't want to sing about Norse mythology just to sound 'metal.' We're not Swedish, and it would have sounded too contrived if we'd attempted that. Excalibur has been covered by prog rock and power metal bands, and we were keen to make a doom version. I think the whole thing is fitting in that respect, especially using the John Boorman film as a starting point.
Do you plan to write more about British mythology? Which bands would you name as British Doom Metal besides Pagan Altar and The Lamp Of Thoth?
Sealey: I do intend to write more songs in future based upon British mythology and legends and I'm tempted to return to the King Arthur concept with a song about Merlin and King Vortigern in future. Besides the bands you've previously mentioned I would also recommend Witchsorrow, Serpent Venom, Godthrymm, Desolate Pathway, Gevaudan, The Human Condition, Earthen Ritual, Famyne and Alunah as contemporary acolytes of British Doom Metal.
What was your first encounter with Arthurian myth?
Sealey: My first encounter with the Arthurian legends was my Father reading the stories to me as a child, I was fascinated from then onwards and I still am now! As mentioned previously, the main sources of inspiration were the film, 'Excalibur', 'Le Morte D'Arthur' and 'Idylls of The King', which is kind of a Victorian retelling of 'Le Morte..' in modern English as opposed to the Olde English text.
Steve: I was less familiar with the characters. I read some of 'Le Morte D'Arthur', a couple of anthologies and some English translations of the French Arthurian Romances, namely Chretien De Troyes, who introduced the Lancelot character. I also read a book on the history of the Grail, and one about the various depictions of Merlin throughout history. These helped me to put the legends into context and try to make some sense of all the characters.
You did record 'Excalibur' with Chris Fielding just as on previous album 'Doomsday'. How was to collaborate with him in the studio?
Sealey: I love working with Chris, he's fantastic and very talented. He's not just an engineer, he's really a Producer. He'll take what we've written and suggest new ideas and ways to improve the music and he especially wanted to push the vocals on this recording to the next level. Some ideas we agreed on, others we didn't. Steve got so pissed off with him at one point that he stormed out of the control room! Ha, ha! That's good though cos he pushes us to our limits and beyond and the end result is always so worth it. Chris also experimented with different techniques by mixing up the drums using microphones on top and bottom and mixing the two together to create a super heavy, yet very crisp sound. We'll definitely be working with him again on the next record.
Steve: I enjoyed most of it, especially recording the 'Lancelot' vocal harmonies. I found some of the rhythm guitar harder than I should have, too. The songs felt relatively easy during band practice but Chris helped to pick out every minor mistake (there were quite a few of them!). I'm glad he did, because the finished product was well worth the effort.
Iron Void played a few gigs in support of 'Excalibur', but do you feel yourself ready for small (or big) tour?
Sealey: I was born ready! (Laughs) We'd love to do an extensive tour but right now real life is getting in the way with job commitments and our financial limitations preventing this from happening at present. Never say never though, we'll see what happens. We'll definitely be playing more shows to support the album in the UK and Europe though, that's for sure.
What was your biggest gig since 'Excalibur' release?
Sealey: Probably Doom Over Vienna in November 2018.
Iron Void's drummer Richard Maw left the band soon after 'Excalibur' release; and Scott Naylor has took his place not so long ago. How long do you know Scott?
Sealey: It wasn't an easy decision for Rich to leave the band but he has a young family and he had to make a choice. We're still very good friends and there's no hard feelings whatsoever. I've known Scott for years and he actually wanted to audition for the band before Rich joined in 2016. He was my first choice to replace Rich, we didn't even audition anyone else! Scott has played in Death and Black Metal bands and is a very talented drummer. He's very easy going and we all get on well which is great. I'm really looking forward to working with him on the next album and playing shows with him in future, let the next chapter begin!
"We've already started writing songs for the next record which will be entitled IV."
What are your plans for Iron Void in 2019?
Sealey: We have a few international and UK shows lined up for 2019 and we've already started writing songs for the next record which will be entitled "IV". We have a couple of songs completed already and we have a lot of riffs and ideas to work with. The line-up change has knocked us back a bit but Scott is busy learning our back catalogue. In the meantime, we're currently working on our first ever music video for the song "Lancelot of The Lake" from 'Excalibur' which we hope to release by mid-2019 at the latest.
Steve: I'm looking forward to filming some parts for the video. We've really gone to town on it as it's our first one. I've been putting riffs together for the next album and Sealey is writing, too. We hope to fit in as many live dates as we can.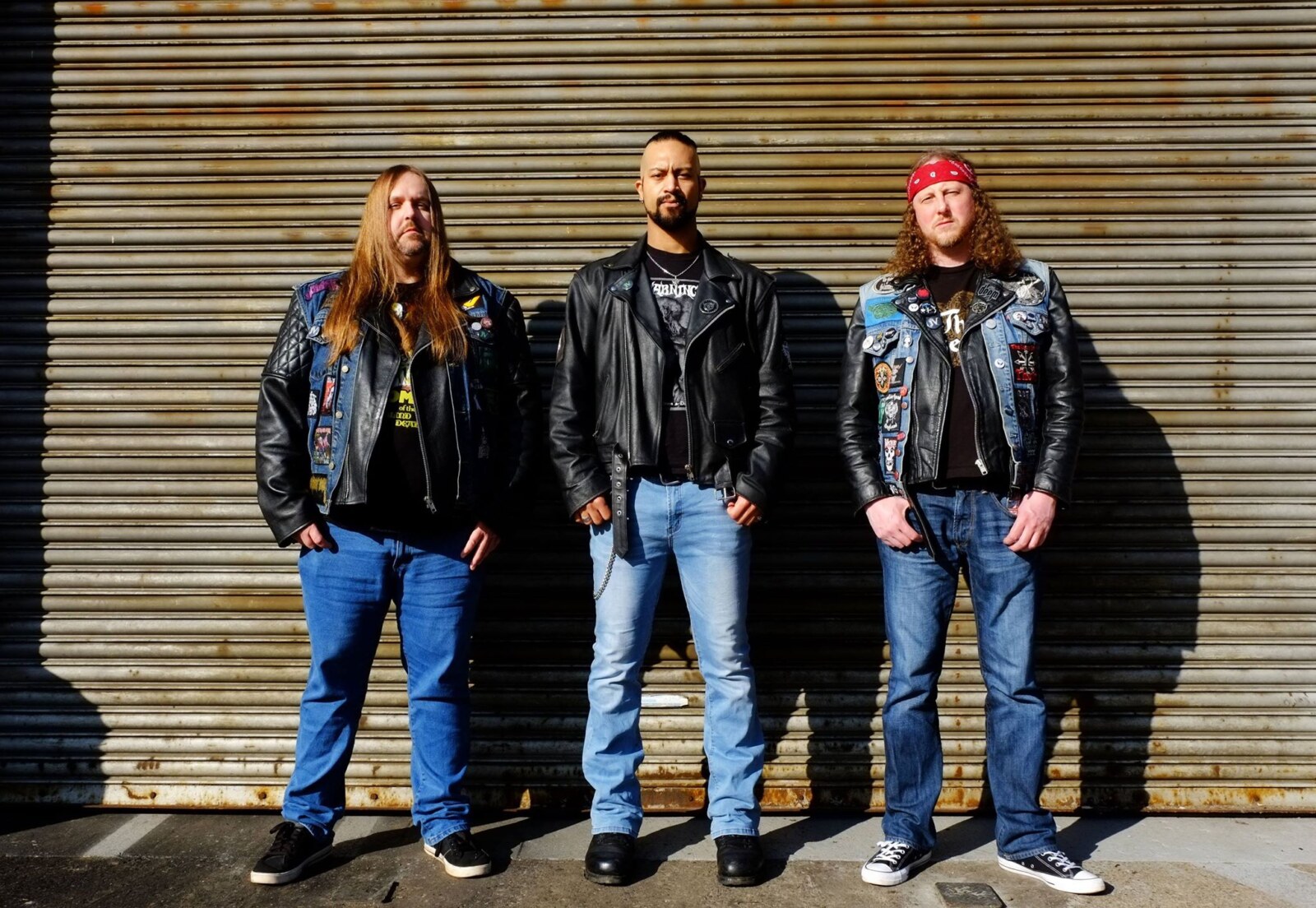 Will this video be something in a vein of Jaldaboath's 'The Wailing Witch of Moulsecoomb' or more serious?
Sealey: Ha, ha! I hadn't seen that video until you sent it to me, it's hilarious! The video we're creating for "Lancelot of The Lake" is portraying some of the key points within the narrative of the "Excalibur" album, mixed with footage of the band performing. As we're only doing the one video for this album we wanted to do our best to represent the story as a whole within one conceptual video. We're still working on it but want to release it by mid-2019. It'll be a little more serious than the Jaldaboath video, ha, ha! The chorus melody is instantly recognizable but it took my a while to realise it's the Eastender's theme music melody! Ha, ha!!
Steve: I wasn't present for the first couple of filming days, but I did get to take part in the battle scenes for the end of the video. We're in the background as extras fighting and then we're part of the dead and wounded. It was hard work and the equipment was heavy, but I think it will look great when it's all edited together. We've just got some footage of us playing the song as a band to film, then editing. The video has taken a while because it's all been done DIY by re-enactors on weekends but it will be worth the wait.
Okay, thank you for the interview and 'Excalibur' as well! It's good to know that Iron Void have made this big step further. That's all for today, how would you like to finish our interview?
Sealey: Thank you Aleksey for this interview and many thanks to all of our fans and supporters worldwide, we love you all! See you out on the road!
Steve: Thanks Aleksey. We appreciate you taking the time to put this interview together. We'll be back soon!
– Aleksey Evdokimov
Headline photo © by Stephen Walton