Bob Mould – "Sunshine Rock" (2019) review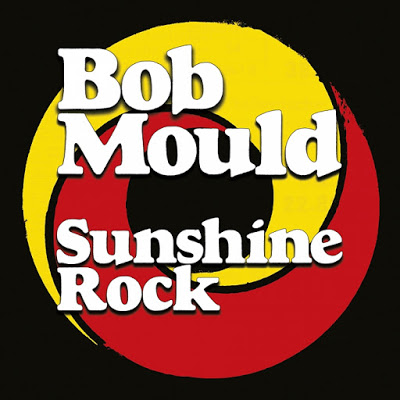 Bob Mould –
Sunshine Rock
 (
Merge
, 2019)
Mr. Mould may have more personal issues than I was aware of, saying "I'm sincerely trying to keep things brighter these days as a way to stay alive." Whatever you think of this album, that's a pretty drastic statement to make, and may just explain why this is his first album in nearly four years.
Perhaps Mould is so optimistic because he's no longer living in America, having taken up residence in Berlin, following the path David Bowie took so many years ago before he made peace with the world and created some of his most outstanding work.
I've never been a fan of post-punk, though that doesn't mean I'm not aware of what's going on there, where far too much of it comes off sounding entirely too much like everything else. Nevertheless, here we find Mould back with gunslingers Jon Wurster and Jason Narducy, where Mould, where even in the midst of his caffeine overdosed sound, one filled with surging, yet melodic in their way, hooks and ever-frayed energy, he does come across sounding happy and content. The album also sounds nostalgic in an odd sort of way, where at least lyrically, the man has found a place to stand without the fear of a bucket of bricks being dumped on his head, or worse, him dumping one on us, with a singularity of mind being not to let misery get him down. Though dropping new ideas is entirely something else, as there's an eighteen piece string arrangement that takes the title track, "Sunshine Rock" into new territory, and is one of four numbers that mentions the 'sun' in a song title.
If you in need of more of what was delivered on Patch The Sky, you're gonna get it, as there is enough caustic bracing guitar fuzz and volume to hold you against the wall. All of that being said, in any of his incarnations, either with Hüsker Dü, fronting Sugar or as here, on his solo work, Mould never seems to present anything more than potential, though his revved up and rocking cover of the 1968 song "Send Me A Postcard" by Shocking Blue will cause most fans to sport mile wide smiles.
All and all, believing in his new found optimism or not, nearly anything from Sunshine Rock could be placed within any other body of work from any of his bands, at any point in time and it would fit in flawlessly. That may cause some fans to jump with joy, though I feel that even with such a large catalog, Bob has been stirring and dishing up spoonfuls out of the same pot for far too long, never, yet perhaps only momentarily, to find a corner to turn or even sonically new ideas to present.
Yes, I fully realize that there are artists who've gotten older doing this sort of thing, filled with pent-up rage or perhaps misplaced aggression, where even folks such as Mike Ness of Social Distortion managed to keep up the pace, yet moved into a different phase of his life with "California (Hustle & Flow) or "I Was Wrong," where Bob Mould, living in Germany or not, seems incapable of imagining, or even taking such a journey, with the album's middle track "Lost Faith" suggesting that he's still as troubled as ever, saying in the midst of this album that was supposed to be his elevation, his stepping stone to self-understanding, that he's lost faith in everything, where I'd suggest that even in these troubled times, it's not enough just to have a roadmap home, one needs something that gives one a reason to live, a reason to put one foot in front of the other and make a headlong plunge into changing rather than complaining.
– Jenell Kesler