The Bangles / The Dream Syndicate / The Three O'Clock / Rain Parade – "3×4" (2019) review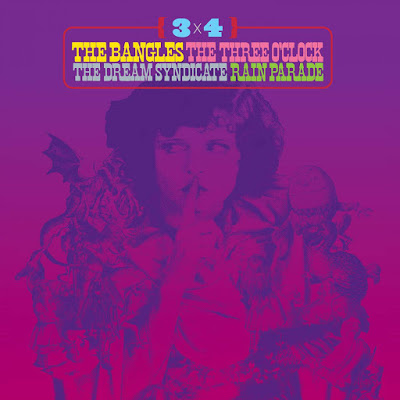 The Bangles / The Dream Syndicate / The Three O'Clock / Rain Parade –
3×4
(
Yep Rock
, 2019)
Boy, do we need this – a perfect time for a Paisley Underground revival, courtesy four of the scene's seminal proponents of putting an 80's spin on 60's jingly jangly pop. The gimmick is to invite each band to cover a track by the other three, hence the album title! Another thing in the album's favour is that each of the bands were friendly rivals on the El Lay scene that received wisdom suggests was named by Three O'Clock singer/bassist Michael Quercio. So there's no ego-jostling attempts at one-upmanship here. Everyone is on board for a rousing good time that spills out of your speakers with every ringing Rickenbacker. Most of the performers have been in this position before, having contributed to the essential Paisley Underground All Star project, Rainy Day back in 1984.
The fun begins with The Three O'Clock's rousing fist-pumping rendition of The Bangles' 'Getting Out Of Hand' before the gals step up for a moody take on Dream Syndicate's 'That's What You Always Say', featuring vocals and a shit-hot guitar solo from Vicki Peterson. Rain Parade's dreamy psychedelia drips off the wah-wah-inflected 'As Real As Real', originally released on The Three O'Clock's debut EP "Baroque Hoedown" shortly after their enforced name change from The Salvation Army. The headswirling daydreaming continues on Three O'Clock's 'Tell Me When It's Over', which captures the kaleidoscopic shimmering sunshine beaming throughout the Dream Syndicate original.
All of these cover/tribute/genius acknowledgement tracks serve as a rallying point behind the simpler times when music was a communal creation of like-minded musicologists, but I must single out the Rain Parade>Dream Syndicate connection that is responsible for the lengthy, three-guitar attack we drool over as the current edition of Rain Parade (featuring original members Steve Roback and Matt Piucci) slam-jam-thank-you-mam their way through the grungefest that is 'When You Smile'! The Bangles lighten the load and clear the purple haze in the air with their patented pop perfection take on Rain Parade's 'Talking In My Sleep', Susanna Hoffs' vocals as fresh and perky as the day she unfurled them on The Bang's 'Getting Out Of Hand' debut single nearly 40 years ago!
The Dream Syndicate get in on the punchy, poppy fun with a blistering 'Hero Takes A Fall', although Steve Wynn's gruff vocals take a tad getting used to in light of Hoffs' original. Bangle Vicki Peterson's backing cooing lessens the attitude adjustment. And Hoffs subtle backing on The Three O'Clock's cheerfully brisk interpretation of Rain Parade's 'What She's Done To Your Mind' from their genre-defining debut Emergency Third Rail Power Trip combines for a perfect dollop of earcandy magnificence in these hypersensitive, occasionally antagonistic times.
Overall, a brilliant idea only improved upon by the perfect execution. It's only January, but this is already earmarked for yearend Best Of lists and will hopefully encourage other like-minded paisley-shirted outlaws to reconnoiter and start recording new material!
– Jeff Penczak