Rainbow Ffolly interview with John Dunsterville
Among the many bands to have albums released by EMI in 1968 none may have had a stranger back story than Rainbow Ffolly, whose "Sallie Fforth" hit record shops the first week of May. EMI, home to The Beatles, among others, was one of the most respected labels of the day, with "The Beatles" better known as the "White Album" being perhaps the best known LP issued on the label that year. January, 2019, more than fifty years after its original release sees "Sallies Fforth" reissued on Cherry Red's Grapefruit Records imprint as part of its three disc box set "Spectromorphic Iridescence" containing the complete works of Rainbow Fflolly.
Where did you grow up?
Farnham Common-small village west of London by about 25 miles.
When did you begin playing music and when did you first play to an audience? Who were your inspirations?
Ukulele when I was 9. By 10 on a small stage playing 'Never Felt More Like Singing The Blues.' I loved early Rock n Roll but my parents loved classical.
When was Force Four formed? Who were the other members of the band?
1963 with Stewart Osborn, Brother Richard and Alan Thomas-later replaced with Richard Newell on bass.
Where did Force Four first perform? Did you do original or cover tunes?
Local village halls playing Eddie Cochran and Gene Vincent stuff until we discovered we could sing harmony. Then Byrds and Beach Boys.
Where did the band first record? How pleased were you with the results?
We demoed in Stewart's mum's house on his Ferrograph Tape with early songs to test the gear out. When we got a manager, we recorded 'Sun Sing' at Jackson Studios. They were more pleased than we were, but we were so green.
The band did a lot of recording at Jackson Recording Studio. What did you record there?
All originals the bulk of which were written in a couple of weeks-at the studio's suggestion to find out what styles we could write in.
Whose idea was it to link the tracks with jingles and sound effects? How did the band feel about this?
The Jackson's came up with that one, but we were not so keen on the American jingles, preferring our own. Not really our bag.
The band changed its name to Rainbow Ffolly. Were any other names considered.
Sure, we came up with the Upside, The Smaller Neater Smarter Sweeter Sugar Coated Spoon, The Muffin Affair-all of which I have the artworks on the logos designed by my wife Jane. I wanted Rainbow (everything was Rainbow related then) and Ffolly referring to the whimsical side of our group. Double FF is fortissimo and also sounded quirky and looked interesting from a graphic point of view.
How did the demo recordings end up at EMI Records? Why were you not allowed to re-record or put overdubs on the recordings?
We were surprised when the Jacksons did a deal with EMI as it was really a demo of disparate songs. EMI did not help with further overdubs-it was out before we realized what we were doing.
Who selected the tracks for 'Sallies Fforth' and how pleased was the band?
Jacksons selected the order-but though we were drawn into the fun we were not happy with the result-too bitty and not really reflecting the more gritty aspects of our stage performances.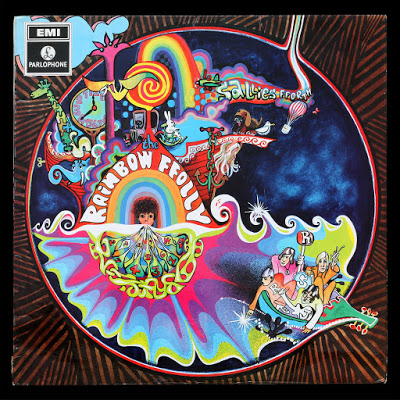 'Sallies Fforth' has unusual artwork. Who designed it and what are some of the coded inside jokes contained in the back covers' unconventional credits?
Jane and I designed the cover with the deliberate codes to make it more interesting to look at while listening, i.e. Richard 31 March,-Black Hair, Brown Eyes, Guitar. Conventional credits were a bit dull and obvious. We already had reporters asking us what Biscuits we like-well I ask you?
Would you describe the ambulance the band traveled in and some of its unique attributes?
Roger and Richard were the drivers. The ambulance was lined so it did not get too cold in the winter. I wanted the band to be a bit of a wind-up hence the key on top which Roger and his dad made.
Rainbow Ffolly were known for their unusual wardrobe. Would you describe it?
Jane designed our wardrobe. Colour coded and stagey, we had capes and ponchos which surprisingly are comfortable to play in. Richard in yellow with bedroom slippers, Roger in fiery red stripes, Stewart in green and me in silver with feather boas and painted shoes. We decorated the stage with fluorescent stars and backdrops to give the impression of a magic garden. Guitars were painted as well like my Fender Strat from 1961-I still have it of course.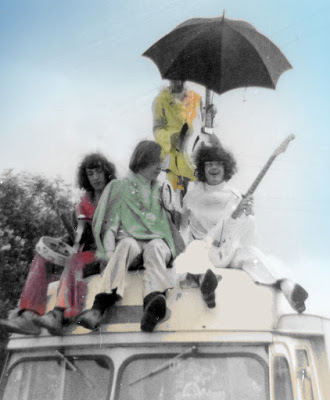 Did 'Sallies Fforth' get any support from EMI or radio airplay?
We did get some airplay but there was not a lot of single material and EMI did not give us much guidance or support.
What sort of critical response did the album receive?
Generally not too bad reviews but just look at the competition we had from both sides of the Atlantic! We were perhaps not surprisingly a bit misunderstood.
What is the story behind 'Drive My Car' which was selected for single release?
'I'm Drivin' My Car' was the original title but somehow it was changed, though not by me. No one could compete with The Beatles brilliant track of that name. The single didn't get much airplay.
The band recorded some cover tunes. Why weren't they included on the album or otherwise released?
The only bands who did covers of other works (unless really Special) were on cheap budget labels like Embassy, Woolworth and Pickwick. Why copy?
What were some venues did Rainbow Ffolly played? What was a typical set list? How much of a gig was devoted to the stage show and how much to musical performance?
We did dance halls all over the country and night clubs in London. We played our odd versions of Cream, Hendrix and The Who and some of our own tunes that transferred to stage. We used liquid wheels and flashing strobes and fluorescent lighting. We had Energy in bucket-loads and had a colourful act.
What show did the band record for on Radio One?
We recorded for Saturday Club on BBC Radio 1…
Was there thought of a follow up to 'Sallies Fforth' at the time?
We had more and we thought better songs ready to go but by then our finances forced us to call it a day.
What did the members of the band do following its breakup?
Richard went off to the states with Terry, his American wife (he became a gold miner in Arizona and she became a Mermaid and Taught Piglets to Swim!-(it's true) and Roger formed a band BAD WAX with Stewart, Roger Bates and Ashley Holt, singer with Rick Wakeman.
How did the idea of recording "Ffollow Up!" in 2016 come about? What were the sources of the tunes included?
Most annoying to see our former album changing hands for over 1,000 pounds sterling which made us feel like some ancient curio in an old antique shop. To use a good Anglo-Saxon expletive, "I thought Bollocks to this! We are still alive and can still sing, write, play, create, entertain, screw and poo!" So we reformed to utilize our own digital recording studio, which is NOT the sole domain of the young. Some songs were from the 'Sallies Forth' time plus some from a couple of years ago.
Why were only 500 vinyl copies of 'Ffollow Up!' pressed? Did the band play any gigs to support the album?
We are realists and knew that to print 20,000 albums was way out of our reach and we thought the individually numbered 500 was reasonably sellable. Now I hear that the album is already changing hands for more than the sale price! No our other commitments preclude us from playing live shows now but we can if it can be made worthwhile!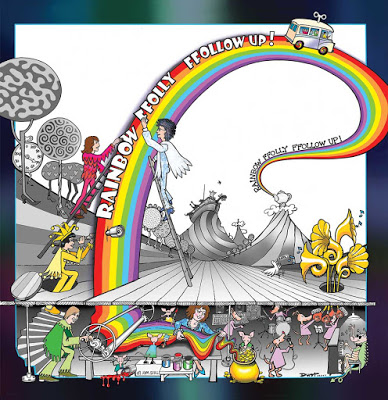 Have the members of Rainbow Ffolly remained close over the years? Are there any plans for a third album?
We really are close-same humour and same critical attitude, we are like brothers. The joy of being able to record reasonably well has made us more creative than eve. We already have enough for a third album, and I am writing 'Hums of Dunsterville' a more acoustic and personal album of tracks.
What are your most memorable moments as a member of Rainbow Ffolly?
The endless fun of life on the road in our wonderful Island and the sound of cheers and applause is good for the ego! Kids finding our feet, but when we got playing live-that's magic and that is what really should drive the music industry!
We are pretty pleased with the box set-but it really is warts and all. From the shabby to small flashes of brilliance with a good song. We all agree with the sentiment of 'Tour de Fforce' from 'Ffollow Up!'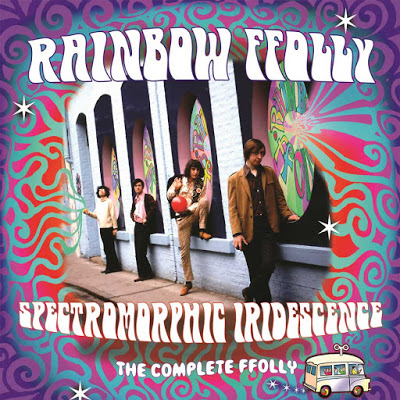 What is John Dunsterville up to in 2019?
I am writing music from Guitar Classical to out and out Pop, I am also President of our local Rotary Club so we help youngsters gain a foothold on this planet. I do a lot of artwork and cartoons (Jane and I did the new Cover too). My nickname is Dusty-I run Dusty's Blues Club and have for 20 years. Check out
www.dustys.biz
and click the video page and see DTTW (Down To The Wire)-a collection of brilliant session musos front by me-again warts and all! I put on bands and musicians from all over the world. Kilborn Alley Blues Band, Creedence Clear Water's wonderful Bob Malone Band. Acts from Australia, France, Holland etc. as well as blues men from our neck of the woods.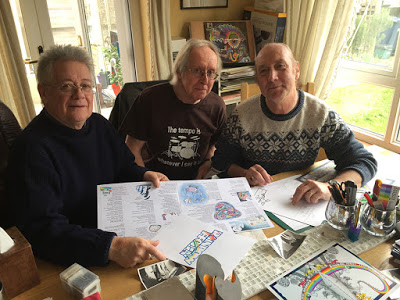 Is there anything we haven't covered that you would like our readers to know John? If so, please feel free. The floor is yours.
Yes the floor is mine but I sometimes feel that someone has knicked the walls and roof! Seriously though-I would like to add that though there is so much and varied avenues of communication why is the industry so stifled? It seems that anybody can sit in a bedroom and bleat on about their feelings-don't get me wrong-it's a start, but unless musicians really reach out then the danger of becoming a band of bed-wetters is a likely outcome. Jane's (my wife's) mum was a concert pianist and had played The Royal Albert Hall etc. and she very quickly spotted the talent I had but the major flaws as well. Her advice-listen to every style of music worldwide-find out what gets others' pulse racing-dive in-and swim out the rest of your life-you'll be so glad you did.
Thank you very much for taking the time to share the Rainbow Ffolly story as told by John Dunsterville with our It's Psychedelic Baby Magazine readers. Much, much appreciated.
– Kevin Rathert
© Copyright http://www.psychedelicbabymag.com/2019