Cheval Sombre – 'Had Enough Blues' / 'Hitch a Ride' (2018)
Drifting back from his nocturnal wanderings, Cheval Sombre has floated in with a very limited edition single from his shimmering side of the great beyond, a blissful and emotional set of songs that play out nicely against the backdrop of a fading orange setting sun.
---
Cheval is far more than a musician, he's a romantic relic from a bygone era, from a time when artists laced their music with social issues, along with relevant snippets from the times in which they lived. House of Love did this beautifully on their track "The Beatles and The Stones," while Simon & Garfunkel brought us to tears with "7 O'Clock News," when the world actually seemed on the verge shattering right before our eyes. On "Had Enough Blues," Cheval sets fire to contemporary headlines, with the shots that turned historic Paris into a battle field … and never have I heard a more fitting or loving tribute to that tragic event.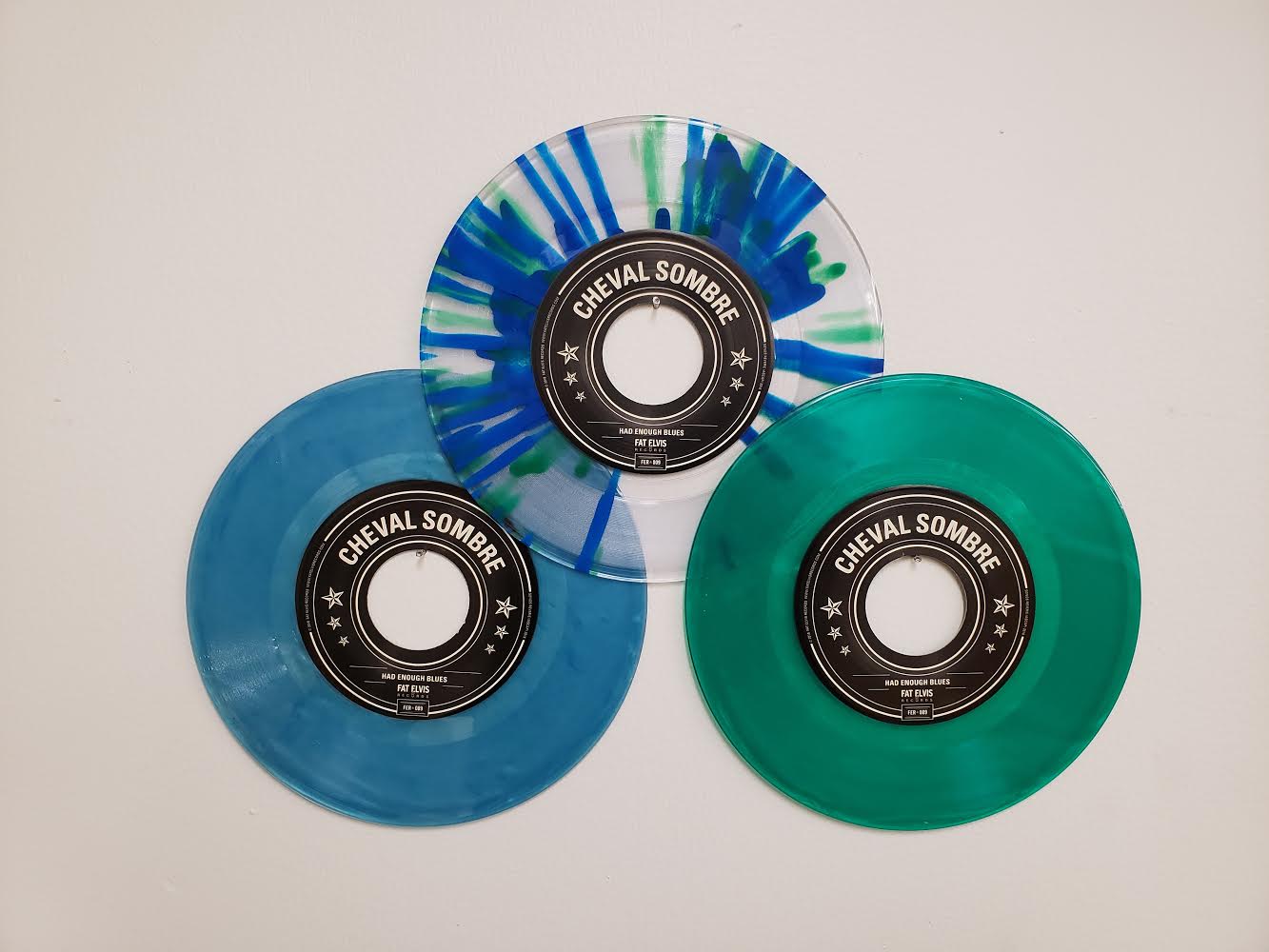 But never fear, Cheval doesn't leave you hanging spellbound, as "Hitch a Ride" allows you to slip back into the peaceful emancipation of his sonically haunting, gentle head-bobbing light-handed pastoral blues strummings and soft engaging vocals, vocals filled with lyrics that wrap themselves around you like a warm camp blanket, one embroidered with images of cowboys and Indians darting across an imaginative desert on fanciful horses.
Now, if you'll excuse me, I'm gonna find my cat, close my eyes, and give this bit of wax yet another spin.
There are several differing versions of the single, with a limited edition of 325 total copies, there are 100 copies each of a metallic blue, metallic green, along with a green and blue splatter. There are also 25 wax image variants and test pressings.
– Jenell Kesler
Cheval Sombre – 'Had Enough Blues' / 'Hitch a Ride' (Fat Elvis Records |2018)