Painter Turns to Hammersmith
Just before Christmas of 1973, an album by the Canadian band Painter hit the North American market like a ton of TNT. To call it "heavy" was an understatement – yet it was also sophisticated and melodic, and replete with radio-friendly hooks. And part of its appeal was that it came from a band which appeared to have no track record with the record-buying public. That was quite untrue of course.
---
Painter evolved out of the Calgary-based band 49th Parallel, named after the invisible line of the Canadian-U.S. border. Formed in April 1967, it included in its ranks Danny Lowe, Bob Carlson, Dave Petch (later replaced by Jack Velker), Mick Woodhouse (later replaced by first Dave Downey, and then by Alf Cook) and Terry Bare. With the vocals of Dennis Abbott, they were a punkish but straightforward pop band and sounded almost – well – British.
An extremely popular touring act with smart matching military style jackets (with chevrons on the sleeves), they also forged a relatively unremarkable recording career. Their first single was released in May 1967 and received the attention of Billboard Magazine: "It's RCA Victor here for the debut single by a Calgary group, the 49th Parallel, with "Laborer" and "You Do Things To Me" from the Canadian–owned Gaity label in the U.S." It received encouraging airplay in Canada, but did not sell in large numbers. Their follow up 45 rpm was the wonderfully-titled "Citizen Freak" b/w "She Says" in early 1968.
RCA did not see a clear direction with the band and let them go that spring. They rebounded by joining up with another American company. Again it was Billboard that announced in July 1968: "The Calgary group, the 49th Parallel, is now on the Venture label in the U.S. distributed by Quality Records here, with their "Blue Bonnie Blue" [written by Delaney Bramlett] happening out west." Venture was a short-lived label from Los Angeles, sporting mostly African-American acts. It was run by president Mickey Stevenson, and was distributed by MGM Records in New York.
Their next single was "Now That I'm A Man", followed by what was to be their swansong "Twilight Woman" in January 1969. It sold and got airplay, and stayed on the CHUM charts for seven weeks (CHUM being Canada's premiere rock radio station based in Toronto). And according to Billboard on April 26th: "…"Twilight Woman" now on every major chart in Canada." Taking advantage of this surge of popularity, the band issued their one eponymous album in September of that year. It was a bit of a hodge-podge, made up of their singles and studio outtakes over a number of years and sessions.
Lowe's high school chum Doran Beattie replaced Abbott shortly after the LP's release. He recalls: "I started as a folksinger…won the Alberta Music Festival in 1967 (the category was "Modern Folk"). I was in a few local bands of little status…The Time Watchers, then formed Size 5…a rival band to Danny's 49th Parallel."
The Parallel both pared down their instrumentation, and veered onto a heavier course. They also decided to relocate to their "promised land" – the U.S.. Billboard continued to take an interest in them, and reported in July 1969 that: "The 49th Parallel, a western Canadian rock band, has moved from Alberta city to live in Hollywood. The group, on Venture Records in Canada, recently had a nation-wide hit single "Twilight Woman."
They then decided to do a proper album, returning to Canada and recording several sessions worth in producer Don Grashey's DMG Sound Studio in Port Arthur (now Thunder Bay), ON where they had recorded most of their singles. Unfortunately they could not find a label who believed in the package, and it was never issued. Even so the sessions gave birth to the single "I Need You" b/w "Goodtime Baby" released in 1970 on Quality Records in Canada and Barry Records stateside. Feeling somewhat discouraged, Lowe finally decided to jettison the Parallel name that summer and, upon the advice of his friend Randy Bachman, settled on the name Painter.
The original Painter of 1970 consisted of Lowe on guitar, Doran Beattie on vocals, Alf Cook on bass and Paul Burton on drums. With a new name, it meant they had to start from scratch again. Scratch in this case meant they had to return to play the high school circuit in Edmonton and Calgary, and then slowly make their way out of town and across the prairies. The last six months of that year saw them gigging in such desirable watering holes as Sylvan Lake, St. Paul, Grande Prairie, Fort St. John, and even Waskatenau – with a population of 200 on a good night.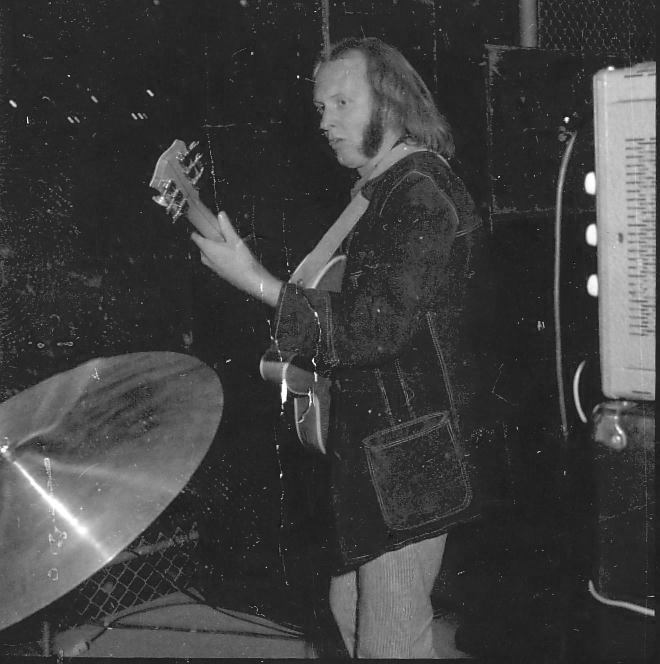 They released their first 45 rpm offering in 1970 on Bachman's Molten label. Recorded in Chicago's RCA Studio, the disc featured "Daybreak" (a song originally recorded by The McCoys and written by Rick Derringer) b/w "I Do the Best I Can." It sunk like a stone, and a rearrangement of personnel soon followed. Burton was replaced by original 49th Parallel drummer Terry Bare, and fellow Calgarian Wayne Morice joined as bassist and co-writer in January 1971.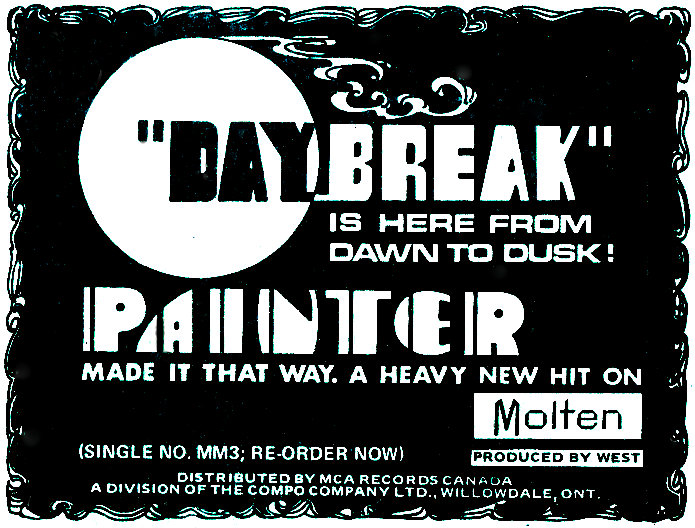 Morice had an equally impressive musical lineage. He was a founding member of the legendary (at least for Calgary) Centurians. In 1965 he relocated to the west coast where he played in numerous bands, and just prior to moving back to Calgary was a member of the ensemble with the highly suggestive name of Sweet Beaver. They were the house band at the Vancouver nightclub Diamond Jim's. He remembers that:
In December 1970 I was still playing in Vancouver when one night I heard a song on the radio which intrigued me. It was the original "Daybreak" by Painter from Calgary. I didn't recognize the players or singer but I thought it was a great song and good band. Two weeks later I went to Calgary to visit family and friends over Christmas. One night a friend and I went for pizza, and "Daybreak" came on the Juke box and my friend said it was Dan and Dorn with Alf Cook on bass. I first met Dorn in 1962 at his parent's house. His sister had a party and my band was playing there. I met Dan in 1963 as we went to high school together. I knew Alf from his days with the Esquires.
Of his interaction with Lowe and Beattie he recalls:
We knew it was something special. Sometimes when you start playing, it takes a minute, sometimes a week, sometimes a month (sometimes it never happens) where someone else catches your groove or you catch theirs – you gotta link up. You can play together for 10 years, but if you don't sync up, it doesn't work. Well, we linked right away!
Their first big gig with Morice was an appearance on CTV's nationally syndicated program Come Together where they did a smoking version of Grand Funk's "Aimless Lady." He continues: "After three months we were really starting to write – we were getting more sophisticated…but it wasn't quite working – it needed something else." In particular they needed a drummer who could play around Lowe's power chording and alongside Morice's stomach-rumbling heavy bass.
Lowe and Morice ran into a musician friend just at that point who suggested they contact Bob Ego. This was Bob "Herb" Ego, an Edmonton drumming powerhouse who had established an enviable reputation amongst western Canadian percussionists – especially with his versatile work in the Saskatoon-based Witness Inc. which had just broken up. That band had jammed with Lowe in Calgary in February 1971 the day after their own appearance on Come Together. The session gave rise to exciting visions of a strong new Witness band. They were awed by Lowe's prowess – Ego still remembers "Danny came out with some really monster licks at that session!" It was not to be however, as Lowe opted to continue on with Painter. The meeting of Lowe and Ego though would prove significant.
Ego flew into Calgary the last week of April, auditioned, and was welcomed on board. Morice recalls:
We sat and drank for a couple of hours, and then went back to the rehearsal hall to see if it would work. We weren't sure what to play – he didn't know our material. So Danny said "what should we play?" and I said "Oh Well" [the Fleetwood Mac tune]. So we started and Bob came right in with me, no hesitation. Danny stopped playing but Bob and I kept going – it sounded great! We looked at each other, this little fart on the drums, and we knew it was right. And we were both snorting drunk at the time!
As April turned into May 1971, the group felt complete. As a unit they continued to build a solid repertoire of original songs. As Ego muses:
The chemistry in Painter was very unique, very special. Our rehearsals were more like concerts. The songs arrived in a natural progression. Rarely did we discuss a format or get writers block. We were young, competitive and very aggressive. The words formula or dissect were not part of our vocabulary. Whatever came out was natural and spontaneous. We just rocked. At the same time it was very musical, technical and melodic.
Morice seconds that:
Dan, Dorn, Bob and I would rehearse every day for about four hours and during that time we would write, arrange and finish a song, even many of our five or seven minute anthems. Occasionally Dorn or I would bring in an almost completed song and then we'd all go at it and finish it. All in one day. The next day we'd try it and refine it if necessary.
For another six months Painter went in many musical directions – trying to find their niche. They brought in folk, a tinge of country and western, touches of jazz, a bit of British-style blues, some leftover freak-out psychedelia from the 1960s, and a whole lot of hard rock into the stew. It was extremely interesting, but felt disjointed, and none of their original material seemed to advance their profile or satisfaction. Their live performances were also evolving. Beattie lost his folk earnestness and started strutting in a most un-folk manner. Lowe, on the other hand, started to experiment with the dark side. As Cam Henderson – a long time Calgary fan – remembers:
I recall watching them in the James Fowler High School gym …the lights were out, the strobe was flashing, the drummer was soloing and Danny Lowe took off his big Gretsch guitar. He and the bass player staged a mock fight on stage in the midst of the cacophonous rock tune they were playing. It was downright mesmerizing as well as perplexing for it was the tail end of the peace and love era … the slow motion illusion of the strobe and violent, fragmented fight will remain fixed in my memory. We all thought it was extremely cool – quite anarchistic for the time.
He continues:
I also remember Danny Lowe using a tape delay and playing things silently,removing his guitar, walking away from his amp, turning around andcommanding it with forceful gestures to play loudly, as if he was a rock and roll wizard. The sound tore into us and he wasn't even touching his instrument. Black magic …
The band received their first taste of hometown press criticism in the first week of August 1971. They opened for the British superstars Procol Harum, and irritable reporter Don Percifield of the Calgary Herald had absolutely nothing favorable to say. Indeed he gave proof to the old adage "If it's too loud, then you're too old." His preamble:
Massive waves of rampant decibels ruptured reality and ear drums at the Big Four Building Wednesday as Procol Harum and Painter perpetuated a classic farce. The only good thing about the show was that it started on time. An audience of 2,500 young people paid up to $4.50 a ticket to get acquainted with the Big Four's sweltering heat and decidedly uncomfortable floor. Since when have chairs become extinct?
He then turned his attention to Painter:
Calgary's Painter was charged with priming the patrons. Mission accomplished four songs and forty-five minutes later, Painter retired as blasted minds wrestled with the havoc blown by the group from banks of unrestrained amplifiers.
After an infuriatingly long (and unexplained) forty-five minute wait in the huge "sweat-lodge", the headliners finally appeared:
Tempered by a modicum of amplifier restraint, the five proved somewhat less obnoxious than its predecessors Painter. Those praying for Power Failure got it – a song from the group's latest album…Otherwise Procol Harum was pretty nondescript.
By summer's end 1971 Painter felt the time had finally arrived to record their new material. They – like many other Canadians – felt that if they left themselves to the vagaries of the domestic music industry at that time, they would likely remain small regional players. Painter felt more ambitious than that; and they wanted to find their place in the larger North American music industry. In their minds the key to getting their feet in the door was to sign with an American label with global connections. Ego recalls:
…we wanted the interest of a major label in the US. Dan Lowe started to knock on doors such as Epic, Atlantic, Playboy, A & M, and Warner Bros. … Danny had previously set up demo appointments with Columbia and RCA. We brought our own gear which we would set up, play a song or two for the high ranks, then tear down and move on to the next studio. Those were the days when a record executive would pull up a chair a few feet from you and say "OK, show us what you've got." Some of the record companies were excited enough to record our performances. There was no record deal in place yet but we knew we were getting closer.
They briefly relocated to California to continue making label connections and recording several high quality demos. In Los Angeles they recorded two tracks at RCA Studios – "Stone Hill" and "Slave Driver" in anticipation of a contract signing with RCA. That fell through. A month later they booked time at Wally Heider's Studio in San Francisco. Two of the tunes recorded there on 16 track, produced by Lowe and staff engineer Jim Gaines, were released on London Records "Country Man" b/w "Lost the Sun."
Something clicked at this point. The band's hard work was paying off, their songwriting and performances started to gel, the distillation of the various genres started to make sense, and their confidence expanded. They returned to Canada for a full slate of live performances across the prairies and B.C. for the summer, represented by the Spane International booking agency. For much of May and June of 1972 they opened for the Five Man Electrical Band's western tour as that group played in Lethbridge, Calgary, Edmonton, Saskatoon, Regina and Winnipeg. There were many in the audience who thought they should have been the headliners.
In between gigs Painter undertook what seemed to be countless demo sessions at Edmonton's Park Lane Studios and continued to do so well into the fall and winter. One session resulted in another inspiring demo. The song was "For You", written by Ego (although a later reworked version on their first album was credited to the entire band) and engineered/mixed by Barry Allen. Another memorable session took place in the fall when the band drove up from Calgary for a twelve hour marathon. They laid down three original tunes "Follow Me", "Summer Song" and "Long Nights" – none of which has ever seen the light of day. Again Allen was behind the board, and he and Lowe would co-produce. Although their booking agent (and unofficial manager) Wes Dakus started hyping these new tracks to various Canadian labels, interest in all their demos was lukewarm at best.
Throughout this period of constant work, a close and sympathetic musical relationship was established with Allen who in turn had a rather impressive musical history himself. He was a founding member and guitarist of the pioneering Alberta rock and roll band Wes Dakus and the Rebels which was founded in 1958. Their early singles were simple, swampy, twangy instrumentals recorded at Norman Petty's studio in Clovis. Allen remembers:
Wes and the band were touring with Jimmy Gilmore and The Fireballs, who were from Clovis, New Mexico, and they convinced us to record there. We would play a gig Saturday night and make a brutal 36-hour drive straight there and start recording on the Monday night. One memory from Clovis really stands out. It was pretty cool when Buddy Holly's mom and dad came by to meet us and watch us record.
The titles of the Rebel singles were always intriguing – the best included "El Ringo", "Creepy", "Pink Canary", "Hobo", "Honeybun", and "Sour Biscuits."
However by 1964, the band and Petty discovered that Allen possessed a singing voice, and it was a voice like no other. Their live repertoire changed and expanded to include pop vocal tunes. This immediately increased their popularity and saleability, and in January 1965, Paul White, Head of A&R at Capitol Records Canada signed both Dakus and the Rebels, and Barry Allen to contracts. The Rebels were, for a five year period in the mid-1960s, the coolest of bands certainly in Western Canada, and arguably throughout the country. Much of that was due to Allen's good looks, and his relaxed yet compelling stage presence.
Simultaneously – and this was exceptionally rare in the 1960s – Allen was also a highly successful solo artist releasing seven singles (such as "Easy Come Easy Go", "Turn Her Down", and "I Know You Don't Want Me No More"), and two LPs on Capitol Records (Goin' Places and Lovedrops – both 1966). He was a celebrity whenever he appeared in Canada's music capital. Billboard reported in May 1966:
Barry Allen, whose "Lovedrops" on Capitol (Dot in the U.S.) is one of the hottest Canadian singles around, came east for two weeks of promotional radio and TV appearances this month, touching as many as four cities per day and hitting key national and local shows in Ontario and Quebec.
That same year he won the Top Male Vocalist Award at the Gold Leaf Awards (predecessor to the Junos, Canada's equivalents to The Grammys), and shortly after was approached by Randy Bachman to replace the Guess Who's original vocalist Chad Allen. Recalls [Barry] Allen: "It is true. I still have the letter from their manager and they wanted me bad. I got to know Randy playing shows on the Exhibition Grounds, but it was at the time when we were just releasing Lovedrops. I decided to stay, but it makes for a good story. Randy ended up producing a solo album for me – Wednesday in Your Garden – which we cut in Chicago, where the Guess Who were recording." That third album was cut in 1970 and released on Bachman's Molten Records.
Allen split from Dakus and the Rebels in 1968, and went on to front several of his own bands – The Southbound Freeway, then Purple Haze, and finally Cheyenne Winter with whom he cut Wednesday in Your Garden. At the same time, thinking of a longer and more stable career in music, he became fully engaged in the studio engineering side of music production, working in Edmonton's Park Lane Studios.
Morrice recalls that a feeling of dissatisfaction had set in:
By early 1973 it was obvious that the 60s were dead and gigs on the prairies were drying up… we were ready for something new so the four of us had a meeting to come up with a plan. I suggested we go to Vancouver for a few days to see if there was something for us on the coast. I called Alex Michie who I had worked with in Sweet Beaver. Alex was managing the "Garage Night Club" and he offered us a front three, Monday to Wednesday, as we weren't known on the coast. Bob Ego left the group and was replaced on drums by Bob Goler. We returned to San Francisco for another session and then to Vancouver for our three nights at the "Garage". This also gave me a chance to introduce Dan to Bruce Allen whom I had known in the 60s when he moved to Vancouver.
In April 1973 Painter played the three-night showcase gig at the "Garage." They instantly generated a buzz. As Morrice describes it, it also led to an important meeting with Bob Zimmerman, manager of the Chambers Brothers and Sugarloaf:
Our first night at the club was really good. A lot of the musicians who were off that night came to see us and were impressed. The second night, Tuesday, the club was packed and then at midnight The Chambers Brothers who were playing the Cave, came to hear us. At the end of our last set, their manager, Bob Zimmerman introduced himself and said he wanted to meet the next day. We did meet with him and gave him a demo tape to take to LA. We played Wednesday to another packed house and then stayed for a couple extra days to meet with Bob. We then returned to Calgary and two weeks later Bob Zimmerman called Dan.
That call assured them that if they signed a management contract with his company – Clean Air Productions – he could guarantee them a recording contract with a major U.S. label. They needed no convincing.
Continues Morrice:
…we went back to Vancouver to perform at Pharaohs Retreat and to meet Zimmerman plus Ron Stone and Marlin Greene from Elektra. Within a day we had a contract done. That night Dan, Dorn and I called Bob Ego and he said he was coming back. We also called Barry Allen and ask him to join the group. At the end of the week the band, including Bob, Barry and families, moved to Seattle …to begin recording. The first song we recorded was "West Coast Woman".
In anticipation of recording, they decided to add a second guitar, powerful backup vocals, and additional credibility in the person of the aforementioned Barry Allen. Allen had not only acquired his studio smarts, but had never really given up his urge to be a live performer. Thus brought to peak strength, Painter signed with Zimmerman's management company in May 1973. After further discussions, they signed a recording contract with the Los Angeles-based Elektra Records for their initial single, followed by an album. Their signing fee: $50,000 (U.S.). The Canadian correspondent for Billboard was alerted, and in its August 25th issue duly reported:
A former Calgary-based group, Painter, just signed with Elektra Records in the U.S. and a single "West Coast Woman" is being rushed out both here and the U.S. The group, which now works out of Seattle, consists of Doran Beattie, Danny Lowe, Wayne Morrice, Barry Allen and Bob Ego. Allen had a big hit in Canada several years ago with "Love Drops" on Capitol.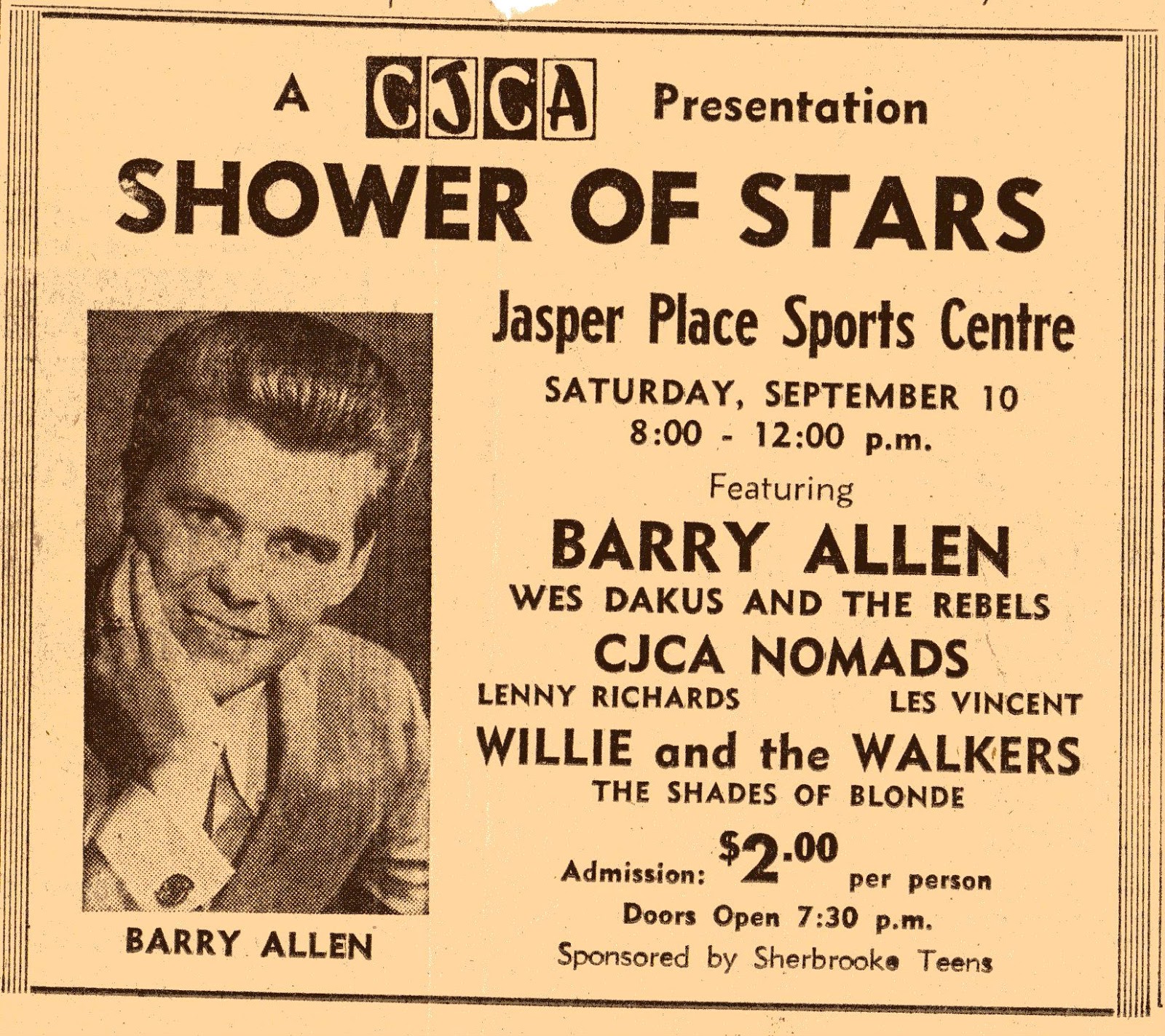 Elektra Records was founded as a small alternative label in 1950 by Jac Holzman. By 1970 it was a cornerstone of the Warner Communications empire called WEA (Warner Elektra Atlantic). By tradition Elektra was home to an assortment of artists: in the folk arena it had Tim Buckley, Carly Simon, Fred Neill, Harry Chapin, Tom Rush, Judy Collins and Tom Paxton. In the rock arena it had the MC5, the Doors, the Stooges, Love, the Paul Butterfield Blues Band, Atomic Rooster, Queen, the Wackers, Crabby Appleton and Uncle Dirty.
However in August 1973, when Holzman left the company, the label was taken over by David Geffen, then head of Asylum Records. He merged the labels, cut the roster from 45 to 13 acts, and started looking for new blood. The label's new A&R man in Los Angeles in 1973 was Ron Stone, a close associate of Geffen and Elliott Roberts whose management clientele included Neil Young, Joni Mitchell, Crosby, Stills & Nash, and the Eagles. He listened to Zimmerman's pitch, and the band's demos, and recommended they be signed.
Their first tour of the record label's premises on La Cienaga Boulevard in Los Angeles boded well – Bob Ego recalls:
Joni Mitchell, one of our best Canadian female artists, completed 'Court & Spark' the same week we signed to Elektra. In fact while touring the Elektra facilities the place was buzzing. One of Elektra's staff asked if I would like to be the first one to hear Joni Mitchell's new album. I said "I would be honored." Elektra had just completed the mastering of the album and they were so proud. And rightly so. This ended up being a classic album for her…
Painter moved to Seattle and initiated the recording of their first album at Kaye-Smith Studios. It was co-founded by actor/singer Danny Kaye and Lester Smith who also ran Concerts West Promotions and a string of radio stations. This was to be the band's first experience with 24 track capability, and they took to it with pleasure. Elektra was not too sure how to "guide" the band, but wanted to team them up with one of their best producers, and thus Marlin Greene enters the picture. Greene had been in the music business since the late 1950s. He had released a string of 45s as a teenager, then joined the loose grouping of southern musicians known as The Alabama State Troopers. However he was also a session guitarist and trumpeter, an engineer, a songwriter (both solo and with such partners as Dan Penn, Eddie Hinton, Wayne Perkins and Spooner Oldham), and even a graphic artist. He rose to prominence as the producer of Percy Sledge's single "When a Man Loves a Woman" in 1966, and remained Sledge's producer through the 1960s. Through his connections with Muscle Shoals, he established an admirable reputation by also producing Jim Reeves, John Hammond, Mavis Staples, Herbie Mann, Leon Russel, Lonnie Mack, and Boz Scaggs' shining debut solo album. Greene was lured to Elektra Records as both an artist and producer by Jac Holtzman in 1971, and the following year they put out his solo album Tiptoe Past the Dragon.
He could have been an influential pilot at the helm, but that is not the way it developed. Morice recalls:
Marlin Greene along with Ron Stone signed us to Elektra Records. Marlin was to be the "company" producer. As I was very involved in writing charts, vocal arrangements and other music issues, I'm not exactly sure what happened but, Marlin was more country than heavy rock and roll so about a week into our sessions in Seattle, Elektra turned production over to Dan, Jim and to some degree Barry.
Thus a more important influence on the "Painter Sound" was the new Kaye-Smith engineer and co-producer Jim Gaines, whose acquaintance the band had already made at Wally Heider's. Originally from Memphis, Gaines started his career in the recording business in 1961 with the largest and most prestigious jingle company in the U. S. – Pepper-Tanner. In 1965 he was managing their studio facilities, and by the next year he was moonlighting by dipping his feet into the pure music recording at Stax. In particular he worked closely with the ultimate session band Booker T. & The MG's.
In 1970 he quit Pepper-Tanner to go full time into album production, and became the chief engineer at Trans-Maximus Studio in Memphis, co-owned by Steve Cropper, Ronnie Stoots and Jerry Williams. A year later the lure of the burgeoning west coast scene overtook him, and he moved out to San Francisco to join Wally Heider's Studio. While there he helped to launch the recording careers of numerous bands such as Tower of Power, the earliest Doobie Brothers line-up, and the revamped Jefferson Starship.
For a brief period starting in 1973 Gaines relocated to Seattle to work exclusively for Kaye-Smith Studios. During this "sabbatical" he worked on three major projects: Steve Miller's Fly Like An Eagle LP, the Tower of Power's second LP entitled Back To Oakland, and the Painter debut. The first single, written by Lowe and Beattie in an hour, was recorded on July 2nd and released in late August of 1973 in Canada and the U.S. It was the exceptionally catchy number entitled "West Coast Woman." Within ten days it saw regular rotation on radio stations in Seattle, Atlanta and Houston, and then hit the Billboard charts. It entered the Canadian R.P.M. charts in the second week of September peaking at #16 in November. Altogether it stayed on the Canadian Top 40 chart for ten weeks. It also played for several weeks running on Dick Clark's American Bandstand. It was panned for the "Pick to Hit" by the studio audience because it was not danceable. Morrice remembers a quote from an irritated Barry Allen who sputtered "So our career is going to be ruined because some kids can't dance to it?" Elektra loved it though, and thought it was ripe for international exposure. Accordingly "West Coast Woman" was issued in the U.K., Australia, Germany, and Japan shortly after.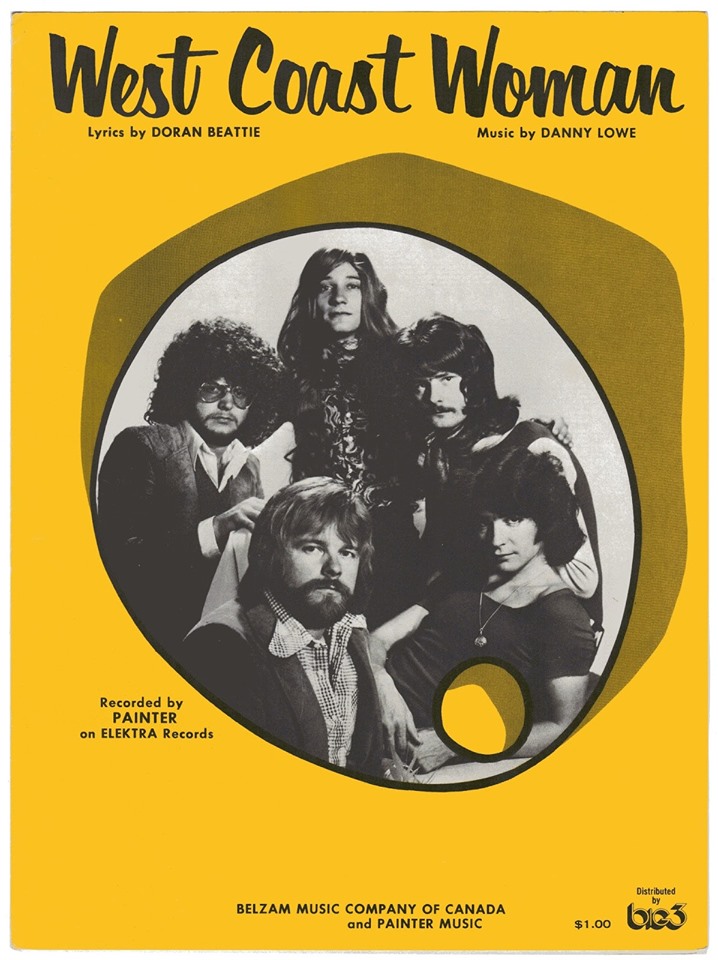 Elektra pushed the band to finish the album quickly. Lowe recalled that "We used about 210 hours of studio time for the album, working 14 to 20 hours a day." Ego elaborates on the fact that although they had more than enough songs, they were continually jamming and writing more:
We had a number of very strong songs that we already knew we wanted on the album. Most of the newer songs came together within minutes. For example, during the session we had just finished recording "Goin' Down the Road" and our associate producer Marlin Greene said "that's great guys, however we need one more song to complete the album." Without a word being said, Dan started a cool riff. I then came in with a syncopated shuffle. Wayne and Dorn came in with their paint brushes and "Crazy Feeling" was born. This was the last song recorded on the Painter album."Crazy Feeling" was literally created and recorded within 10 minutes.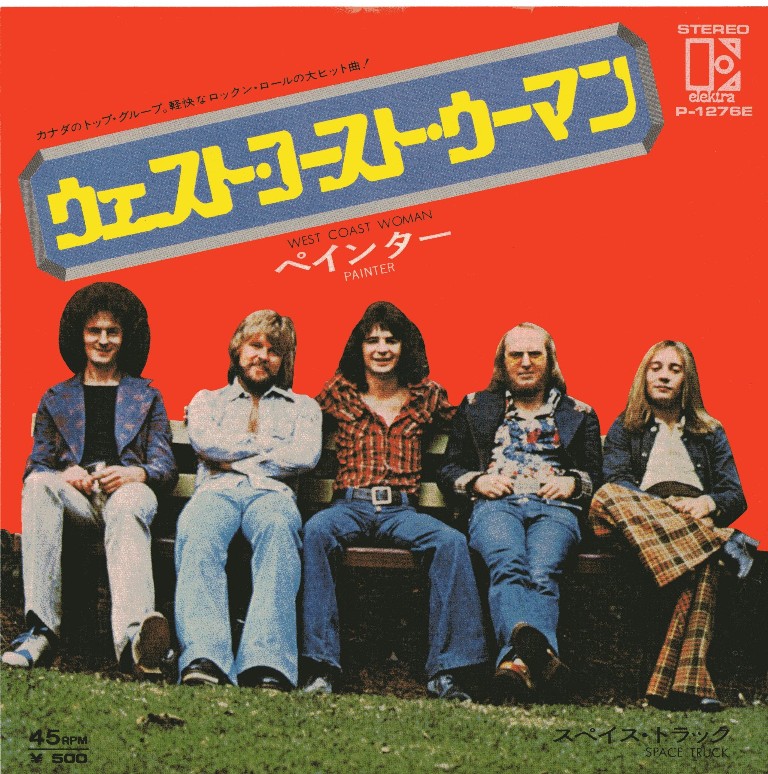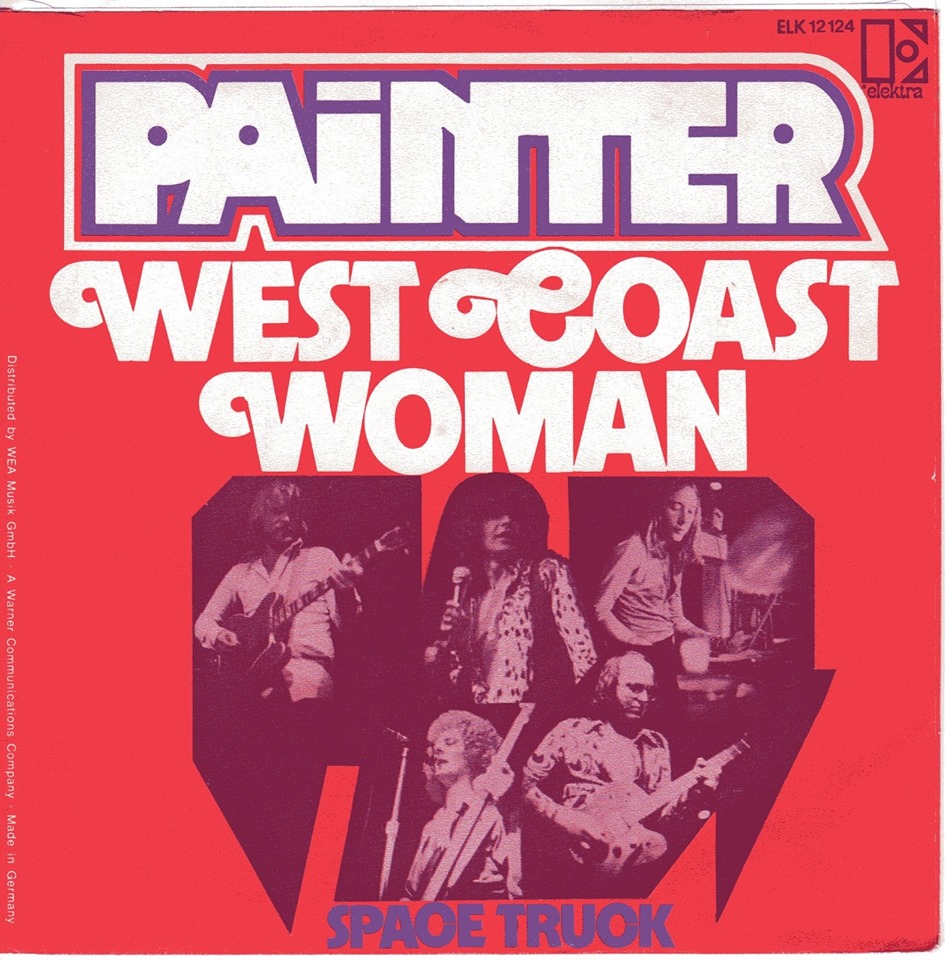 The sessions were notable also for their studio mates – Bachman Turner Overdrive – who were in the midst of recording their most popular album – Not Fragile – in the adjacent studio. Again Ego remembers:
BTO – fellow Canadians – were recording next door while we were mixing. After being in the studio all night our bass player Wayne Morice recalls Fred Turner from BTO calling him at 8 in the morning and asking him if he could use his bass as his had blown up! That day Fred recorded "Taking Care of Business", "Ain't Seen Nothin' Yet" and "Let it Roll".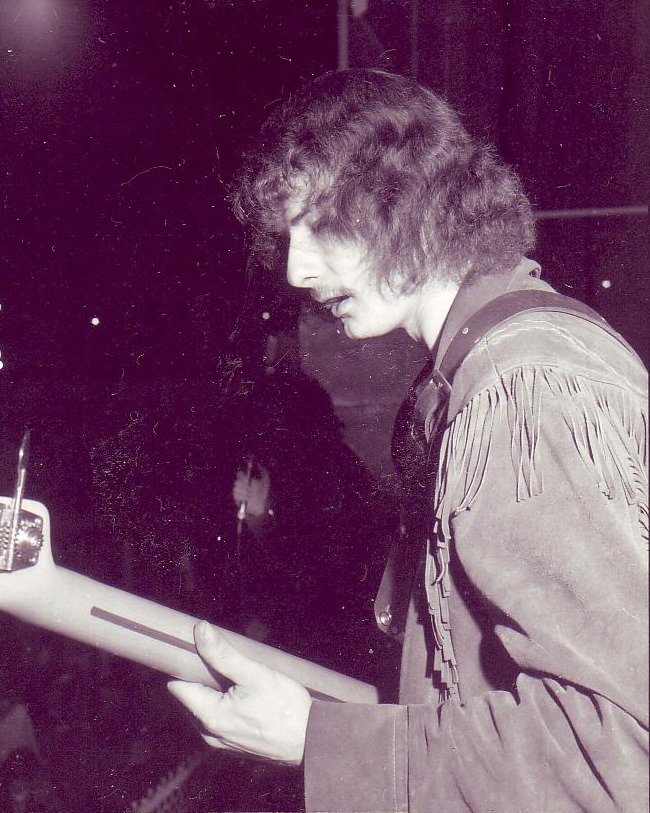 For the cover, a striking group portrait was taken of Painter by famed Los Angeles-based rock photographer Ed Caraeff in the lobby of the Paramount Theatre in Seattle just before they were about to go onstage. Caraeff already had "the" reputation, having captured the famous image of Jimi Hendrix on his knees straddling a burning guitar at Monterey Pop Festival in 1967. Caraeff had been hanging around Elektra/Asylum shooting LP covers for Carly Simon and Linda Ronstadt, as well as stockpiling images of Bob Dylan for possible use on his upcoming Planet Waves album.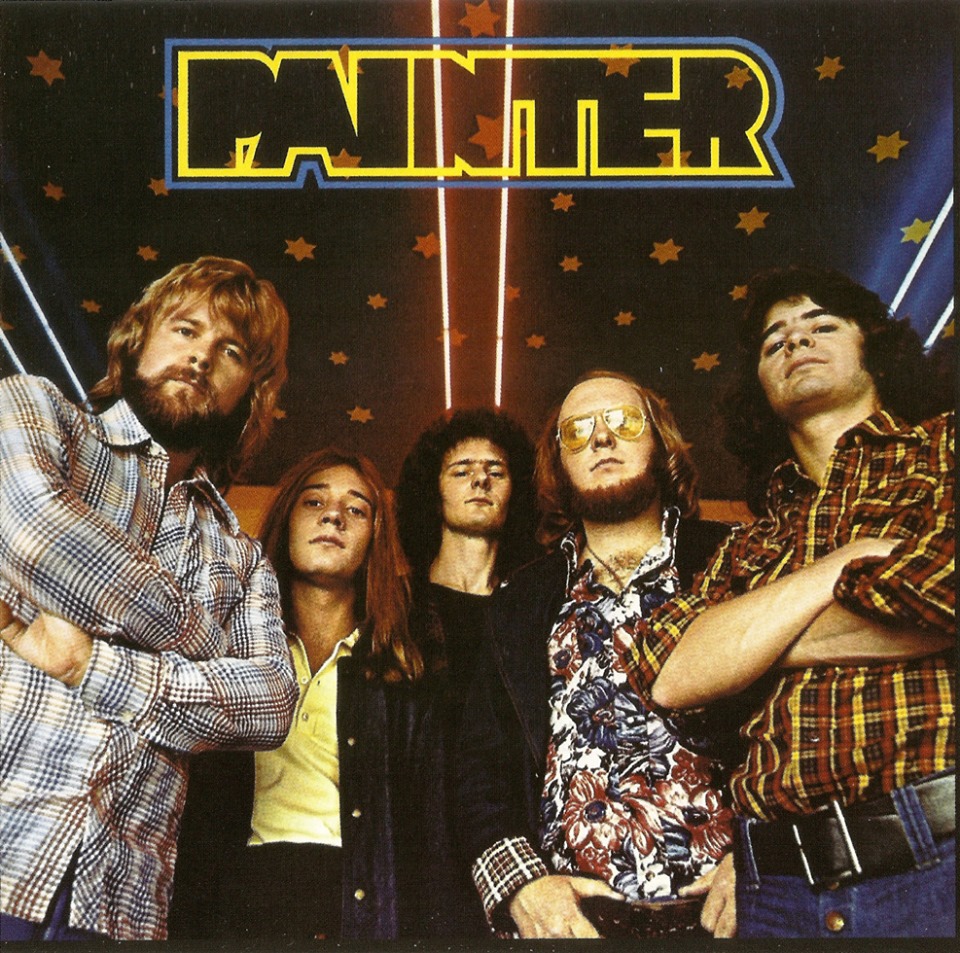 Released at the end of October 1973 and titled simply Painter, their LP was a much awaited event, and for good reason. Its eleven songs blend their wide spectrum of genres – the countryish and jazzy segments are all brought together by powerful harmonies and Lowe's rock guitar, all underpinned by one of the heaviest (no other word seems to fit) of rhythm sections – Morice and Ego.
Music fans in Seattle were delighted, and took the expatriate Canucks to heart. Patrick MacDonald, writer for the Seattle Times enthused about the record:
Seattle may soon have another nationally-known rock band very soon. Painter, who had a regional hit last summer with "West Coast Woman" will be releasing their first album… Monday on Elektra. The company seems to have a lot of faith in Painter and yesterday I listened to a test pressing with several members of the band and found the album to be on first listening, one of the best "commercial" rock albums I've heard in years.

The band has a totally professional, complete sound, very rock n' rolly on the order of the Doobie Brothers or Steely Dan but with some unique qualities – two great guitarists, fine harmonies and vocals and some sharp writing, especially in the lyrics. "The album sounds just like the band wanted it to" Bob Zimmerman, manager of the group says, "That's because of Jim Gaines, the engineer. He's not like some of these guys who put themselves in an album. He did what the band thought was best…."
Lowe was then quoted:
"Jim is really the reason we're in Seattle" Danny Lowe, lead guitarist said, "I knew him down in Los Angeles when I was there and followed him up here when he joined Kaye-Smith Sound Studios. It seemed like a lot of good things were happening in Seattle in music and we're glad we came. "There's a very fresh atmosphere here for writing and playing" Lowe says, "… we've been a lot more productive since we got here. We wrote "West Coast Woman" in our motel room just after we moved here and all but three of the songs on the album in the first couple of months were here."
Doran Beattie then chimed in: "I've been wondering a while which direction to go, but now it all seems to be working out, the band, the sound, the style we've been looking for." MacDonald wound up the article by making a prediction: "Things have been happening very fast for Painter and if this new album becomes a hit – and I think it will – things will be moving much faster."
Back in Canada R.P.M. magazine welcomed the album release:
Kicking off this first try, is Painter's latest single "West Coast Woman", a glance at the hard rockin', gutsy music that these guys are playing. The foundation is here for more good things to happen with their music, although some of the selections were a touch short and consequently lacked substance. Painter is more west coast talent (polished south of the border) showing us easties up. With the airplay they deserve, we should be hearing more and more. It's a good start.
The Guide, a Seattle arts newspaper, gave it an early review as good as anything the band could hope for:
The progressing popularity of Painter is well assured with the release of their excellent new album. Painter has taste, class, a few copied licks, and a powerful penchant to rock and roll. Canadian formed but settled in Seattle, Painter shows a deftness and grasp of the essence of true fun rock that is indeed refreshing after the inundation of some of the more "aren't we heavy" doom-rock groups.

The potential of Painter for future albums is fantastic. They possess a natural exuberance and drive that makes their possibilities most exciting indeed. The present Painter LP moves and mounts with rolling ease. Well paced and performed with boyant enthusiasm, this first Elektra album is a treat…
The alternative magazine Zoo World: The Music Magazine also liked it, but found they needed some imaginative word fabrication to describe the songs. In their January 3 issue they wrote:
Vaulting out of Seattle, Washington (home of Floating Bridge and Larry Coryell) with a jo jo flashy single called "West Coast Woman" (it could just as easily have been "Oh You") come PAINTER (Elektra EKS-75071) with a wall-of-sound approach that makes them sound like everyone from Uriah Heep ("For You") to Project 3 ("Kites and Gliders"), although their own particular mechocrunch surfaces effectively on "Goin' Home to Rock n' roll" and "Slave Driver" and a celestial motorvater called "Space Truck." Singer Doran Beattie and lead guitarist Danny Lowe (he produced) echo the boogified single in the closing 8:47 "Going Down the Road." A loud LP.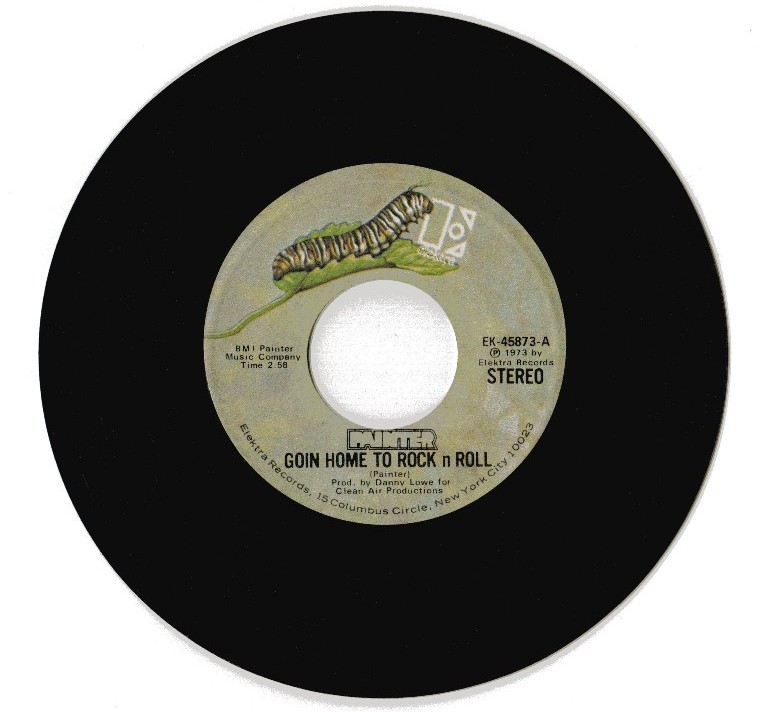 Billboard also started to take notice. It reported in October that "WEA delighted with growing U.S. action on "West Coast Woman" by Calgary group Painter on Elektra…" and in its December 1st issue, it included "West Coast Woman" in its Recommended Top Single Picks.
Zimmerman promised the band an extensive American tour to promote the album, and they started to fine tune their show together by playing throughout the Northwest in December. The gigs included Lower Columbia College in Longview (December 12), Centralia High School in Centralia (December 14), The Stable in Eugene Oregon (December 18-20), On Broadway in Seattle (December 21-22), and Gonzaga College in Spokane (December 29). A second single was released in time for Christmas – the insanely catchy "Goin' Home to Rock and Roll." The album really started to gain traction and their reputation grew at an exponential rate, primarily in the U. S. Recalls Ego "Zimmerman seemed to know somebody important in every city … big people who knew the business." The tour – partially financed by Elektra – unfolded from January to March 1974.
The band played their "official" American showcase performance at Los Angeles' Whiskey A Go Go from January 9 -13th 1974 doubled billed with the American soul band Joe Hicks and the Team. In the packed audience was the cream of the California music industry and even included Bob Dylan. Morice remembers driving by Tower Records, also on Sunset Strip, and seeing the entire front display window plastered with Painter album jackets and posters. He also recalls that:
We played really well, two sets a night. All the Canadians came down to see us. At the end of four days our bar bill was twice what our wage was! The owner of the Whiskey came to us with the bar tab and our cheque and showed them to us, and we went "oh no!" And then he ripped up the bar tab saying "you're the best fucking band I've had here since the Buffalo Springfield. You guys have made my week … my year!"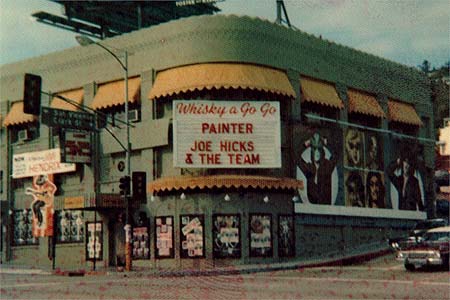 They were reviewed by Richard Cromelin of the Los Angeles Times on January 11th. Although generally favourable, it hinted at a few live weaknesses:
Painter has made a name for itself in its native Canada, but on the first stop of a lengthy American tour it turned in an uneven, if occasionally promising set. At its best, the quintet's sound is rough and rowdy yet tight and mellifluous. When all the elements are well integrated – a churning rhythm topped by strong lead guitar lines – Painter is impressive indeed.
Lowe was called out on his loud noodling:
… the members have a tendency toward indulgence that does them in. The guitarist, whose playing in the context of the songs is most effective, periodically wrenches free to nose around in the remains of psychedelia. These outbursts, while technically interesting, demolish the wholeness and continuity of the music. He needn't belabour his skills, which are evident enough, and more greatly appreciated in the totality of the music.
It was followed with three Alberta dates – Calgary's Jubilee Auditorium on January 18 (with Redbone), Edmonton's Kinsmen Fieldhouse the following night (with Redbone and Privilege), and the Lethbridge Exhibition Pavilion on January 20th. Even with their new-found fame they were still not lionized in their home city. Calgary Herald critic Eugene Chadbourne wrote an ambivalent review entitled "Groups hide their talents under bushel of noisy trash":
Painter, a group of musicians who knocked around the Alberta area for more than ten years before striking it rich down south in the land of hit singles, were a bit disappointing… Painter's set emphasized one of the main problems with rock music: a group's best intentions can get destroyed by the volume. The group is writing good songs, arranging them well, and attempting to keep a comfortable, spontaneous feel to its live presentation. The music must sound good on the way from the instruments into the amps. But when it comes out the speakers, it sounds terrible. The mix was awful …There is much rock music that sounds good loud, but Painter's just doesn't …
He continued:
Loud volume has become a mannerism – a pox forced on the musicians by style. Painter's vocalist Doran Beattie was also cramped by style. Fashion dictates the way rock singers should behave on stage. Beattie towed the line. He staggered around, guzzled from a flask, gargled incoherent announcements into his microphone, and acted as if he were walking on string beans instead of legs.
Hey – how about a little respect here! Painter then headed east. R.P.M. Magazine reported that "Elektra recording artists Painter will be performing in the Toronto area from January 25 to February 14." The next two months of 1974 saw an intensive and impressive run of gigs south of the border and included Milwaukee, Portland (with Steely Dan), Detroit (with Bob Seger), Las Vegas (with Brian Auger and Lee Michaels), Chicago (with the Paul Butterfield Blues Band and J. Geils Band), Atlanta (with the Leslie West Band), Washington D.C. (the Kennedy Centre with Black Oak Arkansas – that particular performance in March was captured by their soundman Glen Widgel), Nashville (in a club next door to the Grand Old Opry), Rawleigh N.C., and New York City (with Wolfman Jack).
Another highlight was an experimental live quadraphonic radio performance (aired on WRAS-FM) at Richard's Nightclub in Atlanta (March 1, 1974). Remembers Ego:
…the most memorable moment for me was when we played a club called Richard's… with Soft Machine & The Charlie Daniels Band. It was a Saturday night when our manager Bob Zimmerman came into our dressing room and asked us "would you mind if Frank Zappa came by to play with you"? Of course we laughed and told him "get outta here!" As it turned out it was for real and we were ecstatic. Zappa came in our dressing room with his guitar and a small practice amp. Within fifteen minutes he wrote two songs and it was show time. We hit the stage and performed live on the air with Frank Zappa!
Zappa was in town for his own concert at the Fox Theatre, and had caught their previous set. Painter and guest did two Painter songs: "West Coast Woman", and "Stone Hill" and then one of Zappa's impromptu dressing room compositions "That's Why I Knew That It Was Love." These jams could only have happened during this golden era of touring bands, and Painter found itself on the A level.
They then returned to Canada – to Toronto in particular – for a television program where they performed "West Coast Woman." As Billboard reported on March 16:
Elektra recording artists Painter were in Toronto recently to tape a segment of the CTV show "Roq" with Mike Steele and host Terry David Mulligan and meet with Toronto press. Wayne Dion of CHAM in Hamilton talked to the band on the air.
A third single from the album was issued in the spring – "Song for Sunshine." While it charted, they failed to capture the air play of "West Coast Woman." In addition to the album songs, Painter was also skilled in interpreting others songs. Some of their in-concert covers included "Ohio" by CSN&Y, "Knights in White Satin" by the Moody Blues (an interesting version since they did not have keyboards), "Carolina in My Mind" by James Taylor (a nod to Beattie's folkie tendencies), and their old chestnut – Fleetwood Mac's "Oh Well."
They had their first personnel shakeup in late March when Barry Allen bowed out, returning to Edmonton to get back full time into studio production. Recalls Morice: "During the winter/spring tour of the US east coast and mid west, Barry decided to leave the group, so Dan flew to Florida to meet Brad who was playing there. Brad joined us for the end of the tour and stayed with the band until late '74." Brad Steckel was originally from Easton, Pennsylvania the son of – as he puts it – "a Julliard educated, piano playing Bach fanatic with a stunningly beautiful voice and perfect pitch – Mom. My course was set sometime around then I guess." He attended Berklee College, studied guitar, and then dove headlong into the world of the touring musician. Throughout the late 1960s and early 70s he:
…worked extensively up and down the eastern US from Massachusetts to Florida with various rock, R&B and jazz groups. While in Florida in the early 70's he met Alberta guitarist/producer/inventor/entrepreneur Danny Lowe….Danny asked Brad to join his group (Electra recording artist) – "Painter." After an extensive US tour supporting groups like Jethro Tull, Alice Cooper and Kiss, Brad moved to Painter's home base in Calgary…
In the middle of that tour, their album finally received the ultimate stamp of American approval in Rolling Stone in June 1974. Reviewer Ken Barnes proclaimed:
Painter is yet another of the exciting new Canadian bands (others include Thundermug, Pagliaro, Fludd, and the disbanded Wackers). They have all burst out with a contagious pop enthusiasm reminiscent of Britain 1964. "West Coast Woman" was an enjoyable minor U.S. hit. But songs like "Tell Me Why", "Song for Sunshine" and the current single "Going Home to Rock and Roll" are even stronger – tight harmonies, infectious melodies and crashing guitars galore. The impact slips a bit on Side Two, but at their best Painter is irresistibly exciting. Completely self-contained (producing, writing, playing) they are a band to watch in '74.
At the end of the summer of 1974 Painter severed their ties with manager Zimmerman. He was no longer opening new doors for them – they seemed to be booked into the same arenas, the same markets they had had all year. They were using their own new contacts in the industry, and were essentially back to handling their own affairs. As well the band was increasingly unhappy with unexplained discrepancies between their stated concert and record earnings on one hand, and their take-home money on the other. That contributed to deteriorating personal relations between band and manager, and they felt stalled again. As Morice succinctly puts it: "he had run his course and some stories are better untold." With few regrets, they then hooked up with the rising star of Canadian managers, Bruce Allen of Vancouver, who had booked Morice's former band Sweet Beaver.
That fall Painter assembled a western Canadian tour. They motored into Regina, and played Darke Hall on September 22. A local fan – Jeff Wyatt remembered:
Danny Lowe's guitar sound was BIG and FAT and LOUD. It was so cool… I just forget if it was a Les Paul…..although I remember it having that full kind of sound. I think that was Bob Ego on drums. He wore big, studio style headphones for monitors. That's the first time I ever saw a drummer wearing headphones on stage. It struck me at the time as being such a practical idea,… plus it looked a little odd, and got people's attention.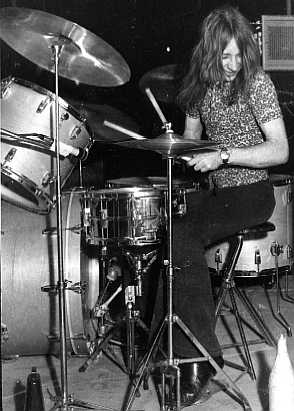 Their performance was reviewed by Brian Kowalchuk of the University of Regina's student newspaper The Carillon. He was impressed by the "strong, sometimes enchanting fingerwork" of guitarist Lowe, the vocals of Beattie "in true rock and roll fashion" and especially by Ego's "inspiring display of good drum work":
I remember commenting to my companion that Sigmund Freud would have loved Painter. The fact being that they were very aggressive and very loud, not to mention extremely egotistical: in terms of sound production of course. I learned later that the drummer's name was Bob Ego. Miracles never cease.
The highlight, not unexpectedly, was the hit song "West Coast Woman":
The vocals were clear and crisp. The harmony natural and spontaneous, flowing smoothly with Lowe's brilliant work on guitar and Ego's percussion. Mr. Ego provided a solid, guttural beat to keep the whole song moving quickly and conscientiously. They finished it off nicely with a strong guitar-drum combo.
Andy Mellon, popular music critic with the Winnipeg Free Press was also impressed with them. He wrote of their October 20th concert in the Manitoba capital:
Speaking of bands, one of this country's better hard rock bands, Painter, was in town Sunday for a social in the Marlborough Hotel. The group, which is managed by Bruce Allen, the man responsible for guiding Bachman Turner Overdrive's fortunes, put on an energetic, fast-moving show, comprised chiefly of original songs, although a medley of Fleetwood Mac's "Oh Well" and The Moody Blues "Tuesday Afternoon" proved a particularly inspired addition.

Guitarist Danny Lowe, a veteran Canadian rocker, stole the spotlight on most of the numbers with his intricate, winding solos and combined with rhythm and second lead guitarist Barry Allen [actually Brad Steckel] for some splendid double-lead work. The group's two hit-45's "West Coast Woman" and "Going Home to Rock and Roll", a pair of funky hard-driving rockers, along with a number of selections from its new album indicate this group may follow BTO's weighty footsteps in the not-too distant future.
After the tour Ego left the band for a short period of studio session work in Edmonton, and Steckel did likewise moving to Calgary. Lowe, Beattie and Morice made the decision to relocate to Vancouver, where they recruited new rhythm guitarist and prolific co-writer Jeff Boyne from local band Crosstown Bus. The Bus was managed by Bruce Allen, and with his growing connections they toured throughout Canada and into the U.S.. As well they recorded one album – High Grass (drugs may have been involved…) – in 1972 for MCA Records which was produced by Tom Northcott and David Foster. Boyne recalls he was looking to broaden his musical horizons:
My group in 1974… had seen its share of changes also, which inspired my move to Hammersmith. We had just lost Blair Thornton to BTO, and … we lost Frank Ludwig to Trooper, so the time seemed right to make a move also… I had to learn the Painter album at home, then a couple of short rehearsals, and we hit the road to pay the bills… They [Painter] were forced to start over from a financial point of view. When they came to Vancouver I was able to supply our band truck and PA system to get out earning some cash again.
He also remarks on his role within the new setup:
I always looked up to Danny's ability and sound; he was more advanced than me at that point, so I took his advice eagerly. We did some neat harmony riffs, but I worked the rhythm section with Bob Ego and Wayne mostly. I had a set of Latin Percussion Congas beside me. I would swing the guitar behind my back and pound on them for some drum solos.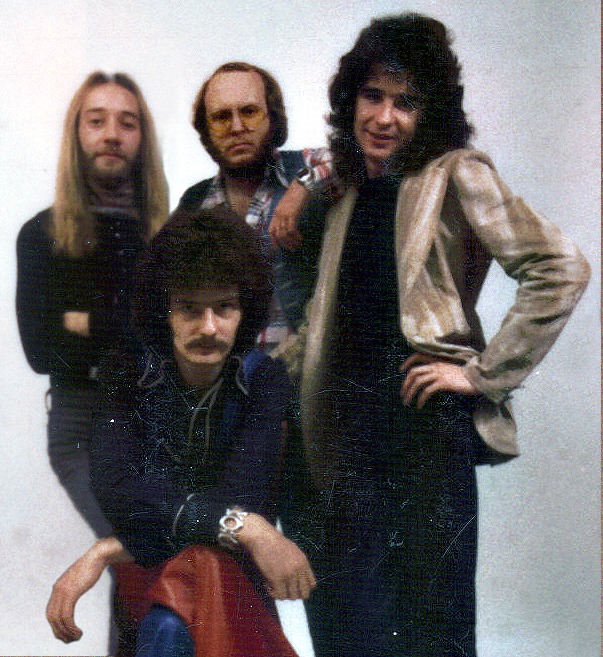 Again all the new material they attacked was original. Boyne was welcomed into the songwriting mix immediately, and Ego recalls recording an incredibly complex tune that had been developed in their live concerts "Yes I Will." The new album was given the working title Down To Earth. Three songs were completed at Sounds West Studio in Calgary in July 1975 (during the annual Calgary Stampede which they played at). Engineering assistance was provided by Peter Bentley.
Elektra Records was not noticeably supportive of their sophomore effort. By this point David Geffen was remaking the combined Elektra/Asylum label in the image of the soft laid-back California sound. He signed the Eagles, Linda Ronstadt, Jackson Brown, J. D. Souther, and even the reformed original Byrds. While an impressive lineup, nothing could be further away from the heavy Painter sound. During the Kaye-Smith sessions, Geffen sent one of his staff producers to sit in. Painter played him several of their new tunes. As Morice remembers: "he obviously wasn't listening… he then seriously suggested that we do a version of "Cathy's Clown". It was SO absurd that we knew at that point that our days at Elektra were numbered!" As well, all of Geffen's attention (as well as that of everybody else at the label) during 1974 was directed to the time-consuming signing, caring for and feeding of Bob Dylan on his brief hiatus from Columbia Records. He would release two albums Planet Waves and Before the Flood for Geffen that year.
Seeing the writing on the wall, the band bought out their recording contract and went shopping for another label. They did not have to look far. Mercury Records, an eclectic label based in Chicago, welcomed them with open arms. Founded in 1945, Mercury originally earned its sterling reputation for several genres of music: classical for the high brows, and blues, jazz and country for the rest of America. It could boast of such luminaries as Quincy Jones, Sarah Vaughn, Charlie Mingus, Cannonball Adderley, Max Roach, and Buddy Rich.
In 1969 new president Irwin Steinberg made his desire known to expand the label's offerings – both with rock music and with international artists. He initiated the process by signing Rod Stewart as a solo act. The new direction was further accelerated in 1972 when Mercury came under the umbrella of Polygram/Phonogram Inc., a truly international record label headquartered in the Netherlands. Mercury then signed U.K. bands 10 C.C., Thin Lizzy, Uriah Heep, and the Sensational Alex Harvey Band.
While on this acquisition spree, the label was not just content to look to Britain. Steinberg's vice-president and Head of A&R, Charlie Fach turned his eye towards Canada. His first signing in 1973 turned out to be a gold mine for the label – namely Bachman Turner Overdrive, also managed by Bruce Allen. BTO did spectacularly well for Mercury. Their debut album from May 1973 went gold, BTO II from December 1973 went platinum, and Not Fragile from August 1974 also went platinum and ended up #1 on both the Canadian and U.S, album charts. Fach – previously a staunch supporter of jazz and funk – definitely sensed the popularity and earning potential of northern hard rock, and snapped up any recommendations from Allen and Bachman. (Fach would also sign Toronto bands Rush and Max Webster within the next year).
With full support from Fach, Lowe decided he wanted to produce the new album by himself. Although he also engineered a number of cuts himself, he got engineering support from Jim Gaines again, Rod Durek, Ted Friend, Ron Gangus, Will Kurtz, and Peter Bentley. While it was replete with classic Painter-like tunes, it also reflected a repertoire in transition. Ego drummed on seven tracks in total, but left before the new album was completed. He was replaced by Jim Llewellyn who drummed on the last three songs which were recorded at Timbre Sound in Vancouver, one of which was a new version of their first single "Daybreak." Llewellyn, originally from Drumheller, AB, moved to Calgary as a teenager and played in a number of local bands including Tyler, Life Line, and most recently Storm. He recalls: "I had met the guys in Painter before and jammed with them once while playing with a band called Storm. They were scouting for a drummer as their current one, Bob Golar, was not what Danny wanted. Bob Ego went back with them and stayed with them though until I joined."
By the time their second album was released, the band's name had been changed to Hammersmith. It was a controversial suggestion from Charlie Fach and Randy Bachman, and the thinking at the time was that they needed a name that better conveyed the "heaviness" of their music. Painter, while an intriguing name, did not carry that heavy connotation.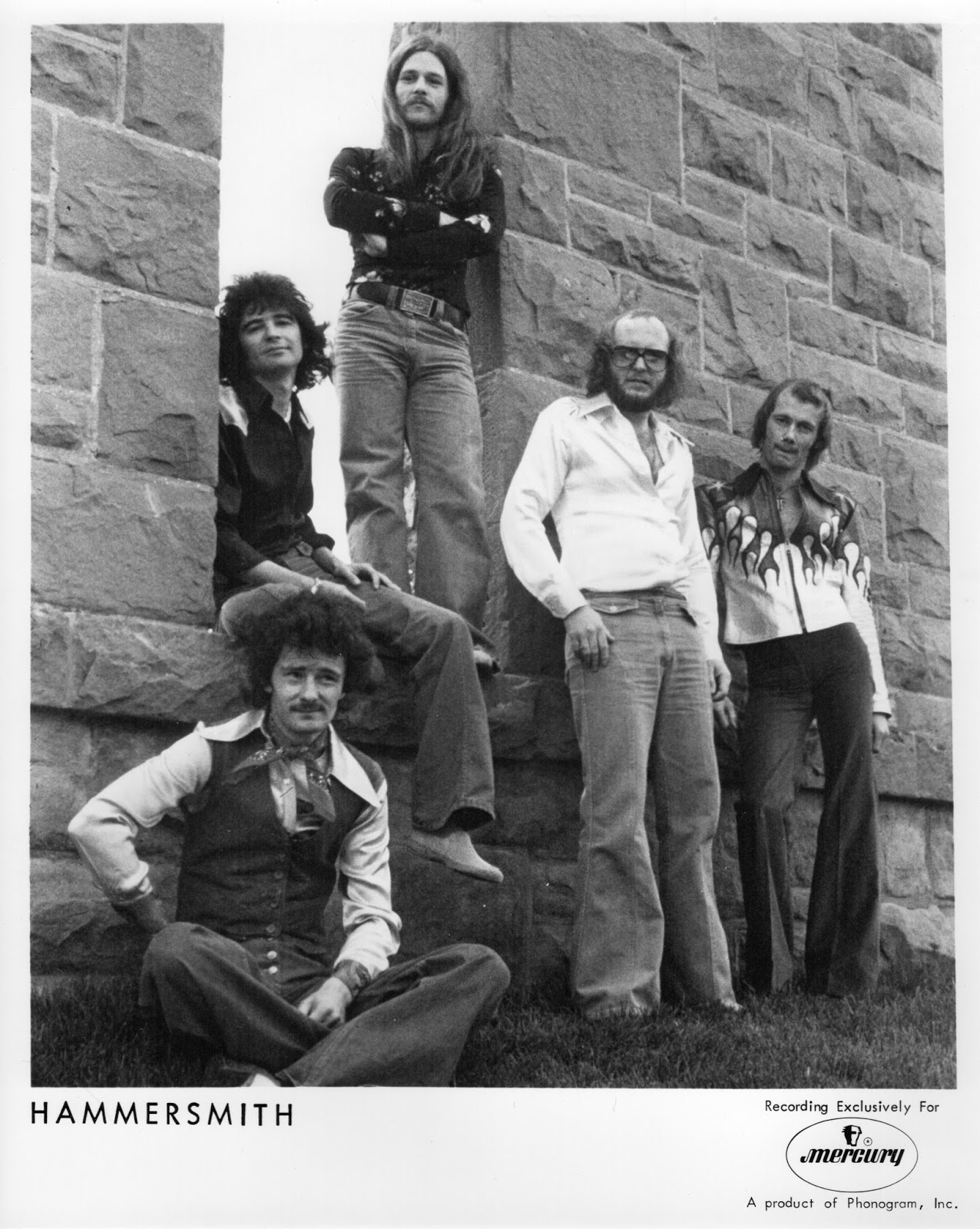 Mercury Records issued an attractive (though grammatically challenged) pre-release press kit in mid-August 1975 to accompany the release of the LP:
There are four ingredients that a new band needs to even think about becoming a success: a good manager, an active booking agent, a successful record company, and strong music. In the case of Hammersmith, all points are in tandem. The group's manager is Bruce Allen…, the booking agency is R.P.M… ., Mercury is the record label, and the music rocks steady.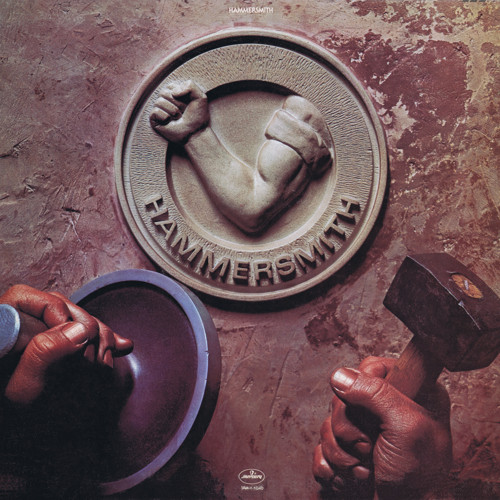 Hammersmith comes from Canada, a hot spot for good hard rock. Although the members grew up in several different areas they now reside in Vancouver…All the members of Hammersmith have extensive backgrounds in the Canadian music scene. Don [sic.] Lowe has been recording since the late 1960s. In 1970 he and Doran Beattie, a reformed folkie, founded Painter and started recording one year later, coming up with several Canadian hits as well as a few chart items in the United States including "West Coast Woman."
It continued:
"Buck" Morice started ostensively [sic.] as a session musician in Vancouver in 1966, working with the Coasters, Bobby Freeman, and Dobie Gray among others. He joined Painter in 1971. Most of Jeff Boyne's time before joining Hammersmith in late 1974 was devoted to a band called Crosstown Bus… James Llewellyn is the most recent addition to Hammersmith, joining earlier this year before the group recorded its debut Mercury album "Hammersmith." The LP is marked by a hard-edged attach [sic.] to the music, tempered by strong harmonies. The album was produced by Lowe, who also engineered some of the tracks. A nationwide American tour begins the last week of August.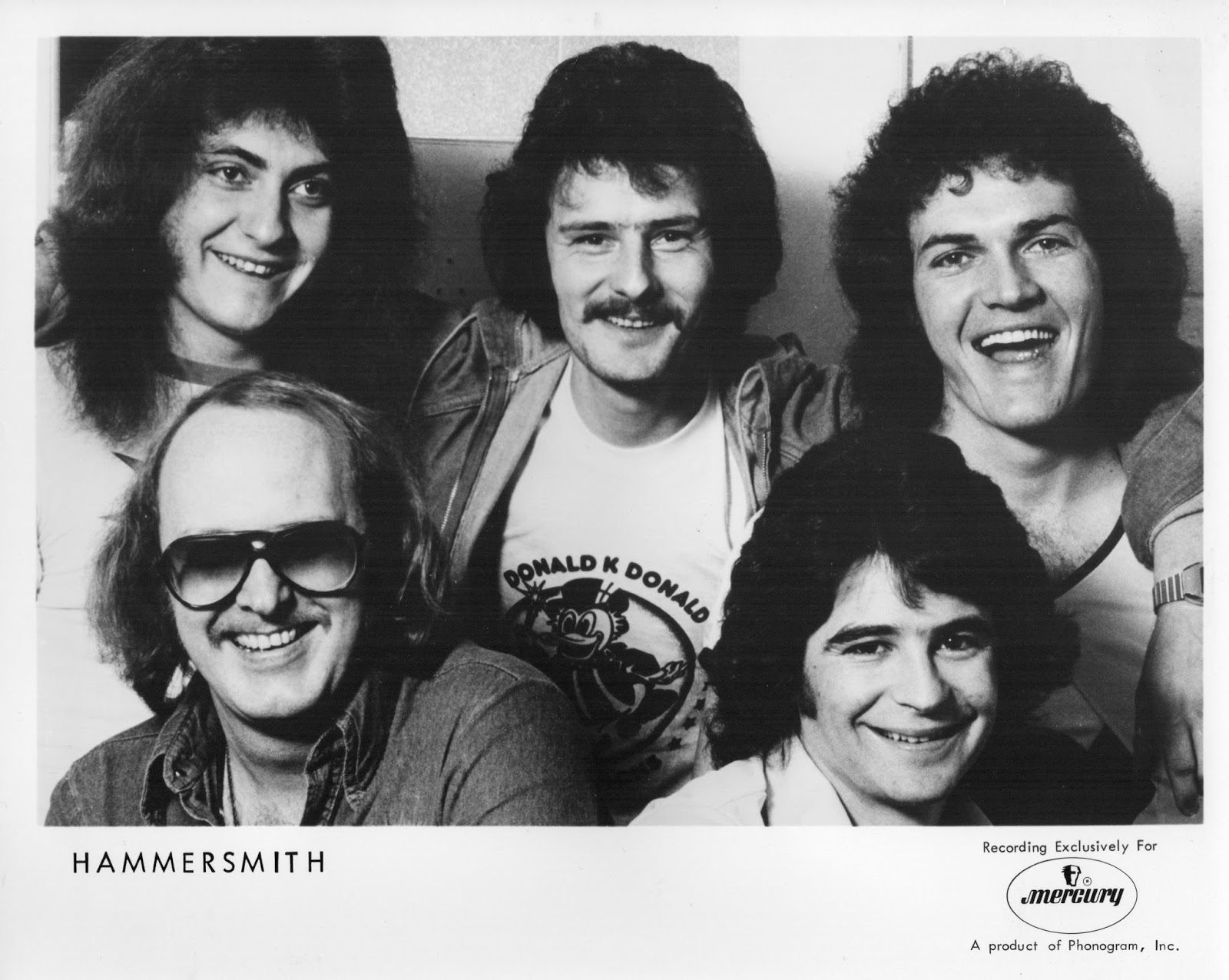 It summed up by stressing: "The members of Hammersmith are anxious to move. They feel the time is right and they do have all the right ingredients."
The graphics on the album cover further pressed home the "heavy" theme. The oversize round bas-relief medal depicted a flexed muscular arm. It was sculpted by Parvis Sadighian, a then-popular artist who had just completed a similar piece for the cover of The Temptations' Masterpiece album. It was photographed by Chicago-based David Deahl (of Big Deahl Productions) with two rugged workman's hands and a large hammer. The impression of the music inside then could only be forceful and loud – the clang of steel. A powerful motif it was. However it also bore more than a passing resemblance to the Arm & Hammer baking soda logo. That unfortunately gave rise to a few chuckles.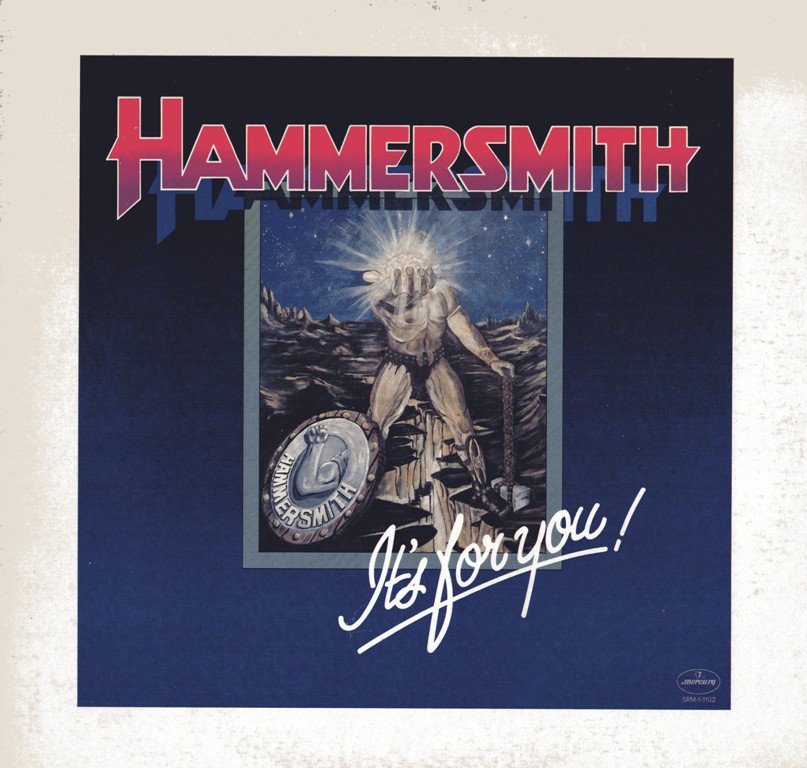 Mercury Records paid for a full-page ad in Billboard in September. It consisted of the album cover and the simple caption "Hammersmith. Making their mark on America." Marty Melhuish, the ever-supportive Canadian editor of Billboard, announced its release in September 1975:
Hammersmith, a new act from Vancouver managed by Bruce Allen who is also the manager of Bachman Turner Overdrive, has just had their debut album released by Mercury Records. The band is currently on tour in the U.S. It started with a date in Los Angeles on September 3.They will do more than 20 dates with The Faces through mid-October…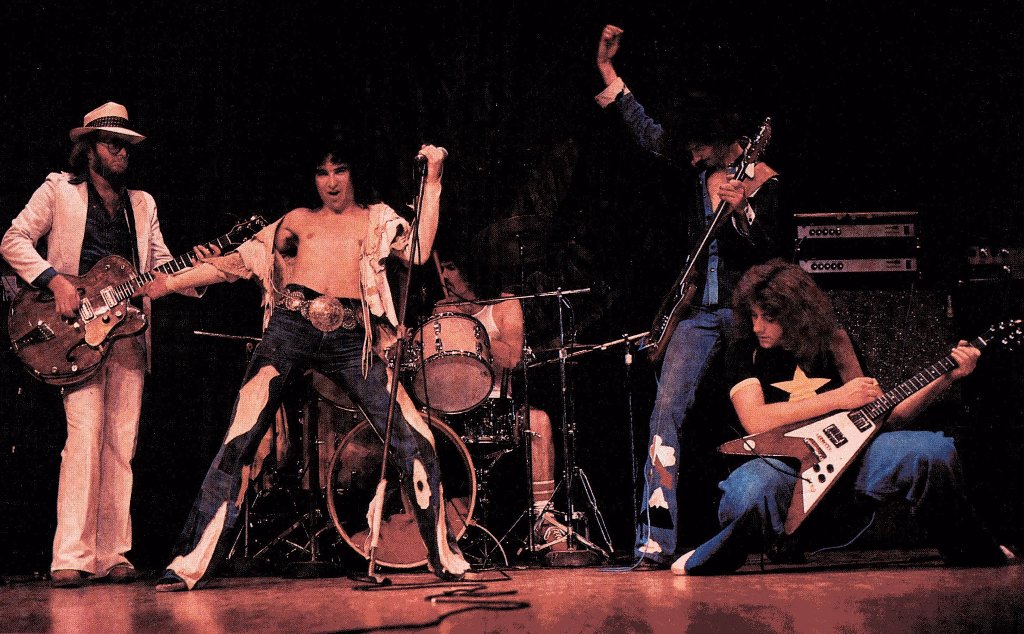 Although they ended up doing only six concerts with Rod Stewart & The Faces (Albuquerque on September 14th, New Orleans on September 23, Bloomington, Indiana on October 3rd, Notre Dame, Indiana on October 4th, Dayton Ohio on October 5th, and Toledo Ohio on October 7th), the autumn tour also saw Hammersmith playing in El Paso, Abilene, Fort Worth, Texas, and Columbus Ohio.
Throughout the fall and winter, Mercury Records released two singles from the album – both were the logical choices: "Late Night Lovin' Man" and "Funky As She Goes." Recalls Boyne: "when we wrote "Late Night Lovin' Man" I thought – this is going to do it for us. But when I heard it recorded, I felt the tempo was too fast and too much echo on the harmony. I still think that when I hear it. The groove just gets away from you. You should have heard it the first night we did it live. I was sure we had a hit." It was not to be however, and neither saw much chart action ("Late Night Lovin' Man" peaked at #25 on the R.P.M. charts).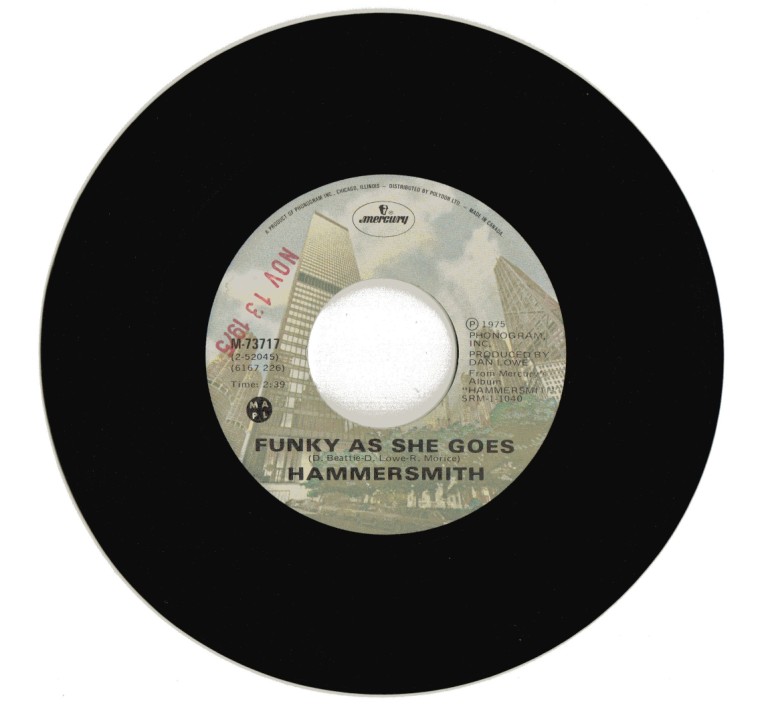 One local Vancouver reviewer – Bob Kuzminski – felt the groove:
"Impressionable strength" This is what they possess. They come on with the power of an iron fist and this is maintained throughout the album. Power comes from five sources…the voice riding this energy is Doran Beattie and he says it well. His powerful vocals ride high above the driving force of the rest of the band…

Groups emerging from Vancouver and the coastal area near there seem to play as if there is no limit to the sky. That feeling is evident in Hammersmith also; numbers like "Daybreak", "Open Up the Sky" and "Feelin' Better' testify to this. They seem to pick you up and keep you climbing… Give Hammersmith a listen; it'll leave an impression on you.
Creem Magazine accorded the album an extremely favorable assessment in its "Some Slightly Biased Reviews" page in December 1975, commenting particularly on the band's mixed dynamics:
When a new group comes out with an album, you usually latch on to one or two songs that immediately become favorites. And the remaining cuts don't quite seem to measure up. Not so with Hammersmith's premiere album "Hammersmith." This young Canadian quintet has packed more material and talent into two sides of vinyl than most groups can muster in six. Tracks like "Low Ridin' Ladies", "Nobody Really Knows", "Late Night Lovin' Man" and "Daybreak"… display a myriad of vocal and musical colors while deftly side-stepping the usual self-indulgence excesses many newcomers tend to rely on. In a sense Hammersmith's strengths are reinforced by their subtleties. Bone jarring vocals are tempered through intricately woven harmonies. Surging rhythms are delicately integrated with smooth flowing melodies.
The touring continued unabated. They appeared with Black Oak Arkansas again in Memphis, with Spirit in Cocoa Beach and Tampa FL, as well as Salt Lake City, with Kansas and The Leslie West Band in Springfield Missouri, with Kiss and Styx in Kalamazoo, MI (7 October 1975), and eleven dates with Jethro Tull beginning with the Jenison Fieldhouse in East Lansing MI (12 October) and including DeMoines Iowa (13 October), Evanston IL (15 October), Dekalb, IL (16 October), Terre Haute Indiana (17 October), Manhattan Kansas (18 October), Joliet, IL (19 October), Bloomington, IL. (21 October), Toledo Ohio (22 October), Easton Pennsylvania (23 October), and Kent State University, Kent Ohio (24 October). At least two of these shows also featured the English heavy metal band U.F.O. with guitarist Michael Schenker.
Hammersmith and Tull became close during this period, especially the two guitarists Danny Lowe and Martin Barre, and the two drummers Jim Llewellyn and Barrie Barlow. Morice remembers first contact:
Our first gig with Tull was at the brand new Riverfront Arena in Cincinnati. Tull had finished their sound check and then we went on, and started with a bit of a funky jazz jam before some songs. After about 5 minutes, Ian, Martin and Barriemore came out of a tunnel and sat in the third row to watch us. After sound check we met them and that was it. We did three tours with them…
Remembers Boyne: "…travelling the US College circuit with Jethro Tull was really a treat for us. They invited us to fly on the Old Reliable DC -3 from town to town. I am glad to report NO BAD weather to fly through in that thing. Danny and Martin hit it off from the start." And when Tull drummer Barrie Barlow announced he was leaving, the Tull drummer's seat was offered to Llewellyn. He recalls: "…Everything was ready to go in Brussels where we would start recording the next album [Too Old to Rock and Roll]. It was Barrie that told Ian Anderson he should use me when he left. When Barrie decided to stay I was very disappointed, but he made the right decision for himself at the time."
Morice bonded with Tull vocalist/flautist Ian Anderson over an unexpected shared interest: "Interestingly, no one sat with Ian. But one day I showed him a book I had on aircraft because he was as knowledgeable as I was. We spent many hours together discussing all aspects of flight."
Llewellyn muses that Hammersmith should have been on nationally syndicated television that fall of 1975: "We were scheduled to go on Don Kirshner's Rock Concert TV show and went to L.A. to do it, but somehow the show fell through and we ended up just playing the Starwood Club." Their gig at the Starwood Club in Los Angeles had two mystery audience members according to Rolling Stone:
Paul and Linda McCartney snuck into L.A. recently to take care of tour business…wanting to rock & roll a little too, but not wanting to be recognized, they went to an NBC makeup man who supplied wigs, facial shadings and for Paul, a mustache and beard. Paul, Linda and their publicist then checked in at the Starwood, where they saw HAMMERSMITH. The McCartneys weren't recognized, but after their publicist was, the Starwood people put one and two together….
As much as he enjoyed the music and the excitement, Boyne decided the touring life was not for him and he left in March 1976, heading for university and a degree in engineering. He was replaced by Craig Blair who had been gigging around Calgary in a band called Spunk, which featured vocalist Mike Rynoski (later to gain a measure of fame as Mike Reno of Loverboy fame). Remembers Morice: "His first show with us was in Springfield, Illinois with Craig's idol Leslie West and Mountain. Leslie borrowed and used Craig's Flying V [guitar], and Craig was dumbstruck for a week!"
Shortly after Llewellyn left the fold as well, but with good memories: "The touring gave me the opportunity to see/hear so many bands. It was tiring as all you saw was the road, hotel rooms, and the venue where you were playing. The experience was something that you cannot get anywhere else though, and was worth its weight in gold. I certainly wouldn't trade it for anything." His replacement was Cold Lake, AB native Dale Buchner, who had been gigging around Calgary.
Other changes were occurring too. In April they signed on with a new Canadian booking agency. Billboard reported:
David "Blues" Bluestein and Tim Cottini have opened an independently owned booking agency, called The Agency. Located in Toronto, the firm represents some 17 artists including headliners such as Kraftwerk, Savoy Brown, Heart, Fludd, Myles & Lenny and Hammersmith. Further staff additions are expected shortly.
Hammersmith was exposed to a new group of fans in the spring of 1976. They attached themselves to a tour with a still shocking and outrageous act – Kiss – supporting its two albums Alive! and Destroyer. Through April, the two bands played (or, depending on one's point of view, terrorized) much of North America. The Canadian leg was comprised of dates in Moncton (April 18), Halifax (April 19), Montreal (April 21), Ottawa (April 22), Kitchener (April 23), London (April 24), Toronto (April 26) and Winnipeg (April 28). Morice recalls that the band's private behaviour was the polar opposite of their well-publicized appetite for excess:
Believe it or not, Kiss were really quite down to earth. There are no wild stories or events that happened on that tour, but we did get stared at! On our way from Toronto to Winnipeg, we pulled into Kapuskasing about lunch time. You can imagine three buses – painted with "The Kiss Destroyer Tour" on the side – and fifty people in satin Kiss jackets going into a burger joint for take out! …Strangely perhaps, there was no bad behavior with Kiss. The only minor story was Ace's (Frehley) birthday at a restaurant in Toronto. Ace of course was drunk but everyone had a ball. He kissed everyone there, even the guys.
Barbara Cansino of the Winnipeg Free Press was both amazed and amused by both the artists and the audience, and her review made it clear she had personally entered uncharted musical territory. Firstly she tried to describe Kiss' music: "…all their songs sounded the same: loud and repetitious" but she had to acknowledge their "primordial power to excite." Then she testified to the "spectacular" visuals: "… a neon frame around the stage, flashing, flashing…all kinds of flame goodies, explosions, bombs, leaps of fire, belching smoke, lightning flashes, glitter balls…" She seems captivated by, but honestly does not know what to say about Gene Simmons "barfing blood" or Paul Stanley's "exposed hairy chest."
She also did not know what to make of the onlookers – it seemed that "…everybody was screaming, shouting, chanting, cheering, and lighting anything their pyromaniacal little fingers could touch: matches, lighters, popcorn boxes, darts, sparklers, fire torches, flame throwers, firecrackers, gas blowers, whatever…."
She sounded so drained by the end of the review that one cannot be sure whether her one paragraph on Hammersmith was favorable or unfavorable:
The warmup group was Hammersmith, a 5-man band which offered… half an hour of heavy metal without the costumes and fire. Hammersmith is not without its charisma: the bass guitarist performed an exciting solo; the lead singer offered rock and roll calisthenics to the front rowniks, bending back, bending forth, also big on the lavatory squat. And amid the cacophony, Hammersmith also came through as a band all together, masters of stage movement and the basic riff.
The band was gradually evolving, as bands always do. First and most important they were no longer 100% in. Members had relationships, some had started families, and had other priorities. Obviously the turnover in personnel had to affect the dynamic and unofficial power structure. Whereas the original Painter was very much a democracy, Hammersmith was a two-tiered ensemble. In Painter Lowe, Beattie and Morice were the creative centre – in Hammersmith they made all the decisions and the others were hired hands serving to support them. Non-stop touring on the U.S, circuit had both hardened them, which was both necessary and to a certain extent regrettable. Their writing was more hurried – they did not have the "gestation" period to experiment that they had when Painter were building up to their first album. As a result some of the sophistication was lost.
However the enthusiasm was still present, and Hammersmith soldiered on and wrote and recorded another album in June and early July of 1976. Most of this work was put to tape at Sundown Recorders in Edmonton, a shiny new 24 track studio that arose from the ashes of Park Lane Studios, and which was owned and managed by legendary Alberta producer Wes Dakus. Recalling how successful their first collaboration was, Lowe asked Gaines to return as co-producer and engineer. As well he reconnected with Barry Allen, then working at Sundown, who provided engineering assistance and his amazing backup vocals. Extra musicians were also present with Mavis McCauley playing piano, and Dakus playing steel guitar. And coming full circle, the LP was mixed at Wally Heider's Studio in Los Angeles. Recalls Morice: "Recording in Edmonton was a little strange. In a way we were going back to where it started but, we had been recording in America so much that the inspiration from new sites and sounds wasn't there. So – mixed feelings."
Hammersmith was still a force to be reckoned with, and were one of the featured bands in the Billboard article "Canada: Coast Industry Focuses On Its Uniqueness" published on October 2, 1976.
Gradually strengthening its position on the scene is Hammersmith, whose first Mercury album was released in the U.S. and Canada in September of last year. A single "Feelin' Better" was released with the album, and a second pick from the album "Late Night Lovin' Man" came out in January. Both received regional airplay in both markets, supported by tour exposure with Rod Stewart in the U.S. and Kiss in Eastern Canada. In March Craig Blair replaced guitarist Jeff Boyne and Dale Buchner replaced drummer Jim Llewellyn; the two joined original member Danny Lowe on lead guitar, Doran Beattie on lead vocals and Wayne Morice on bass at Sundown Recorders this summer to cut a new album, scheduled for early fall.
The album was released in October. The cover art, conceived by Dean Beattie (brother of Doran), depicted a muscular giant, straddling a crevasse, and holding a Thor-like hammer in one hand – "Hammer of the Gods" – and a ball of emanating light in the other. At his feet is a shield with the Hammersmith clenched fist-large bicep logo from the previous album. Laughs Morice: "We didn't want our logo to get any closer to the corporate Arm and Hammer – we wanted something along the lines of a blacksmith but mythical. Hence Thor!"
Billboard certainly felt it was an album worth reviewing. They wrote that it was: "dominated by good natured high energy rock", that "…it also includes a bizarre space cut" and "a ballad with a classic phonic feel "Mr. Las Vegas." Emphasis was made that "..all originals here… " and that the album "…brings a good melodic sense…." Finally the magazine made a recommendation to dealers: "Play in store if you have a lot of late teens- 20s customers."
At the same time, Mercury issued one single "Dancin' Fools" b/w "Good Bye Good Bye", but although both sides received airplay, again radio stations showed limited interest. They carried out another Canadian tour to support the album, but Morice and Beattie had soon had enough. Their last gig appears to have been the aptly named "Last Class Cabaret" at the University of Calgary on April 7, 1977. Morice: "…by 1977, I was pretty much burnt out so I left the group in May. Dorn left a month later and started the band All the Rage in Paris. I continued to record with the group but Dan was the only original left."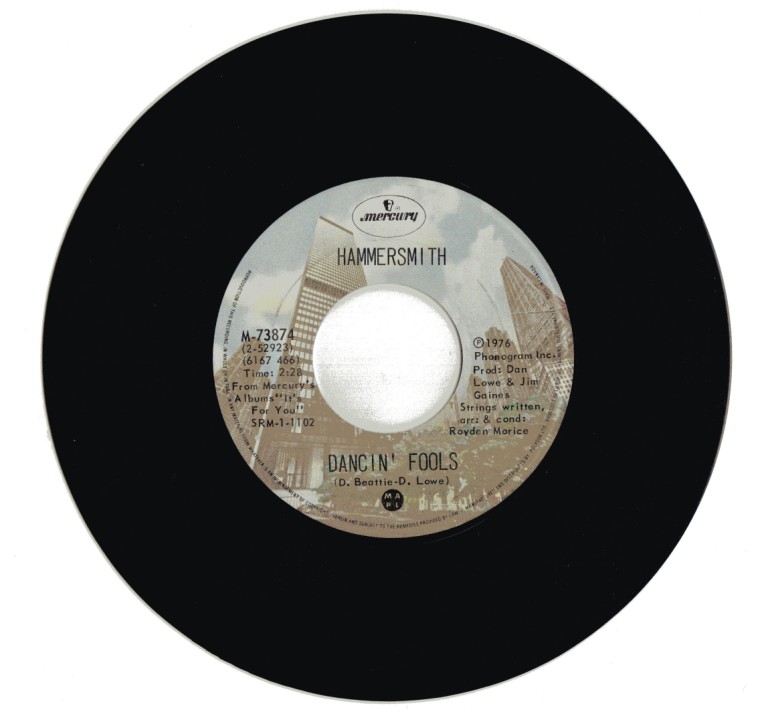 Lowe carried on, and even started recording the next album. In May 1977 Billboard Magazine reported that: "Hammersmith [is] working on an LP with Dan Lowe at the board at Sound West, Calgary, AB." These tracks never saw the light of day. For a short time Lowe, on the advice of Blair, brought in singer Mike Reno to see if that combination worked. It did not. Hammersmith finally called it a day in June 1977.
Lowe carried on with various groupings of musicians to turn out 451 (1979) and Prototype (1983). He is probably better known nowadays for inventing Q-Sound, a 360 degree studio sound enhancement technology. Beattie joined the touring band All The Rage in Paris in 1978 for several years, then took time out from music. He returned with his countryish solo album Second Chance in 1994. Barry Allen returned to Edmonton and joined the production staff of Century II Studios. In the 1980s he purchased Homestead Studios where he remains an engineer, producer and manager. Bob Ego joined the highly successful Canadian band Streetheart and was part of that unit for such albums as Quicksand Shoes (1979), Drugstore Dancer (1980) and the simply named Streetheart (1982). They were awarded a total of four gold records, two platinum records, and a Juno for "Most Promising Group of the Year" in 1980. Wayne Morice briefly played with a band called 4 Outa 5, then changed direction and entered the motion picture industry in Vancouver.
Brad Steckel was a session guitarist for a number of years in Calgary, contributing to the Hammersmith, 451, and Prototype LPs, as well as to jingles, film scores, and special projects such as music for the 1988 Calgary Winter Olympic Games. He started working at Danny Lowe's QSound Labs in 1988 helping to develop and demonstrate the process. Steckel currently owns and operates his own recording studio, Nevin Park Recording and production company, Nevin Park Productions. Jeff Boyne left the field of music for many years, but is now back with a resurrected Crosstown Bus. Jim Llewellyn returned to Calgary where he joined the band Shango for several years, then guested with numerous bands and taught drumming up to the present. Jim Gaines returned to San Francisco and ultimately Memphis, working with Journey, Santana, Stevie Ray Vaughan and Jimmie Vaughan, Huey Lewis and the News, Toto, the Bluesberries, Luther Allison, and Lonnie Brooks. Bob Zimmerman settled in Kent, Washington, and continued to manage a number of Seattle-area bands – the most notable being Magi from 1976-1978. Bruce Allen went on to become one of the most influential talent managers in North America, guiding the careers of Prism, Loverboy, Tom Cochrane and Red Rider, Bryan Adams, Martina McBride, Anne Murray, Michel Buble, and producer Bob Rock.
The Painter vinyl album soon became a collector's item, and was difficult to find for several decades. Finally in the summer of 2009 – due to a small but dedicated fan base, and the efforts of drummer Bob Ego – Wounded Bird Records of Guilderland, N.Y. re-issued the album on CD. A ten date reunion of the famous five man Painter was discussed to support the re-release, but the various professional schedules could not, in the end, be coordinated. The Hammersmith albums have never been re-released on CD.
Discography:
LPs:
Painter – Painter
October 1973
Elektra EKS-75071
recorded at Kaye-Smith Studios, Seattle & Wally Heider's Studio, San Francisco
produced by Dan Lowe, with Marlin Greene & Jim Gaines
Hammersmith – Hammersmith
August 1975
Mercury SRM-1-1040
recorded at Sounds West Studio, Calgary & Timbre Sound, Vancouver
produced by Dan Lowe
Hammersmith – It's For You
October 1976
Mercury SRM-1-1102
recorded at Sundown Recorders, Edmonton
produced by Dan Lowe & Jim Gaines
45s:
"Daybreak" (R. Zehringer) b/w "I Do the Best I Can" (P. Burton/D. Lowe/D. Beattie)
1970
Molten Records MM-3 14578
recorded at RCA Studio, Chicago
produced by West
"Country Man" (D. Beattie – T. Bare) b/w "Lost the Sun" (D. Beattie)
1973
London Records M-17444 Canada
recorded at Wally Heider Studio, San Francisco
produced by ?
"West Coast Woman" MONO (D. Lowe/D. Beattie) b/w "West Coast Woman" STEREO
August 1973 (D. Lowe-D. Beattie)
*For Radio station Use Only
Elektra
recorded at Kaye-Smith Studio, Seattle
produced by Dan Lowe
"West Coast Woman" (D. Lowe/D. Beattie) b/w "Space Truck" (Painter)
August 1973
Elektra K12124 Canada
Elektra EK-45862 U.S.A.
Elektra EKM-45862 Australia
Elektra P-1276 Japan
Elektra ELK-12124 Germany
Recorded at: a-side at Kaye-Smith Studio, Seattle & b-side at Wally Heider Studio, San Francisco
produced by Dan Lowe
"Going Home to Rock and Roll" (Painter) b/w "Tell Me Why" (Painter)
December 1973
Elektra 45873
recorded at: a-side at Kaye-Smith Studio, Seattle & b-side at Wally Heider Studio, San Francisco
produced by Dan Lowe
"Song for Sunshine" (D. Lowe-D. Beattie) b/w "Crazy Feeling" (Painter)
Summer 1974
Elektra EK-45886 Canada
recorded at Kaye-Smith Studio, Seattle
produced by Dan Lowe
"Song for Sunshine" (D. Lowe-D. Beattie) MONO b/w "Song for Sunshine" (D. Lowe-D. Beattie) STEREO
Summer 1974
Elektra EK-45886 * For Radio Station Use Only
recorded at Kaye-Smith Studio, Seattle
produced by Dan Lowe
"Funky As She Goes" (D. Beattie/D. Lowe/W. Morice) b/w "Feelin' Better" (D. Beattie/D. Lowe/W. Morice)
February 1976
Mercury M-73717
recorded at Sounds West Studio, Calgary
produced by Dan Lowe
"Late Night Lovin' Man (J. Boyne/D. Beattie/D. Lowe) b/w "Low Ridin' Ladies" (D. Beattie-J. Boyne)
March 1976
Mercury M-73749
recorded at Sounds West Studio, Calgary
produced by Dan Lowe
"Dancin' Fools" (D. Beattie-D. Lowe) b/w "Good Bye, Good Bye" (C. Blair/D. Lowe/D. Beattie)
Spring 1976
Mercury 73874
recorded at Sundown Recorders, Edmonton
produced by Dan Lowe & Jim Gaines
Unreleased recordings:
"Cool In the Summer" (D. Beattie-D. Lowe) and "I Love What We Do Together" (D. Beattie-D. Lowe)
1970
recorded at RCA Studio, Chicago during "Daybreak" session
produced by West
"Stone Hill" (D. Beattie/D. Lowe/W. Morice/B. Ego) and "Slave Driver" (D. Beattie/D. Lowe/W. Morice/B. Ego)
February 1971
recorded at RCA Studios, Los Angeles
produced by Dan Lowe
"For You" (B. Ego)
Summer 1971
Recorded at Park Lane Studios, Edmonton, Canada
Produced by Dan Lowe and Barry Allen
"Follow Me" (D. Beattie/D. Lowe/W. Morice/B. Ego), "Summer Song" (D. Beattie/D/ Lowe/W. Morice/B. Ego), "Long Nights" (D. Beattie/D. Lowe/W. Morice/B. Ego)
Fall 1971
recorded at Park Lane Studios, Edmonton, Canada
produced by Dan Lowe & Barry Allen
Live performance
December 1972
contains 6 tracks:
"Kites and Gliders" (D. Beattie/D. Lowe/W. Morice/B. Ego)
"I'm Gonna Be Somebody" (D. Beattie/D. Lowe/W. Morice/B. Ego)
"Song For Sunshine" (D. Lowe-D. Beattie/)
"On The Other Hand" (D. Beattie/D. Lowe/W. Morice/B. Ego)
"Shipwrecked" (D. Beattie/D. Lowe/W. Morice/B. Ego
"Stone Hill" (D. Beattie/D. Lowe/W. Morice/B. Ego)
soundboard tape – recorded at Edmonton Field House, Edmonton
engineered by Les Bateman & Barry Allen
Live performance
1973
contains 2 tracks:
"America" (D. Lowe-D. Beattie), "Take Me Up, Drag Me Down" (D. Lowe-D. Beattie)
soundboard tape – recorded at Kingsway Inn, Edmonton, Canada
engineered by Les Bateman
Live performance
March 1974
contains 14 tracks:
"Follow Me" (D. Beattie/D. Lowe/W. Morice/B. Ego)
"Going Home to Rock and Roll" (Painter)
"Tell Me Why" (Painter)
"Crazy Feeling" (Painter)
"Ohio" (N. Young)
"Oh You" (D. Lowe/D. Beattie/W. Morice/B. Ego)
"Kites and Gliders" (Painter)
"I'm Gonna Be Somebody" (D. Beattie/D. Lowe/W.Morice/B. Ego)
"Song for Sunshine" (D. Lowe-D. Beattie)
"Going Down the Road" (D. Beattie/D. Lowe/W. Morice/B. Ego)
"On the Other Hand" (D. Lowe/D. Beattie/W. Morice/B. Ego)
"Shipwrecked" (D. Beattie/D. Lowe/W. Morice/B. Ego)
"Stone Hill" (D. Lowe/D. Beattie/W. Morice/B. Ego)
"West Coast Woman" (D. Lowe/D. Beattie/W.Morice/B.Ego)
soundboard tape – recorded at Kennedy Center, Washington DC
engineered by Glenn WidgellL
Engineered by Glen Widgell"Kennedy Centrer
Outtakes
July 1975
"Summer Song" (D. Beattie/D. Lowe/W. Morice/B/. Ego) and "Yes I Will" (D. Beattie/D. Lowe/W. Morice/B. Ego)
recorded at Sounds West Studio, Calgary for 2nd album
produced by Dan Lowe
unknown album tracks
May 1977
recorded at Sound West Studio, Calgary
produced by Dan Lowe
Radio/Television Performances:
"Aimless Lady" (M. Farner)
January 1971
Live performance on Come Together, CTV Network – from Picadilly Square, Calgary Canada
"West Coast Woman" (D. Lowe – D. Beattie)
January 1974
Live performance on Roq, CTV Network – from CFTO Studio, Toronto, Canada
"West Coast Woman" (D. Lowe/D. Beattie), "Stone Hill" (D. Lowe-D. Beattie) & "That's When I Knew it Was Love" (F. Zappa)
Summer 1974
Live performance on WRAS-FM – from Richard's Nightclub, Atlanta
CD:
Painter (LP reissue)
August 2009
Wounded Bird Records
Brock Silversides
Director – Media Commons
University of Toronto
416-978-7119
© Copyright Brock Silversides & psychedelicbabymag.com