Lichen Gumbo
Think 'Half Machine Lip Moves' by Chrome. Think 'Twin Infinitives' by Royal Trux. Think 'Hairdryer Peace' by The Hospitals. Now stop thinking. Now play 'Boilin'' by Lichen Gumbo.
---
"Cabin fever"
You guys recorded this album in the summer of 2014.
Olli: Around that time Ville was living in northern Finland and spent the summer in his hometown in central Finland. We went to a remote cabin called El Jumo in Savo to record Ville's other band Atom Mouth Gimlies. The sessions were released as a 7″ split with Lörsson. The recording session was really short so we were spending time just noodling around and recording some stuff because the instruments and the 4-track portastudio were already set up.
Ville: The main part of the record was recorded later that summer in Olli's single bedroom flat in Helsinki during the hottest week of the decade. The apartment building was being renovated and it was wrapped in plastic, so the air-conditioning was almost non-existent. It felt like the room was full of boiling sweat, but we recorded around eight hours every day. A fun little detail is that the lyrics were written on pizza boxes that were laying around. We were so deep in the cabin fever while making the record it took us a while to be able to listen to the sessions again.
Olli: The cover pic is taken on our way to El Jumo and the pictures on the back cover are from the time the LP was being recorded. In one of them you can see the bedroom studio too. At the time we lived over 700 kilometers away from each other so we couldn't come together to record that often. So when Ville was spending the summer a bit more closer we decided to make most of it.
Ville: Going to the cabin to record something has been an annual thing for us for some years though.
Out of how much of recorded material did you cut this record?
Olli: There was maybe 10 minutes of extra material that was left out because it didn't work so well with the other tracks. We also ditched a bunch of songs that were recorded before 2014.
Why do you prefer the dirty lofi sound?
Olli: That's a good question. Mainly because we use really cheap equipment, but we try to make as detailed and well thought stuff we can with it. Neither of us is into making music with computers so we record straight to cassettes.
This is your first LP, after two tapes. Does an LP feel like a more serious release than a tape?
Olli: It's not more serious, and while recording this we didn't have any idea how we'd release the record. We see this as a really solid record though, and that's what we aimed at. Our previous tapes are more like collections of a certain era.
Why is there 5 years between those 2 tapes and this LP, because that seems pretty long for a lofi garage band, no?
Olli: First of all, we don't see Lichen Gumbo as a garage band. A lot of it is done in a single room apartment with headphones on. Garages and other practice spaces would feel too luxurious.
Ville: To us the record was ready in 2015, but it took some time to get it out there. Meanwhile we've been working on our next record, and it's going to be released most likely before the year 2020. Olli, on Discogs, there's only your name mentioned as 'member' for Lichen Gumbo.
Olli: Lichen Gumbo has always been a duo. Someone else created the Discogs page for us and for some reason Ville has been left out. Maybe someone can fix that!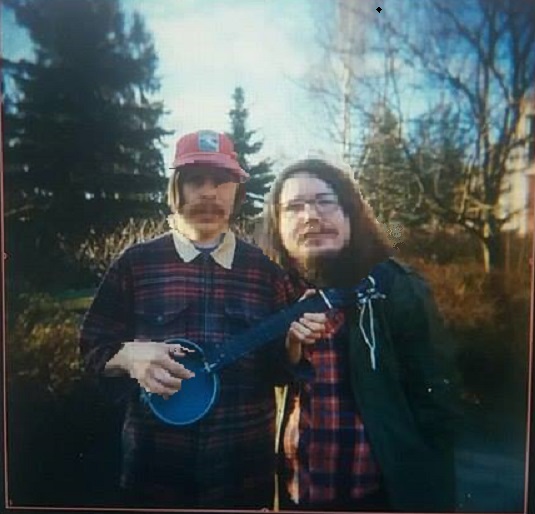 How did you get to know each other?
Olli: We met each other over ten years ago on the internet. There was a somewhat active Finnish site for sharing music and we started chatting there first. So we were pen pals first. It took some years before we realized we should make music together. We've never lived in the same city or even the same part of Finland though.
– Joeri Bruyninckx
---
Lichen Gumbo Instagram
Lichen Gumbo Bandcamp