Chuck Prophet – 'Bobby Fuller Died for Your Sins' (2017)
[laughing] Straight from the get-go, I'm sitting here looking at the album cover wondering if this is a good picture "of" Chuck Prophet, or a good picture "for" Chuck Prophet … either way, it slapped a mile wide smile across my face, as did the album.
---
If you've never seen Chuck and his band live, you should, because he splinters the floorboards at small venues all across this country, rocking you back like it matters … and believe me, it does. Chuck is from a bygone era, not that he's old fashioned, it's just that he makes music for records, where the physical pleasure of holding something in your hand is still the be-all and end-all for those of us still spin those large pieces of plastic, and scan liner notes that we can actually read. But you didn't come here for a musical history lesson, so let me take you where you need to be.
Each time Chuck Prophet releases an album I think that it's been far too long since his last one, and here, with a bold title like Bobby Fuller Died For Your Sins, if he doesn't pull out all of the stops, he's gonna go down in flames. But don't fear, the man is going to roll you over. Oddly enough, the album is so energetic that the lyrics, or the meaning of the lyrics can easily be lost as you spin across the room, because there are some serious visions that are laid down between the grooves. Beginning with the album's title, we are reminded that the cause of Bobby Fuller's death at age 23 has remained a mystery for 50 years. The singer and guitarist who led the Bobby Fuller Four to a Top 10 hit with "I Fought the Law," and was found dead of asphyxiation in the front seat of his mother's car on July 18, 1966. The debate still rages whether the rising star committed suicide, died accidentally or was murdered … with the song twisting into a reaction to the deaths of so many young people being shot by cops [which you'll miss entirely unless you're listening]. Of course that brings in "Bad Year For Rock And Roll," which was partly inspired by the death of David Bowie, and so many others last year, not to mention "In The Mausoleum" a song dedicated to Alan Vega.
All of this, along with a couple of other tracks make this a deeply political album, though one laced with so much rock and roll, that it all comes across as some sort of joyous celebration for the lives of those caught in the crosshairs of the reaper.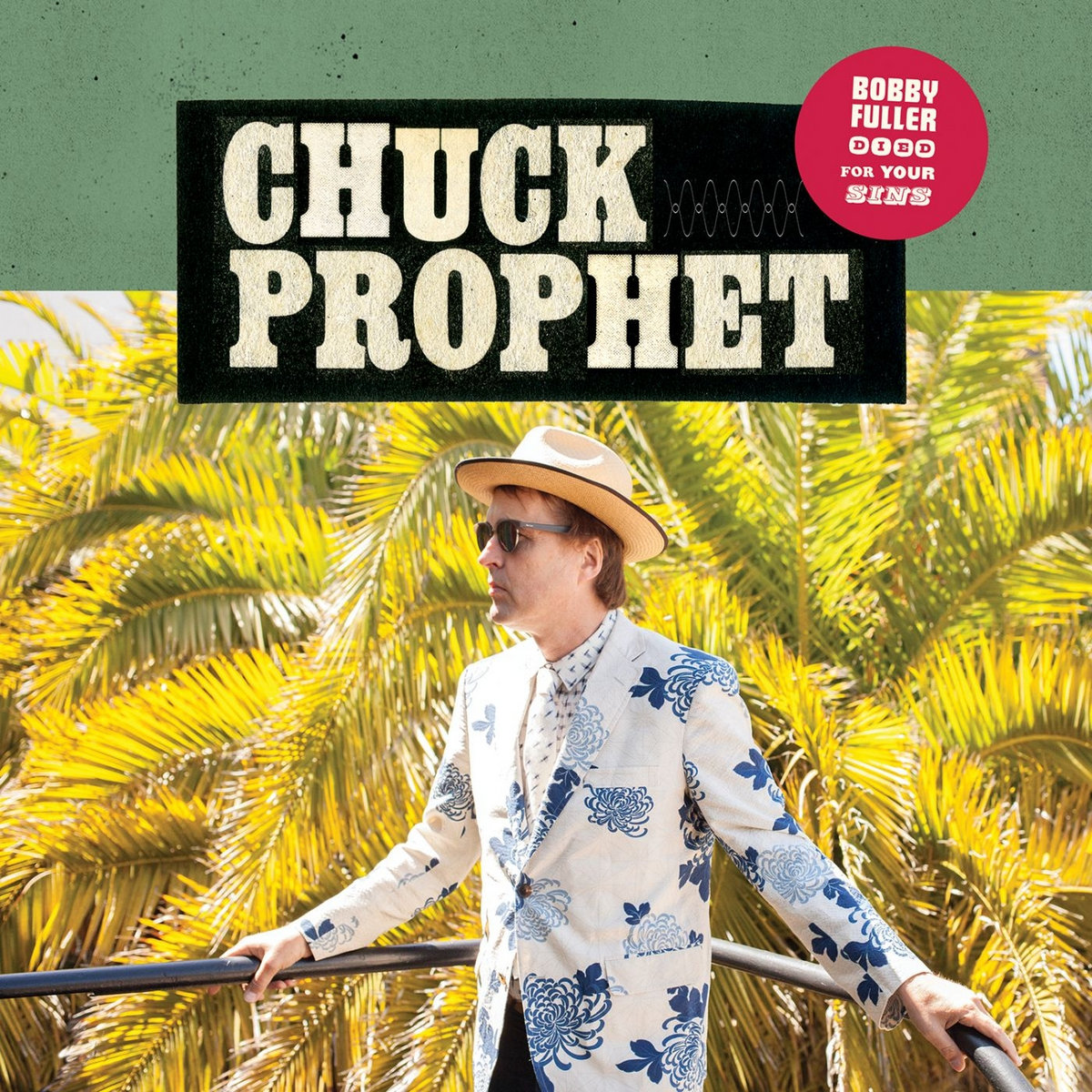 But all of that is simply Chuck Prophet being a musical San Francisco journalist. He does swing back, rolling out "Coming Out In Code," which for all the world creates a West Coast translation of the old Velvet Underground number, "Waitin' For My Man." Even with his darker moments, the album is delightful, inventive, satirical, blasphemous, and exactly what America needs right here and right now … complete with dueling guitars and relentless musicians swapping chords in the full light of the sun.
– Jenell Kesler
---
Chuck Prophet – 'Bobby Fuller Died for Your Sins' (Yep Roc, 2020)