Snake Eye Rises Out Of Red Dirt
Just released is a recording by an obscure band Snake Eye, but it's got a tale to tell and the only sting was done to them.
---
Aficionados of rare blues rock with a psych feel will know the name Red Dirt, who were leased to a major 60's label—by a studio label!—but only released 200 units which now can fetch four figures in the collectors' market. The name even spawned a genre of dirty rock stateside—but guess who were there first? With the kind help of a founder member of Snake Eye, who joined Red Dirt after their debut, let's dust off our piths and hack through the overgrowth for a clearer view.
The history of both bands is a microcosm of the period. In East Yorkshire, Steve Howden (lead guitar/vocals, piano) was approached in a Bridlington pub by drummer Steve Jackson, bassist Ken Giles, and Dave Richardson (steel guitar, piano/organ, harmonica, vocals) to form a band in '69. Richardson had worked locally with Hull guitar legend Mick Ronson and singer-songwriter Mike Chapman. Pooling resources, the power quartet of tight driving blues rock (but never only, as we'll see) soon gained a good live reputation even on the same bill as big names. Originally called Wellington Boot, they rightly changed to the meaner sounding, less men's-footwear-with-one-nicked Red Dirt.
Just 18 months later, hardly out of their teens yet giving up their day jobs, they were booked into two night sessions (midnight to 6am) at North London's famed Morgan studio. Started by Barry Morgan and his pal Monty Babson (ex-Blue Mink), the studio developed due to royalties from a Euro hit by The Smoke (My Friend Jake), whose York-born drummer Geoff Gill (Viceroys, The Shots) became Red Dirt's producer. Used by The Kinks, Medicine Head, Floyd, Bowie, Zepp, The Who etc. they started their own label, Morgan Blue Town Records (Willesden High Road wasn't exactly bright lights, then or now) with first releases in late '68 of psych collectables like Orange Bicycle, Motherlight, Pussy, and Wil[son] Malone (who was also in Orange and Motherlight). They were really studio bands—in fact Motherlight featured the studio's engineers—and so rarely gigged, probably a factor why the label floundered by 1970. At this time they leased Red Dirt to Fontana Records (STL 5540), who had their own problems as the decades turned and only released a small run to fulfil their contract. Howden believes that vocal overdubs were done but never put on the master tape.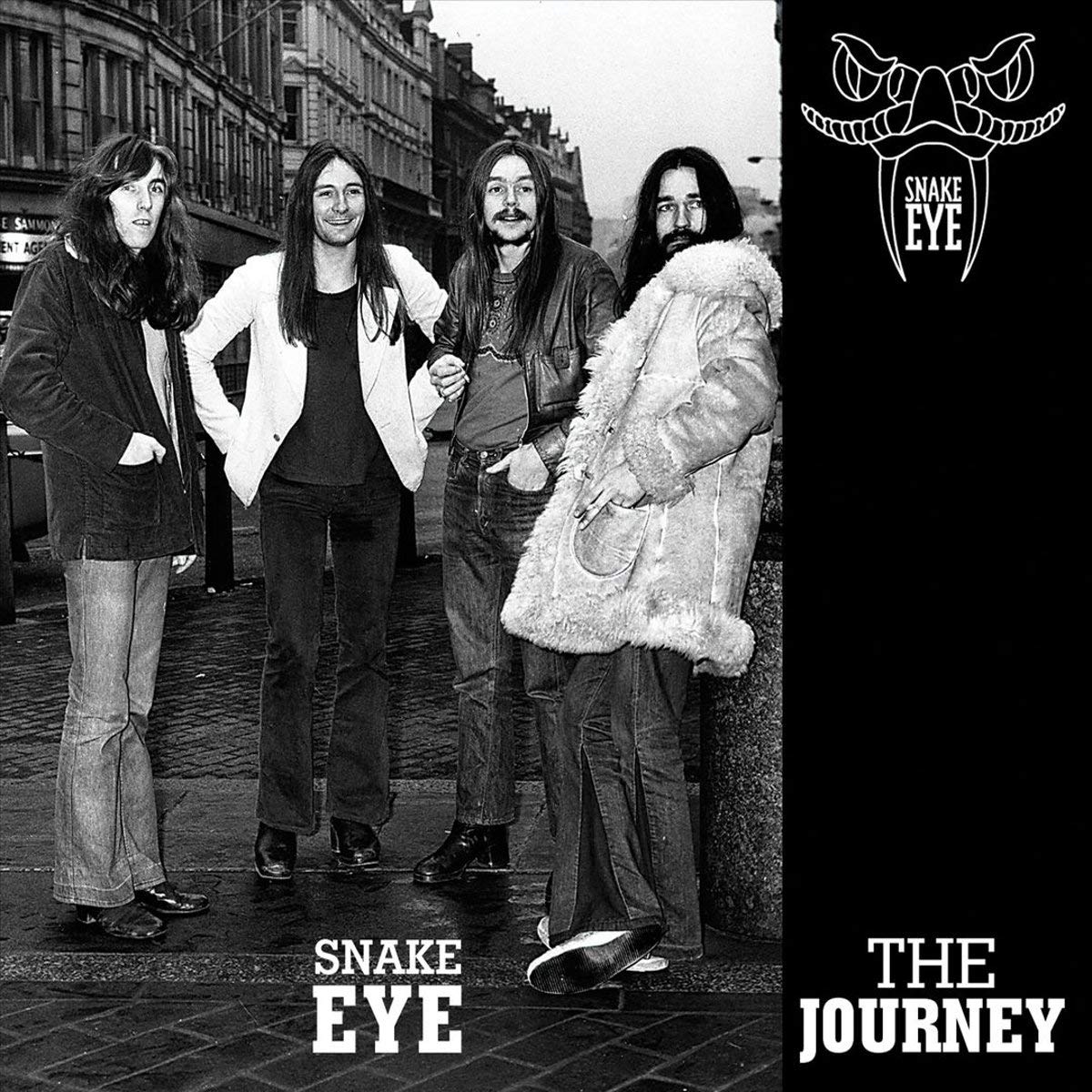 This rush job didn't even include release outside the UK. The cover, depicting the Apache chief Geronimo with blood dripping from four bullet holes, was by the Teenburger company. It was almost certainly designed—perhaps for another project—by legendary Notting Hill underground scenester the late Barney Bubbles, who not only made iconic LP covers and posters but sometimes did the light show for renowned locals like Hawkwind. By January 1971 it was rumoured in the music press that, during a tour with Mott the Hoople, a second album was being recorded. Around this time Howden left and, replaced by Ron Hales, a new style developed when they changed their name to Snake Eye.
But best not overlook the Red Dirt album of 1970. It is more than just a rarity, it is a damned hot rarity. Laid back vocals over swirling twin guitars open the 12 tracks for a false lull, then locomotive bass propels one of the best-ever rock versions of Son House's Death Letter, a quintessential blues classic. Dual vocals over guitar and fine thumping drums take the Johnny Winter-like Problems right to its feedback ending, followed by a slide blues swampy as any delta version—even the vocals sound authentic. With harmonica sleeze, Ten Seconds To Go reminds of Capt. Beefheart's vintage Safe As Milk era, or Zappa's Hot Rats, down to the abrupt ending, as does the lysergic Brain Worker. Psych-tinged In The Morning, underpinned by organ, then a change to belting 12-bar with harp on Maybe I'm Right.
Some liken the longest track (Summer Madness Laced With Newbald Gold) to The Doors, but this has stomping bass (they didn't have one) so is Beefheart-like again (said to be Dave's bag) but more English-style Stack Waddy, snarling as a bulldog expecting any moment to gulp the proverbial wasp. It swirls as a reefer over slaggy guitar riffs, lyrics tag the band's name; hope they had refreshments afterwards. Gimme A Shot is quite Zeppy (I'm told): as it's a co-write with the producer, perhaps a studio jam? The closer is an acoustic lonesome country blues, boozing to drown the pain included, fuzz when that kicks in, Death Of A Dream surprises as a traditional folk send-up with nasal drawl vocals about standard themes over timpani cymbals for gravitas. Brevity might have had better effect but some nice acoustic interplay and one can understand why they needed a breather in those wee hours. This folky / bluegrass side of their repertoire is revisited on the bonuses of the Snake Eye release. Loop the rest of Red Dirt on a cassette and you almost have a motorik Can trip! The recent CD release of that heavy blues and psych marinade, head-blowing at times, adds bonus tracks from the aborted second album when Morgan signed release documents in 1972.
You might say that quite a lot of English bands of the time did the blues psych style: Tramline, Little Free Rock, Black Cat Bones, even Free but with cleaner vocal delivery, or early Jethro Tull sans flute… But that throws baby out with the bath water. Hard Stuff were more anaemic for example, like Nazareth, Cozy Powell's Bedlam too focused on that great drummer perhaps, and the wonderful Bakerloo took a while to build up to their similarly ball-breaking finale on their classic album. If you think rock means loud, smoky Spartan venues not ticket agency scalpers or silly Hard Rock (it's not) Café full of exhibits (!) and pay-to-advertise-them T-shirts, this is your brew. It's just a crime they didn't get paid. Red Dirt live up to their name, like Stack Waddy, Incredible Hog, Hackensack or Groundhogs. If you like these combos this is up your street — in fact it camped overnight in your backyard while you were snoring or out of it.
New management brought a change of name, style and guitarist. Snake Eye's The Journey (Angel Air) now has a first-ever release from the vaults after four decades, from the label "where the artist has a voice" flying into their 20th year. On the same bill as the Kinks, T. Rex, Free, Status Quo, and the under-recognised visitors J. Geils Band, Manfred Mann praised Snake Eye as "one of the best bands I've seen". Strong vocals, subtle heavy riffs and twin melodic guitar solos of the hirsute foursome were still a feature of one of the sharpest units on the circuit. In December 1972 they featured in the Any Questions section of Melody Maker when 'an enormously impressed' punter saw them support Wishbone Ash in Cambridge and wrote in. The disparity in artistes' fees then can be seen by that year's Reading Festival: headliners The Faces got £4,000 and Curved Air £1,000, yet multi-recording Edgar Broughton, Mungo Jerry and Status Quo earned £350; comparable level bands to Red Dirt like Stackridge, Jericho and String Driven Thing had to make do with £25!
By 1973 a major label was needed: why they weren't on Harvest, Dawn or Vertigo is one of rock's mysteries, indeed travesties. All written by Richardson, with the exception of a co-write with Hales (original drummer Jackson was replaced by Gary Burroughs on two tracks, liner notes misspell), half the number of tracks compared to Red Dirt's debut signal the new direction. Pulsing Rickenbacker stereo bass opens the title track, joined by orchestral-like guitar and atmospheric harmonies, then the dreamy interludes of World In A Mountain build to fine solos. Twin guitars (both Gibson SG's) swirl over a Nick Pickett-sounding vocal (Sweet Dream Lady), followed by shimmering cymbals with guitar-picking, power drumming and bass oscillating crescendo and interlude (The Heart Of A Young Boy). As it's about a youth's early death, the twin vocals haunt in their contrast fitting the tragic theme; one can even imagine the poor chap's last breathing. This isn't prog for its own sake but inventive creativity.
Energy is upped with prickly, staccato guitars reminding of Steve Hillage complete with some pungent riffing (Don't Be A Fool), then atmospheric vocal and wide palette on the mystical 13-minute closer The Journey's End. All combine for middle riffs as time changes stun by their variety, a hallmark of this imaginative combo. The bonus tracks are a surprise—but not if you have the Red Dirt album. The violin-led (by multi-instrumentalist Dave Richardson) group composition Tolly Cobbold, from early Morgan sessions in 1970, would have been perfect for a quirky single—think of a jam with East of Eden and Steeleye Span! The other bonus could have been the B-side, the bluegrass Hoe Down.
The beauty of a first-ever release now is that it bypasses the time constraints of the earlier period's vinyl. Three songs are near or more than ten minutes for instance. Complete and full-play, presumably from the master tapes because like remastered quality, the booklet names two executive producers so the band probably had a hand at the desk. If this was on Vertigo it would've been among the roster's must-haves, without a doubt. Compared at the time to Wishbone Ash and King Crimson, you could add Jade Warrior, Clear Blue Sky, Agnes Strange, sometimes Jethro Tull or a less spacey Khan: fans of these won't be disappointed with this lost nugget from the heavy prog era.
In 1995 Audio Archives issued a limited 300-copy live Red Dirt called Diamonds in the Dirt. It was claimed to be from 1971 and, like the bonus tracks of the debut's CD reissue, Howden had been replaced by Ron Hales. In January 2010 Record Collector brought out Red Dirt in another limited run, when at that time Steve Howden was working in Hollywood as a delivery driver in between playing in bands across California since the '90s. With Gill and Wil Malone, he had first been in Fickle Pickle (recently reformed) who had some minor chart success, including television, in Holland in the '60s. The producer Gill co-wrote Pat Benatar's hit Heartbreaker and worked together into this century. Bassist Ken Giles was later in The Mekons and produced a Sisters of Mercy single. Steve Jackson still drums for Flashback, playing the same 1965 Ludwig Super Classic kit! Is it the same Dave Richardson of Boys of the Lough fame, which might explain the folky asides? Here's what Ron Hales says:
Hi Ron, Red Dirt is one of the great debuts and could have propelled the band onwards and upwards. Do you think Morgan should have put it out on the more appropriate Harvest or Vertigo labels rather than Fontana?
The album was recorded a year before I joined. I had no part in the politics but had I had an involvement in it, I would have requested more than 200 copies and yes a bigger label would have been more appropriate.
You gigged a lot with some big names like Status Quo, Mott the Hoople, and Free in Manchester. Were you in an agency or still doing it yourselves?
Red Dirt's first management company was Brick Artist in Hull. In 1971, still as Red Dirt, we changed management companies and joined Peter F. Amott and Ivan Mant working through the John Sherry Organisation (JSO) and later Asguard.
You replaced Steve Howden, was that before the name change to Snake Eye? What's the background to your joining the band?
I didn't know Steve…As for my joining, I was friends with Dave Richardson, we went to the same school. When Steve left, Dave approached me to join.
What did you do before joining? Was the possibility of co-writing a reason?
I had played in the usual school bands and had both recording and gigging experience. In 1967 I was in the soul band Sweet Sugar with local gigs including working men's clubs. We did a single cover of Behind A Painted Smile [from The Isley Brothers' 1967 LP Soul On The Rocks; it reached #5 in the UK singles chart two years later]. My [later] style was melodic blues rock which I believe changed the band's sound to a more progressive feel.
The new management changed the band's name?
Miles Copeland (brother of the Police's drummer, Stewart), who was working with JSO at the time, came up with the name Snake Eyes which we changed to Snake Eye. The style changed again to a more melodic sound and then the twin guitar harmonies came into play.
Were you involved in the Red Dirt live release Diamonds in the Dirt which has no songs from the debut LP? Are there any plans for a CD release?
I had no part in that album. To the best of my knowledge this is a pirated album with record company and publisher unknown and is at best shady. Probably the studio sold off their archive. Some song titles were changed, for example Wilted Tree is The Heart Of A Young Boy, Three Fair Maidens is Tolly Cobbold, and Back Alley Sally is Hoedown.
The Snake Eye song titles suggest a concept album. Is that fair? Steve Jackson for example seems to have left half-way through.
Yes, The Journey was originally a concept album, however additional tracks were added: Don't Be A Fool and Heart Of A Young Boy, which were recorded at Fairview Studios in Hull approximately late 1973. Steve left early in 1973 and was replaced on drums by Gary Burroughs. Dave Richardson did all the lead vocals, with Steve Jackson, myself, and later Gary Burroughs doing the harmonies.
Were the bonus tracks planned as a single or just for fun?
Dave played violin. The bonus tracks were used as encores at live performances and so, yes, they were just for fun.
Two executive producers are named. Does this mean that the band had a hands-on involvement in the studio, and where?
We had a good say on production on all tracks: Tolly Cobold at Morgan in 1970; World In A Mountain, Sweet Dream Lady at Pathway Studios London in 1971; The Journey, The Journey's End at Denmark Street Studios London in 1972, the same year as Hoe Down recorded live at Radio Humberside.
What happened to the band after the break-up?
Ken left in early 74 to pursue a career in PA hire. Dave and I carried on for some time, but when punk came into fashion our days were numbered as a prog rock band. I stayed in music and played with the excellent Hull band General Wolf alongside Dave Richardson in the 1980s — we had minor success with a single titled I Believe In Love. In the 1990s I started my own guitar school, wrote and produced the Blues Power range of guitar tuition books which are still available to download from www.bluespower.co.uk .
You have recently reformed the band as a five-piece. Are there any plans for a new Snake Eye album?
Yes, I have reformed Snake Eye with my son Nic, who is the vocalist and also plays lead guitar. We have included a third lead guitarist, Callum Smith, which gives us a sound that the original band lacked, joined by Pete Robinson on bass and drummer Dave Taylor. A new album is currently underway. It is being recorded at Fairview Studios and will include some of the original songs together with some new self-penned ones.
Brian R. Banks
---
Snake Eye The Journey (Angel Air SJPCD 493; 54.13)
Ron Hales Official Website / Facebook / Instagram