Stack | Interview | 'Above All'
Stack was a heavy psych band from Los Angeles that formed out of various successful bands.
---
They did it all. They had a big opportunity to sign up with a major label, they were one of the very first bands to appear in Pepsi commercial and they played with many worldwide known musicians including Jimi Hendrix, The New Yardbirds (later Led Zeppelin) and a ton of others. Here's a complete story about one of the most incredible heavy psych bands that sadly only released one album in 1969, 'Above All'.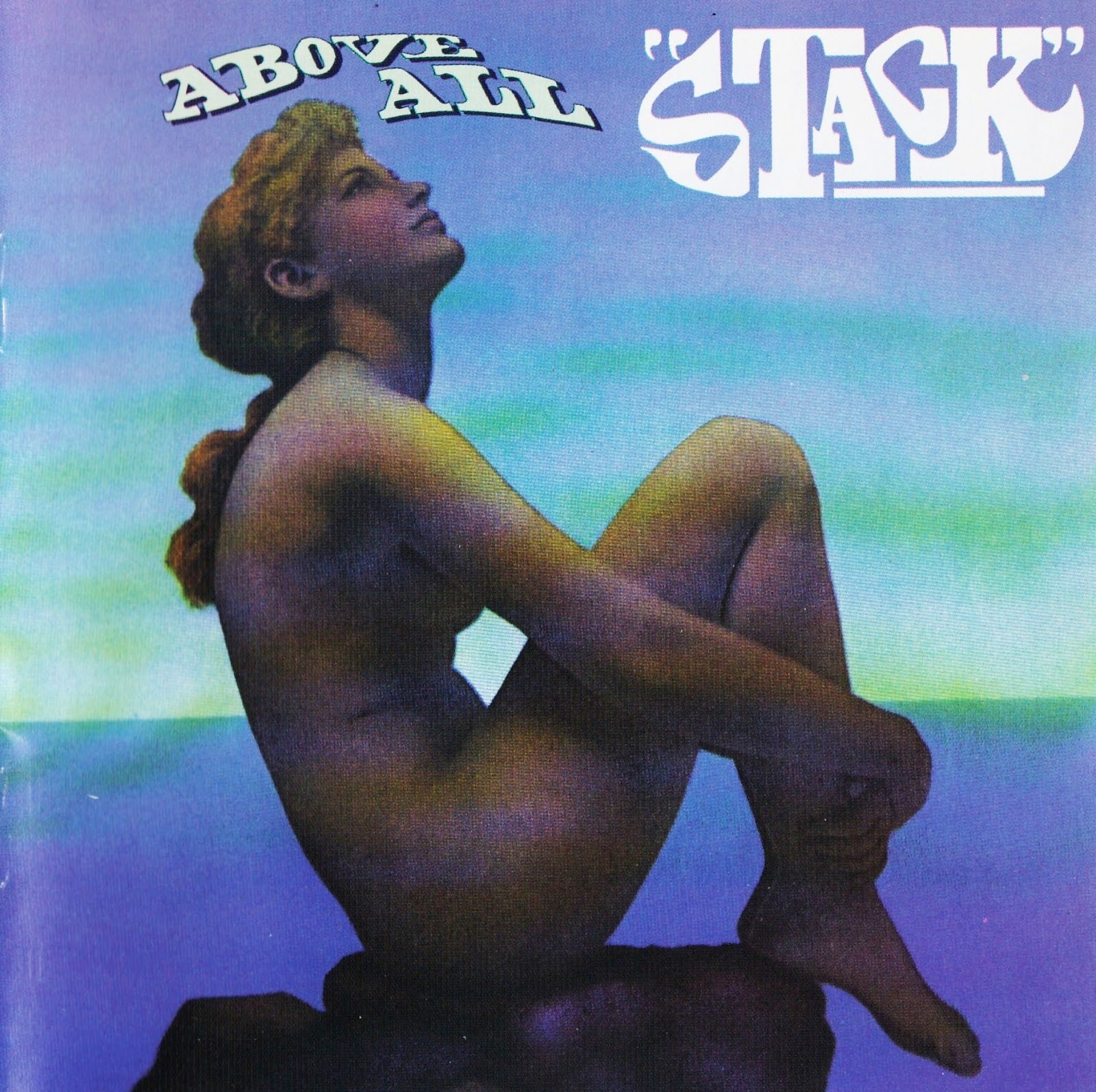 "Our first real concert was with The New Yardbirds"
Can you elaborate the formation of Stack?
Bill Sheppard: Well let's see, Rick Gould has agreed to participate, so I'll allow Rick to fill in the blanks about himself and Kurt Feierabend.
Bob Ellis and Buddy Clark came from a group called The Fabs and Buddy had previously been in a group called The Barons. Bob came from the drum and bugle corps at Magnolia High School.
I came from a group called Denny and the Chancellors, playing tenor sax (studied in school band under the world class track athlete – Archie San Romani jr.) and doing mostly background and sometimes lead vocals behind a duo of great singers – Gerard Belisle (now Ron Bell in San Diego, CA), and Denny Correl (RIP) was honoured as Gospel vocalist of the year in the US in 1978) which morphed into The Crispy Critters. One of our first gigs was a Battle of the Bands at Sandy McTavish's club in the now annexed town of Olive, CA. As the winners of the battle we were rewarded some Fender Musical equipment, $500.00 cash, and a trip to a Hollywood recording session. That session turned out to be at Columbia Records with producer Terry Melcher (The Beatles) and the artists The Righteous Brothers cutting basic tracks for The Monkees' tunes and what very well could have been 'Last Train to Clarksville' although I'm not quite certain (it was 50 years ago!). The Righteous Brothers's leader/vocalist Jamie Browning (Bill Medley) was laying the vocal track to teach Davy Jones how to phrase and enunciate pop music songs, very cool! In the booth with us was a beautiful brunette woman who we later found out was Dina Martin (Dean Martin's daughter and Melcher's girlfriend). We had arrived! We were in awe of the public stature of Melcher (Doris Day's son) and Dean Martin's daughter and we were hanging with them in the studio!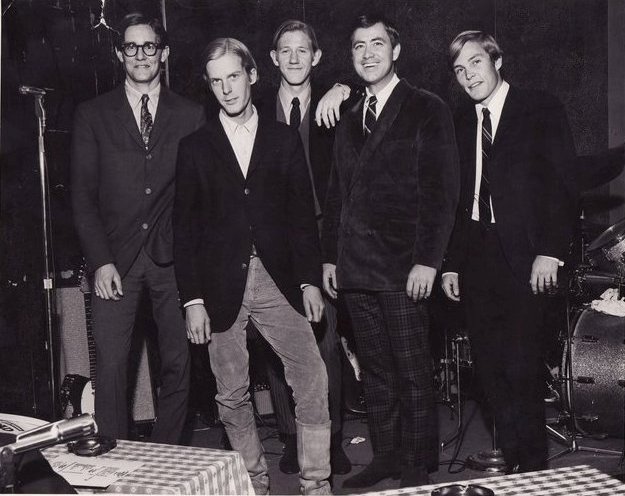 The Crispy Critters consisted of Russ Winstead (bass), Denny Taylor (lead guitar) (RIP), Darryl Duey (drums), and Frank Moore (rhythm guitar) and me singing and playing autoharp and occasional tenor sax. We had a house gig at a club called The Paradox in Orange, CA. We played every Friday and Saturday night with a hypnotist named George Sharp. We'd play a set and then George Sharp did his hypnosis show, and then we'd close with another set of music. I can't remember why The Crispy Critters split up, but at one point we were the opening act at The Hullabaloo Club in Hollywood (later to be known as The Aquarius Theater – (my first revolving stage experience) for The Yellow Pages, The Seeds, Mike Clifford ('I'm So Close to Kathy'), and others. The guys from The Fabs had come to The Paradox to see us perform, and later asked me to join their group as the singer. Their previous vocalist Bob Burton had died of a drug overdose so there was an opening for me and I took it. The Fabs had won the Pepsi Cola band battle in 1966 and had a record out that was beginning to chart. It was a fit and we played a number of venues throughout Southern California for a year or so and then The Fabs morphed – into The Wabash Spencer Band. We released a single on Bel Air Records with Jim Messina called 'Part Time Woman' / 'French Champagne and Caviar'. I sure wish I'd kept my copy of that, it should be worth some pretty good money today!
You were in The Fabs.
Bill Sheppard: The Fabs had a record, 'That's the Bag I'm In,' the flipside was 'Dinah Wants Religion'. Their singer Bob Burton had recently died of a drug overdose. That's when they came looking for me.
The Fabs members were: John Skelton (rhythm guitar and vocals), Bob Ellis (drums) (RIP), Buddy Clark (bass and vocals) (RIP), Dennis Yarema (lead guitar), and me (vocals and tenor sax). John Skelton went on to record the single 'Georgia Lady' with Billy Davis Junior and Marilyn McCoo from The 5th Dimension. The 'Georgia Lady' that he sang about was a beautiful young blonde girl named Gem Gossum (Gem and I had a short fling a few years later). The times they were a changing, and so we changed the name from The Fabs to The Wabash Spencer Band (not so cutesy). We recorded a couple of songs at Gold Star Records on Melrose in Hollywood. One was 'Somewhere Between Time and Space' that I sang, the other was 'French Champagne and Caviar' that John Skelton sang. The single that was released on Bel Air Records was, 'Part Time Woman' written, produced, and performed with us by Jim Messina (half of Loggins and Messina) and the flipside 'French Champagne and Caviar'. Our manager Earl Dion and Messina decided that 'French Champagne and Caviar' sounded more congruent with the style of 'Part Time Woman' and so that track was used on the flipside of the single.
Were you in any other bands that recorded something back then?
Bill Sheppard: The first group I was in that recorded a single was Denny and the Chancellors about 1964. That group consisted of Denny Taylor (RIP), Russ Winstead, Daryll Duey, Benny Maddox (country singer Rose Maddox's nephew) (RIP), and me. We recorded a Tim Morgan tune from his 'Live at the Prison of Socrates' album entitled 'The Cat Came Back'. It was a kind of a "surfed up" version of his folk song. I still have that single. A year or so later (1965), I was asked into that same studio to do vocals for a local group's recording (apparently their singer had pitch and/or phrasing problem), so I laid the vocal on 'Mister You're a Better Man Than I,' (The Yardbirds) for them. I ran into that same singer (I replaced) at a jam session in Fullerton, CA in 2005 and he was still resentful at me for singing on "his" band's record, bummer! The guy was still pissed off after 40 years!
So how exactly did Stack form?
Bill Sheppard: Well, Wabash Spencer was playing a regular Monday night gig at the hippest place in town, The Anaheim Bowl – a bowling alley on Lincoln Avenue in Anaheim that had a huge "community" room that could handle 500-1000 people, and it's where all the kids from Anaheim and surrounding towns hung out (might not sound like much, but it was very cool and the only other place in town was Harmony Park Ballroom where Dick Dale played on the weekends). Club manager Mike Pinizzotto always booked a guest act to play a set or two with us from a stage off to the side, and one of those acts was a cool new group from Whittier called Stack. Their drummer was Robbie (Robin) Williams (16 years old) (not THE Robin Williams), left-handed bassist Kirk Henry (who later joined the group Christopher Milk) Jim Dole (their singer), Rick Gould (lead guitar) and Kurt Feierabend (rhythm guitar and vocals). Mike Pinizzotto decided to dissect the two groups and form a "supergroup." He liked my singing (but was told I was an ego tripper – actually I was very shy and uncomfortable except while on stage, but apparently it came across as arrogance). At the insistence of Bob Ellis the new supergroup decided to use me as their vocalist. So, with Bob's drumming, Rick Gould's guitar work, and Kurt Feirabend's vocals and stage presence, and the addition of local guitarist/bassist Chuck Berry (not THE Chuck Berry), the new Stack was launched.
We rehearsed for a few weeks at Pinizzotto's other club – Merlin's in the city of Orange and began working our way into better clubs, even a concert with The New Yardbirds (soon to become Led Zeppelin). After about six months (maybe less) it was pretty obvious that Chuck was primarily a guitar player (a very good one) but we needed a solid bass player so we went after Buddy Clark. That was tough – we met Chuck outside in the back of Marina Palace where you load/unload equipment into the venue, and I was elected to tell him that he wasn't working out and that we'd replace him. Everybody else was dead silent, you could've heard a feather drop, except for Kurt over to the side playing softly on a harmonica, no other words were spoken and Chuck just drove away, whew, what a memory! Sorry Chuck, you have no idea how tough that was.
How did you decide to use the name "Stack?"
Bill Sheppard: Mike Pinizzotto liked the name Stack and so did the rest of us so it stuck. The name Stack was snatched (by Rick Gould) from a weekly or monthly cartoon out of a "beat" magazine of the time that was entitled "Stack on Tour." We initially adopted the "Who-esque" use of American flags as the grill cloth on all of our speakers so our stage was always quite colourful. We were also later endorsed by Sunn amplifiers as were The Who, and so when The Who was not touring we used their same equipment for our backline, and if you were approaching the stage from the rear, all the speakers were spray painted with 12 inch letters The Who! This was all before the release of the 'Tommy' album. Funny, we later hired the ex-road manager of The Who – Joe Taylor. Joe got us all press passes/seats for the Who's final LA show at the Santa Monica Civic Auditorium before they returned to Europe to record the Tommy album. They were awesome – Keith Moon was still alive.
How did you get in contact with labels?
Bill Sheppard: It didn't really work like that. We spent the first year or so playing small nightclubs and playing cover material until we began to develop our own sound. In doing so, we began to grow weary of what we considered no progress and decided to drop Mike Pinizzotto as our manager . He still had the girl group Birtha under contract so he was otherwise occupied and we had been approached by a gentleman by the name of Bill Robertson, who owned a large venue in Seal Beach called Marina Palace about managing us. Mr. Robertson took us on for the summer of '68 and locked us in Marina Palace every day for about 8 hours to rehearse. Sometimes we practised in front of a mirrored wall (in the girls restroom) to become comfortable with what we looked like from the audiences' viewpoint. Rick began to write some of the material for 'Above All' during that period. It was at Marina Palace that we played a great number of performances with Alice Cooper (the name of the band was Alice Cooper), Vince (Alice Cooper now) was a member of the band. Marina Palace was a premier venue for rock 'n' roll back then and lots of "name" acts played there including – Little Richard, Strawberry Alarm Clock, The Righteous Brothers, Jerry Reid, et cetera. Bill Robertson also managed Dick Dale and a number of other artists of the time. Marina Palace is where Shep Gordon found Alice Cooper and signed them with Bizarre Records and 3rd Story Music. Clancy Grass had been sending out scouts, looking for acts to sign and one of those scouts, a gentleman by the name of Stephen Hoffman, brought Stack to Clancy and the recording scenario began. Clancy worked as a sub-producer for Sidewalk Productions owner Mike Curb. Stephen Hoffman co-wrote one of the tunes on 'Above All,' 'Hot Days'.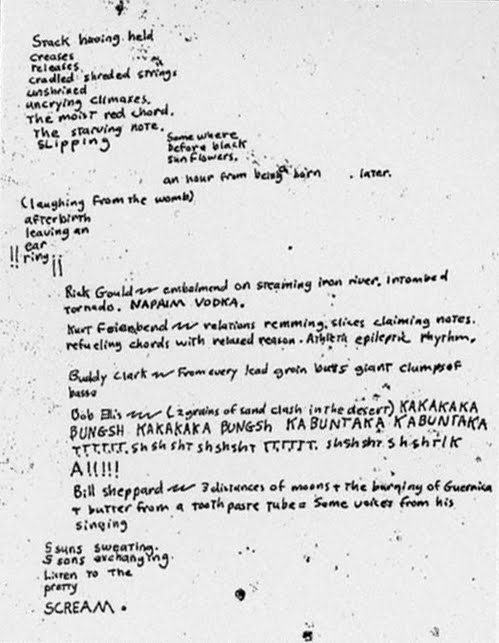 What's the story behind making 'Above All' album?
Bill Sheppard: You know, when you have inertia as a group, and audiences and other bands begin to recognize that there's something special happening, it's easy to visualize and project your next level. We'd been writing and rehearsing original material for a while so Clancy and Roger Dollarhide (the engineer) began the selection process. I remember Kurt and I auditioning to be the singer on Stephen Hoffman's tune – 'Hot Days'. Apparently he liked my style for that tune better and I ended up singing it on the record. But, the album was simply a group of songs, not really a concept.
"It brought back memories of the screaming, wild audiences that showed up there for Stack"
Were you playing a lot of shows before the album was released?
Bill Sheppard: We played a ton of shows before the release of 'Above All,' remember it was the '60s and most venues were really only open on the weekends. The Monday night gig at the Anaheim Bowl was really a fluke. Most cities in Orange County, California had ordinances against night time events that included young people and music. That's a fact!
Our first real concert was with The New Yardbirds (Led Zeppelin) at The Purple Haze, a converted bowling alley in Riverside, CA. Chuck Berry was still with us then. We opened for them (having no idea what the future held for either group). After the show there was an altercation with one of their roadies and Chuck, our bass player at the time, in the parking lot. The roadie pulled a knife and Chuck grabbed a mic stand and started swinging it in circles to keep the guy off him. It all settled down after a few minutes and nobody got hurt, but it was really exciting! About three months later they became Led Zeppelin, same guys, same material, and the rest was history. That may have been the gig that musically convinced us that we needed to make the bass player change, after all they had John Paul Jones!
Next came Iron Butterfly – Buddy Clark had been working a straight (non-musical) gig at a warehouse in Buena Park for Knott's Berry Farm (similar to Disneyland) which required him to have short hair. Rock bands of the late '60s had long hair, so Buddy decided to wear a wig, a great big "afro" wig a la Hendrix. We opened that night for Iron Butterfly at the Swing Auditorium in San Bernardino, CA when 'In-A-Gadda-Da-Vida' was the #1 song in the world! I'd found a floor length robe previously owned by "Country Joe" of "Country Joe and the Fish". It was burgundy velvet with greatly flared sleeves and lime green satin flames on the cuffs of the sleeves and the lapels. My pants were yellow, white and blue striped bell-bottoms (1/2 inch stripes, very large bells) and I had purchased some bright green patent leather shoes from a women's shoe store (nobody made men's shoes like that yet so I lied and told them that they were for my sister!). I wore no shirt, and a large dangling medallion. Bob Ellis wore a T-shirt reminiscent of the "bulls-eye" red, white, and blue one frequently worn by Keith Moon, and the other guys were equally elaborately dressed. There were about 8,000 people in the audience. We were up first, we opened with "Poison Ivy" (the 1st cut on 'Above All'). It was a very explosive, punchy, high energy tune and as the curtains opened to expose us to the masses, lights in our faces, I could see that the previously seated crowd was now storming toward the stage. They had to line up security to keep them off of us. It was very exciting, almost sexual! A crowd rushed!
The show went great as our strong harmonies, Bob's drum solo (much better than the solo in 'In-A-Gadda-Da-Vida'), and Rick's "Clapton-esque" guitar solos won them over, we belonged! Backstage following the performance I was greeted by a young lady who asked if I would come out into the audience and meet her little brother (he was in a wheelchair, with a terminal illness, and he wanted to meet ME – it was very touching). Behind the scenes, our roadies – Kevin Prewitt, Vince Basse (later a Fender business executive, and John English – world renowned guitar builder for the Fender Custom Shop) had gotten us into some shit. Apparently, Iron Butterfly had purchased a bunch of cases of beer for their entourage and they were stacked in the hallway between our dressing rooms. Kevin (and the rest of us, hell it was only our second big concert) believed it had been provided by the promoters for everyone backstage so he grabbed a case and brought it to our dressing room. Well, that didn't go over very well with Butterfly guitarist Erik Brann (RIP) who bitched, pissed, and moaned until we gave what was left of "our" case back.
Later that night we all went to breakfast at an all night diner in the area (we were about 80 miles from home) there were about 10 of us. Buddy decided to continue wearing the "afro" wig during our meal. We were in great spirits (conquest, victory!) and found that those little toothpicks that kitchens use to hold sandwiches together with the colourful saran-plastic guides on them worked great as little arrows to toss into Buddy's wig (because he couldn't feel the impact). So every time he'd turn his head someone would shoot another colourful marker into his "hair." He ended up looking like a fucking Christmas tree, we roared! Good times!
Spirit was next at Foothill High School in Tustin, CA. We didn't have a record out yet but we were confident and ready. At set-up, Randy California (RIP) noticed I was a bit nervous and came over to me and said, "hey kid, you look pretty uptight, do you want to get mellow?" I said, "mellow sounds really good right now." He said, "follow me." So we walked up the stairs and behind the light show projection screen onto the main body of the stage. He laid his guitar case down on the floor, opened it and pulled out a couple of badminton rackets and a birdie, handed me a racket, grabbed the birdie and the other racket and stepped back about 20 feet. We began to volley the birdie back and forth for about 5 minutes. With all the commotion going on around us during set-up for the show I was able to concentrate and focus on just that birdie (crude form of meditation) – and, I got mellow! Thanks Randy. I'll bet you were expecting something completely different for a '60s story, huh?
We continued to play every weekend during the recording process. One of the main venues was the Orange YWCA. Stack was becoming quite popular and on any given Friday night we would draw between 1000-1500 kids there to hear us with an additional group – The Hook, Smokestack Lightning, The Zekes, and other "hot" acts of the time. Years later I was watching this Tom Hanks directed movie – That Thing You Do and I recognized the venue from the stage looking out toward the audience – it was filmed at the Orange YWCA! It was eerie remembering a building from that vantage point, knowing the room that well. It brought back memories of the screaming, wild audiences that showed up there for Stack. In fact the night we introduced our album to a live audience, it was there from that very stage, pretty cool!
Speaking of movies. During the Stack recording period, Mike Curb produced a movie – Wild in the Streets about 15 year old taking over the government and dosing everyone (with LSD) and putting anyone over 30 in a containment camp (funny, his name was removed from the film credits during his campaign for Lieutenant Governor of California!) Rick, Bob and Buddy were some of the musicians used for that soundtrack!
After the record was finished and artwork approved (more info on this in a later question) we got some sample copies (little were we to know that they would be the ONLY copies, ever). The front page of The Hollywood Reporter read "Stack signs deal with Columbia Records". Clancy began placing us around town at different venues. We played at The Millionaire's Club for a party advertised as "The Fig" with The Flying Burrito Brothers, The Byrds, Smokestack Lightning and a bunch of others. We played at The Whiskey A Go Go with Blues Image, Rockin Foo and others. We opened for Three Dog Night in Las Vegas when 'One is the Loneliest Number' was the #1 song in America. That show was pretty wild! We travelled to Las Vegas with Ron Martin (a good friend and business executive from LA, later to be a personal manager), Charlie Lico (later to become vice President of Liberty Records in Nashville under Jimmy Bowen and my personal manager along with Larry Carlton, Abraham Laboriel Sr, Carlos Rios and many others) and a host of assorted friends. We were very cool, but very "low rent" and booked ourselves into a cheap motel off the strip. The venue was "The Ice Palace" an ice skating facility and hockey rink that was home to the local Las Vegas hockey team. We arrived first and picked the best dressing room. Kurt found a hockey jersey in the back that later became part of his wardrobe. The Three Dog Night entourage arrived and was really pissed that we'd taken the best dressing room, so there was a bit of tension backstage throughout the night. The stage was set up on a platform right on top of the wooden sheet ice with a few rubber mats around the edges to keep you from slipping on your butt, and a set of stairs to climb up to the stage. It had a good sized drum riser to house Bob's huge chrome Slingerland 26" double-kick kit (front cover of the 1969 Altec Lansing Catalogue was a picture of his kit). The audience's chairs were aligned in rows on the plywood-sheeted ice. My friend Gary Richer had come along with us and had given me a couple of hits of powdered cannabinol (which has a tendency to make you high and very numb and rubbery feeling). I remember little of the show until the audience started cheering with fanatic approval. I had been over in front of the drum riser "head banging" to Bobby's drums and I suddenly opened my eyes and realized a mic boom weight was directly in front of me and I had been banging my forehead on that boom, blood running down my face – that's what they were cheering about! They thought it was part of the show… Meanwhile, Three Dog Night was about to take the stage and they were all psyched up to go play their set and came running out onto the sheeted ice landing behind the stage. I believe it was Corey who went a bit too far, crossed the boundary of the rubber mats, slipped on his butt, and slammed his head on the ice really hard. They waited a few minutes to make sure he was all right and then went on with their show. Meanwhile back at our cheap motel…..about 15 girls had found out where we were staying and were there when we returned from the show – ahh, the '60s…
About 30 years later, I was at a music store in Phoenix and a discussion broke out about who were the great bands in the old days that didn't really make it BIG. The guy behind the counter said "at the Ice Palace in Vegas in 1969, I saw a band called Stack that has stuck out in my memory for all these years, hell, the singer even banged his head on a boom stand and got all bloody, those guys were fuckin' great!"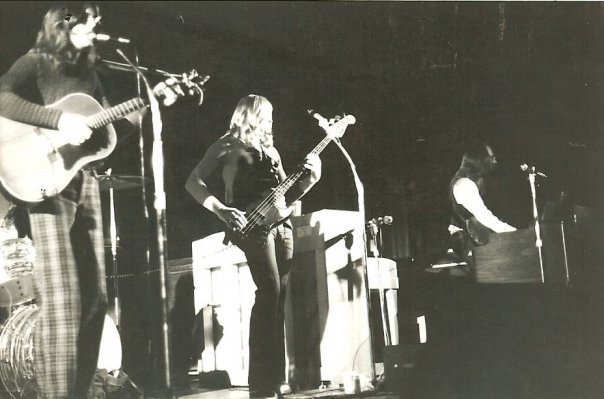 What material did you play?
Bill Sheppard: In the beginning we played a mix of The Bee Gees (pre-'Saturday night Fever'), Beatles, Yardbirds, Who, Cream, et cetera. We began to gravitate toward signature songs for each vocalist. Kurt did 'Stone Free' by Hendrix, 'Sitting on Top of the World,' by Cream, 'Magical Mystery Tour' by The Beatles, that kind of stuff. I did 'Hurdy Gurdy Man,' by Donovan, 'And the Sun Will Shine' by The Bee Gees, 'Substitute' by The Who, and that kind of stuff. All three of us (Rick, Kurt, and myself) had real strong voices. There was no such thing as monitor speakers at the time and so a vocalist had to sing loud enough to be heard (and to hear themselves) over a heavy hitting drummer, booming bass, and a couple of Marshall stacks. Ah, the good old days! Huh?
Where did you record? Who was the producer?
Bill Sheppard: We recorded part of the record at Sunwest Studios in Hollywood. Our engineer was Roger Dollarhide, the producer was Clancy Grass. A couple of the sessions followed nights of recording where George Harrison and Jimi Hendrix had been in that same studio. The tune 'Da Blues' was cut live at Producer's Workshop (the room was connected to The Mastering Lab where Doug Sachs etched his name in history) the same night that we filmed our Pepsi-Cola commercial.
What kind of equipment did you use?
Bill Sheppard: We were sponsored by Sunn Amplifiers who also sponsored. Buddy Clark used 2 Sunn Coliseum heads, two 4×12 Altec boxes and two 2×15 JBL boxes Kurt used a Sunn head and JBL 215 Sunn cabinet. Rick was always experimenting with speakers, heads and guitars. He was a real innovator, he used HiWatt, and Marshall heads mostly switching frequently looking for THE sound. He was also a fantastic guitarist! I remember a night at The White Room (a concert venue in the city of Buena Park) we were doing a show with the Illinois Speed Press who had guitarists Paul Cotton (later with Poco) and Kal David (later with The Fabulous Rhinestones). Rick took a solo and these guys ran out from the back dressing room to see and hear his solo because he was so good! Later on Rick settled in on a 100 W Marshall head and 4×12 slant cab in fact he received those from Clancy Grass as part of our signing. We picked up that Marshall half stack and a new Gibson flying V from Wallach's Music City at Hollywood and Vine.
The night we worked with Jimi Hendrix and Buddy Miles at The Experience in Hollywood, Hendrix was really drunk and loaded and wanted to use Rick's new Marshall amp. Rick had John English (his guitar roadie) pull the fuse caps from the head so Hendrix couldn't use the amp! Rick stated – "I don't' want that drunk fuckin' (n-word) bastard touching my shit!" John English ended up being quite a well-known man in his own rite, he was one of the most sought after guitar builders in the world from the Fender Custom Shop. He remained a great friend throughout our lives and passed away a few years ago, I sang at his funeral.
What about cover artwork?
Bill Sheppard: The front cover art is a Maxfield Parrish painting called "Stars" Clancy was married to one of the Paris Sisters ('I Love How You Love Me') singing group from the early 60s, and they were kind of snooty in their taste, Hollywood and Hollywood-ish if you will, and the art was their choice. We approved that as the front cover art and the back cover was supposed to be the full size of the jacket itself as we didn't like how small the picture appeared, but because of the problems with Columbia Records and finally ending up with Charisma we never got to edit it. Buddy Clark's name on the first run was mistakenly printed as "Billy" and until the album was re-released years later was never changed.
You released your LP on Charisma Record. For what kind of a deal did you sign?
Bill Sheppard: The album on Charisma Records, well this was a real bummer! Good Question! We originally signed with Columbia Records, Bob Ellis had in his scrapbook a copy of the "Hollywood Reporter" magazine with the headlines stating "Columbia Records signs Stack" they offered us at the time in 1968 I believe it was $75,000 in today's world that that's not much money but in 1968 it was equivalent to perhaps $500,000.00 today. A house costs $20,000! You could buy a new Volkswagen car for $2,000! So it was quite a bit of money, and then Clancy got his big idea! He decided that he was going to push Columbia for an additional $75,000 to introduce us to the national media by flying out all the writers from the teen magazines to Alcatraz (which was then vacant), and have them served dinner on metal plates with metal cups "inmate style" and then present Stack in concert! He was so sold on that idea that he wouldn't let go of it and Columbia dropped us! There was another deal that was in the works with Happy Tiger Records which was distributed by Tetragrammaton, of the time but that fell through too.
What did promotion look like? I read in another interview, that you made a commercial for Pepsi or something like that?
Bill Sheppard: Charisma, I believe was a label that Clancy just came up with, so the promotional $$ at this point was out of the question. He kept the group working a little but we had to basically work around town at all the same venues to the same audiences until the record was released and that took about nine months. It seemed like forever! However, we were the first rock group in the United States to record and film a Pepsi-Cola commercial. It was a four-camera shoot at "Producer's Workshop" when the album deal with Columbia was still on the table and going strong. Once the album deal with Columbia had fallen through, they weren't interested in a new band with a "no-name" label to promote this big Pepsi commercial, so it went up on the shelf!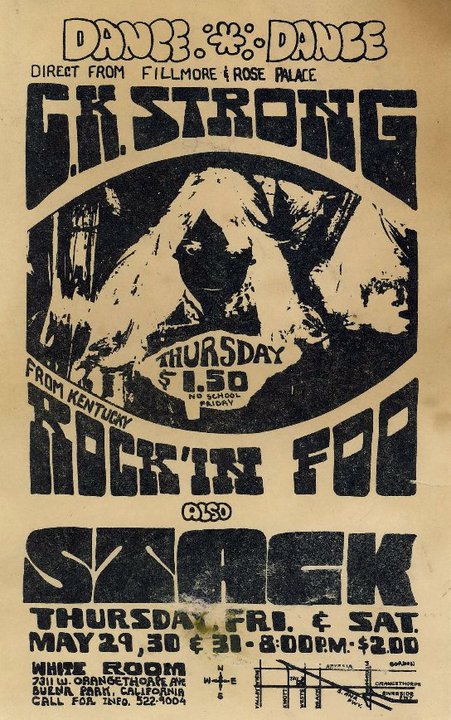 You played with a lot of bands. Is there a certain story that you would like to share with us?
Bill Sheppard: Yeah, we played with a lot of big groups. We opened for Three Dog Night in Las Vegas when 'One is the Loneliest Number' was number one song in the USA. We opened for Iron Butterfly when 'In-A-Gadda-Da-Vida' was number one in the USA, we played with Chicago Transit Authority, Illinois Speed Press, The New Yardbirds, The Byrds, The Flying Burrito Brothers, Jimi Hendrix, Buddy Miles, Smokestack Lightning, The Hook, Blues Image, Alice Cooper was our opening act on many occasions, the list goes on and on… okay sorry, getting carried away, a story We were being touted as the up and coming young group in LA and landed a gig at The Millionaires Club – a party night advertised as The Fig. There were two stages downstairs in two separate areas in this giant mansion. The upstairs rooms were used as dressing rooms, but there was no toilet we were aware of. I had a habit of drinking a quart of grapefruit juice before a show to clear the mucus from my throat and had finished it just before we went on. We weren't our usual amazing selves that night, we were just mediocre, no vibe, flat. Before heading downstairs for our set, I had to pee and fill my quart bottle, put the cap back on it, and set it over in a corner. After our set we were accompanied by some Hollywood press, and Rodney Bingenheimer and Screaming Lord Sutch who had come to find out what all the fuss was about with these newbies. They were half lit and thirsty. We chatted for a few minutes and I noticed Rodney had slipped over toward the corner where he was just tipping the bottle of fresh urine toward his mouth! I screamed "NOOOOO!" thus saving Rodney from a bout of being totally pissed!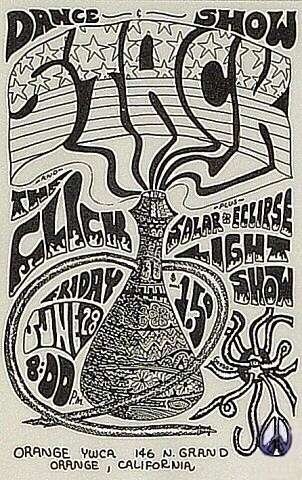 Would you share your insight on the albums' tracks?
'Poison Ivy' – We needed a "banger" to start the record, this version brought us a stage rush at the Iron Butterfly show.
'Only Forever' – smoked a joint of Acapulco Gold before the session, I was really high, Rick was really pissed!
'Da Blues' – what a gas! We cut the tune live in the studio and I redid the vocal in 1 take after the fact. The audience in the background is our roadies and us drunk on our butts! It's all men, sounds like a gay bar!
'Cars' – the protest song from the greatly uninformed – we were too young to be informed yet, but boy could we protest!
'Everyday' – Cool tune, you can really hear Kurt's voice and talent on this one – I added the "Hollies" type harmony – solo's too long for my taste.
'Valleys' – I actually co-wrote this with Rick and didn't get credit for it. He wanted the vocal line to match the instruments and I cut it in half and added the falsetto background vox, we wrote the lyrics together.
'Time Seller' – very cool tune – I like my vocals on this one – Kurt and I at the vamp singing 'Time Seller,' out of sync (intentionally) with the rest of the tune.
'Hot Days' – this was Clancy's choice and we did our best with it, not really our type of song – but it came out cool!
'Do It' – Kurt's shot at getting one in – pretty cool little ditty.
Was there also a single accompanying the album release?
Bill Sheppard: No single, but if I were to choose one I'd pick 'Time Seller'. Rick did an outstanding job writing and playing on that tune and I like my vocal!
How many copies were pressed?
Bill Sheppard: Great question! I'm not certain, maybe 100 before Clancy pulled the plug. That's why the record is so valuable, last I checked it was worth $7,500.00
What happened after your LP was released?
Bill Sheppard: Initially, we were very excited. I remember the night at the Orange YMCA (same stage Tom Hanks filmed That Thing You Do from) we had copies to flash at the audience and they were wild for it (maybe 1000 people). But as mistakes came to the surface
1) Buddy being labelled Billy on the jacket
2) the rear cover picture not being large enough
3) Clancy losing the Columbia contract by pressuring them for more $$, et cetera. we began to tire of the same old venues. Then Clancy booked us into Finnegan's Rainbow in Costa Mesa. Big problem!
They wanted us to play 4 hours a night! Clancy wanted us to stay and work the place 4 days a week for a while until he could secure some new bookings. Here's the problem – we had become this high energy, dynamic, original concert band that put out all our energy in a ONE hour show two to three times a week = total of 3 hours. In those three hours I could lose 5-7 pounds because I was very active on stage. I pleaded with the guys and Clancy to not take this gig. Clancy countered by bringing in Lee Oskar (War) to take over half of the soloing duties on harmonica and that gave me a little breathing room but it wasn't enough. It was too physically draining on me to use "concert energy" for nightclub hours and the material didn't work well without that energy, so I quit!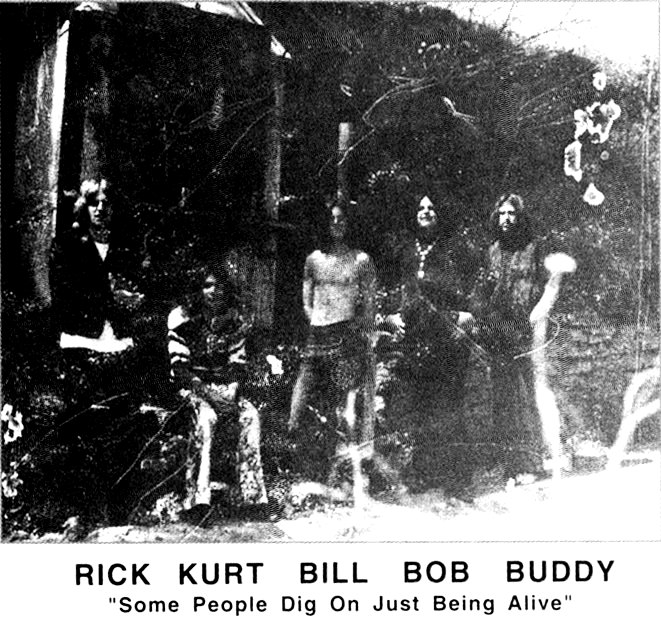 Why did you decide to disband?
Bill Sheppard: Also, because our popularity was soaring locally, we had each developed a small group of "hangers-on". Each of those little groups had their favourites – some people really liked Kurt because he was aloof and really looked "rock-starry", Rick was the "guitar-player's guitar player", et cetera. Those little cliques intentionally or not caused dissension among the group members, comparisons, better-than shit, squabbles and finally for me, escape.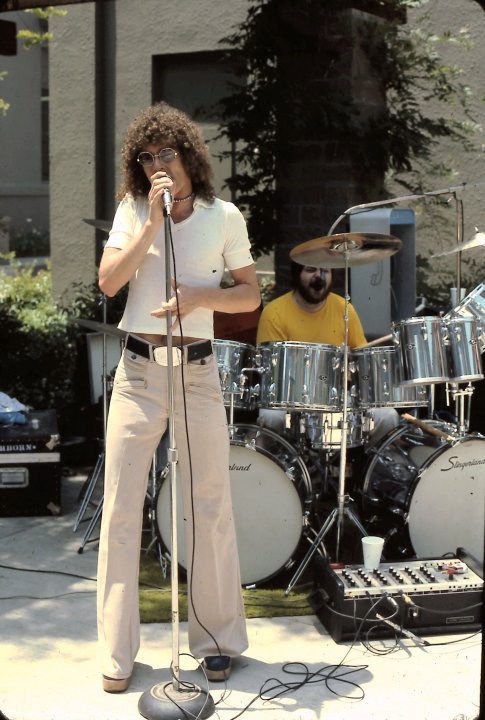 What's your opinion about psychedelics?
Bill Sheppard: Then – in the '60s I became a member of that culture and used hallucinogens (mostly psilocybin) to open a pathway to higher thought as there weren't many avenues outside of religion and I'm NOT religious, to take.
Now – I'm free of everything. No sugar, no red meat, no dairy, no gluten, no booze, no smoke, no shit! I'm doing everything in my power to stay as young as I can.
What occupied your life after Stack? What occupies your life today?
Bill Sheppard: When I left the group, I joined with a small band of hippies and we started a candle company – Om Hill Candles – in the mountains of Southern California. About a year later (with my hair down to my butt) I approached Clancy Grass with a bunch of folk music songs I'd been writing in the mountains using the local birds as critics to whether a song was a "keeper" or not and along with my guitarist buddy – Frank Moore who later became the lap steel guitar and fiddle player for Hoyt Axton. He and I recorded that folk music album for Clancy Grass ('Above All' – producer) in collaboration with Jack Spina (Pat Boone's manager) and Pat Boone. That album was 'Sheppard and Moore' . We finished recording it on Valentine's Day 1970 (the night my first daughter Joey was born). I wrote, playing guitar, all the material for that record except for a tune called 'Uncle Rogie's Lullaby' by Roger Dutton (a good friend of Jackson Brown) Frank, an excellent fingerstyle player did the guitar work and I sang all the cuts. I'd written various orchestral arrangements for the tunes, but Clancy (being very budget conscious) decided to lay a flute on all the tracks and the flute player never conferred with me, so the phrasing and counterpoint sucked and the album got shelved. Sad, it was a very good product of the times. And NO I don't have any copies!
Next was the group Dr. God. It was a 1972 "mini-orchestra" ala ELO (but about 4 years before them) It featured Steven Anderson on guitar (later to be Stevie Wonder's recording engineer and chief audio engineer at Capitol Records), Nelson Guillory on guitar, Stuart Paul on keyboards, and Steven Segal on drums (a year or so before he left the USA for Japan to study Aikido and a cellist and 2 violinists. We rehearsed for and played one concert at the Fullerton Junior College Theater. The subject matter of the show was a mini-rock opera entitled 'Popsicle Planet Suite' by Stuart Paul. Steven Anderson, being an avid engineer, recorded the show. The group disbanded after that.
A few years after that, Rick Gould and I were picked up by a producer – James Clyde Lutrell – and a wonderful recording act was put together – Ruby Wheeler. We managed to put together 5 hours of intricate, beautiful, soulful original music right at the time that "disco" was being introduced and went through our budget trying to find a home to play at, to no avail. Many years have passed, lots of groups, songs, recording projects – Max Gringo, Sheppard, Adey, and Mudd, Family of Man and many more.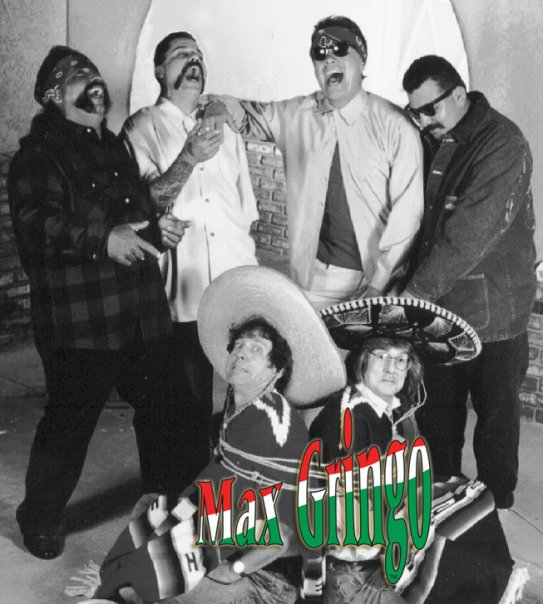 I'm presently playing acoustic guitar and singing in a folk type trio – That's All Folk – that works constantly and enjoying the hell out of it!
I'm also the North American Distributor for Mad Professor Amplification out of Finland which keeps me busy and close to the industry.
In my personal life, I've been married to my wonderful wife Debbie, 2 weeks shy of 33 years and have 4 children – Joey, Starr, Billy, and Danny – and 6 grandchildren.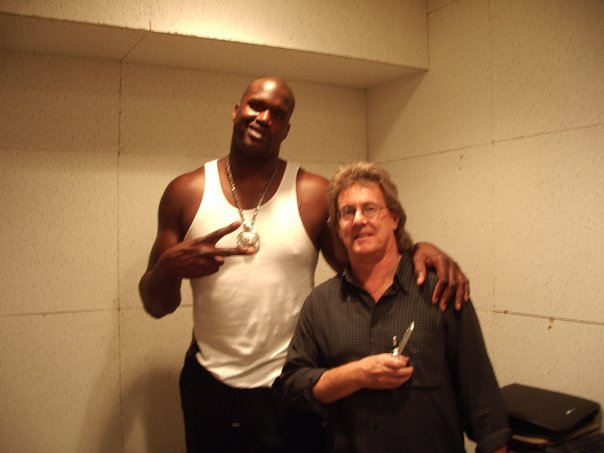 How about other members?
Bill Sheppard: Well, Bob Ellis and Buddy Clark have both passed on, I have had no contact with Kurt for almost 40 years, and from what I understand he wants nothing to do with his previous, rock and roll life and/or memories of it. And Rick – Rickey Gould lives in Albuquerque, New Mexico and at present is a caregiver for his elderly mother. Rick and I speak on occasion, but like Bob Dylan said – the times they are a changin'. My old fire is still there and I'm grateful I can still flash it when I need to!
This has been a very cathartic experience for me and I want to thank you from the bottom of my heart for the opportunity to go back and touch places that needed to be revisited and remembered and healed.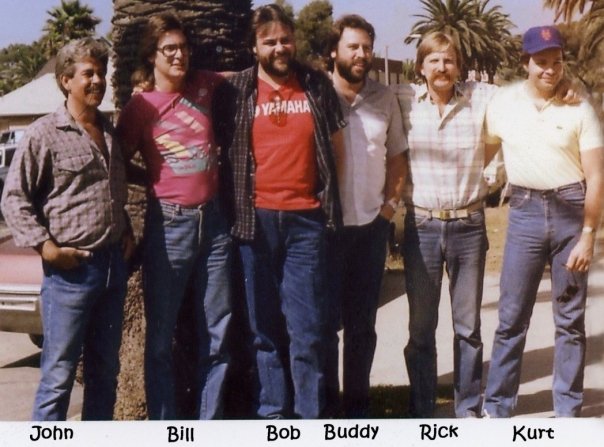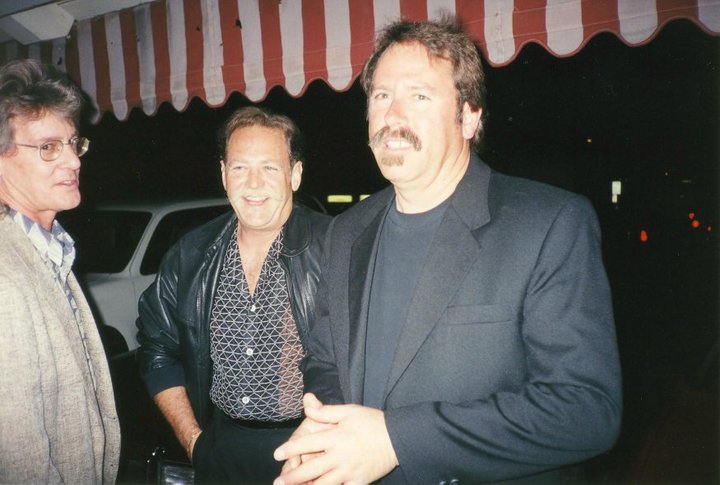 Thanks so much for taking your time. Sadly Bob Ellis and Buddy Clark passed away a few years ago.
Bill Sheppard: Buddy Clark was a world-class bass player. He was honest and stubborn and simple. He didn't have a mean bone in his body. He spent the last 10 years of his life as the bass player for James Harman's band. We respected each other – I attended his funeral and I wept.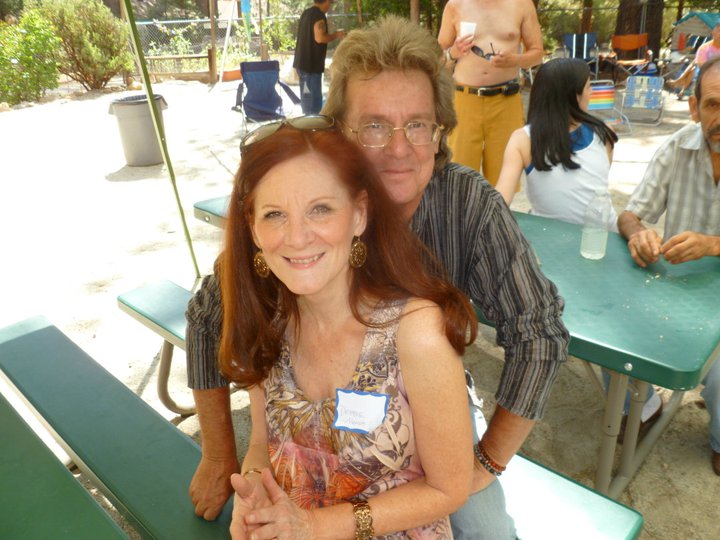 Bob Ellis was one of the nicest human beings you'd ever meet. He was funny, silly, sincere, and a best friend to many. He was loved and is missed. After Alice Cooper's 'School's Out' they came looking for Bobby to play drums for their band – he chose us! Bob was my friend – I attended his funeral and I wept.
Klemen Breznikar
---
Headline photo: Stack management card