The Golden Grass interview with Adam Kriney
Anyone need a hit of acid? Don't worry; Golden Grass has got your back.
---
The cool thing though is you don't even need to dose to get into that far out headspace, the walls are undulating around you while the carpet is breathing underneath your feet and the colors are starting to take on tastes as the frenzy starts to creep up your spine… This is some far out stuff, man. There are a lot of bands out there right now that want to sound like they just fell out of the 70's, but the truth is, most of them don't succeed because that was another time and place, another headspace that most people can't get into these days. Golden Grass on the other hand, have effortlessly traversed time back and forth, collecting bits and pieces of what they heard along the way to fashion a motley, yet almost divine, psychedelic Frankenstein of music encapsulated in the fuzzed out distortion, swirl of the organ and rumble of the bass. Heavy blues and garage rock are all the rage here, tasty riffs that will lodge themselves in the deepest parts of your brain, their lead singer floating above it all with tight vocal melodies and rhythms that hum and vibrate above the din of distorted noise and rock.
The band described their sound as "soulful boogie rock" and I wouldn't disagree with that statement, but there's a tasty driving energy behind it that propels the music from mid-tempo semi-psych blues rock into full-blown psychedelic territory while retaining all of the toe tapping, slow head nodding traits mentioned above; namely I think they might have listened to a good deal of Jimi Hendrix which always adds a bit of a driving force to something without nudging it out of place for genre. Having just released their debut Self-Titled full-length album for Svart Records I decided the time had come to talk shop with these dudes. Musician extraordinaire and Golden Grass drummer/singer Adam Kriney thankfully took plenty of time to fill all you lucky folks in on all the details he could muster with his keyboard. So kick back with a nice fat one, listen to some sweet music below and get yo' self educated, Psychedelic Baby style fool!
Who all is in The Golden Grass right now and what do they play? Have you all gone through any lineup changes since things started?
Adzo – drums and lead vocals
Micky – electric guitar and lead vocals
Jojo – bass guitar
This is the first and only line-up for the band.
Are any of you in any other bands or do you have any active side projects going on right now? Have you released any music with anyone in the past? If so, can you tell us a little bit about that?
Adam has a huge history, most notably as the band leader/visionary/drummer/singer for LA OTRACINA and also has done a lot in the free-jazz/improv/experimental world with his group Owl Xounds and his old label Colour Sounds Recordings. He's also been the touring drummer for such acts as Nebula, Cult Of Youth, Castanets, Cloudland Canyon, and Amy Annelle's The Places. Michael had a great rock band called Whooping Crane that eventually changed names to Strange Haze and he was a touring member of Tav Falco's Panther Burns band for many years. Joe had a great doom band called King Resin, but they only played one show, and nobody was there to see it, yet the echoes carry on, and the resin still hits…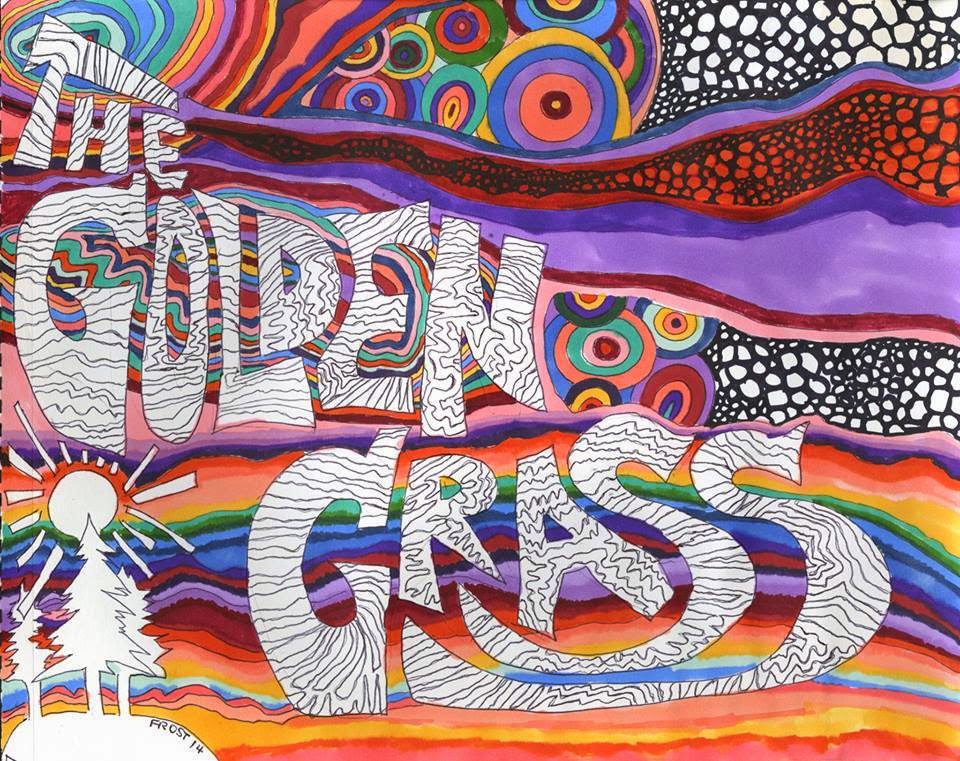 How old are you and where are you originally from?
We're only one and a half years old as a band, and we live in Brooklyn, New York.
What was the local scene like there when you were growing up? Did you see a lot of shows growing up? Do you feel like the local scene there played a very large or important role influencing your musical influences or in shaping the way that you perform today?
We're not related to anything local here. We just live here. Of course we saw a lot of shows growing up! Every experience from the past informs the future, but our biggest influences are things we've never seen, nor heard in person!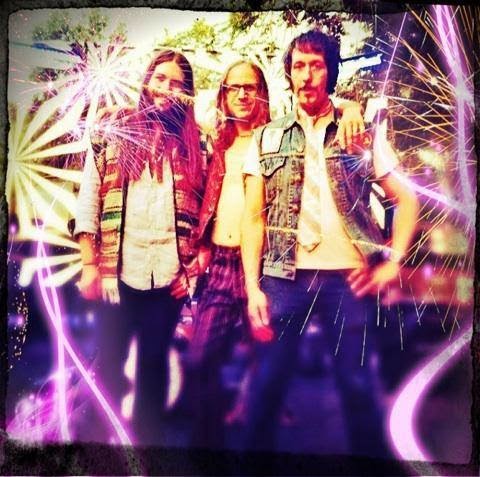 What about your home? Were either of your parents or any of your relatives musicians or maybe just extremely interested or involved with music when you were a kid?
My mom was an old school hippie. She saw The Beatles, Led Zeppelin, Miles Davis, Grateful Dead, etcetera; pretty much every band that came through New York City or New Jersey in the mid-to-late 60's and 70's. So, I was raised going to concerts. I saw all of the classic bands when they toured in the 80's, of course it wasn't the same, and I was with my mom, ha-ha, but yes, it was very influential! Plus, she had friends who showed me heavier music like metal and prog when I was young! My mother played accordion growing up, but as far as I know I'm the only performing musician, or artist in any way, in my entire family, on all sides.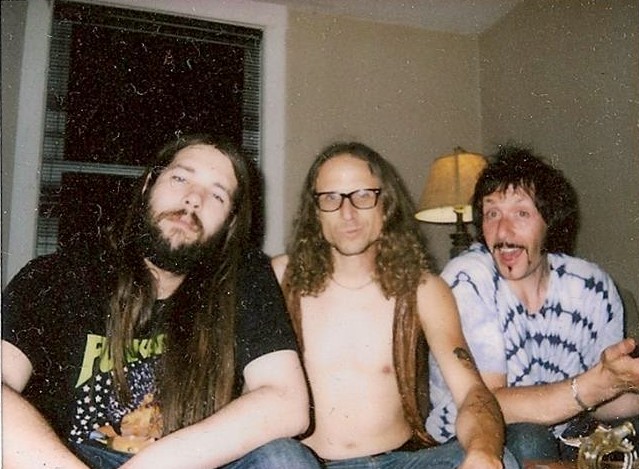 What do you consider to be your first real exposure to music?
I do not remember life without music. There has always been music intentionally being played my whole life, tapes, LPs, concerts, etcetera.
If you were to pick a single moment, a moment that seemed to change everything and opened your eyes to the infinite possibilities that music can present, what would it be?
I sure do, and I have written about this moment before in an interview with Dustedmagazine.com back in 2007. It was finally "getting" free-jazz when listening to the Faith & Power: An ESP-Disk Sampler CD that came free with Wire Magazine issue #221 in 2002.
When did you decide that you wanted to start writing and performing your own music and what brought that decision about for you? What was your first instrument? When and how did you get that?
I started to play music in grade school and onward into high school, which included clarinet, flute, and piano lessons, and I played in the concert band, like every kid does. But, I always wanted to play drums, although I didn't know why… A premonition, who can say? Anyway, my mother always denied me that because we were poor, lived in a small apartment, and there was no money to buy drums and no place to play them. But eventually, when I was sixteen, I bought a drum kit with my own money, and never looked back. I started a hardcore band soon after that and, on and on…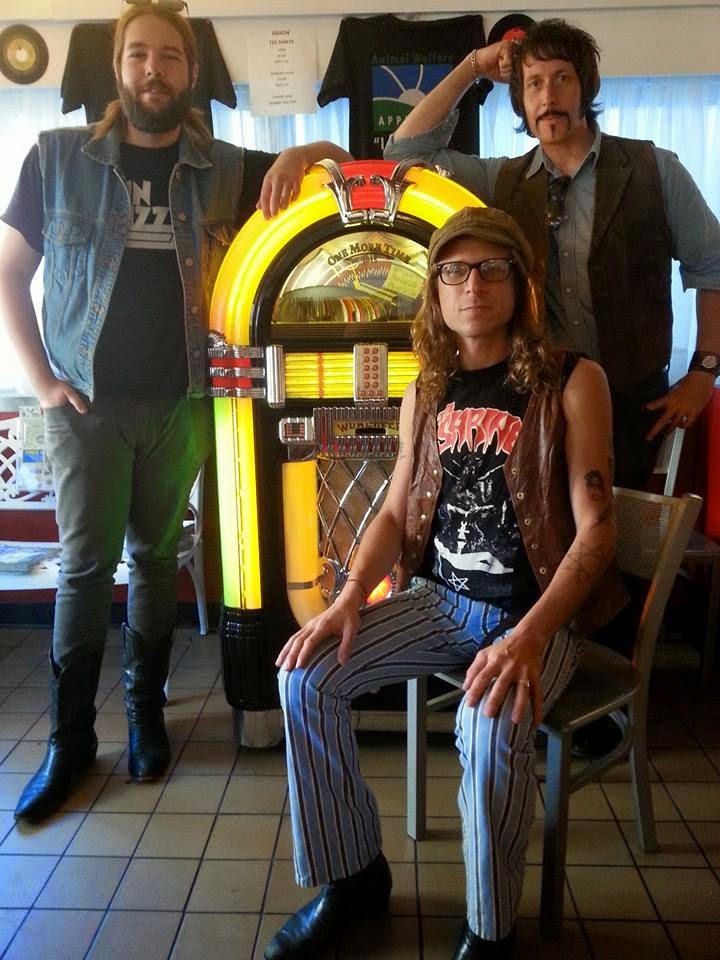 When and how did you all originally meet? What led to the formation of The Golden Grass and when would that have been?
We met at an ice cream shop. It was fate really, as I was asking for a double scoop of mint chocolate chip, and Michael was asking for extra malted, and Joe wanted rainbow sprinkles, not chocolate ones, and then we all looked at each other, with hearts in our eyes, and we awkwardly asked each other if we "played with anyone else", and no one did. We were all looking for "someone new to play with", so we went to a small room and played with each other, and it was sooooo good. So, we kept doing it.
What does The Golden Grass mean or refer to? Who came up with the name and how did you originally go about choosing it?
It's an obscure reference to a mistranslated Elv-ish manuscript from the unpublished forth Lord Of The Rings book. Joe wanted to call the band THE IS-WHAT-IT-IS but Adzo and Micky thought that was too intellectual for cats these days, so we stuck with The Golden Grass.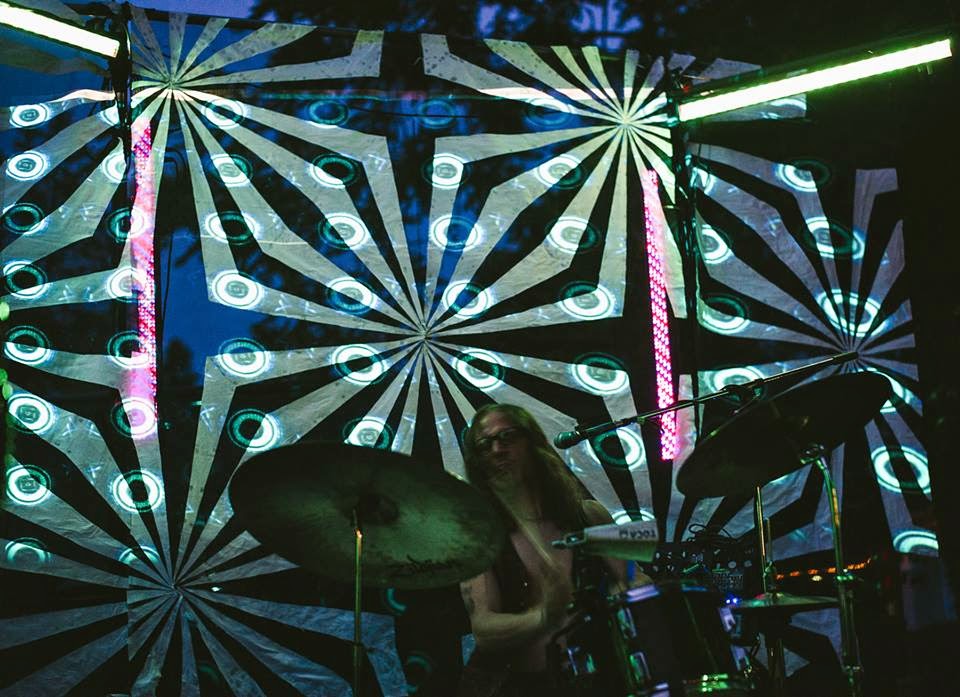 Is there any sort of creed, code, ideal or mantra that the band shares or lives by?
Keep it groovy, keep it swinging, and if the girls don't like it, we're doing it wrong!
Where are you all located right now?
I'm in my bedroom in Brooklyn answering these questions, Micky is on top of the Empire State Building taunting penguins and Joe is still waiting for his rainbow sprinkles at the ice cream shop. We'll all be meeting up for rehearsal at 1 PM today, though!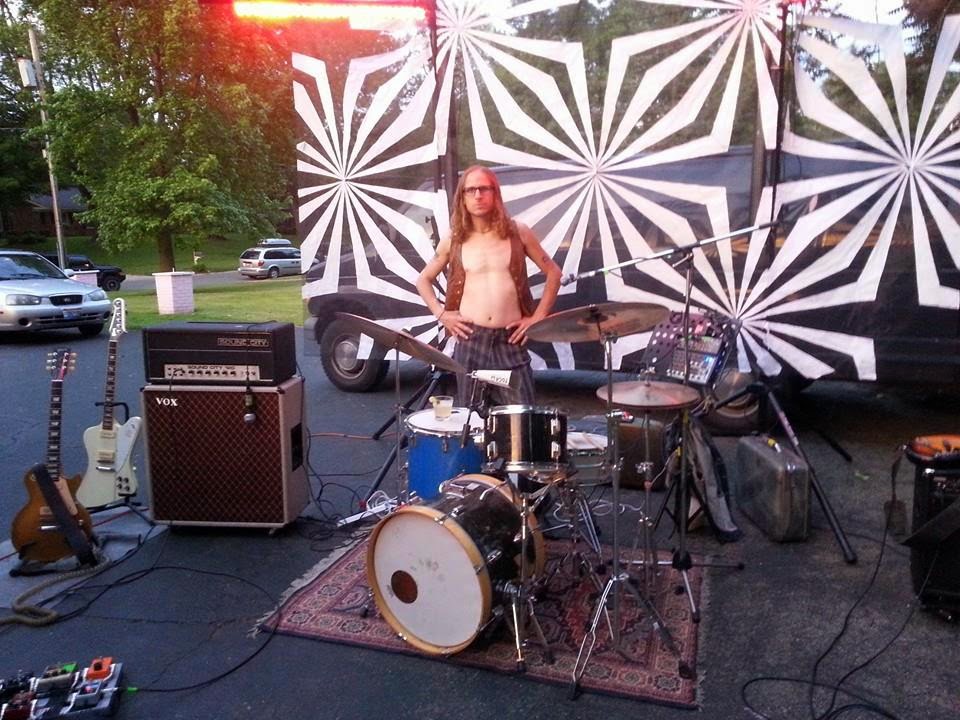 How would you describe the local music scene where you're at?
Simple, it's not "where we're at" at all!
Do you feel like you're very involved in the local scene? Do you book or attend a lot of local shows or anything?
Since rock n roll is dead in New York City, I go to a lot of metal/black metal/doom type of shows because it's the closest I can get to what I really want to hear. Occasionally, I find some new groups I really love, like Mournful Congregation. I go to lots of shows because I'm always hoping to get turned on to something cool or have a good time. It's rare that I do, but I keep trying!
Has the local scene played a large or important role in the sound, history or evolution of The Golden Grass? Or do you feel like you all could be doing what you are and sound like you do regardless of where all were at or what you were surrounded by?
I think that salted-peanuts have influenced our band more than the local music scene.
You all have a sweet sound that comprises a lot of classic and contemporary influences from what I can tell. I'm curious who you'd cite as your major musical influences? What about influences on the band as a whole rather than just individually?
The biggest musical influence on our band is Chris Farlowe eating a sandwich, pastrami, presumably, while singing "Black Snake", when he was in Atomic Rooster.
How would you describe The Golden Grass' sound to our readers who might not have heard you before in your own words?
One hundred percent punk/hardcore free, zero percent irony, and heavy soulful boogie rock that lifts you up and keeps ya there!
What's the songwriting process like with The Golden Grass? Is there someone who usually comes in to practice with a riff or a more complete idea for a song to work out and compose with the rest of you, or do you all just kind of get together and kick ideas back and forth until you work something out that you dig?
We accept all forms of process. There are many paths, yet only one truth. Go!
What about recording? I'm a musician myself and I think that most of us can appreciate the end result of all the time, work and hard effort that goes into recording an album when you're holding that finished product in your hands. Getting to that point though and getting stuff recorded and sounding the way that you want it to, especially as a band, can be extremely difficult to say the least. What's it like recording for The Golden Grass?
Very easy, we love the studio, we rehearse constantly. We go in and paint our masterpiece, and utilize the technicians and engineers that are absolute experts at their game to help us achieve the perfect outcome! It's pure joy when we record, no stress whatsoever. As a producer, I've never had a group so easy to capture the exact vision!
Do you all prefer to head into the studio and let someone else handle the technical aspects of recording so you can concentrate on performing, or do you all like to take a more DIY approach to handling that kind of thing?
The studio technicians and engineers are part of the team along with us that make the album come to reality. The whole process is fluid, open, dynamic, and focused.
Is there a lot of time and preparation that goes into getting a song to sound just the way that you want it to with every change and aspect of the song worked out ahead of time? Or do you all get a good idea of what a song's going to sound like while leaving some room for the song to evolve and breathe during the recording process?
Our recorded versions always include overdubs of extra vocals and guitars, obviously, and sometimes an organ or extra percussion, etcetera. We usually have the ideas in place before we go in to record, but once we're in the process, we just have fun until the tune is finished. Our music is built with breath included and our songs are always played fresh. Our music is alive.
2013 was a busy year for The Golden Grass. You all released the '456th Div.' demo cassette tape, in two pressings limited to 75 copies. Did you all release that yourselves or was that put out through someone? Who recorded the material for '456th Div.'? When and where was that recorded? What kind of equipment was used?
It was issued on my label In For The Kill. Two songs were early demos, one song was recorded live at our first gig, and one song is a rough mix of the A-side to our 7". We released the tape because our 7" was delayed and we needed something to start selling at live gigs.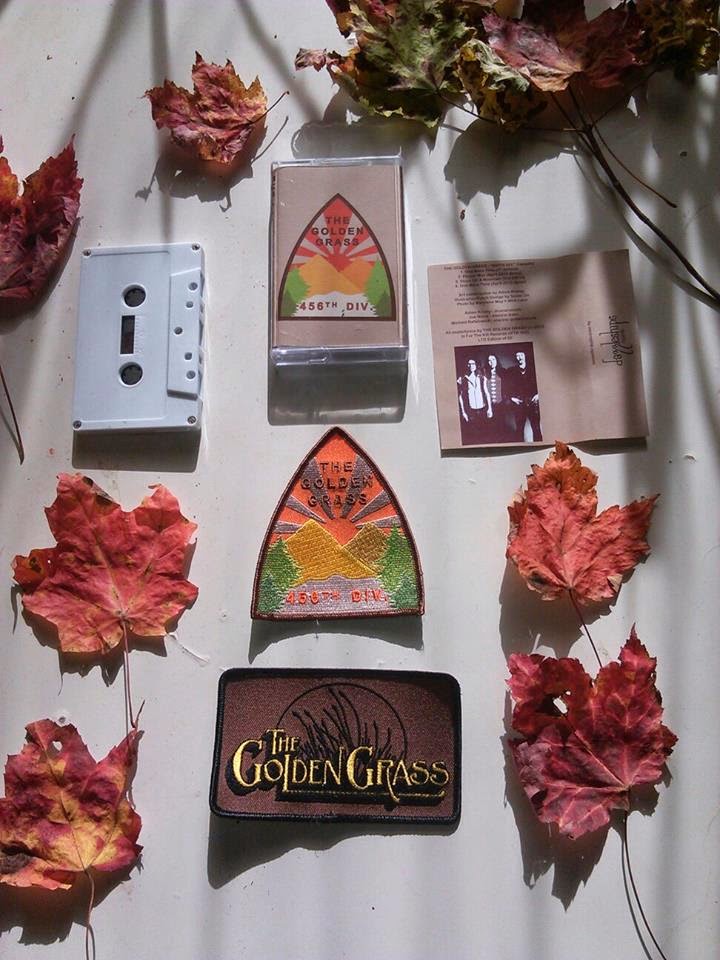 You also released the 'One More Time' b/w 'Tornado' 7" single on Svart/Electric Assault Records limited to only 400 copies worldwide in 2013. Were those tracks written or recorded specifically for that release or had they been around for a while looking for a place to call their home? If they were recorded specifically for the single can you tell us about that?
We selected and recorded those tracks specifically for the release.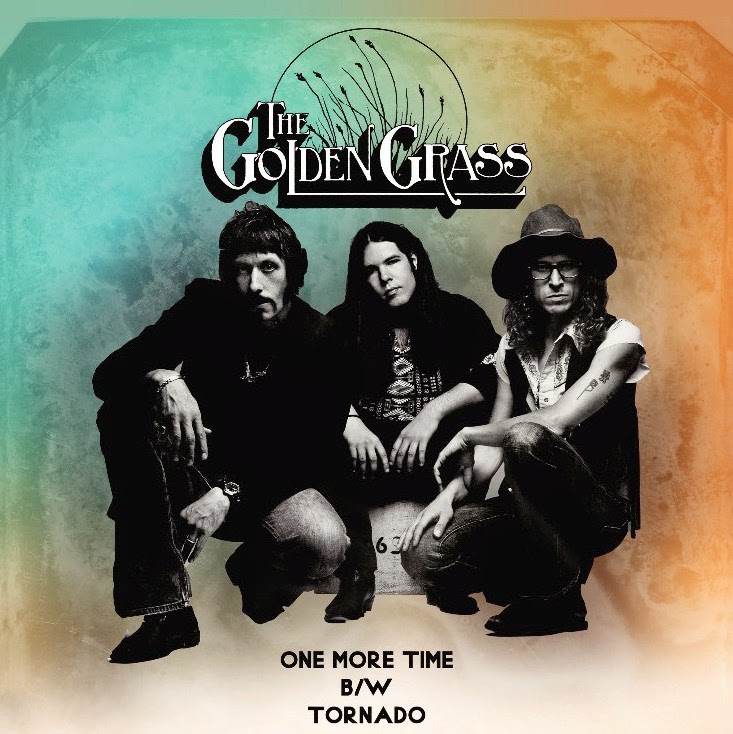 You all have started off 2014 strong with the release of your debut full-length album, the Self-Titled CD/LP on Svart Records. Do you feel like you all have learned a lot since the release of '456th Div.' last year? Did you all try anything radically new or different when it came to the songwriting or recording of the material for The Golden Grass release?
No, we didn't do anything differently.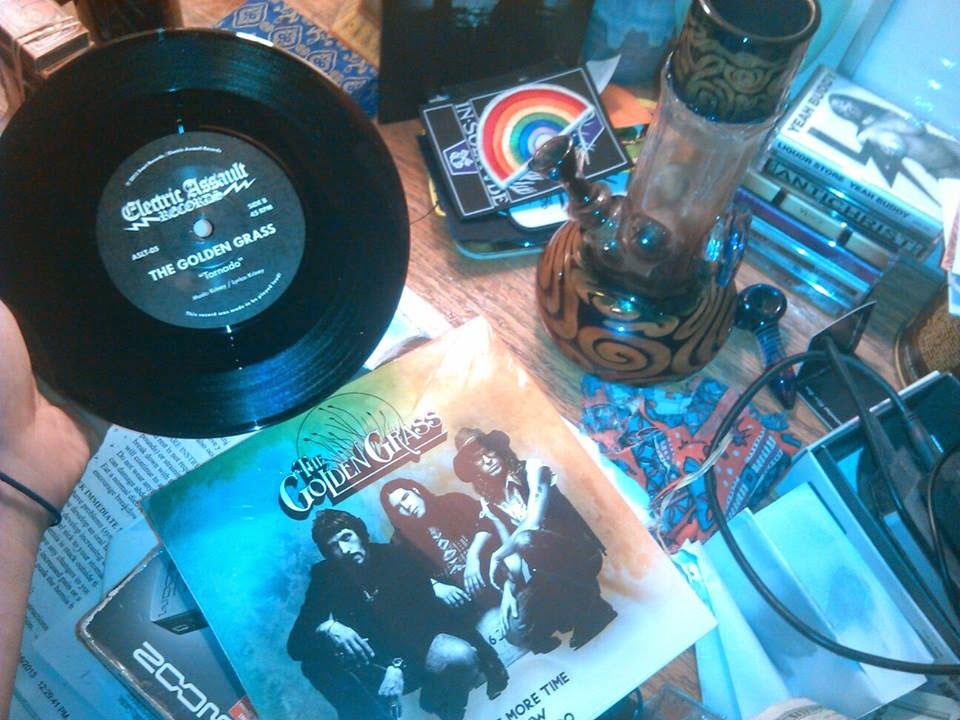 I know there was a Beer Colored Vinyl version of the album which was limited to only 100 copies but when I was looking around I also noticed that there's a Green Vinyl version but I couldn't find out how many copies that's limited to, do you know? And is the Black Vinyl version of the album an open-ended release or is that limited as well?
I don't know the numbers, it's not really that important. What is important though, is that clear green vinyl rules!
Do The Golden Grass have any music that we haven't talked about yet, a single or a song on a compilation that I might not know about? I know you all recorded a track for a compilation a few months back but haven't seen it pop up on anything quite yet.
We have a track on the Sweet Time Vol. 2 compilation 7" coming out on Who Can You Trust? Records and we'll be issuing a European tour 7" this November when we're there on tour.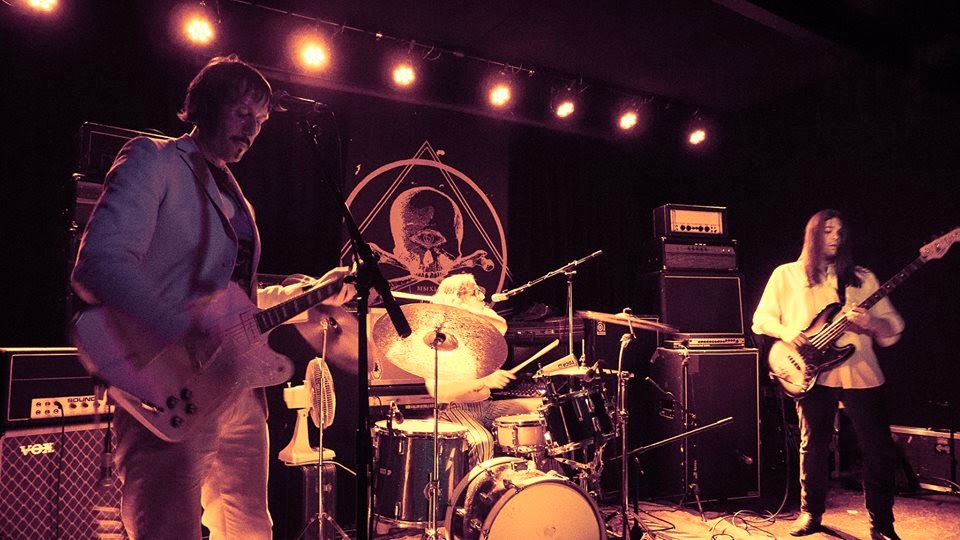 With the release of the Self-Titled album not too long ago does The Golden Grass have any releases in the works or on the horizon at this point? I know I read somewhere that you all had begun seriously tracking some demos for your next release already, busy dudes that you are!
We've got about ten new songs we're working on, all in various stages of completion.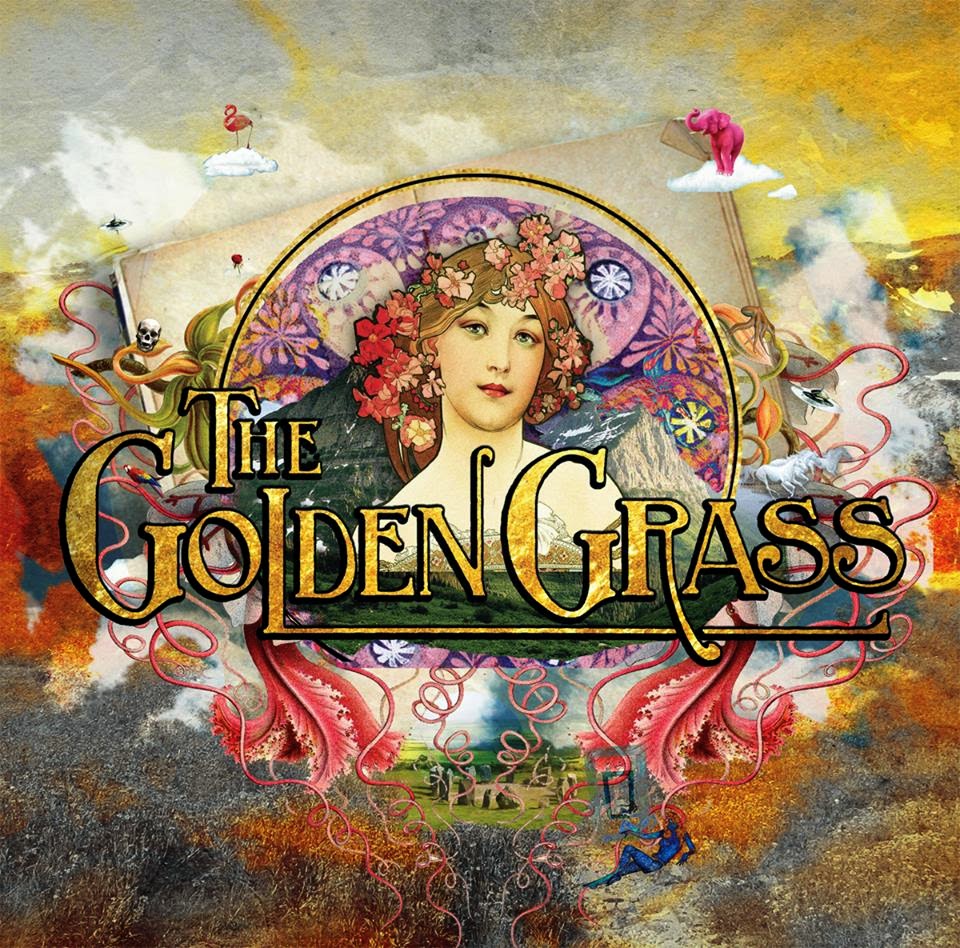 With the completely insane postage rate increases that have been steadily rising over the past few years I try to provide our readers with as many options for picking up releases as I can. Where's the best place for our US readers to pick up your stuff?
Either: The Omega Order distribution or our Bigcartel merch shop.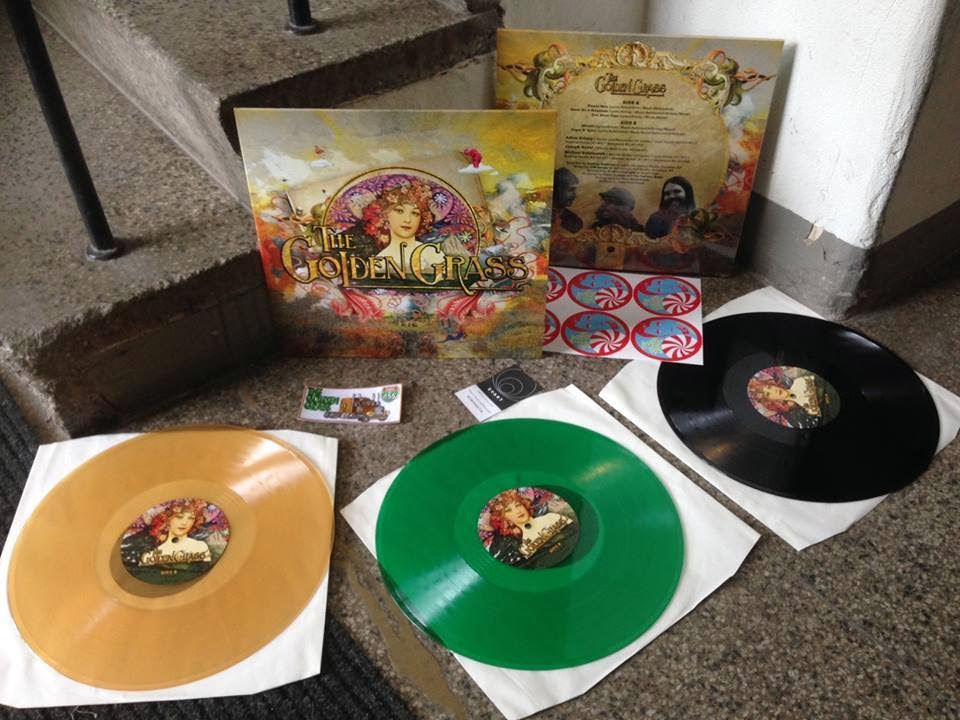 With international postage the way it is I especially try to provide places for people to pick up import releases. Where's the best place for our international and overseas readers to pick up your stuff?
Svart Records.
And where's the best place for our interested readers to keep up with the latest news like upcoming shows and album releases?
The Golden Grass Facebook page.
Are there any major plans or goals that The Golden Grass are looking to accomplish in 2014?
Just some minor goals, like purchasing a cheese slicer, hemming our trousers, that sort of thing.
Do you all spend a lot of time out on the road touring? Do you all enjoy touring? What's life like out on the road for The Golden Grass?
We go out on the road a few days every month, we try to stay busy. First real tour is this November in Europe. Touring is fun, typical stuff like fast women, crazy drugs, motorcycles, gang fights, stabbings, helicopter getaways, that sort of thing.
Do you remember what the first song that The Golden Grass ever played live was? Where and when would that have been?
Our first show was at Saint Vitus Bar in Brooklyn, September 6th, 2013 and the first song was "Please Man".
Who are some of your personal favorite bands that you've had a chance to play with over the past few years?
Some of the best bands we've played with are: Ecstatic Vision, Satan's Satyrs, Natur, Hessian, Metalleg, Outsideinside, Electric Lucifer, Night Bitch, Electric Citizen, Aqua Nebula Oscillator, Verma, Main Street Gospel… Maybe I am forgetting some bands.
In your dreams, who are you on tour with?
The Merry Pranksters, on the bus.
Do you have any funny interesting stories from live shows or performances that you'd like to share here with our readers?
No, you have to come to the shows and create some new funny stories with us.
Do you all give a lot of thought to the visual aspects that represent the band to a large extent like, flyers, posters, covers and shirt designs? Is there any kind of meaning or message that you're trying to convey with your artwork? Do you all have anyone that you usually turn to when it comes to that kind of thing?
Yes, it's a big deal. Some of our talented artist friends who have helped us are: Niko Potočnjak, Soner Ön, Marylene May, Max Warmbrodt, Jesse Balgley, Stephen Voland, and JD Emrich.
With all of the various methods of release that are available to musicians today I'm always curious why they choose and prefer the various methods that they do. Do you have a preferred medium of release for your music? What about when you're listening to and or purchasing music?
Vinyl rules, tapes rule, CDs rule, sounds rule! Put it on, smoke a big one, enjoy!
Do you have a music collection at all? If so, can you tell us a bit about it?
No hip-hop, ever! Everything else is cool.
There's always been something magical about an album to me. Kicking back with a set of headphones, reading the liner notes, staring at the cover artwork and just letting the whole thing carry me off on this trip, it's better than drugs for me to be honest. Having something to hold in my hands, something to physically experience along with the music always made for a much more complete listening experience, at least for me. Do you have any such connection with physically released music?
Yes, of course.
As much as I love my music collection I try to keep as much of a digital backup as I can for several reasons. Probably my favorite thing about digital music is how it's allowed me to really take my collection on the go with me for the first time in my life. It's really changed what I listen to as I don't have to go through everything I own if I feel like finding a particular album. Beyond that though, when you team digital music with the internet, that's when you really have something on your hands. Together they've exposed people to the literal world of music that they're surrounded by and allowed people to have unparalleled access to and communication with the bands that they like. On the other hand, while people may be exposed to more music than ever, they are not necessarily paying much attention or inclined to pay for it. Illegal downloading is running rampant right now and with everyone being given a somewhat equal voice thanks to the internet it's harder than ever to get noticed in the chocked digital jungle out there. As an artist during the reign of the digital era, what's your opinion on digital music and distribution?
I don't care. Put the music on and enjoy it, what more can we ask for?
I try to keep up with as much good music as I possibly can but I swear there just aren't enough hours in the day to sift through one percent of the amazing stuff that's floating around out there. 
Is there anyone from your local scene or area that I should be listening to I might not have heard of before?
Refer back to the bands we've played with that I mentioned above.
What about nationally and internationally?
The Tower, Skogen Brinner, Seremonia, everything on Who CanYou Trust? Records, Plant Tribe, Cheap Thrill, Hooded Menace, Mournful Congregation, Saturnalia Temple, everything on Electric Assault Records, Lesbian and their side band Fungal Abyss, Danava, Glitter Wizard, everything that Chad Davis does especially his cosmic music, everything on Sound Of Cobra Records, Seven That Spells and their side band Jastreb.
Thanks so much for doing this. I know my interviews aren't short but I sure as hell know they're informative and I really appreciate you taking the time to fill in our readers about so much of the history of the band and sharing stories, it's been a blast! Before we call it a day, sign off and ride into the sunset. Is there anything that I might have missed or that you'd just like to take this opportunity to talk to me or the readers about at this point?
Thanks for the interview. Keep on groovin' and keep on movin'… Down the line!
Roman Rathert
---
DISCOGRAPHY
(2013) The Golden Grass – '456th Div.' – Cassette Tape – In For The Kill Records (1st pressing limited to 50 copies with patch, 2nd pressing limited to 25 copies with patch)
(2013) The Golden Grass – 'One More Time' b/w 'Tornado' – 7" – Svart/Electric Assault Records (Limited to 400 copies, 200 copies in the US and 200 copies in Europe)
(2014) The Golden Grass – 'The Golden Grass' – CD, 12" – Svart Records (Beer Colored Vinyl with patches and stickers limited to 100 copies, Green Vinyl limited to ? copies)