Magic Carpet interview
Magic Carpet was formed in 1971 by Alisha Sufit (singer-songwriter and acoustic guitarist), Clem Alford (sitar, esraj), Jim Moyes (guitar), and Keshav Sathe (Indian tabla / percussion). Magic Carpet created a unique Indian inspired music.
---
 Who were your major influences?
Alisha Sufit: I first heard Indian music consciously when I was about nine or ten years old. I went to see the film The River by Jean Renoir (the painter Auguste Renoir's son). I was very moved by the film and later sneaked off to a matinée performance to see it again on my own – a curious child! In London, at that time, children were very free and independent to roam and play.
You're from London?
Yes, I'm from London – born in the old village of Hampstead, the highest area in London town.
What bands were you a member of prior to the formation of Magic Carpet?
Clem Alford, the sitar player, along with the guitar player Jim Moyes and percussionist Keshav Sathe played together as a trio. They called themselves Sargam, an Indian musical term. They were invited to play by the owner of Windmill Records, who recorded them at the time. They had not signed a contract to release a record, had given no consent, but some months later they saw a low budget LP called 'Sagram – Pop Explosion Sitar Style' at a checkout in a supermarket. To their consternation and anger, they had been bootlegged, their music released without their permission. The most insulting part about it was the stupid misspelling of the band name, plus the hideous jokey LP cover showing a man smoking a hookah pipe surrounded by admiring 'dolly birds.' I can assure you the man depicted is definitely not Clem Alford, nor any member of the band. The sleeve notes are hilarious, too. The guys were very angry that this man had stolen their music and then disappeared, but that album has since become a collectable. In fact, it's a charming record so I'm glad it made it out there.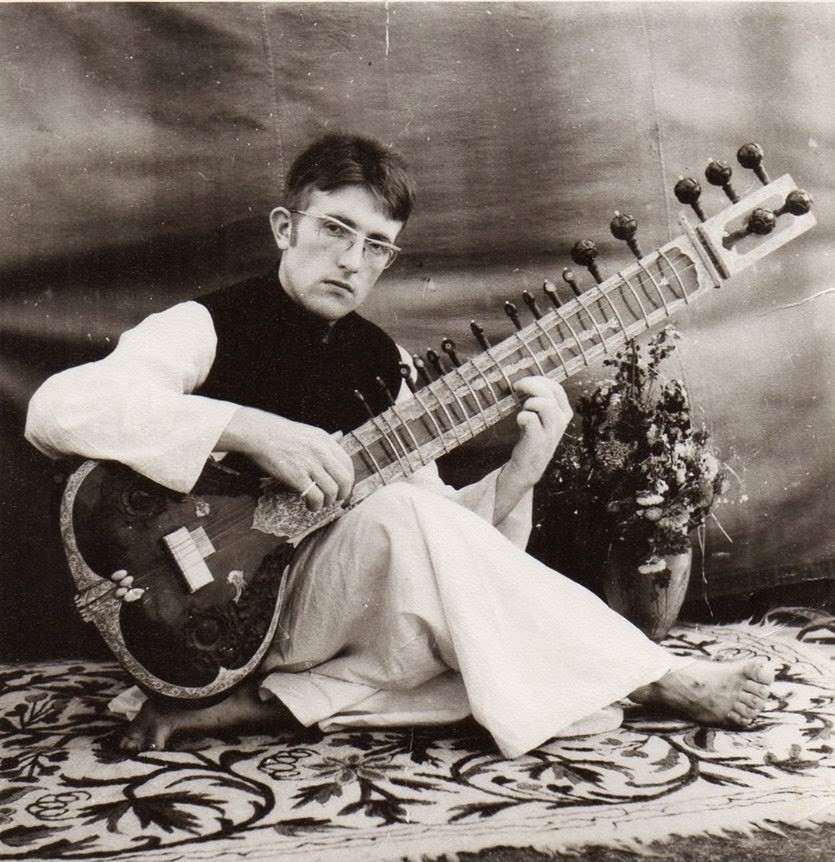 How did you get in contact with Clem Alford and the other band mates? 
I first met Jim (James) Moyes, the guitar player, when I was doing an art foundation course at the Regent's Street Polytechnic in London, after which we both went to Chelsea College of Art to do a degree course. I studied painting and etching. I graduated from Chelsea College of Art in 1967 and didn't see Jim until about four years later when he phoned and asked if I'd like to sing with the trio. It was uncanny as three months beforehand someone had asked me what sort of group I'd like to be in, and I'd replied I'd like to be in a band with a sitar and tabla. When I joined the group, we hit it off musically almost immediately. I was writing songs in open tunings which were very compatible with the sitar.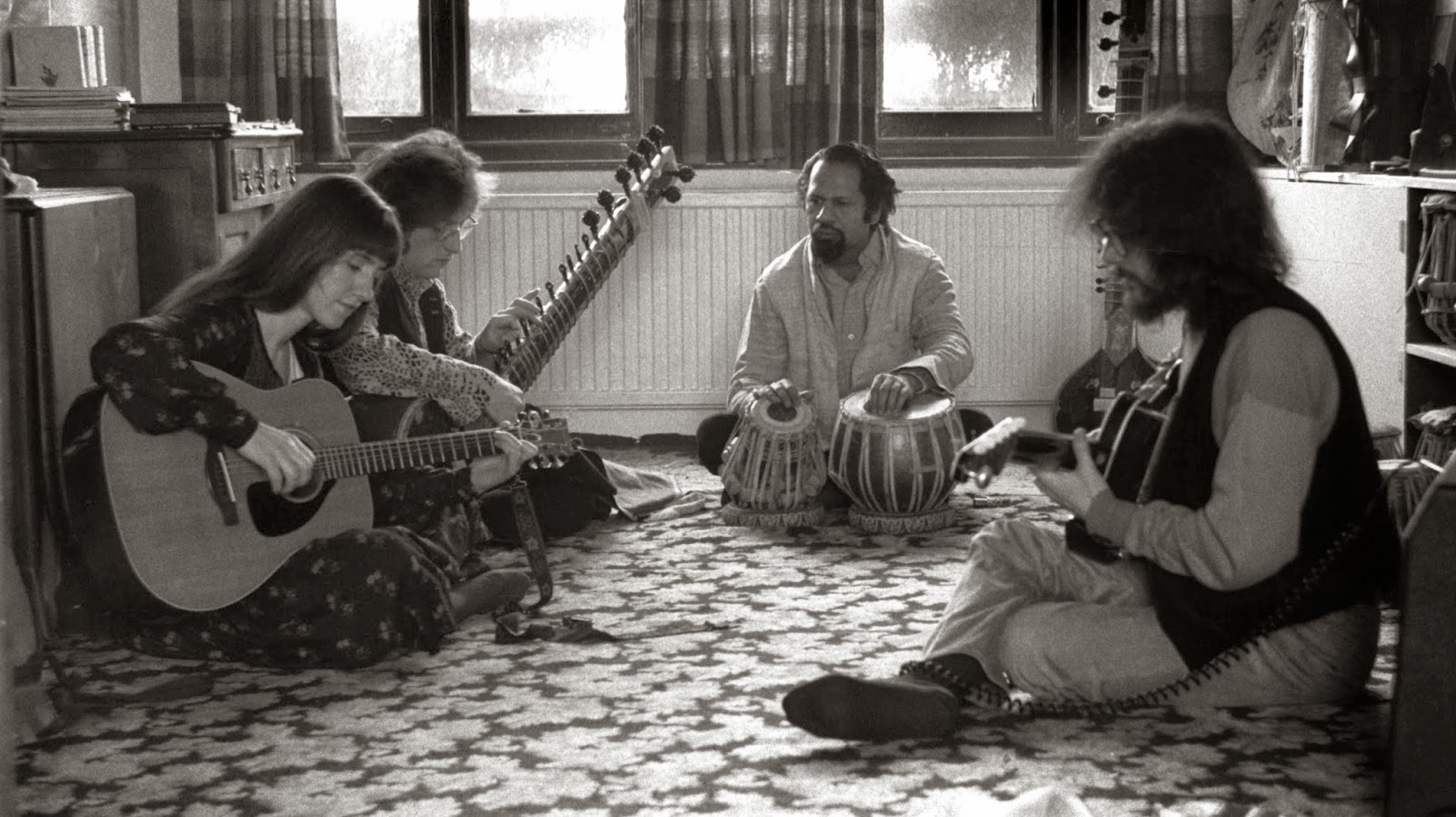 Vic Keary of Mushroom Records signed you up. The label had some interesting artists like Simon Finn, Chillum, Second Hand and some other bands. What can you say about this label and do you perhaps know how many copies were made?
I met Simon Finn back in the 1970s and saw him again quite recently – maybe just six years ago or thereabouts. Also, I remember Ken Elliott being around in the studio in Chalk Farm, though I didn't have a close relationship with him, just said hello and chatted a bit from time to time. I was told that 1,000 copies of Magic Carpet were pressed, so I presume the other recordings were pressed in similar quantities. Vic Keary who owned Mushroom Records was a wonderful engineer, but the business side of the label was always more shaky. Interestingly, I never actually signed a contract. Somehow, we never got round to it and when the band split up and the LP sales were poor, there was no point in signing.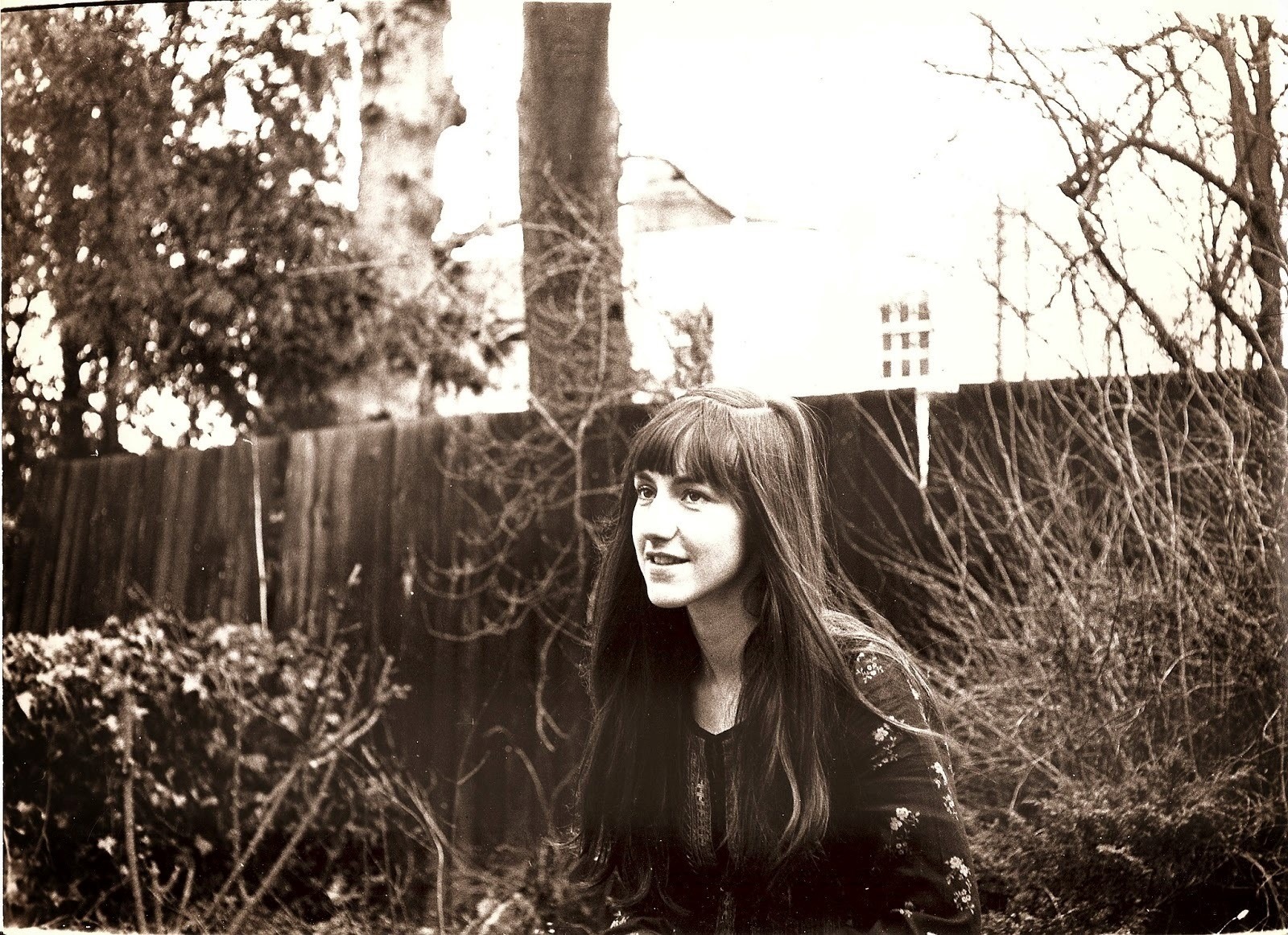 Did you do any concerts before you got involved with Mushroom Records?
We did some gigs together round the time Vic Keary of Mushroom Records got interested. One gig was at The 100 Club, which was our launch as a band. But there were some internal problems, plus some unprofessional band behaviour, so that was also when I felt I couldn't continue. Mind you, Clem and Kesh were always highly professional in their attitude, so it was not an issue with them. It was not cool for a woman to be assertive in those days. Women were still expected to be quite passive, so there was no question of my steering the band into a sensible, working entity. By early 1972, we simply split up, partly due to the lack of public response for the LP that had been released by then.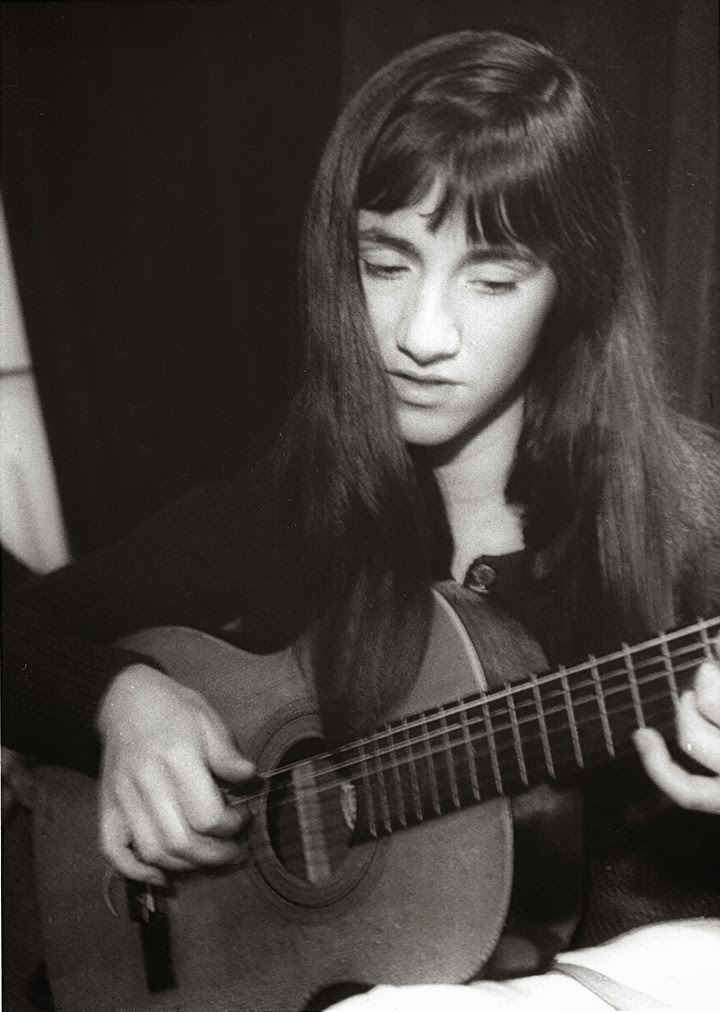 There was only this LP released, there weren't any 45 releases, right?
No, the LP was the only recording we did, until I met up with Clem and did Once Moor (Magic Carpet 2) in the 1990s which I released on my own label Magic Carpet Records. I engineered and produced it, a process that was covered in Sound On Sound magazine.
So let's get a bit more into details regarding your album. What are some memories from recording and producing it and was there a concept behind it?
We didn't have a concept, as such. The guys had worked out tunes of their own from their jamming sessions as a trio, plus they were happy to play along with my compositions. Apart from Jim's few songs, they were not into writing lyrics – that was more my bag. I had a lot of ready-made songs they could play with. The recording was all analogue, of course, everything valve driven, plus we recorded as a band all playing together, sitting round as a group with strategically placed microphones. It was good fun to do and very fast, as there was no overdubbing to speak of. You had to rehearse your tracks, go into the studio and do it, and that was that. Gabriel Weissmann, a good friend of mine from art college, came in on one of the days to take some photographs. I remember it was very cold that year. Later Gabriel did a photoshoot of the band in the open air.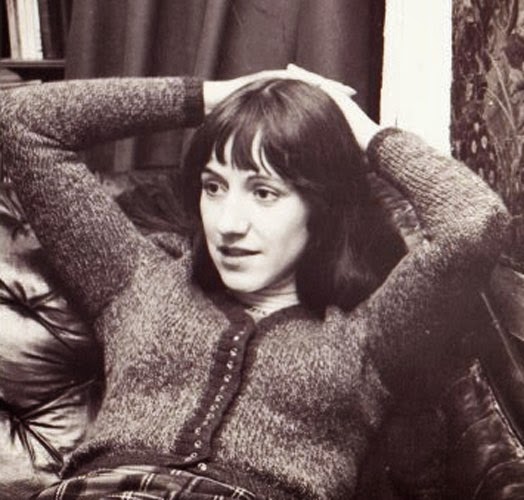 What gear did you guys use and what can you say about cover artwork?
During the recording, I played my Yamaha FG 180 jumbo guitar, which I sold on Ebay a few years ago. I met someone recently who said a friend of his had bought the guitar and he wondered if the signature inside the sound hole was genuine. It is. As for the LP sleeve, I designed the cover with the help of old fashioned Letraset and the picture on the front is from a cheap Indian print I had pinned on my wall for ages. The special lettering for the band name was by Glyn Boyd Harte, a renowned illustrator and artist friend of mine. The front cover image is of Buraq, the mythical winged creature who is the traditional vehicle of enlightement. She is supposed to have transported Muhammad, as well as Abraham, but I only found this out recently. It seemed like a good choice being eastern and featuring a female face with very long hair, which I had at the time. You can see more on Wikipedia.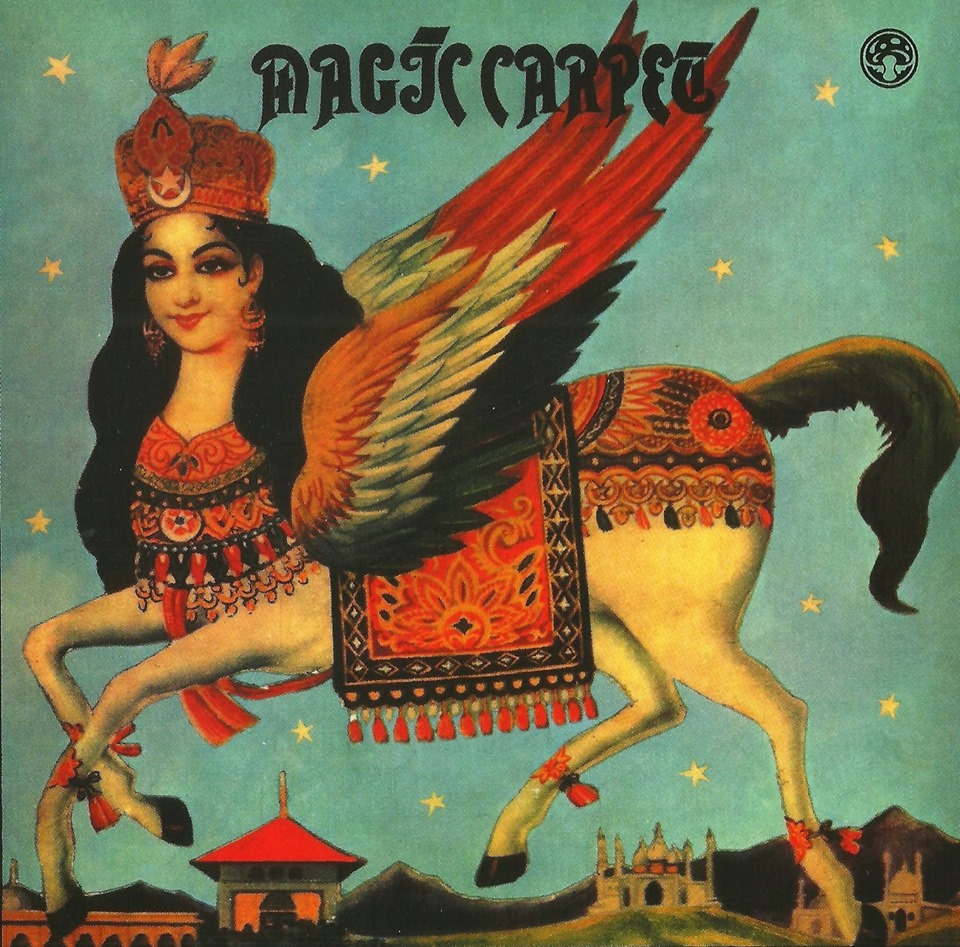 Would you share your insight on the albums' tracks?
"The Magic Carpet"
This was created by the guys, based on an Indian theme, and named as the title track.
"The Phoenix"
This is a song I wrote before I met up with Jim and the guys again. It's loosely about the transforming and resurrecting power of love.
"Black Cat"
Again, this is a song I wrote before I came into the band and was a reflection on my own personal life.
"Alan's Christmas Card"
This was written by Jim and arranged by the trio.
"Harvest Song"
Another song I wrote prior to joining the band – a reflection on the fact that we do all reap what we sow! But I think I lost my way a bit as the lyrics suggest you can have your cake and eat it, unlike the English proverb that says you can't have your cake and eat it, if that's not too much of a brain boiler.
"Do You Hear the Words"
This is by Jim, and poses the idea you would listen either to the words or the music of a song, but I reckon you can do both. It's typical of its time in its suggestion that there's no real need to hurry in life.
"Father Time"
Clem wrote a tune and I had already written some lyrics which mostly fitted, except for some extra words, so I made up a bit more melody, though who made up which bit I can no longer recall. Maybe Clem knows which part of the tune is his composition.
"La La: Again"
This was a tune the guys made up based on an Indian theme.
"Peace Song"
Another of my compositions and obviously very much of its time, a celebration for peace and depth.
"Take Away Kesh"
This track gave Kesh centre stage; the title was a nice little play on words, as Kesh was Indian and there were lots of Indian take-away restaurants in London at the time. Of course 'take it away' has that groovy jazz-rooted meaning, too.
"High Street"
There was an extraordinary burst of creativity and change in the late 1960s, with lots of people making new personal discoveries about life and consciousness. I got caught up and touched by that whole spontaneous movement and High Street is an analogy of some of the realisations I had about both human society and personal experience.
"The Dream"
This was another solo song I wrote about personal longing and love. It was a favourite of my friend the guitarist Davy Graham, who did an alternative arrangement of it and sang it at his own gigs. I wish I had a recording of him singing it.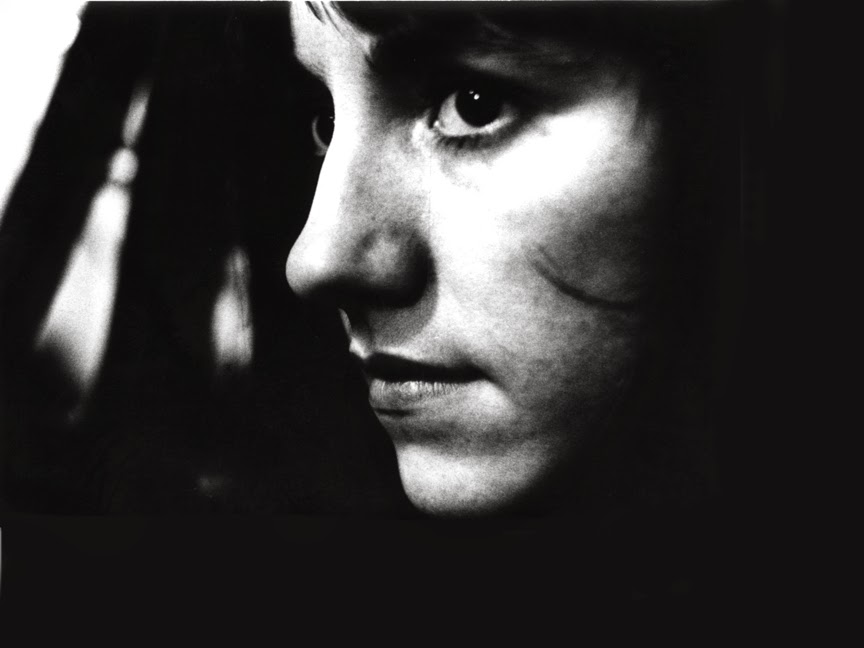 What happened after the album was released? 
We were on Sounds Of The Seventies for BBC Radio plus we did the gig at The 100 Club, and we went to a festival once but never played, for some reason. Plus I remember playing at Wavendon, Cleo Laine and Johnny Dankworth's venue. Cleo was so encouraging and supportive and gave me a beautiful plant as a gift. They were very hospitable. But apparently we got a poor album review in NME (New Musical Express) and the LP never took off. I can imagine that Vic Keary's skill for distribution was not great. His talents lay in recording and fostering artists, not in the sales and promotional side of the label. So it all just melted away.
"Ike Turner's drummer, asked me to keep his big gold ring safe while he was on stage."
What can you tell us about concerts?
Personally, I was rather insular. I think Kesh and Clem had lots more anecdotes to tell, as they played with so many other famous musicians. But, as a solo artist, I have shared stages with some great people. I recall supporting Terry Reid and his trio for a couple of gigs. Soko Richardson, the drummer who was touring with Terry, who used to be Ike Turner's drummer, asked me to keep his big gold ring safe while he was on stage. He later gave me the ring as a present with the proviso that if I ever met Ike Turner I was not to wear the ring, as Ike had given it to Soko as a special gift. I still treasure the ring. I remember meeting Ray Charles backstage, one time, but can't recall why or when. I shared a stage with the blues singer George Melly, too. He didn't realise I was also playing and made a derogatory remark when I ate a sandwich put out for the artistes! Silly man – I was one of the artistes! You have to laugh! In fact, that seems to have been a bit of the theme: I was playing at a big festival and the girlfriend of a famous musician verbally attacked me for eating a sandwich in the hospitality caravan. I soon put her right, ha ha! Another time I played on the same stage as Fairport Convention, and also The Enid, with whom I shared several gigs at their invitation, including The Marquee when there was a record audience of 997 people all going wild. I used to sing a song called Everyone Knows Where A Dog's Nose Goes (!). I would ask the audience to bark (choose your breed!) in the chorus line. Getting 997 people to STOP barking was difficult, to say the least, but great fun!
Were you inspired by psychoactive substances like LSD at the time of writing the album?
I think one member of Magic Carpet used to smoke quite a bit, and the other two liked a good whisky, but no, I never really liked smoking hash or doing any of that stuff. It was only after I left the band that I mildly experimented a few times. A blind American sculptor had insisted on giving me some LSD, which I'd kept in the fridge for years – until the day that Graham Hine from Brett Marvin and The Thunderbolts found out I had it. The next morning a group of us all took a quarter of the dose and had a blissful time up at Alexandra Palace in London. But that was a year or so after Magic Carpet split up.
What was the songwriting process like?
I was doing quite a lot of yoga and meditation in my early twenties and often a song would come out of that – or at least the lyrics would float into my head during that experience. After which I would play around on the guitar until I found a tune that was satisfying emotionally. Just being out and about and alive would also trigger lyrics as a response to varied experiences.
What happened next? Clem Alford recorded some sitar records. 
In addition to his library recordings, Clem also made an album called Mirror Image released by EMI (reissued on Magic Carpet Records). One side is a long improvisation with excellent musicians and the other side is a classical raga with Keshev Sathe playing tabla. Plus he was part of a band called Akasa with the singer Sophie Haq. He has also done quite a lot of teaching and performances which continue to this day.
We met up again in the 1990s and recorded and released the album Once Moor, subtitle Magic Carpet 2 (Magic Carpet Records) on CD and heavy weight vinyl, but this time with different tabla players, as Kesh had retired. In the 1990s I also released a recording I had made in 1974, simple songs with guitar accompaniment entitled Love and the Maiden. Plus I released Alisha Through the Looking Glass in the early 1990s also on CD and heavy-weight vinyl, a mix of folk and jazz oriented songs with some great accompanying musicians, including Chris Haig on fiddle and mandolin, Ray Warleigh on sax, Alan Dunn on accordion, Mamadi Kamara on drums and Bernard O'Neill on bass. Latterly I released an 'official bootleg' called Alisha's Cellar, with lots of my songs self accompanied on guitar and Appalachian dulcimer.
In 2008 I met Garry (Gaz) Cobain who asked if I'd license the track "The Phoenix" for a compilation called A Monstrous Psychedelic Bubble Exploding In Your Mind, which Noel Gallagher of Oasis later voted his favourite CD of the year. I was invited by Garry Cobain to tour with The Amorphous Androgynous, the live counterpart of Future Sound Of London. We did a few seriously big gigs such as the Creation Of Peace festival in Kazan to 200,000 people, plus performances in Moscow, Kiev, The Green Man festival, Electric Picnic (Ireland), and finally the HMV Forum supporting Kasabian. The band Oasis commissioned The Amorphous Androgynous to do a remix of their hit single "Falling Down" and I was invited to sing lead vocals. I also sang lead vocals on The Amorphous Androgynous "Let It Be" title track for Mojo magazine's commemorative limited edition album of the same name.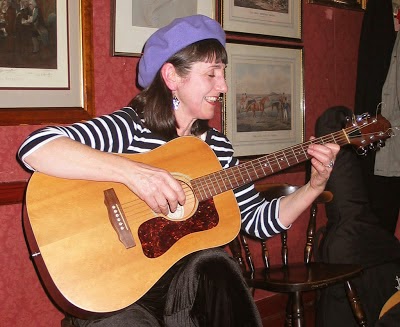 You released two solo albums and you were also part of the project called Many Bright Things. 
Pete Brown, who wrote the lyrics for the band the Cream is a neighbour of mine and one day I thought for a joke I would write a spoof song in his psychedelic style. The result was "Silver Witch", but it ended up not being a joke at all. I found there was a lot of complex imagery in the lyrics – my sub conscious teaching me a little lesson. I recorded it at home on my Alesis ADAT, then mixed down on to 2 track and sent it to Stan Denski. He gave the tape to Frank Defina who played beautiful mandolin on the track. It's atypical on the album, as a lot of the other tracks are lush improvised mainly instrumental takes. It's a very nice album and a great idea of Stan's.
What currently occupies your life?
I've been writing some songs and poetry, plus I had a novel published earlier this year called Falling Upwards. I did a little gig a few weeks back which went really well, in a small acoustic venue in London – I want to get back into that more. And Garry Cobain of Future Sound Of London came round last week and we had a great time with me trying out vocals on some new tracks he'll be experimenting with, part of FSOL Cartel series of psychsploitation. I wrote some lyrics and melody that I hope will fit. Plus I've started drawing again…
Thank you for taking your time. Would you like to send a message to Psychedelic Baby readers and to your fans across the globe?
I'd just like to say a warm thank you to all the people who appreciate the music. I'm always very touched by that, especially considering the Magic Carpet album nearly disappeared without trace. Best wishes to all and a big thank you!
– Klemen Breznikar