The Chocolate Watchband interview
In the roll call of 1960s garage band heroes, the Chocolate Watchband are at the very top. This mythic combo from San Jose, California are better known and more highly regarded now than they ever were in their mid-1960s heyday.
---
Hi guys! You know it's a great honor for me to have you on It's Psychedelic Baby. Since we are mostly dedicated to garage/psych music and to have you on our magazine and to share your stories with our readers is a true pleasure.
You formed around 1965. Ned Torney and Mark Loomis formed the band, but before that you two were in The Chaparrals. Tell us about The Chaparrals (was anything released)?
David: Nothing to my knowledge.
Gary: Before I was in the band.
Mark: The Chaparrals were a surf band and Ned actually taught me how to play rock and roll guitar. We played as a surf band for a while. But The Chaparrals didn't record anything.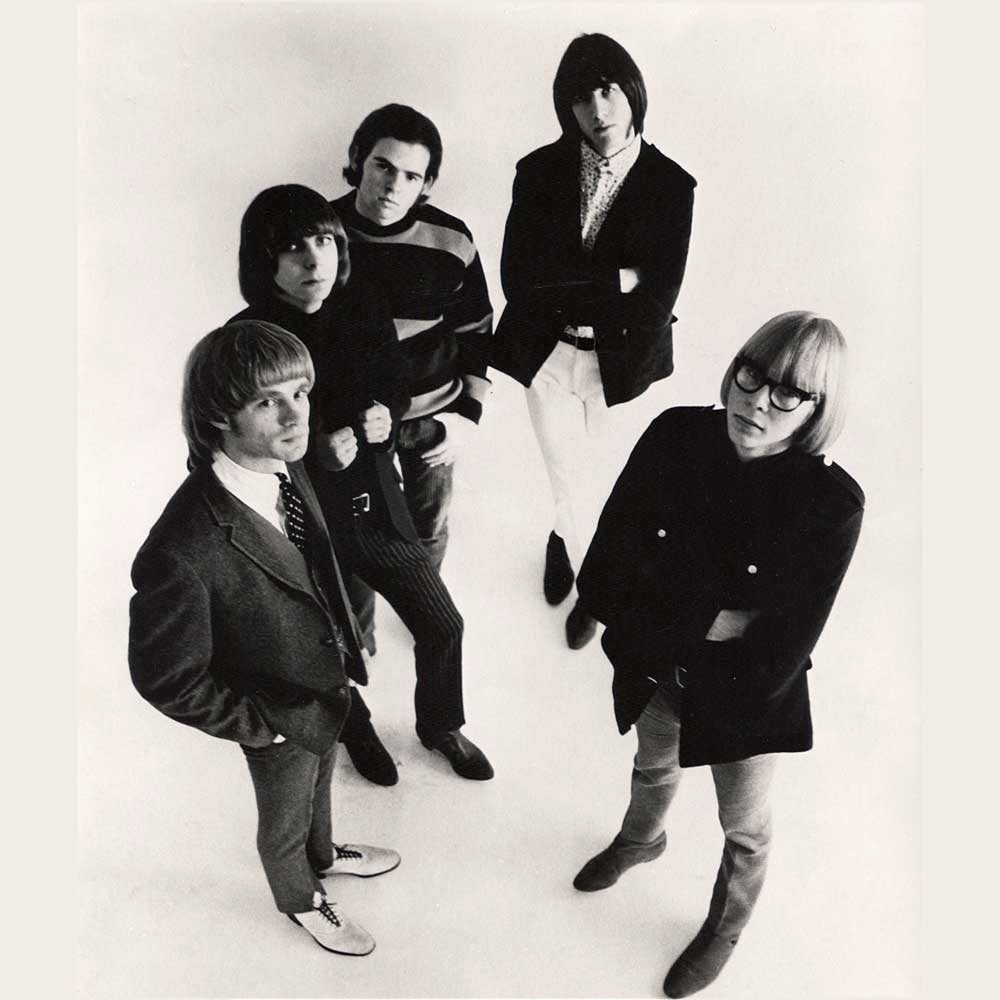 Ned Torney left to join The Topsiders. Watchband's lineup changed a few times before settling down. Please tell us how did this lineup changes followed one after another?
Mark: Yes, we decided to form the Watchband. Dave was not our original singer, Danny Phay was, and Rich Young played bass rather than Bill. Gary played drums with us and we had a keyboard player, Joe Kemley. Ned was already an accomplished guitar player by then. Our first recording was " Don't Let The Sun Catch You Crying" by Gerry and The Pacemakers and "Misty Lane:, but our first single was "Sweet Young Thing" with Bob Dylan's "Baby Blue." Somehow it was released on Uptown Records, a division of Hanna Barbera that handled mostly black bands. I think our name made them think we were a black band. Due to this we ended up playing gigs with many black entertainers like Jackie Wilson, The Coasters, among others. It was really a wonderful time.
David: There were 4 maybe 5 bands using the name "CWB" but only one that recorded, did movies and carried the main torch fans follow today.
Gary: The way I remember it was that Rich Young (bass) got drafted Ned got Tom Anton on bass and Tom brought in Ken Mathews on drums so Mark left and kept the name got Bill Flores on bass, me on drums Sean Tolby (David Phelps) from the Topsiders on guitar and David Aguilar on vocals. Ned's group became The Otherside.
What can you tell me about 'The Hogs'. They released two singles, among them famous 'Blue Theme' cover? This was somehow the rename of the band, to get attention from the public, who liked 'biker' flicks, that were very popular at the times, right?
Mark: We were recording our first album in Studio City. We were one of the first bands on the Hanna Barbera label. Ed Cobb was our producer along with Richie Podolar and their Green Garss production company. They were handling us and The Standells. Cobb insisted we go back into the studio and record "Blues Theme" and "Loose Lip Sync Ship" using the name The Hogs to attract the biker crowd.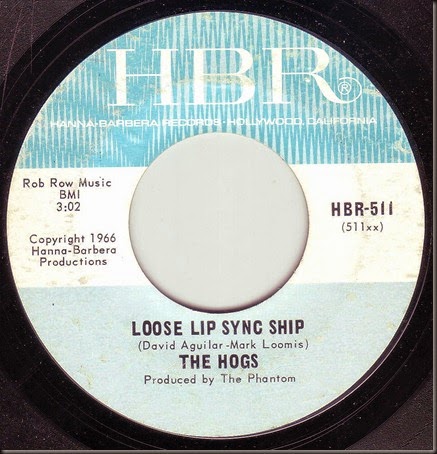 David: No. We were in the middle of recording "Sweet Young Thing" at American Studios when Ed Cobb came in around 5 one afternoon and said drop everything, we need to record this song. The name "Hogs" came from Ritchie Podolar's Harley that he rode up and down the street in front of the studio with microphones hanging out the door. It took about an hour to cut it and then we realized we needed a 'B' side. Sitting there talking about it. Billy was diddling on his bass with a little riff and then mark played a bit on top of it… Ed jumped up and said just keep doing that…so Sean joined in, Gary played a few drums. We jammed for 5-6 minutes and then Ed said: "Let's just record it". So, "Loose Lips" started and I just stood at the microphone and sang, said anything that came into my mind. I thought about the Kix Cereal Rabbit – tagline "Kix are for kids – not silly rabbits (although Ed and crew thought I said rabis). Our manager ron rupe stepped up and did the "friends" bit and I sang row row your boat. Many folks thought Frank Zappa was involved. In an odd way he was. Two weeks earlier we had played with The Mothers at The Filmore as they introduced the world to "Suzie Cream cheese". Obviously, a bit of their craziness had rubbed off on us. That song was us sending it back to The Mothers in a complimentary way.
Gary: Tower Records decided to do the song as a possible sound track for a movie. I remember that the engineer Richie had a hot Triumph motorcycle that he recorded in front of the studio for the intro.
Next thing and you were already in these days cult movie called 'Riot on Sunset Strip', contributing two songs and a performance. How did you get to play in the film and what are some memories from that?
Mark: Green Grass Productions set all these gigs up for us. Along with the gigs came two movies "Riot On Sunset Strip" which also included The Standells and "Love-Ins." The psychedelic music movement wasn't in Los Angeles yet at the time, but it was in San Francisco. "Sunset Strip" was about drugs and LSD and everything and that's how they came to want us. For the bar scene in "Riot" we did two songs, "Sitting There Standing" that we wrote and "Don't Need Your Lovin" The band hard a real Yardbirds like sound and we had a bar scene like The Yardbirds from "Blow Up." The Yardbirds were the first we heard to use "fuzz tone" and I really liked that so we bought imported records by them. Our sound was kind of a mixture of The Stones and The Yardbirds. The other movie "Love-Ins" was along the same lines as "Riot" The movie soundtrack was called "The Love In" without the s. As I said the psychedelic sound hadn't really gotten to Los Angeles yet so that's why the movie producers were so interested in us because we came from the San Francisco area where the sound had already arrived. The producers were wanting to get the first big hit movie of this sort and we were stoners from the Bay Area. The people in these movies weren't even stoned. They didn't have marijuana or even know about it. They were smoking banana peels to get high if you can believe it. We got both of those movies because we were the real deal smoking pot and stuff. We did the songs for "The Love In" standing on top of a psychedelic bus!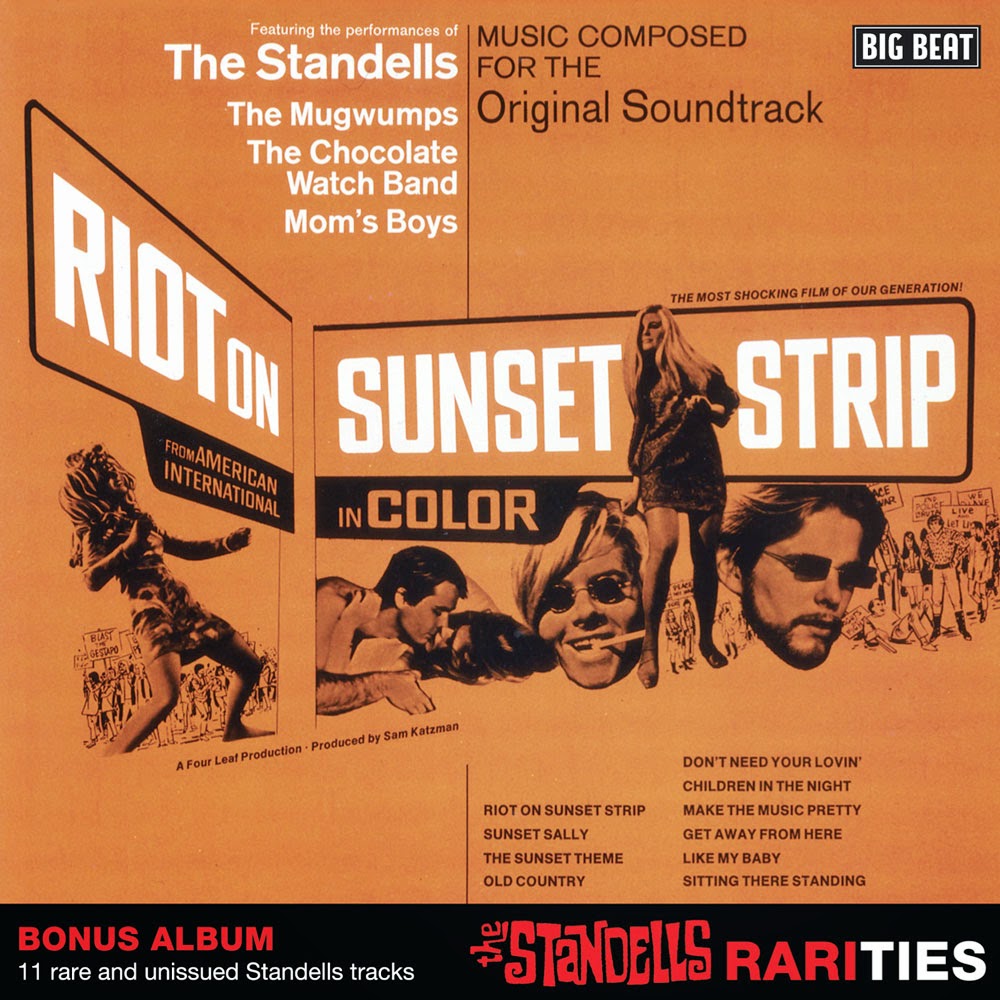 David: Riot was fun. Love-ins not so much although in my mind, Love-ins had better music. We were in the middle of getting ready for an upcoming weekend show – practicing a few new songs, when Ron suddenly appeared and told us to pack up. We were going to Hollywood to do a movie. The gravity of it never sunk in at the time. It was a lark – cool! OK-let's do it! We knew nothing of what was required of us on the other end. Ron apparently was clueless too. We were in the film because the Attarack Productions company had worked with Sam Katzmn, B-movie mogul before. The Standells were to be the featured band and we were the frosting. Sort of an oh – let's throw The Watchband in too. Let's see if they can swim!
The experience was all new and, of course, pretty exciting to all of us. For this adventure, we had women follow us from the Bay Area and hang out at our hotel. No new conquests or love affairs blossomed on the LA side on this adventure. At the director parties, we were furniture hired help in the movie, the aspiring starlets paid very little attention to us, so we raised hell. Mark dropped acid into the puch bowl. Yes they really had one with an ice sculpture in the middle of it. Sean Billy and I became artful observers. We banged out a kiler set in the garden and went home to our faithful followers and made love till dawn.
Gary: Our manager, Ron Roupe and Ed Cobb, our producer, put the whole thing together. One of the best memories is goofing around on all the sets in the back lot. They had mock up's of WWII, old Western towns, NY city streets and a lot of cool stuff at MGM.
At that moment you got signed up by Tower records. How did it happen?
David: It happened quietly between Ron and Ray Harris. There was no build-up or anxious anticipation. And truthfully – who cared? We were a new band. We were a "performing on stage" band. We were learning about each other, improvising in real time on stage. We were learning how to pace our shows, what order to pick the music, how to engage an audience, how to seamlessly join two songs together even though we had never practiced doing it before. We were learning how to dress – each member took pride in their personal style and outdoing other band members. Sean went to LA for his clothes. Mark and Billy went to Filmore district in SF for theirs. Mine were hand sewn by a designer. When I wanted split cuff in front red corduroy pants…they were made. When I wanted red white and blue striped pants…they were made. We were a stage band just beginning to realize our power. Recording in a studio was the antithesis of a stage performance. The band recorded and tracked without you. There was very little spontaneity. So, it was a new twist on things, but recording wasn't at the top of our list at the moment.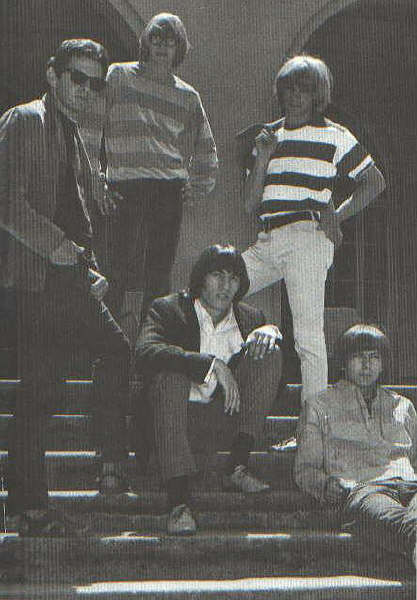 Gary: Our manager Ron put that together and we just went along.
Mark: As Gary said, our manager put it together and we just went along with it.
There was also a very funny confusion going on with being in the soul 'department' of the label and because your name had a word 'Chocolate' in it.
Mark: As I said we were placed on Uptown Records which had mostly black acts and we played with The Coasters, Jackie Wilson, and many others. They were great to work with.
David: Maybe not so funny after all? This baffles me to this day. Who fell asleep at attarack? When a band finished an album it was then shopped around to a label who then categorized it and farmed it out to a distributor. We were sent to Uptown Records because of our name. None of our pictures were on the cover of the album. Universal Records thought we were a black rhythm and blues band because of the – hold it – here comes the punch line – "Chocolate" in our name…brilliant! Just brilliant! Our first uptown show was with Little Anthony, The Coasters, Chuck Berry, and 20 other soul review bands. So, the joke was on us. We had an album – Sweet Young Thing was being played locally – but the albums were not available in San Jose – apparently you'd have to drive to Oakland to find one.
Gary: We ended up getting booked with a lot of R&B groups for some shows. The Supremes is one I remember.
Bill: We got booked into a soul review over in Oakland because they thought we were black. We ended up backing up Chuck Berry.
Your first two singles were not in a typical Watchband sound. I think the song "Are You Gonna Be There (At the Love-In)" captures that typical sound. This is kind of a tribute to Haight-Ashbury, isn't it?
David: I'm not certain that's true. We were a rock and roll band. We stretched stuff out and jammed on stage. We had a distinctive San Francisco sound to our instruments like The Airplane or Dead. Go back and listen to Mark's lead in "Sweet Young Thing". He plays low notes that slowly climb the scale with power and authority. There are no diddly fast finger high notes to impress other guitar players out there with your blazing fast fingers. Billy and Gary pushed our songs between them with bass and drums. Sean helped the flow with rhythm. Mark shot bazooka notes when it was right. The stuff we played on stage had the same feeling. I'm not like everybody else and baby blue were songs we brought to the recording session – those were the song we were paying regularly every night…listen to the together and they all fit..that was our sound….the ballads, however were different….you can't dig a hole deep enough to hold she weaves a tender trap…
Gary: I think that is what we were going for.
Mark: Our first single "Sweet Young Thing" then "Misty Lane" with "She Weaves A Tender Trap." I wrote both of those songs and they were done with a real orchestra. I really like both songs from the second single. But these songs didn't represent our sound live. Ed Cobb decided which songs were released and they were in L.A. and didn't really know what we sounded like live. "Are You Gonna Be There" fit our live sound a lot more. It was psychedelic whereas "She Weaves A Tender Trap: was what Cobb was into. Cobb didn't know psychedelic music, the songs he selected were a lot sweeter than we sounded live.
In 1967 you started recording your first album, called 'No Way Out'. What are some of the strongest memories from producing and recording this album?
Mark: "No Way Out" was recorded at Studio City as well at Richie Podolar's studio. I don't have a lot of memories about recording the album. Since I live in Hawaii I haven't been keeping up with the history of the band as well and have not been able to be involved in many of the reunion gigs and recordings. In the early days we were practically living together in the San Jose area. We had a cabin in the mountains. But my memory isn't real clear. The last gig I did with the guys was at Ned's funeral. A lot of his friends got together and we played at the wake.
David: Watching Ed and Richie track fascinated me. Watching how a new song came together was an amazing experience. It was during this first album I began writing songs. It just kicked something on in my head. Recording was intense, creative and agonizingly boring. As a singer you sat through everything before your chance came up to participate. In fact, on the first album, the band left for Mexico to party and I stayed behind to put on harp, tamb and vocals. It truly was that disjointed. Imagine if they could have isolated me in a vocal booth and recorded in real time? Then the listener could have felt the true stage power of this band…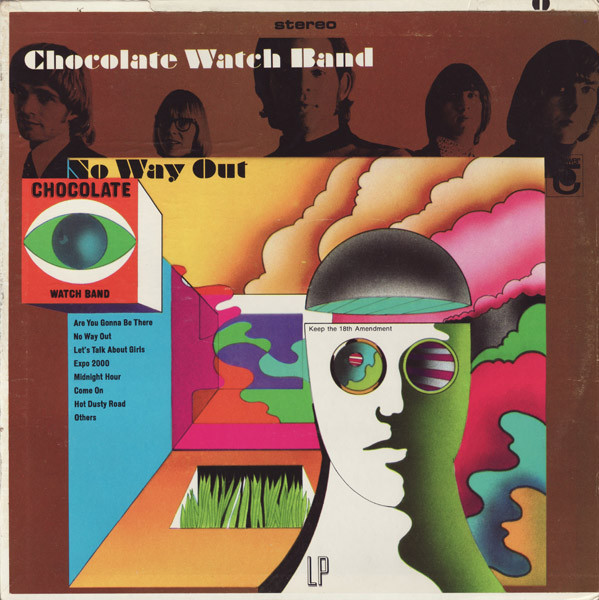 Gary: I remember Ed Cobb the producer on his hands and knees behind my drum set over dubbing my bass drum with a mallet. I did a lot of background vocals and Richie our engineer helped me. He played everything and was good at it. We also got yelled at for smoking in the echo chamber. It was like a pool in there, kind of an 8′ X 8′ X 20′ with gunite on the walls. It had a speaker on one end and a mic on the other end.
Bill: When we finished a 6 day recording session.Sean and I went to Mexico..
What gear did you guys use?
David: First – we rivaled the great Wall of China with monster 2 meter high Vox amps. The first to appear in the Bay area. Everybody else was using Fender. What gear didn't we use? We saw the experimentation of the British bands with different instruments. We played with bands who used instruments we wern'tthat familiar with. The Loving Spoonful showed us an autoharp. We went out and bought one.
Billy had a Fender strat bass and a little coffin box Hoefner like Mccartney. Mark pretty much stuck with his hollow body blond Guild or his cherry colored Gibson es-330, but he did play sitar too. I went thru cases of harps, I played maracas, tamb, claves, sleigh bells, dulcimer, piano, theramin, Gibson acoustic and Mark's guild…Sean? Unbelievable. For all you collectors out there who really know guitars get a load of this and I know I'm leaving quite a few out. Sean changed guitars like we change socks. He played: 1954 Butterscotch Telecaster, 1960 powder blue Telecaster, 12 string blond Rick, 6 string flame colored Rick (1st year on the market) , white teardrop Vox (the real deal) , 12-string Gibson acoustic, 6-string Gibson acoustic, standard v05 Les Paul, late 50's Gretch hollow body electric, Fender white flying V, 59′ Fender music maker… Wouldn't you love to have any of these sitting around your house today?
Gary: Vox amps. I played Ludwig Drums.
Tim: A. Mainly Vox amps. Sean loved his Gibson flying V and his Martin electric. Bill was playing a Gibson EBO bass and I played a vintage Gibson gold top Les Paul. Sean and I used the Vox Tone Bender quite a bit. David has always used Hohner Harmonicas. Gary is a big Gretch Drum fan.
Bill: Our Amps of choice—VOX!
Mark: We had enough money that we could use whatever we wanted. We did an advertisement for Vox, so they took us to the factory and gave us anything we wanted. So I used Vox guitars and amps. My amp was a little bigger than the one Jeff Beck used with The Yardbirds. As far as effects, I used fuzz tone and wah wah pedals. There weren't a lot of effects pedals out yet then. I used to build my own fuzz tones. I actually had one fuzz tone that I actually built into the guitar using schematics. Sean and I also bought matching 6 and 12 string Rickenbackers. I also had a Gibson Hummingbird guitar. I had Les Paul, Juniors and Gretsch guitars. I have single and double pickup Les Paul Juniors. I especially like the double pickup models.
What can you tell me about the cover artwork and how many copies do you think were released?
Mark: In those days I didn't pay much attention. And in those days our production company didn't promote us enough. Our singles did well locally but didn't hit the national charts because it was marketed properly. The one thing I regret is that we didn't have a hit. Our production company had us and The Standells, and they gave "Muddy Water" a lot more promotion so they had a hit with it, but none of our songs were given that much promotion.
David: We had no input on the cover artwork. We never saw an accounting forthe number of albums released, but we did take a case of them and throw them into the air off Sean's deck into Bear Creek Canyon and took turns shooting at them with his grandfather's double barrel 12 guge shotgun…
Gary: Tower Records had total control of the art and we didn't see it till it came out. We didn't like it much and used the records for target practice.
Bill: As far as art work goes, we had no say.
I know, this can be a very difficult question to answer, but since I'm asking all the bands I need to ask you too if you could comment each song a bit.
A1 Let's Talk About Girls
David: The band never understood why Ed Cobb didn't use my vocal on it. It ruined it for all of us…
Gary: David only got a chance to do his reference vocal and we had to go out on tour so they replace his vocal with studio singer Don Bennett. Not cool.
Bill: Show closer.
Mark: I never liked that tune. The production company, Ed Cobb or one of the guys down there picked that one. The production company was trying to make us something we weren't. We weren't interested in that sound.
A2 In the Midnight Hour
Mark: That was one of the songs we did because we liked Wilson Pickett. We kinda rocked that tune out. I had fun with that one.
David: We did this on stage. It was a filler song.
Gary: I just remember cutting the basic tracks really quick on it. Then we left for Mexico and left David to do the vocals
Bill: Dance song.
A3 Come On
Mark: I thought that one came out great too. The production company picked that one, but I liked it.
David: We did this as a demo. It was the first song we recorded. I liked the harp.
Gary: We just did what they asked us to do.
Bill: A rocker!
A4 Dark Side of the Mushroom
Mark: That wasn't even us. That was some studio musicians you know. I kinda lost interest in what we were doing because of the production company. I finally lost interest and left the band because of things like this.
David: We didn't do this song.
Gary: It wasn't the band. This was all Richie the engineer.
Bill: Filler song.
A5 Hot Dusty Roads
Mark: Another one I didn't care for. Chosen by the production company.
David: Hated it! I sang it once and said: "What the hell. We're not Buffalo Springfield!".
Gary: I think it was one of Ed's songs.
Bill: Filler song.
B1 Are You Gonna Be There (At the Love-In)
Mark: We put that together in the studio for the movie. Ed Cobb left us alone in the studio on this one. It was a good movie soundtrack.
David: This was the Watchband at its best. This song has power!
Gary: Trying to go for a SF sound.
Bill: Was a great park song"large crowds"
B2 Gone and Passes By
Mark: I don't know what to say about that one. It's alright, I kinda like it. That's one of Dave's songs.
David: I wrote this in the Sunset Orange motel the 3rd day of recording. It was Watchband all the way.
Gary: We did a lot of these Bo Diddly kind of beats.
Bill: Blues.
B3 No Way Out
Mark: I wrote all the music to it. Its all my guitar on it.
David: We recorded this spontaneously. Billy had a riff and I just walked up to the microphone and sang the firt thing that came to mind. The kids we'd seen living on the streets of the Filmore during the summer of love.
Gary: Billy and I just started jamming and everyone jumped in. I think that David wrote the lyrics on a napkin while going up and elevator.
Bill: Bummer rock.
B4 Expo 2000
Mark: We're not on that one either. That's Richie. He was a very accomplished musician and the production company was rushing the album so they had Richie record it to fill out the album.
David: Richie did this song. We didn't hear it till the albums arrived. We then immediately took the albums to the back deck and you know the rest…
Gary: It wasn't the band. This was all Richie the engineer.
Bill: Warm up jam.
B5 Gossamer Wings
Mark: I can't remember if I played some on that one or not. On our album the sitar is me. I went to a music shop next door to the studio and picked up a sitar and tried to learn all I could real fast. So all the sitar parts on our albums is me playing.
David: Both barrels at this one!
Gary: It wasn't the band. This was all Richie the engineer.
Bill: Warm up jam.
Mark: (addition)" Loose Lip Sync Ship": I had taken piano lessons and played a little. I played the harpsichord on that one. Also, "Baby Blue" has always been one of our favorites but we didn't do all the verses. We should've done them all. When Bob Dylan writes a song you should do the whole song, but in those days you weren't even allowed 4 minute songs, a single was limited to 3 minutes or so. But I think we did a really good job on "Baby Blue" and our fans really liked it.
Was there any concept behind the album or perhaps about the band itself?
Mark: No, not really. You see I'm the one who fouled up the original band. I left and you have to realize the band had to go on. I formed a folk rock band right after I left the Watchband. The band was called The Tinkle Bells.
David: Interesting question. Everything at this point in time was pretty much non-conceptual. Sgt. Pepper and Quadraphenia got conceptual albums started, but we wern't into that. And our look constantly changed with no concepts behind it…
Gary: No concept, just a lot of jamming and trial and error.
Bill: No concept. Just music.
There was some problems with the first album and some members left…
Mark: It was later. I left the band and was replaced by Tim Abbott on guitar. They played gigs but never recorded anything.
David: Nope, that was after the second album came out. Here was our situaton. We were on top in the San Jose market. No challenge there, we were making huge inroads in the San Francisco market. Many thought we were a SF band, but our albums and songs were not being promoted or distributed. We didn'teven have copies to sell at our shows. We had no leadership from our manager – seems he just wanted to be part of the scene – and Ed Cobb, who later was quoted saying how much he regretted not becoming involved when the band disolved. So the frustration of these kluged together albums really got to us. Two things were happening. I was learning how to write songs for the Watchband. The natural next step would have been a full album of with new originals. Every band from Beatles to Stones went through this metamorphosis. It was now starting for us. The other destructive force was that Mark and I never really clicked on a friendly – best buddy level. I believe he really had second thoughts about asking me to join the band especially after he started losing control of it. To many, he wasn't the leader anymore. I thnk that chafed him a bit. Secondly – he was into some stupid shit drugs that turned him into a zombie and, his original taste in music went with it. He wanted to do mellow – folksy – Hot Tuna rags 24/7. Meanwhile, I wanted to set the stage and rafters on fire. Two very different clashing directions. After the second album communications stopped between band members. We were all pissed off and bumed by the Ed Cob friends albums that were coming out under our name and the whole music scene was now tilting towards the "I'm never going to be able to find my way home" drugs scene. I was told Mark was put into a sanitarium for three weeks after they tried to do that 3rd "mellow" Watchband album. Billy can confirm this better. I really wasn't there. I went back to school and left the whole enchilada behind me…
Gary: The group had a split after the second album and the movies. Mark wanted to go another direction musically and I followed him. We started a group called the Tingle Guild.
Tim: There was a split in the group in early 1967, That's when I came in to replace Mark Loomis on lead guitar. That summer of 1967 was very busy and we did a lot of great concert dates.
Bill: Lead player got ill.
'The Inner Mystique' is your second LP. Tell us the backgrounds of making this album. It's not what you wanted if I understand correctly from what I heard. But you have to admit, that the album is absolutely amazing…
Mark: Again the production company had control and did what they wanted with the album. A lot of it wasn't even us playing.
David: It was de ja vue all over again! Miracle Worker, Baby blue, Not Like Everybody Else, Misty Lane, Sweet Young Thing, that was The Chocolate Watchband. The rest of the songs, Sean threw the album to the ground and pissed on it. All of us joined in.
Gary: Several of the tracks were just jams that the engineer and producer added tracks to.
Bill: CWB always amazed me.We just played.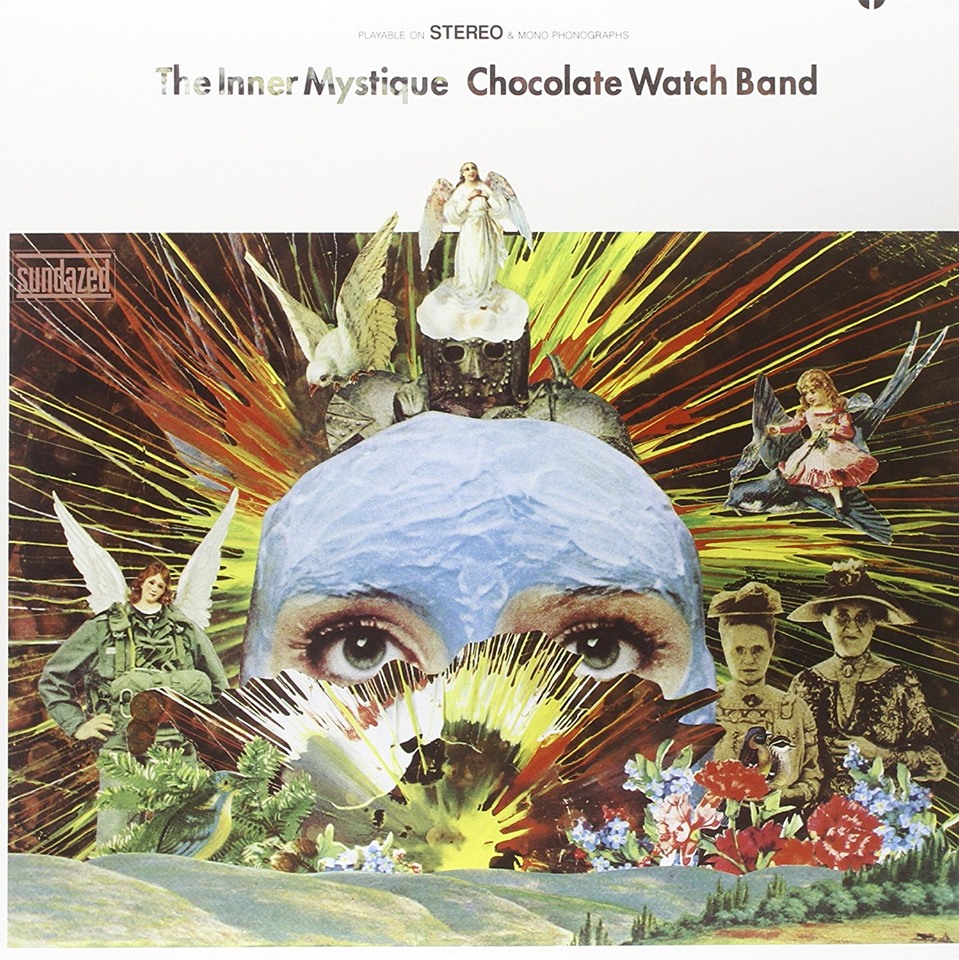 Similar things go for 'One Step Beyond', your third album that is in a more folky way.
Mark: You finally mentioned "One Step Beyond". That was our first attempt to make an all original album. We wrote all those songs. We worked them out together. That's my favorite album. We were trying to find our own style for the record. That's our first original record. That's the last album we made. I think it turned out great. It's my favorite album for sure. We all contributed songs. The only cover tune we did was "I Don't Need No Doctor" by Ray Charles. We wrote all the songs over at my house. We were all prepared to record and there was nobody there to bother us. At that point we were just experimenting with what kind of sound we wanted and we had complete artistic control. It wasn't our stage show songs. We did all cover tunes for our live shows. We could play for hours and hours but they weren't our songs. If we had more records it probably would've gotten better and better. Probably harder rock sounding. More bluesy. Everybody had their own favorite performers, like Gary loved Simon and Garfunkel, I was writing kinda psychedelic rock and roll. One Step Beyond became our last album because I left the band. I was tired of the production company telling us what to do. "One Step Beyond" was recorded at Sunset Studios in Los Angeles, not at Richie's studio.
David: I can't comment on it. The recording session was a mess from the git go. Mark (whose nickname was now "lumpy") freaked out and disappeared from the studio. Billy can fill you in on details. Sean now stepped up as the leader of the group. Gary wrote a couple of nice songs, but that album is so disjointed. So many different genres mixed together. "Loose Lip", "Sitting There Standing", "Don't Need Your Lovin Anymore" clashes with everything else on the album. That album feels like a carton of eggs that randomly hit the floor. Or put another way. The earlier Watchband was a rocket ship that could take you to Mars. On the third album you had a kite to fly on nice days in gentle breezes…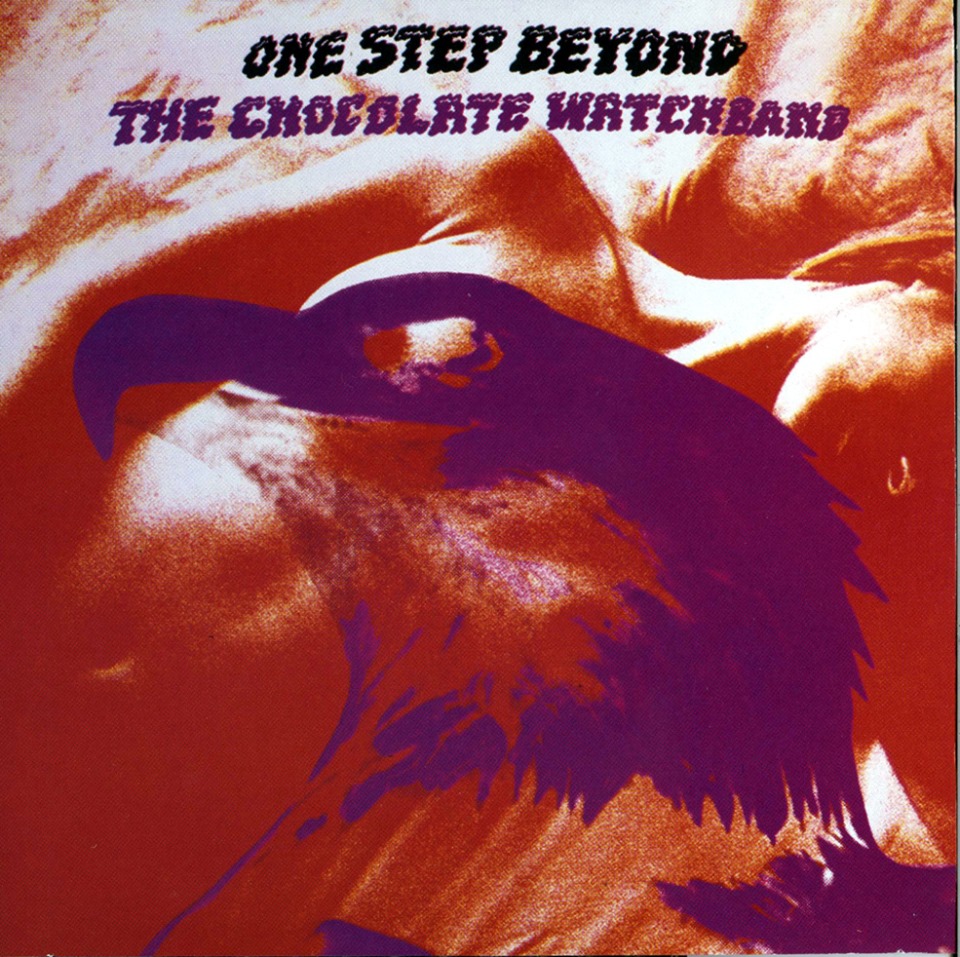 Gary: I ended up writing a lot of the songs because no one else seemed to want to. So I thought I would try. Also we brought in Danny Phay to sing and he had a totally different sound than David, which really changed the band.
Bill: One Step Beyond, different story – no David.Good record, but I prefer David.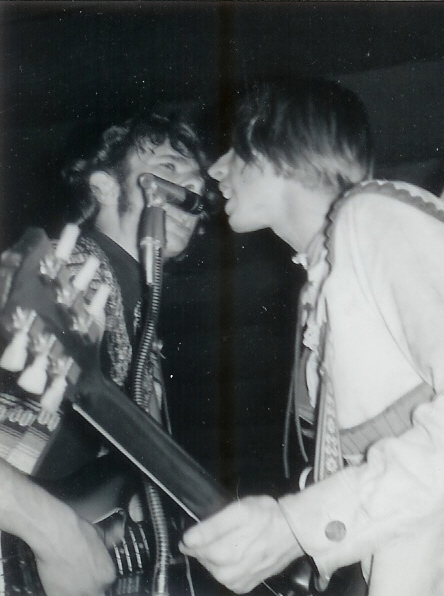 How about some concerts experiences. Where all did you tour and perhaps what are some artists you performed with and where?
Mark: We played a High School Prom in Saratoga, California and they hired us and Van Morrison from England. He was over from England and playing any gig he could get.That was a fun gig. We played with Pink Floyd a couple of times because they were being handled by Green Grass Productions as well. Pink Floyd was great, they were way out there with Syd Barrett. They were nice guys. We played the Fillmore in San Francisco with The Mothers of Invention. That was fun. We opened for Lenny Bruce, the comedian. We opened, then Love played, followed by The Mothers of Invention and then Lenny Bruce. That was a union gig, and there had to be 6 players, so Bill Graham had to hire another person to be in our band. So this really fat guy showed up at the Carpenter's Union Hall with his tuba and sat in the back through the whole gig. He never got on stage with us but was there the whole night. We were booked to play with Captain Beefheart but he was sick that night so we played alone. We played a really good gig with The Knickerbockers and Buffalo Springfield. We played a gig with The Monkees that was really fun. We played a club that had a revolving stage, the center of the stage revolved. On the last song I walked to the solid part of the stage and was there playing my guitar. When I got done I turned around the stage had revolved, so the band was gone and I was standing out front alone. We also played with Jimi Hendrix a couple of times.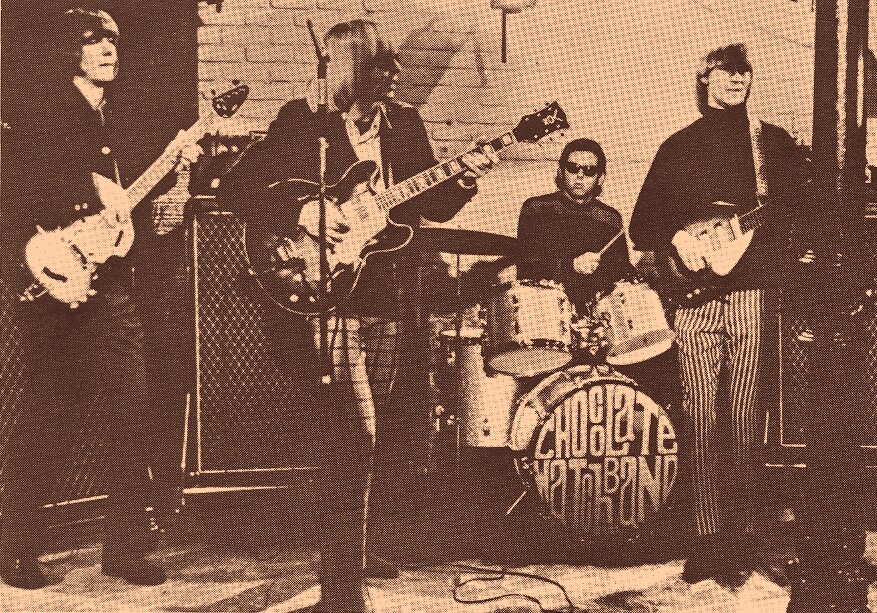 Gary: My favorite shows were with Sly and the Family Stone. They would follow us every night at the Winchester Cathedral, a club in Redwood City that we played for weeks in 1966. Also playing with the Yard Birds at the San Jose Civic.
Tim: We had some great live shows. we played with the Doors at the Mt. Tam Fantasy Festival and the Oakland Coliseum. Mobey Grape was another great show from the Oakland Coliseum. We are still friends with some of them. Jerry Miller is the one that got me into the sitar and the Fender 59 Bassman (I still use today) When we did the Mt. Tam Fantasy Festival the Fifth Dimension asked me to play guitar for them, as theirs didn't make it. I said yes until I found out that they only had studio charts and no chords written out. Their music is very complicated so I said no. But it was cool to be asked. We also played with a lot of the San Francisco groups like, The Charlatans, Country Joe and the Fish, The Count Five, The Son's of Chaplin and many others.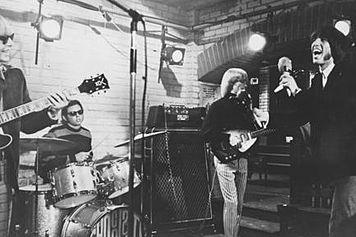 Bill: One of my favs was when opened for Sly & the Family Stone And Sly gave David his rad glasses. David sported them all nite.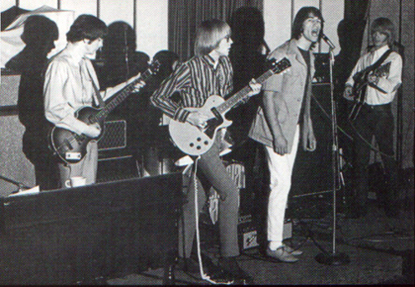 Any crazy stories that happened to you and would like to share with us?
Gary: We played the Queen Mary and we ended up taking a huge model of the ship home with us after the gig.
Bill: The giant food fight that David started in the back lot of MGM during the filming of "riot on sun set strip".
Mark: See the question above. But I have trouble remembering some details, so you can tell people you had an interview with Mark, but he couldn't remember anything! Ha ha! There have been so many interviews with me that there are some really crazy stories about me floating around out there.
I was reading a story about you the other day and it said that you were allowed to play on all but one song, but were banned from recording "Devil's Motorcycle" due to the ingestion of controlled substances.
Laughter.
How did you choose your name?
Mark: Ned was going to college and he and some friends went to the student center and came up with it. I was kinda like the leader of the band so it had to go by me, but it was Ned who came up with it.
David: It was chosen before I joined the group. Pot and acid may have been involved.
Gary: Ned came up with it up at the Foothill lounge.
Tim: It is my understanding talking to Ned and Mark and several other of the original band members, were sitting in the student lounge of Foothill College and were just throwing out band name ideas and someone said Chocolate and some else said Watchband. They all said hey that's it.
Bill: I was told it was LSD.
Do you have any regrets if you look back?
Mark: No, none. Back then it was kinda like experimenting with music. Nobody knew what direction to go in. I kinda wish we'd had a bit more knowledge of what direction to go in, and we could have stayed together a little longer. But things get complicated and that's the way life goes. So no real regrets.
David: It was what it was. I'm sorry we didn't have a couple of hit records, but then again I have fantastic memories of experiences I'll never forget and being able to talk and still record new songs with Billy, Gary, Timmy, Alec, Alby and now Daryl Hooper of the Seeds. I am one happy rock and roller!
Gary: Nope! We had a great time while it lasted.
Tim: That we didn't try harder to keep the band together. I left over money and I wasn't happy about us not working as hard on our music as I thought we should. We weren't writing and rehearsing that much, and that is something that I love to do.
Bill: I think I would have eaten more fish.
How do you feel about the fact that after all this years you still have a lot of fans?
Mark: I think the fans really love us. And the rest of the band is going places now I wish I were able to go. You know, England and New York and everything. But living in Hawaii I can't do a lot of things with them. But the guys in the band are all really good musicians and I hope everybody is happy. I played on our reunion album and we had a really really good time but trying to get together now is very difficult. A lot of the other guys live close together, but I'm here in Hawaii and I can't get together with them on a moments notice for gigs or recording sessions. I'll go to gigs whenever possible, but living in Hawaii interferes sometimes. Its not friction with other members of the band, its logistics. I'm really happy for the guys in the band.
David: I know that no matter what happens to this crazy, smacked angry, uninformed, misinformed scared world of ours music and something I cherished at 19 still lives on with a life of its own! And there are people out there who still get it! Thanks folks for sharing the ride with us. The best may be still to come!
Gary: None of us had any idea that the band would be remembered after all these years and archive the critical success that we did.
Tim: None of us had any idea that the band would be remembered after all these years and archive the critical success that we did.
Bill: They are a lot younger today, but I luv em all.
What currently occupies your life?
Mark: I my wonderful woman who I've been with for 30 years and we have a cabin on the top of a mountain. I still play music. I just moved to Maui about a month ago after living on the big island. I don't have any children, but my lady has a son who has 6 children, so its like having 6 grandchildren.
David: I am an astronomer at the Harvard-Smithsonain center for astrophysics in Cambridge, MA, I am an award winning author and illustrator of kids books on astronomy for National Geographic, I travel the world lecturing about science, I spearfish in New England and Rhode Island Waters on weekends, and I still write and record music with The Watchband and play live!
Gary: I'm a drummer with a band in Santa Cruz called Extra Large and we play a lot of dates in my area. I own a recording studio in Santa Cruz and mainly do projects with bands and singers. Tim and I have worked quite a lot on the recent CWB recordings together.
Tim: I'm mainly a music producer and teach guitar, voice and keyboard. My partners and I own a professional recording studio in Santa Clara, CA called Kingdom Voice Productions. This is were most of the recent Chocolate Watchband material has been recorded. We are currently working on a new album, with a combination of some vintage cover songs and originals in the the style of our 60's sound. I also play and record quite a bit with other groups.
Bill: Life.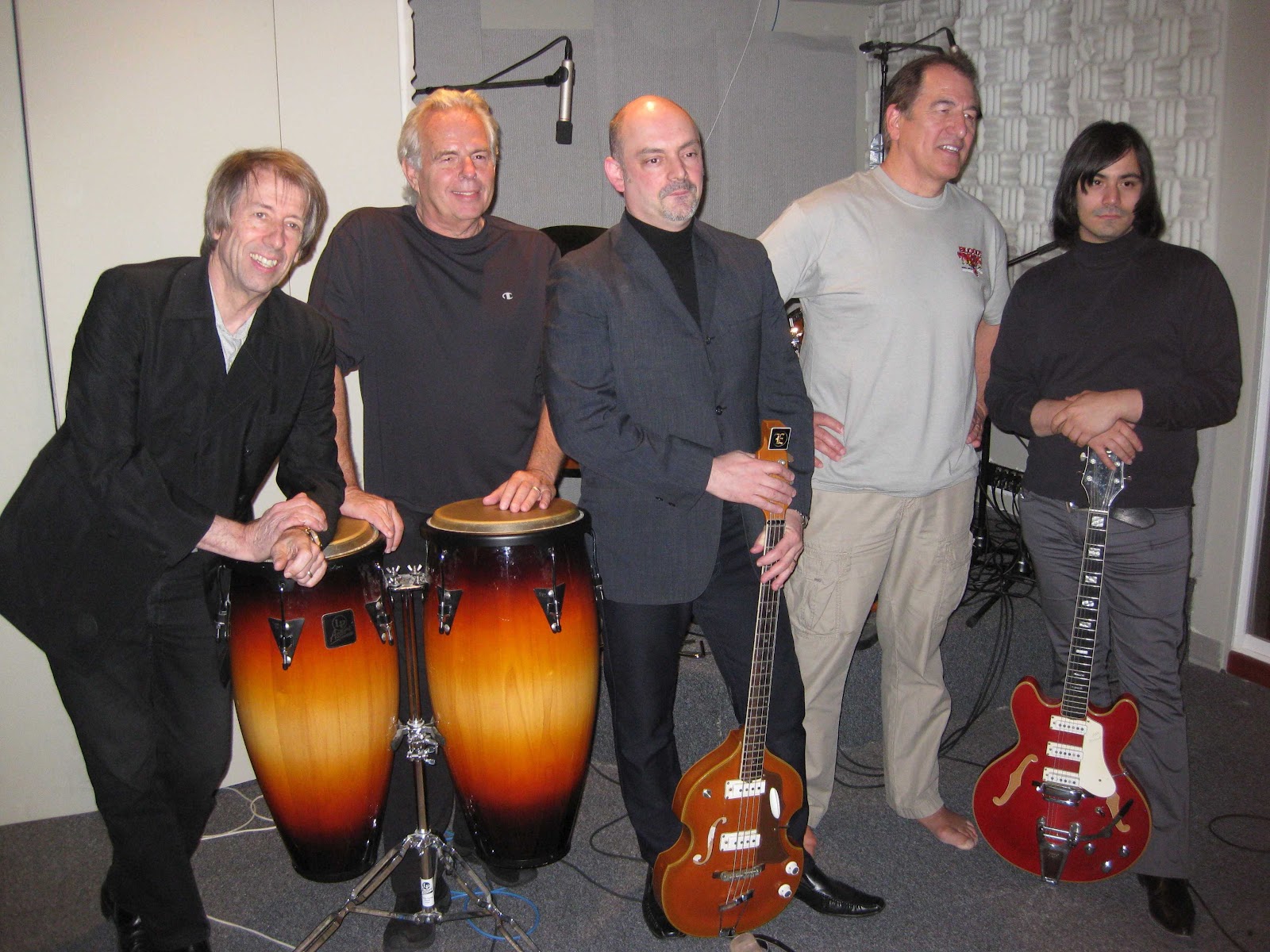 Thank you all for taking your time. Would you like to send a message to It's Psychedelic Baby readers?
Mark: I know the band is still going and if I have a chance I will be joining them and playing whenever its possible. Its been great talking with you and hopefully we'll meet each other face to face some day. Call me anytime. Its always fun to talk about.
David: Here is my message: the best of Watchband album is now out. All the songs for the new album "Judgement Day" are written and half are recorded in the can with Daryl Hooper on keyboards. Folks, pay attention – you haven't heard anything like this album lately!
It is the third album The Watchband would have recorded had Mark been healthy and I'd been involved. It's our 21st century gift to you.
Gary: Thanks for all your support and hope you like our new record.
Tim: Thanks for all the love, truly great fans. Please check out our new record Revolutions Reinvented. They are all new recordings of our fan favorites from the first two albums. These are the main songs we do for our live shows. They have been recorded with the spirit and sound of the originals, but with all the advantages of the great new recording gear. Also there are some bonus verses and new extended endings that we do live that are included. Available on cd and vinyl from 20 Stone Blatt Records, UK.
We are also working on, and have several tracks recorded for a new album.
This will be retro style and will include some of our favorite covers from the sixties. We will put the word out when released.
Bill: ROCK ON—-PSYCHEDELIC BABIES!!!!!!!!!
– Kevin Rathert & Klemen Breznikar