High & Low with The Vacant Lots … and Interview
Prelude: No one's heard from The Vacant Lots for some time now. It's been rumored here and there that they've been living under a bridge outside of Austin, Texas, tapping into the local power grid, relentlessly playing night and day to any passers-by who might happen to get caught in their wake of intoxicating ethereal guitar washes and tribal drumming. So after my sonic beacon began blinking last week, I set out to see for myself, finding the boys not under a bridge, but tucked away nonetheless, burning like two chemically fueled jeweled embers, playing to the moon, blanketed by the endless Milky Way.
---
Guys, gotta thank you for sitting down with me again. Last time we spoke was in my living room in Brookhaven, surrounded by shipping crates and boxes, just prior to my move here to New Mexico, where you managed to lighten my load, so to speak. Without a doubt you've been working hard, and falling in with some serious talent, not to mention a new 7 inch, and man, I've gotta thank you for spinning those off the cuff demos for me … gives me a great sense of where you're heads are at.
When can we expect to hear a debut album from you guys?
Brian: We've just finished tracking, and the mixing process will begin this Winter. Should be out by next year.
Is there a chance that we might hear more Brian's vocals in the future?
Brian: I've been experimenting with vocals on some of the newer material as well as singing live.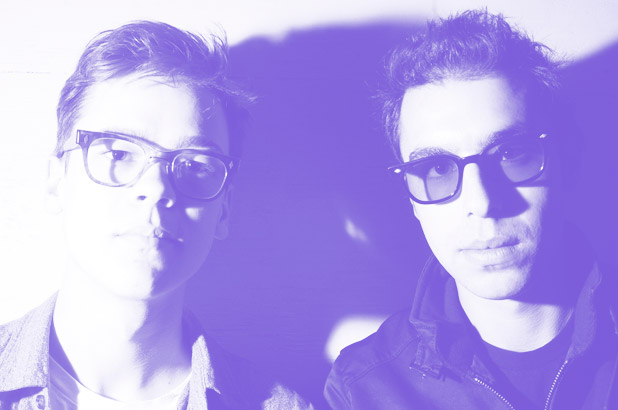 And of course this brings me to the new marbleized "High & Low" 7 inch, where Roger Brogan lends a guiding hand, while allowing you to sonically assault the air with a wash of electronic drones that are filled with driven lyrics, nearly stumbling me in mid step. Were there smiles 'round the studio as you were laying this down? You were obviously in the sweet spot, I can't believe you didn't know you had a gem on your hands.
Jared: I think this one translated really well. Roger's mix really captured the feeling of the song.
Would you mind taking the single "High & Low" and walking us through the process, what you were thinking from conception to outcome, including the vinyl colour choice and sleeve art.
Jared: High & Low came from a recording session we did at our old studio before it got shut down & turned back into a factory. We got to see Roger in L.A. last year when we were on tour & got to talking about doing some mixing together. When he sent over the mix we were completely blown away. He added drones, electronic parts, percussion & drums. Roger's gift is that he can take something you give him & offer you an entirely different perspective. He did this with our song "Kingdom Come" too.
I've gotta ask you about the black and white thing you have going on … is everything really black and white for you? Because while the art may suggest minimalism, your music certainly isn't.
Jared: You can't beat black & white for contrast, can you? I happen to like those two colors & how they interact visually. I like the detachment of black & the blankness of white.
Brian, for the folks who haven't seen you live, you used to drum while standing, but you've returned to the more traditional stool, are there any assets or drawbacks to standing?
Brian: We found that the consistent drive of the floor tom when standing up as opposed to the traditional Hi Hat or Ride Cymbal was able to fill in that lower frequency range, that we sometimes found lacking due to not having a bass player. However the real drawback is only having use of 2 limbs instead of 4.
Well, you do manage to keep your drum kit to a bare minimum, have you considered expanding for a wider variety of sound?
Brian: I find that keeping the drum set as stripped down as possible forces me to be more creative in my technique and approach to the drums.
Brian, unlike other bands, where the drummer's merely keeping the beat, you have the ability to move the song along, measuring the pace, and setting the stepping stones firmly in place.
Brian: I take influence from a lot of jazz drummers who were very musical in their playing, and I strive to both hold the groove while also supplying an additional melodic voice.
It seems you've developed a penchant for Austin, and I will say there's something about that city that brings out the best in people, how was your recent show there?
It was good. We played a new festival there called Psych Light & Sound. We also got to do some recording & mixing with Brett Orrison, whom the Black Angels recommended to us. We recorded a song & played the festival on Saturday, then our flights were cancelled on Sunday, so we went back into the studio & mixed a new song called "6 AM". Sonic Boom [Pete Kember, late of Spacemen 3, and now with Spectrum] mastered it for us & it will be out soon on an upcoming 7″ release.
And the Psych Festival? Any behind the scene details I might squeeze out of you?
Jared: Austin Psych Fest has been really good to us. They released the High & Low 7″ this year & we got to meet Anton of the Brian Jonestown Massacre. He is someone we have always respected, so it was good to finally get a chance to talk. After we spoke for a little while, we handed him the last copy of our Confusion 7″ that we saved to give to him and just then this girl asked to take a picture with him. He was still holding the 7″ in his hand and there is a photograph of that. Talk about capturing a moment.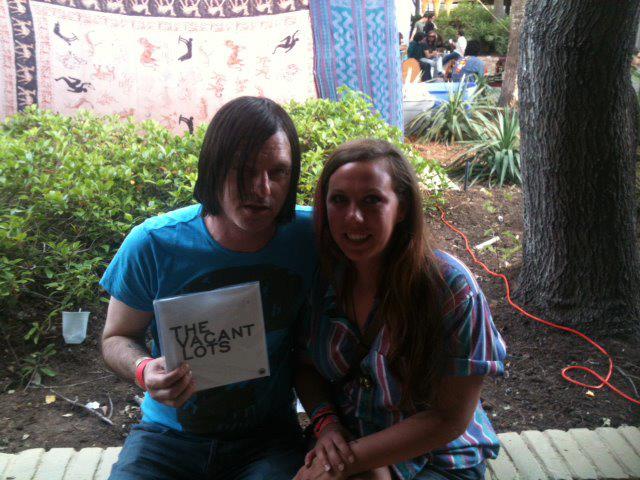 I don't imagine you can walk away from the Psych Festival without spending a good amount of time gazing at other people's equipment … did you hear anything you might like to fold into your sound?
Jared: I am really particular with the equipment I use, I didn't see anything that struck me with the feeling like "Oh man, I have to get that …" but on another angle, I got to see a handful of bands I really like, such as Singapore Sling, The Meek, The Black Angels, BJM, Moon Duo, Psychic Ills, & The Telescopes.
Anything new or exciting happening record wise in the near future? New sounds or concepts?
Jared: We are finishing up the LP now. It feels like we have been refining our vision over the past three years and working on these songs have really pushed us further on transforming the sound. There is a more concentrated feeling , kinda like a violent discipline that has allowed us to communicate certain ideas more clearly with this material.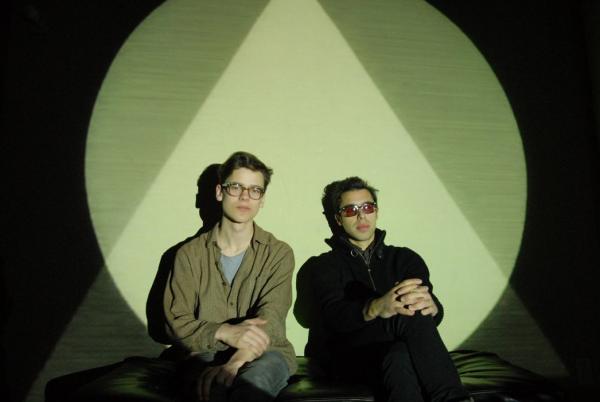 I broke out my copy of your very first release, how do you think it stands up? And are there any songs you've recorded that you'd like to revisit in some fashion or other?
Jared: I think it holds up. "Confusion" and "Cadillac" were two songs that really work well together on a 7″ format. I feel that that was a good way to introduce our sound. And releasing it on Mexican Summer certainly helped a lot too. Not really sure on the whole revisiting idea. I mean, we do have a lot of early recordings that have in one way or another inspired or influenced some of the stuff we are doing now , but there comes a time when you need to move on. I think moving forward is a better direction than going back.
Brian: There's a very primitive, raw sound to those first few recordings. They were all laid down using markedly lower quality equipment than more recent efforts, and that in-your-face crunch quality really packs a punch.
I've understood through the grapevine that Dean Wareham and Britta Phillips, who you opened for at The Bell House, have heard some of your under-wraps material, have they contacted you? And if so, what do they think?
Jared: Yeah, we have sent them what we have been working on. Actually, Dean & Britta were the first two people we sent our early recordings to three years ago. They have been really encouraging and inspiring to us over the past few years.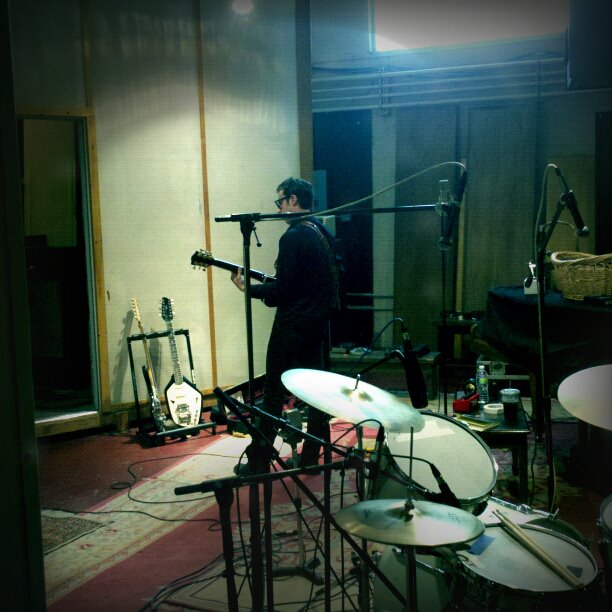 With regards to Sonic Boom, whom I know you respect highly, what's it been like working with him, and has he connected you with other like minded musicians here in the States?
Jared: Working with Sonic Boom has been a really inspired experience. He is one of the most innovative artists I have ever met. He is an architect of sound & it certainly comes through in his records and in his ideas when you talk to him. He has given us some really invaluable feedback over the past few years. I think one of the things about Sonic Boom that gets overlooked is his generosity and wisdom.
In his book "Black Postcards," Dean cites Sonic as being a Hedge Hog, meaning that he labors, building beautiful soundscapes one note at a time. I realize everyone works differently, does your music arrive nearly fully formed, or do you labor over it?
Jared: Things get channeled differently, I suppose. There is a lot of revision that goes into it but there is also a lot of spontaneity that allows things to come through naturally. I really think it is a process of transformation. If you can create something that someone else can interpret towards their own life, that is something special. Also, I think balance is key. The process is like a balancing act between madness and order. It's about creating a balance within the work and the soul.
Brian: When writing new music, we will often bounce home demos back and forth, giving each other feedback and suggestions for new or modified parts.
Brian, have you considered experimenting with other instruments?
Brian: I've spent a lot of time recently experimenting with synthesizers, guitar, and singing. The result will be made available to the greater listening public upon release of the new record.
And to that end, let me ask you: Brian, give me you top 5 drummers of all time. And Jared, your top 5 guitarists please.
Brian: Max Roach, Billy Ficca, Philly Joe Jones.
Jared: Tom Verlaine, Bo Diddley, Link Wray, Dean Wareham, Lou Reed.
You've got an upcoming West Coast tour, have you any surprises in store for us?
Jared: New songs, new visuals, new ideas, same attitude, same vision.
Any venues you're really excited about? Will you be hooking up with any California talent, or other artists you've hoped to play with?
Jared: Looking forward to playing and traveling through California. We are touring with two West Coast bands, Cosmonauts (our label mates from Reverberation Appreciation Society) and Lovely Bad Things.
Dates:
The Echo Los Angeles, CA, Nov. 6th @ 7:00 PM
Fulton 55 Down Town Fresno, CA , Nov. 7th @ 7:00 PM
Hemlock Tavern SF, CA, Nov. 8th @7:00 PM
The Griffin San Diego, CA, Nov. 9th @ 7:00 PM
Detroit Bar Costa Mesa, CA, Nov. 10th @ 7:00 PM
Is a full house always advantageous to the music, or have lightly attended shows ever been a surprise for you?
Jared: I suppose it depends on the context. We've played to four people & four hundred, I think the performance shouldn't alter depending on the door count but a large crowd doesn't always lend itself to a better performance, necessarily.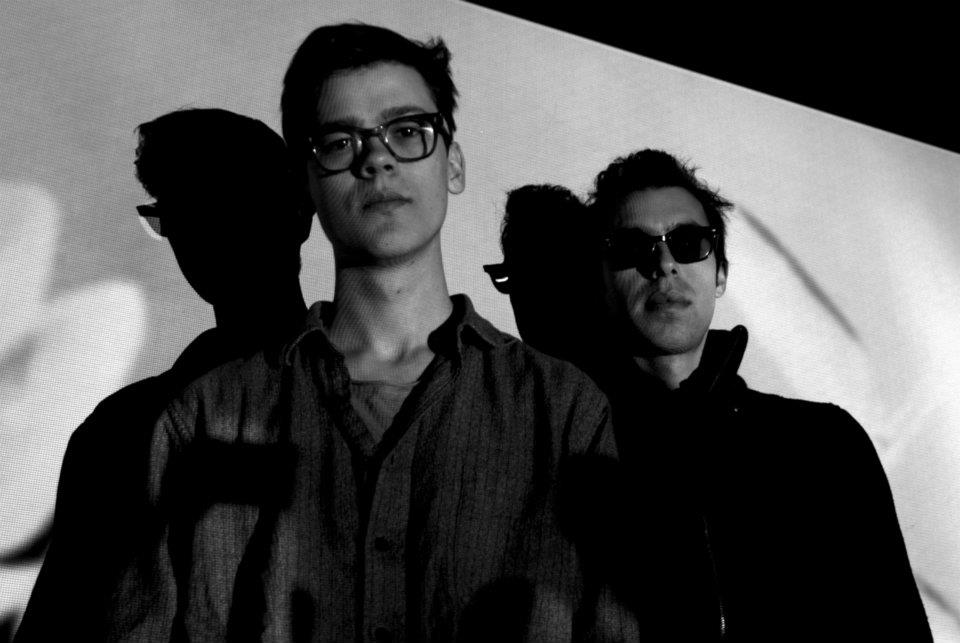 And speaking of touring and surprises, what happened at the University of Vermont? I heard you once splintered the floorboards, peeled the paint, and were asked never to return.
Jared: Well, we were invited to play UVM a couple years ago. They gave us "warnings" to turn down the volume of the set. Refusing, we launched into this 25 minute drone turning all the levels up & then creating a wall of feedback. We then left for twenty minutes, came back and ended the set. It was the last time we played there, 'cos we got banned from playing UVM ever again. The people running the event really had no idea what to do with us, so they just let us finish.
You're visual presentation, the slide and film show, seems to be a work forever in progress, forever being expanded on … how do you perceive and conceptualize this side of your music?
Jared: It changes over time, as we do and as the music does. To me, it's like the subconscious of the music when we play live.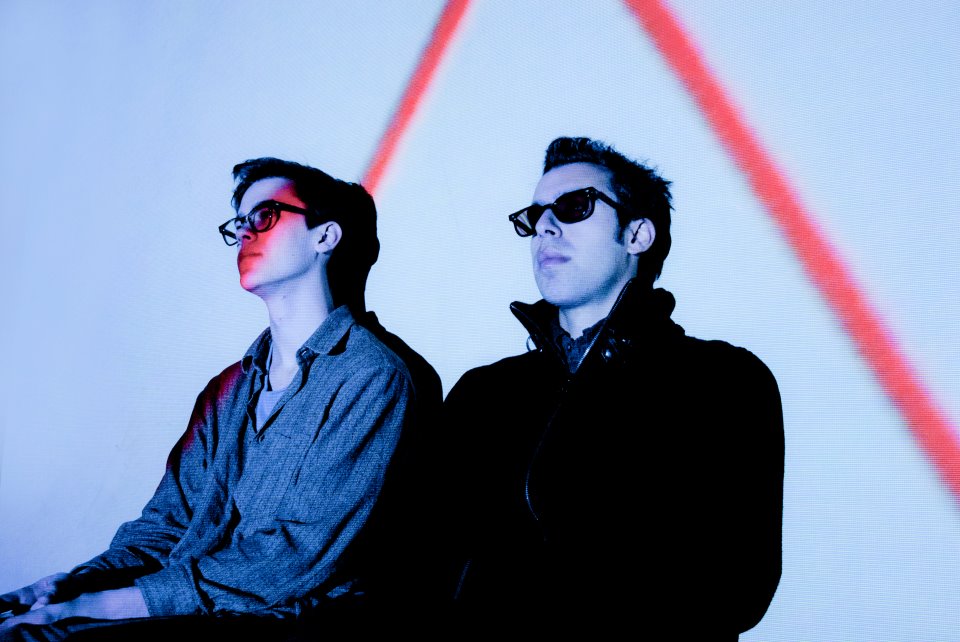 At this point I'm gonna settle back and let either or both of you have the mic and say anything you feel relevant, mysterious, or important.
Jared: Thanks for the interview. Thanks for the tablets.
– Jenell Kesler
---
The Vacant Lots Official Website
The Vacant Lots Facebook
The Vacant Lots Instagram
The Vacant Lots Twitter
The Vacant Lots Bandcamp