Guru Guru interview with Ax Genrich
Guru Guru were one of the most original bands coming from Germany.
---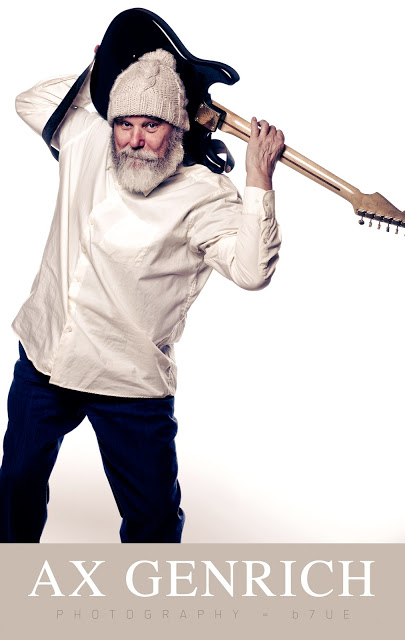 Where do you think your improvisational skills came from? You must had been listening to a lot of jazz and Hendrix?
It was in the air. It started maybe listening to Paul Butterfields "East West" or Canned Heat's "Refried Boogie" or the Rolling Stones version of "Everybody needs somebody to love". My first break was in the 'Rockin´Chairs' when we played James Brown's "Papa´s got a brand new bag" in a extended version. That was my first improvised guitar solo. The biggest influence was Hendrix "3rd Stone from the sun" then not understanding what the title really meant. I went to see Jazz groups in Berlin, mostly free jazz, but seeing early 'Tangerine Dream' or 'Neue Musik Plus Minus' or even 'Agitation Free' before I joined them, was more important than listening to Coltrane or Miles Davis.
Do you think 'Guru Guru' was kind of more interesting or suitable band for you, than 'Agitation Free'?
Yes. They were much more exotic. I took a look at their painted van and I got this on the road feeling immediately. They were like musical nomads and they helped me to escape my boring student home.
You were part of the first five albums. I would like to talk about album per album. In 1970 your first album was called 'UFO'. It was released on legendary 'Ohr Records'. What are some of the strongest memories from producing and recording this LP?
It took place at the well established 'Hansa Studio' in Berlin. Mani invited some friends, the "Umherschweifenden Haschrebellen" and they relaxed in the recording room to make good vibrations and turn us on. We played as though it was a concert in a marihuana clouded atmosphere and maybe that was the mystery. The sound engineer and the producer were short to fainting, but they did not cancel the session and Rolf Ulrich Kaiser, the 'Ohr' label Boss, did not show up.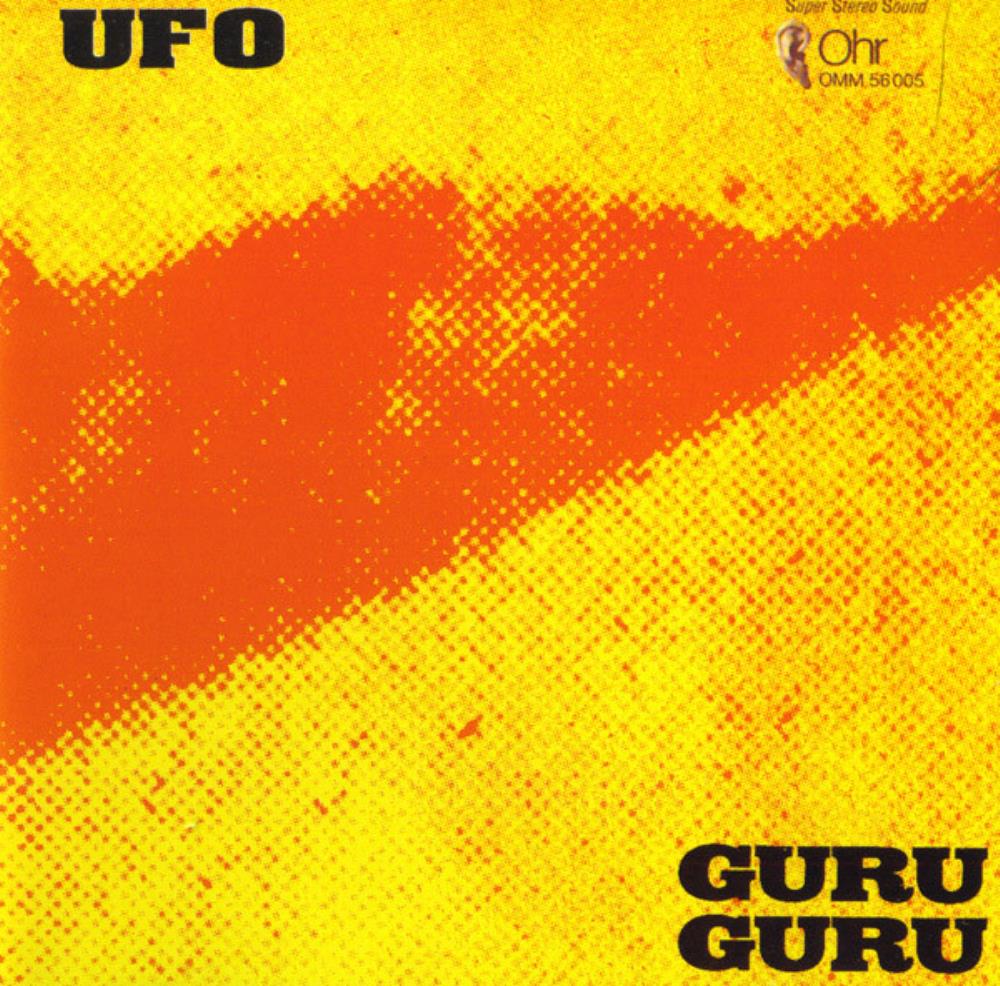 This are the songs, that are featured on the first album. Would you like to comment each one a bit?
A1 Stone In
That´s my favourite. That´s my Les Paul sound with Marshall amp, echo chamber and wah wah pedal.
A2 Girl Call
A bit difficult in the beginning because of timing and then the guitar sound was dropped a bit too sudden, but in the end I liked the cut into Dalai Lama.
A3 Next Time See You at the Dalai Lhama
I played guitar without effects straight into the Marshall at full volume. It sounded very close to the bass, which was distorted from sheer volume, I remember when Mani recorded the live sounds in the end with the female voice "Guru Guru" with his cassette recorder at the Tiergarten in Berlin.
B1 UFO
Uli used his cup bass, a Fender Precision played with a metal cup as a plectrum. Mani had a contact pick up into an echo chamber, which he hammered on the cymbals. I used my echo chamber a lot with feed backs of my guitar. I still don't like Mani´s flutes, they are too shrill. But I like the sound of the paddles. That was the three of us in a boat on lake Zürich in Switzerland getting together and making plans for the future. A nice cross fade to the space sound introduction of LSD Marsch.
B2 Der LSD-Marsch
On later live versions Mani had added some lyrics to it, which he did not on the studio version. The title, "Der LSD Marsch" was very catchy.
It's really amazing what you did with your guitar playing. A three piece of band and such a magnificent force behind it. What gear did you use?
I played a´68 Gibson black Les Paul through wah wah and Echolette echo chamber into a Marshall 100 watts with two 4×12 cabinets.
'Hinten' is your second LP, that features some of the really legendary songs like 'Electric Junk', 'The Meaning of Meaning', 'Bo Diddley' and mind blowing 'Space Ship'. Would you like to talk about it?
The production of "Hinten" was very different to the first one. It took place in a small studio in Hamburg and we had the master soundman Conny Plank for the first time. He brought interesting sound effects to the mix and produced every title more careful. I used a Fender Stratocaster for the first time and was very happy with it. And I started doing guitar overdubs,which was new to me, but I had no problems, cause Conny gave me much room.
Your third album was on a new label. It was released by 'Brain Records'. 'Känguru' was again an outstanding album. What is the story behind making this album?
We did not get along with Rolf Ulrich Kaiser so well and we thought, it would be much better to be on the new 'Brain' label by 'Metronome' Records. In a way it was, but it was the last LP with Uli Trepte. Again with Conny Plank, but in a bigger studio in Hamburg, the 'Windrose' studio. My favourite is "Oxymoron" which has some nice guitar sounds to it. To call it "Känguru" was my idea during a brainstorm session. The idea for the cover, the artic kangaroo mother, was by Heinz Dofflein.
What impact had psychedelic drugs on 'Guru Guru' music or itself on your work? Any favourite acid trips you would like to talk about?
Well, when I joined them, they were already known as a "head" band. At first, taking drugs was new to me, but I took the chance to try it and when travelling in our Ford Fiesta, I could not resist, even if I wanted. Uli was a strong acid head and he wanted to turn me on, which he did. I was a bit afraid and felt manipulated, but I liked being with them and it was their way of life. I would not say, it changed the music, but it changed the people, who played it. I remember the day in Langenthal,when the whole crew was tripping and they wanted to start jamming with me. I had to go upstairs for my guitar and could not decide which one to take, the black Les Paul or the white Strat. I sat on the floor paralysed, thinking which one I liked best. In the end they looked for me and brought both guitars and we had a wonderful jam, which brought us more together.
Where all did you play in the early 70's with the band?
We played at festivals, town halls, underground clubs, university events, youth clubs and events like "Kunst Zone" in Munich or "Art Messe" in Kiel. I remember the Herzberg Festival, the British Rock Meeting in Germersheim with Pink Floyd as headliner, when we played just after them in the morning, the Rocking Island Festival with Tangerine Dream, the German Rock Meetings in Frankfurt, Berlin, Heidelberg and Krefeld.
Were there any concepts behind the albums?
No, just the tracks. No concept album as others did.
Later you recorded two more album 'Don't Call Us We Call You' and your last with them called just 'Guru Guru'. What happened next for you?
My last album was 'Don´t call us we call you',which was on 'WEA' Atlantic and after that a single 'More hot juice' with '20th century rock' on the flip side.
After 'Guru Guru' you recorded your solo album called 'Highdelberg'. It was released on 'Happy Bird Records'. What's the story behind this album?
After Guru Guru I lived with Sharon in Berlin. I made demo tapes with my Revox and put them to a cassette. We travelled to Conny Plank, who had his new studio near Cologne. He listened to the cassette and was interested to produce the songs. In his spare time I invited Mani, Helmut Hattler, Peter Wollbrandt, Jan Fride, Dieter Moebius and Achim Roedelius to Cologne, to record the songs. On three of them I played all instrument alone, like I did on the demo. At first we had difficulties to find a label, but then we found 'Happy Bird', which was on Bellaphon.
In the 70's there were two projects you were part of, but they never released anything. Perhaps recordings still exsist? One was 'Marktplätzchen' and the other one was called 'Odenwald Express'.
Those groups mainly existed to be on the record "Musik aus dem Odenwald, der grüne Zweig 50". It was acoustic folk music played by people who lived around Heidelberg. From that I started my group "RIF", were I played electric guitar again and sang German lyrics.
What were you doing in the 80's? In early 90s you released 'Psychedelic Guitar' and 'Wave Cut'. Then you Mani and Dave Schmidt came together and 'Psychedelic Monsterjam' and 'The Intergalactic Travel Agency' was recorded and released. What can you tell me about this albums?
In the eighties I concentrated on "RIF", which was quite successful. We had a cassette out on Transmitter "Realität,nix bla bla" but now, after so many years, it´s available on CD. Psychedelic Monsterjam and The Intergalactic Travel Agency were live recordings from Cafe Cairo and AKW in Würzburg and Jazzhaus Heidelberg. The band was called Neumeier, Genrich, Schmidt at first but "Psychedelic Monsterjam" stuck as a bandname. It was brought together by Horst Porkert, who really wanted to have Neumeier, Trepte, Genrich as the original Guru Guru, but Uli Trepte had no interest. My favourite track is "Intergalactic" from the second CD. It was recorded with DAT recorders and mastered by Dave Schmidt. Sorry there is no chance to record together again.
Your latest record I believe is 'Axymoron'. What is the concept behind it?
The concept behind 'Axymoron' was a "Werkschau" which I understood in showing all the different styles which I played during my career. It started with Skiffle music and ended with "Amber Suite", which I still play today. Tom Redecker gave me the chance to release it on his Sireena label. But it´s not my latest. At the same time I released "Spontaneous Combustion" and then I played on Gurumaniax "Psy Valley Hill" together with Mani and Guy Segers. In 2011, I released 'Live At The Finkenbach Festival', 'A Trip To Paradise' and in 2012 'Fretboard Jungle' on CD and on vinyl. The latest release is on vinyl "Ufo´s over Ellmendingen" together with "The Pancakes" and "Zone Six".
What currently occupies your life?
I´m looking for ward getting gigs to promote my new CD 'Fretboard Jungle', I´m writing down my lifestory and hope to find someone to release it as a book. I hope I´ll stay healthy to play many live gigs.
Future plans? Any new projects?
Right now we are waiting for a resonance to our new CD 'Fretboard Jungle'. After that we will start another one and we sit on a lot of ideas but don't know which are the most important. The band likes most, to take songs out of an improvisation, like we did with 'Zaragoza', 'A Trip To Paradise or Death is for Dying' but I have written material, which I wanted to try out. Then there is my solo project, "Ax Genrich Solo", and a duo with our drummer Steff Bollack which is called "Der Gebo Effect".
Thank you so much for taking your time, Ax. Would you like to send a message to It's Psychedelic Baby readers?
Thanks a lot for your interest. Stay open minded, don't let others take decisions for you.
– Klemen Breznikar