The Damnation of Adam Blessing interview with Ray Benich
Cleveland acid rock combo the Damnation of Adam Blessing was formed in 1968 from the ashes of a pair of local garage bands, the Society and Dust; led by frontman Adam Blessing (Bill Constable), the group also included guitarists Jim Quinn and Bob Kalamasz, bassist Ray Benich, and drummer Bill Schwark.
---
Ray Benich: In 1970 the Damnation of Adam Blessing opened a show at the East Town Theater, in Detroit Michigan for Eric Clapton. This was the Derick and the Dominos tour. (My personal favorite phase of his entire career). I met him briefly back stage, and as we shook hands I could see in his eyes that his flight had already left.
I didn't know it until many years later, when I read in his autobiography, that the Layla tour was his high point in his heroin addiction. Regardless, as our head roadie, Mark Genesse, and I stood on the side of the stage watching them play "Layla" my entire "being" was swept away on a wave of musical emotion as they played the most incredible, extended version of that song.
The East Town theater was one of those grand old theaters probably built in the 30's. I noticed a stairway, stage left, that criss crossed over and over, leading to a platform about 60 feet above the stage. Since the roadie had a huge reefer he wanted to share with me, I decided to follow the stairway up to the top to see where it went, and hopefully we could "toke up". At the top of the stairway there were about 20 huge metal beams that lead out over the stage. It was from these beams that the lighting was suspended. Each beam had a space of about 18 inches between them, we walked out on the beams, and stooped down directly over Eric Clapton as he played a soaring solo in Layla. We lit up the joint and toked away. I realized how blessed I was to be able to view such a performance from this vantage point. Just then, as we passed the reefer, I dropped it. As it swirled down ward, I sincerely hoped it wouldn't land directly on that thick head of hair of his…
Can you elaborate the formation of The Damnation of Adam Blessing?
The lead guitar player, Bob Kalamasz, drummer Bill Shwark, and I, (Ray Benich) on bass, were in a band named "Dust" when we were in our late teens. Adam Blessing had already formed a band named The Damnation of Adam Blessing when he heard Dust in the summer of 1968. Dust played a lot harder, with much more "power" than the guys that were backing Adam at that time. (In fact, you will find the wimpy version of the Damnation of Adam Blessing posted on youtube, search, Damnation of Adam Blessing, "The Painter", and you'll hear a really "limp" sounding group. That's why Adam picked up the three of us, (drummer Shwark, bassist Benich, and guitarist Kalamasz) to join the Damnation of Adam Blessing.There was not a need to "end the first self titled album" until we finished the recording about December of 1968.
What was the scene in your city?
Beside us at that time, (playing the Cleveland music scene was), the James Gang, Eric Carmen and his Cyrus Erie and my favorite the Rick Ray Band.
Do you miss playing with the band?
Well, playing in a band that has records out is a good way to get a lot of pussy, so I miss that part of it the most.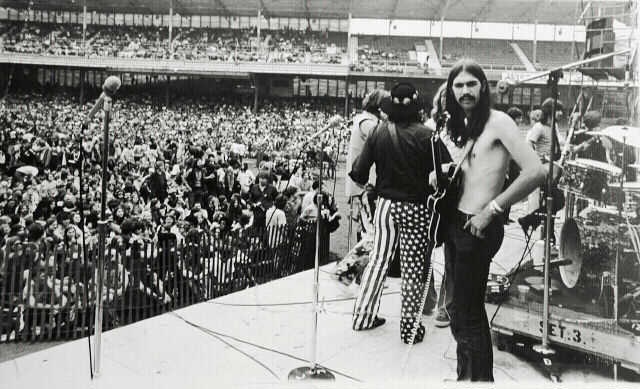 What currently occupies your life?
Currently I'm a political activist I use my music to try to bring about change in America peacefully. Please see:
America is in BIG trouble. The American media, unlike the late 60's when the Damnation of Adam Blessing often played at anti war protest rallies, today the American media is tightly controled by a handful of people who feed the people "propaganda". Therefore, in America in the 21st century the media will not allow people who disagree with it's policies to be heard. Back in the day people like John Lennon, Jery Rubin and Abey Hoffman could get their message out to the people, not today. Ray Benich, Cleveland Ohio
Klemen Breznikar
---
The Damnation of Adam Blessing Official Website