Traveling Circle Interview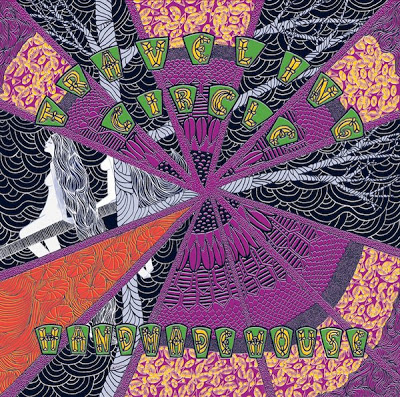 Thank you very much for agreeing to do this interview! When and where was Traveling Circle born?
Charlie: Thank You! The three of us got talking at a party in Brooklyn one night and the next morning we were jamming, despite the hangovers. That was about 4 years ago now.
Dylan: That tradition of morning jams lives on. I believe we're still the only Brooklyn psych rock band that wakes up at 10am on Sunday mornings to rehearse, hung over or not.
Josh: I wish we could play shows in the morning. I hereby trademark 10am shows.
Tell us about the beginning of the band?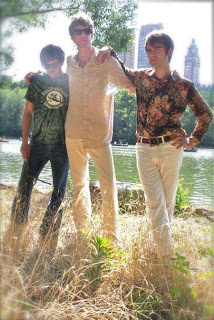 Dylan: We all brought different musical tastes to the table and eventually discovered a common recipe for how we wanted to alchemize our sound. It's an evolutionary process that takes on new shapes and forms every time we write, but we are definitely in tune with one another's taste buds. We've become pretty telepathic at this point in our life cycle. We can tell what's on the Traveling Circle menu…even when blindfolded.
Josh: We were lucky enough to get some pretty good shows right away. If I remember correctly our first few shows were at the Glasslands Gallery here in Williamsburg with Heavy Hands, Weird Owl, Strange Haze (then known as Whooping Crane), Apothecary Hymns, Jeremiah Rifles, and D. Charles Speers and the Helix.
Why the name Traveling Circle?
Dylan: For me the name really has meaning because it spans from geographic to cosmic. Firstly, it speaks to the relationship we have with each other as humans. I believe our destiny will be to travel together and, quite literally, become a Traveling Circle of fellow friends and musicians. Secondly, this very earth we live on is a circle traveling through space. Our solar system, our galaxy, even our universe is yet another circle expanding into the great unknown beyond. The dimensional possibilities of Traveling Circle are really quite infinite, yet all happening right now as we speak. We all know there are distant friends in the outer dimensions of both the universe and our consciousness that are awaiting our awakening. They have revealed themselves in fleeting moments in our skies, assuming the shape of a Traveling Circle. I know you believe, brother.
 Josh: "You mean like a wheel?" I stole that from a friend of a friend (thanks Jesse!). I like the name. I think it makes us sound like a bunch of hippies. It's pretty hesh. I'm into it.
Charlie: Frosty Whale was on the table for a while before we decided on Traveling Circle. I think Traveling Circle suits us much better, but Frosty Whale is not without its charm. I guess we'll save that for a Glam side project.
What are some of your influences?
Dylan: I was born into a family of great musicians and they have all been a big inspiration. My mother was in an early 80s punk band called The Refuzors and their stage antics would include throwing a dead alley cat into the crowd while performing. My uncle was in a band called the Telepaths also from the early 80s and later went on to form a legendary band from Seattle called The Nights and Days. Their music was probably one of my biggest influences. I had never heard anything like it before. They were also a big influence for other people in Seattle. Their song "Split" on the first Sub Pop 200 is rumored to be what inspired Steve Turner's lick on "Touch Me I'm Sick". Mudhoney is another influential band for me…and great guys. Otherwise, I'm into weird stuff from across the globe, from weird German prog-psych like Brain Ticket to obscure Middle Eastern music like The Churchills. Most recently I've had Bo Hansson's Music Inspired by Lord of The Rings on high rotation. And I just picked up a rare psych-rock album from this Dutch band called Mr. Albert Show.
Josh: Traveling Circle treats cats much better though. We love cats. As far as influences, I would list Can, Blue Cheer and Tyrannosaurus Rex. I don't know. We have never strictly tried to sound like anybody though. I'm sure everything we listen to has some influence on us. Gandalf always makes the list I think. Some good records I've picked up lately include The Flower Travellin' Band, Uriah Heep, Mountain and Lindisfarne. I am waiting for a Comus reissue to get here. Overall I have a pretty strong interest in music from the years from '67 through '72 but I also steel a lot of drum licks from other bands around town too.
Dylan: I respect dead cats. I've always loved Stephen King's Pet Sematary. His description of Gage freaked me out when I was little.
Charlie: I picked up Demons and Wizards by Uriah Heep not too long ago. I don't know too much of their other stuff but I like that record a lot. Flower Travellin' Band is great too. Satori Part II is actually on the soundtrack to "Stay Gold," the latest Emerica skateboard video. That whole soundtrack is really good, pretty surprising choices. Psych rock and skateboarding are a great combination! The 70's Turkish psych group Bunalim is a favorite of mine. I love the mix of fuzz and traditional elements.
Were you in other bands before forming Traveling Circle?
Dylan: I was in various garage bands in Seattle, a few of which teetered on progressive-like sounds. Probably my first serious band was Flathead. We actually performed a few times with Mudhoney. Then I went on to form Laissez Faire, which included the drummer from the Nights and Days…this was a bit of 15-minutes-of-fame experience for me as far as the underground scene was concerned. Beauty Mark and the Button Push was yet another amalgamation of dear childhood friends pumping heavy riffs alongside the torn poetry. I was also in a heavy-improv-basement-jam band called The Daymares, which churned out music born from acid awakenings and weed-induced ruminations.
Josh: I was in a band called Anorak here in Brooklyn. I'm from Seattle too. I saw Laissez Faire play a house party there before I knew Dylan. I was friends with the drummer, Matt. They were great. I was in a few bands back there. The more active included a band called The Permanent Press and one called Cold Way Walking. There is only limited evidence left of any of them though. As far as my music career goes I am more or less a total failure. Anorak has a song on a comp on Attacknine records, which is still available. I was also playing in a band called Sorceress more recently. They are really cool, though I am not playing with them anymore. I am playing on their track on a recent Puta Records cassette comp. I did a fill-in show with a band called Madam Robot and the Lust Brigade not too long ago. That was a lot of fun. They have a lot of energy and are all really great musicians.
Charlie: I played in a handful of bands while growing up in New Jersey that didn't amount to much. When I moved to New York I started writing more music and recording at home. Most of that stuff just ended up in friends' student films. It's fun to learn new instruments and overdub parts, but It's much more fulfilling to play live music with other people.
In August 17, 2010 you released your first album called Handmade House. I love your psychedelic sound with some prog elements. How are you satisfied with the album? What can you tell me about producing this album?
Charlie: Thanks. The tracks on Handmade House came from two separate recording sessions that were done about a year apart. We recorded at Seaside Lounge in Brooklyn, where our friend Mitch mans the mixing board. Side A on the record is pretty much all songs from the first session and side B songs are from the second. I think it all flows together really well. We were lucky to have Yoed Nir (cello) and Matt Abeysekera (Keys) on board for some songs and I think their parts really added a lot.
Dylan: Handmade House is the first chapter of Traveling Circle. All the songs were chosen by Carola, who is the owner of Nasoni Records in Berlin. We were impressed with her visionary decisions and happy with how she curated the album in the end. It was quite a pleasure working with her to invent a record that's never existed before. I hope people will appreciate it.
Josh: The record sounds pretty great. I am usually too neurotic to be satisfied with my own performance but I enjoy listening to our record. I think it sounds like it was made in a cottage in the woods by some trolls that only ever heard Hawkwind and Forest. It is pretty heavy but also has a really homey folk element mixed in. Seaside is not a cottage but actually a sweet vintage style studio though. Mitch at Seaside was really great to work with.
I really dig the cover artwork for the LP.
Dylan: Josh's girlfriend Erin did the cover art. She's a fantastic illustrator. Her work is very distinct, which I think sits well with our sound.
Josh: Erin Klauk! Check out her art! http://erinaceous.blogspot.com/ I'm glad you like the cover. I think it says a lot about our sound and if I saw it in a record store I'd pick it up. I think trolls listening to Hawkwind and Forest would really love the cover art. The photograph on the back was taken by Dylan's wife, Alex. It's from a show we played at the Glasslands Gallery. I think it was maybe the first Brooklyn Psych Fest? If you get the LP, it comes with a poster insert of another photograph from Alex. A really nice picture from Central Park.
Charlie: Thanks for all your help Erin and Alex!
Would you mind telling us about the songs. If you can share a few words about the songs on the LP?
Dylan: Everyone will have their own interpretation when listening to these songs. As the person who writes all the lyrics and guitar parts, I find it very hard to step outside of that experience and hear the songs as you would. It's quite maddening actually. Often after recording an album I find myself listening to the songs over and over hoping that eventually I will tap into that objective point of view and hear the songs as someone else would…I'd really love to know what it's like for other people. What would the mainstream audience think of these songs? I'd love to think the masses will eventually evolve and open their hearts to music like ours and shift the gluey attention away from the artist who wears a deep-sea oil rig costume to validate grocery store muzak. I mean I have nothing against Lady Gaga…I'm sure she's a nice person. But the songs on Handmade House are anything but skin deep. Au contraire, these songs delve into the human psyche.
Josh: I've heard Lady Gaga's very nice. It's hard to think of what to share about the songs. If you listen to this record you are going to hear some echo, some reverb, some feedback. All the things you like. I really enjoy the song "Formations" as time goes on. More than anything I think we try to make music we like so hopefully some other people will like it too.
Charlie: I met one of Lady Gaga's back up dancers once. He was pretty nice.
How is touring going for you?
Charlie: Most of our shows have been in the NYC area. We had the good fortune of opening for Mudhoney a while back at Maxwell's, in New Jersey. That was a fun time. I also really enjoyed playing the Brooklyn Psych Fest.
Dylan: We've really just been focusing on completing our forthcoming second album, but we hope that will be the catalyst for our first and long-awaited tour. Playing in NYC is OK, but the scene suffers from surfeit. Everyone wants to play here so the quality of music gets spread too thin and that can take the fun out of it. Sometimes I just want to go play in a small village where no one knows my name…except the trolls of course. Maybe it's like that where you live?
Josh: We've also gone up to Boston but we really haven't done a proper tour. We played there with Lyres and The Black Hollies. That was a fun show and Jeff Conolly from Lyres was really nice to us. He helped me find parking for the van. The show was at The Middle East. We are working on getting something more ambitious together. You would think a band named Traveling Circle would tour more. We would all really like too, so hopefully when the second record is done we will be able to get out of New York more.
Dylan: Jeff is a legend. He was in DMZ. Their first album rips so hard.
How about some future plans for the band? Maybe see you in Europe at Metelkova (Ljubljana)
Dylan: Metelkova? I don't know what that is…but I like it.
Charlie: We have a new album in the works right now called Escape From Black Cloud. It's a natural progression from the first record. I think the three of us have come in to our own a lot more on the new songs and I can't wait for people to hear them!
Dylan: My wife and I have a map of Ljubljana on our fridge. We would love to come play there. Maybe if Escape From Black Cloud gets some recognition and the right push you will be seeing us there soon.
Josh: The new record is going to flip some lids! It's more driving and darker. Listen for some Theremin from a guy named Matt Dallow. It would be marvelous to play the new songs in Slovenia! We have received a good response overseas and it would be pretty natural for us to tour in Europe.
What is your opinion about the psychedelic scene these days?
Charlie: In terms of New York, there's a lot of great bands that we've had opportunity to share bills with: Naam, Weird Owl, Heavy Hands, Strange Haze, and La Otracina, just to name a few.
Dylan: There are some pretty good psych bands in NYC but I've always felt like we belong to a more foreign music scene. In Europe there seems to be a real force to proactively seek out psychedelic and progressive music and support kindred weirdness. We're getting greater reception from that side of the globe.
Josh: There are some pretty cool bands around for sure. I just caught a really good Brooklyn Raga Association show. We have had a fair amount of radio play on a program called Sunrise Ocean Bender. You can listen to the archives here: http://mratavist.wordpress.com/the-sunrise-ocean-bender/ It's a really good place to check out new music with psychedelic and progressive leanings. You'll hear newer stuff like Acid Mothers Temple and Sula Bassana. You'll also hear a lot of far-out classic stuff like Amon Düül or Tomorrow. I picked up an LP from the French progressive band Pulsar called "Pollen" from 1975 after hearing it first on Sunrise Ocean Bender. That record is awesome! You can hear a lot of brand new bands there too, even bands without records yet.
It's really hard to say much about the scene overall. Some stuff is really good out there. It's wonderful that Nasoni Records is around. We have been really lucky to work with them. It's great that there are sites like yours digging into the current psych scene and getting the word out. I enjoyed reading your interview with Beggar's Opera. I also read the Tír na nÓg interview that was up. That aspect of the scene is very encouraging.
Thank you very much for your time and effort.
Dylan: Thank you and happy traveling.
Josh: Thanks so much for interviewing us! Thanks for giving our record a listen!
Charlie: Thanks! Hopefully we'll see you in Ljubljana soon!