Bad Panda Records interview
Thank you very much for agreeing to this interview.
Thank you, Klemen. This is Claudio, born in Rome in the mid-80s but I grew up with my head somewhere else. Tireless traveller and heavy dreamer, graduated as a management engineer, I'm now managing Bad Panda and working as music manager at
Stereomood.com
.
How would you describe the beginning of your Bad Panda record company career? 
It started with the idea of the free weekly release, just like a joke. Then it grew up fast in just one year. I have no idea which direction it will take now. I love it.
What was your first release.
Our first release was by an english duo by the name of Andy & Muzz that I discovered via the swedish balearic Air France. I loved that song for a long time before it was released by Bad Panda so I was really glad about it. All the weekly releases are only digital meanwhile our first LP from Dumbo Gets Mad is available for free download (with pay-with-a-tweet option) and vinyl.
How many pressings do you usually make? Does it depend on individual artist?
We pressed 250 vinyls for Dumbo Gets Mad LP.
What are some of your favorite releases?
One digital release every week since November 2010 and I honestly love all of them (around 70, now). One is a dream that recently came true, 1-speed bike from Godspeed You! Black Emperor, one of my favourite band ever. Meanwhile, I guess LPs won't be a common thing, we just need the perfect feeling and situation, as it just happened with Dumbo Gets Mad.
What are your future plans?
The future is bleak, uncertain, beautiful.
I'm really excited with you Dumbo Gets Mad release. 
I am thrilled too. We want the whole world to listen to this album and that's why it is free with the pay-with-a-tweet and Creative Commons licenses. I'm proud to support him and my dream is to see him touring the world and playing in big festivals. I think things are changing in the music industry and Elephants At The Door will check how fastly these things can change.
Do you have anything else to say about yourself, that I didn't ask?
I don't think so. Just keep on keeping on, try to be free.
Ciao,
Claudio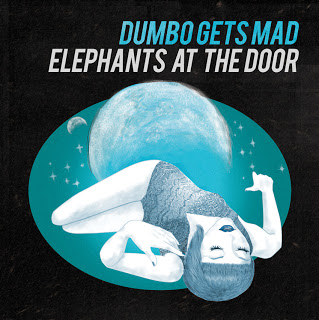 You can download Dumbo
here!
– Klemen Breznikar