July interview with Peter Cook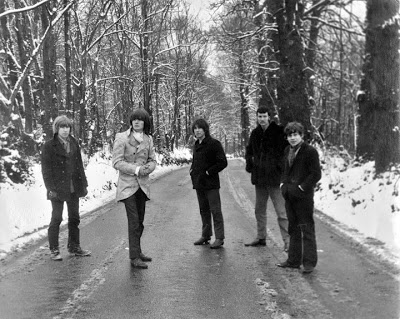 I would like to thank you for agreeing to do this interview. I'm really excited to get some details and information about one of the best psychedelic bands from UK. How do you feel about the fact, that people all over the world still listen and enjoy your music?
It came as a big surprise to us all, we thought that July had long since passed but it's very rewarding to think that what was so important to us way back then has not gone unnoticed.
What influenced you?
I was not particularly interested in music until the Shadows hit the scene in 1960 and then I pissed my pants with excitement. I used to play Apache through loud speakers in my front garden in an attempt to impress the girls as they passed by on their way home from school. Then in '63 the Beatles changed everything.
Your first band was called The Tomcats. If I'm not wrong there were originally two bands, The Second Thoughts (which included Jon Field and Tony Duhig) and The Tomcats who were Alan James, Tom Newman, Chris Jackson and you.
I started a band playing Shadows and other Instrumentals in '61 with Chris Jackson & Bob Douch who were school mates. We needed a bass player and we were impressed by Alan James doing his 'Jet Harris' stuff at a gig in the local community centre and asked him to join us. We wanted to add a singer to our line-up but none of us could sing, so Alan said he knew of a good singer called Tom who lived in the area, we asked him to join and he brought with him his repertoire of Everly Brothers and Eddie Cochran numbers and so the 'Dreamers' was born. Soon after this Bob left the band. When Freddie & The Dreamers hit the scene in 1963 we changed our name to 'The Tomcats' and established ourselves as a Rhythm & Blues band, we ended up being managed by Alexis Korner and became the resident band at Beat City in Oxford Street. Privately, Jon & Tony who were in the Second Thoughts, really wanted to be in the Tomcats, so, when we split in '65 their opportunity came.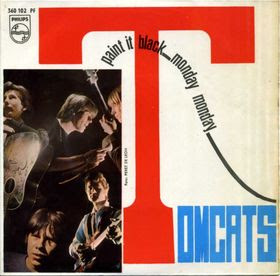 Around 1965 the bands split and some of the guys went to Spain under the name of 'Los Tomcats'. Tom Newman was on vocals, Tony Duhig on lead guitar, Chris Jackson on drums, Alan James on bass and Jon Field on congas and keyboards. They were playing R&B standards and some of their own compositions. They released 4 EP's and made it into the Top Ten. Where did they release EP's? In Spain?
This is a link to a website that seems to have the whole back catalogue.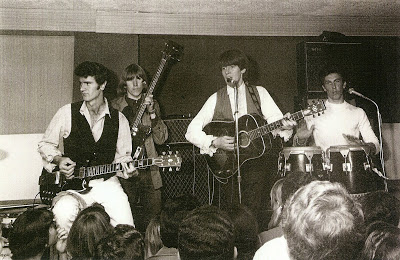 Then they returned to the UK in 1966. You and Tom Newman got together and started experimenting a bit. What can you tell me about the new start of a band?
My mind's a bit hazy regarding this time and the chronology may be a bit off but it goes something like this: We started writing original material that people were likening to Pink Floyd, We hadn't heard of them at the time but as that what seemed to be wanted we wrote more. We started a band that included Jim Avery on Bass (latterly with Thunderclap Newman) and very nearly got a recording contract but it went wrong at the last minute. As a consolation me & Tom got a song writing contract with Chapple Music Publishers. We were blown away by Sgt Pepper and wanted to start playing again and so we started meeting up at Jon Fields place and one thing led to another.
Shortly after that, July was born.
I have always liked sounds and the echo of 'August Fields' came into my mind, the Fields bit got dropped first and then August became 'July'.
How do you remember the first rehearsal as July?
I wasn't involved as the old 'Los Tomcats' had became 'July', so it would have been business as usual but with better material.
You played in many well known clubs around London. The Middle Earth, The Roundhouse, Marquee and also The Albert Hall.
Years after 'July' had disbanded Tom recorded Dave Gilmour on a number of occasions and they became mates, so he loves telling the story about the Roundhouse gig when 'July' were asked to play a second unscheduled set because the crowd hated the other band's (Pink Floyd) first set so much that they didn't want them go on stage for a second time (sorry Dave).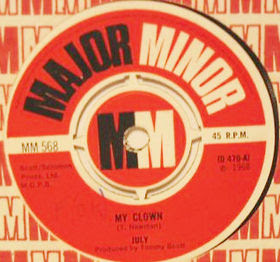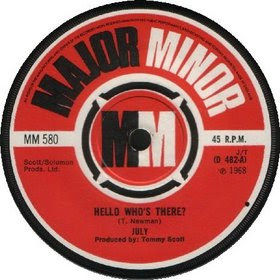 In 1968 the record was released by Major Minor. What are your strongest memories from the recording sessions and the production of the LP? Original recordings were mono, right? It was released in mono in UK, but in USA it was released in simulated stereo.
No-one was happy with the recording, the whole album had to be recorded over one week-end and Tom was just recovering from a bad cold. In them days the bands played and the producer produced, unfortunately Tommy Scott didn't really understand our music although the band were invited into the control room by Mike Ross the engineer after the tracks had been laid as he wanted to pick their brains and copy some of the sounds that we had developed.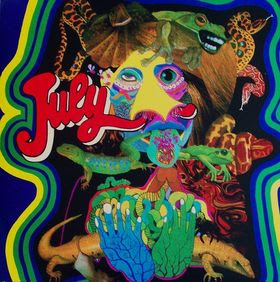 What can you tell us about the cover artwork?
We know nothing except it was designed by Stephen Hill. The band had asked for spiders and snakes climbing over human bodies and this was his interpretation; none of us liked it at the time, but it's grown on us.
How pleased was the band with the sound of the album?
With hindsight it's brilliant, but we prefer the Rev-Ola 2008 re-mix.
How many copies were made?
We have no idea.
What's the songwriting process like?
Sounds go round my head and words follow, my songs tend to reflect the arrogance, vulnerability, disappointment, aspirations and fantasy of my youth and they still do: I haven't really grown up. Tom is altogether more mature and writes beautiful nostalgic songs as well as trucking tracks.
July disbanded in 1969.
The band had become disheartened after a series of let downs, their equipment was repossessed, their manager was indicted for fraud, Major Minor went bankrupt and Tom's wife gave birth – enough said.
What happened next? Jon and Tony formed Jade Warrior and Tom became a renowned recording engineer, discovering Mike Oldfield.
Initially Tom & I started making guitars under the name of Ned Callan, when Tom lost interest in the project I carried on and established them in the UK market as good budget priced guitars & basses. John Entwistle liked the Ned Callan bass enough to endorse it and I ended up making a number of custom basses for him including the Fenderbirds, the Explorerbirds, the Axe, the Lightning and the Flame. The Flame was sold at auction for £30,000 in June 2010. I went on to make the Axis range of guitars & basses and set up a guitar shop in London W7.
The Second of July was released in 1995. It's an album that contains demo songs from around 1967.
Tom & I had recorded a lot of material before & after July on a couple of reel-to-reel recorders.
We had lost contact with each other and when he came across them he thought it would be a good idea to release some of them, which he did; I knew nothing about it at the time.
Reunion 2009.
Chris, Alan and I met for the first time in many years at a party I held in London, we thought it would be a nice idea to find out where Tom was and organise a re-union, so when we found him we met up at Alan's place in Suffolk.
How is to play again?
Just like it did in the '60s, I'm a young lad with burning desires.
What are some future plans?
We are playing our first live gig at the Lexington, London on 7th May, possibly followed by two gigs at the 100 Club. We would like to tour the UK, Europe, USA and more and are open to invitations.
Thank you. Last word is yours.
Thank you to everyone who has helped us rediscover the dreams we thought had eluded us. Don't wake me now.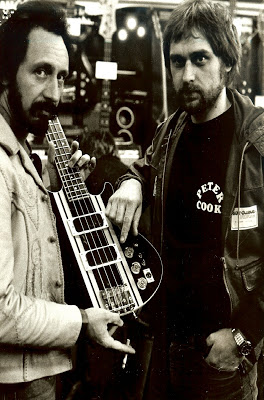 – Klemen Breznikar