Jahrtal interview with Ewald Spiss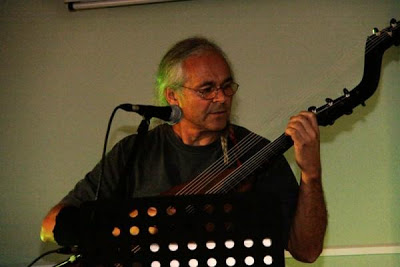 How did it all start?
Music was important for me as far back as I can remember. My father played the big cymbals in a traditional brass band. As a child I often accompanied him to performances, mostly connected with religious Catholic events and special days. As a schoolboy, I began learning to play the flute and then guitar – first in a music class and later, as a teenager, I taught myself. Together with both of my sisters and a close friend we had a folk group for a couple of years in the 1970s. Later in the 1980s I was primarily engaged in sound works and acoustic collages and in combination with this in art installations and radio works.
What are some of your influences?
I came in contact with psychedelic folk music in the early 1970s. My favourite bands were (and still are) The Incredible String Band, Dr. Strangely Strange, Amazing Blondel, Fairport Convention, Mr. Fox, The Strawbs etc. Folk music was a true companion to me over the years – even in times, when I was working on other kinds of music and sounds.
In 2007 you released album called Lichtbuch and also EP called Zwei Lieder. I really dig the album. It has an amazing atmosphere on it.
In 2007 I discovered a tape with Blake-songs, which I had set to music in the late 1970s using a two-track-tape-recorder. The quality of these recordings is beyond any question. So I decided to record these songs again using modern digital technology. I also came in contact with Steinklang Records in the same year. Then I recorded the first Jahrtal CD single "Zwei Lieder" as a sample recording of the William Blake songs. I sent one copy of this single to Steinklang Records. Max Percht, the owner of Steinklang Records, asked me to do some more songs for a new sampler he was working on at the time. As I did more songs, one song led to another and so on until "Lichtbuch" was recorded. "Lichtbuch" (this German word means "book of light") is a mixture of folk songs from Tyrol, Austria, England, Tibet and poems of Eichendorff. The songs and music were recorded at home in my small atelier/workstation, track after track, then put together and mixed on my computer.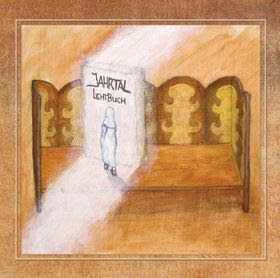 Reprisen Und Instrumentalstuecke is another album you released. What can you tell me about your second album?
Initially "Reprisen und Instrumentalstuecke" was recorded and compiled for Bart De Paepes nice psychedelic cassette label Sloow Tapes. Bart de Paepe also created the beautiful cover art. This cassette album contains instrumental pieces. The reprises are taken from Lichtbuch and the Blake-Album: If you know these albums you will recognize, that most of the songs on these albums end with extended instrumental parts bringing back again the themes of the songs – that's why they are called reprises.
William Blake: Lieder von Unschuld und Widerfahren is your latest release. 
The origin of the Jahrtal Blake songs goes back to the 1970s, as mentioned before. For Jahrtal's new recordings of the Blake songs I almost used the same melodies and tried to bring back the "musical" spirit of that time. In addition to that I tried to find an arrangement fitting to each song emphasizing its special message.  As explained before, I wanted to record these poems and set them to music back in the 1970s. I also like and mainly agree with the messages of these poems; messages of a free, critical but loving mind. I first came in contact with the poetry of William Blake through Allen Ginsberg's LP "Songs of Innocence and Experience" that I heard on the radio when I was a teenager. I was very fascinated by this music and tried to find this LP for many years in vain. Not having been able to find this record I finally decided to create my own versions of some of the songs. This was the beginning of "Lieder von Unschuld und Widerfahren". The translation of the poems into German was featured in the Jahrtal William Blake CD I did in 2008, just before the actual recording of the songs. This was a very beautiful and interesting work, bringing me very close to the poems.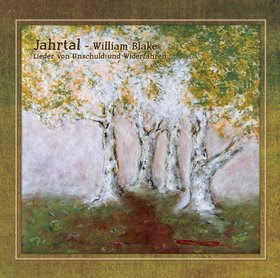 How about the cover artwork?
The artwork for the cassette release of "Reprisen und Instrumentalstuecke" was done by Bart de Paepe from Sloow Tapes. The other artworks have been done by myself. I am drawing and painting, when not working on musical projects – that means, if there is still enough time besides job and family….
If you visit my website http://ewald-spiss.de/ you can have a look.
Do you often play live?
There was a single live performance in St.Koloman near Salzburg at the Steinklang folk evening in September 2009. I was performing some of the Blake songs playing my old lute and an instrumental version of "Fein sein" on my dilruba. Christine was with me but decided not to perform with me. I was very nervous even though there were only a few people in the audience. It was a cold and rainy evening, my fingers were stiff and I was starting too fast. I was not satisfied with my performance at all, although some friendly people in the audience told me that they liked it.
Anyway this folk evening continued much better with a very brilliant performance of In Gowan Ring together with Lisa O Piu followed by the Austrian band Klammheim. I do not know, if there will be a chance to play live in the near future, because I am quite bound to my family and responsibilities. In addition to that I do not consider myself to be a great performer. I am more like a drawer and painter working in the studio or in the field solely without an audience. Anyway, if the right circumstances should arise, it could be possible for Jahrtal and for me to play live again.
What are some future plans?
Jahrtal recently is working on some musical themes: Mostly folksongs and again poems set to music, just like Lichtbuch. But it is not sure yet, if it will be realized. If the conditions will be right, the recordings will start.
Another long time idea is to pay homage to my teachers – this could become a crossover project between Jahrtal and the sound works I did in the 1980s.
There are some ideas – there is no hurry – we will see, what time will allow and bring about.
What is your opinion about current psych folk scene?
I love the contemporary psych folk scene and I'm watching it with interest. It has brought forth excellent bands and musicians.
Thank you. Last word is yours.
Just let me mention, that besides our love for music it is quite important and essential for Jahrtal to present songs and music, that carry wholesome and positive messages, messages of love and freedom. We think, this is important, because there are also lots of cruel, violent and discriminatory messages around us. Thank you and all the best!