Grapefruit | Interview | "I heard Paul McCartney play 'Hey Jude' to John Lennon"
Grapefruit was a British psychedelic rock band that John Lennon named after an art book by Yoko Ono.
---
The band was founded in 1967 in London. The Beatles were closely involved in their early career, signing them to Apple Publishing for songwriting, though their Apple demos and masters were not released until 2016. John Perry was one of the supporting vocalists on 'Hey Jude,' and John Lennon and Paul McCartney produced their first single, 'Lullaby'. Despite some complications with contact, the band signed to RCA and Equinox Productions. Grapefruit re-recorded 'Lullaby' and had quite some airplay with their singles and albums before disbanding. The band consisted of John Perry on lead guitar, George Alexander on bass and vocals, Geoff Swettenham on drums and Pete Swettenham on guitar. After the band disbanded John Perry went on to work with Cliff Richard. George Alexander is related to members of The Easybeats and AC/DC. Geoff Swettenham later drummed for Matthew Fisher and Ruby (Procol Harum spin-off). Pete Swettenham kept writing songs, including collaborations with Chris Andrews (Fleur de Lys, Roger Daltrey, David Essex), and went on to work with Deaf School, Ralph McTell, and Mott the Hoople.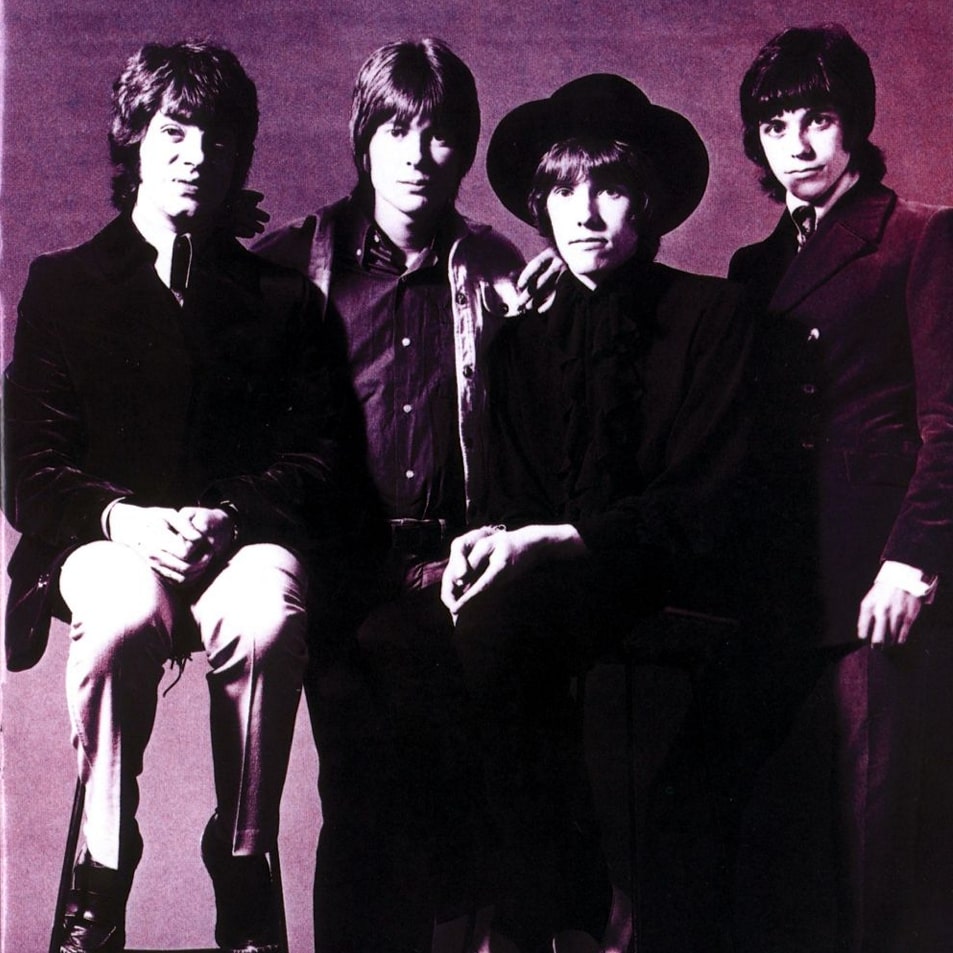 "I heard Paul McCartney play 'Hey Jude' to John Lennon on the studio piano for the first time"
Where and when did you grow up? Was music a big part of your family life? Did the local music scene influence you or inspire you to play music?
John Perry: I grew up around Elm Park in Essex, and did all the usual stuff. My mum arranged piano lessons which I attended for four years, between the age of eight and twelve. It was until Dave Brubeck released 'Take Five' which I was instantly drawn to. I asked my tutor if we could learn jazz, and she said, "We only learn classical here" so goodbye tutor! My dad loved music and on his days off would play various tunes over our record player and radio. He loved the big bands and so Duke Ellington and Glenn Miller plus a sprinkling of Sinatra was my musical diet. Then I heard The Beatles and had to learn guitar, so by the time I was twelve years old I had a Futurama guitar (bought for a tenner) and started. I used to visit the local music store where on a Saturday morning local musicians would sit and play, with me poking my face into their space saying "How'd you play that" and that along with analyzing records was how I learned.
When did you begin playing music? What was your first instrument? Who were your major influences?
Although not terribly academic (I hated school) I somehow managed to get into Hornchurch Grammar school, where I met my future bandmates. So, Ken Gold (singer), Geoff Swettenham (drums), Peter Swettenham (guitar and singer) and Bob Mannering (bass). We formed The Sugarbeats, performed a lot of The Beatles songs but also a smattering of songs like 'Fortune Teller' (covered by The Rolling Stones, The Hollies and The Who), 'You Really Got Me' by The Kinks and songs by The Searchers and The Yardbirds. We played locally and entered and sometimes won local talent contests.
What about Tony Rivers and the Castaways?
The Sugarbeats were at that point amateurs, and my eyes were set on greater things so I moved on to the next step which was Dave and the Strollers. This was a semi pro band which had some serious musicians with some serious gear. Ex members included, Steve Scott who played with Brian Poole and The Tremeloes, he sported a dual Showman Fender amp plus Klemt Echoletteecho box and Fender guitar and got an amazing sound, also in the band was Colin Hare who later became famous with The Honeybus…
How did Tony Rivers and the Castaways originally form?
I have no idea, but it had been going on for many years before I joined them. They were THE big local profesional band and Geoff Swettenham and Peter Swettenham had already joined them, suggesting me to replace the old lead guitarist.
Tell us how you first met Terry Doran and what led him to suggest joining forces with others to form Grapefruit?
When we weren't working, I used to go up to London with another Castaways member and we went clubbing in the Speakeasy and Cromwellian. It was at the Speakeasy, where I got chatting to a rather eccentric Liverpudlian called Terry Doran. He said he was from Apple publishing which I'd never heard of (it'd just started and sounded like a greengrocer's shop) and that he was looking for songs. We had an hilarious night together as I was also insane, and at the end he gave me a card and said to call.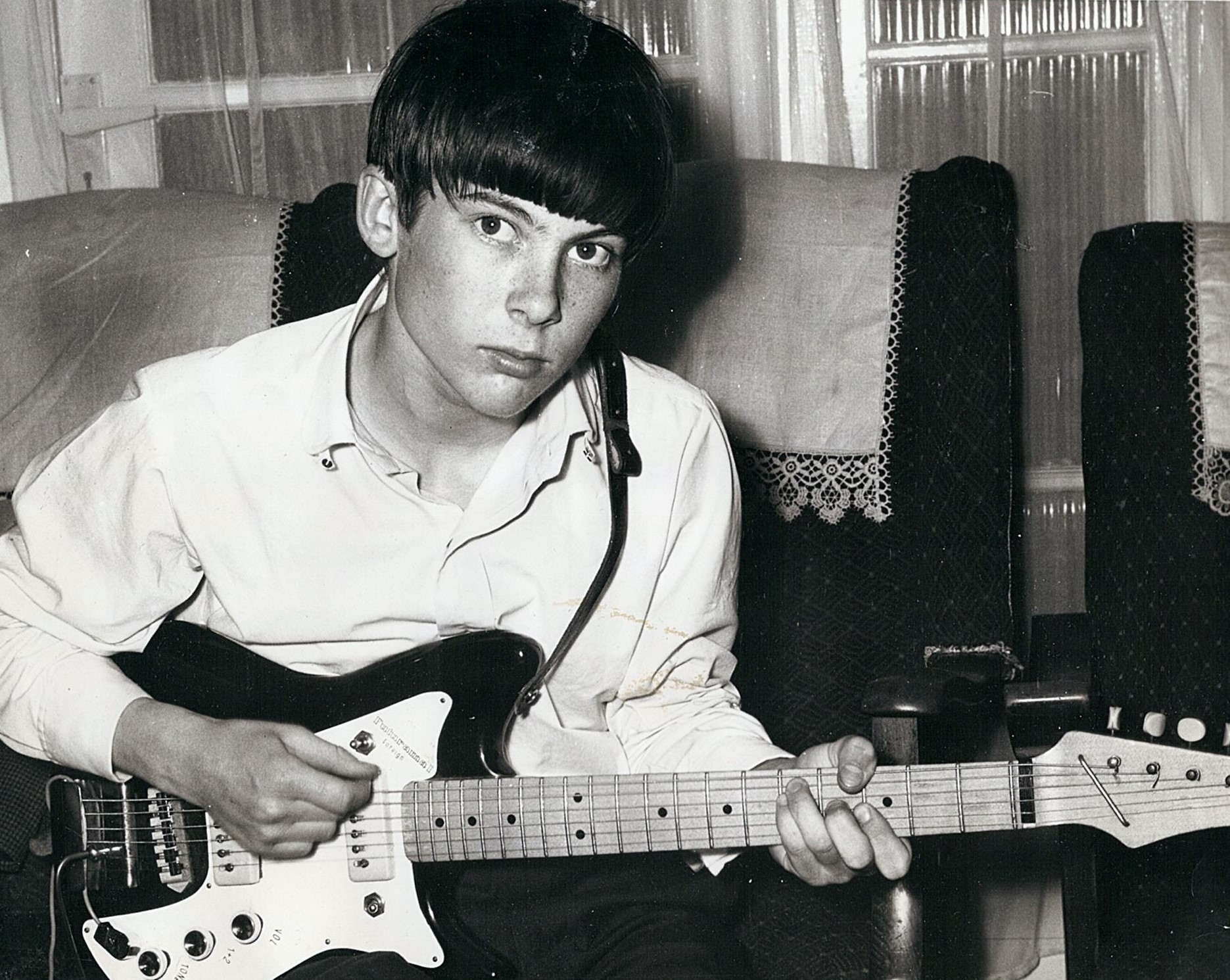 John Lennon named your band. Did you often meet members of The Beatles at the time?
We were certainly in the loop, and worked with us by producing 'Lullaby,' which is probably where I heard Paul McCartney play 'Hey Jude' to John Lennon on the studio piano for the first time … There were other meetings in pubs, I went for a drink with John Lennon across the road from the Apple shop. And Paul McCartney made a video with us in Kensington..
So what happened after you formed?
A round of photo shoots, recording sessions of George Alexander and my songs, and touring …
Together with Focal Point you were the first band to sign to Apple Publishing?

No idea … I wasn't aware of them.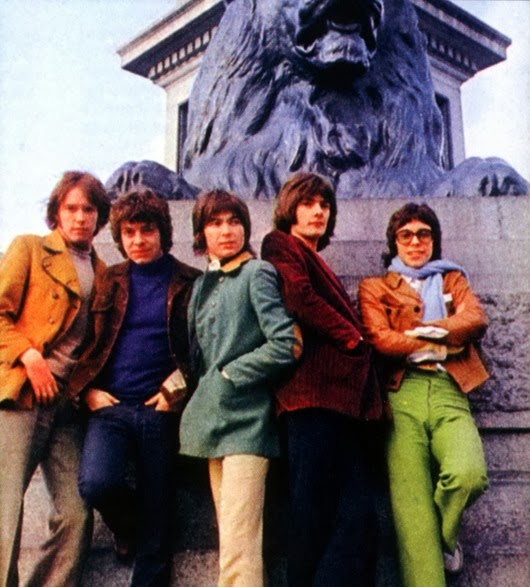 Did John Lennon actually invite you to join on recording 'Hey Jude'?
Not true … One evening, I can't remember when, I was out carousing (as you do) and was in Wardour St. visiting the Ship pub, and later Jack Barry's bar, which everybody did in those days. It was a pretty uninspiring evening, when suddenly I remembered that somebody had mentioned that "the Boys" were going to be recording at Trident Studios in St Anne's Court. This seemed infinitely more interesting than what I was doing, so I went along and knocked on the door, as you do … It was opened by the big Mal Evans (the Beatles roady) who knew me and said, "the Boys are in here tonight d'you wanna come in" so I graciously accepted and went (ran) in. I was around for much of the original recording seeing George Harrison and John Lennon adding guitars in the control room and McCartney adding his bass line, which was phenomenal. Later on the Boys got to adding the harmony Drifter type "oh's" and came to the part of the song that goes, "Better better better better better better, oh."
I was (by this time) sitting on the floor downstairs at Trident, just watching this film-like event unfold before me with the four Beatles around the mic singing various parts when the track got to the middle of the verse prior to the "Better better" bit. Unexpectedly Paul McCartney suddenly looks over in my direction and ushers me over to join them, I look around to see who he's talking to, and seeing only the wall behind me conclude quite brightly that he must be talking to me. I get up and walk towards the mic (which John, Paul, George and Ringo are standing around) and Paul McCartney once again gestures at some headphones lying on the floor. I reach down and put them on, they are SO LOUD that I shout out "fucking hell" (to my eternal shame or glory depending on your standpoint!). I then (nervously) sang along with The Beatles, the first layer of "Na Na Na's" going right to the end of the song. I guess the proof that I was there, unless Paul McCartney or Ringo Starr can confirm, is that my expletive (undeleted), can still be heard on the record at about 2.59 min where the line "Remember to let her under your skin, Then you'll begin to make it, Better better better better better better, oh." Under the word "Begin." It's clearly not a Liverpudlian accent, and as I was the only cockney in there…
Tell us about recording 'Dear Delilah' and soon after a follow-up single, 'Lullaby'. Lennon and McCartney took the band into the studio in January 1968 to record the song, but there was some complication as the band submitted the songs 'Elevator' and 'Yes'? Would love it if you could explain the circumstances.
I'll try and do my best. 'Dear Delilah' was recorded at IBC studios (Portland place) and we were very under rehearsed. It was our very first recording session together and we had Terry Melcher (Doris Day's son) producing and a lot of Beatle people including John Lennon and Paul McCartney in the studio. Probably one of the most intimidating moments of my life. But we pulled it off and it was released, becoming our most successful chart song…
'Lullaby' was recorded in a small studio somewhere in Kensington, and to be honest I can't remember all the details but we as a band decided we wanted more up-tempo songs for our single … The Beatles were away, and we prevailed upon Terry (Doran) to release 'Elevator' and 'Yes'. Our arrogance became apparent from assuming that a double A side was a good idea for a band who hadn't yet had a hit, apart from going against the wishes of our mentors … Dah!!!
There were some line-up changes as well. Why did you decide to pick a bass?
We just went the way of bands at the time and moved away from our brief, which was to replace the four moptops (who had gone heavy). The Monkees stayed with their brief and won out. We wanted to be seen as "serious musicians" so in order to do that we found two new talented musicians. Bob Wale, a very strong singer and very competent lead guitarist plus Mick Fowler, a genius piano player. So George Alexander wrote some new material and I went on bass because somebody had to and I was the only one who could.
What's the story behind going to the studio to record 'Around Grapefruit' (1968) and 'Deep Water' (1969)? What are some of the strongest memories from recording those two albums?
From memory I believe 'Around Grapefruit' was recorded at different studios around London. 'Deep Water' however was recorded entirely at John Philips studio in Los Angeles. There's a couple of stories that come to mind. The first time I smoked "funny cigarettes" and decided to go for a walk around the studio complex and maybe get some fresh air… I found a small door leading out onto a courtyard into which I stepped … As I looked around I noticed a tree with odd looking things hanging off it. As I looked closer they turned out to be oranges! Now I'm from Elm Park in Essex where there are no orange trees and I thought they came in boxes! Being high didn't help! Second, I was surprised and pleased to hear this amazing slide guitar/pedal steel guitar being laid on the track 'Round Going Round' which turned out to be Sneaky Pete Kleinow from The Flying Burrito Brothers in a cloud of smoke. Third, I was always a speedy / nervous kinda guy and Terry Melcher (Mr Laid Back) found me hard to deal with so he gave me a capsule (looked like petrol filler for a lighter) which slowed me right down … It turned out that I had to play bass that night on a track called 'Come Down to the Station,' the fastest track on the album, I really struggled to keep up!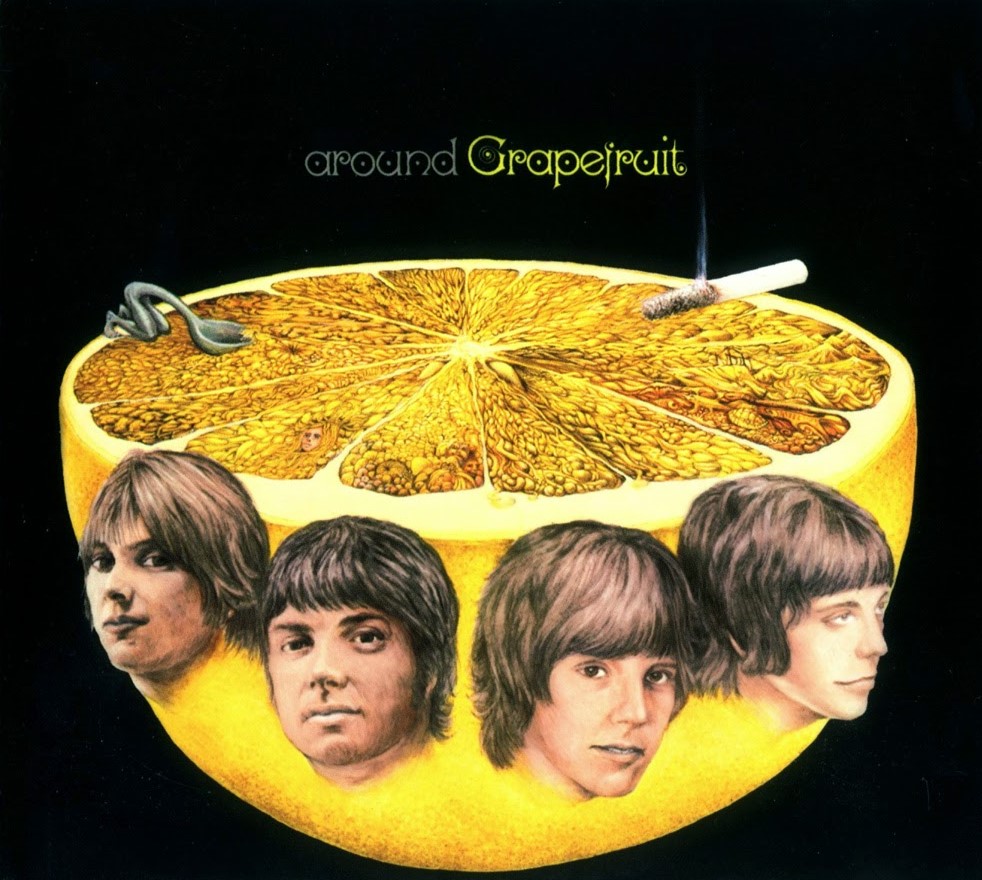 Would you mind sharing some words about the songs appearing on those two albums?
I personally like in retrospect a lot of the songs on 'Around Grapefruit' and having performed a few in these last couple of years, I find they work well live. Songs like 'Elevator,' 'Round Going Round' and 'Dear Delilah' which my band did with a bluesy style … From 'Deep Water,' I like the title song but it's hard to sing (a bit rangey), and there are other good songs but don't listen to that one much and am not so familiar.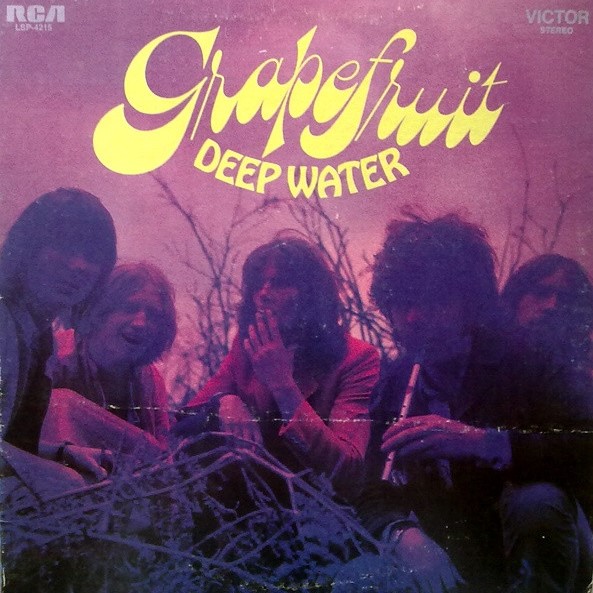 Were you inspired by psychoactive substances like LSD at the time of writing the album?
All the single guys in the band experimented with pot and acid, but it had very little to do with the writing of the songs, but may have had some influence in the performance of them …
Was there a certain concept behind the albums?
Not really.
Tell us about the gear, instruments, amps you had.
We were using Vox amps and various guitars … I had a Gibson double cutaway I bought in Ireland which I quite liked.
The band reformed in 1971?
If it's the same, maybe George Alexander and The Easybeats tried to use the name, with a song called 'Universal Party,' but I don't know what happened.
What are some of the gigs that you remember well? What would be the craziest?
The craziest was in Scotland where we had trouble getting to the stage and real trouble winning over the crowd, who kicked off and we barely got out in one piece!
How did Tranquility come about?
I met a guy called Terry Shaddick who needed a bass player, who wrote interesting songs and was managed by Ashley Kozak, Donovan's manager … Had a couple of interesting meetings in Ashley's house.
You played with countless musicians, including with Cliff Richard (1976-86) and also with Kiki Dee and Elton John, Roger Daltrey (The Who), Leo Sayer, Alan Parsons Project, Elkie Brooks, Shakin' Stevens, Roger Whittaker, Al Stewart, Soft Machine, as well as Phil Everly and Beatles. Would love it if you could share some words about all those incredible collaborations.
Part of my life has been as a backing singer, working alongside two others, old pal Tony Rivers and Ken Gold or Stuart Calver … It was in that capacity that all these "collaborations" came about, except for The Beatles where I was there on my own.
"I think the highlight was anytime we were working or mixing with The Beatles"
Looking back, what was the highlight of your time in the band? Which songs are you most proud of? Where and when was your most memorable gig?
I think the highlight was anytime we were working or mixing with The Beatles who were as you know my idols. I'm obviously proud of 'Yes,' a song I wrote back in the day and although not the greatest, was indicative of the times. Memorable gig was probably the Bee Gees tour where we got to know them and their orchestra players.
Is there any unreleased material by Grapefruit?
No.
Tell us about Heart Records.
Heart Records came into being around 1976 when I was asked if I had an album for sale. At that point I didn't so I got to recording in my own studio inviting music biz friends to join me. Alan Parks, John Clark, some old Gonzalez band mates, Roy Villanis and Mandy Bryce, Dave Cook and others all helped with my very first album. Once it was recorded I needed to put it out and had to put something on the spine of the cassette and later on the CD, so I invented "Heart Records" and thus a label was born. I've always been sympathetic to the "cottage Industry" type business, and so these days I'm looking to make a one stop shop from recording (at "Heart Studios") to outlets for downloads and web presence and social media connections. So I'm looking to support the "not yet" signed artists to collaborate with, encourage, write with, record, and release.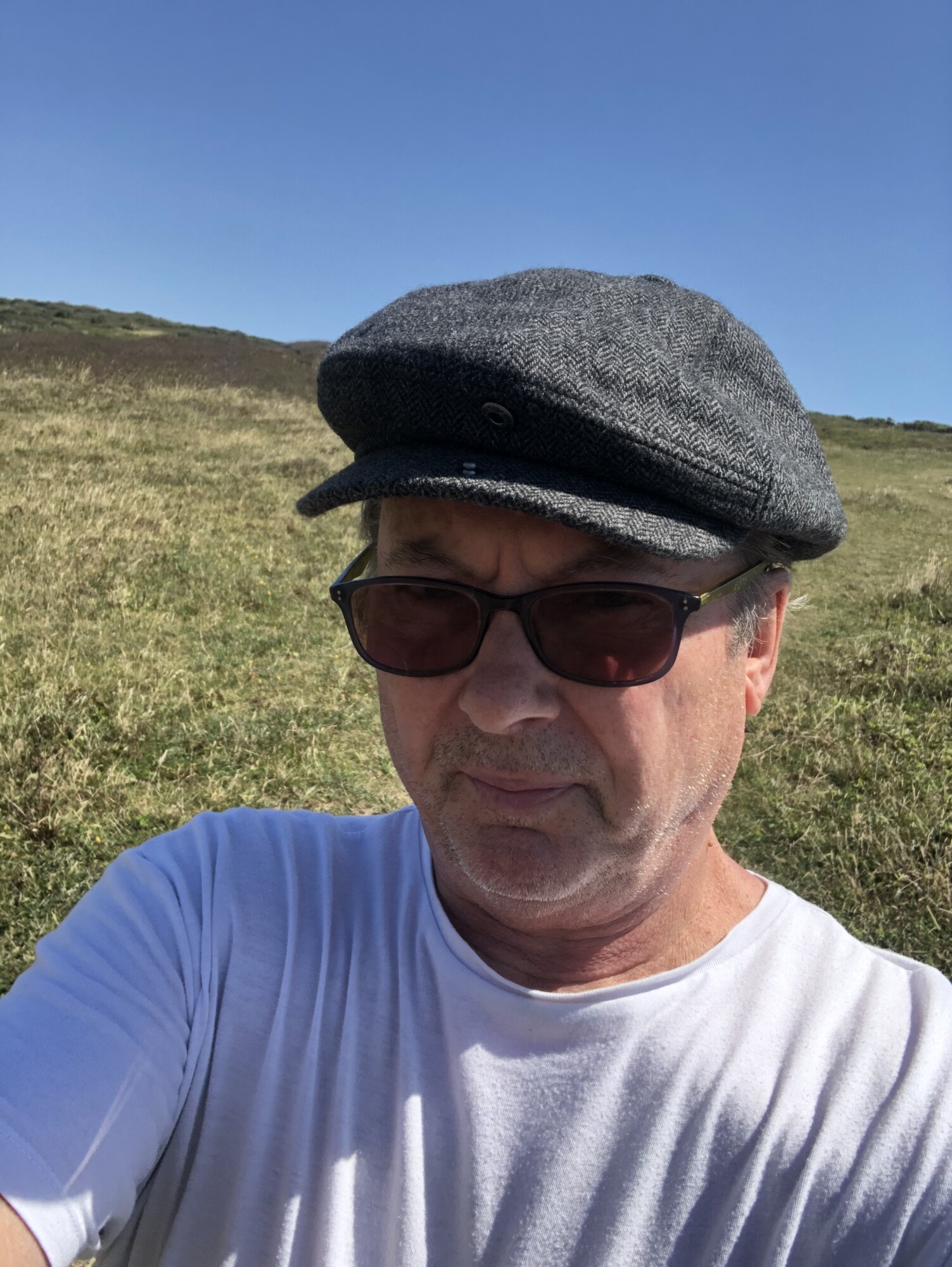 Thank you for taking your time. Last word is yours.
It was a pleasure. I've said too much already! Just to say that my last project was called "Grapefruit Segments" and consists of 6 songs written as if Grapefruit still existed. Also included an eBooklet telling the Grapefruit story. This can be found at www.heartrecords.org where tracks can be auditioned.
Klemen Breznikar
---
John Perry Official Website
Heart Records Official Website / Facebook