Trilogy and Stallion Trumrock | '70s Canadian Prog Rock
The post-'Revolver,' Beatles-influenced prog-to-psych-rock of Trilogy is a bit different than most obscure 45-rpm singles that are primarily released on local independent labels, a producer's vanity presses, or band's private presses.
---
Trilogy's one-off single was issued by a major label: Polydor Records. The band — fronted by guitarist Basil Watson, along with bassist Eddie Patterson, keyboardist Ed Coppard, and drummer Dave Jonsson — recently returned to the notice of '70s progressive rock fans as result of both sides of Trilogy's lone single being included on the compact disc-issued, second volume of 'Canadian Rock Archives' (2021).
Trilogy formed in the hallways of Gladstone High School in 1967; at the time, Basil Watson, played keyboards with the Coastmen (no singles), while Ed Coppard played keyboards with the Shockers. Finalizing Trilogy as a quartet with drummer Bill Ennis and guitarist George Greenwell (ex-Seeds of Time; 1967 to 1974; teaming with the production-writing team of Bruce Fairbairn and Jim Vallance, Seeds of Time transformed into Canadian hitmakers, Prism), they played local Vancouver clubs, such as The Daisy and Oil Can Harry's, as well as opening for Billy Preston (remembering his own Beatles connection) at Vancouver's Marco Polo dinner club in 1969.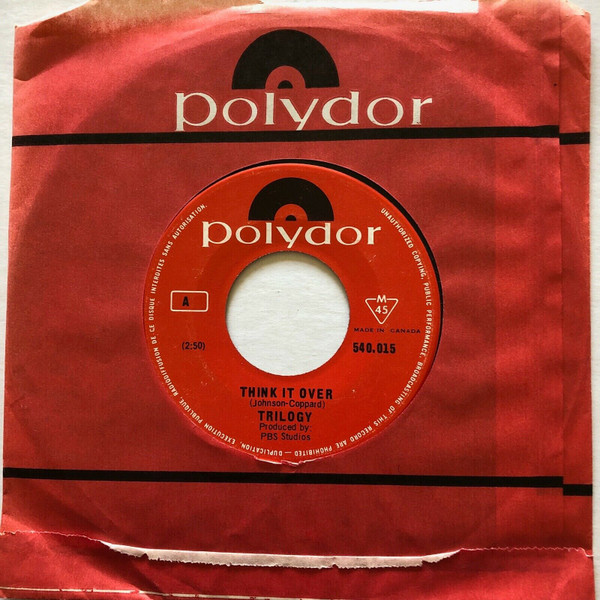 When speaking to The Museum of Canadian Music, Basil Watson recalls Trilogy's single was recorded in North Vancouver at PBS Studios. According to Watson, he and Ed Coppard, along with Bill Ennis, did the bed tracks and vocals; later, Eddie Patterson (ex-Good Shepherds; 1966 to 1969) added guitar and Dave Jonsson redid Bill's drums. By 1969, looking to add another guitar to the band, Brett Wade and Garry Bell came to those auditions, together. When Watson left Trilogy, he started Stallion Thumrock with the guitar duo.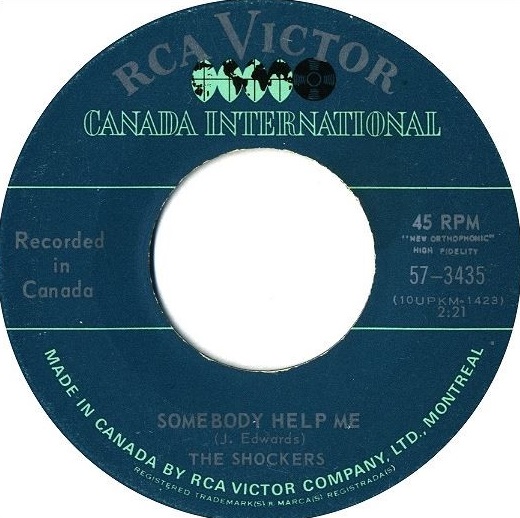 As members of the Shockers, Ed Coppard and Dave Jonsson issued the one-off single, 'Somebody Help Me' b/w 'I Can't Make It' on RCA Victor (1967). By 1968, Coppard and Jonsson, along with George Greenwell, performed as Penny Whistle. Jonsson's long career behind the kit included stints in Five Man Cargo (formed in Hong Kong, moved to the U.K., then Vancouver, B.C.; issued three singles between 1969 to 1972), Crosstown Bus (issued 'High Grass', along with three singles, on MCA in 1971), Bowser Moon (existing from 1972 to 1982), Foxfire (1980 to 1983), and the Rescue (1984). Trilogy's bassist Ed Patterson got his star with Bobby Taylor & the Vancouvers (also included on 'Canadian Rock Archives: Vol. 2'; existed from 1963 to 1969; recorded for Berry Gordy's Motown Records) and came to join fellow Canadians Skylark (Capitol Records), which reached the U.S. "Top Ten" with the soft-rock classic, 'Wildflower'.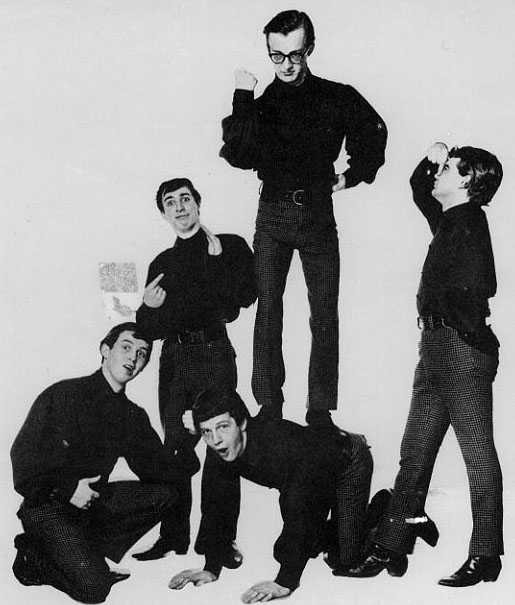 That takes us to 1970, as Basil Watson, on bass guitar, along with lead guitarist Brett Wade, and rhythm guitarist Garry Bell (but each were multi-instrumentalists) formed the uniquely named, well…before we delve deeper into Watson's work in Thumrock Stallion, we need to discuss Uriah Heep.
Yes, Uriah Heep. As well as the Electric Prunes.
Upon lead vocalist Dave Byron either quitting or being fired from Uriah Heep by founder Mick Box — a band that formed out of the ashes of the U.K. bands Spice and Toe Fat — Byron teamed with Humble Pie's displaced guitarist Clem Clempson (who replaced Peter Frampton; Clempson did time in Colosseum) to form the minor "supergroup" Rough Diamond, although the only other member of note — which included unknowns in keyboardist Damon Butcher and bassist Willie Bath — was ex-Paul McCartney & Wings drummer Geoff Britton (1974 to 1975, appears on 'Venus and Mars'; later of Manfred Mann's Earth Band).
When Rough Diamond's lone self-titled effort (with a great, gem-lettering embossed cover) for Island (1977), flopped, David Bryon quit to form the David Byron Band. The rest of Rough Diamond, that is, Clem Clempson, Damon Butcher, Geoff Britton, and Willie Bath — with Thumrock Stallion's guitarist Garry Bell (taking on lead vocals and writing all the material) — became Champion and released their lone, eponymous album on Epic (1978).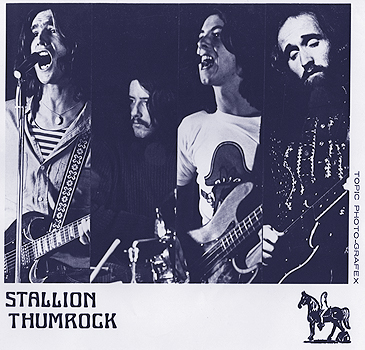 Okay. Now let's back to Garry Bell's previous band.
Stallion Thumrock issued an album in 1973 on A&M's subsidiary-imprint Haida, fronted by the 'Mayday' promotional single, which became their only-issued single. Bell, along with Basil Watson — again, from Trilogy — and Brett Wade, completed the roster that was later complemented by Wade's 16-year-old bassist-brother Joel, and lead vocalist Dick Whetstone.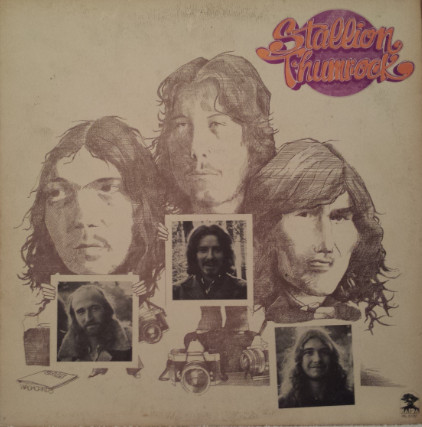 Brett Wade and Whetstone previously recorded and toured two albums with the Electric Prunes, which, by that point, was a band in name only, as it was more akin to the Alan Parsons Project at that juncture: David Axelrod, the band's Capitol A&R and staff producer, had taken creative control of the band with the Prunes' fourth and fifth albums, 'Release of an Oath' (1968) and 'Just Good Rock and Roll' (1969).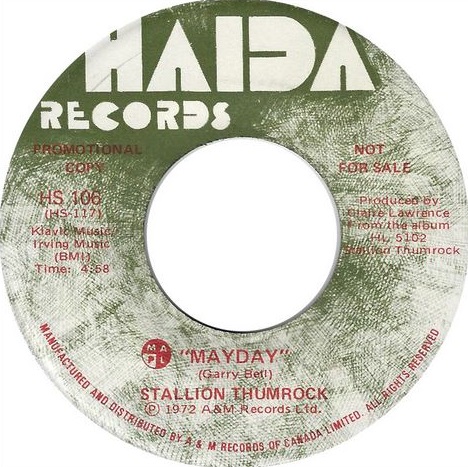 By the summer of 1971, Stallion Thumrock memorably integrated themselves into Detroit's progressive club scene with numerous gigs in the city and the surrounding Great Lakes area and other Midwest U.S. cities alongside other Detroit bands. By 1972, with former the Collectors and Chilliwack keyboardist Claire Lawrence as their producer (and behind-the-scenes A&R assistance by Chillwack's vocalist-guitarist Bill Henderson), Stallion Thumrock recorded their lone, 1973-issued album at A&M Studios in Los Angeles in three weeks. During their first tour that crossed into Kansas and Colorado, as well as Michigan in the United States (courtesy of the Dick Whetstone-Brett Wade connection), for a four week-stretch, Stallion Thumrock toured as the Electric Prunes — performing that band's hits, 'Too Much to Dream (Last Night)' and 'Get Me to the World on Time,' alongside Stallion originals.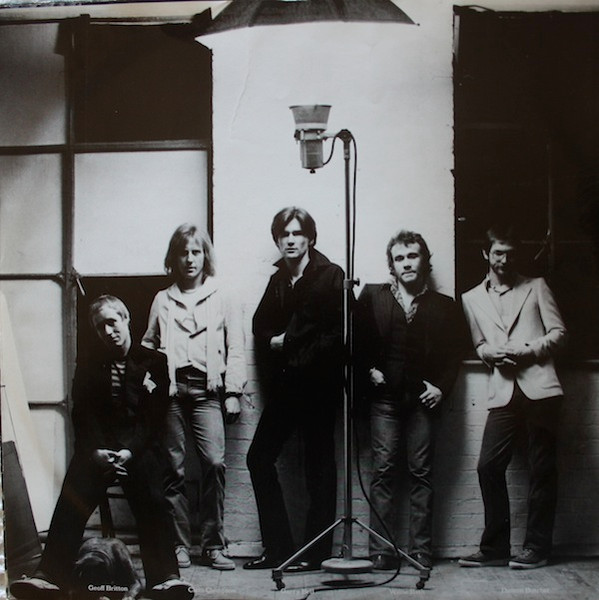 Trilogy's Basil Watson's long career expanded into a production career with numerous Canadian, especially Vancouver-based artists, most notably the British-transplanted Long John Baldry (who gave Elton John his start in Bluesology). Born in May 1951 in Penticton, B.C., after his stint in Champion, William Garry Bell also transitioned into a music production and songwriting career, where he composed for Canadian film and television productions.
R.D Francis
---
Headline photo: Stallion Thumrock | Mk 2: Left to Right: Dick Whetstone, Brett Wade, Basil Watson, Garry Bell, and Joel Wade | Courtesy of damprock.com.