Cirith Ungol | Interview | "The band has always had two personalities, the "Sword & Sorcery" side and the Doom side"
Cirith Ungol is an American heavy metal band that formed in late 1971 in Ventura, California, although they are best known for the release of metal classics such as​, 'Frost And Fire​,​'​ ​​'King Of The Dead' and 'One Foot In Hell'.
---
As the band played for almost a decade before releasing 'Frost And Fire' in 1981, they went through various phases, influenced first by heavy rock of the late 60s to progressive rock until they settled upon their signature doomy sound.​ They got its name after ​being influenced by The band was inspired by J. R. R. Tolkien's The Lord of the Rings.
Robert Garven, Greg Lindstrom, Jerry Fogle and Pat Galligan originally got together and formed Titanic, inspired by Mountain and Grand Funk Railroad; this was their high school beginning. Pat Galligan later became guitarist in Angry Samoans, while the rest of the band changed its name to Cirith Ungol. With this name they played their first gig at an anti-Vietnam war peace rally on January 1, 1972.
Through the years the band disbanded and got together once again in 2016 with a different lineup consisting of Robert Garven (drums), Greg Lindstrom (guitar), Tim Baker (lead vocals), Jim "Jimmy" Barraza (guitar), Jarvis Leatherby (bass), Armand Anthony (guitar).
"We were pretty dead set on playing the heaviest music we could"
When thinking back, before you had any band, what kind of records and fanzines did you buy? What were some of the gigs that inspired you to become a musician?
Rob Garven: I always loved music and was exposed to the heavier strains of music, as the 1960's were ending, with all the original heavy groups, Cream, Blue Cheer, Jimi Hendrix and Iron Butterfly, were playing in our area. I was too young to attend these concerts, but not too young to listen.
I never bought any fanzines, as back then they were all mostly "pop idol" stuff like David Cassidy, the boy band teen idols of the time!
There were some local musicians in our area that played live shows and we would always go check out their concerts. We were so young most of these were concerts put on by the local city's recreation department and during the day. There were a couple of brothers in our town, "The Buley Brothers," Pat and Tim who played in several bands. I remember seeing one of their bands "Goldenrod" at Anacapa Junior High School, which we attended. I remember them being influential and making me want to play drums in a band. Radio was the king then, and there were several stations including one in our local area they played heavy music and they would always play 'In-A-Gadda-Da-Vida' by Iron Butterfly right before the shift changed at midnight, as it was a long song and they would give the DJs a chance to swap over late night duties! One of the first records I bought was a 45 of the song 'Fortunate Son' by Creedence Clearwater Revival, which came out in November 1969. I also remember Greg Lindstrom and I were at a local record store and he held up Black Sabbath's first album, and I remember his words to this day he said "This looks cool, I wonder if these guys are any good!"
Greg Lindstrom: And I decided against taking a chance on Black Sabbath's first LP that particular day. Judging from the cover, I thought it might be a female singer-songwriter who looked like a witch! I ended up getting the 'Paranoid' album a few months later after hearing it on our local underground FM radio station. That FM station was the main source of new music for me in the early days. I would be listening to my little transistor radio with the 2-inch speaker under the covers late at night, and the station would play 5 or 6 songs uninterrupted. Thirty minutes later, the DJ would announce the song titles and the bands, and I would be trying to figure out if that great song I heard was Uriah Heep or the Grateful Dead. The first LP I bought in 5th grade was 'Meet The Monkees,' but I graduated pretty quickly to The Doors and Jefferson Airplane. I had this all metal(!) toy guitar and I used to play air guitar to 'When The Music's Over' by The Doors. By the time I was in 7th grade, Cream and Led Zeppelin were my favorite bands. Unfortunately, my guitar teacher didn't approve of noisy rock and roll!
How did [Greg Lindstrom, Rob Garven, Jerry Fogle and Pat Galligan] you meet in high school and what led to the formation of your first band called Titanic? What kind of music did you play?
Rob Garven: Greg Lindstrom and I met in 7th grade at about 13 years of age, at an advanced literature class. We would meet before class each day and talk about music, automobiles, and auto racing. Soon afterwards we decided with classmates Jerry Fogle and Pat Galligan to start a band Titanic.
I always wanted to play drums and I was self-taught, and saved money for my first drum set, a Stewart gold sparkle kit. Greg Lindstrom and Jerry Fogle had taken lessons and Jerry as Jim "Jimmy" Barraza is today, was a skilled musician who read music and understood music theory.
Pat Galligan's family were in a band called "The Galligan Family" and they were a folk music group which played around quite a bit and had their own album out. Pat was heavily influenced by The Beatles and he loved them so much, we ended up playing mostly Beatles songs such as 'Get Back' et cetera. This was not what Jerry, Greg and I were really into at the time, and we yearned to play heavier music.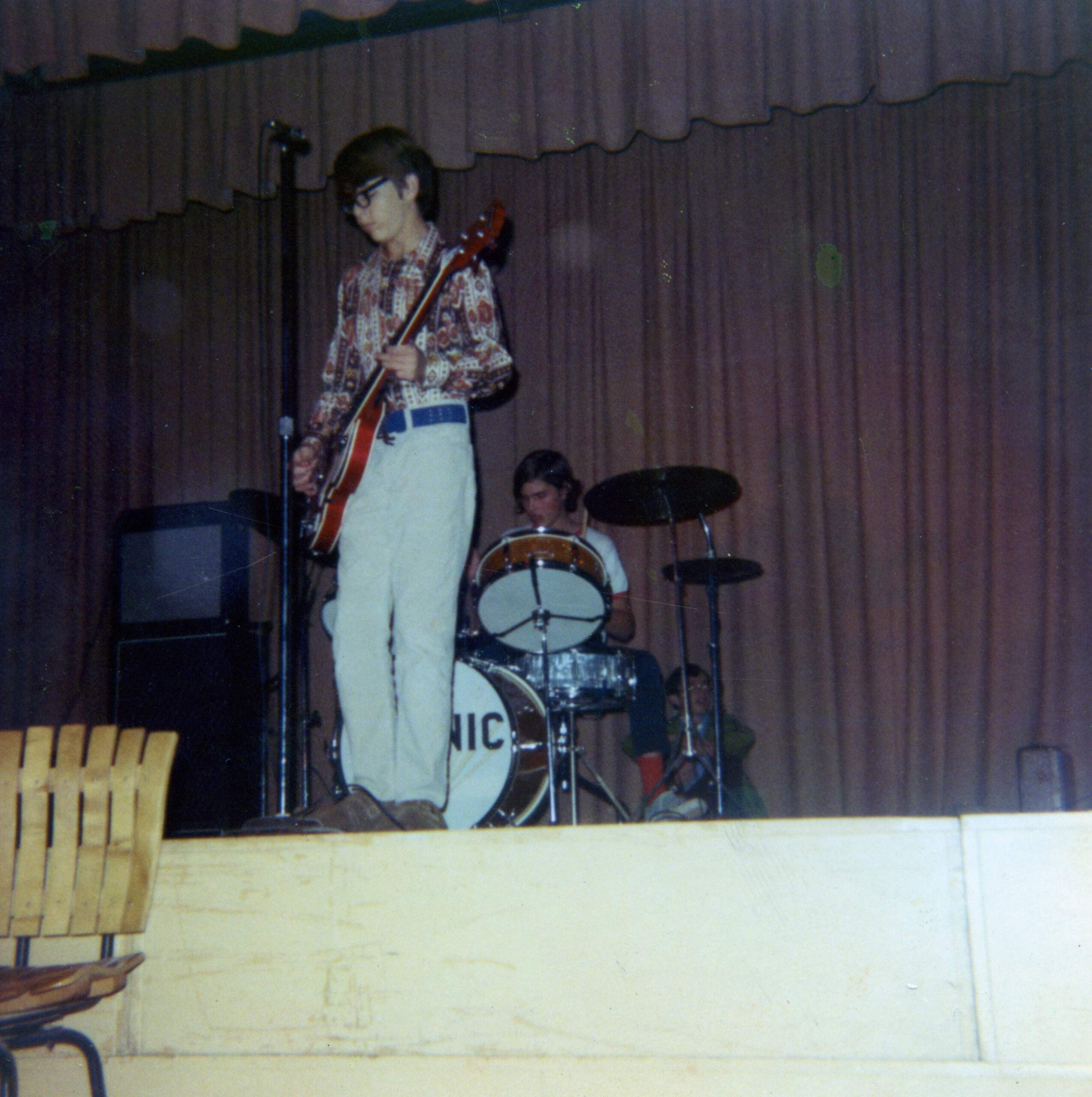 Greg Lindstrom: We formed Titanic in the summer between 8th and 9th grades. I was best friends with Rob, and I didn't really know Pat Galligan or Jerry Fogle, but I had a guitar amp so I was in! Pat was the leader of the band and he loved The Beatles so we played (or attempted to play) dozens of Beatles songs with 'Purple Haze,' a couple of Creedence Clearwater Revival songs thrown in. I was the least proficient guitar player in the group, so I was relegated to playing the bass parts on a regular guitar. It took 3 or 4 months before we had enough money for Rob Garven to buy his first drum set, and for me to buy a Japanese Beatle bass copy and a Vox Essex bass amp. I was never a big Beatles fan, but I was excited to be in a band!
Did you do a lot of shows? Are there perhaps any recordings of Titanic?
Rob Garven: We only played a handful of shows and there actually were a few recordings, but they do not exist to this day. A couple of the members of the "The Buley Brothers Band" I mentioned earlier in the answer above came down and recorded one of our shows we played at our local beach, on a concrete promenade they had just constructed. I'm not sure what happened to the tape, but there are photographs of that show. I think it was recorded on a four-track tape machine, and you can see my grandmother sitting in a station wagon behind the band.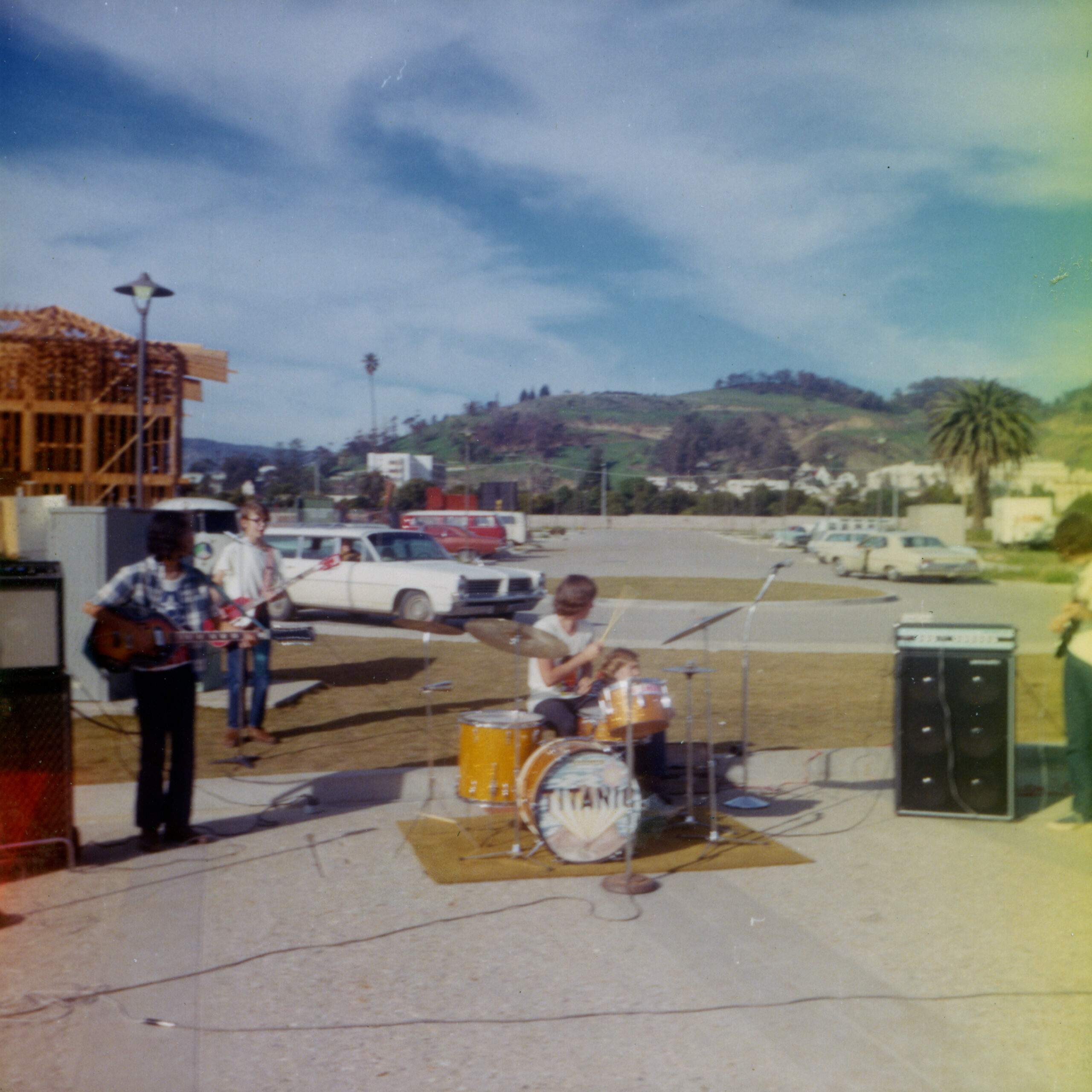 We also played at our junior high school a couple of times. My father Bill Garven, was a manager of a large chain of furniture stores, Barker Brothers and he let the band set up and play outside the store on the corner facing a parking lot which I drive by to this day at least once a week! That is how I came to be in California. My father's family was in the furniture business in Texas, and after the great recession they never really recovered, and so we moved around a little bit, ending up in Ventura, California. It was all destined to be.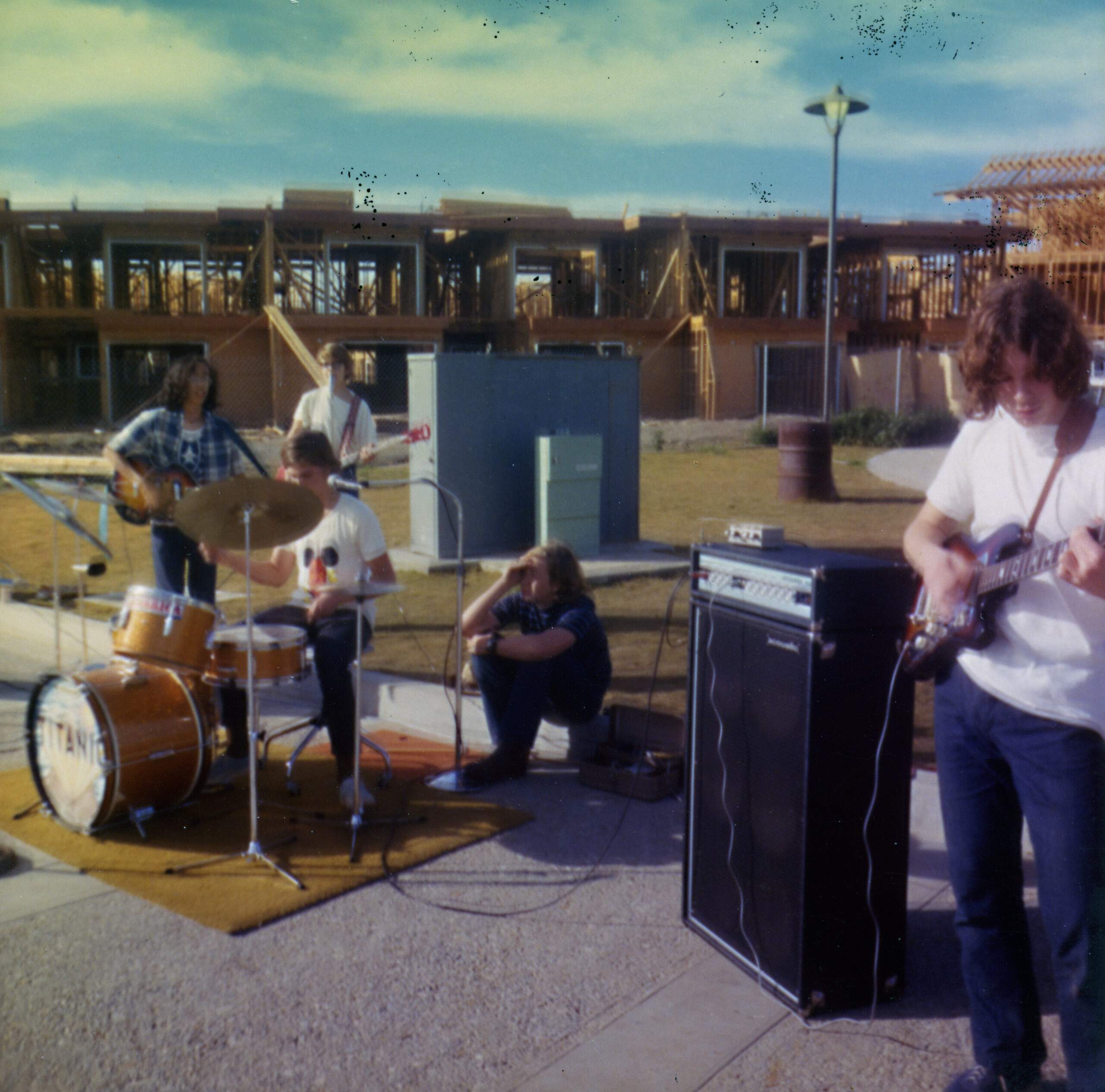 Greg Lindstrom: Some things like the Titanic tapes are perhaps best left undiscovered.
What led to the decision to rename your band to Cirith Ungol?
Rob Garven: After playing a short time in Titanic, Greg, Jerry and I decided to break away because we wanted to play heavier music. I don't think any of our parents welcomed this, especially after we started playing loud. We played at Jerry and Greg's house, but the volume was too much for them. My parents really supported the band and let us practice at their house. After playing in just about half the rooms in the house, we finally ended up in a small upstairs bedroom my sister had vacated when she got married and moved away! Greg and I had been assigned to read "Lord of the Rings" in a class we had at school, and we were searching around for a name for the band. I think we had several names we were thinking about but ultimately settled on "Cirith Ungol".
Greg Lindstrom: Rob, Jerry, and I wanted to start playing heavier music like Cream, Grand Funk Railroad, and Mountain, but Pat wanted to stick with the Beatles, so the three of us took the rather passive/aggressive move of quitting Titanic and forming a new band with just the three of us. We were all big "Lord of the Rings" fans, so as I remember all the names considered were from LOTR – Minas Tirith, Khazad-dûm, Barad-dûr… there may have been others.
Pat Galligan later joined the Angry Samoans. Did you stay in touch or was that a completely different scene back then?
Rob Garven: Pat was a good friend, but breaking up Titanic probably was too much for our friendship. His parents called our parents and asked us to reconsider, but we were pretty dead set on playing the heaviest music we could. Breaking up in a band is never easy to do, and always leaves hurt feelings, but we were young, and we were on a mission.
Greg Lindstrom: I spoke to him a few times over the years, but the punk and metal scenes didn't really mix in the early days. I don't think Pat ever forgave us for breaking up Titanic.
The very early beginning of the band goes back to 1971? Would you like to share some words about playing at an anti-Vietnam war peace rally in 1972? Where else did you play and what were some other bands that you shared stages with?
Rob Garven: This was during the Vietnam War which was not very popular at the time here, especially among the younger generation and there was an Anti-War rally at our local Plaza Park in downtown Ventura. I'm not sure how we got booked to play at that, but we were the opening act. It was definitely one of our first shows and I still have a poster and several pictures. I do remember several things that stick out from the concert, supposedly there are FBI agents in the trees taking pictures of the attendees because at the time anti-war protestors were considered subversives. We were too young to drive, so Jerry's brother Richard drove his VW van out of the park after we played, with us and all the equipment in it. I remember as we were driving out, the police were marching forward with riot shields and tear gas. Probably playing the opening slot at this concert was the best position on the bill! This possibly was an experience that led to some of my doom related material!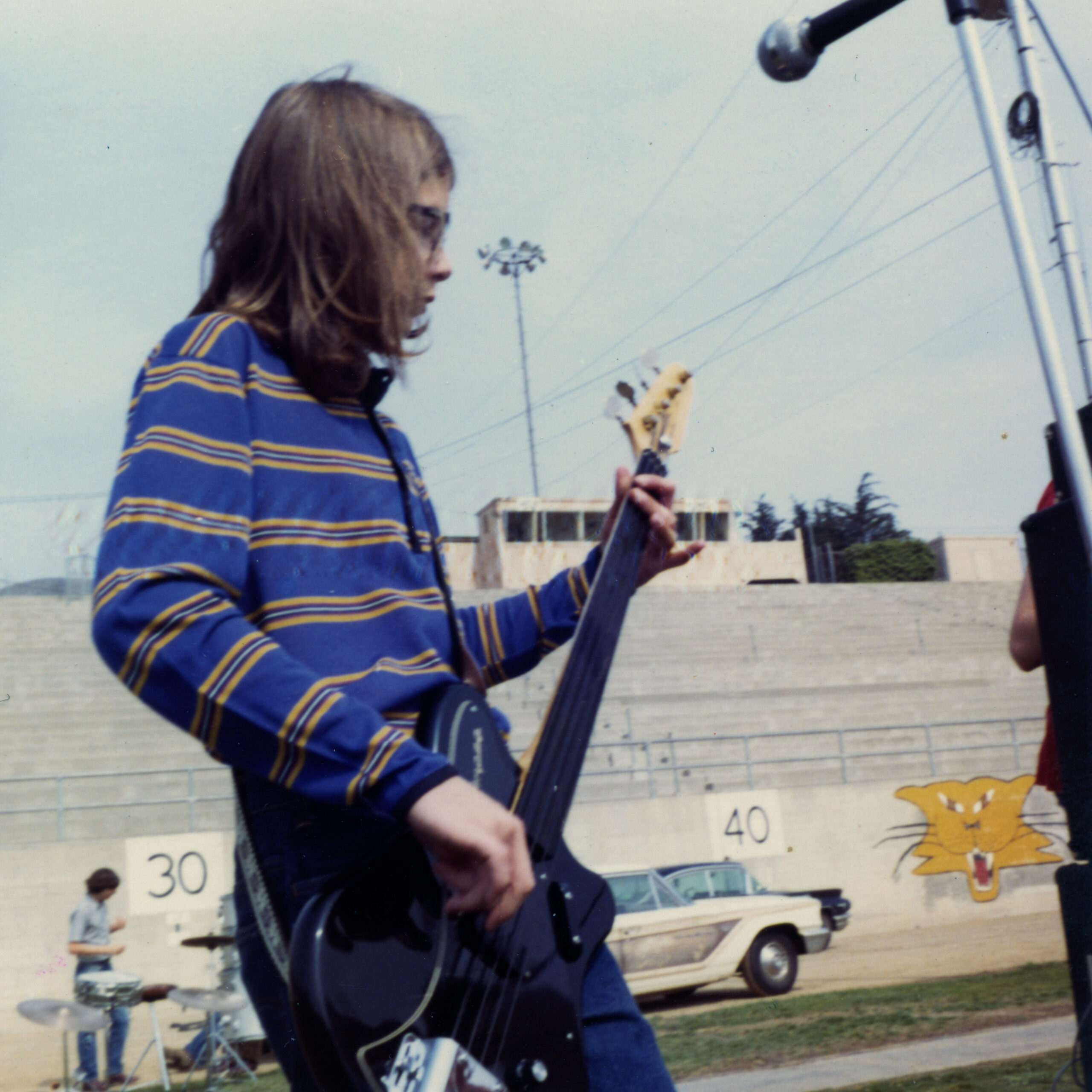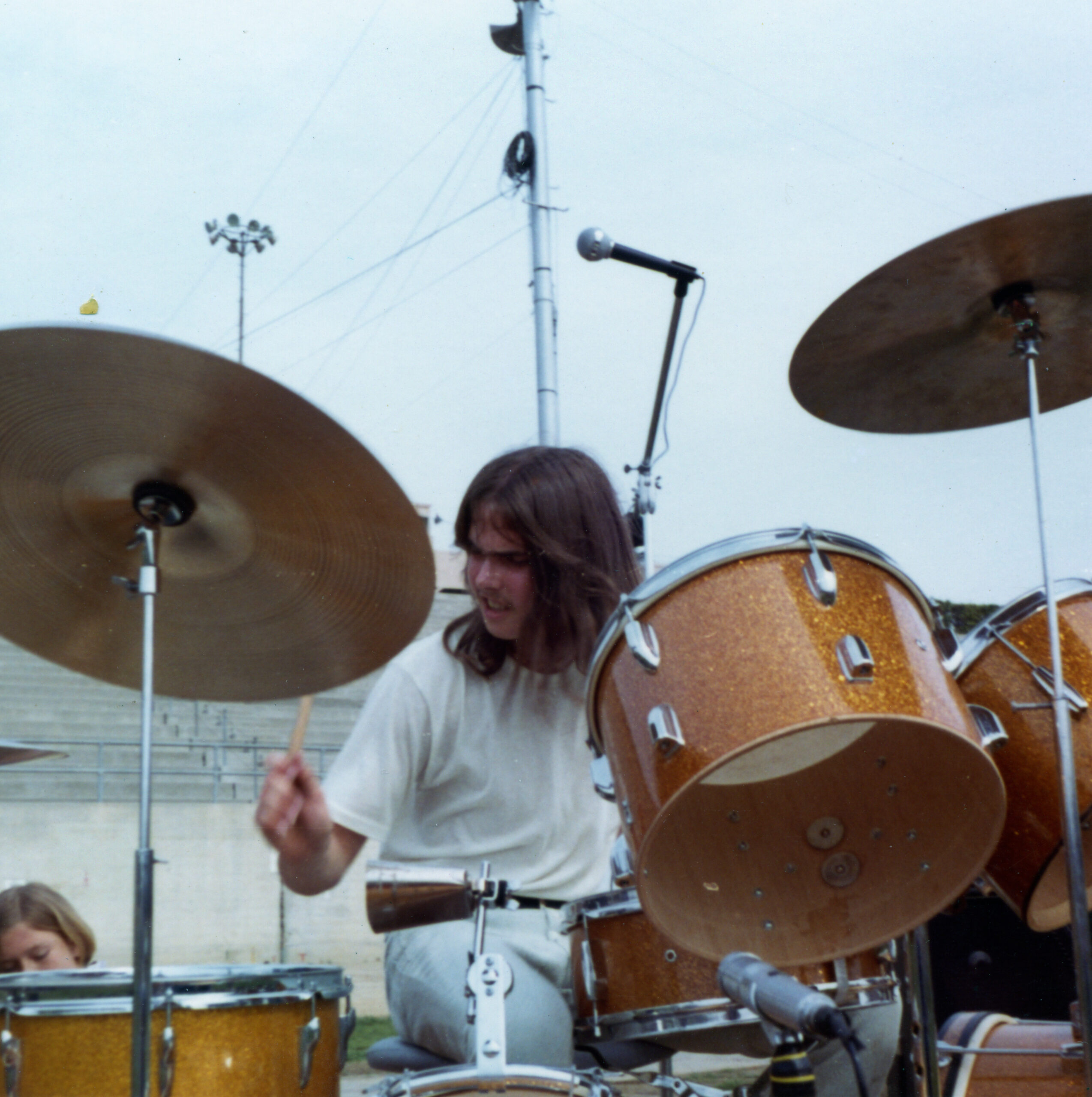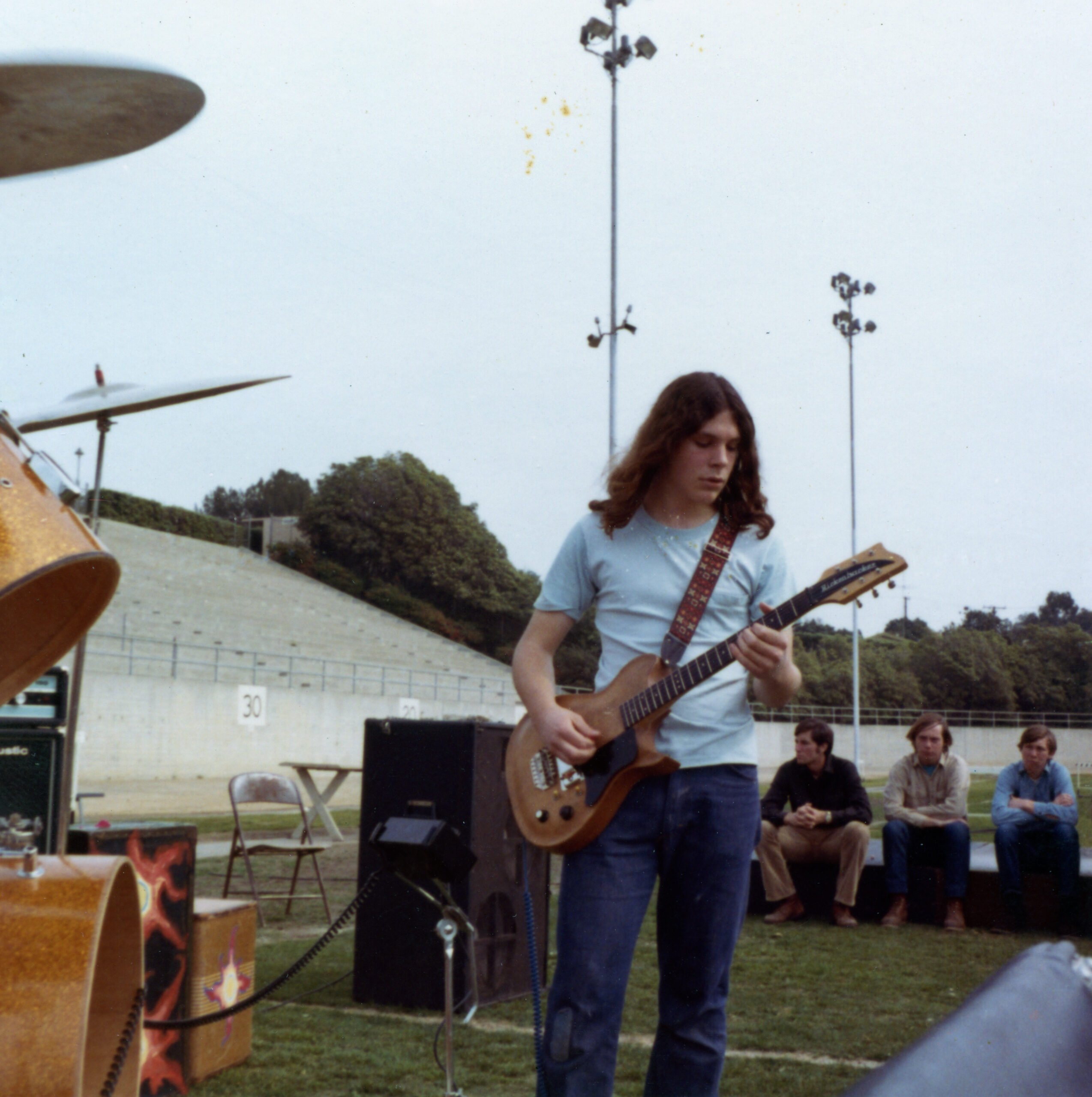 Greg Lindstrom: I don't remember that much about the peace rally, but another very early show we played was at a small club called Louie's Life supporting a band called Ballin' Jack. They were a funk rock band with a horn section and they had a couple of albums out on Columbia Records and had just gotten off a tour with Jimi Hendrix. They were really cool to us, which is not always the case with headliners! Their bass player was intrigued because I played an Ampeg fretless bass and he played an Ampeg Dan Armstrong clear Lucite bass, which I thought was amazing (and ended up buying one a few years later). Musically, not my favorite style, but they were really good and I learned about being professional from them.

It took quite a few years until your demo tape ("Orange Album") was released in 1978. How did the very early material sound compared to what you were doing on your demo tape? What was the usual repertoire for let's say 1972 or 1973?
Rob Garven: Our early equipment was two track tape machines and a couple of mikes, graduating to four track tape machines. We started recording when we first got together but I don't think that we got serious until Greg bought a Teac Tascam Mixer, and a Dokorder 4 track tape machine. The early material was crude but we got better as we progressed and the best of all that early material was on the 2001 Metal Blade Records release 'Servants of Chaos'.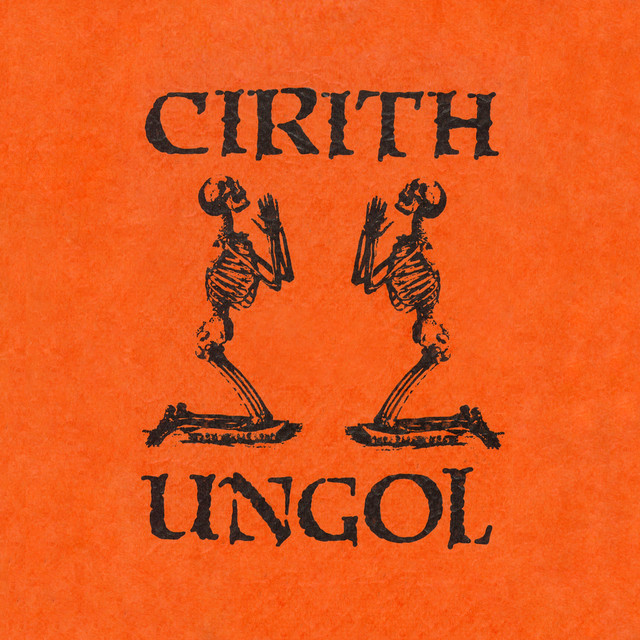 Greg Lindstrom: Early on in 1971-72 we were playing all cover songs: 'Mississippi Queen' (Mountain), 'N.S.U.' (Cream), 'Spoonful' (Cream version of the Willie Dixon song), 'Inside Looking Out' (Grand Funk version of the Eric Burdon song), 'Refried Boogie' (Canned Heat), 'Louisiana Blues' (Savoy Brown), 'Who Do You Love' (Quicksilver Messenger Service version of the Bo Diddley song), 'The Hunter' (Blue Cheer version of the Albert King song), 'Hand of Doom' (Black Sabbath), 'Smoking the Day Away' (May Blitz), 'Dusty Track' (Freedom), 'Rock And Roll' (Detroit With Mitch Ryder version of the Lou Reed song) … and by 1973-74 we were playing mostly cover songs by less well known groups (at least at the time): 'Gonna Creep Up On You' (Thin Lizzy), 'Vagabonds of the Western World' (Thin Lizzy), 'Return of the Farmer's Son' (Thin Lizzy), Go, I'm Never Gonna Let You (Skid Row with Gary Moore), 'Make It' (Aerosmith), 'Ain't Gonna Take No More' (Highway Robbery), 'Sinner' (Ursa Major), 'Roll A Rocket' (Hard Stuff), 'Jury' (Trapeze), 'Keepin' Time' (Trapeze), 'Cities on Flame With Rock and Roll' (Blue Öyster Cult), 'Breadfan' (Budgie), 'Whiskey River' (Budgie), 'Crash Course In Brain Surgery' (Budgie) … and by 1974 we had written some original songs, 'Radiation Blues,' 'Rock 'n Roll Hooker,' 'Rollin On' of which only the lyrics survive. Around this time we made a conscious decision to play all original material and our songs 'Animal Passion,' 'Crack of Dawn,' 'Flesh Dart,' and 'Shelob's Lair' would begin to replace the cover songs.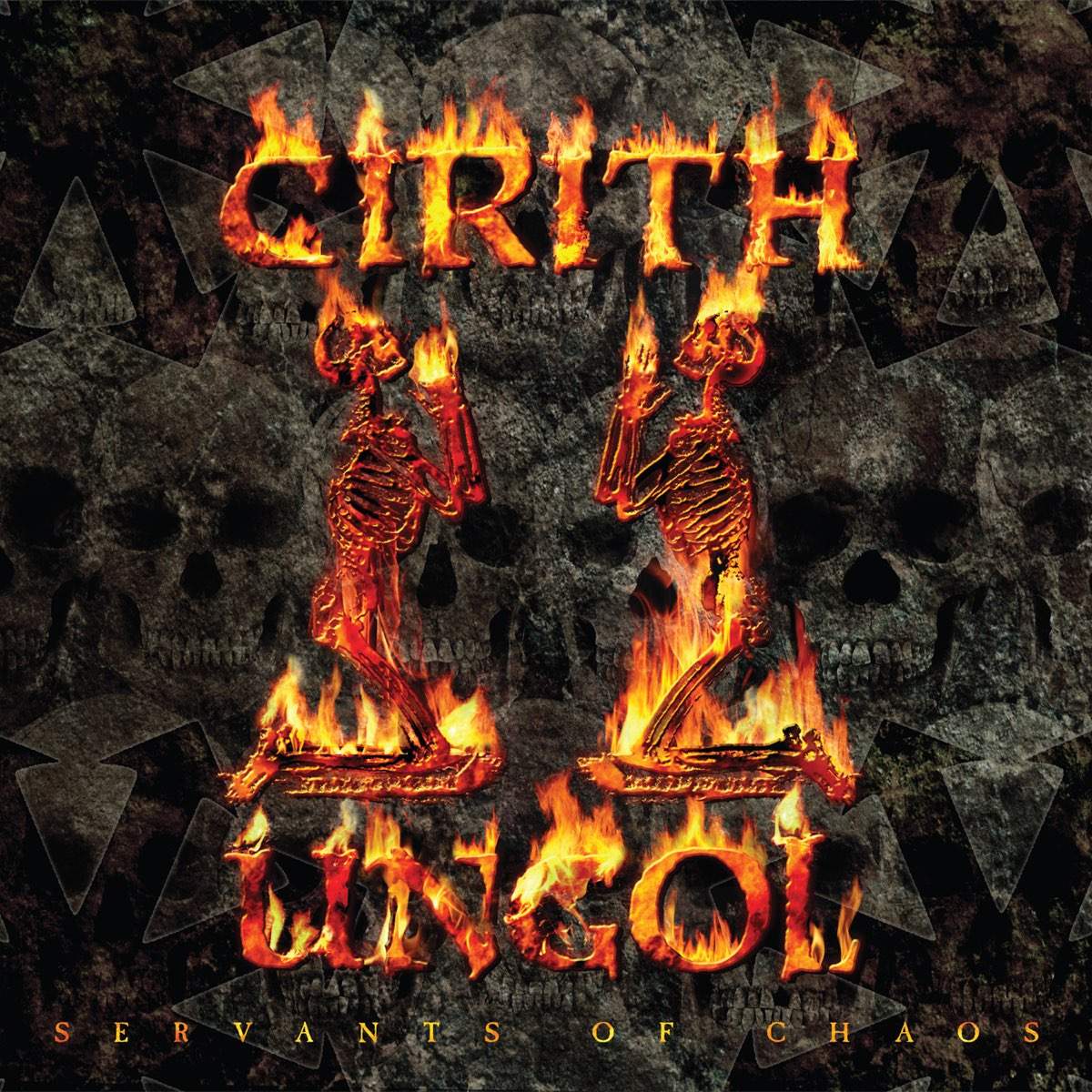 "When we first started, we were definitely a jam band"
How did you usually approach music making back in the early 70s?

Greg Lindstrom: Being heavily influenced by bands like Cream and Mountain, in the early days of Cirith Ungol, we did a lot of free form jamming. Our average song length was probably 20 minutes! It was probably painful and/or boring to listen to at times, but all that playing really helped build up our musical chops, and some of our early songs like 'Flesh Dart,' 'Tight Teen,' and 'Shelob's Lair' grew out of riffs that we came up with while jamming.
Rob Garven: We joke today that we're not a jam band, but when we first started, we were definitely a jam band. When we came up with good riffs, we would record them down and then work them into songs. Me and Greg wrote most of the lyrics back then and we shared most of the songwriting early on. Be honest not much has changed since the original formula to this day.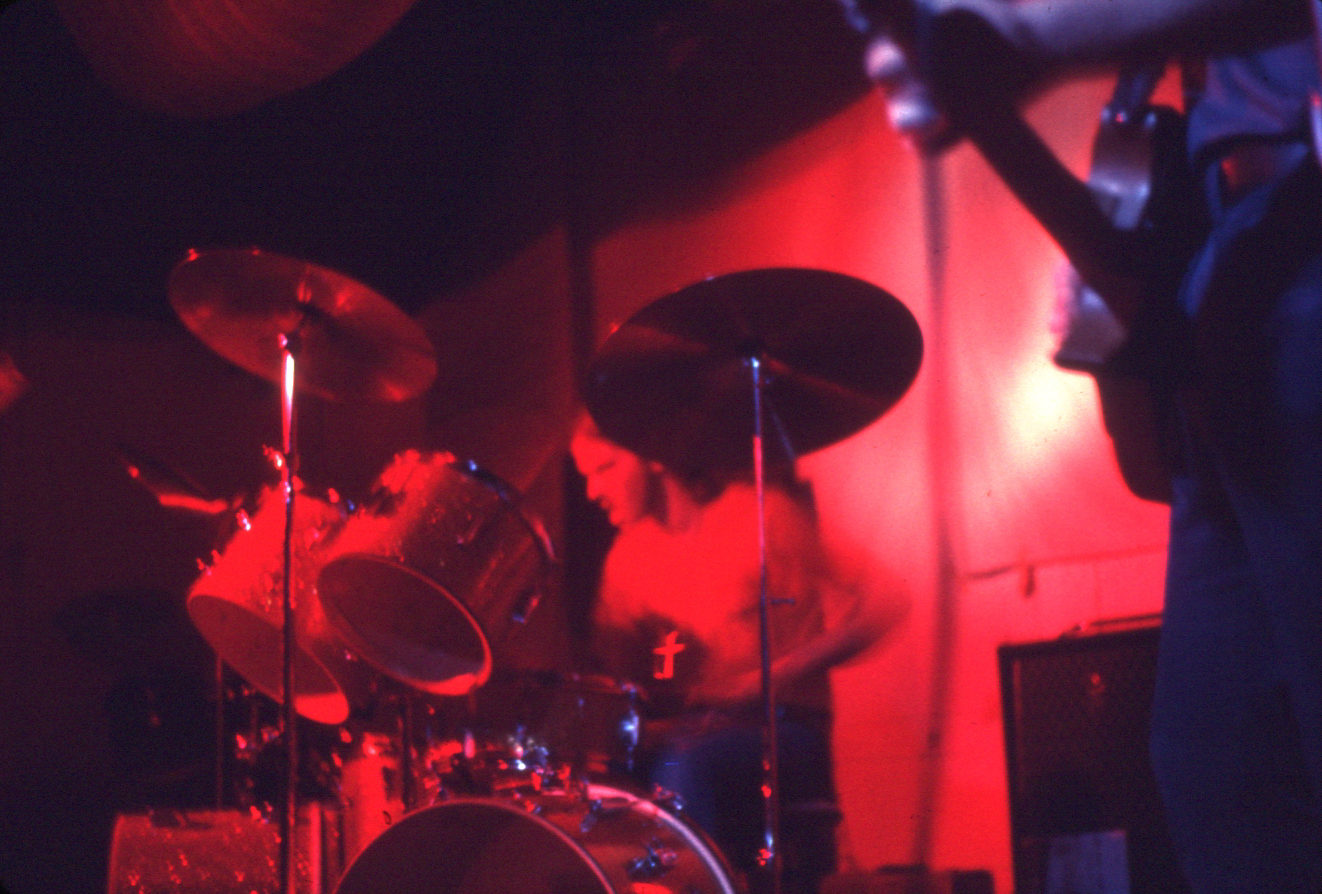 Are there any unreleased material?
Rob Garven: There are quite a few songs that we never released, for one reason or another. However, so many people have been asking for us to re-record some of our earlier material that's what led to the release of our four song EP in 2021 'Half Past Human'. Much of our earlier material that we thought was relevant appears on 'Servants of Chaos,' and there is some really good material on that album.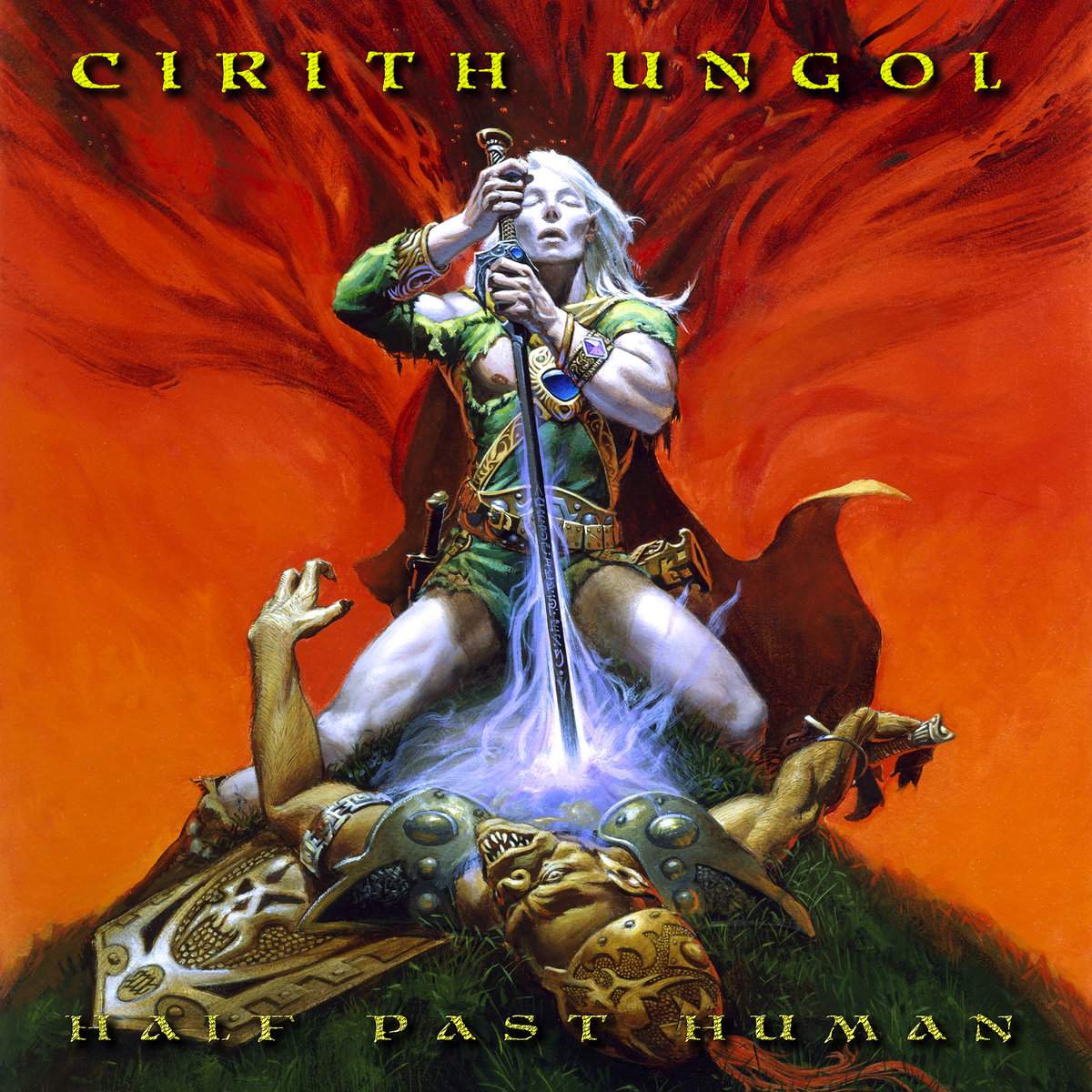 Greg Lindstrom: We actually have a few cassettes and reel-to-reel tapes of our practice sessions from the mid-70s. The recording quality is not great, but there is some good stuff there, and you can hear Jerry maturing as a guitarist. It would be something for the true Cirith Ungol fan only.
How did the lineup get together for the classic Cirith Ungol?
Rob Garven: I guess that all depends on what you would consider our classic lineup. We had a singer out of high school, Neil Beattie, who was a good friend and a great entertainer, but for some reason we were looking for something different, so he left the band and we played for a while as a three-piece instrumental group. Tim Baker joined the band after hanging around for several years, and doing sound at some of our shows. At some point we decided to have him try out on a demo and we really liked his voice. We wanted to be able to do double lead guitars so we had a friend Michael "Flint" Vujea who was in a local band and we talked him into playing bass for us so Greg could switch over to guitar. We played like that for a while and that is about the time that the album 'Frost And Fire' was released. Flint was featured on that album but Greg actually played all the bass guitars. Greg left the band to pursue an engineering career in Los Angeles and Jerry would leave after three more albums.
"We have always been at the wrong place at the wrong time"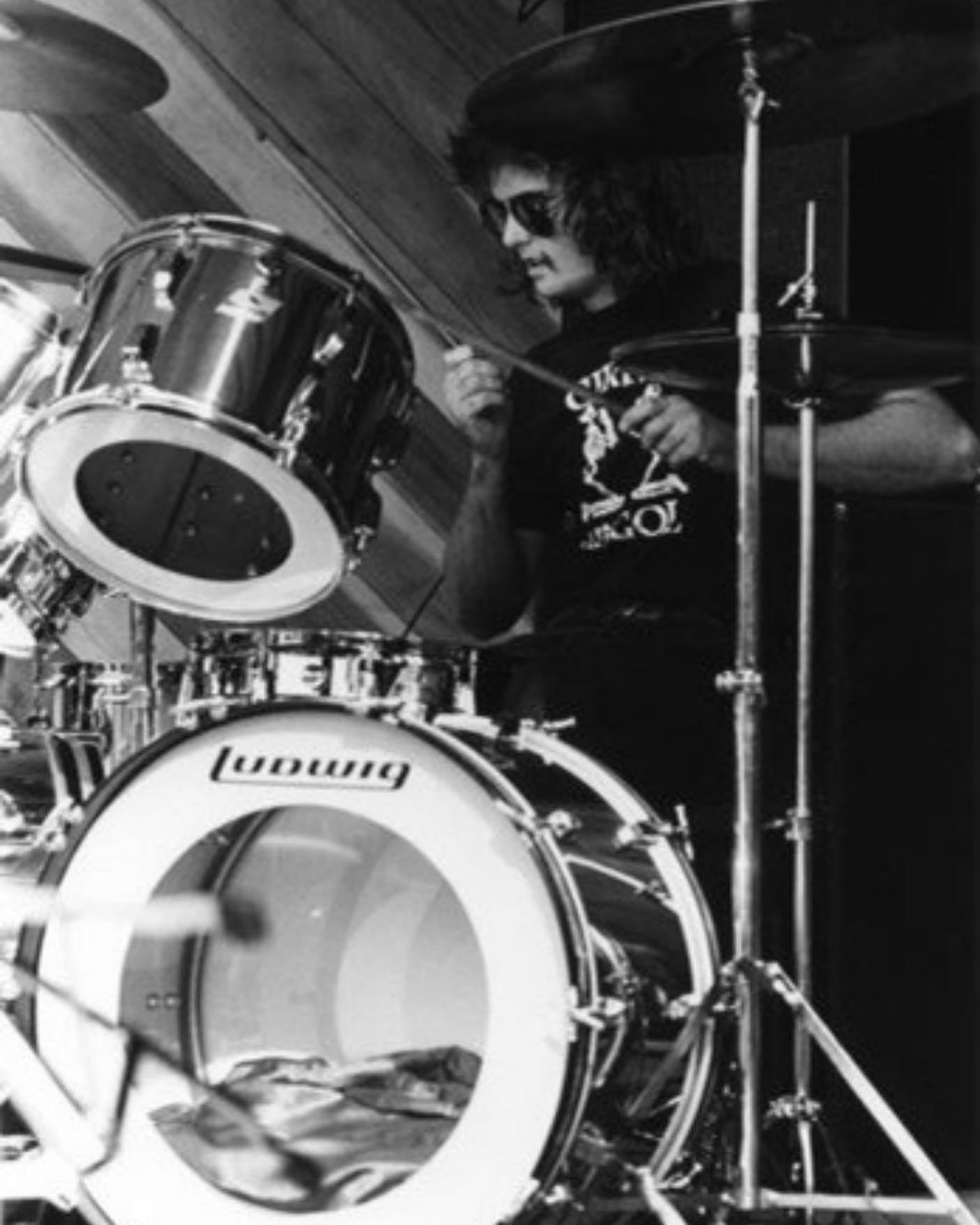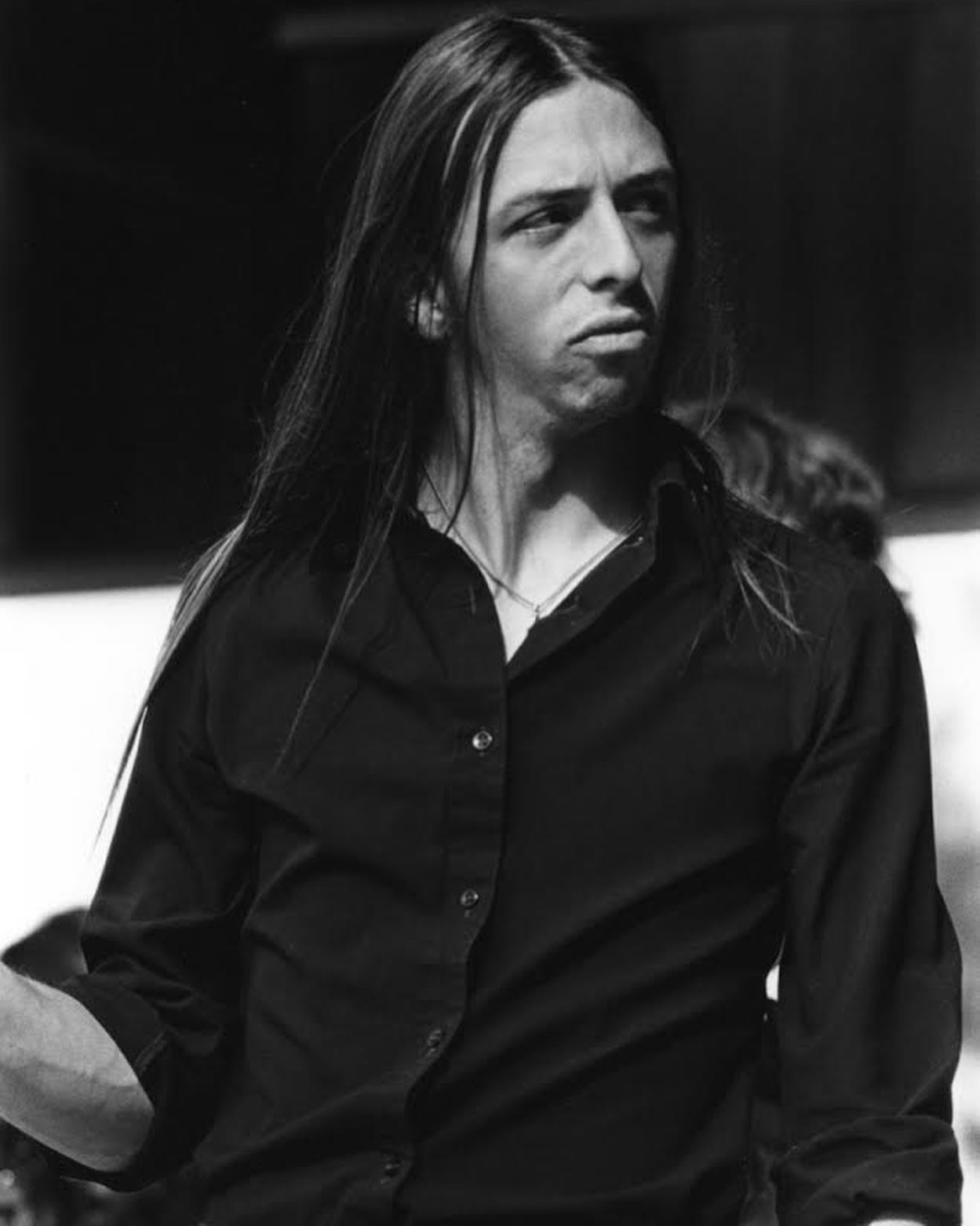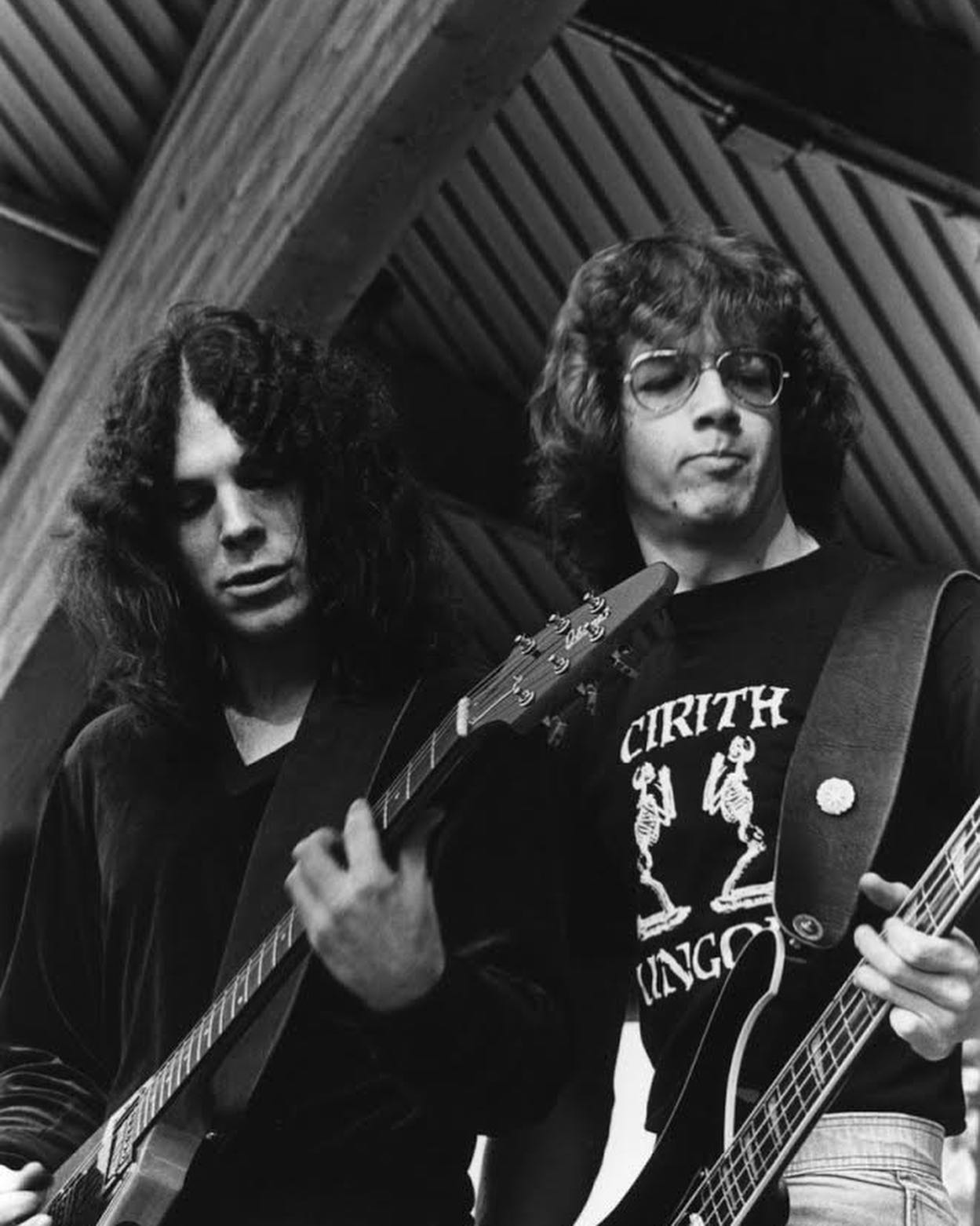 Do you feel that you were at the wrong place playing metal music back then?
Rob Garven: I think that has been the history of the band, we have always been at the wrong place at the wrong time! It took 20 years for people to recognize the significance of the band's music originally, and I think that it'll take another 20 years from now for people to appreciate our latest work!
We also never fell for the musical fads that seemed to erupt around us, whether it was the hair metal, speed metal, whatever, we decided to continue playing what we considered true metal, and we have stuck to that to this day.
Greg Lindstrom: We may have been in the wrong time/place for commercial success, but our music is just too quirky for mass consumption. Growing up in the 70's exposed us to so many great bands and gave us the perfect blend of influences.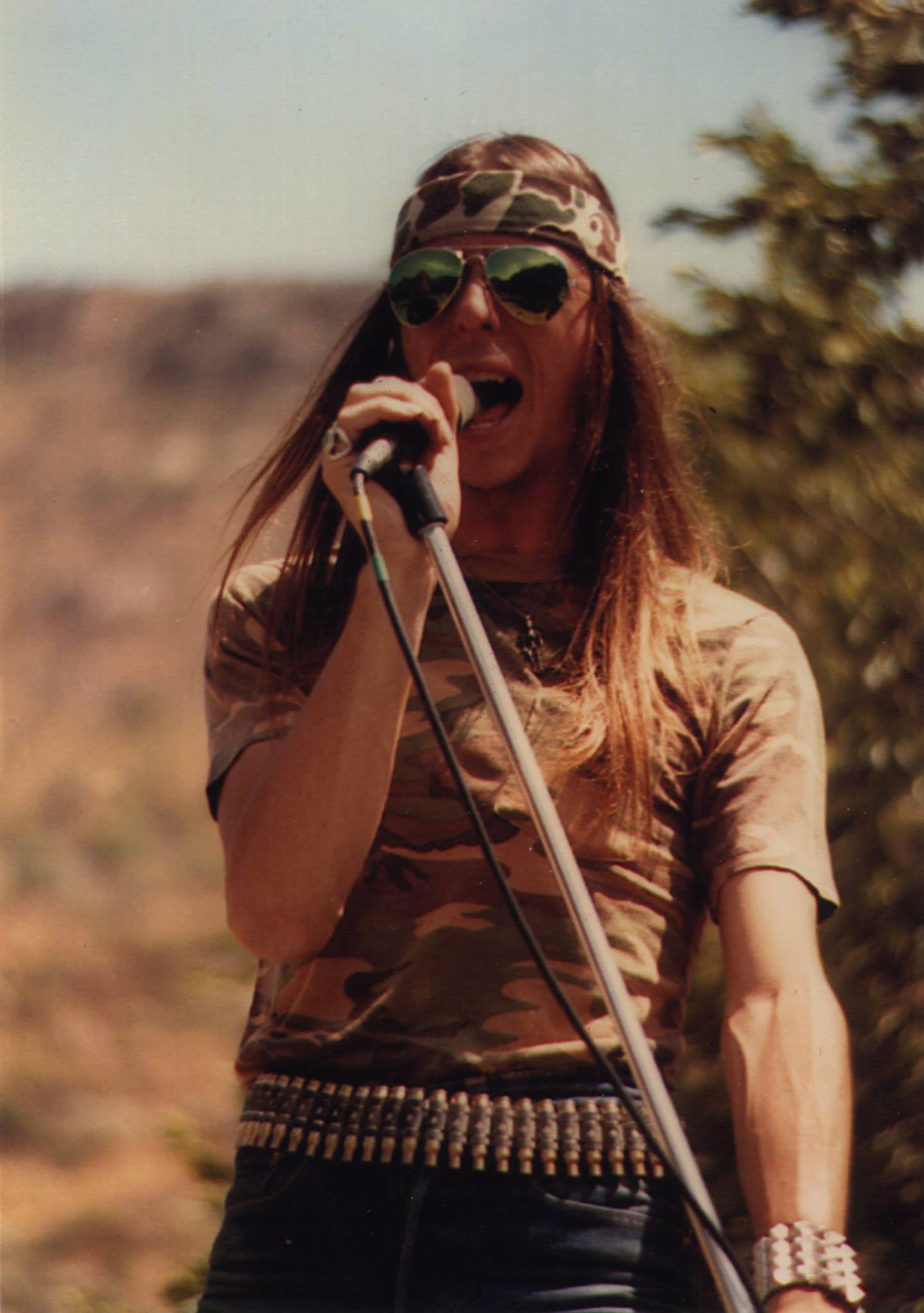 At the time you were playing for almost ten years without a record under your belt, not many bands are capable of sticking around so long, it must have been a true labor of love for you.
Greg Lindstrom: It was a labor of love, but you have to remember that we started the band when we were only 13, 14 years old, so we did a lot of growing up in the ensuing years. I was in high school and college during the first eight years of the band – I graduated from college six months before 'Frost And Fire' was released.
Rob Garven: Yes, and we released that first record totally on our own, with financial help from a good friend Randy Jackson. It is still a labor of love because it's really hard to be financially successful in the music industry for a band like us even to this day.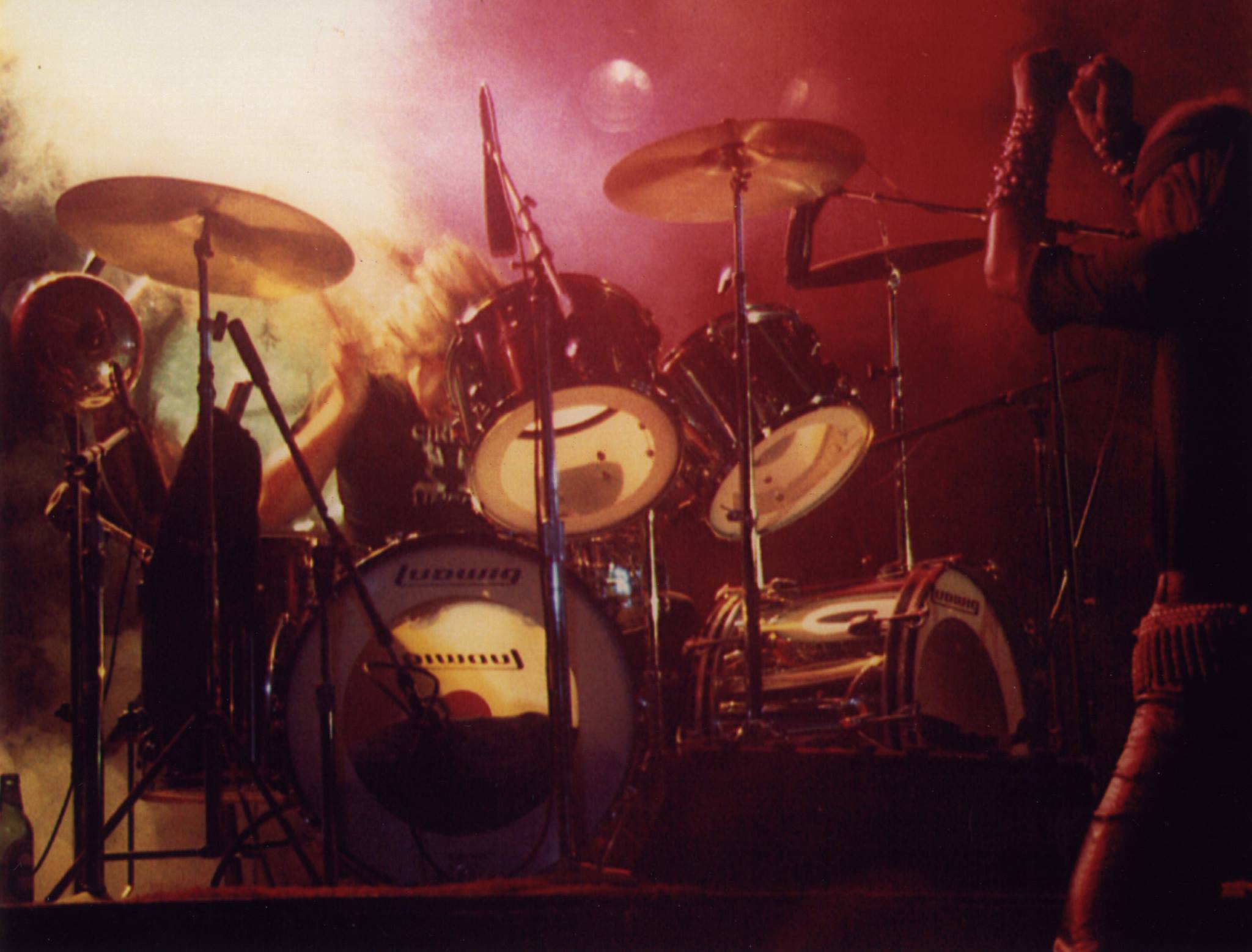 What led you to form Liquid Flames Records?
Rob Garven: That was a name we just came up with because when we put out our own record, we needed a name for the record label. Over the years we have used that for different purposes relating to the band.
In 1981 you released your debut album, 'Frost And Fire,' listening these days, what are some of the fond memories that run through your mind when thinking of it? Where was the album recorded?
Greg Lindstrom: Holding that first copy of the LP fresh from the pressing plant was a feeling that I wouldn't experience until many years later with the birth of my son Benjamin. We finally had something to show for all our hard work! When I listen to 'Frost And Fire,' I think the bass player is really good (ha!) and 'I'm Alive' is one of the best songs I've ever written. I do wish the album sounded heavier, but the flipside is that you can hear every instrument clearly, which is certainly not the case for a lot of albums.
Rob Garven: It was very satisfying to slice open the record like we had done countless times to other albums but this one being our own, especially since we created the entire project all the way from the layout (which I did), the recording and mastering, the pressing, the production of the album cover et cetera.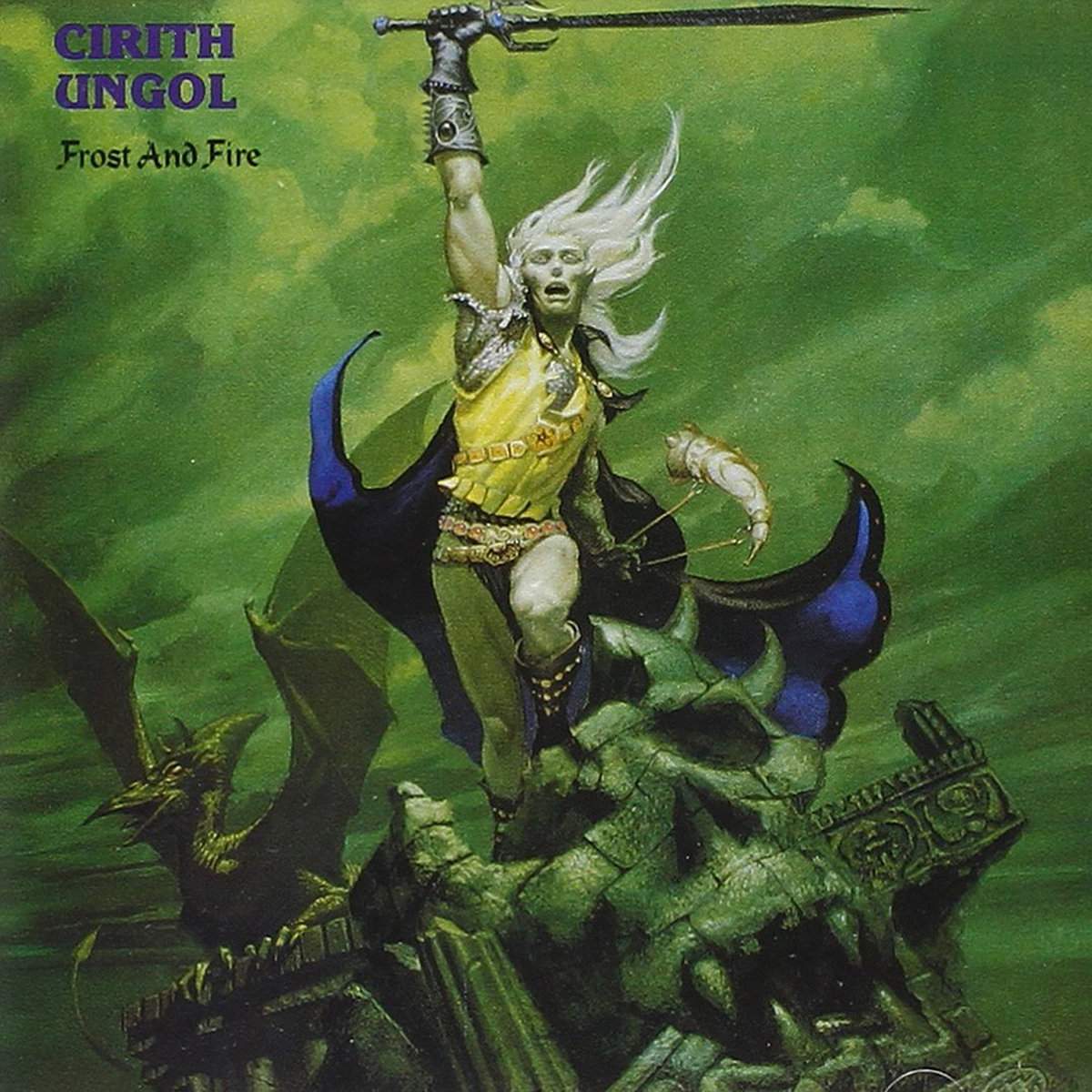 It was recorded at Goldmine Studios in Ventura, California, and soon after we moved into a band room lair close by, where we would reside until 1991. We were lucky enough to record the majority of our next three albums there. Unfortunately, Goldmine was forced out of business, by a greedy landlord. It was a pretty amazing studio in which Tyler Perry recorded her first song there as a child, along with many famous and local bands.
It's clear that you were very influenced by literature. Would you like to talk about some?
Greg Lindstrom: Reading the Lord of the Rings trilogy in 7th and 8th grade really aroused a hunger in me to explore more fantasy and sword and sorcery fiction. I have read hundreds of books by hundreds of authors but my favorites are the Elric series by Michael Moorcock, the Dying Earth series by Jack Vance, the Thieves' World series, and just about anything by Clark Ashton Smith. The song 'Frost And Fire' was inspired by Fritz Leiber's Fafhrd and the Grey Mouser series. One of the stories was entitled "The Frost Monstreme". I wanted to write a song about that and I thought we needed an element to combat the frost – 'The Fire Divine'. So, the two opposites of the frost and the fire. I revisited that theme on the 'Forever Black' album with those two songs.

Rob Garven: After we read the Lord of the Rings, at school, that opened up the whole new world of sword and sorcery literature to me, with Greg turning me on to many of the classics of that genre. I was also a big fan of horror literature going back to when I was even younger. When I was about 11 I got a hold of a compilation book of horror short stories, which included the Dunwich Horror by H. P. Lovecraft. He became one of my favorite authors of all time and we were very privileged to play in his hometown of Providence, Rhode Island, at an H. P. Lovecraft convention.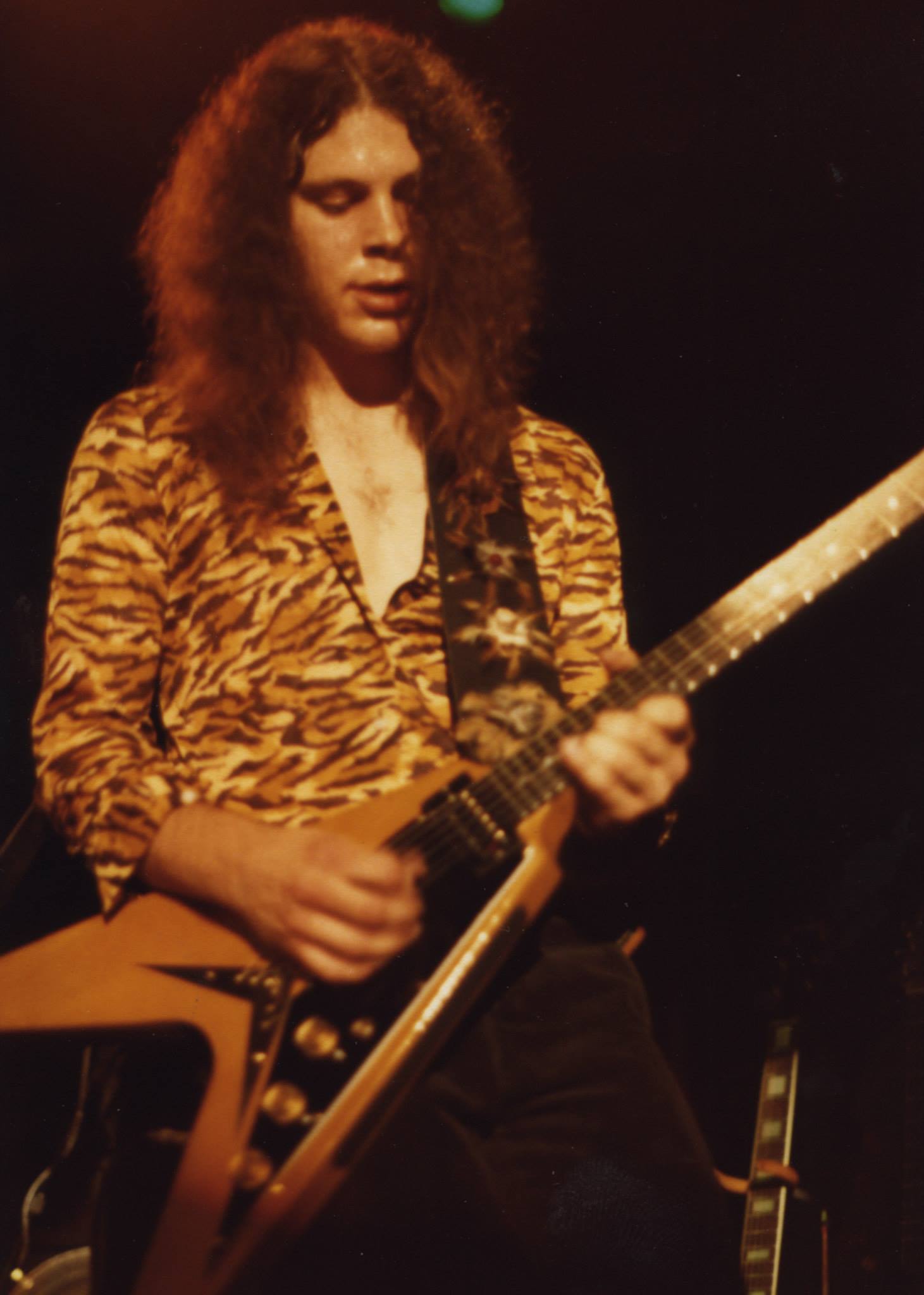 I also love the cover artwork, who did it?
Rob Garven: We had long been influenced by "Sword and Sorcery" literature and art. We were hoping to get the rights to use a Frank Frazetta's painting called "Berserker," which had appeared on the cover of a Conan novel for the cover of 'Frost And Fire'. No sooner had we all agreed on what we wanted to use, that painting was released on a Molly Hatchet album, and we were left pondering what to use as cover art for 'Frost And Fire'. I was reading Michael Moorcock's book Stormbringer which was the final book (then) in the Elric of Meliniboné saga, which Greg had turned me on to. I remember looking at the cover and telling the band, "This would be the best album cover art ever." I contacted DAW Books, who was the publisher of those series of books at the time, who put me in contact with Michael Whelan. He liked our music and agreed to let us use his painting for the cover. He has been one of the band's best and most constant friends through the years, even coming out to see the band play in Brooklyn, New York! There is no doubt that being associated with an artist whose talent rivals the renaissance masters and having his masterpiece Stormbringer grace the cover of 'Frost And Fire' has forever made this album stand out from all others.
Our dream was to use his series of Elrić covers for all our future covers. Of course, back then we were a young band and had no idea what the future held for us, or how many albums we would ever produce. As fate would have it, we were honored and privileged to have this renowned artist's work grace our five other studio albums, our single, 'Witch's Game,' and our live album, 'I'm Alive' and our 2021 EP 'Half Past Human,' and our upcoming 6th studio album!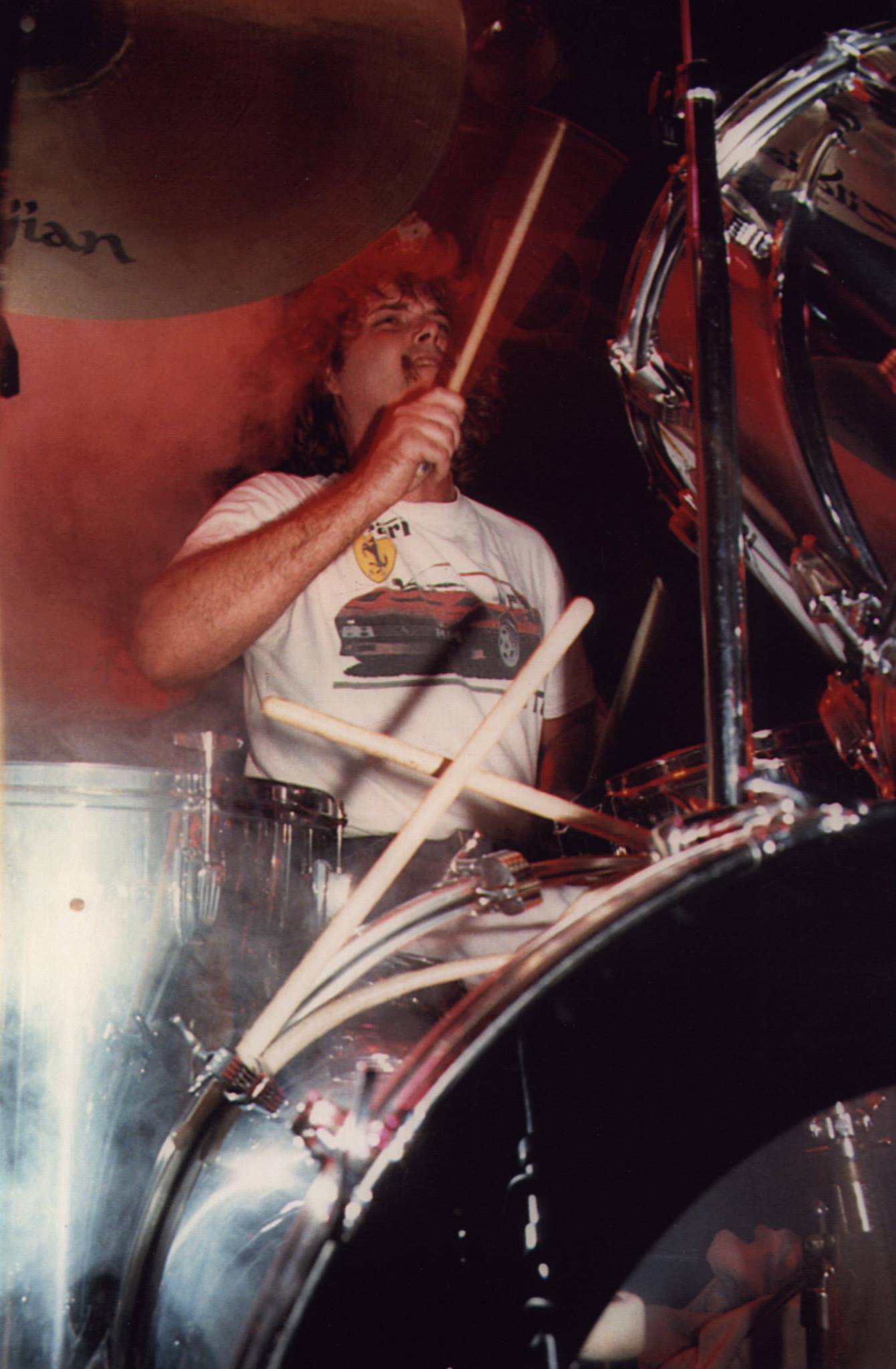 How did you get signed to Enigma Records?
Rob Garven: After 'Frost And Fire' was played on the local Los Angeles heavy metal radio station, and we were told it was way too heavy to play on their station (which we could not understand, maybe they meant different), so we decided to pull out all the stops, and release an album of our heaviest material, resulting in 'King Of The Dead'. Greg had recently left the band, to pursue his path in the city of Lost Angels. Once again, we had complete control over every facet of this creation, and we were determined to forge this fresh batch of molten metal into the heaviest metal known to man! The company we had signed a licensing agreement with "Greenworld" had morphed into Enigma Records. They knew we were working on a second album and they offered to release it on their new label. It was released on Enigma Records in the U.S., and Roadrunner Records abroad. It meant a great deal to have released a second album, and we received some critical journalistic recognition, but once again the widespread exposure we sought, alluded us.
And next you were working with your heaviest material, finishing 'King Of The Dead'. What are some of the strongest memories from recording it?
Rob Garven: Those were some good, but tough times. The band was never commercially successful, but we were cranking out some pretty amazing tunes, which I think can stand up to any of the music of that era, in terms of style, originality and heaviness. 'Frost And Fire' was our attempt to get major record label and radio support. We had put our most accessible songs on that album and when we received little recognition, we decided to pull out all the stops and create the heaviest album we could, resulting in 'King Of The Dead'. Several of the songs on that disc such as; 'Finger Of Scorn,' 'Atom Smasher' and 'Cirith Ungol' were already in our repertoire so we needed to create some new songs to compliment them and that is why 'Master Of The Pit,' 'King Of The Dead' and 'Black Machine' were created! Many think that was our best album and I will agree it was pretty awesome, but I think our 5th album 'Forever Black' is just as significant! My memories of that time were the band practicing several nights a week in our very cool secret lair band room. After each practice we would sit around for hours answering fan mail from around the world, and work on the songs for what would be our next album, 'One Foot In Hell'. We tried to play as much live as we could, but to be honest it was hard back then playing heavy metal. There were not that many clubs or venues that allowed such heavy music or as loud a volume as we played! We did play some of the best known venues in the Los Angeles area, The Whisky, The Roxy, The Starwood, The Country Club, Perkins Palace and The Beverly Theater.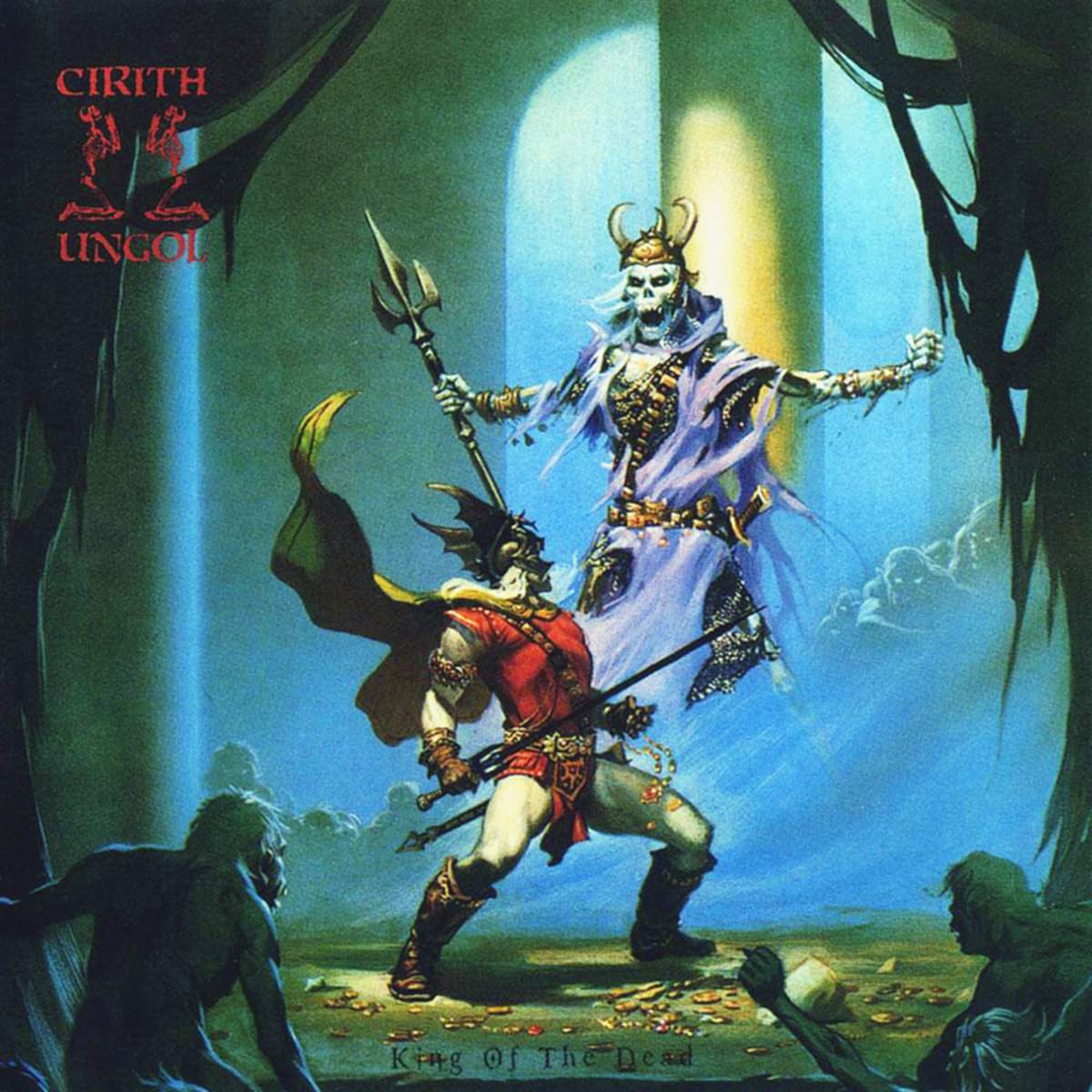 What instruments and gear did you use for the album?
Rob Garven: I played with my Ludwig stainless steel kit that William F Ludwig Jr. sent me. I played it on our first three albums and loved it but everyone else thought the steel drums sounded bad. John Bonham used the same model drums later in his career. I saved up my money and bought a Paiste 30 inch gong which I still have to this day, and forever cemented my love of Paiste cymbals and gongs! I am very proud to be a Paiste Artist. Flint played a Rickenbacker bass, and he started using the Ampeg SVT set up with two 8 x 10" cabinets, and a powerful tube amp, which is my favorite sounding bass rig of all time. Jerry at the time was playing an Ibanez flying V through a Musicman tube top using a MXR distortion plus.
"The band has always had two personalities, the "Sword & Sorcery" side and the Doom side"
Would you say there's a certain concept behind your album?
Rob Garven: This album had no concept except heavy! We never really had a concept album, but the band has always had two personalities, the "Sword & Sorcery" side with songs such as 'Frost And Fire' and 'The Frost Monstreme,' and the Doom side with songs such as, 'Death Of The Sun' and 'Forever Black'. Lately we have been moving more into the Doom realm as the world burns, our music reflects this. Side two of our last album, and side two of this next upcoming album, reflect that darker reality.
Would you share your insight on the albums' tracks?
Rob Garven: I love this album, and wrote the lyrics to the song 'King Of The Dead"! My favorite Cirith Ungol's clip of all time is the double lead guitar solo on 'Cirith Ungol,' it brings tears to my eyes every time I hear it. Jerry really played some soulful leads on that solo.
Greg Lindstrom: It is the classic Cirith Ungol album. 'Finger Of Scorn,' 'Atom Smasher,' 'Cirith Ungol,' and 'Death Of The Sun' were actually written in the late 70s before most of the 'Frost And Fire' songs. There is lots of amazing guitar playing from Jerry Fogle. This album should have made him a guitar hero of the caliber of Randy Rhoades.
What about the cover artwork?
Rob Garven: Once again another masterpiece by the master, Michael Whelan. The painting's name is "King Of The Dead," and it inspired the album's title track! The photographer was Greg Hazard, he was a good friend of ours, and took some of the best pics of the band ever.
There weren't many bands in the US doing what you did, a special breed of metal, how do you think you achieved your sound?
Greg Lindstrom: It's the chemistry of the band members and their influences. For me, I always start with those early 70s influences, and mixed in with some of my progressive or new wave leanings, the song always comes out a bit skewed. It's not easy to keep sounding original – sometimes I feel like every riff has been written already!
Rob Garven: I agree with Greg, what sets apart our band most I think is Tim's singing style, and my very unorthodox drumming, that along with the massively cool guitar riffs and solos, and the pounding bass!
What do you think influenced you on 'One Foot in Hell' that your sound slightly changed? How did you record it?
Rob Garven: It was just the next logical evolution to come after 'King Of The Dead'. Those years were one of struggle, and heartbreak trying to promote the band, with little to no outside help. The band spent tireless nights rehearsing, writing new material, and answering the ever increasing hordes of fan mail.
We decided to leave Enigma and join our longtime friend Brian Slagel, who had formed Metal Blade Records. The band had appeared on his first album, the compilation 'Metal Massacre I'. Even though the album was strong and a success musically for the band, any kind of financial or commercial success was always still beyond our reach. The band was tired of working long nights at our secret lair, with few concert dates played. This took a toll on the band, and Jerry left the band, followed by Flint. Jim Barraza, a local guitarist with a lot of talent joined the band while we hammered out the music, which would be our fourth album 'Paradise Lost'.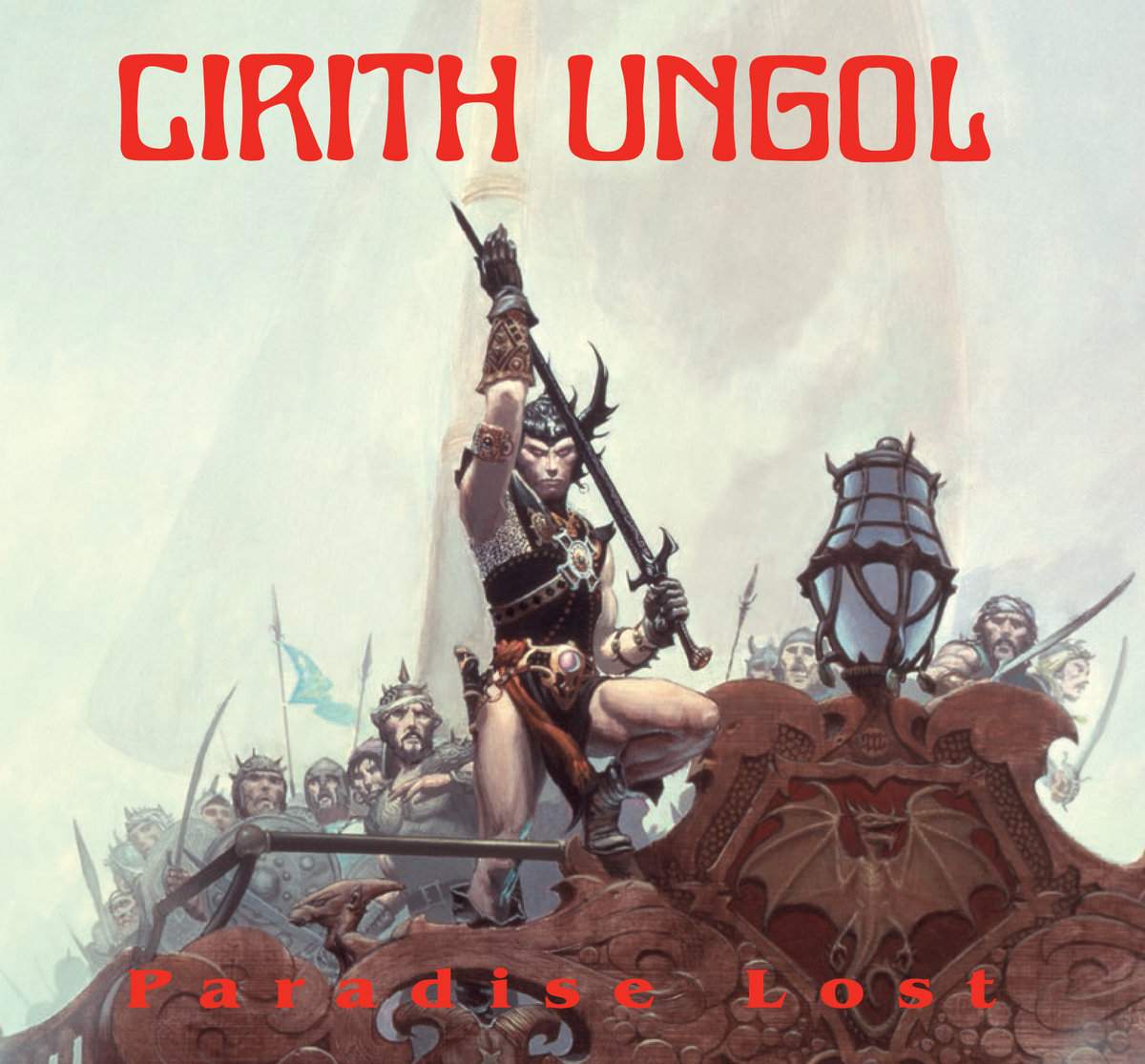 Greg Lindstrom: I love the 'Paradise Lost' trilogy and 'Join The Legion' but there are a few other songs that don't belong. Definitely the best sounding Cirith Ungol album up to that point in time.
Rob Garven: I am not sure why we did not continue on Metal Blade Records, and looking back that was a serious mistake on the band's part. We ended up signing to the company Restless Records, who had sprung from the ashes on Enigma, after they had been sold to Capitol Records. This whole era was a time of turmoil for the band. We found two local musicians who joined the band, just long enough to record the album, but left before it was even released. Another local musician, Vernon Green, joined to play bass after 'Paradise Lost' was released. The recording process was difficult, and soon after the album was released, we were dropped by Restless Records, causing even more distress. Soon Vern left the band along with Jimmy, leaving Tim and I the last standing members of Cirith Ungol. The songs Greg mentioned that did not seem to belong, really did not. In order to be fair to the other members that joined the band we put a song for each one of them on the album but none of them were Cirith Ungol songs and for all intents and purposes did not belong there, and did not fit with the rest of the music. That said, 'Join The Legion' and the trilogy, 'Chaos Rising,' 'Fallen Idols,' and 'Paradise Lost' were some of our best material!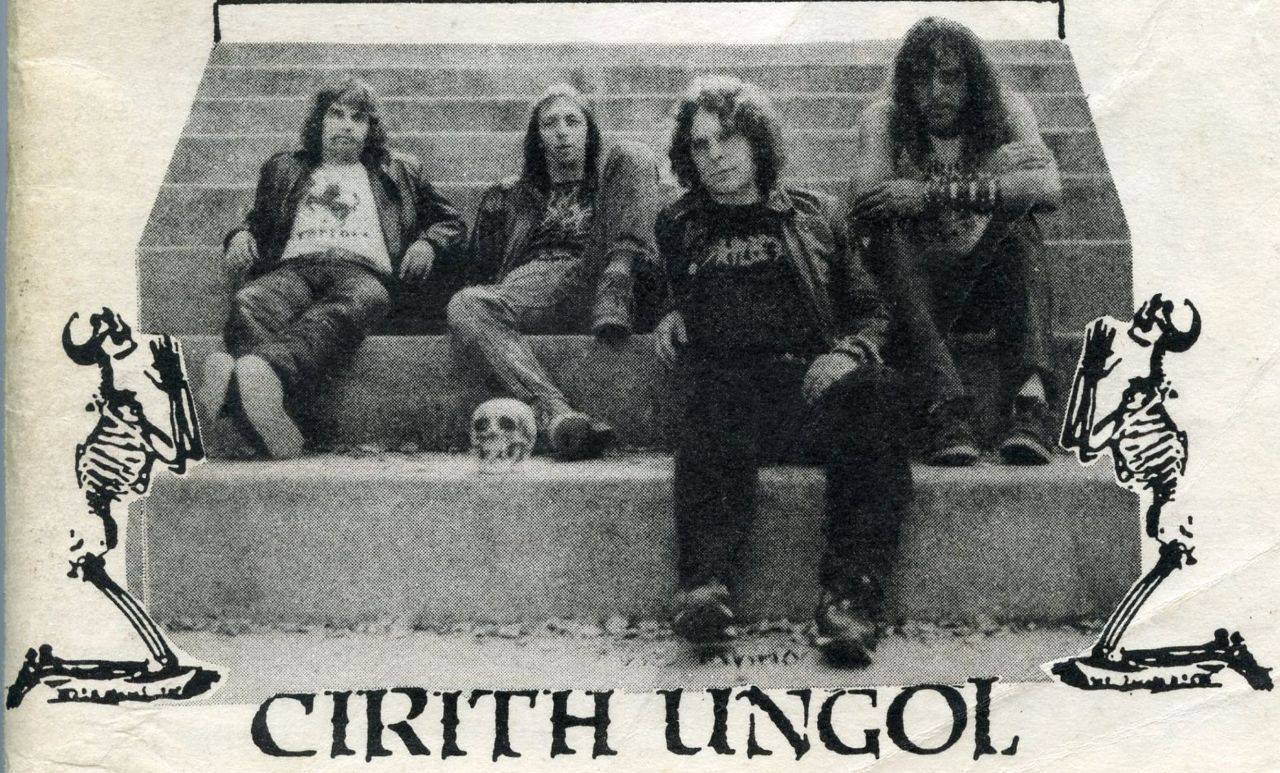 What followed next for you in the 90s?
Greg Lindstrom: In the 90s I concentrated on my engineering career, but later in the 2000s I was part of the band Falcon with Perry Grayson from Destiny's End on guitar and Darin McCloskey from Pale Divine on drums. We put out two albums of 70s influenced heavy rock that I am quite proud of … and there's a few old Cirith Ungol songs between the two albums.
Rob Garven: Cirith Ungol like the great old one Cthulhu sank beneath the waves waiting in darkness for the time when the stars would align.
What would be some of the craziest gigs you played?
Greg Lindstrom: It wasn't a crazy gig, but one of the first shows Cirith Ungol ever played was providing the music for a local theatre production of "The Hobbit". We just played songs like 'Mississippi Queen' and 'Jumpin' Jack Flash' between scenes in the play. We were too loud for the director and they kicked us out after one night … but I'm not sure if the play lasted any longer than that! More recently, and again, it wasn't a crazy show, it was a very memorable one, was the Chaos Descends open air festival in Germany in 2017. We played at midnight in a valley between two forested mountainsides and it was so beautiful that I almost forgot what I was playing a couple of times because I was so moved by our surroundings. Then Sunn O))) played the next night and I think the mountains actually moved…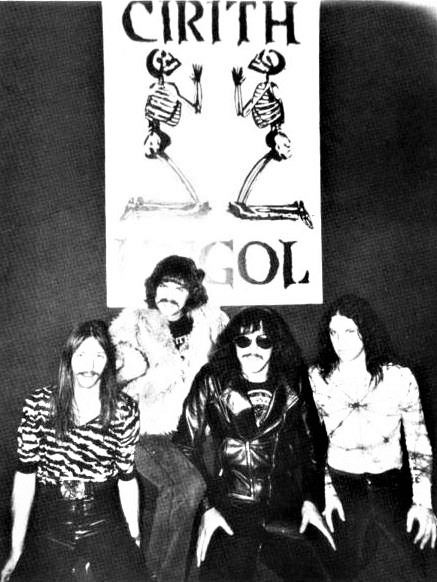 You made so many people happy when you got back together and released the single 'Witch's Game', followed by 'Forever Black'. Can you share some further words about your latest album?
Rob Garven: The name of our fifth studio album 'Forever Black,' released in 2020 as the worldwide pandemic hit says it all, it sets the dark and brooding mood for this album, and describes the descending darkness that envelopes us, and is headed our way. It is said our music conjures up the darker side of man's eternal struggle, A Churning Maelstrom of Metal Chaos Descending! Every band's music evolves over the years and between albums, but we wanted to try to pick up right from where we left off after 'Paradise Lost,' and create an album of all new material, but to stay true to our original vision of the Heaviest Metal Known to Man!
There is a blend of themes on this album from the call to arms of 'Legions Arise,' to the nod to 'Frost And Fire,' on 'The Frost Monstreme' and 'The Fire Devine,' with the rest being part of Tim's dystopian and prophetic vision of a bleak future for mankind! Some of our lyrics may seem outrageous, such as 'Legions Arise'. However, we have truly been on a lifelong crusade to raise the banner of true metal, as a beacon for all to follow through the darkness, and as 'Chaos Descends,' false metal will fall!
When the concept of the 'Forever Black' album was coming to life, we wanted something equally dark and brooding as the music, for the cover. We found this small study of Michael's entitled, 'Elric in Exile,' which fit perfectly the atmosphere of the album concept. The album received some pretty amazing reviews, and more than a handful of magazines and websites picked it the #1 album of 2020. However, fate was not on our side and it was released the same month the world slid into the worldwide pandemic.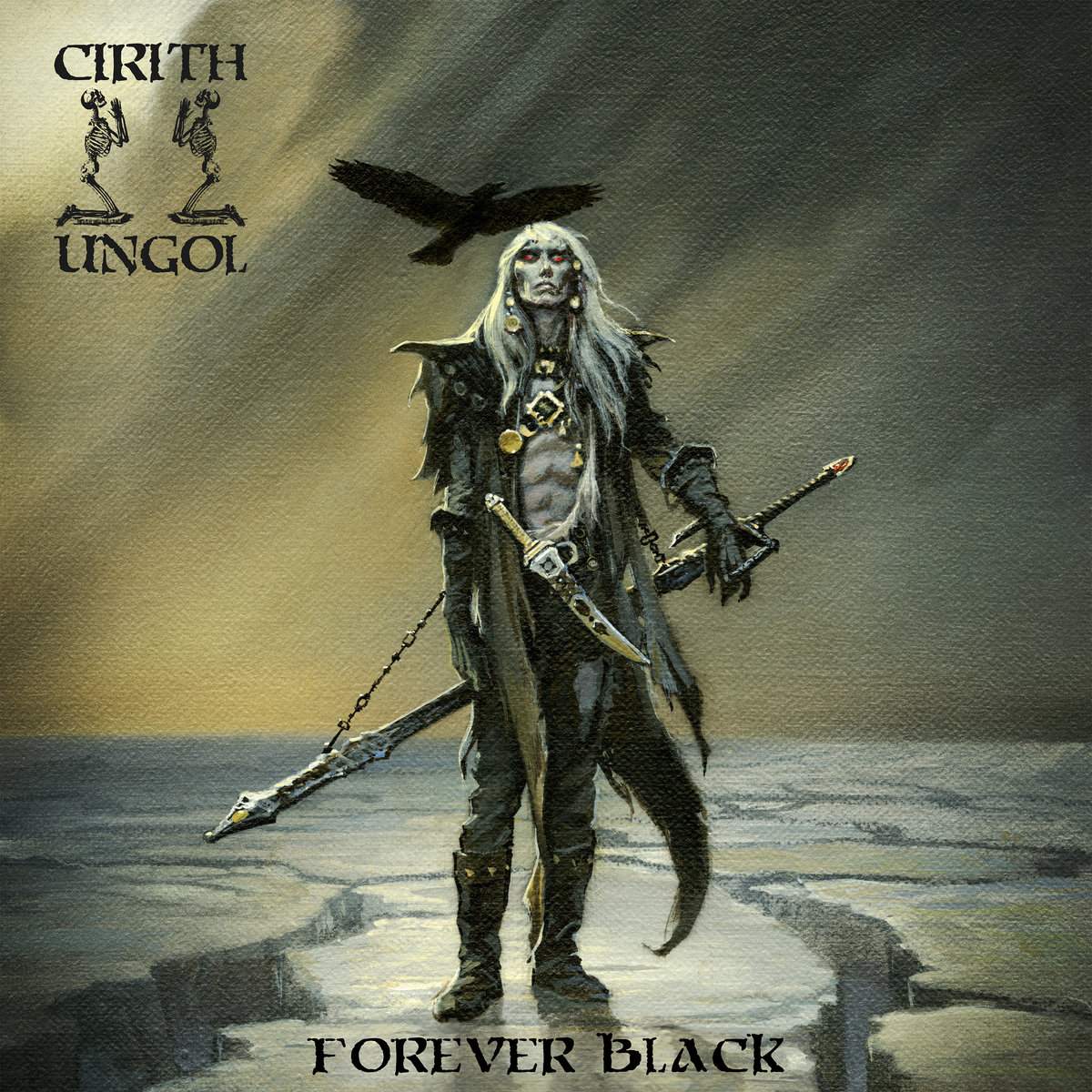 Our latest project was the 4 song EP 'Half Past Human' released on Metal Blade Records in 2021. We released this to leave a placemark between full length studio albums. So many had asked us to dig up some of our earlier material, and re-record it. At first, we were against that idea, hoping to put out another full length album, but the pandemic seemed the perfect opportunity to do something like this. We decided to breathe new life into a few songs with a similar beast like theme, and really pump them up and make them extra heavy! Many have misunderstood what this EP is, these are not new songs, but some of our earliest material written from 1975 to 1977!
We picked the Michael Whelan painting, "Weird of the White Wolf" as it shows Elric, with his black blade "Stormbringer" and sucking the soul from, you guessed it, a beast faced mercenary! This might be the most vivid of the Elric paintings and the album included a large poster of the same theme.
Greg Lindstrom: I think 'Witch's Game' proved that we could still write relevant tunes at our advanced age (ha!), and 'Forever Black' can stand up to any metal album released in 2020. It's a great showcase for Jimmy's guitar playing.
Jarvis Leatherby, you joined the band in 2016, what was the experience for you so far?
Jarvis Leatherby: It was never my intention to be in the band, nor manage the band. It simply happened out of necessity. Mike "Flint" Vujea was intended to return to the band to play bass (in my mind), but that never worked out. As far as managing the band, that was something Rob was requesting from me, and since I was the one who reunited the band, and also had management experience, it all made sense to me.
Are you working on something new?
Rob Garven: We are currently working on what will be our doom laden ultra-heavy sixth studio album, to be released in 2023 on Metal Blade Records. The songs were written during the pandemic, and the cover will feature another masterpiece by Michael Whelan.
What about touring?
Rob Garven: We want to play as many shows as possible, but some members of the band have other commitments, making traditional touring impossible. Large festivals work best for us because we can reach out to as many people as possible, and gather new followers to the Legions of Chaos! We dreamt of playing extensive tours across the world when we were younger, but that dream died many years ago. Our plan is to keep playing as long as people want to come out to see the band.
Just for fun, what are some of the less known albums (old or/and new) band members enjoy?
Rob Garven: Night Sun, Boomerang, Lucifer's Friend, Neil Merryweather and the Space Rangers, Budgie, Head Over Heels, Highway Robbery, Mrs. Hippie, et cetera.
Greg Lindstrom: As far as newish heavy bands, I like Green Lung, Crypt Trip, Elder, and Earthless a lot. I've been listening to early 90s Seattle band Sweet Water who are still active – great catchy songs like early Who, just harder. Also SVT, an early 80s San Francisco band with one of my favorite bass players, Jack Casady (Hot Tuna, Jefferson Airplane). This, however, is new wave/hard rock. Brian Marnell, the lead singer/guitarist, never wrote a bad song. And I always go back to Captain Beyond, Mountain, Dust, Night Sun, Hard Stuff, early Scorpions, and Thin Lizzy for my comfort zone!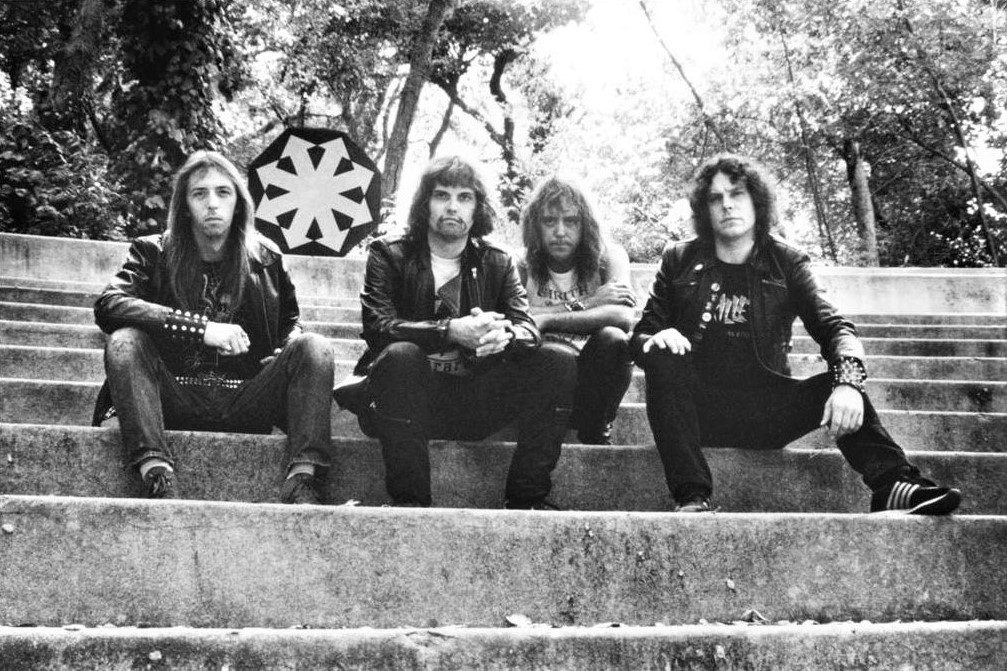 Looking back, what was the highlight of your time in the band? Which songs are you most proud of? Where and when was your most memorable gig?
Rob Garven: The highlight of the band for me was when 'Forever Black' was released and the readers of Metal.IT picked it as the #1 album of 2020 besting many of the bands we grew up listening to! My favorite songs are 'King Of The Dead,' 'Cirith Ungol,' 'Blood & Iron,' 'Chaos Descends,' 'Legions Arise,' and 'Nightmare,' 'The Frost Monstreme'.
The most memorable gigs since we reunited, Frost & Fire Festival II, here in Ventura, Keep it True Festival in Germany, Up the Hammers in Greece. These are most memorable to me as the band never dreamed we would get back together, and all those promoters took a chance on us, having faith in our music after all these years!
Greg Lindstrom: We have played a lot of memorable shows, especially in these last couple of years we have been together, but I think my most memorable show was one we didn't actually play. The first Frost and Fire Festival in Ventura in 2015 (before we had reformed), Jarvis arranged a Cirith Ungol signing event. I was amazed and humbled by the number of fans who came from around the world to talk to us and get their Cirith Ungol albums signed. We were signing stuff for almost two hours. It really made an impact on us as to how the band meant to people.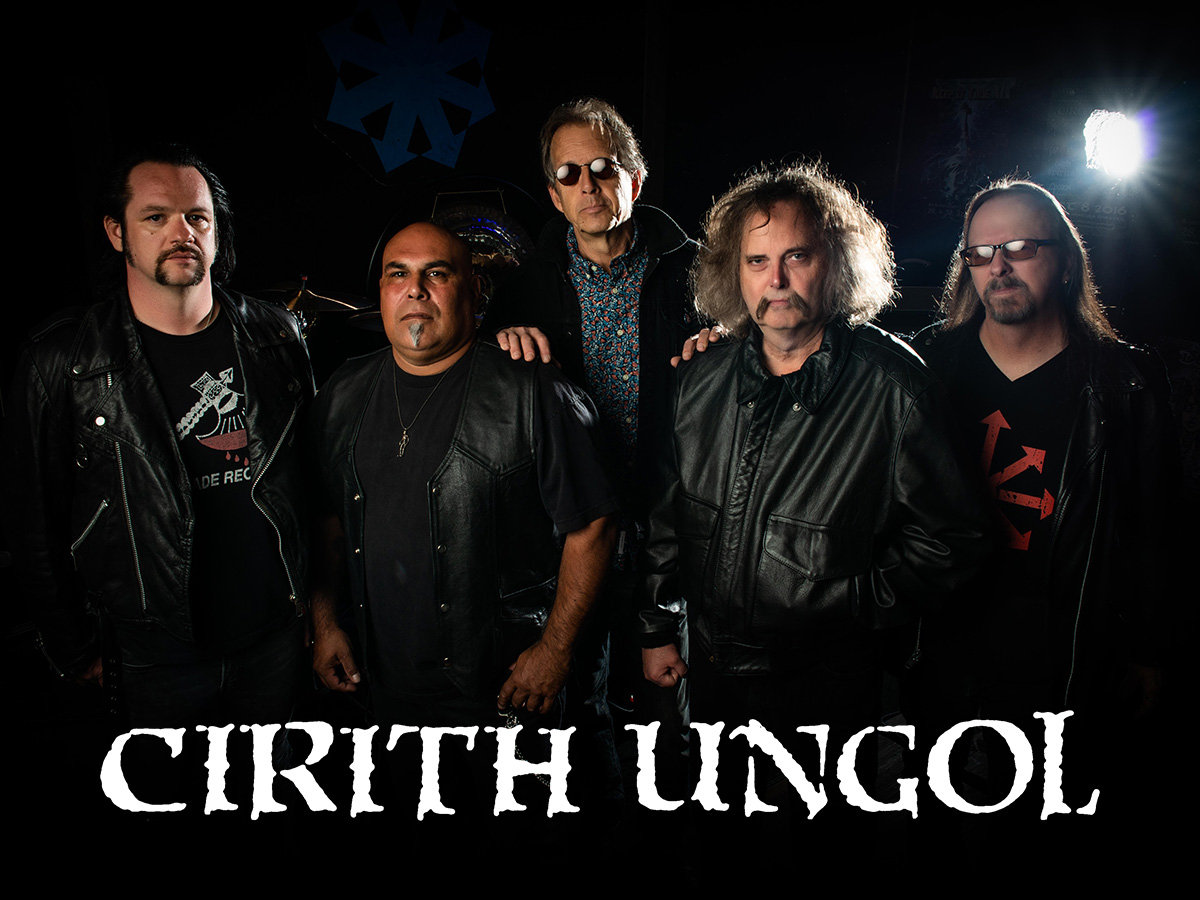 Thank you for taking your time. Last word is yours.
Rob Garven: Thank you for your interest and thoughtful questions about Cirith Ungol. We would like to send our greetings out to all our friends and fans across this doomed planet, who took time out of their busy schedule to read this interview. We look forward to seeing many of you, at one of our rare upcoming appearances, and please check out our latest releases, you will not be disappointed!
Klemen Breznikar
---
Headline photo: Cirith Ungol at Plaza Park Protest, May 16 1971
All photo materials are copyrighted by their respective copyright owners, and are subject to use for INFORMATIONAL PURPOSES ONLY!
Cirith Ungol Website / Facebook / Instagram / Bandcamp
Metal Blade Records Official Website / Facebook / Instagram / Twitter / Bandcamp / YouTube