The Detroit Doors and the Free | Interview | Guitarist Joe Memmer
"Detroit Rock City" should have been the name of a Seventies-era pinball machine produced at the height of the world's obsession with video arcades. Why? Well, because the rock 'n' roll industry—especially the then burgeoning music industry of Detroit— is a pinball machine. The young, hopeful musicians of the late '60s stood in front of the televisions of their youth and, mesmerized by Elvis and the Beatles, decided to pull back on their own personal plunger: so rolled their optimistic silver balls into a dizzying, glass-encased world of flashing lights and bell-dinging sounds. But beware of the pinball wizard manning the flippers: for the Merlin of this game is not a high-scoring Elton John. For many hopefuls: the industry-wizard always tilts the machine.
Some of rock 'n' roll's great pinball duos never leave the glass-encased playing field: John Lennon had his Paul McCartney. Keith Richards has his Mick Jagger. Joe Perry has his toxic-twin sidekick in Steven Tyler. To put it in a Detroit perspective: Dick Wagner had his Alice Cooper and Ron Asheton had his Iggy Pop. Another of those silver balls rolling down the I-94 through the Motor City's back alleyways into the illuminated, bell-dinging world of "Detroit Rock City" was a young guitarist by the name of Joe Memmer. His silver-sheen sidekick: a singer by the name of Dave Gilbert.
If you're a connoisseur of Detroit's rock 'n' roll scene of the late '60s and early '70s, you know the name of Dave Gilbert as Detroit's version of David Lee Roth and Steven Tyler. You know Gilbert as the frontman for one the Motor City's most underrated bands: one that rose from the ashes of Mitch Ryder and the Detroit Wheels. Yes. The Rockets were a band just as deserving as KISS to have marketed their own pinball machine—and what a machine that would have been.
Meanwhile, as the silver ball of an unsung Detroit guitarist named Joe Memmer danced under the glass, there were a few flashing lights and bell-dinging, brief gigs with Alice Cooper, Salem Witchcraft, Bob Seger, and Dick Wagner of Frost; the balls eventually bounced off the bumpers of famed music impresario Robert Stigwood, the Bee Gees, and Iron Maiden, as well as Jim Morrison's early Seventies, Motor City-bred doppelganger, The Phantom.
So hold on tight as we roll through the music industry's arcade of deceptive flashing lights and sounds with one of its long-time players—and he's still playing a mean game of pinball: Joe Memmer.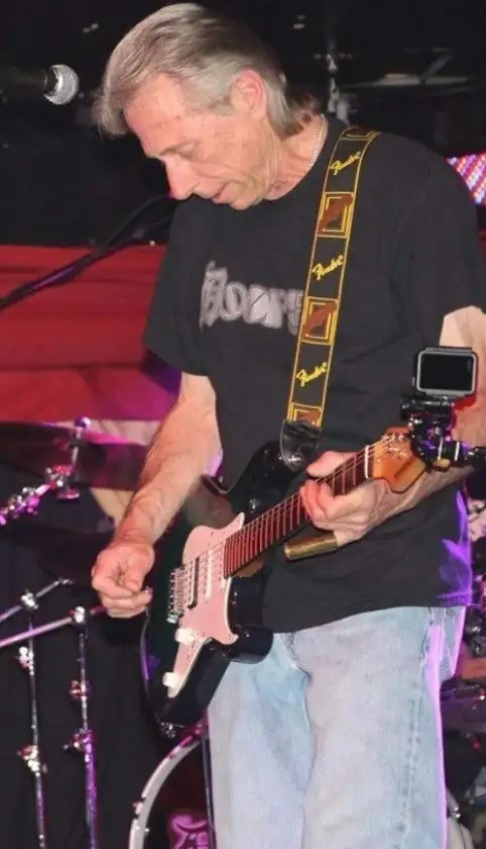 You were initially with the Free in the late '60s, then with Shadow in the early '70s. Could you tell me more about those bands beyond the brief, spotty bios we see online via fan blogs and YouTube uploads of the singles?
Joe Memmer: I was in the Free with Dave Gilbert, and then we formed Shadow out of the ashes of the Free. And Dave's brother, Marc, was in Shadow as well. Now, in the early '80s [from 1980 to 1986], Marc was in Adrenalin. When I started—finally—playing at Harpos on a regular basis with Pendragon, Adrenalin opened for us. Then Adrenalin got pretty hot; they were ready to sign a record deal. Next thing you know: the tables turn and Pendragon now opens for Adrenalin! Every time they came off a national tour leg, Harpos always had a headlining spot for Marc and Adrenalin.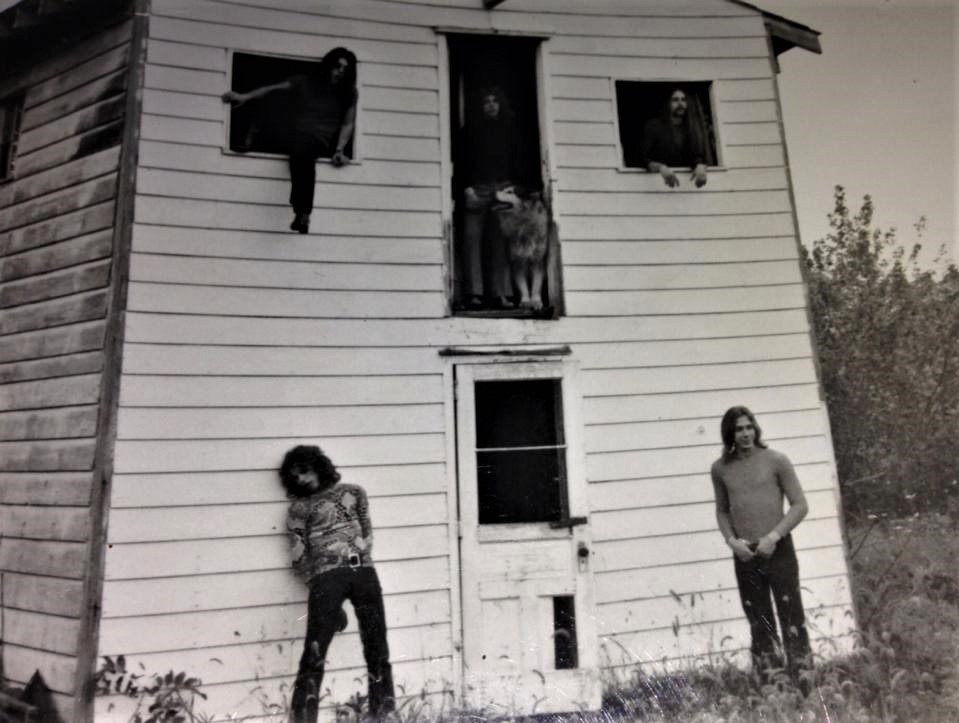 You and Marc Gilbert were also in JEM.
Yes, that was in the mid-to-late '70s. I still have a 16-track master from JEM. That was after Shadow and before Marc went with Adrenalin. Dave was off with New Order by that point [1974 to 1975]. To save the tape: I had it put it in an oven and bake it to a certain temperature and time; take it out, let it cool, then bake it again, you know, so the oxide adhered back to the acetate base. The oxide peeled off the first song of the tape. So there is some bass drop off. Other than that, the process worked well enough. But that was JEM.
Dave Gilbert's joining New Order was after his stint with Ted Nugent, correct?
Yes, Dave left Shadow to join Ted's band, as Ted was touring his album, 'Survival of the Fittest' [1971]. Ron Asheton of the Stooges put New Order together with Dennis Thompson from the MC 5 and K.J Knight from the Amboy Dukes.
Harpos—for our overseas European readers that do not know: Harpos was not only a legendary venue in Detroit, it was nationally known as a premiere tour stop in the Midwest-Great Lakes region of the U.S.
I loved Harpos. I loved playing there and hanging out. It was this old theatre in the worst part of town, off Chalmers [Street at 14238 Harper Avenue], and these guys bought it and converted it. That was in, uh, 1972, maybe 1974, I believe. But it was right next to the freeway, the I-94, so you could make a quick getaway (laughs). It was a really bad neighborhood!
You were also in a Los Angeles band called Synergy that has a connection to Missing Persons.
I was in Synergy with a keyboardist, Chuck Wild. Synergy did this funk thing with a chick singer. It was more of a disco band, really; at the time that was "hot" and it was paying better than the rock thing. Anyway, Chuck goes downtown to some audition in L.A. This was right around the time that I had enough: I was going to leave California for Michigan. I found out, a bit later, that Chuck's audition was for Missing Persons—and he became one of their two keyboard players. As you know, they became the new-wave darlings of MTV. Chuck later worked with Michael Jackson and he's done really well in the ambient music field as Liquid Mind.
Paul Warren and Jimmy Hunter from Detroit's Rare Earth were out in Los Angeles around that same time in Ray Manzarek's Nite City.
Everyone from Detroit was out in L.A. at the time! Jerry Zubal, who also worked in Pendragon, but not at the same time as me; he was out there with Rockicks; they were on R.S.O, which was Robert Stigwood's label—and I worked with Stigwood in Shadow! Now, I knew Paul Warren, but not really well; however, I was good friends with [drummer] Jimmy Hunter. I remember Jimmy calling to invite my wife and me down to 'The Midnight Special' [a popular, weekly U.S. television concert series on NBC-TV] taping for Paul Warren and Explorer. Now, I don't know if you knew this: they hold the distinction of being the only unsigned band to appear on 'The Midnight Special', which is pretty cool. They had a really nice L.A. fanbase. They should have been bigger.
So, after Syngery, you returned to Detroit. Then you worked with a musician who everyone thought was Jim Morrison for a time.
I first met Arthur Pendragon when he was hanging out at Harpos; not playing there, but hanging out, having a beer and listening to bands. Art was pretty good friends with Ron Baltrusz, the guy that booked [Pendragon] into Harpos, a lot. Ron had his own booking agency with a couple of other partners, Rick McNeil and Kurt Foltz; together, they booked a lot of cover bands around town. Ron eventually went on his own to book the bands he wanted, and Ron also became a partner in Harpos. I ended up joining Pendragon in 1978-ish and was with the band until 1980, roughly three years.
At the time, Pendragon had two guitar players—I can't recall who [Jerry Zubal and Chris Marshall, the latter formerly with White Bucks: a prog-rock concern headed by ex-Bob Seger System drummer Pep Perrine]—but there was this competition between the two, with each turning up and trying to play louder than the other. And things got too loud. So Arthur got tired of that and canned the whole band, as he didn't want to "go metal", which was the thing at the time. And that's where I came in: Art and me building a whole new band along the lines that he wanted.
So, my buddy, Larry Marshall, who booked the previous version of the Pendragon band, mentioned he knew Art; that Art was a pretty good writer and singer. And I knew Art was a pretty good guy from Harpos, so I went out to Rochester, where his house was and he had his own recording loft-studio in his garage. We talked; I listened to some demos and Art's stuff was pretty cool. "Queen of Air" and "Morgan le Fey" were there and I knew I could be happy playing his stuff. Art told me he had a keyboardist, but we needed a drummer, so I had a buddy, Ed Lawson, and I brought him in. And we set up shop in the keyboardist's house to rehearse.
That would be Arthur's longtime keyboardist, Bob Ellis. He was a constant in the various Pendragon rosters.
That's right. Bob Ellis. We were there for three to four weeks and got it together, so we did some gigs. We weren't doing Harpos, obviously. Just small bars, such as the 300 Bowl, some places in Taylor, Michigan, and so on. But it's been forty years, so I can't remember all the bars, but there were a lot of them before we made it to Harpos, which was the gig in Detroit at the time.
I can tell you that the Pendragon version I was in started as a four-piece, not as a quintet as it once was—with me on guitar and Arthur on bass at that point, and Ed Lawson on drums and Bob, of course. Then Art decided he wanted to play guitar, so we brought in a bass player, Marc Kopchak, who has an interesting resume, playing with guys from Mitch Ryder's bands around Detroit. Bob Ellis worked with Marc in the past; I think that may have been the band Wildwood with Billy Csernits, and brought him in.
Dave Gilbert just never got his due with the Rockets. He's an amazing vocalist; one we should revere as Steven Tyler in Aerosmith or David Lee Roth.
Dave could sing! Everyone knew he could, but he didn't and didn't see himself as a lead singer. I went to jam at someone's house, this was around 1967. There was Dave, along with a bassist, a drummer, and myself. Dave was a keyboardist; he had an organ. So we did "Little Games" by the Yardbirds and Dave was really good —but he's not playing his organ, just singing. So, when I was putting a band together, I ran into Dave at the public library. I told him we needed a singer, but one who just sings, not plays the organ, which was typical for a lead singer to do at the time: stand behind a keyboard. And he agreed.
So that was the beginning of the Free. The name came from this business we used to drive by for practice: Midwest Tree Company, which was our name for a time. But Dave felt it was a dumb name, so we shortened it to the Free. And we cut that first single for Atco/Atlantic.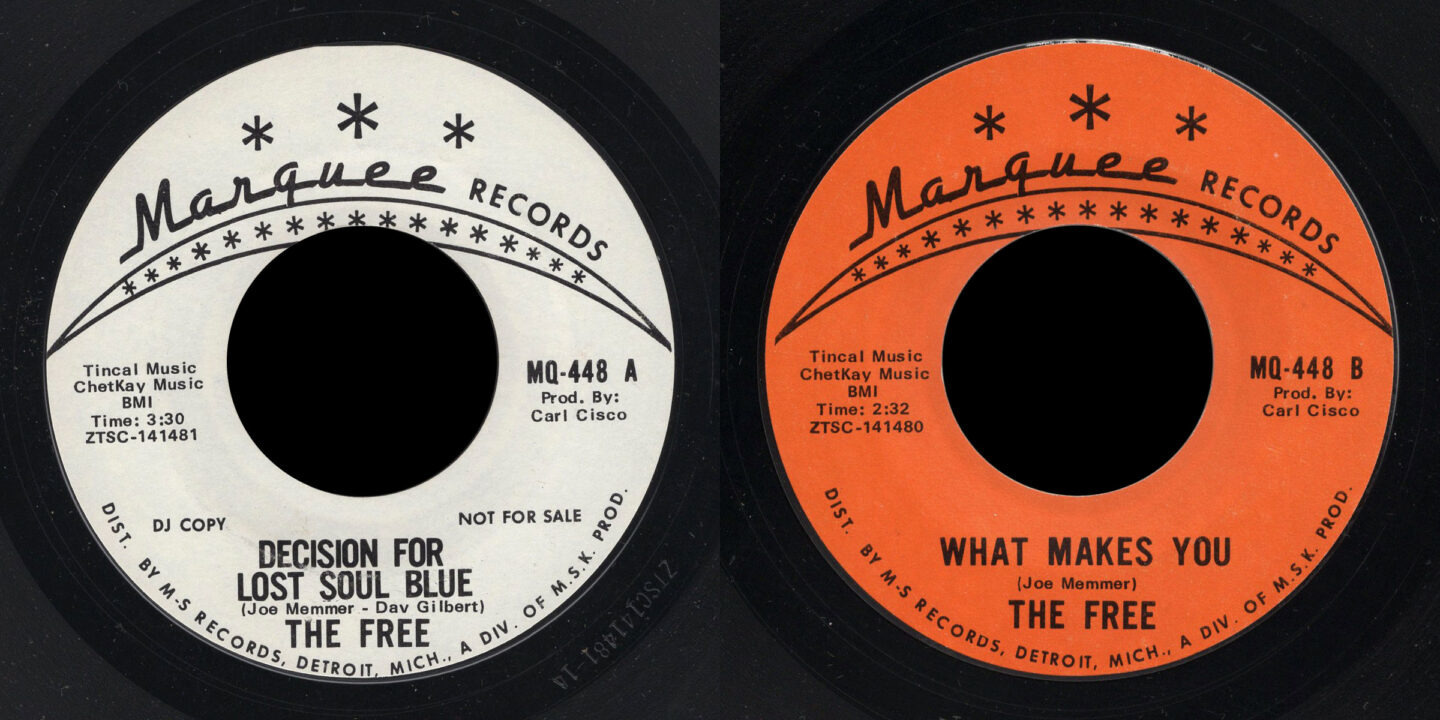 Your single for the label, '(Day of Decision) For Lost Soul Blue' b/w 'What Makes You,' was first issued locally on Marquee.
We recorded the single around the fall of 1968 at Ralph Terrana and Al Sherman's Tera Shirma Studios out of our own pockets. Carl Cisco, who managed the career of CKLW DJ Tom Shannon, earned his production credit on the single as result of his bringing in Motown's horn section for the sessions. Shannon, who was in partnership with Carl Cisco and Nick Ameno [the latter two from Midwest-based groups the Antiques, the Buena Vistas, and the LaSalles], ran Marquee. That's how we ended up on the label. That was around December 1968, when the single was issued.
The Free made the regional sales charts through local airplay on CKLW Toronto and WKNR Detroit; the single went on to have a three-week run as the "Pick of the Week" on CKLW. Impressed with the sales and airplay, Atco/Atlantic picked up the record for national distribution. That was in March 1969.
Then Ted Nugent, indirectly, broke up the band?
The Free remained together for about a year, until Dave Gilbert left to become the lead vocalist for Ted Nugent in January 1971. Actually, after the Free broke up in 1970, Dave moved to Ann Arbor and joined Shaky Jake, then Nugent's band. While he doesn't appear on the album, like I said: Dave toured Nugent and the Dukes' release, 'Survival of the Fittest'. Dave's hard partying lifestyle conflicted with Nugent's anti-drug stance [which caused him to dissolve the Amboy Dukes in the first place], so it didn't last. But Dave had wanted to leave anyway, to form a new band with his brother Marc.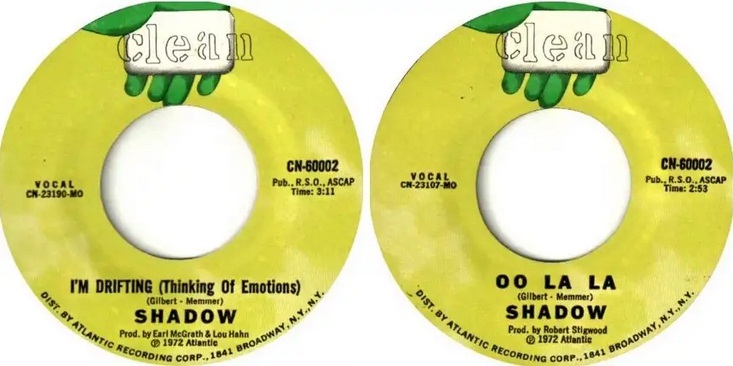 Shadow eventually recorded for Robert Stigwood and he rejected the album?
Stigwood actually produced our stuff. He was starting his own label, Clean. This was before R.S.O. He put Clean together with Earl McGrath, later of Rolling Stone Records. I think Earl, at the time, was an executive at 20th Century Fox Pictures. Clean was their first shot at their own label. So Stigwood signed America and Shadow. But Starbuck was on the roster for a time, as well. Shadow, at the time, was me, Dave, the bassist from the Free, along with Dave's brother, Marc, later of Adrenalin, and a drummer, Dave Crurella. We put out a single, 'I'm Drifting (Thinking of You)' b/w 'Oh La La', around 1972.
Then you crossed paths with the Bee Gees.
It came together when McGrath saw Shadow in Ann Arbor, Michigan, and liked it; we flew to New York for Stigwood to audition our originals. At the time, the Bee Gees were Stig's boys, let me tell you. We went to Stig's five-story townhouse on Park Avenue, just me, Dave, and Marc, and we sang five or six songs in harmony with an acoustic guitar. Stig got up and he told us he liked it a lot. So he tells us his "boys", the Bee Gees, are in town and he had to go. But he invited us to their concert at Radio City Music Hall. He sent a limo to pick us up. We got invited to the after-show back-stage party, which was very cool. Anyway, McGrath calls us the next day. I guess we got along with the Bee Gees alright enough, since Stigwood wanted to sign Shadow. So we signed. And that's when we found out Stigwood wanted to put an orchestra behind us.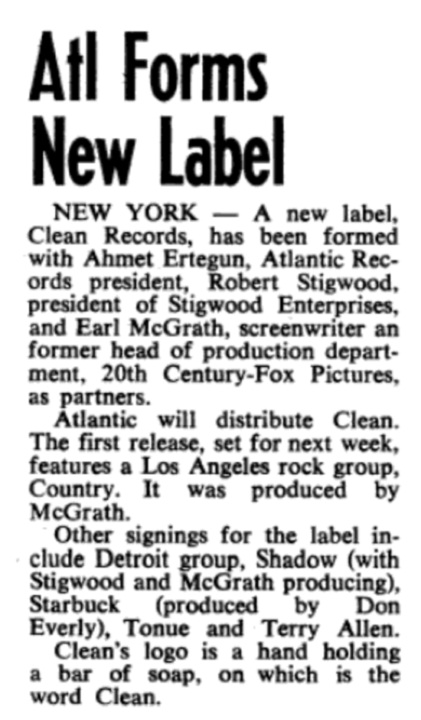 Right away with the lush Bee Gees arrangements.
I could see the strings in spots but not all the way across all the songs on the whole record. Dave, on the other hand, was dead set against any of it. He refused to "sell out" as he put it. I guess Stigwood wanted to keep those guys [the orchestra musicians] working between Bee Gees gigs, but we weren't going to be the Bee Gees. No way. So we did the album in three weeks in New York. Then went back for another three [weeks] and finished it. The label mixed it down without us—we had no input. Clean produced a test pressing and gave it to Stigwood. However, by then, Stigwood didn't care anymore because we didn't put his orchestra non-sense behind us as he wanted.
Stigwood told us he'd release the single and if it "does something", he'll put some money behind it. But Clean didn't try to get airplay. A couple Ann Arbor stations picked it up, and then it just faded away.
But we still had a contract. So Shadow did another demo. And Stigwood liked that. And he said, "Keep at it. Cut some more songs". Basically, you get the cold shoulder when you don't do what they want, which we didn't.
So Shadow split.
We went back to Columbus, Ohio, where we were based. Our financial backer lived there: John M. Moore, a big booking agent in the area. John wanted to get into rock 'n' roll; he never had a rock band in his stable that he broke and that was one of his life's goals. So he picked Shadow. But we were done by 1973. I ended up back in Michigan. Dave Gilbert ended up in Los Angeles; again, around the time he joined New Order, a "supergroup" put together by ex-members of the Stooges and the MC5. You might remember Ray Manzarek and Iggy Pop had a band during that time in L.A., as well, before Ray put Nite City together.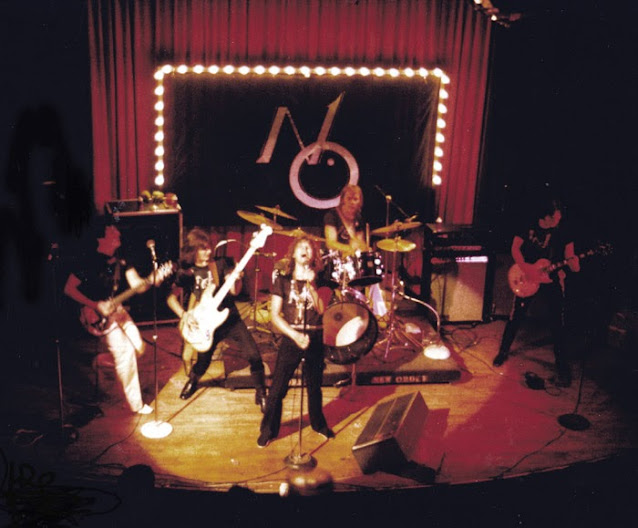 So you're back in Michigan and Pendragon came together.
Yes. That lasted for about three years. Arthur's material, as with his Phantom's Divine Comedy stuff from 1974, always had a dark, moody vibe. But it was great songwriting nonetheless. 'Queen of Air', which became somewhat of a local hit after I was out of the band, was a great, great song. 'Morgan le Fey', 'Lone Wolf' and 'Storms' are great songs, as well. Another great one was 'Roll with the Waves'. Now, while we did originals and had all-original sets, we had to mix in covers, sometimes. You did that to get booked and survive. We also had an all-covers set. And yes, we did quite a bit of Doors tunes. The band even had an all-Doors set that played into Art's notoriety at the time.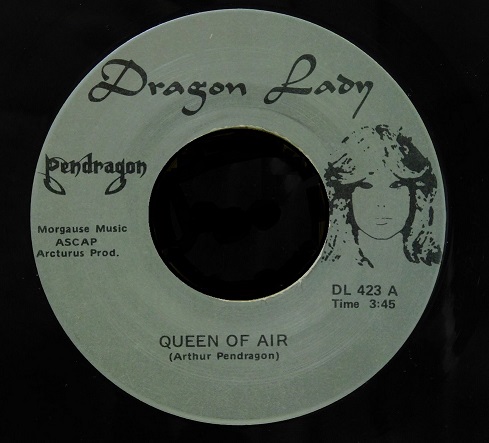 Again, Pendragon played Harpos, a lot. We opened for the Shoes [a new-wave pop outfit with three U.S. albums on Elektra], even Iron Maiden, when they were on their first U.S. tour. Just about every major band of the day that stopped at Harpos: we opened the show. Now, I wasn't with the band at the time, but Pendragon also opened several shows in the region for Huey Lewis and the News. That's back in the days when "hot" local or regional bands could get gigs like that.

Now you've come full circle from doing Doors covers and Doors tribute sets with Arthur Pendragon in Pendragon—to joining the Detroit Doors.
How that happened is that Mike "Chizzy" Chisholm and I had a mutual friend in Scott Williams, the Detroit Doors' drummer. The band needed a guitarist, so I met Chizzy and, well, he's just a beautiful human being. He's a great singer with a great stage presence, fully committed to honoring Jim Morrison's legacy. So, yeah, we are still going strong, doing shows all over Michigan—especially fund-raising charity gigs, which is important to us: to give back to the community. You can find us on Facebook.
R.D Francis
---
The Detroit Doors Facebook
Headline photo: Shadow | Dave Gilbert, Marc Gilbert, Mark Walsh, Joe Memmer and Dave Corella | Source: The Rockets Singer David Gilbert
This interview was edited for length and clarity. All photo materials are copyrighted by their respective copyright owners, and are subject to use for INFORMATIONAL PURPOSES ONLY!
Tom Carson and the Lazy Eggs and Fiddlers Music Store | '60s Garage Rock from Detroit, Michigan
Phantom | Interview | Keyboardist Russ Klatt of Phantom's Divine Comedy