'Glacier' by Raveis Kole | New Album, 'In the Moment'
Exclusive track premiere of 'Glacier' by Bellingham, Wash. folk duo Raveis Kole, taken from the upcoming album, 'In the Moment,' out April 28th, 2023.
---
Laurie Raveis and Dennis Kole met by jamming together at a music festival in Montana a decade ago. So it made perfect sense that the pair, now married and comprising the singing-songwriting duo Raveis Kole, should get back to the simplicity of playing and singing together on their effortlessly engaging new album 'In the Moment'.
Playing everything on the album themselves, the duo worked with producer Matt Smith in Austin to add texture through instrumental experimentation—embellishing their songs with banjo, ukulele, lap steel, harp guitar, cavaquinho, tambourine, shakers and foot drums. They whistle and mimic horns with their voices to up the colorful ante.
"It's exciting for the two of us to create this full sound," Raveis explains. "It's a challenge to be able to do all these things, to bring in different colors, textures and harmonies to create the right vibe for the lyrics and still be locked in."
Penning pandemic-inspired tunes started to lose its luster for Raveis Kole. "The times are what they are," says Kole, "but we didn't want to focus on feelings of loss and isolation; and we wanted to go back to celebrating other people, instead of looking at them as potential disease vectors," Kole jokes. "Let's celebrate the importance of other people in our lives, that feeling of being connected to something bigger than yourself."
The pair decided to create the rhythmic pulse with their acoustic guitars instead of with traditional bass and drums. "The thought was let's make it more vulnerable, more intimate, less about big production," Kole says. "Let's make it about us two. What would it sound like if you came to see us at a concert or event? Sort of the stripped-down version of things. This album, as a whole, is our most authentic, unfiltered, intimate work to date. We are out there exposed. We aren't relying on session musicians to come out there and give us protection."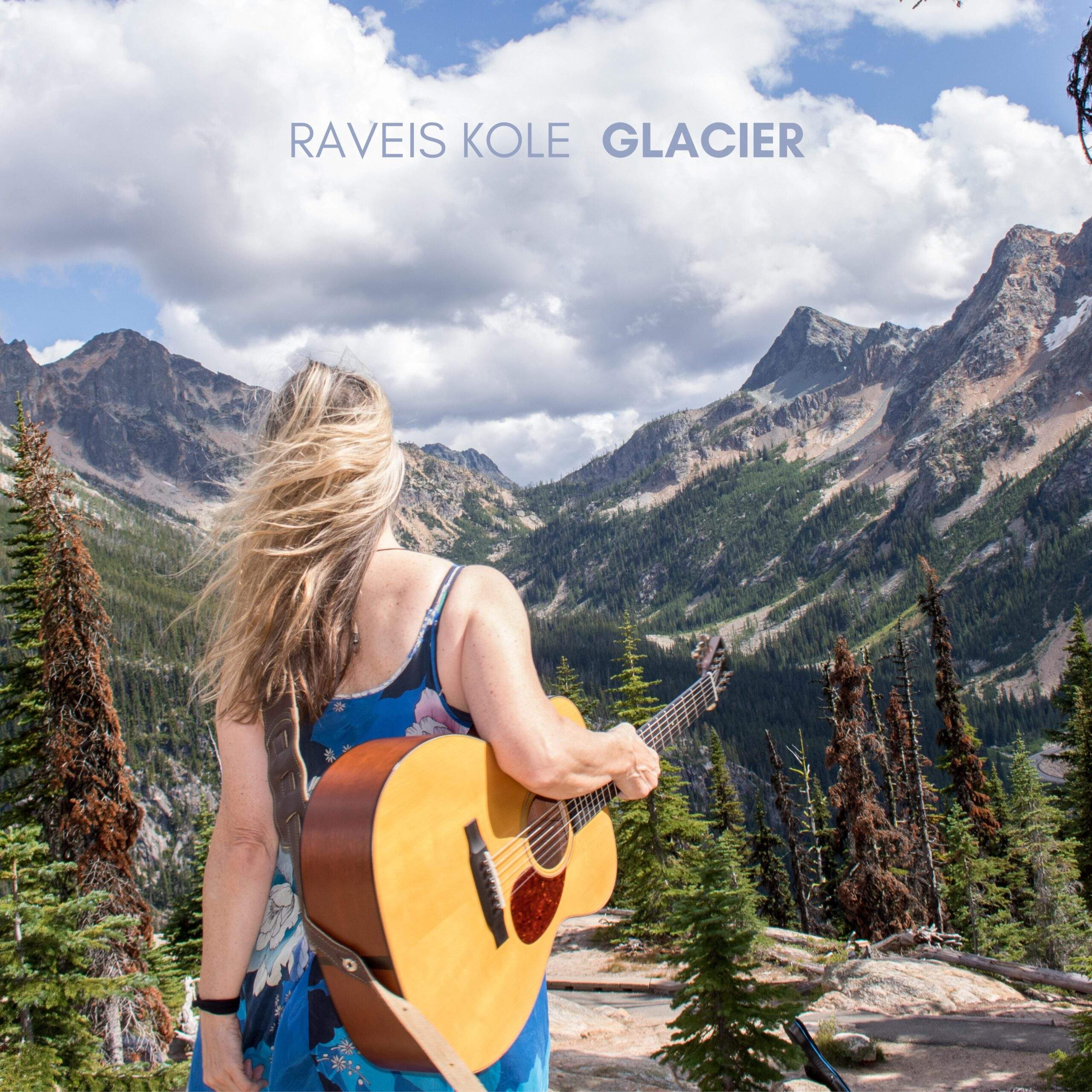 Raveis Kole also kept things lively on 'In the Moment,' their second full-length LP, by changing up styles and moods from song to song.
Laurie Raveis: A trip to the Crown Continent Guitar Festival at Flathead Lake offered the opportunity to visit iconic Glacier National Park. Glacier National Park offers stunning panoramas of rugged, untouched alpine wilderness with over 1 million acres of glacier-carved peaks and valleys, pristine turquoise lakes and streams, primal ancient forests, and the stunning and vertiginous Going-to-the-Sun Road, which traverses the park, crossing the Continental Divide through Logan Pass at an elevation of 6,646 feet.
Immersing myself into this raw and rugged beauty was an exciting and overwhelming sensory experience. I felt flooded by the visceral majesty and grandeur of nature along with the trepidation of traveling solo through remote areas prior to beginning the ascent up the pass. Ultimately, I experienced a transcendent sense of connection to everything, to something greater than myself. It was the first place I had visited that was pure and void of any man-made noises and vibrations. This experience left an indelible imprint on how I view the world and my (our) place within it.
I think that while we all find it easy to be caught up in the distractions of the moment, I find a sense of deeper meaning, stability, and tranquility by directing my awareness and attention to the beauty of the natural world we live in and are a part of.
Dennis Kole: We arranged the song to create an ethereal ambiance that would resonate with the openness and vulnerability of the emotional experience. The acoustic guitar supports this emotional context by using an altered, open tuning, which also includes using a partial capo. The harp guitar provides a sense of grounded connection weaving interlocking contrapuntal motifs with the acoustic guitar parts, and also provides a subtle, organic immersive expansion due to the sympathetic resonance vibration provided by the drone strings.
Laurie Raveis: My favorite part to perform is the word solo which quickens and pushes out the old feelings, and lands on a surrender, release and, ultimately for me, a greater wisdom of self and our world. "A glacial tide rises and floods my soul / A thousand glass bottles with old notes / Push up hard on the shores of my heart / Uncork and embark like a monarch into the valley of Lillies."
Dennis Kole: I really enjoy, "In the quiet, unheard on top of Logan pass / I walked to the edge where the mountain scooped in half / Screech of a hawk / Rustle of the grass / In the tingling of my skin as I felt myself in space / Blood circulates, heartbeat in harmony and grace / Wind caresses / Mountain listens," because the descriptions of the various senses really work together to put me in that very moment.
"Psychedelic" is defined, in part, as: "of or noting a mental state characterized by a profound sense of intensified sensory perception." "Glacier" beautifully articulates both the sense of profundity and the experience of intensified sensory perception to allow the listener to participate in this shared moment. It's a unique amalgam of fragility and timelessness; the quiet, to listen, to notice, that conveys both the ephemeral vulnerability and the enduring beauty of the natural world and to recognize that we too are a part of it all.
---
Headline photo: Awah
Raveis Kole Official Website / Facebook / Instagram / Twitter / YouTube