Sans Âge
Sans Age is the Brussels-based duo of Arthur Chambry and Ugnė Vyliaudaitė. They met in May and played their first concert last Summer.
---
Their music combines trumpet, violin, self-build wind instruments and various electronics.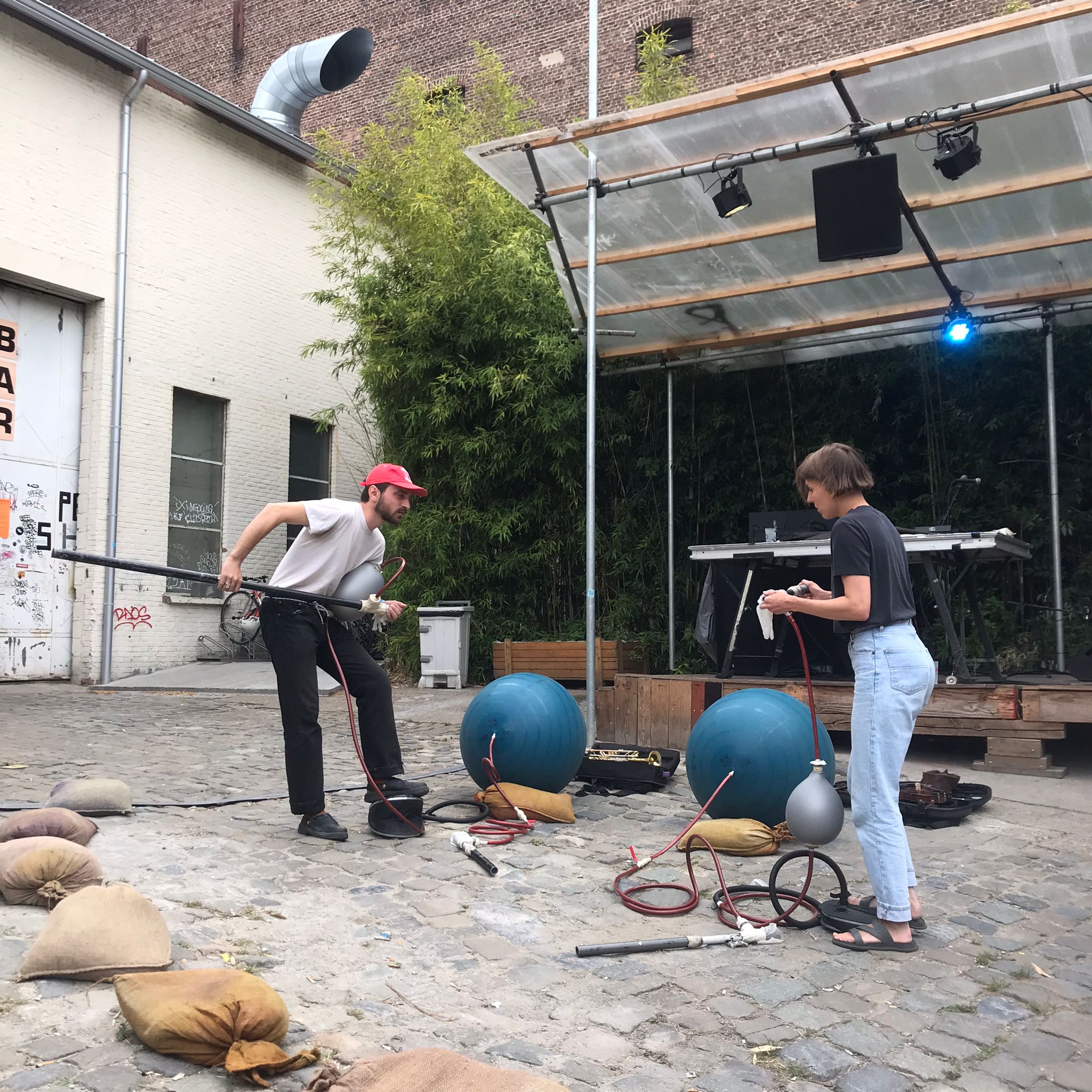 "Starting Sans Âge was a beautiful occasion to open up a bit more and start exploring the physical playing of the instrument and improvisation"
How did you meet?
Arthur Chambry: We met each other in a bar in Brussels (we both live in Brussels), Ugné is a friend of a friend. We discussed music and our practices. I told her, "Oh ok, you should come home one day, we could try to play something together in my DIY studio…". I was really excited because this sound isolated space I built with my father in my apartment was made to provoke this kind of musical meeting. She came one time with her violin, and I came with my trumpet and my DIY bagpipe balls. We tried something and we enjoyed it. Next time I said: "Ok, I'm invited to play somewhere in Brussels, let's think about doing something together?"…
Ugné Vyliaudaitė: We met in May, in Brussels, in Parvis de St. Gilles. Arthur had a drink with a friend we have in common, I joined them and at that moment our friendship was born. The conversation about music came up almost instantly and was shortly followed by the idea to try playing together.
What do the both of you have in common?
Arthur: I think we are really different and it's the reason why I really loved to get in touch with Ugné and to work with her. Both of us come from the field of experimental electronic music, it's our point in common. According to me, I think that I really wanted to influence the project toward a physical performance: "Ok, let's deflate these big DIY bagpipes, sittin on it and being laid, and let's see how we can still play our instruments". It's an example. We are not hidden behind machines, we want our bodies really involved in the process. With this project we also focus a lot on improvisation parts and Ugné told me it was quite new for her.
Ugnė: I guess what we both have in common is an experimental music background that leads us to have this mutual curiosity for everything that turns around the nature of sound, its textures, its qualities. I appreciate a lot playing with Arthur for this, it seems that the musical dialogue is enjoyable, easy and very natural. At the same time we do come from very different backgrounds: in recent years Arthur was removing himself from electronic music, diving into more of a performative and theatrical approach to music making, while me – I have always been more into electronic music than acoustic. Starting Sans Âge was a beautiful occasion to open up a bit more and start exploring the physical playing of the instrument and improvisation.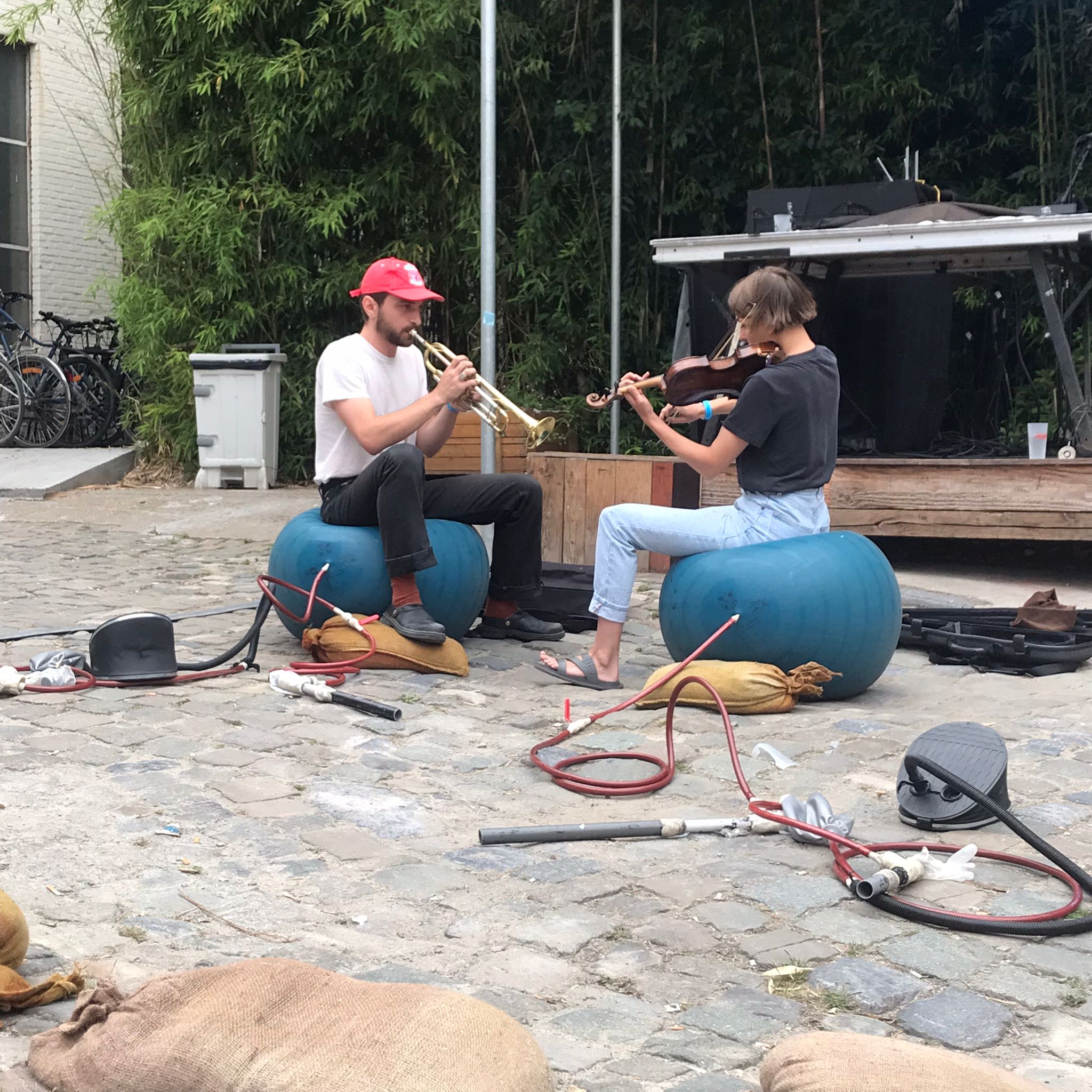 You play the combination of trumpet and violin. Why did you choose this combination?
Arthur: We didn't really choose, she plays violin, I play trumpet. Let's try to do something with the instruments that we play. But yeah, since the beginning of the project we focused on drones and continuous sound, the violin was super good for that, and I developed circular breathing so it also fits with the things we were looking for, or the things where we were going…
But now the project is a bit different, Ugné also plays with a melodica, she puts effects on her violin, I play with my DIY instruments (flute, horn percussions…), we want to expand the experience. We don't want to limit the project as a duo violin trumpet-drones.
Ugnė: Arthur plays trumpet (amongst other instruments such as self-built wind instruments, percussion, electronics) and I play violin and electronics, so this combination was born very naturally after having discussed that it would be interesting to explore acoustic qualities of these instruments and avoid computers, synthesizers, et cetera.
Do you see the music you play as drone music?
Ugnė: No, not really. I guess, at the very beginning it took that direction, since the first performance we did consisted in creating continuous harmonies and that aesthetic is still there, but when it comes to defining a specific genre, I don't think we aim for it. It is more about playing together freely, improvising, experimenting new things together, and seeing if it speaks to both of us or not.
Arthur: No it's not drone music, I think it's not really interesting for us to define a precise genre for our music. But yes there are drones in some of our tracks, yes there are some things close to traditional/minimalist/psychedelic music… Our goal is to see where we are going when we make music together. We are influenced by the process not by the desire to correspond to a genre. (Maybe I am unconsciously a little bit)
What does Sans Âge mean?
Ugnė: We had to come up with something pretty fast… and Sans Âge was one of Arthur's proposals that I found pretty cool! We both liked the way it sounds and also it refers to some kind of imaginary that sends us to a mysterious parallel dimension that the music we play can sometimes also somehow refer to.
Arthur: We chose it like one week ago so it is really fresh for us (this project is really young!). It's never easy to choose a band name. As I meant before, this name says that we don't really want to be defined in a genre or in aesthetics (but of course we are). To me, it also refers to a mystical world which is not possible to date, outside our space and time references. I love this kind of "fantastic – science fiction" dimension. This world, this tale, this music has no age (it's not old, it's not young).
Arthur, are you originally a trumpet player and drummer?
Arthur: I learnt drums and trumpet almost at the same time 3 or 4 years ago. I was also learning other instruments. I don't really consider myself as a drummer nor as a trumpetist. It's still fresh in my body and I'm still learning.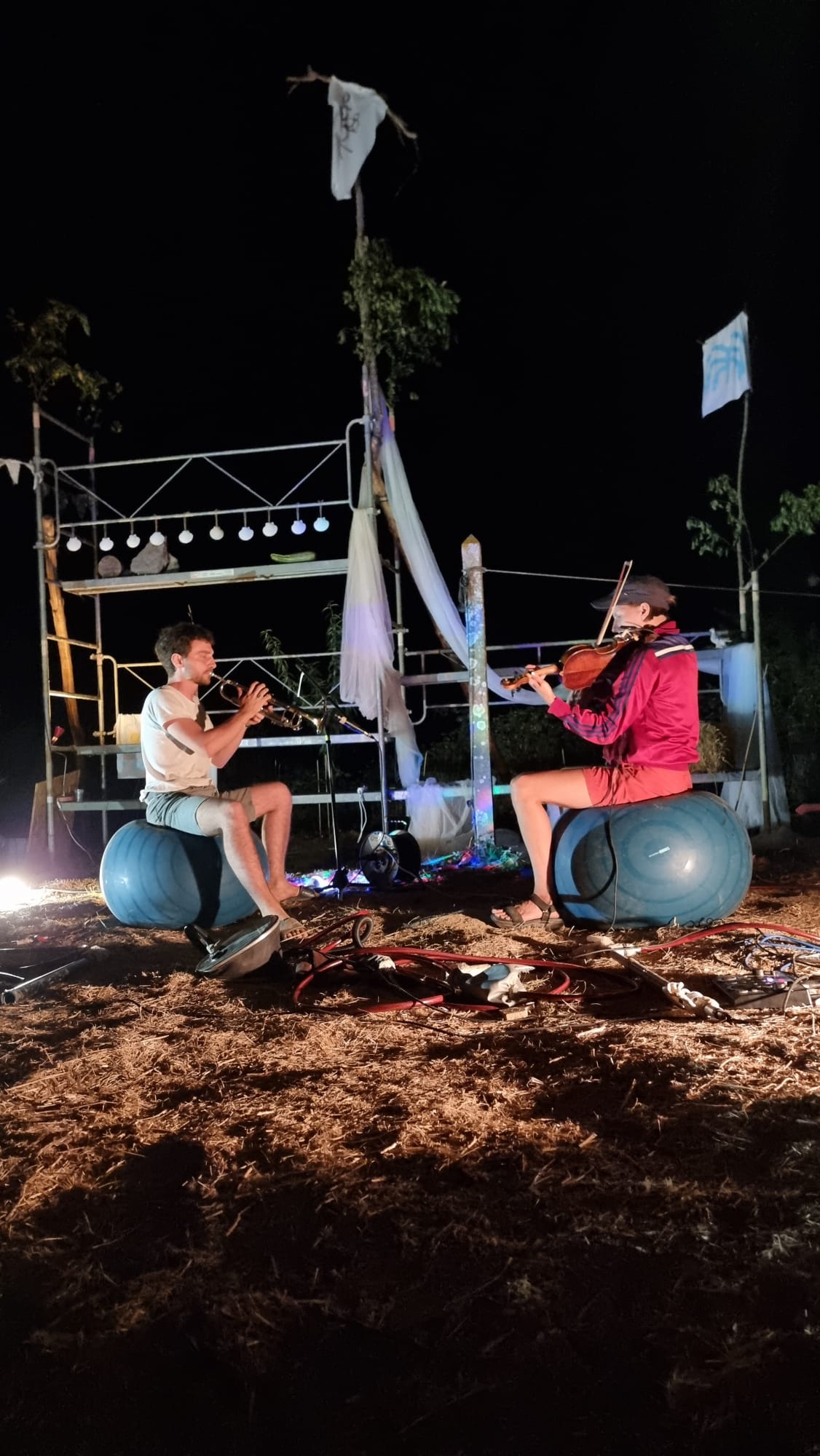 You also make your own wind instruments.
Arthur: At the beginning I built my own instruments because I was bored with my electronics machines. So I started to build interactive electro-acoustic instruments. Few years ago I learned more about music, theory, drums, trumpet, bass, mandolin … I became obsessed. My instruments became my closest friends, it was a hard time in my life, I was practicing with all these creatures all day, it was my refuge like during my teenage years but I was 26. So I developed skills with acoustic instruments (drums, and trumpet, mainly) and it opened a big amount of possibilities in the field of "lutherie sauvage" = DIY acoustic instrument design. I wanted to build my own trumpet, my own wind instruments, to have my own sound but also to have my own way to relate physically with them. Also, these instruments that I made are not dated, not referenced, they don't exist in music history so they let me imagine a lot of fantastic stories about them.
Joeri Bruyninckx