George Harrison – 'I Me Mine-The Extended Edition' (2017)
'I Me Mine' is an incredible combination of as near an autobiography of George Harrison as we will ever get, a wonderful collection of photographs of George throughout his life and the lyrics to 141 of his songs, everything he wrote for The Beatles and every solo recording, even 'Badge', the tune he co-wrote with Eric Clapton for Cream's 'Goodbye' album and 'BanglaDesh', the tune he penned to help raise funds for the impoverished nation which was included on the triple LP soundtrack to the movie 'The Concert For BanglaDesh' that documented his fundraising efforts. All that, and more is packed into a handsome, hefty 630 page hardbound volume from Genesis Publications.
---
Originally issued as a limited, signed and numbered leather bound edition in 1980, 'I Me Mine' has been updated, adding the lyrics to more than 50 additional songs, covering his entire career from his days in The Beatles to 2002's posthumously issued 'Brainwashed'. This updated and expanded edition includes a new introduction by Olivia Harrison to complement the forward penned by George. The sixty page, six chapter autobiographical section is narrated by George with introduction and notes by Derek Taylor in which Harrison addresses such topics as his love of automobile racing. This is followed by 53 plates of photographs, black and white as well as color, documenting George's life from childhood through his time in The Beatles, ending with a 1987 photo from a video shoot in Maui for 'This Is Love'.
Part two begins with 464 pages containing the lyrics to songs written by Harrison which are presented in typed and handwritten forms, accompanied by uniquely intimate and humorous commentary by George. The songs are arranged chronologically, beginning with 1963' "Don't Bother Me' and ending with 2002's 'Rocking Chair In Hawaii'. In between is everything Harrison ever wrote the lyrics for, from classic Beatles tracks such as 'Within You, Without You', 'Only A Northern Song', 'Taxman', While My Guitar Gently Weeps' and 'Old Brown Shoe', to later tunes with the Fab Four including 'Here Comes The Sun', 'Something', 'For You Blue' and the book's title piece 'I Me Mine'. Also included are all of George's solo efforts, beginning with the early works 'My Sweet Lord', 'What Is Life', 'All Things Must Pass', 'Beware Of Darkness', 'Isn't It A Pity', 'Wah-Wah', 'Art Of Dying' 'I'd Have You Anytime' and 'Awaiting On You All', among others, all taken from his debut triple album 'All Things Must Pass'. All the hits are here as well, from early period tunes such as 'Give Me Love (Give Me Peace On Earth)', 'Dark Horse', 'You', 'This Song', 'Crackerbox Palace' and 'Blow Away' to the late big sellers, 'All Those Years Ago', 'Got My Mind Set On You' and 'When We Was Fab'. In other words, everything, including all the tracks from his best selling albums 'All Things Must Pass', 'Living In The Material World', 'Dark Horse', 'Extra Texture', 'Thirty Three & ⅓', 'George Harrison', 'Somewhere In England', Cloud Nine' and the posthumously released 'Brainwashed'. The songs can be read chronologically or perused selectively at the reader's choice. Absolutely mind boggling!
Individual songs can easily be located using the alphabetically arranged list of songs which includes page location, year of release and copyright information. The photo plates are clarified by a list of illustrations and a "captions to photographs" section which annotates each plate in detail. A "Publishers Note" gives complete information regarding the original printing of 2,000 copies and informs the reader that 'I Me Mine-The Extended Edition' marked the 100th book from Genesis Publications since the company's founding in 1974. The volume closes with a comprehensive index of people, places and recordings included. The book has a suggested retail price of $55US, but is available at considerable discounts from online sellers.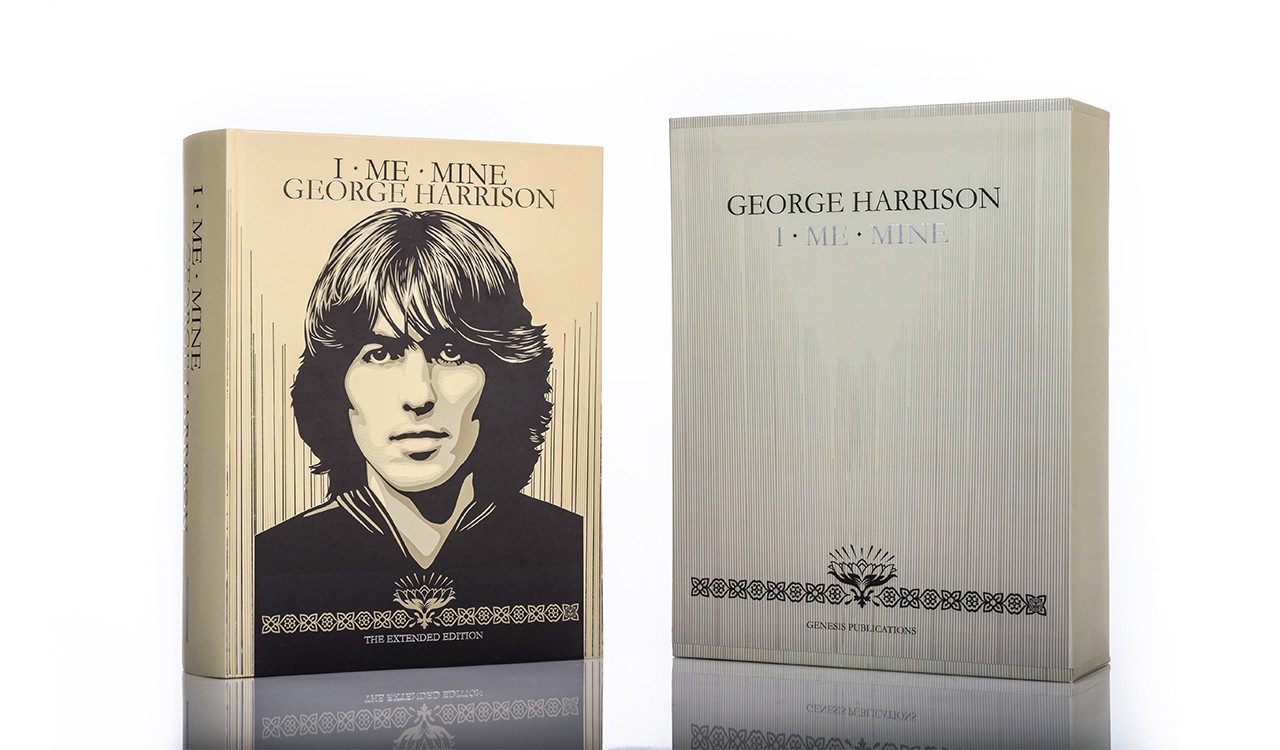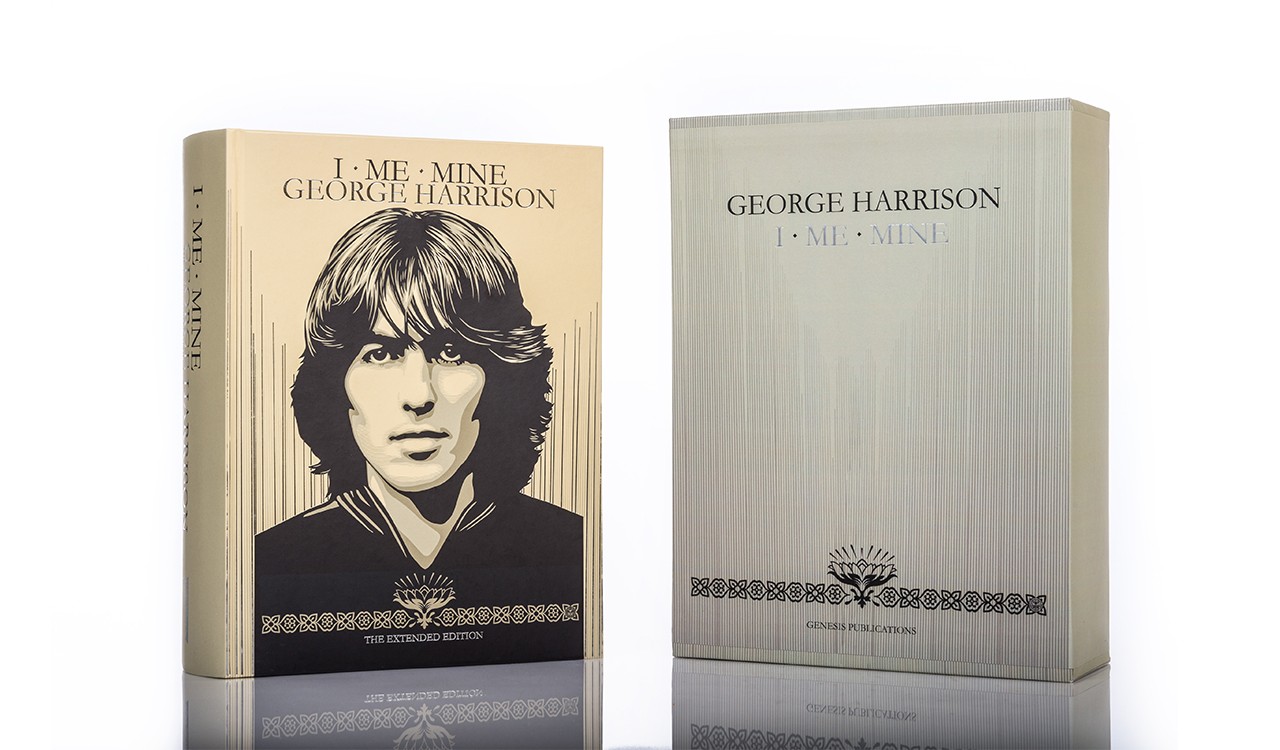 'I Me Mine-The Extended Edition' will be of interest to fans of The Beatles, George Harrison, rock music from the 1960s onward and collectors of compiled volumes of lyrics. The beautifully bound volume has original cover art by Shepard Fairey and a wealth of previously unreleased material. As such it is without question the ultimate portrait of George Harrison and his music.
Kevin Rathert
---
George Harrison 'I Me Mine-The Extended Edition' (Genesis Publications, 2017)