'Venice Beach To D.C.' by Sophia George | New Debut EP 'Foreigner'
Exclusive video premiere of 'Venice Beach To D.C.' by Sophia George, taken from her recently released EP 'Foreigner'.
---
She's from Los Angeles but currently resides in DC where she attends Georgetown University. The song is autobiographical and touches on her experiences moving from sunny Southern California to the more buttoned up east coast vibe of Washington DC.
"I teamed up with a fellow Georgetown student and videographer Panna to shoot the music video for 'Venice Beach to D.C.' during our spring break. We wanted to make a video that pays homage to Legally Blonde and Clueless, highlighting this LA girl with all pink and crazy outfits in this professional, East-coast preppy, often stuffy environment full of JFKS and Jackies who all have their lives planned out in front of them. In walks this girl who doesn't really know what she wants to do and where she wants to end up, packing bikinis in her suitcase instead of plaid pencil skirts and ties, wanting to pursue the Arts in addition to International Politics. All the shots were taken at Georgetown University, from its planetarium to its football stadium, hallways, classrooms, and gym. While my character initially feels out of place in this new environment, she eventually learns to embrace all her quirk, her weirdness, her "foreignness," making it known that she is not going anywhere".
Sophia Marie's debut album 'Foreigner' deals with feelings of being a foreigner both domestically and abroad. It draws most heavily upon her own personal relocation from Los Angeles to Washington, D.C. to study International Politics at Georgetown University, with the empowering anthem "Venice Beach to D.C." calling on her to channel her inner Elle Woods– West Coast roots and all–and thrive in this new competitive, pre-professional environment Back East.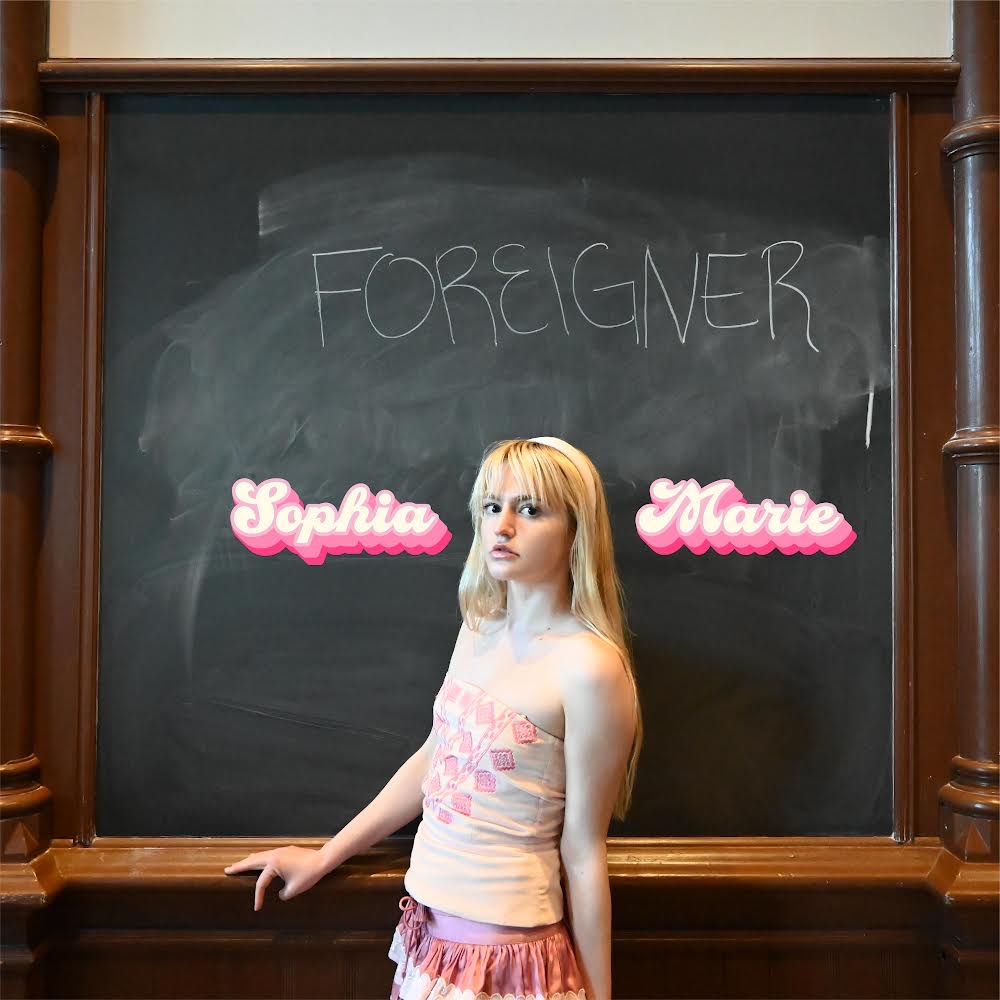 The second track 'Narcissist' sees her venture into the uniquely-D.C. dating scene with young JFK-wannabe businessmen types who can't stop bragging about their Capitol Hill internships, career networks, or, even, shockingly!, their 6th-grade MUN accolades.
The third and final track, 'Foreigner', follows her as she continuously (and helplessly) falls head over heels for men with foreign accents and languages until realizing just because a man is from a different country, it doesn't mean you should be obsessed with him. The theme of "Foreigner" is one of an outsider who struggles but ultimately succeeds in making her mark in a new environment, with all the romanticism but also hilarious mockery that comes with it.
Sophia Marie is currently one of the main artists represented by Georgetown University's student record label Prospect Records. She will be performing at Bull Dog Alley on Georgetown's campus on March 18th for the launch of her debut EP "Foreigner" and will continue to perform at open-mics and venues.
She is currently shooting the music video for her debut single 'Venice Beach to D.C.' with a fellow Georgetown student videographer under Prospect Records and is looking to release it before the end of the month. Following her EP, these next few months, Sophia Marie is excited to release more singles that she recorded in Ireland during her study abroad at Trinity College Dublin this past fall semester.
---
Headline photo by Kate Lawlor
Sophia George Instagram / Spotify / Tik Tok / YouTube