'Smothered and Covered' by The Curls | Album Premiere
Exclusive album premiere of 'Smothered and Covered' by The Curls.
---
The Curls blend psychedelic synths, funky bass, and effects-driven guitar all complimenting a very new wave vocal vibe. Singer/guitarist Mick Fansler brings the Byrne as he talk-sings with lilting melodies often harmonized with Jan Darshall. Darshall's synthesizers set the tone for many of these tunes. Whether stretching out with hypnotic arpeggios as in the opening instrumental track 'Challenger II', or laying down a sweet solo, she's channeling Richard Wright, Bernie Worrell, and something from another dimension.
The first vocal track, 'No Money No Fun' seems to be a mission statement for the band and the album as a whole. Frantic synthesizers meet half-crazed vocals as Fansler calls out a rhythmic melody /Laying on the couch, freaking out, I'm not the man I used to be/. Besides the Talking Heads, the other band that comes to mind is some of the more funky tracks from Australia's Empire of the Sun. The track has a frenetic energy that carries through the rest of Smothered and Covered. /No one's making any money. No one's having any fun./ A sign of the times perhaps.
The next track 'Stiff Lightning' is straight-up robot music. The robots are on acid.
'Ur So Stupid' helpfully spells out the important lyrics /S-T-U-P-I-D/ while Fansler channels some 'In Memory of Elizabeth Reed' style soloing. Jammy meandering guitar is laced through this whole album. The guitar itself sounds like it's picking out little repeatable melodies, seemingly at random, or perhaps when something sounds the right amount of groovy. These melodic lines are occasionally echoed conversationally by the synth making for some really fun musical dialog.
One stand out, at least in terms of musicianship, is 'Chickens' which takes some experimental cues from Frank Zappa. The call and response in the guitar and synth really works in this one. Matt Puhr's groovy bass syncs perfectly with Steve Plocks driving beats. "Neil Young's Tool" is another instrumental jam that really shows off the band's chops. 'End of Days' has a decidedly stoner-rock feel that would make Mac DeMarco smirk through half-opened, bloodshot eyes.
The Curls take their influences and run with them creating a sound that's familiar but just weird enough to be its own thing. Check out their new release, Smothered and Covered when the politics and rampant greed in the world got you down. The Curls are here for you with some psychedelic commiseration.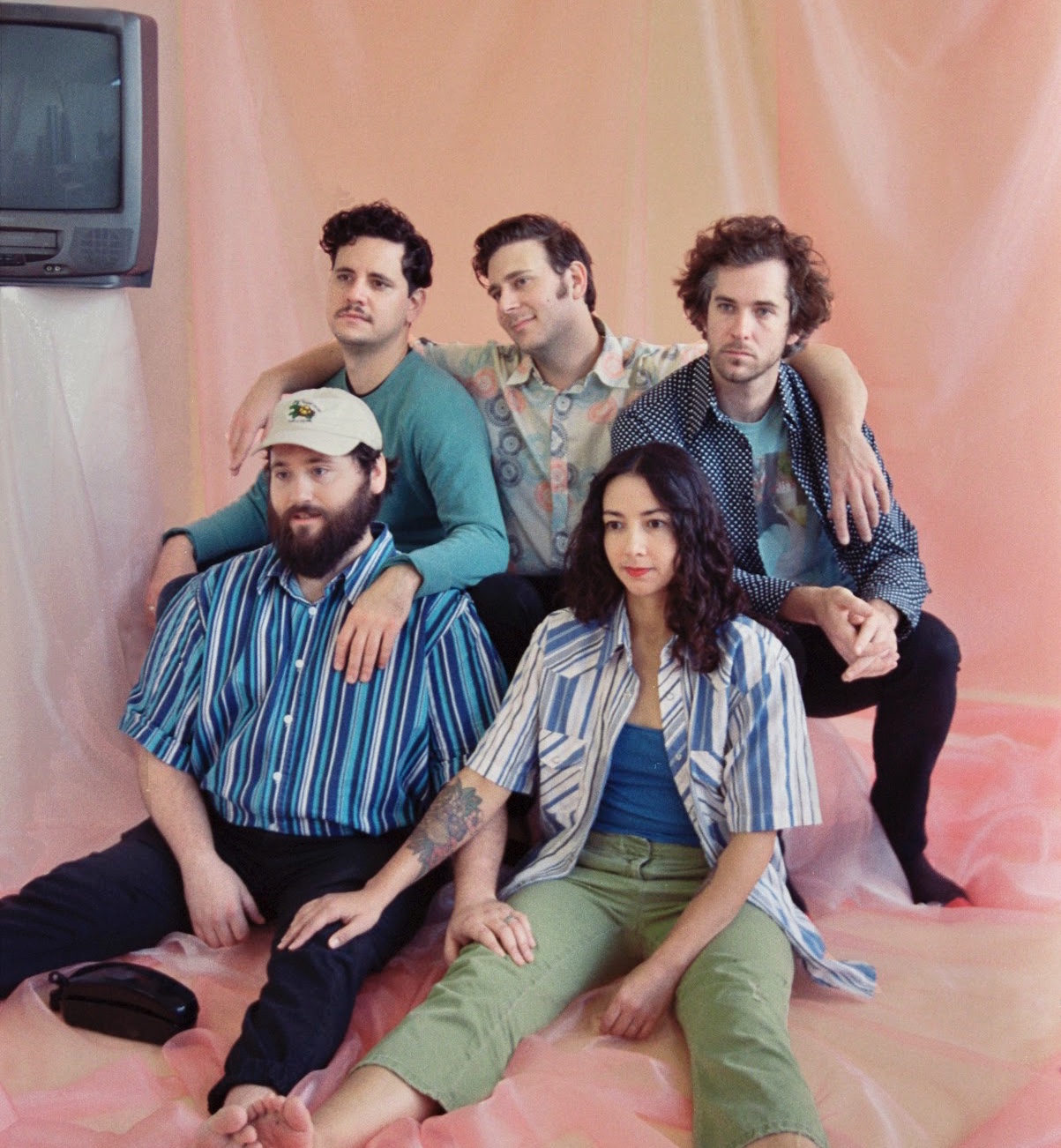 What's The Curls' origin story?
Mick Fansler: When I think of the "origin" of the band I think of two things. One, my wife and bandmate Jen. Who I met when a mate introduced us and brought her in to play trumpet on our very first recording. And two, the Gallery Cabaret corner bar in Chicago between 2013 and 2014. One of the last places in the world where truly strange and absurd people of vastly different ages and vibes convened to get plastered and sing songs with one another without concern of payment or social ambition. Open mics, bar bands, cheap beer and the rest. Not many places like that exist anymore. The band's ethos was born in that bar and I attempt to embody that ethos every time we perform.
What are some of The Curls' major musical and non-musical influences?
Mick Fansler and Steve Plocks: Musical: Tommy Mandel, R Stevie Moore, Talking Heads – 'Live in Rome' on YouTube, King Crimson, the horrible keyboard tones of the Grateful Dead in the late 80s and early 90s, MV and EE, Sunburned Hand of the Man, Kate NV, Gary Wilson, Eminem, John Hinckley, Frank Stallone
Non-musical influences: ping-pong, bowling, coconut shrimp, kratom, john hinckley, frank stallone
You're spread out over a few states? What's The Curls' creative process look like? What about band practice?
Steve Plocks: The creative process for this record happened when we were all in the same place, so that was pretty normal I guess. Rehearsals, shows, and some refinement in the studio, but the agreement that we were going to go into the studio and just improvise half the time and see what happened. Since then practice has only happened a few times and it was all very fluid. A lot of unspoken agreement. Some real high frequency group mind action where we all just locked in to each other and listened. Playing the "song" part of a song is one thing, but the sections of improvisation that have happened recently have all just happened without much discussion or feedback at all. We just allow each other to create and try to support each other in the moment on stage. On stage we are devoted to each other, the audience is just like there.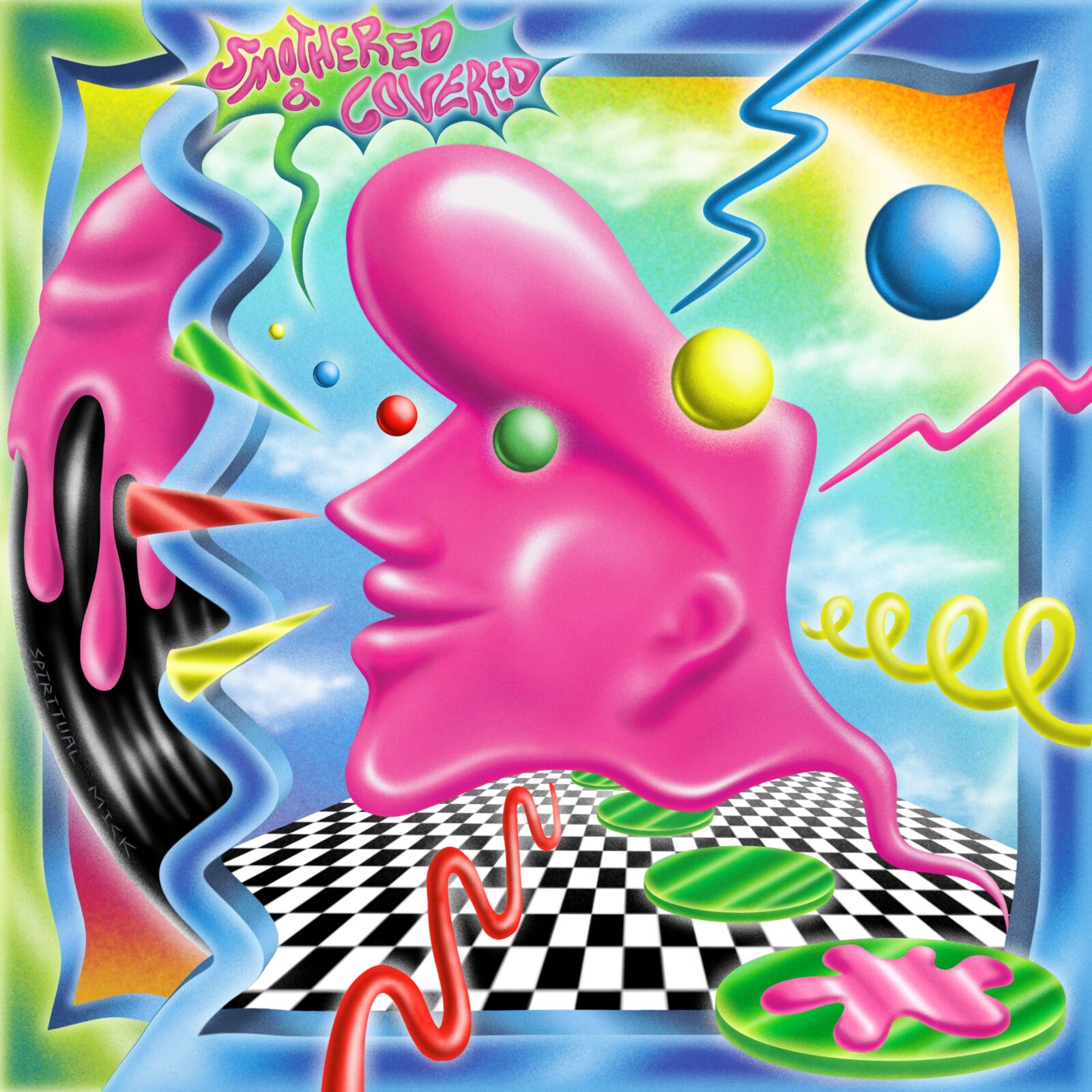 What did the recording process look like for 'Smothered and Covered'?
Mick Fansler: We tracked everything at a studio called Jamdek in Chicago with our sound engineer Dave Vettraino. David Berman recorded some of the Purple Mountains records there. It's a cool meat and potatoes kind of place. We spent two days there. One day we knocked out the "song" songs- the next we drank beer and improvised. We pieced some of that together on the "B side" of this album. We kept things very straight forward. Most of what you hear on this is what we played live in the studio as a group.
Where did you come up with that album name?
Mick Fansler: There's a very special chain of diners found in the American south called Waffle House. It's a spiritual destination for any weary road dog or hungover townie. They have a preparation option for their hash browns called "smothered & covered." Smothered = sautéed with onions and covered means they melt a shit ton of cheese on top. It's pure ecstasy. This album reminded me of that feeling.
Steve Plocks: I don't know where the name came from. I remember we were naming lots of the improvised stuff in the studio and we were laughing a lot about the concept of a Bar N' Grill. Like, why are they called that? Maybe 'Smothered and Covered' was teased out of our discussion of American pub food.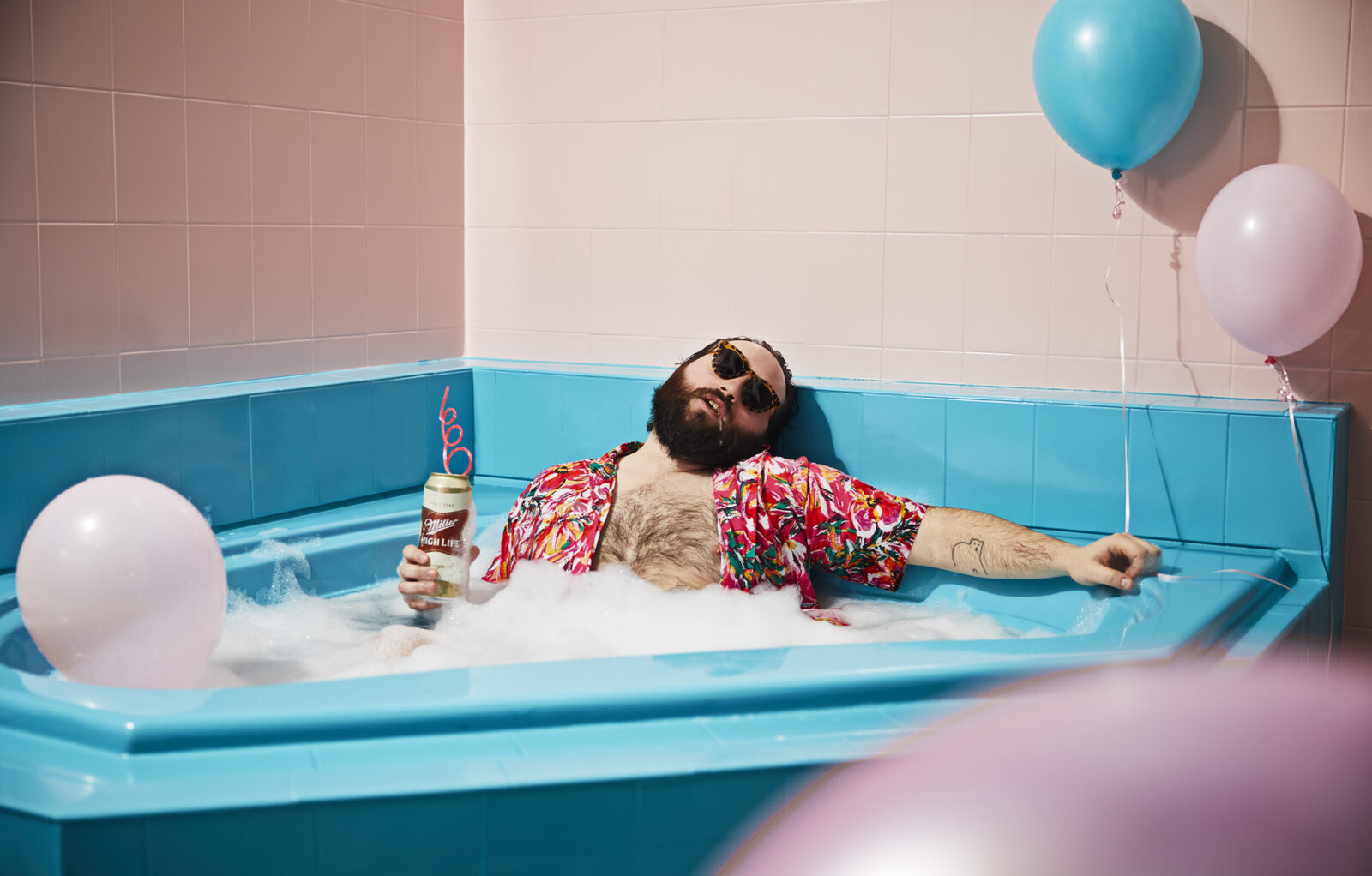 Any plans for upcoming tours or new recording projects?
Mick Fansler: We are doing a US tour all of June. The Smothered & Covered Express. We plan to record all of the live shows and release some of it afterwards on nugs.net.
Steve Plocks: Probably some hopeful plans to record some new music after that in the late summer or early fall. And next summer we will be performing at the Summercamp Music Festival as well as other heady camping festivals throughout the Midwest and if we aren't there's going to be hell to pay.
---
Headline photo: Sean Kelly
The Curls Facebook / Instagram / Twitter / Bandcamp